In 2022, over 700 million travelers worldwide stayed in vacation rentals. While the pandemic severely pummeled the entire hospitality industry, it gave a simultaneous boost to short-term property rentals, making them one of the main travel trends.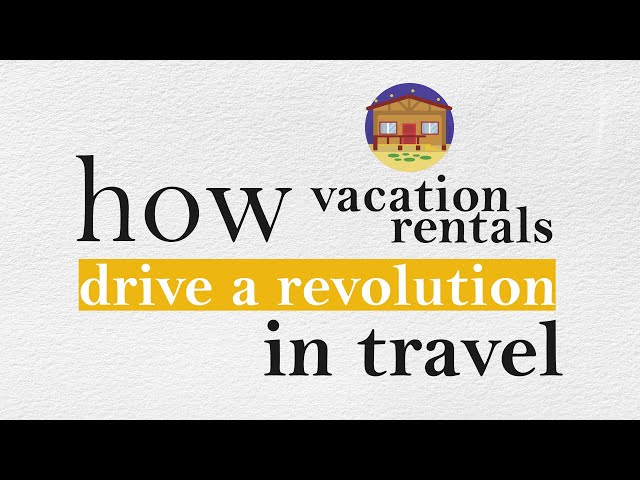 Watch how vacation rentals surged after the pandemic
Anticipating the increase in demand, more people invested in properties for vacation rentals – but not all homeowners are eager to plunge into the daily routine of running their assets. So they choose to outsource the related hassle to professionals.

If you operate a vacation rental management company and are looking for ways to develop, or if you're just considering the possibility of starting such a business, we hope that this post will help you get a clearer picture of how things work in this industry, learn more about related technologies, or just pick up a tip or two.
What is vacation rental management?
Vacation rental management means running a short-term rental property (apartments, villas, or other alternative accommodation types) on behalf of the homeowner. Depending on the business model and specific agreement, an exact range of services may differ. Below is the typical list of responsibilities of a full-service short-term property management company.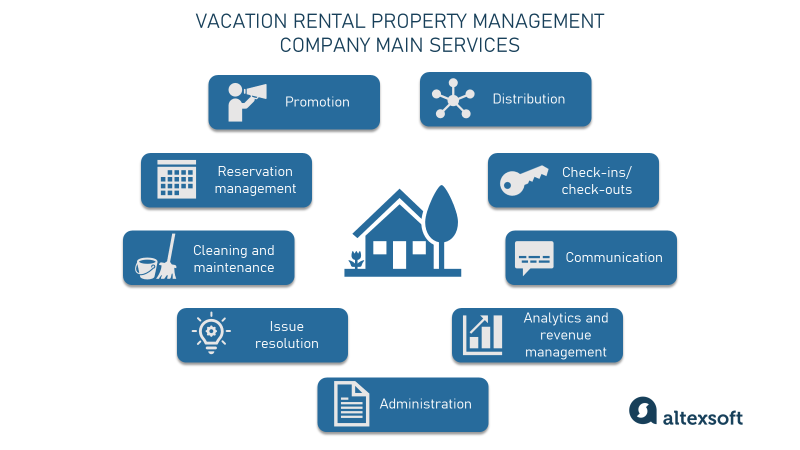 Main services of a property management company
Property promotion – vacation rental management companies use a wide range of marketing techniques to advertise and promote their properties.

Property distribution – they build their own booking websites to drive direct reservations and create listings on various booking platforms (such as Airbnb, Vrbo, or Booking.com) and social media. When operating through multiple distribution channels, they make sure availability and rates are constantly synchronized to avoid over- or double-booking.

Reservations management – property managers receive and process reservations from different sources, as well as handle special requests, booking cancellations, and so on.

Guest check-in and checkout – when guests arrive, a managing company has to ensure their access to the property (often with the use of keyless entry technologies), as well as take care of the post-stay checkout procedures.

Property cleaning and maintenance – housekeeping and maintenance staff has to be coordinated to have a property prepared for guest arrival: Repairs must be made, laundry washed, supplies restocked, and all additional requests taken care of.

Communication with guests – customer service is often a decisive factor when choosing a place to stay, so vacation rental managers have to respond to queries and be in touch with guests throughout all the booking process stages. Good vacation rental management companies go the extra mile to increase guest satisfaction by sending personalized travel recommendations, pre-stay reminders, post-stay surveys, etc.

Issue resolution – in case any emergencies or problems arise, be it guests dissatisfaction or property damage, managers have to deal with them.

Analytics and revenue management – managing companies monitor the performance of properties under their control and use various revenue management strategies to maximize profits (e.g., dynamic pricing approach, yield management, customer segmentation, etc.)

Administrative tasks – property managers also often handle taxes, insurance, utility payments, etc.

On top of that, vacation rental management companies have to regularly report to property owners on their asset performance.

Now that you generally know what we're talking about, let's discuss how to start such a business.
How to start a vacation rental management company: business model overview
Before launching any type of business, you must have a clear idea of all its aspects like costs, revenue streams, key customers, and so on. For that, you can either develop a full-blown business plan or go with the more succinct business model canvas (check our free online BMC template).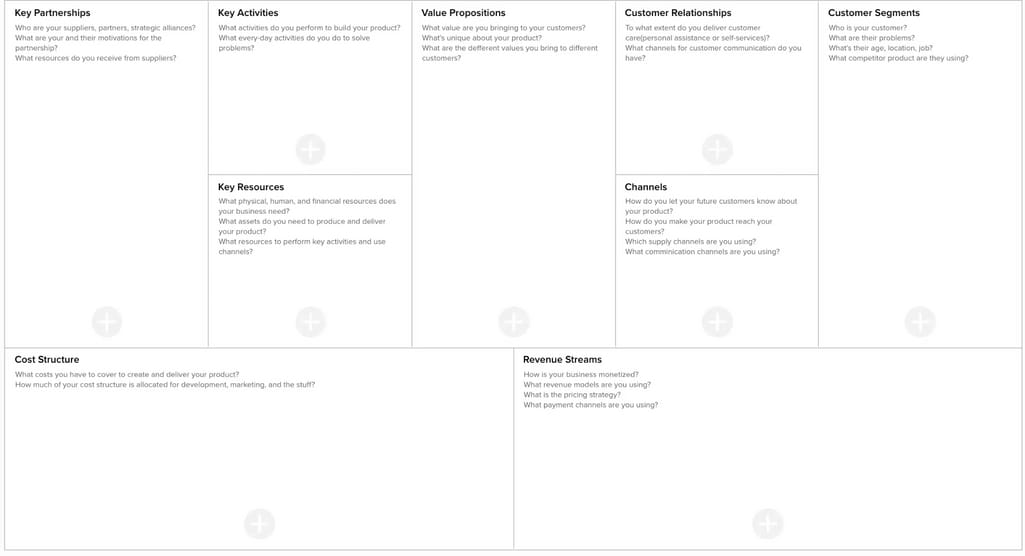 Classic business model canvas
Obviously, there are many different business model variations for vacation rental management companies, but still, let's try to generalize and define the most common scenarios in each component.
Key activities
First, you have to define the range of services you'll be providing. There are three main types of property management businesses.
Full-service companies (the most popular type) offer the complete range of services we listed above. It demands more resources but usually brings bigger revenues. The international giant Vacasa is a bright example – but so is family-owned Coastal Vacation Properties of Fort Myers with its 100+ properties – and hundreds of others.
Marketing-only companies take care of the administrative operations (including marketing, pricing, distribution, online communications, etc.), leaving housekeeping to the homeowner. In this case, you focus on the digital side of business which gives a great opportunity to scale with only a handful of employees. Look at the leading North American company Evolve to see how it works.
Operation-only companies manage the physical aspects such as cleaning and key hand-offs, while the owner does all the administrative work. This option is rarer and is often seen not as a property management company but rather as an assisting business.
Depending on the type chosen, you must think about arranging specific operational workflows such as:
organizing housekeeping processes (laundry, toiletry purchasing and restocking, preventative maintenance, etc.);
building a website, and/or a mobile app for guests, and/or a portal for homeowners;
organizing support for guests and homeowners (chats, emails, call-center, knowledge base, local guides, etc.); and so on.
In this section, outline those activities that will demand the most resources (time, money, and staff).
Revenue streams and models
Your main revenue will most probably come either from rental payments or from the homeowner, depending on your fee policy. There are three main approaches.
Guaranteed (fixed) rent model is when a property manager pays a fixed monthly/yearly rate to the homeowner (regardless of whether the property is rented) and then keeps all the income.
Commission-based model is when the property management company gets a percentage of generated revenue (typically, between 20 and 50 percent).
Fixed-fee model is when a property owner pays an agreed flat fee to the management company for its services. This model is common when a property remains unoccupied and doesn't generate revenue since it's mainly used by independent contractors or companies that provide a limited range of services.
Besides choosing a revenue model, you have to decide what's included in the quote. Some businesses have a transparent fee structure with no additional expenses, while others charge extras. If we compare the two leading companies again, Evolve charges a fixed 10 percent commission for any property, while Vacasa isn't so straightforward. Its fee depends on the property type and market, and it also charges for a bunch of additional services like home automation, insurance, linen program, and much more. So that will determine if you have one revenue stream or several that come from different services you provide.
Partnerships
In this block, choose your most impactful partners. It might be the cleaning or field service company if you don't have your own housekeeping staff. It can be a supplier of toiletries, laundry, or other inventory. It can also be your technology provider or maybe a tour operator you cooperate with.
Customer segments
The property management sector is unique in the sense that you'll basically have two opposing customer groups, i.e., homeowners and guests, and to succeed, you'll have to bring value and provide exceptional services to both of them.

It's important to understand which property types and which locations you want to work with so that you know which landlords you have to attract as partners. As you start off, choose a certain property type in the local market (like family villas on the beach side or urban apartments in the business district) and expand your portfolio to other markets as you grow.

At the same time, it's nonetheless crucial to define who your main guests will be since it's directly connected with the property types you selected. It will also determine the distribution channels to focus on. You can cater to middle-class family vacationers (beach villas?), address the needs of business travelers (studios downtown?), target digital nomads (apartments in a quiet neighborhood?), and so on.

For example, Le Clollectionist offers a selection of luxury villas in the chicest European regions, while Ski Colorado Vacation Rentals focuses, as the name states, on lodgings in close proximity to popular Colorado ski resorts.

Some of the narrower niches include remote mountain cabins, glamping units, corporate retreats, or even pet-friendly or LGBTQ-friendly lodging.
Value proposition
A value proposition is a short way to describe what your business is about and why you should be chosen over your competitors. It's entirely up to you which customer group you primarily focus on in your value proposition.

A common strategy is to target travelers primarily but also have a section on the website designed for homeowners to invite them to participate. However, some property managers choose to focus on landlords as their main customers and don't even have a website for travelers. Others make separate webpages for guests and property owners.

For inspiration, check out some of the options from the vacation rental management market:

"Trust your vacation to the experts" – Elliott Beach Rentals,

"Spaces designed to speak the local language" – Casai,

"Handpicked homes for city stays" – Veeve,

"Host more. Earn more. Do more." – Houst, and so on.

As you can see, Houst focuses on homeowners as their primary customer, rather than catering to both travelers and property owners. While using Airbnb and other existing booking platforms as their distribution channels, they prioritize a wide set of management services. This strategy helps Houst cut R&D and marketing costs associated with driving direct bookings.
Distribution channels
You have to outline your marketing and distribution channels for both of your customer groups. How are you going to find homeowners to partner with? Run affiliate or referral programs? Partner with a local real estate agency? Advertise through Google or other online resources?

And what about your guests? Which booking platforms will you distribute properties through? A common case is to start with popular platforms like Airbnb/Vrbo and then build your own brand website with booking functionality. Or maybe you also want to list your short-term rentals on metasearch websites?
Resources
To launch and run a business, four categories of resources are required and all of them have to be well thought through.
Physical assets are any tangible objects you need for your business like offices, computers, vehicles, etc.
Intangible resources include patents, licenses, research materials, and other intellectual assets.
Human resources relates to all the staff you'll need to cover your operations.
Financial resources mean the money you need to launch and the sources you get investments from (bank loans, crowdfunding, grants, etc.)
Focus on those resources that are most essential and strategically important for your business.
Customer relationships strategy
You have to decide how you will communicate with both your guests and homeowners. A common option is a combination of self-service with personal assistance. As you start off, you'll probably have more personal interactions, but later on, consider providing more self-service opportunities (a booking website and an FAQ section for travelers along with a portal and help center for landlords). However, maintaining an expert call center is also important for great customer service and enhancing customer satisfaction.
Cost structure
Devise a detailed plan of all your expenditures. Operational costs, capital costs, overhead, payroll, technology-related expenses – all that has to be carefully calculated.

We hope that gives you an idea of what to consider as you start your business. Now, let's talk about the next steps – how to grow.
How to grow a vacation rental management company: development strategies
There are two classic means of business development. You can keep doing what you're already doing but gradually increase the volume of operations. This is an easier way but its main downside is the limits that you encounter sooner or later (like there's a finite number of rentals in a certain area).

The other way is to embrace new horizons. Here are some options.
Expand your inventory portfolio by entering new markets
It's easier to manage properties in one market (city or region) as you know the rules of the game. Plus, you have established connections with local housekeepers and other experts to assist with all operations. However, going global opens up more opportunities, allowing you to diversify your inventory portfolio and cater to different tenant groups.

If you consider this development strategy, you have to pay attention to the following aspects.

Local legislation. Seventy percent of the 200 most popular cities for vacation rentals have hosting restrictions or certain regulations. For example, Miami, Paris, Barcelona, or Amsterdam have some of the strictest policies. Some cities limit the number of nights per year when property can be rented (like 30 days for Amsterdam or 3 months for London), some require a permit or license (like Barcelona or Santa Monica), while others ban unhosted rentals (like New York, San-Francisco, and Santa Monica).

So, if you plan to expand to a popular tourist destination, do your research on the legal aspect and existing market to make sure you can squeeze in at all.

Find a trusted housekeeping company. If you offer full-service property management, you'll have to find reliable local partners in the new region. Housekeeping, repairs, laundry, as well as purchase of toiletries, towels, and linen – all that has to be prearranged.

Adjust your marketing and distribution strategy. If you manage beach villas and now want to cover the city apartments or mountain cabins segment, you'll have to rethink your marketing and distribution approach because obviously these are different guest groups.

By way of illustration, you can follow the example of the Elliott Realty property management company that created separate brand websites for different property types and locations, e.g., luxury rentals, beach villas, golf packages, and so on.
Acquire smaller companies
Many big companies became, well, big by merging with competitors. Think Vacasa which manages over 35,000 vacation rentals in the US, Belize, and Costa Rica. It has been expanding its portfolio aggressively over the last years purchasing more than 160 companies, including some big ones like Turnkey or Wyndham. Vacasa takes over all their operations and their portfolios (e.g., redirecting travelers to the main website for search and booking).

Or look at VTrips, another US vacation rental industry leader with 7,000+ properties. It has been rapidly growing and now consists of over a dozen locally managed companies in 35 markets. VTrips openly invites those who want to sell their businesses and explicitly describes the acquisition process and potential benefits.

Their approach involves keeping the staff, spirit, website, and other operational aspects of acquired businesses almost untouched to retain guest loyalty (e.g., Carolina Retreats or Tybee Vacation Rentals are some of the recent acquisitions). However, they integrate the new inventory into the parent management system to establish data sharing and create a unified booking system.
Start a franchise program
As an alternative to merging, you can launch a franchise program, share your knowledge, and help other companies launch or grow their business – while you're getting a fee and brand recognition. However, it's a big project as you'll have to create a set of guidelines, procedures, and standards, as well as design a training program for new partners.

The biggest vacation rental franchisors are iTrip and Direct Booker. Both companies grew from small local property management businesses into multi-million dollar companies managing thousands of vacation rentals due to their franchise programs.
Diversify distribution
As we said, at the beginning, you'll most probably list your properties on the big booking platforms like Airbnb, Vrbo, and other OTAs.

Direct bookings. Later on, it makes sense to develop your own booking website to increase a share of direct bookings – and pay fewer commissions. That's what most developing short-term rental management companies do.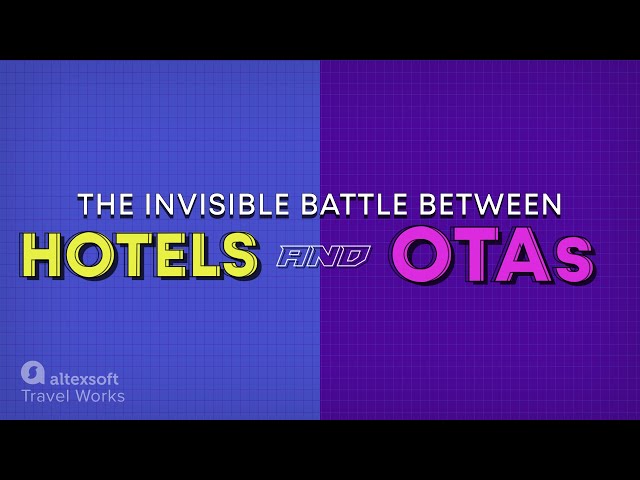 Watch a video that explains the importance of direct bookings in the hospitality industry
Bulk sales. Some property management companies choose to partner with such intermediaries as tour operators, destination management companies, or travel management companies. This option gives you an opportunity to distribute your properties to your partners in bulk.

Affiliate programs. Engaging affiliates is also a viable option to increase customer reach. Partner with businesses outside of the vacation rental market (real estate, tour operators, or other local companies), advertise on their websites, and pay them commission from referred bookings. Check out the Casago affiliate program to get an idea.

A mixed approach is also common, as you take advantage of diverse channels to increase your customer base. However, make sure that the commissions you pay are worth the additional revenue.
Provide more services
If you start with a marketing-only model, consider upgrading to a full-service one. It will require organizing new workflows, hiring housekeeping staff or outsourcing it to external service providers, and changing your value proposition. But this way, you'll be able to cater to those homeowners who prefer turnkey services (and that's the majority).

You can also add more services to your offerings. For example, Evolve handles vacation rental insurance which is rare in the industry. Air Concierge can help hosts get required licenses and permits (including a TOT – transient occupancy tax permit), assist with monthly reporting to the local authorities, and collect and remit taxes. As another example, check out the Awning company which, in addition to property management services, offers its real estate investing expertise as well as legal compliance and furnishing/design services.

Another way is widening your partner network: Local tour guides, attractions, restaurants, wineries, and other businesses can add exclusive experiences to your vacation rental portfolio – which you can offer to your guests.
Buy, build, or lease properties
Most property management companies work with homeowners on a contractual basis providing the services we listed above. However, one of the ways to grow in this industry is to purchase vacation rental properties to increase your inventory portfolio and keep all the generated revenue.

Another option is to lease property long-term, redesign it, and then rent out short-term, earning on a margin. Here are some examples.

Selina is one of the world's largest "experiential hospitality brands" that caters to new-gen travelers. It offers a variety of creatively-designed accommodations in 163 destinations in 25 countries, as well as a range of exclusive experiences and working spaces for digital nomads. In addition to distributing its own properties, Selina also works with homeowners offering a long-term lease, stylish redesign, and guaranteed rent income.

Latin American Casai procures homes in most desirable tourist neighborhoods, adds custom design, implements smart technology – all placing heavy emphasis on sustainability. They support local artists and enable travelers to immerse themselves in local culture.

We often mention technology and for a reason. Software is one of the main investments your company has to make to be successful in this market – especially if you think of scaling.
Vacation rental management software
The Global Vacation Rental Report 2022 by Rentals United and Transparent states that most property management companies implement specialized technologies to streamline all rental-related activities.



The Global Vacation Rental Report 2022
Among such software, channel managers are most widely used (74 percent of companies), followed closely by property management software (73 percent of companies). Other recognized tech assistants include dynamic pricing tools, keyless entry solutions, and data providers.

As our travel tech experts Andrii Chebotarov and Romana Kostsyk share, "Most vacation rental property management companies utilize separate tools for different purposes, which results in the entire ecosystem of interconnected software solutions." Building such a holistic integration is crucial for seamless data exchange, so most technology providers offer preestablished, out-of-the-box connections with other industry products.

Let's discuss in more detail the main instruments that help manage short-term rentals.
Vacation rental channel manager
Vacation rental channel managers are the key to effective distribution. They automatically synchronize the rates and availability information across multiple channels (OTAs, social media, metasearch, own website). To make it happen, channel managers either have API connections with multiple booking platforms for real-time updates or offer an iCal synchronization.

Besides distribution channels, many vacation rental channel managers offer integrations with other third-party tools (e.g., revenue management or CRM) to expand their functionality. To learn more about all these solutions, visit the dedicated article linked above.
Vacation rental property management software
Vacation rental property management system (PMS) is the main piece of software that automates all management aspects. It's often a modular solution combining multiple tools. Its main components usually include
a channel manager,
a website builder,
a booking engine with payment processing,
a centralized calendar,
unified inbox and messaging automation tool,
task management solution,
revenue management tool,
reporting and analytics module, and more.
One of the key differences between a vacation rental PMS and hotel PMSs is the owner portal where homeowners can track the performance of their properties, review statements, block booking for certain dates, and so on. Most PMS providers have this functionality included for the owners' convenience (and managers' too!). Some property management companies go an extra mile to please their homeowners (check out Pass the Keys whose portal includes reporting dashboards, photos after each clean, and guest reviews).

If such a portal isn't provided, you'll have to establish an ongoing email communication with the owners (which is okay if there are not too many of them) or develop this interface separately.

Even though a PMS may seem a comprehensive solution, in most cases it doesn't cover all the business workflows (or covers them insufficiently), so, as we said, separate focused tools are usually added to enhance PMS functionality.
Revenue management and dynamic pricing tools
Revenue management is a set of practices that help maximize revenue by predicting customer demand and adjusting rates accordingly.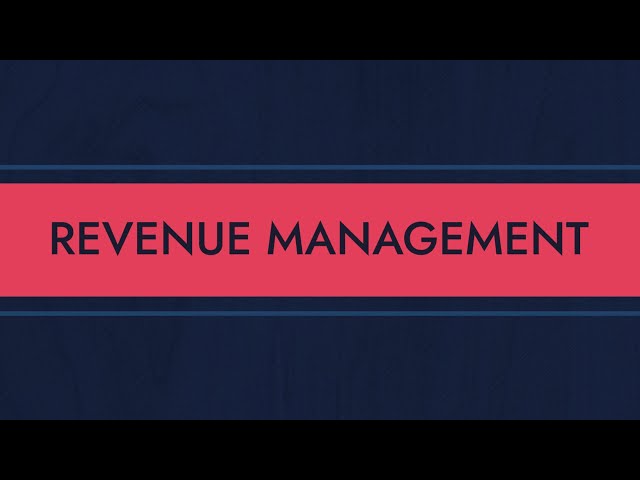 Here's how revenue management works in hospitality
Revenue management entails a number of components and various strategies with dynamic pricing being one of the main ones. In a nutshell, it involves constantly changing rates depending on customer behavior, market conditions, and other external factors. Yield management is another element and can mean, for example, focusing on short-term rentals during high season but locking in longer-term contracts for a low season.

Today, advanced revenue management solutions use machine learning algorithms to analyze massive amounts of data and come up with an optimal revenue strategy to maximize occupancy and bump up income (which, clearly, is the ultimate goal of any property manager).
Keyless entry technology and other smart devices
If you manage more than a few properties, meeting guests in person to hand them the keys becomes too much of a hassle. Besides, physical keys can get stolen, locked in, or copied. So a keyless entry technology is a handy solution to avoid trouble and save time.

There's a wide variety of keyless entry solutions on the market, from keypads where guests enter the code you send them in advance to Wi-Fi or Bluetooth enabled systems that are unlocked through a mobile app. Whichever tool you choose, all of them offer top-level security allowing you to remotely control the access to your properties. For example, you can change the code for every guest, define a time limit for your codes, or set up a one-time access permission for maintenance staff.

Some PMSs offer these systems as one of their modules, but if not, you definitely have to integrate the keyless entry tool with your operating system to automatically generate and send out access details, track your keys, and so on. And don't forget to set up a backup access option – just in case.

The same goes for in-room sensors and other smart technologies like automated HVAC or water management systems, party detectors, and others. Usually, it's a separate IoT network of connected devices that has to be integrated with your PMS to achieve full remote control of the in-house regulations. For example, TurnKey (now part of Vacasa) invests around $5,000 in each home to add more smart features.
Data providers and business intelligence tools
Business intelligence (BI) is crucial for any organization that wants to grow. BI means extracting actionable insights from raw data that has to be collected from different sources and then structured, visualized, and analyzed. There are multiple BI tools that can help you distill value out of disparate data around you. But to make them more effective, it's worth collecting industry-specific information from external providers.

Vacation rentals has already become an independent industry with its own statistics, focused research studies, and market experts. To make efficient, data-based decisions, connect to one of the vacation rental data providers such as Transparent, AirDNA, or Key Data (check our cooperation case study).

A combination of internal and external data will help you track important market KPIs, benchmark your own performance, and get insights on how to improve your operations. So the bigger your company is, the more sense it makes to invest in bespoke analytical solutions and receive the most accurate predictions and recommendations. And not only them. Let's see which technologies become a must-have as your company develops.
How technology supports vacation rental management business growth
While smaller businesses often do without a centralized operating system, it's an indispensable part of bigger property management companies. So let's describe some common scenarios of how software is usually implemented according to company size.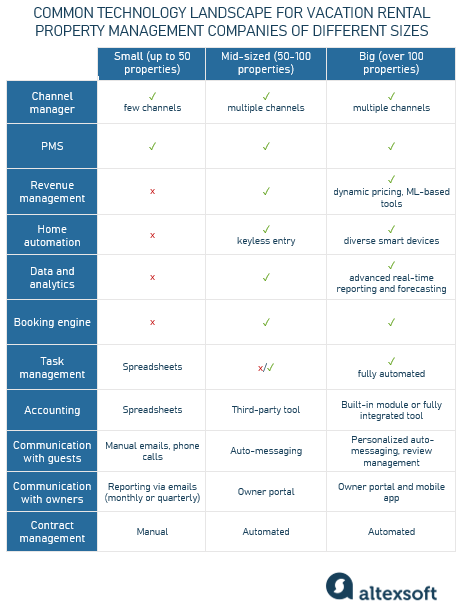 How vacation rental management companies adopt technology
Small business (up to 50 properties)
Such mom-and-pop companies usually manage several local vacation rentals, often having a few employees that handle everything, from check-ins to maintenance. As we said, they're not very tech-driven and largely rely on spreadsheets and manual processes.

Such companies might have one or several basic tools like a channel manager (integrated with 2-3 booking platforms) with a synced calendar, unified inbox, and minimal reporting included. Usually, there's also a simple website (often without booking capabilities).

Other operations like communication with guests and owners, task management, pricing, and accounting are not automated.
Mid-size companies (50-100 properties)
More properties mean bigger workloads, so automation becomes unavoidable. As the business grows, more tech solutions are adopted such as
a CRM,
auto-messaging system to streamline communication,
a booking engine for your brand website,
a revenue management tool,
BI/reporting software,
an accounting solution, and so on.
A PMS plus several focused tools is a common choice as it allows for creating an integrated structure to cover your core workflows and add more solutions as you grow, e.g., task management, reporting to owners, home automation, etc. It also gives flexibility to switch providers in case business requirements change.
Enterprises (over 100 properties)
These big guys should have all the right technology in place to streamline their operations. Some of the essential functionality of their management software (besides the features we listed above) are
contract management,
dynamic pricing,
real-time, customizable reporting,
owner portal and mobile app, and
review management, and much more.
Enterprise IT infrastructures are custom-built and tailored to the unique needs and workflows of big businesses, allowing them to efficiently scale, add more properties, and integrate more disparate systems.
Besides digitizing your operations, let's talk about what else you as a business owner or manager can do to make your company stand out.
Vacation rental management best practices
Some of the advice is logically derived from what we've already discussed, like
diversify distribution to boost occupancy,
implement a dynamic pricing approach to maximize revenue,
prioritize direct bookings to cut commission costs,
invest in marketing activities to increase customer reach,
carefully track performance and main KPIs to discover weaknesses and growth opportunities, and
rely on data in your decisions to make them most effective.
Here, we offer you a few more expert tips on how to grow your vacation rental management business.

Market to homeowners. Remember that your success depends not only on the number of guests but also on the number of properties under management. So to scale, find ways to attract more property owners – and keep them happy with your services.

Keep guests a top priority. Guest retention and positive reviews are crucial to keep your properties full. So you have to enhance their experience in every possible way. Make sure your guest support team is available 24/7. Also, think about welcome boxes or additional automation technologies (facial recognition check-in maybe?) that will make your guests feel special – and wanting to come back.

Run referral and loyalty programs. Offer discounts to loyal customers or ones that recommend your services to others. And that works for both homeowners and guests.

Go mobile. Develop a user-friendly booking app to make it easy for travelers to choose their next "home away from home," make reservations, and manage their stays. If you target international guests, don't forget about localization nuances.

Keep your finger on the pulse. The market is constantly changing and you have to keep an eye out not to miss out the opportunities – or restrictions. For example, follow news of local events, track market rates, and be on top of legal changes that impact your business (like taxes, vacation rental bans, or dwelling laws in certain cities).

Find ways to excel. Think of additional services you can provide. Some of them may be complimentary, while you can certainly charge for others. For example, you can offer an airport transfer or maybe partner with a local tour company and get discounts on their activities. The sky's the limit to becoming better, so look around you, explore the opportunities, implement ideas, and watch your vacation rental management company grow.