Today, the line between work and play is blurred. Freelancers and remote team members are no longer the only ones free to find a comfortable place to work, rest, and communicate. Even office employees can stay at home, rent a desk at a coworking space, or deposit themselves at a coffee shop booth if the company policy allows.

In these circumstances, people are more likely to combine business and leisure when traveling. The chances they do so are even greater if they don't travel much during the year, aren't sure about having a decent vacation, or if they frequently work overtime. Really, it would be a crime not to spend a couple of days on a beach or wander an unknown city's streets after several days of negotiations. For others, it's tempting to sit at a desk with an ocean view. People who have a hard time choosing a future trip's goal while filling in the search form on Booking.com can call themselves bleisure travelers or workationers.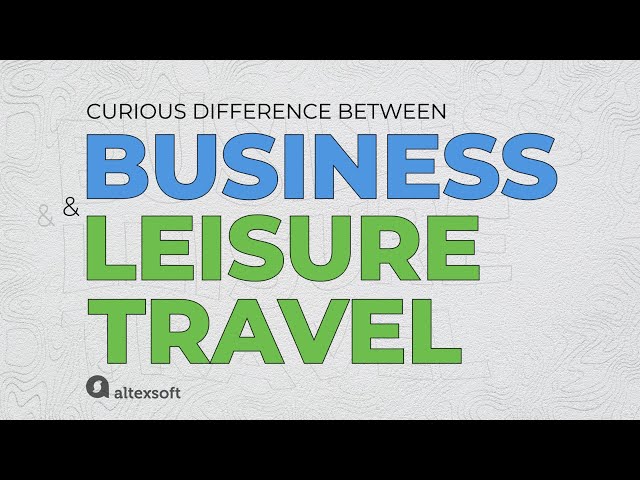 Business and leisure travel, explained
Business travel in the post-Covid era: Bleisure vs Workation
Bleisure
is the travel trend of combining work commitments with entertainment. Having emerged around a decade ago, it continues to grow. Increasingly more people consider exploring new places while traveling for business. According to the survey by the education and research branch of the
Global Business Travel Association
(GBTA), 67 percent of North American business travelers thought it was important to add leisure to a trip in 2016. Thirty-seven percent of them did so.
The trend can bring new opportunities to the travel and hospitality industry. Such trips require more thorough planning. For instance, someone will have to find a suite available for both weekdays and weekends, read about the area to schedule leisure activities, and book tickets to get home. In this situation, travelers could use help from OTAs, hotels, and other travel providers.
But in 2020, both business and leisure travel nearly died. While there's no substitute for a Caribbean vacation, it turned out that you can easily replace in-person work meetings with Zoom calls, almost eradicating the need for in-person communication.
The newfound ability to enjoy a more flexible work policy allows people to reimagine what work should look like. And it's no longer sitting in your cubicle for eight hours. Buffer's 2021 survey revealed that
97.6 percent
of people would like to work remotely for the rest of their lives! And almost 30 percent of them list the ability to work from any location as the biggest benefit.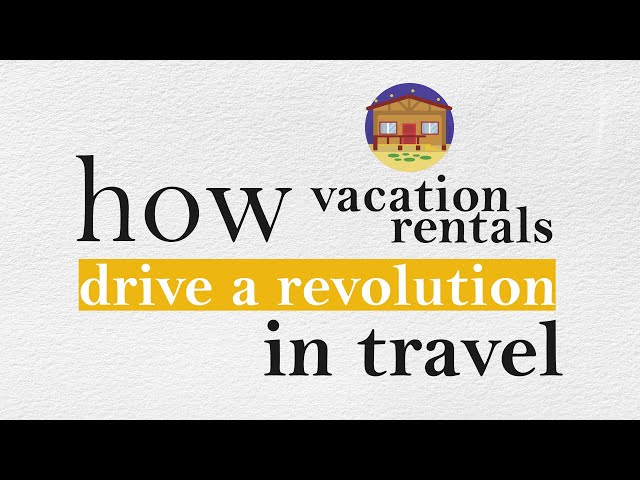 The proliferation of vacation rentals fueled the workation trend
This trend of freely deciding in which part of the world you want to work is called
workation
. It's not a new concept by any measure. It's similar to another trend of recent years –
digital nomads
– people working remotely from different countries and locations and combining travel with their tech jobs. In turn, having a workation means traveling for a longer period of time than a normal vacation would allow without taking a break from work.
According to Brian Chesky, the CEO of Airbnb,
20 percent
of nights booked on the platform are for 28 days and longer – a huge increase since pre-pandemic times. They've also noticed that people are now traveling with pets and care more about the Wi-Fi in their accommodation.
Bleisure trips and workations are two sides of the same coin, but they're also completely different. Because people experiencing them have different motivations and expectations. While business travelers will take their spouse for an extended weekend in Las Vegas, workationers can bring their whole family to a
vacation rental
in a national park.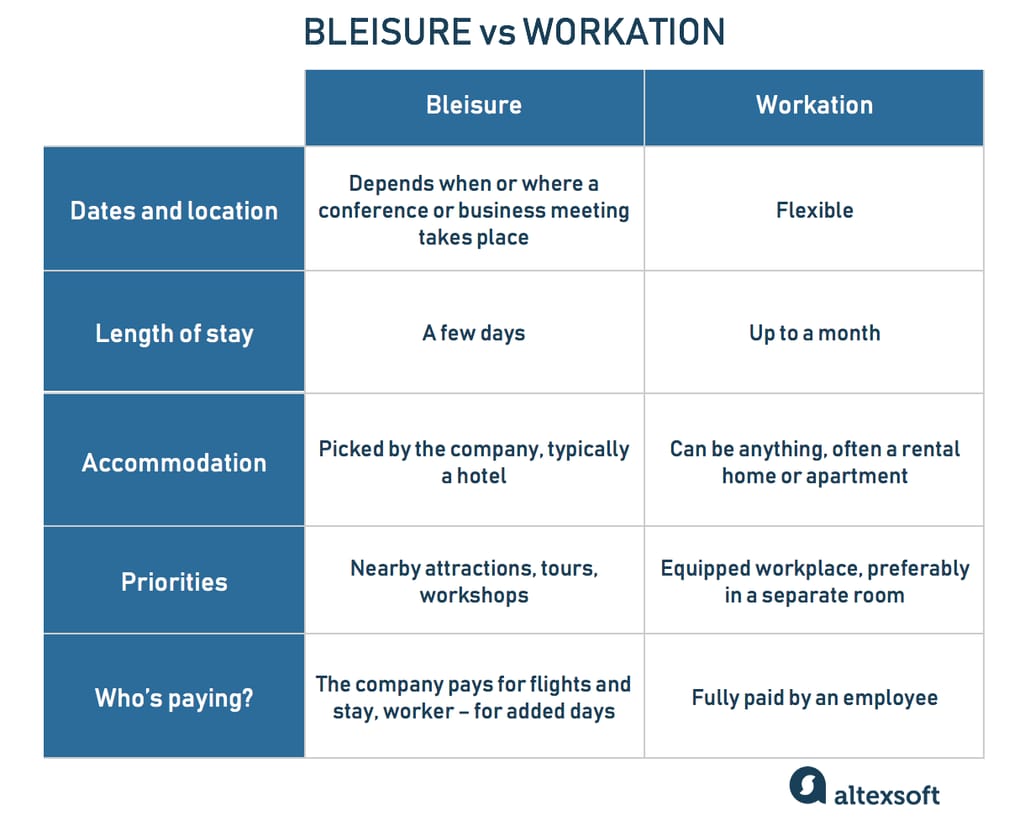 The differences between bleisure and workation travelers
A workationer is a new beast, so travel and hospitality organizations have yet to figure out how to effectively cater to them. In this article, we want to talk about who modern corporate travelers are and how hotels, OTAs, and tours and attraction businesses can address their needs.
1. Define business travel personas
To understand if business travelers are motivated to extend their trip with leisure or want to work in the vacation environment, you can analyze their behavior and the personal information they provide when looking for travel options. You can also rely on these complementary categories to offer a certain customer a deal he or she would likely accept.
Trip time frame.
US specialists from
Expedia Media Solutions and Luth Research
conclude that a trip lasting three or more days is 30 percent more likely to turn into a leisure one. They also report those who arrive at the destination on Monday-Tuesday or Thursday-Friday usually extend their stay. The closer the trip is to the weekend, the higher the probability of making it a bleisure trip. These customers first book airline tickets and then look for accommodations.
Carlson Wagonlit Travel analysts
underline
that bleisure trips include "a Saturday night stay at destination either at the beginning or at the end of a trip, or both."
As for workationers, Airbnb's Brian Chesky
notes
that Mondays and Tuesdays have become the fastest-growing days of the week for travel, meaning that people start treating first days of the week as the extended weekends, afforded by remote work.
Destination and route length.
Sixty-six percent of travelers agree
that destination matters. If a business meeting takes place in a city included in a traveler's personal must-see list, he or she would likely extend a trip for a couple of days.
When traveling internationally and for long distances, people expect to immerse in a different culture. A higher
bleisure rate
for international (52 percent) over domestic (46 percent) trips proves bleisure attractiveness depends on a trip itinerary and an origin city. For instance, Londoners like visiting San Francisco (24 percent bleisure rate), and residents of the latter, in turn, enjoy the UK capital (23 percent bleisure).
The relationship between longer distances and higher bleisure rates applies to domestic trips as well. Keep in mind, some destinations are better for business, and the others are great for vacation. In the survey by
Expedia and Luth Research
, major cities are rated according to bleisure attractiveness.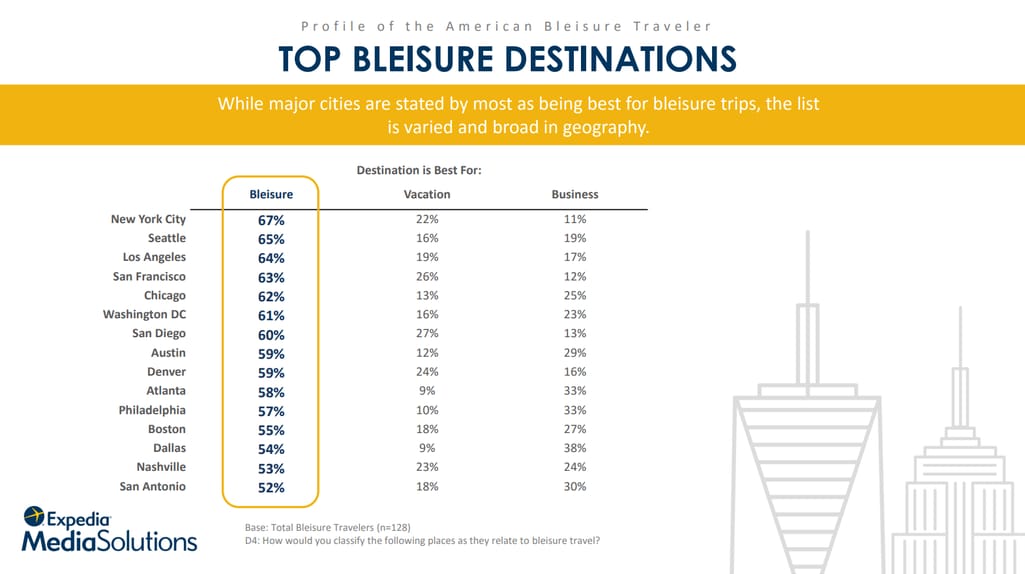 At the same time, workationers tend to travel nearby, within 200 miles or less, to small towns and national parks, where they can reach by car. Work retreats also become popular, with teams gathering at cabins or beach houses to collaborate both in work and play.
Gender.
The
CWT
survey
leisure breakdown by gender indicates that men take more work-related trips than women (70 percent vs 30 percent). At the same time, analysts measured a higher bleisure rate for women (8.5 percent) than for men (6.8 percent) for the top 100 business destinations. The researchers explain this result by calculating an average annual number of bleisure trips per bleisure traveler. Turns out, it's the same both for women and men (1.4).  However, since women generally take fewer work-related trips than men, their bleisure rate is higher.
Age category.
Younger employees who have just started building careers are more adventurous than their experienced colleagues. According to the same GBTA report, 48 percent of surveyed millennials (aged 25 to 35) stayed for several days after having fulfilled their work commitments. The generation, which mostly follows the digital lifestyle and likely has no family-related responsibilities, is more flexible.
The second largest group (33 percent) was generation X employees (36–54 years old). And only 23 percent of baby boomers said they took bleisure trips.
In the workation space, the trend is similar. Millennials and Gen Zers picked up traveling as soon as it became safer, leading to a peak in so-called "revenge travel."
Marital status.
Some researches emphasize that having family and children isn't a reason to reject taking a bleisure trip. Slightly more than half of business travelers (54.4 percent) surveyed by
Bridgestreet Global Hospitality
said they might take loved ones with them.
Professional activity.
Report stats on the correlation between leisure rates and trip frequency are different. The CWT travel survey summarizes that frequent travelers who take 20 trips per year or more are less than 5 percent likely to go on a bleisure trip.
According to the report by Expedia and Luth research, bleisure travelers travel a lot: 32 percent of them take business trips once or twice a month, and 38 percent travels for work once every 2-3 months. Respondents of the GBTA research said they take nearly seven work trips per year.
Although these employees work in various industries, most (26 percent) are related to technology. In general, they work full-time and earn nearly $79,000 per year, mostly occupying middle management positions (42 percent).
An interesting initiative was started in
Seychelles
. With a 98 percent drop in visitors compared to the first three weeks of 2020, the local tourist board is planning to entice people to make Seychelles their home office.
Establishments with sufficient working space and quality Internet can enter the workation program and will be allowed to host guests for up to one month. Their strategy is to target specific demographics – 28-58 year-olds management level employees and similarly situated self-employed, all in elevated income brackets.
You should focus on segmentation techniques to better understand your customer base, perhaps conducting your own research on how your business travelers behave. You can read more about specific segmentation techniques in our article about
travel personalization and segmentation
.
2. Present the information on what the destination city and area have to offer
"Destinations are the first research topic and lead decisions, with sightseeing and the restaurant scene being key influences," representatives from Expedia and Luth Research highlight. The use of specific content and channels for its distribution can convince business travelers to spend extra days at the property for leisure activities.
"Our Area" sections on hotel and OTA websites
Every time you travel, you likely want to know everything about leisure options that your housing can offer. Your business travel customers aren't an exception. They read about amenities, scroll photos, check out reviews, and attentively study a map to know if a location is good. Help them research destination fast and easy.
If you run a hotel and already have a website, you can
leverage direct bookings
by providing additional information about hotel amenities, reservation details, and location. The
Our Area
section will give business travelers reasons to stay longer. List sights, places for activities, wellness and shopping centers, restaurants, etc. Note their addresses, distance from the property, and contacts.

Washington Marriott Georgetown hotel's website gives exhaustive information about the area. Visitors can get weather forecast, a list of landmarks to visit, and places for sports, wellness, and family activities
Thirty-three percent of Expedia respondents said that there's a high likelihood they'll take a leisure trip if there is an event going on in the area. In that case, you can create an additional chapter for ongoing cultural and sporting events, concerts, or plays in the
Our Area
section.
Airbnb offers their customers not only a search for properties but also a plan for their leisure activities. In the
Experience
section, homeowners advertise their own tours and workshops. A business traveler who finds out about out the multitude of exciting places located in walking distance from an accommodation usually stops thinking only about work.
Social media networks
Social media presence allows for building a follower base. Communicate with it to share information about services. Facebook ranks first among the most efficient platforms for online marketing as
62 percent
of digital marketers said they would choose it. Their choice is reasonable: More than
2 billion people
actively use Facebook every month.
Hilton's Facebook page, for instance, has more than 1.7 million followers. Of course, the content on the hotel chain's page is targeted at all groups of customers. But who said you can't make posts for potential leisure travelers? For example, put up a photo of downtown Chicago, mention famous landmarks or upcoming events. You can also invite people to visit the destination, stay at the property, or use your site for booking.
The social network offers a promotion option for business pages. Post boosting is one of them. Define a target audience based on such categories as location, age, gender, interests, as well as on insights about potential bleisure travelers noted above. You can also create a custom audience using contacts you already have or a lookalike audience based on people who've already shown interest in your page, as the
Facebook team suggests
.
3. Offer specialized deals
The GBTA and Expedia surveys found that most of the travelers (82-84 percent) stay at the same hotel or apartment for the bleisure part of their trip, which is a matter of convenience. The need to a research new area and book housing again, packing, unpacking, and moving to another place doesn't seem like rest and relaxation for people who just have fulfilled important work commitments. How to encourage travelers to stay longer for their leisure part?
Discount programs
According to the Expedia report, the most driving factors for accommodation change are high room rates (72 percent), an option to stay with family or friends who live in the area (58 percent), and a hotel's significant distance from leisure activities (54 percent).
You can make a price a reason to extend a stay at your property by offering a discount or extra nights. According to Colloquy Research,
76 percent
of business travelers would gladly accept these offers. For example, a five-night deal with a 25 percent discount on the fourth night and the fifth night for free, or weekend rates with required Friday or Saturday stay over.
Multinational tourism company TUI introduced special
workation packages
in October 2021. The tour operator basically combined normal All-Inclusive vacation with work-related amenities, such as a suitable working space with ergonomic desks and chairs and high-performance Wi-Fi. The package also includes the cover by TUI Holiday's Promise program that allows for fee-free changes.
Discounts for business travelers' family and others
Those travelers who have family or a significant other said they would make it a bleisure trip if a hotel offered the option to bring those people along at a discounted rate. Numbers from Expedia and Colloquy surveys differ in this case (44 and 76 percent respectively). You can offer a package in which children under 12 can stay for free, and the second adult gets a 20 percent discount per night.
Back in 2020, Marriott launched the
Work Anywhere
program for their loyalty memes. There are three packages within the program.
Day Pass ultimately provides a personal office in a hotel room for people who don't have sufficient or quiet space to work at home. Guests can also use on-property business facilities for free.
Stay Pass combines Day Pass benefits with an overnight stay.
Play Pass, available at Marriott's resort locations, offers a business concierge, supervised kids' activities, office spaces, and curated experiences for the whole family.
Additional perks
Bleisure perks can include a tour of local landmarks, discounted entry tickets to theme parks for traveler's children, or gift cards for spa centers for couples.
Please note that full-time employees usually plan professional trips at the beginning of the week. That's why
travel sites get most of their traffic
on Mondays during normal work hours, between 9 am and 3 pm. The activity also rises after 8 pm and closer to the weekend.
Accor Group
incorporated
different elements of remote work in some of their destinations. For example, in collaborations with Wojo, they already have a network of co-working spaces in 500 locations. But in ten hotels in Bangkok, they've also opened co-working room packages. In Raffles Singapore, guests can work in one of their luxurious suites from 7 am to 7 pm, with a discount on all restaurant, bar, and spa purchases.
Knowledge of user digital behavior will help you understand when and how to deploy your marketing weapons.
4. Collaborate with other travel companies
AARP research
forecasted that 41 percent of travel bookings will be made online this year. Each month, more than 10 million travel-related searches are carried out in Google. Based on this number of searches, the top 10 OTAs receive approximately 3 million visitors in web traffic. Partnership with an OTA gives travel and sharing economy companies, hotels, and property owners an opportunity to reach a large audience of bleisure travelers who prefer planning trips by visiting the fewest number of sites. In other words, these companies can make a search path shorter and faster. But there are also specific options.
Partnership with travel management companies
By cooperating with travel management companies you can offer bleisure packages to travelers who work in companies that use travel management solutions. These solutions have a set of software development tools that allow for integrating their travel expense management with your hotel or OTA application.
For example, Airbnb partners with Concur. The accommodation-sharing company introduced the
Business Travel on Airbnb
service to cater to the 10 percent of their patrons who are business travelers. Using the 
TripLink
service, business travelers can book properties on Airbnb or other providers directly and have their expenditure reports automatically pre-populated in Concur.
Airbnb shares bleisure deals though this service. Customers have an option to rent entire houses using Business Travel Ready search filter. Employees can work and relax at the same place and live like locals in their new neighborhood.
Partnership between transport companies and hotels
American Airlines has sealed deals with 21 hotel groups to develop its
loyalty program
. Travelers who fly with the airline can earn miles in exchange for staying in hotels. They can choose from dozens of properties, including ones by such major hotel groups as Hilton Worldwide Holdings, InterContinental Hotels, Marriott, Hyatt Hotels and Resorts, and Starwood Hotels and Resorts. The reward a traveler gets depends on the hotel they have chosen. For example, you can win 500 miles for each stay in Hyatt hotels.
Nevertheless, the biggest bonus — up to 10,000 per night — is offered to customers who book hotels on
Rocketmiles
OTA. So, people traveling for work can extend their stay for the money they saved on a flight home.
Swedish tour operator
Ving
went even further and teamed up with the Gran Canaria Tourism Board to develop a special Workation package. Guests booking a stay at Ving's Supreme Atlantic View hotel can pay extra 495 Swedish krona (around $55) per week for access to an adjustable desk, ergonomic office chair, desk lamp, stationery, and a sun visor for the computer screen if you want to work from the balcony.
5. Integrate tours, attractions, and table booking APIs for targeted recommendations
API stands for application programming interface. It's a software that allows for delivering a request to travel service providers about their booking capacities and receiving a response from them. In other words,
travel APIs
provide instant access to services of third-party vendors.
With an integrated API, you can make targeted suggestions to visit landmarks or attractions available in the area and even give travelers an option to book them right from your website.
Tours and attractions
Give business travelers ideas on how to spend free time after they're done with work. You can use
tours and attractions platforms
to create personalized offers and promote them through notifications in mobile applications or emails. Such APIs as
Expedia Things To Do
or
Viator
return results on requests for activities, events, and tours available in the area for the chosen dates and locations.
Table reservations
Knowing where your customers go on a business trip, you can suggest them experience the local cuisine. Make tailored suggestions to reserve tables at a destination's best restaurants or pubs for groups or single travelers. For instance, you can use
Open Table APIs
to streamline table booking at the nearest eateries.
Unraveling the new business traveler
According to
GBTA
forecasts, corporate travel will return to pre-pandemic levels by 2025. But whenever it does happen, a business traveler's wants and needs will have transformed. People themselves disagree that it will ever happen. After all, business travel that doesn't have a direct return on investment will most likely be moved to Zoom rooms.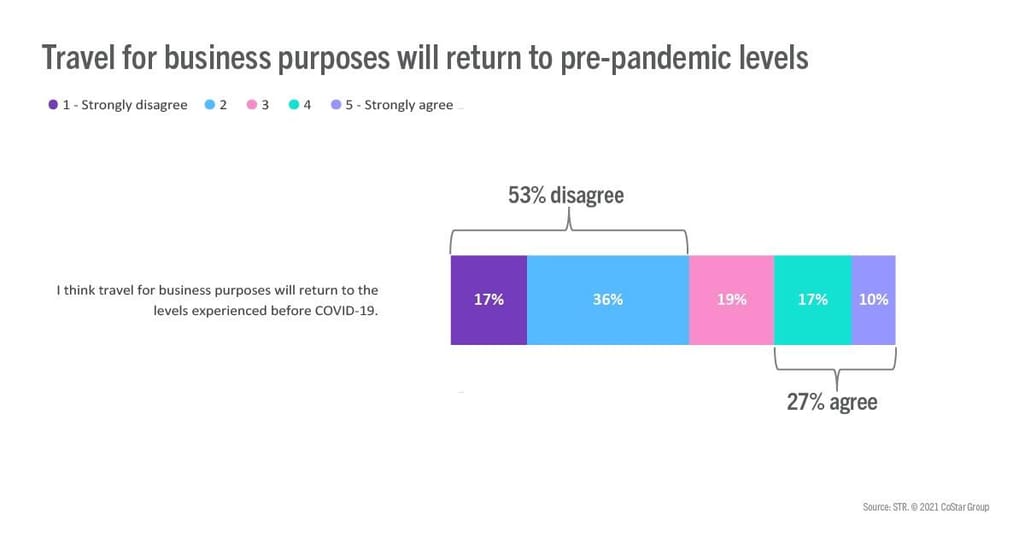 Only 30 percent of 600 global business travelers surveyed think that corporate travel will return to pre-Covid levels Source: STR
There's not enough data or experience to draw any conclusions about what corporate travel will be like in 2022 and beyond. The best way to get a handle on that is data about your own customers. Make sure you get a hold of it.