Reality must be experienced.
In the last few years (and especially after the pandemic), travel trends have dramatically shifted and multiple studies prove it. For example,
TripAdvisor's Travel in 2022 Report
discovered that about three-quarters of travelers are willing to see new places with priorities such as
having new experiences
and
learning about history and culture
not far behind.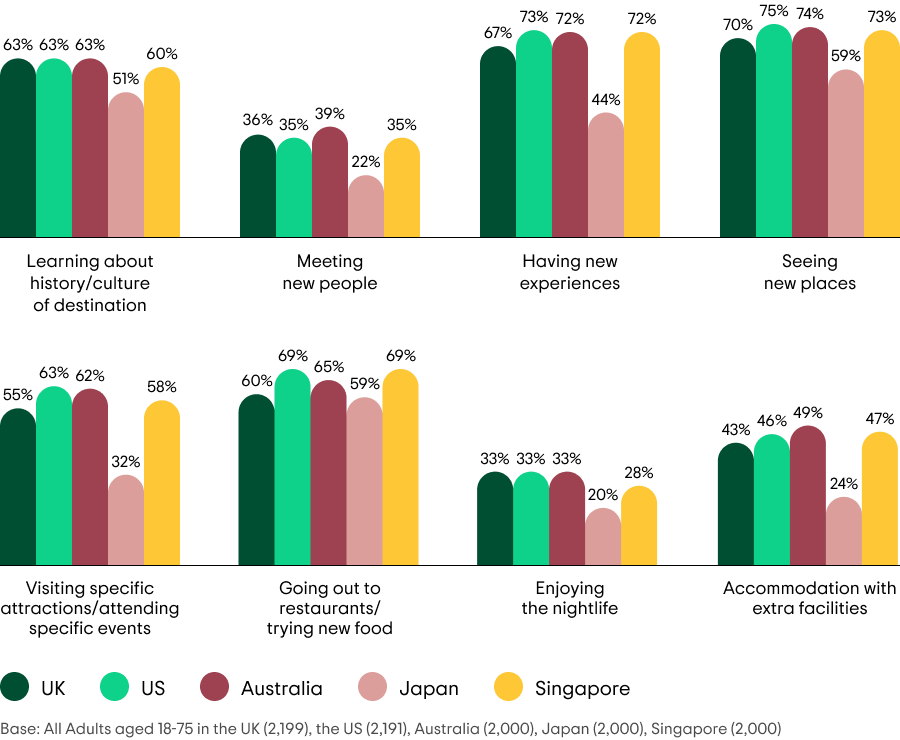 TripAdvisor's "Travel in 2022: A Look Ahead" Report
Nine out of ten
Razorfish study
respondents believe the most important keepsake from a trip is a story to tell about it, while 79 percent say that traveling isn't about getting to a new place, it's about how you grow as a result of the journey. Moreover, half of Gen Z respondents said they want to get out of their comfort zone and crave a sense of risk and excitement while traveling.
Expedia even gave it a name. They called 2022 the year of GOAT – Greatest of All Trips – mindset. Their research shows that 40 percent of travelers dream about trying new food, 31 percent crave for local delicacies, and 23 percent look for off-the-beaten track experiences and destinations.
Summing up, we can say that today's travelers no longer want to spend their vacation hopping on and off the sightseeing bus on the packaged group tour or chilling lazily next to the pool with a cocktail at the all-inclusive hotel without ever leaving the premises (well, we'll be honest, some still do).
Instead of that flight-and-flop style, many vacationers are hungry for excitement, cultural immersion, and new experiences. Obviously, the travel industry has to keep up with customer demand, so today we explore what experiential tourism is about and how travel businesses can capitalize on this surging appetite for exclusivity and adventure.
What is experiential travel?
Experiential travel
is a form of tourism that implies an active and meaningful engagement with a destination's culture, people, and/or environment to create unique, memorable experiences. It's the story about visiting new destinations, keeping off the beaten path, encountering authentic local experiences, and just doing something extraordinary. And we not only mean actual activities here. Sometimes even staying in an unusual lodging such as a
glamping
cabin or a treehouse can be an experience of a lifetime.
Experiential travel is often confused with
immersive
and
adventure travel
(actually,
Adventure Trade Travel Association
or ATTA suggests
adventure tourism
as the main unifying term).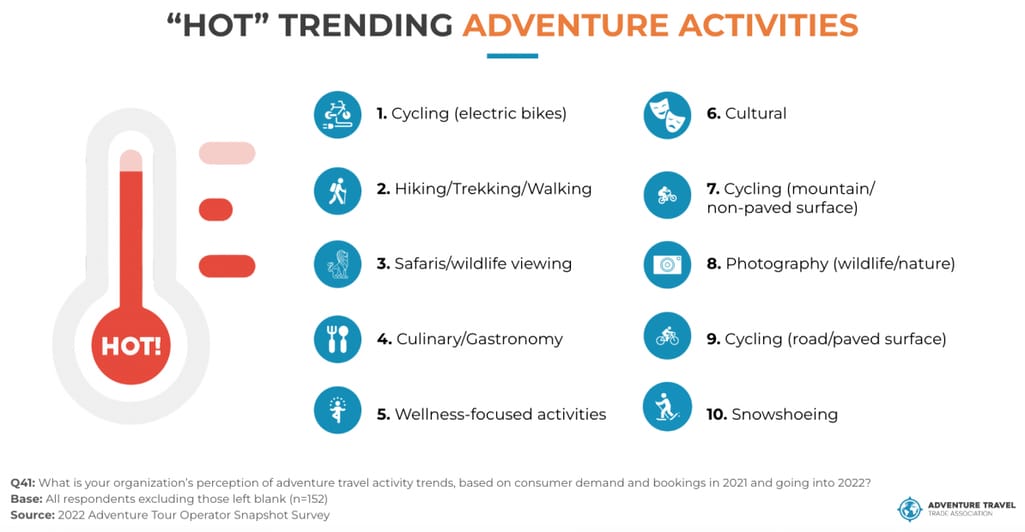 2022 ADVENTURE TRAVEL INDUSTRY SNAPSHOT by ATTA
However, we believe these concepts aren't interchangeable. In fact, experiential travel can be seen as an umbrella for the other two. Here's why.
Immersive travel
implies, well,
immersing
in the foreign culture which in most cases means mingling with the community at the place of destination, engaging in traditional activities, attending local events, and so on. It can be anything from booking a homestay instead of a hotel to volunteering at the nearby field to attending a weekend flea market or a local yoga class – you get the idea.
Meanwhile,
adventure travel
is more about physical activities. It can be something safe (for the most part) and moderately active like camping or hiking – or more on a sports and even adrenaline-rush side, like skydiving, rafting, bungee jumping, mountain climbing, and so on.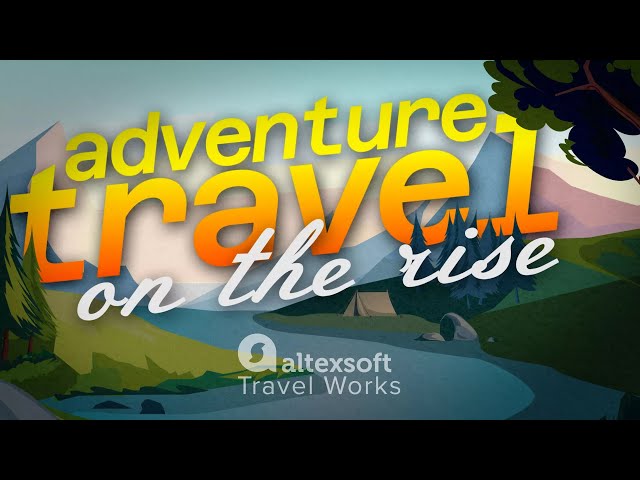 Watch our beautiful video about the post-pandemic surge of adventure travel
So, as you can see, both of these groups are about getting vivid experiences, with the first one involving deep connection with the locals and getting to know the local culture, and the second one (that can even be done alone and in one's own country) involving an active outdoor pastime.
Now that we're done with the basics, let's talk about how businesses can actually help adventure-seeking travelers plan and organize the vacation of their dreams.
Experiential travel ecosystem: business models, distribution, technologies, and representatives
If you run or plan to launch a travel business and want to capitalize on the experiential tourism trend, here are options on how to fit in.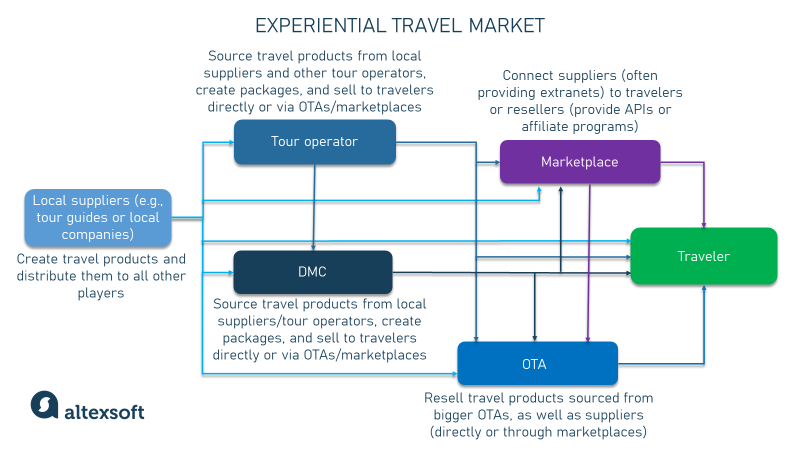 Experiential travel distribution
Local service suppliers: building the base of the pyramid
Local suppliers are the ones that create the initial travel products. As we said, experiential travel is tightly connected to either traditional, authentic practices that only locals can demonstrate or unique, out-of-the-mainstream services provided by specialized, niche businesses.
Real-world examples.
Basically, any entity that offers the tours and attractions (T&A) services can be placed in this category, be it an amusement park, a Bedouin renting out a camel, a ski resort, or a Chinese farmer demonstrating his rice field. Some of them can be called tour operators if what they do is showing tourists around or arranging guided tours of any kind (pub crawls, coffee tastings, mountain trekking – you name it).
Inventory sourcing and distribution.
Local suppliers don't have to source inventory, but they distribute it to all other players including the end consumer.
Technologies.
Typically, small companies are poorly digitized or not digitized at all, so they manage their operations with spreadsheets and often use distributors' extranets to create entries and update availability manually. Bigger businesses can adopt itinerary building software (e.g.,
TripCreator
), a
channel manager
(e.g.,
TripAdmit
), or even a focused, multi-featured
tour operator
platform (e.g.,
TrekkSoft
) that can assist with scheduling, multi-channel distribution, partner relationships, analytics, and so on.
Tour operators: providing turn-key services
Tour operators
are travel companies that devise itineraries, create corresponding multi-component tour packages, sell them to travel agents or travelers, and make sure everything goes well from the start to the end of the trip, having full responsibility to the traveler.
Most tour operators have something to offer to adventure lovers. Whether organized by the company itself or sourced from third-party suppliers, such experiential travel products find their place in the overall portfolio.
Real-world examples.
Tour operators are in a big category that includes a variety of businesses. There are large, well-known companies (like
TUI
or
Jet2holidays
) that even operate their own airlines or hotel chains, so that they not only source inventory from external travel suppliers, but use their own as well.
Also, there are niche tour operators that only focus on experiential travel (e.g.,
Intrepid Travel
,
Exodus
, or
Adventure.Travel
) or the ones that specialize on unique, tailor-made luxury tours crafted from scratch for every traveler (e.g.,
Abercrombie & Kent
,
Scott Dunn
,
Black Tomato
,
ETG
, etc.). Besides, as we said, small local companies that sell just one or several local products like a guided tour, safari, cooking classes, or other local activities, join in as well.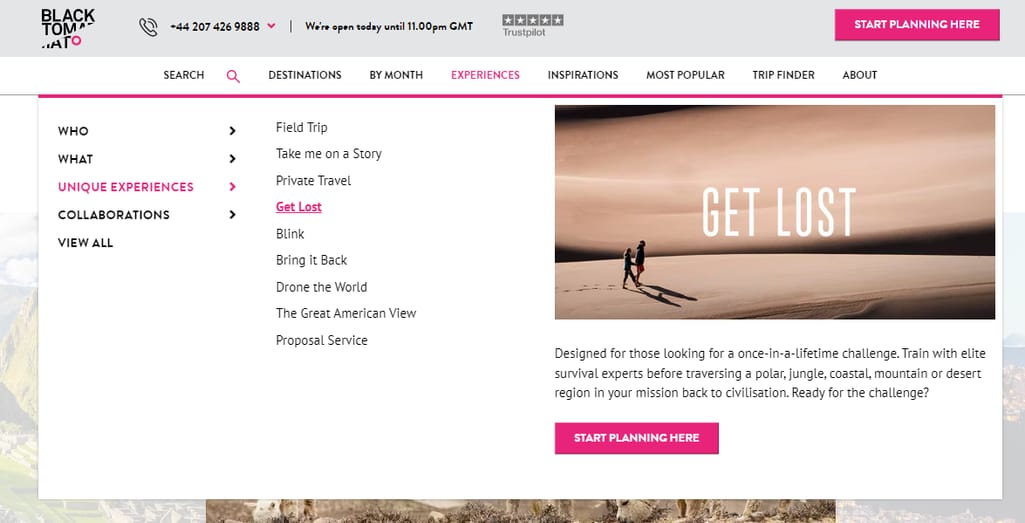 Black Tomato's Unique Experiences category
Inventory sourcing and distribution.
Tour operators source inventory from local suppliers or create their own travel offerings. They distribute their products to OTAs, DMCs, or other operators, list them on marketplaces, or sell directly to travelers (in the office or via website).
Technologies.
Here, again, it all depends on the size and resources of the company. Small operators manage with spreadsheets, emails, and phone calls, while big players implement a full-blown, specialized system or even develop a custom solution to cover all the operational needs. Mid-sized operators often adopt standalone modules to streamline one or several business aspects such as
itinerary creation and scheduling (tour builders),
online booking (booking engines),
multi-channel distribution management (channel managers),
customer relationships (CRM systems),
content management (CMSs),
In addition, to facilitate and automate the B2B interaction, bigger companies often develop a suite of
APIs
to enable integration and share product details with their partners. In case you're not familiar with the concept, watch our explainer on APIs in travel.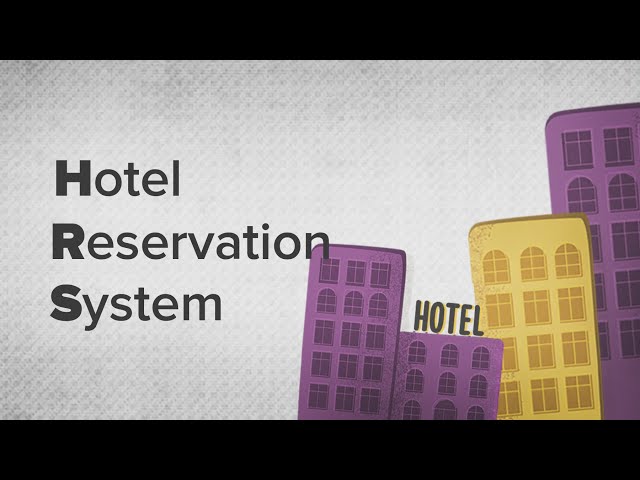 Connectivity in the travel industry
Destination management companies: contracting local experiences
Destination management companies
or DMCs are similar to tour operators in a sense that they also organize the travel itinerary, create packages, and usually work with multiple suppliers to make all the necessary arrangements.
However, since DMCs usually operate from the said destination, they have a deeper knowledge of its specifics, regional potential, and local suppliers. They offer a wider scope of services, including airport transfers, vehicle rentals and other types of logistics support, hotel and restaurant bookings, tailored activities and workshops, themed corporate events, and much more.
Having extensive knowledge of the destination's touristic resources, DMCs can offer the most unusual experiences to those who want to stay off the beaten path and try something new and authentic.
Real-world examples.
There are global DMCs like
JTB Group
that operates 508 offices within 143 cities worldwide and local ones that specialize in just one region or country like
SAT Mexico DMC
.
Inventory sourcing and distribution.
To source inventory, DMCs work with tour operators and direct travel product suppliers big and small. They sometimes act as hotel wholesalers (
bed banks
), contracting allotments from local accommodation providers.
Then they bundle inventory into packages and, just like tour operators, sell directly to the customers, partner with distributors, or work through marketplaces.
Technologies.
Since the line between tour operators and DMCs is very blurry and their operational models are so similar, the list of software that can come in handy is the same. Though some vendors have solutions tailored specifically to the needs of DMCs (e.g.,
eTOS
).
Focused T&A marketplaces: aggregating offerings for every taste
Tours and attractions
(T&A) marketplaces do not create, conduct, or buy tours for reselling. They only connect suppliers with consumers and distributors and earn their commission if the tour is booked. Here's how it works.
Tour operators list their products on the marketplace platform, increasing their customer reach. The marketplaces often offer expert coaching to their suppliers (e.g., on marketing or technology), as well as
payment processing
services and analytics tools.
On the other side, travel agents (or other resellers like travel bloggers) partner with marketplaces to earn commissions on the bookings made through affiliate links/widgets located on their own websites, social media, blogs, or other digital platforms. Typically, they also can enjoy the support team's patronage and access to useful tips, analytics, and other handy perks that depend on the platform.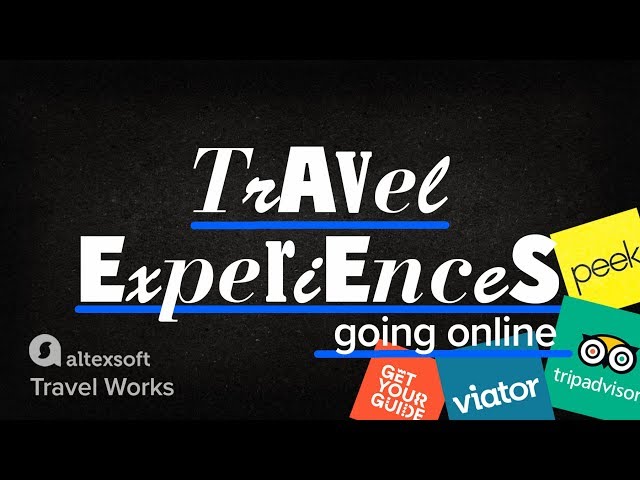 Check our video about how T&A marketplaces emerged and evolved
Real-world examples.
Viator
, owned by TripAdvisor, is the largest T&A marketplace. When searching for a destination, travelers can see different categories of activities, with
Eco Tours, Nature and Wildlife Tours,
and
Outdoor Activities
being some of the options.

Viator's activity categories
GetYourGuide
, one of Viator's main competitors, also has a
Nature and Adventure
category for active travelers. Those who prefer other experiences like cultural immersion will have to browse through alternative activity types like
Workshops and classes, Other experiences,
or
Guided tours.
Inventory sourcing and distribution.
T&A marketplaces usually work with direct suppliers and tour operators/DMCs, offering extranet interfaces to manage listings. Inventory is either sold directly to travelers or through resellers like OTAs and affiliate partners. As we said, travel bloggers or eCommerce sites can place affiliate links, banners, or widgets on their platforms and earn commissions on bookings.
Big marketplaces support a more complex integration and offer a set of APIs that allow distributors to connect and source all product information automatically. Then, depending on the partnership mode, resellers can either enable booking via their own platform or redirect to the marketplace for reservation and payment processing.
Technologies.
There are specialized marketplace builders (like
Sharetribe
) that help develop such platforms. Their features include powerful search capabilities, transaction and content management, a booking engine, extranet for suppliers, communication channels, plus a set of business and pricing rules to handle different types of workflows. But of course, big players build their own custom solutions from scratch.
Travel agencies: complementing portfolio with T&A
When we say
travel agencies,
in most cases we mean
online travel agencies
or
OTAs.
Those are websites that sell all sorts of travel products, separately or
packaged
in bundles.
Real-world examples.
If you look at the biggest players like
Booking.com
,
Expedia
, or
Airbnb
, you'll see that all of them have a T&A section of some kind with subcategories that help filter propositions at a specific destination. This way, OTAs cater to those travelers who do the research and planning themselves and want to find out what they can experience during the trip.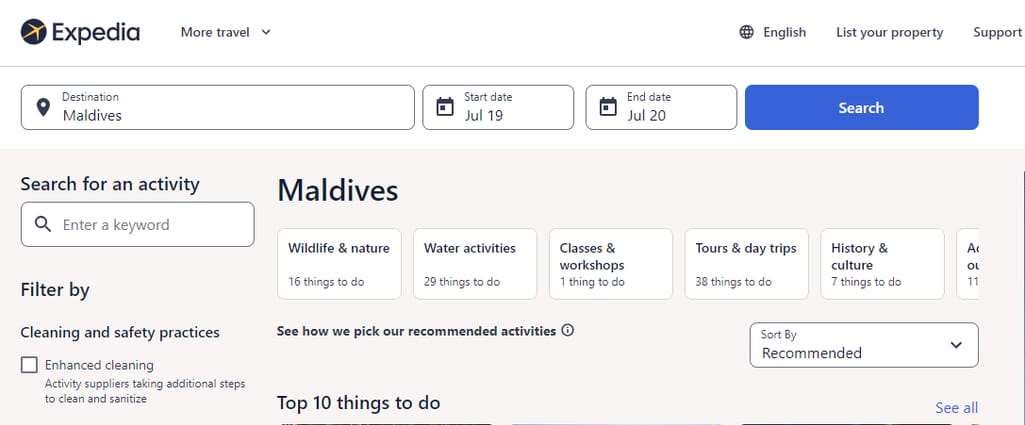 Expedia T&A offerings
Inventory sourcing and distribution.
Basically, an OTA business model is similar to that of a marketplace, but the range of products they deal with is much wider. They are the main retailers in the travel market and their inventory comes from all possible sources: direct suppliers, wholesalers, marketplaces, or bigger OTAs. Then it's resold on a markup or commission basis via their own websites.
Technologies.
Well-digitized OTAs have three main tech components:
the front side which is their website or traveler app;
the back side where the booking engine, databases, accounting, and other internal systems function; and
the provider side which regulates connections to suppliers.
Consider reading our article about an
OTA's back office
to learn about their tech infrastructure in detail or watch a short video explainer by our travel expert.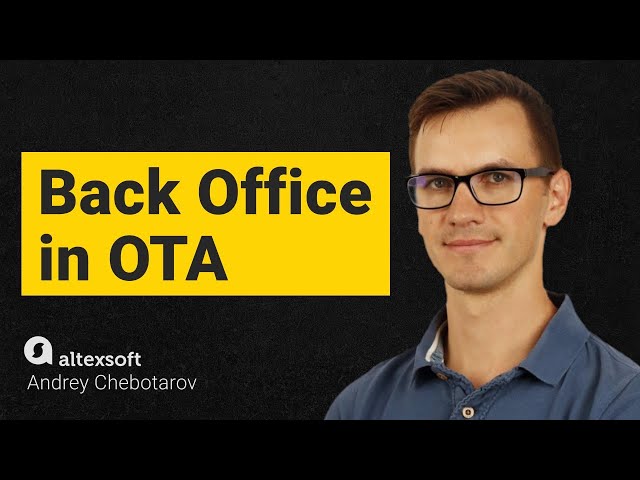 Back office in OTAs explained
Travel app developers: suggesting a focused solution
Travel apps provide a distinct way of assisting independent travelers. Today, the world functions on smartphones; so, if you do it right, your product will definitely find its fans (be sure to check our tips on how to make a smashing
T&A mobile app
).
Such apps typically do not sell anything, but they help with the search, provide information, and redirect to the provider page for booking (if relevant). So, to get your potential customers the information they want, you'll have to connect to data providers and experts in the area, depending on what you want to focus on. For example, any navigation app would need mapping data, so you'll probably have to connect to, say,
Google Maps
or
OSM
, while if you want to add reviews to places you highlight, look at
Yelp
as a source.
For inspiration, check out some of the popular apps.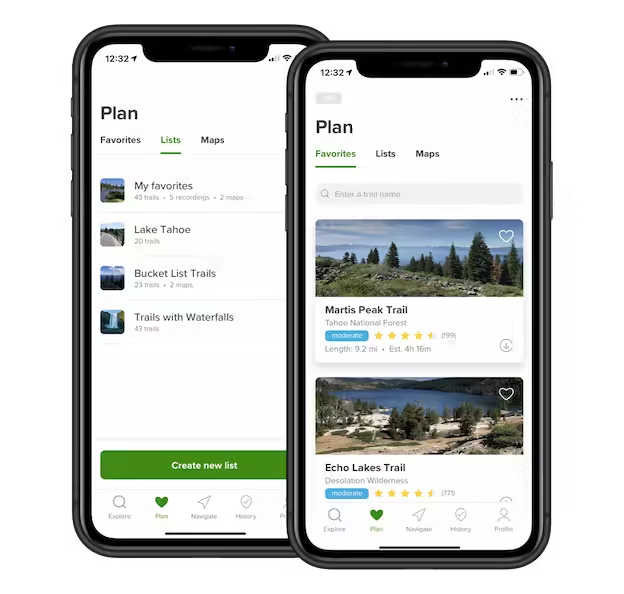 the AllTrails app Planning feature
Besides such focused platforms, there are a lot of travel guides and assistants that help you find interesting places and unusual activities wherever you go (though more often than not, these are the apps developed by OTAs or marketplaces), e.g.,
Like a Local
,
Yelp
,
Atlas Obscura
, etc.
If you want to develop your own app, the sky's the limit regarding ideas. Maybe you'll fashion a platform for treasure hunters, or a brand new travelers social network with an AI-powered speech translator to facilitate communication, or maybe collect information about all the cooking classes or Buddhist retreats in the world – who knows?
What to consider when starting an experiential travel business
Whether you already have a travel business and want to supplement your portfolio with experiential tourism offerings or are thinking about entering the market, we have a few tips for you to keep in mind.
Inventory management and integrations
If you plan to
source travel products
from third-party suppliers, carefully compare their terms, conditions, pricing models, services, and integration options. Connecting via APIs is always a great way to avoid manual mistakes and have the most up-to-date information. However, be aware that your most authentic products might come from local suppliers who are the least digitized.
Distribution
Balancing your distribution channels and finding an optimal mix is of the same importance as choosing suppliers. Partner with resellers and advertise on marketplaces; create a network of affiliates and cooperate with in-destination merchants like tourist information deals and hotels; consider adopting a channel manager and a
point-of-sale
software to sync availability and boost personal sales.
However, if you want to create a high-end brand image, you'll have to be more selective and use carefully chosen channels to create exclusive offers for your target customer group.
Marketing
Your advertising and promotional strategy can be a real gamechanger. Research the market to find your target customers, where to reach them, and ways to attract them. Work on SEO, connect to customers on social media, promote your company on review and local information websites. Visit our separate posts on
marketing
and
personalization
in travel to learn more on how to draw people's attention.
Online and mobile presence
Creating a robust website with an intuitive
user flow
and an easy-to-use mobile app is a must in today's digital world. Remember about
localization
aspects, consider offering inbuilt communication channels like
chatbots
, and be careful when choosing a
payment gateway provider
(if you enable booking).
Sustainability strategy
Today, experiential travel and
sustainable
, or green travel are among the top trends (alongside concern about health and safety procedures and demand for
contactless
experience). And as studies show, they not only coexist but also correlate as most adventure-seeking travelers are also concerned about environmental and climate issues.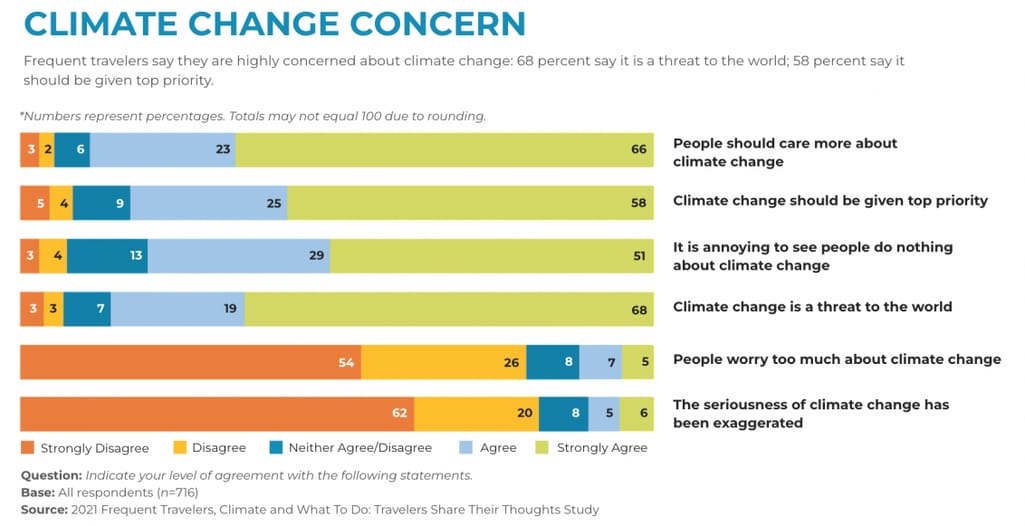 FREQUENT TRAVELERS, CLIMATE AND WHAT TO DO: TRAVELERS SHARE THEIR THOUGHTS study by ATTA
Experiential travel benefits local communities
. Another reason these two trends are closely interconnected is that experiential travel heavily engages local communities in touristic activities. That brings along direct social benefits – from immediate income generation to overall infrastructure development – which is one of the main aspects of sustainable travel. Besides, getting to know the local culture helps increase awareness and preserve the traditions and authenticity of the destination community.
A 2022 Booking.com
Sustainable Travel Report
reveals that sustainability is important to 81 percent of travelers. The same report shows that 66 percent want to have authentic experiences that are representative of the local culture away from popular tourist attractions with 45 percent believing that protecting and learning about local cultures is part of sustainable travel.
Sadly though, around 40 percent of respondents indicated that they don't know how or where to find activities or tours that ensure they are actually having a positive impact and giving back to the local community.
Adventure travel is an alternative to high-emission flights
. In addition to that, environment-friendly adventure travel offers a great alternative to taking distant flights or bus tours that generate harmful emissions, so the increased share of such kinds of tourism can also help reduce the negative impact of the travel industry.
What can travel companies do?
Being aware about the importance of green initiatives for adventure-seeking travelers, what can you as a travel company do to be in line with today's trends? Here are some ideas.
Get certification -- some industry-recognized certifications that verify high social and environmental performance, compliance with standards, and commitment to sustainable business practices are Travelife, GSTC, or B Corp.
Offset emissions -- carbon offsetting compensates for your harmful impact by investing in emission reduction projects such as reforestation, biofuel usage, and so on.
Adjust itineraries and travel products -- by choosing more environment-friendly accommodation options, transportation, and suppliers.
Fundraise for communities at your destinations.
Finance research.
Educate your partners and customers to work and travel responsibly.
Also remember to not only commit and contribute to social, economic, and environmental improvement, but also promote your efforts and showcase results – to attract like-minded travelers.