Some people don't like exploring new places through the tour bus window accompanied by a guide's never-ending monologue. They prefer self-planned activities and the freedom of choice over fast-paced walks across city streets with dozens of fellow travelers.
Many vacationers know how to find destination gems, what landmarks they want to see, where they want to stay, and how they want to get there. And they seamlessly book the whole itinerary themselves.
Such people are called
free independent travelers
or FITs – though they may not know it.
An upper-middle income allows them to plan their own leisure activities, travel alone or with their close circle of friends or family, diving deep into local cultures and lifestyles. Free independent travelers represent a diverse age group, from millennials to seniors.
Today's online travel market facilitates the growth of independent travel. People use apps, virtual assistants, review platforms, and tour and activity aggregators to get ideas for future trips. Tour and attraction (T&A) suppliers started going digital to meet the demand for self-planned trips.
The travel activities sector that accounts for 10 percent of global travel revenue, has reached $135 billion in 2016,
according to Phocuswright
.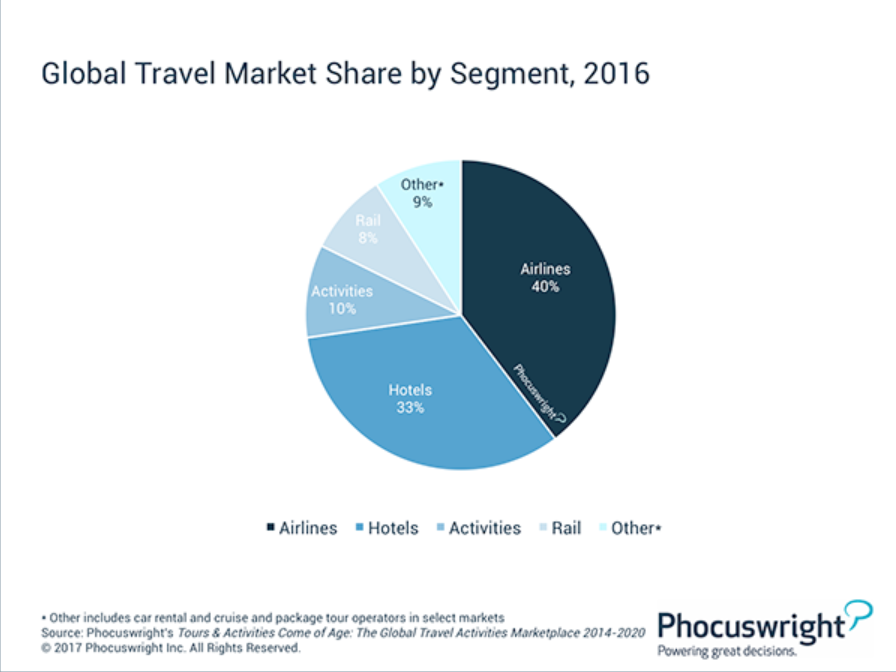 Travel activities represent 10 percent of global travel revenue.
By 2020, the revenue is expected to grow to $183 billion. Travel brands including giants like Expedia, TripAdvisor, or Airbnb that popularize online distribution of
tours and attractions
influence this growth.
Companies sell tours on their websites while promoting themselves on worldwide, regional, and local marketplaces (OTAs). Regardless of the types of distributed services, these travel aggregators have the same ultimate goal: to let customers choose from a myriad of options with minimum effort. Suppliers of activities use these marketplaces to increase their visibility and bookings.
Alan Locher
, senior director at
On Location Tours
, a company that holds TV & movie themed excursions around New York and Boston, notes that an OTA with a large reach helps them bring tours to different audiences from around the world.
Excellent customer experience (such as simple website navigation and booking) is another main requirement of OTA selection.
Drew Johnson
, a founder of Florida-based
Lagerhead Cycleboats
says:
"We base our company on how the customer interacts with our company from when they first hear about us until their tour is complete."
We contacted both suppliers and T&A platform owners to find out how they cooperate to run their businesses more efficiently. So, if you plan running a business within the growing travel activities sector, consider business models we discuss below.
Direct connection between suppliers and distributors
You can build travel activities listing yourself and cooperate with suppliers directly. For that, you need to define terms and conditions under which
tour operators
will showcase and distribute their products, understand how customers will interact with suppliers and platform employees. These operations will then determine your commission policy, as well as legal and financial obligations to partners and travelers. Developing and using your supplier network will initially cost a significant amount of time and money but may result in more revenue later.
Marketplaces provide partner programs for suppliers under various conditions. The onboarding is relatively similar on all distribution platforms: Providers of tours and activities sign a registration form, specify basic information about themselves (first name, last name, job title, and contacts), as well as briefly tell about their company and its services. Let's check out a section of a questionnaire for
Expedia Local Expert
partners.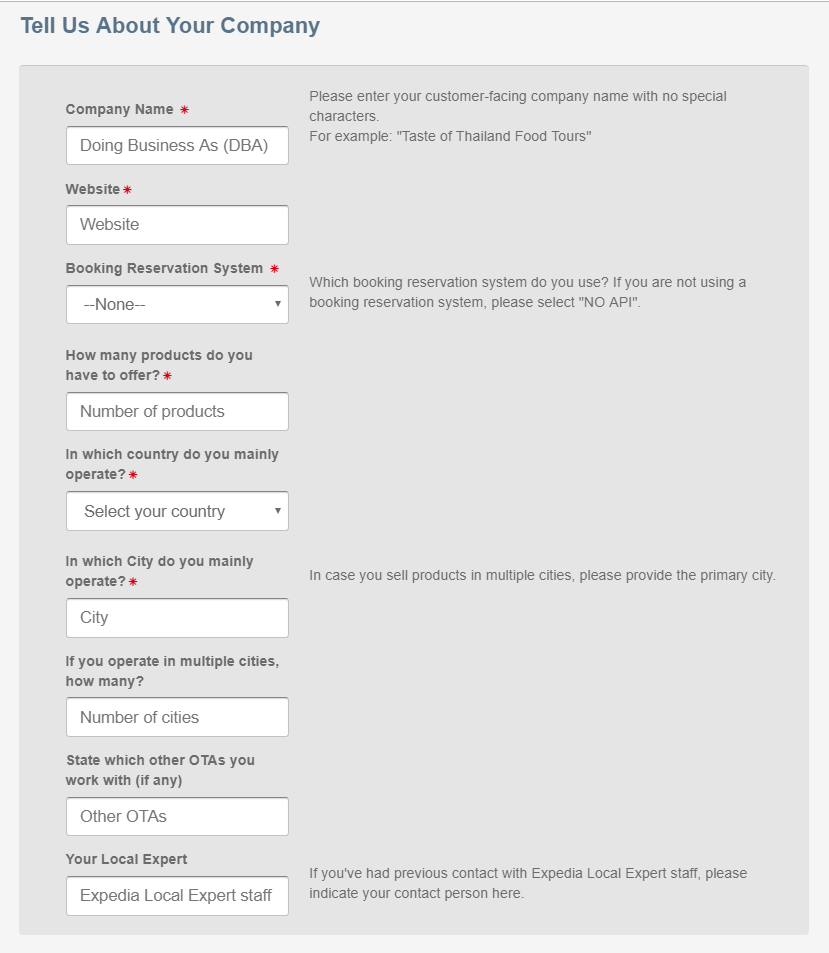 Basic information every supplier provides to Expedia in the registration form.
It's worth mentioning that onboarding can be done both ways: a supplier may fill the form on an aggregator's website, or the distributor may contact a provider with a cooperation offer.
Supplier programs generally differ in the automation level and a provider's involvement in the  distribution and selling processes, specifically:
supplier's content management
inventory availability control
reservation and payment processing
commission policy/payout.
Here is an overview of T&A providers. The table may help suppliers evaluate possible partners. It can also be an example for entrepreneurs planning to develop their own marketplaces.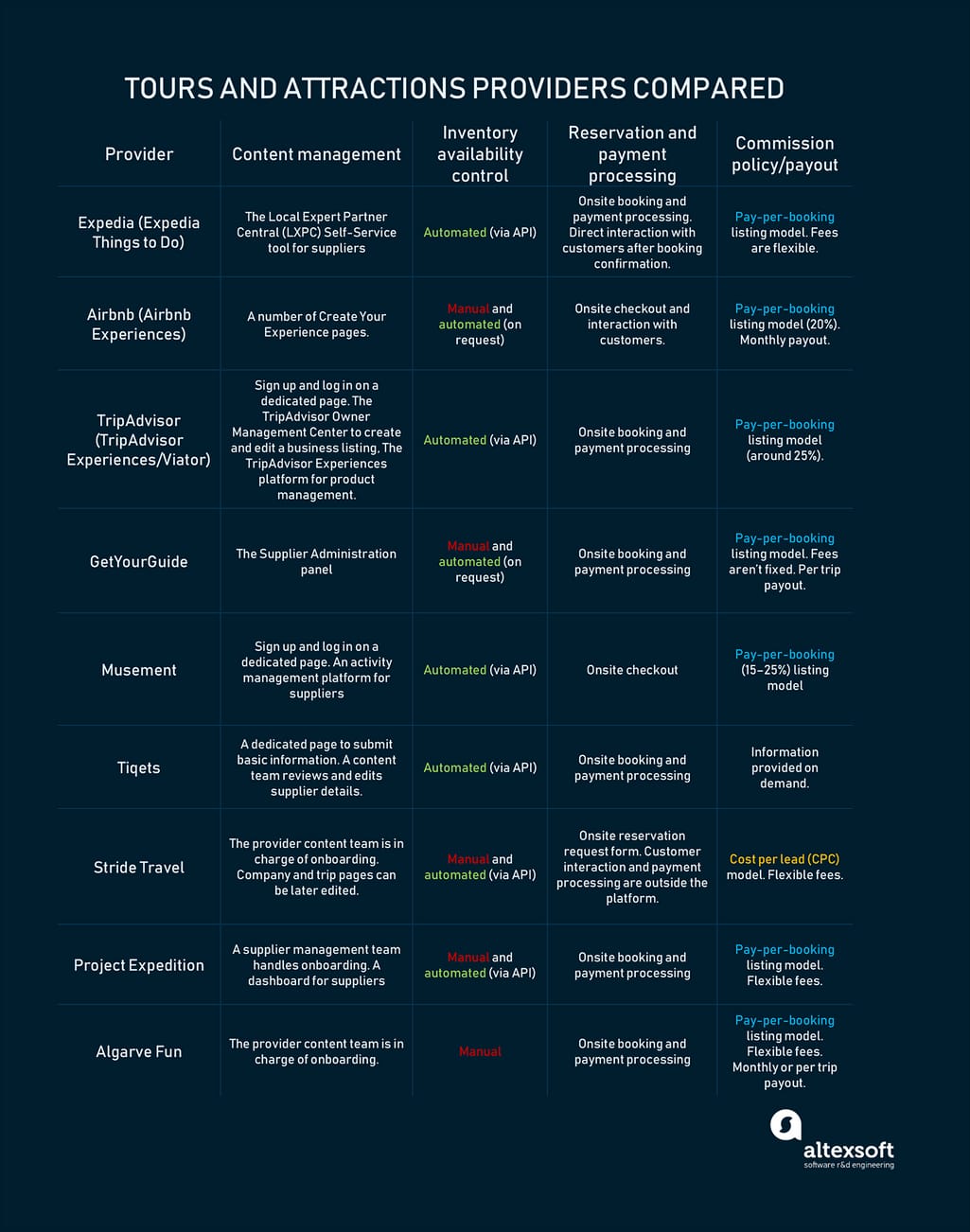 Let's discuss these aspects in more detail.
Content upload and management
Platforms have different approaches to content management. Some of them allow businesses to maintain their accounts with dedicated tools. Other marketplaces only ask suppliers to provide all the needed information, and later create their profiles and tour descriptions.
Self-service tools for content upload and management.
GetYourGuide
, a booking platform with a variety of attractions worldwide, welcomes providers to
register
and provides a detailed
Supplier Support
section to help them operate smoothly within the marketplace. Suppliers whose inquiry and details are approved get access to Supplier Administration – a panel for the uploading and editing of product information (e.g. a tour description, booking options, prices, pictures) and account management.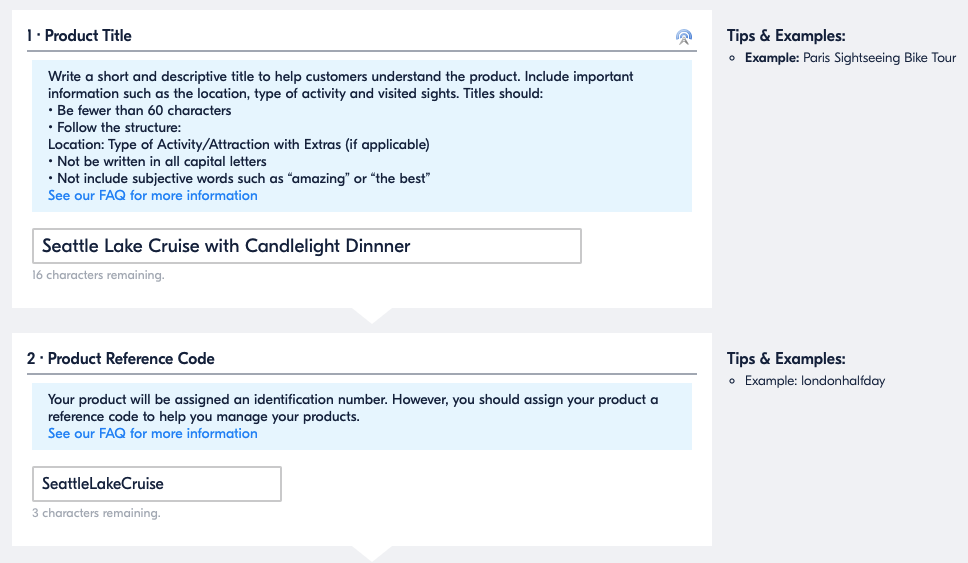 A tutorial on a product upload in the GetYourGuide's Supplier Support. Source: GetYourGuide
The latter includes such features as email notification settings, reporting capabilities, password change, the cut-off time editing, etc.
Co-founder of Project Expedition
Jeremy Clement
also provides suppliers with a content management tool: "
Every tour operator has access to a dashboard that allows them to manage and edit their content on our site."
Project Expedition
is a marketplace offering tours and activities in hundreds of cities across the globe.
Operators working with Expedia use the Central Self-Service Tool to manage their product listings. They upload and edit text content, media, rates, and
inventory
. Then the OTA adjusts a supplier's page design.
Expedia explains to suppliers how to create a product on their platform.
Marketplaces create and manage travel information.
CEO of
Algarve Fun
, Portugal attraction ticket provider platform, 
Gary Miller
says that the majority of suppliers don't have access to their system. The employees speak to operators and ask them to tell about their services:
"We create the content about the tours ourselves
–
we have a writer onboard."
Lindsay Bradley, CEO and co-founder of The Vacation Project, whose trips combine leisure with volunteering, tells about onboarding on the
Stride Travel
distribution platform:
"For our partnership, we would just send them all of the tour details, pricing and images and they would take care of uploading it to their site."
Once a profile is set, providers can customize their trip pages and optimize an account page.
Inventory availability control
Generally, attractions providers manage availability through self-service tools (dashboards, administrative panels) we mentioned above, just the way they do with product information. The question is
how
inventory is controlled and updated: manually or automatically.
Manual control.
Small tour operators without their own sites, or with basic websites using marketplaces for distribution, or those without established connection between their booking software and a seller's reservation system manage availability themselves.
Jeremy Clement from Project Expedition comments: "
Every tour operator that we work with has a website, but some of those websites can be very basic. These operators are generally manually confirming each booking, but you would be surprised at how efficient many of them can be with this process."
Gary Miller from Algarve Fun says they contact suppliers directly, by email or a phone call, and confirm reservation details.
"If clients want to book trips then we would check manually on operators' portals or often phone them if they don't have a website."
Automated inventory management.
API connectivity
allows operators to manage availability calendars on numerous platforms at once. This way, suppliers can show their latest
inventory
to customers and reduce the possibility of overbooking or other reservation mistakes.
Setting up the API connection may depend on a supplier's sales volume and scale, as well as on a third-party website's distribution strategy. For example, if a local diving company with two boats usually takes 15 people on board and carries out two events a day, it can manage sales on a few distribution channels manually. But for fast-growing, medium, and large businesses, manual inventory update may become a high hurdle.
"About a half of OTAs I work with have an API that connects to a booking software automatically, so we don't have to update the calendars,"
shares Lagerhead Cycleboats' owner Drew Johnson.
"However, there are a few sites it doesn't have an integration with.
Off the top of my head, one of them is Airbnb Experiences. Our software doesn't connect to them via API, so it's more a manual process, unfortunately."
When a cruise is reserved on Airbnb, Drew or his team update the booking software to reflect that cruise is booked and specify how many people are on that particular tour. So, the supplier manually updates all the calendars.
Suppliers without access to an API can synchronize the Airbnb calendar with calendars of other websites supporting the iCalendar format (Google calendar or HomeAway and VRBO calendars are supported as well.) However, they still need to change availability manually between their Airbnb account and own website's reservation system.
Airbnb has the official API it provides
on request
to approved partners. The decision whether to give access to the API documentation or not
depends on
a company's performance and opportunities, its technological strength, and ability to provide solid customer experience. The same API is likely to be used for experience hosts.
Drew says if he and his colleagues see a lot of bookings from Airbnb, they will reach out the marketplace team with a request to do the API integration. So, that's a supplier's initiative.
Tiqets
is one of the marketplaces that connect with suppliers' ticketing software via API. That means suppliers don't need to update the available inventory on a Tiqets calendar if someone has booked from their website and, conversely, change availability on their website once a customer purchased a ticket on an aggregator.
According to founder and CEO of Stride Travel
Gavin Delany
, providers of tours and activities can also manage their inventory automatically:
"Tour operators with their own API or XML feeds can plug into the Stride platform if they have more than 50 unique trips or products. Stride also has a proprietary supplier API to which tour operators of any size can connect to provide accurate tour information and pricing."
Project Expedition co-founder Jeremy Clement notes that their marketplace is API-friendly for providers whose sites have a built-in booking software:
"For tour operators that use a reservation platform that we are connected to, we will automate live availability and pricing over an API connection.
"
Alan Locher from On Location Tours uses
FareHarbor
online booking software designed for tours and activities providers. It allows the company to provide live availability: 
"We have been lucky to team up with FareHarbor for our ticketing platform and they have made it quite easy for OTAs to connect via API with their platform. The API connection allows customers to see our real time availability when researching our tours."
On Location Tours also works with other OTAs that don't have the API connection and send them bookings manually.
Such large brands as Expedia,
Musement
, TripAdvisor Experiences, and Viator acquired by TripAdvisor in 2014 provide API integration as well.
Reservation and payment processing
Users can choose attractions and pay for them on a marketplace or be redirected to a tour company website to complete the booking.
Marketplace onsite checkout.
An OTA can handle bookings, and request and process payments. Airbnb Experiences, for instance, is in charge of reservation and transaction processing. Suppliers get paid at the end of the month. Customer interactions are also carried out through the aggregator website.
Expedia Things to Do users book and pay for services on the OTA. Expedia instantly confirms reservations and sends confirmations to suppliers along with customer contacts.
Customers of other global marketplaces like GetYourGuide and Viator can complete a checkout without being redirected to operators' websites. Algarve Fun attraction and activity platform processes payments as well.
Tiqets also handles the whole process: Customers provide booking details (excursion, date, time slot), personal details (first and last name, a phone number, an email address), and purchase a tour online. The platform confirms orders, receives payment, and sends a confirmation to a client's email and via SMS (usually within 15 minutes.)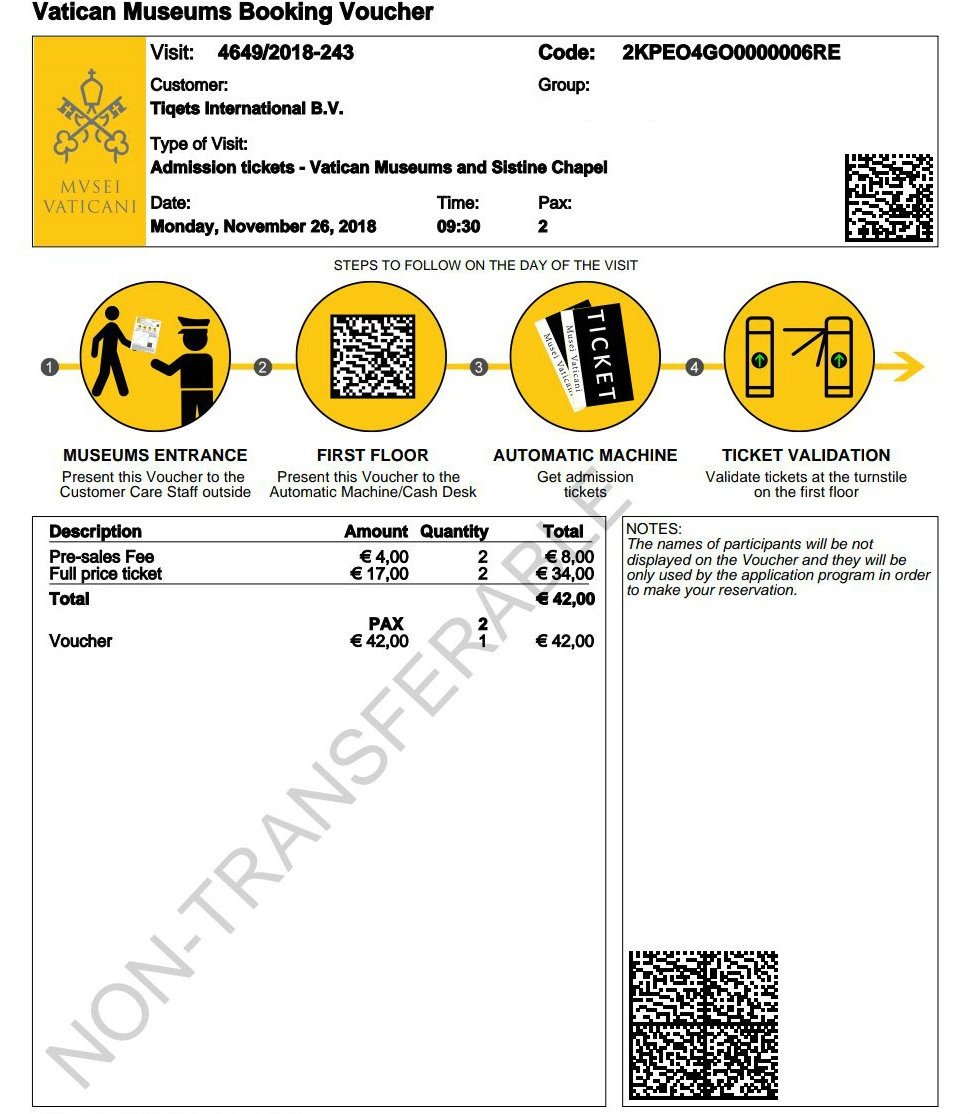 The example of booking vouchers Tiqets customers receive after payment
Direct interaction between a supplier and a client.
Another option for travel aggregators is to send a customer booking request to a supplier. In this case, a tour company communicates with a client, processes a payment, and sends a voucher.
The Vacation Project co-founder and CEO Lindsay Bradley details the way they work with Stride Travel:
"If a tour request came in from someone they would forward the information over to us to connect with and interact with the potential guest directly."
The marketplace's role here is to increase online visibility for partners by showing their offers in destinations or
experiences
listings.
A reservation form on Stride Travel
Сommission policy/payout
The approaches travel activity sellers take to reservations and payments influence their pricing models.
Pay-per-booking listing model.
Those distribution platforms that handle bookings and payments usually have a
pay-per-booking (commission-based)
listing model. Fees may be fixed (e.g., Airbnb's 20 percent fee) for all the listings and can depend on the activity type, its popularity, or other features (Algarve Fun uses this method, for example.) So, these sellers charge on successful bookings.
Cost per lead (CPC) model.
There are OTA platforms that establish commission rates for drawing potential customers (leads) into a operators' sales funnel. This is an example of the
cost per lead (CPL)
online advertising model. A booking request form from Stride Travel presented above is intended to serve as proof of customer interest in a service.
Ancillary revenue
Once you have a sufficient supplier base, you can increase your revenue by teaming up with channel management software providers. Why would you need that? Channel managers for tours and activities follow the same logic as 
hotel channel managers
: They allow suppliers to simultaneously manage availability and prices across all distribution channels. The software can be a life jacket for those businesses whose booking systems don't connect with website reservation systems to ensure live availability and rates.
If you become a partner with a channel manager vendor, you'll appear in the listing of its sales channels and have the chance to be chosen as a distribution partner by thousands of provider's clients.
Rezdy
,
TrekkSoft
,
Redeam
,
VacationLabs
,
Regiondo
, or
Booking Boss
are some of the niche companies to consider.
The use of other travel seller's inventory via a white label program
It's hard to imagine an easier way to start a business in the travel activities sector. You can use a large network of brands from a supplier instead of building your own, spending effort, time, money.
Numerous OTAs give businesses the opportunity to participate in white label programs by distributing their inventory through owners' rebranded websites. The white label company provides services or products on behalf of another company but under its own brand.
These solutions allow large brands to increase the booking volume at a relatively small cost: The average commission per successful booking is 5-10 percent. So, a white label website owner plays the role of a middleman between a T&A aggregator and the end customer. The white label method is the way to develop an additional revenue stream while skipping the hassle of building a partnership with suppliers.
How does it work? Applicants must send a registration form to the website and wait for results. The membership in the white label program is usually free.
TripAdvisor-owned Viator is one of the distribution platforms that offers a
white label solution
. Applicants must have an active, high traffic website with "relative content and basic experience with website linking and widgets."
Viator provides tools for website customization in terms of design (widgets, a company logo, headers, custom feature pages, themes), including a CSS feature at the setup stage that lets partners change colors and other features. The OTA also processes reservations, receives all email communication, provides technical support, and answers clients' questions about products sold on a white label website.
Aegean Airlines is one of Viator's partners: The Greek company sells tours, attractions, and activities through its website under a white label program: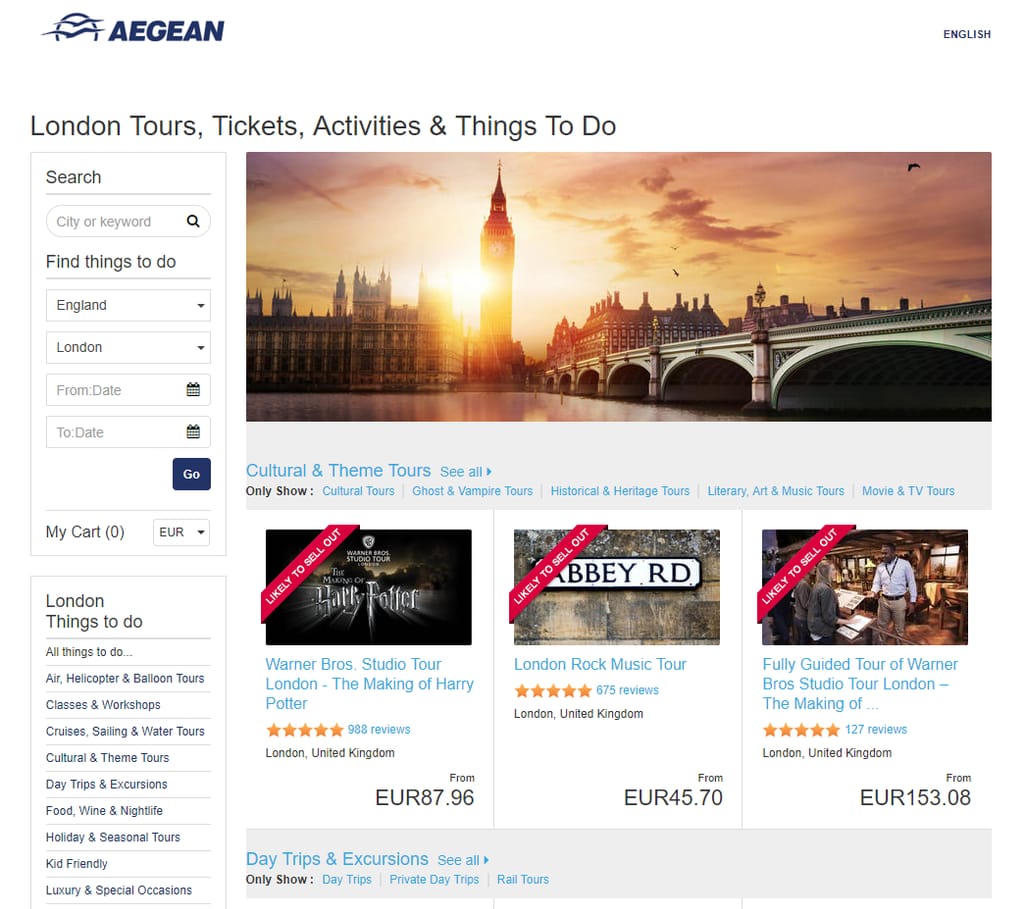 Leisure options in London for Aegean Airline customers. Source: Aegean Airlines
The Project Expedition we mentioned previously has a
white label program
as well. The company connects a partner's website to their inventory and booking engine, handles the booking and transaction processing, provides support for the owner and their customers. The commission fee is 10 percent.
Musement also allows businesses to
integrate activities
from its listing in their websites via a white label solution.
Final thoughts on how to build a supplier network and choose a T&A distributor
The success of the travel activity business depends on supplier network and the overall customer experience provided through your website. The marketplace policies must be a win-win for everyone: travelers, suppliers, and distributors.
A diverse list of tours and attractions can draw tourists of different ages, with various hobbies, income, and leisure preferences. You can concentrate your efforts on a specific region or aim to include destinations across land and sea the world over.
Regardless of the chosen strategy, there are two approaches to make it work: to establish a partnership with end suppliers or use other aggregators' inventory. The former requires a lot of investment, time, and effort but could offer a great return on investment over time if done right.
Travel suppliers may have different IT infrastructure. That's why it's important that a marketplace supports all the cooperation scenarios. Make sure you'll be able to team up with:
Suppliers that want to go digital but don't have a website yet.
Tour operators with a basic site that doesn't support booking capabilities.
Suppliers whose websites have built-in booking software and are willing to connect with your reservation system via API.
The latter, a white-label solution, is much easier to implement in terms of resources and may work well for startups. However, such business needs to scale enough to bring revenue considering low but fair commission fees from the distributors. In addition, you'll use only travel products from a single brand's listing.
If you plan to distribute tours and attractions, our basic recommendations are:
Evaluate providers. Read and evaluate T&A provider's traffic, requirements for suppliers, and overall terms of partnership and operations (content management, inventory availability control, reservation and checkout, as well as commission and payout policy).
Shortlist providers. While you may cooperate with a single distributor, it may be a smart move to contact multiple providers simultaneously. However, be ready to manually update your inventory, unless you have channel manager software.
Sign up. Fill out a registration form and provide information about your company, the services you offer and wait for the team to respond.
Get your profile ready for work. If you are verified by the marketplace, start uploading and managing your profile: Add text and image content, specify inventory availability and price data, provide details to enable payment and billing, ensure you're integrated via API if you have this option.
Start working. Accept bookings, update calendars if you are not connected via API, communicate with travelers.
Consider other distribution channels. If a distributor declines your application, consider another aggregator.
At the end of the day, it's you who decides which approach to online distribution of tours and activities is more feasible.
Interested in travel APIs? Check our other pieces on the topic:
Main travel and booking APIs
Flight and air booking APIs
Airport transfers APIs and solutions
NDC connections and APIs
Low-cost booking APIs
Hotel APIs
Car rental APIs
Channel management in hotels APIs
Custom channel management in hotels APIs
Public transportation APIs
Restaurant and table reservation APIs
Photo by
Steve Long
on
Unsplash