One million dollars on annual airfare spend — not long ago this figure was
cited
as the point at which a business should start to seek help from a
travel management company or TMC
.
At lower cost levels, negotiating bargain prices, perks, and commissions from airlines was not likely. With high fees charged for the services and no significant discounts, TMCs couldn't bring much value to a small or medium business. So their key clients were large enterprises with multimillion budgets spent on corporate trips.
Modern technologies make travel administration cheaper and simpler. More than that, many airlines offer discounts at much lower minimum spending requirements than a decade ago. Currently, a company of almost any size can afford outside assistance in organizing their business trips — and benefit from managed travel. Let's see how it works and what options are there to choose from.
When and why it makes sense to implement managed travel
Managed travel
consists of engaging third-party expertise and services to solve challenges related to business trips. With so many online booking platforms available, one may wonder,
does a company really need external assistance?
Why don't employees look for the best prices, book their flights and hotels, and then submit reimbursement requests all by themselves?
Well, there is nothing wrong with self-guided trips if they happen occasionally. But for businesses requiring frequent travel and dealing with complex itineraries, this approach often leads to lack of cost control, inefficiency, and wasting of time. "When business owners can't be looking at every ticket, that's when they start looking at managed travel," Will Tate, a partner of
Goldspring Consulting
explains.
Managed travel allows companies to focus on their core business and boost cost-efficiency by providing:
the most convenient itineraries and fast booking via global distribution systems (GDSs);
specially negotiated airfares and hotel rates, perks, and extras — unavailable on metasearch engines, online travel agencies (OTAs) and airline websites;
visibility of spending;
on-trip assistance; and
post-trip reporting.
But to yield all these results and stay on budget, you need to select the right partner. Generally, all choices boil down to large legacy companies on the most expensive side and online corporate travel platforms as the cheapest option. In between, you may find numerous agencies bundling third-party booking tools with extra services.
In the next sections, we'll discuss:
leading TMCs, their services, and technologies behind them;
popular corporate travel solutions, their pros and cons, and ways to leverage their functionality; and
factors to consider when choosing a travel provider.
Global TMCs: investing in technologies and expanding reach into smaller companies
The key advantage of partnering with global TMCs is their ability to negotiate special rates with major airlines and hotel chains on behalf of their client and deliver services multi-nationally. With offices worldwide, they have in-country teams familiar with local specifics and offering 24/7 support.
Leading TMCs provide their corporate customers with branded self-service software and broad expertise, addressing a wide range of travel-related issues such as
implementing corporate travel policy,
day-to-day operations within a travel program,
ensuring traveler safety,
crisis management,
credit card management, and
travel and expenses (T&E) data management.
Established travel management companies with global reach are the natural choice for large-scale corporations with thousands of employees and customers across the world.
Travel risk management companies
mostly focus on large corporate clients. But in recent years, large TMCs have given attention to small and medium enterprises (SMEs) as well. Below, we'll compare offerings from four leaders in corporate travel.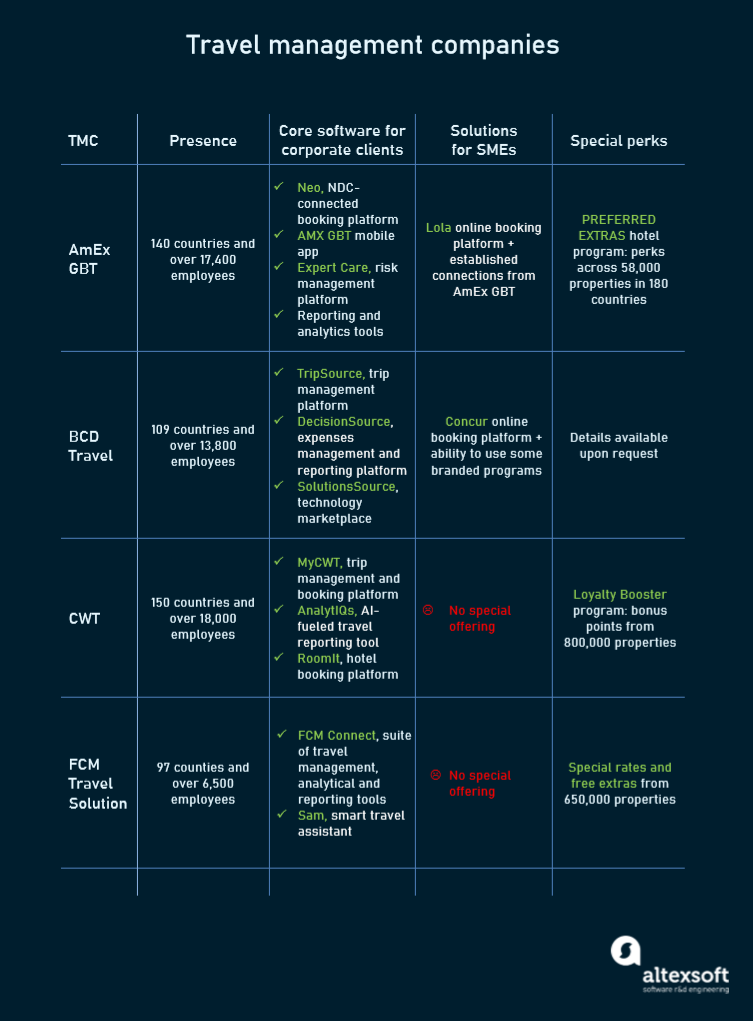 Comparison of the world's largest TMCs.
American Express Global Business Travel (GBT)
Operating in over 140 countries,
American Express GBT
is the world's largest travel management company. It partners with all large carriers including American Airlines, United, Delta, Air France-KLM, Qantas, and International Airlines Group (IAG). The company also runs the exclusive PREFERRED EXTRAS hotel program that offers business travelers free breakfast, WiFi, and other perks across 58,000 properties in 180 countries
Historically, GBT caters to two business categories: those who spend at least one million dollars a year on flights — and those who spend over ten million dollars. However, in 2018 the mega TMC made a step towards midsize business and contracted for an online travel management tool
Lola
from the authors of KAYAK. Currently, Amex has a special offer for companies with less than a million dollar in air spend: access to the simple online booking platform plus GBT's connections with global travel providers.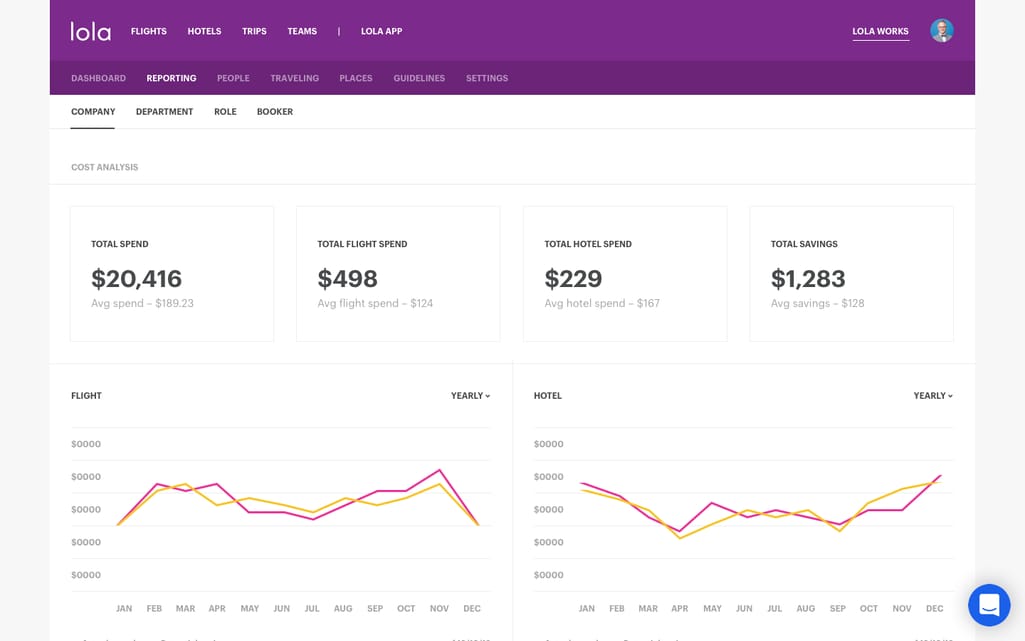 Lola reporting dashboard. Source: Capterra
Core software suite.
Amex GBT is the first and the only travel management company with access to
NDC
content provided by two largest
GDSs
— Amadeus and Sabre. It became possible after the latest upgrade of the company's online booking platform Neo. The company also integrated its platform with
Lyft Business
— a ridesharing tool connecting travelers and drivers.
Other software solutions provided by GBT are:
Amex GBT Mobile App for assisting a business traveler,
Expert Auditor for pre-trip auditing,
Peer Travel Insights for comparing your corporate travel program against your peers,
Premier Insights for analyzing traveling data and spotting potential saving opportunities,
Green Insights for measuring carbon emissions during travel, and
Expert Care for risk management.
BCD Travel
This
company
headquartered in the Netherlands has offices in 109 countries, featuring several business lines — corporate travel management, travel consulting, and meeting and events management.
Similar to Amex GBT, the Netherlandic travel giant developed offerings for midsize companies. Smaller businesses can take advantage of some branded software and programs using the online corporate booking tool from
SAP Concur
, a BDC partner.
Core software suite.
BCD offers three platforms, created exclusively for the company's clients.
First,
TripSource,
is available both on the desktop and mobile devices. It allows business travelers to have all trip details at their fingertips and receive timely notifications about flight delays, itinerary changes, and even global disasters. They also can book rooms and flights within two minutes.
Second,
DecisionSource
, is an intelligent system to manage travel risks, ensure the lowest hotel rates and airfares,  and streamline payments. Besides, it has a reporting and analytics module to help you make faster decisions.
Third,
SolutionsSource
, is a marketplace of authorized third-party programs from 19 innovative technology providers. They have access to a set of APIs to integrate their solutions with the core travel platform. This way, clients may add new functionality that meets their unique business needs. The list of BCD's partners include:
tripkicks — a tool that helps to reduce corporate travel spends,
VATBox — a tax compliance solution,
Freebird — a disruption management tool that allows travelers to instantly buy an airline ticket in case of a flight cancelation.
CWT
In February 2019, the 150-year old global TMC with presence in 150 countries introduced a new company name — when Carlson Wagonlit Travel became
CWT
. This name change symbolized the simplification of the corporate travel offer that combines "the power of technology and innovation with the expert know-how of our people," as
explained
by CWT's President and CEO Kurt Ekert.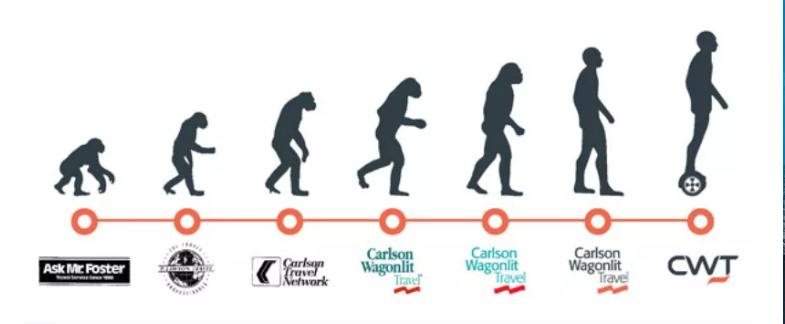 CWT evolution. Source: Voyages D'Affaires
According to the company's website, CWT has enough clients to fill more than 100,000 hotel rooms and handle over 100 meetings and events every day. Their services are highly recommended to corporates with large volumes of travel and hundreds of flights every week.
Core software suite.
CWT is positioned as a Business-to-Business-for-Employees (B2B4E) travel management platform. Its key digital product is
myCWT,
an open API-based travel app, accessible both on PC and mobile devices.
The tool allows travelers to book simple domestic flights and make reservations at more than 800,000 properties at special rates — thanks to integration with CWT's hotel booking platform
RoomIt
. The app gives access to all trip details, synchronizing them with a traveler's calendar. It  receives flight status updates and security alerts. In addition to myCWT, the company offers an AI-powered travel reporting tool called
AnalytIQs.
myCWT interface on mobile, PC, and tablet. Source: Travel Daily
FCM Travel Solution
FCM Travel Solution
is a corporate travel department of the Flight Center Travel Group (FCTG), headquartered in Brisbane (Australia). For nine years in a row, FCM has been a winner of the World's Travel Awards as the World's Leading Travel Management Company. The travel giant offers services in 97 countries, aiming at medium and large enterprises.
Due to established partnerships with major airlines and over 650,000 hotel properties worldwide, FCM can guarantee specially negotiated airfares, hotel rates and free extras.
Core software suite.
The company gives their clients access to their branded suite of travel tools
FCM Connect,
with solution for travel managers, travel bookers, and business travelers, including:
Approve for streamlining travel approvement processes,
Profile for accessing the information on your business traveler,
Booking tool,
Secure Dashboard for risk management operations,
Expense management platform, integrated with a company's finance system and FCM's booking tool, and
Analytical and reporting technologies.
Travelers can enjoy
Smart Assistant for Mobile or Sam
, powered by AI. The intuitive chatbot helps users book flights, hotels, and ground transport, delivers weather reports and alerts about flight time changes, suggests restaurants and connects a traveler with a live consultant whenever the need arises.
Corporate travel booking platforms
Platforms for
corporate travel management
go beyond reservation, payment and shopping functionality offered by traditional online booking tools. They track compliance with a company's travel policy, and store a traveler's information, so employees don't have to enter personal data every time they book a flight or room, and they perform many other tasks.
Simply put, corporate tools carry out all major functions of a TMC, saving companies money on fees charged by live agents. On the dark side, digital agencies lack a personal touch and often fail to give immediate local support to travelers during their trip.
This shortage fosters new business opportunities for smaller TMCs, which can't afford to develop their own software. They partner with technology providers, resell third-party solutions, assist with system maintenance and, besides all that, give necessary travel expertise. As we mentioned above, the model is already used by Amex GDT and BCD Travel with an eye toward attracting new clients from midsize business.
Summarizing the above, a company can "employ" a corporate travel management platform in two ways:
dealing directly with a technology provider — which is the cheapest option, but it entails complexities with software implementation, and  it often offers poor support;
via a TMC that closes service gaps, taking on technology maintenance and all needed support. Not for free, of course. TMCs charge fees for their intermediary operations as well as per booking made through the platform.
For your guidance, we looked into functionality, the pros and cons of five frequently mentioned corporate travel solutions.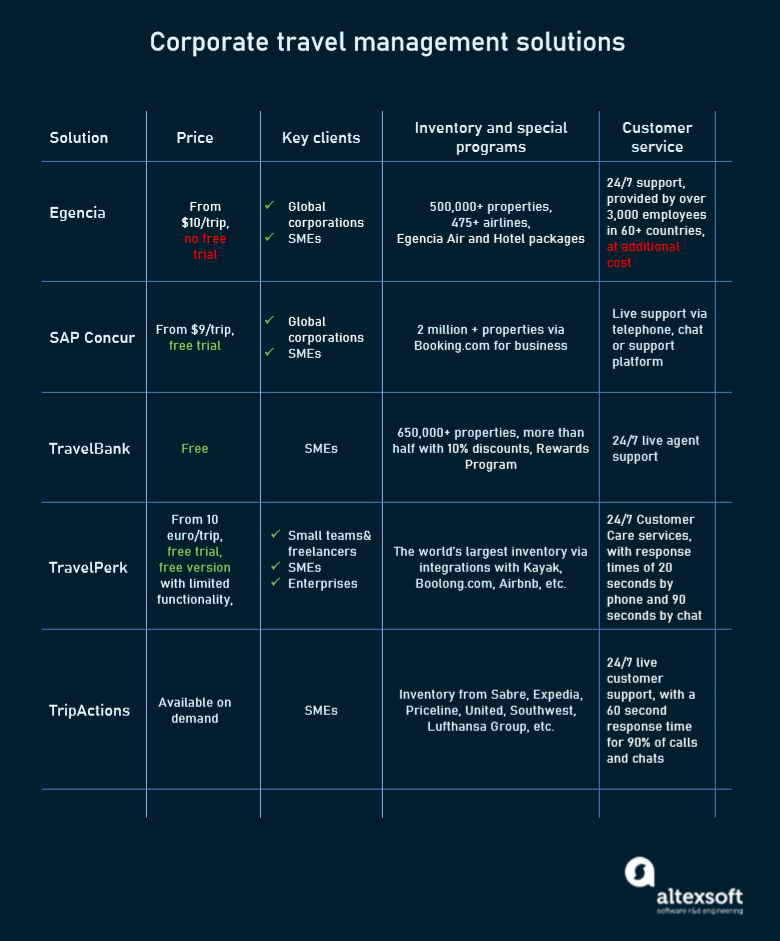 Comparison of the frequently mentioned and fast-growing travel management platforms.
Egencia
A corporate
travel platform
from Expedia Group exploits the power of Expedia.com and Hotels.com, with access to over 500,000 hotels and more than 475 airlines. Extensive relationships with hoteliers drive the Egencia Air and Hotel program designed to cut overall trip costs.
Acting almost like a full-fledged TMC, Egencia has over 3.000 customer service employees around the globe. Chances are your employees get proper local support whenever and wherever they need it, but be ready to pay extra for this service.
It's also worth noting that the company has different suites of additional travel tools and capabilities for global corporations and SMEs to fit any budget.
Most often cited pros
Ability to manage all travel operations from a single platform
Intuitive user interface
Integrations with Outlook, Google Maps, Uber, expense management and reporting tools
Most often cited cons
Issues with cancelations, rescheduling, and any other changes (you have to call the Egencia office)
Sometimes more expensive than direct booking via other platforms
Extra charges for support from local employees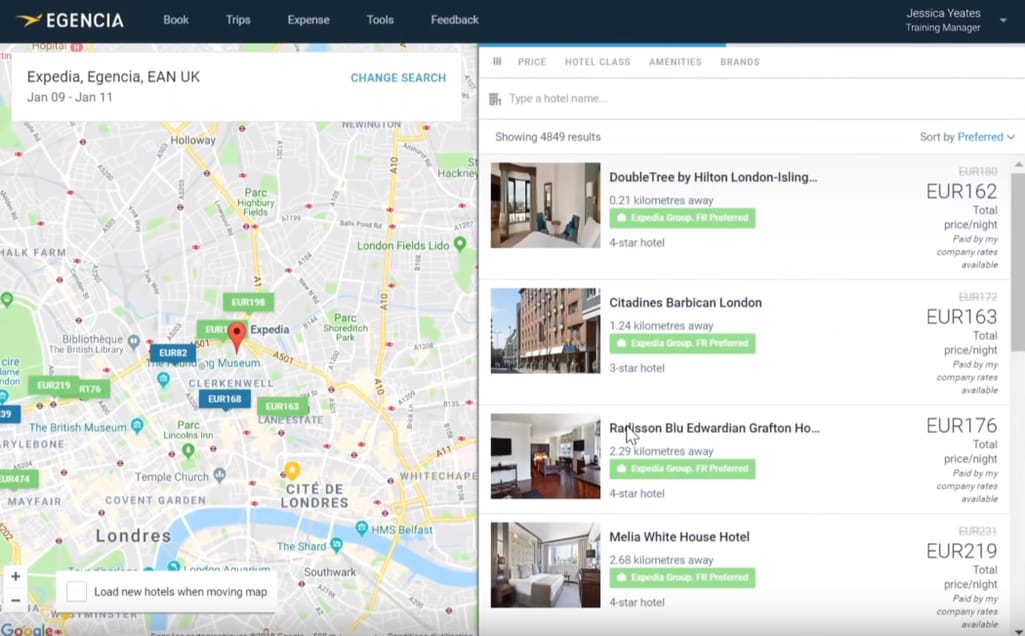 Egencia booking platform dashboard. Source: Egencia YouTube channel
SAP Concur
Another behemoth in the travel management software market,
SAP Concur
, offers tailored solutions for companies of any size. Its connected platform features a one-click booking process and automates many trip-related tasks. But most of all, it focuses on the expense side of travel. The tool collects data on all travel spend, whether made through Concur or outside the corporate travel system.
While Egencia is backed by Expedia, SAP Concur integrates with
Booking.com for business
, enabling their customers to access 2 million properties and exclusive discounts worldwide. Users can also link to loyalty programs from Lufthansa, American Airlines, and Delta Airlines via the Concur system. The software integrates with Airbnb for work, Uber for business, Lyft for business, and other popular travel platforms to capture discounts and special rates.
Most often cited pros
Ease of tracking and reporting expenses
Numerous connected apps like Uber, Lyft, etc
Ability to snap pictures of receipts and upload them to the app
Most often cited cons
Training required to start using the platform
Performance issues
Clunky user interface
SAP Concur expense management platform dashboard on tablet. Source: G2 Track
TravelBank
TravelBank
, a travel and expense app for small and medium-sized business, serves over
120,000
users, mainly from North America. In addition to booking functionality, it integrates all trip information, tracks spends, and compares them with predefined budget, provides discounts and perks from 30 partners — such as Lyft Business, Delta airlines, Travel Visa Pro, and others. TravelBank claims that by joining its travel rewards program a company can save up to 30 percent on each trip.
Most often cited pros
Easy-to-navigate interface
Quick booking process
Ability to snap pictures of receipts and upload them directly to expense reports
Most often cited cons
No way to book multiple flights or rooms at once
Issues with rebooking
Fee-based rewards program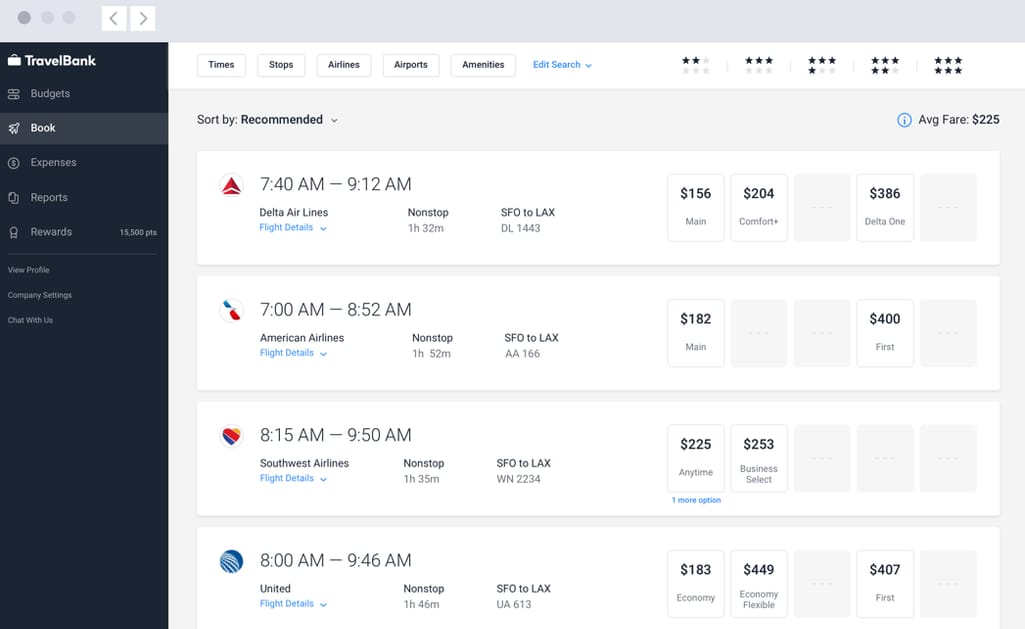 TravelBank booking feature. Source: TravelBank.
TravelPerk
In 2019,
TravelPerk
was named the world's fastest growing software as a service (SaaS) company, achieving 122 percent growth during the year. On top of standard travel management tools, the Barcelona-based software provider offers its clients
FlexiPerk
, a feature that guarantees a 90 percent refund on any booking changed or canceled for any reason. TravelPerk also enables its clients to book from Lufthansa Group Airlines via the NDC API. This gives travelers access to cheaper tickets, personalized packages. and ancillaries.
As for the total number of travel options, TravelPerk claims to have the world's largest
inventory
via integrations with Kayak, Booking.com, Airbnb, and other consumer travel tools.
Most often cited pros
Slick UI
Accessible customer service
A lot of details about booking
Most often cited cons
Higher prices than on the other platforms
Issues with booking changes (agent contact required)
Lack of budget accommodations and no integration with Airbnb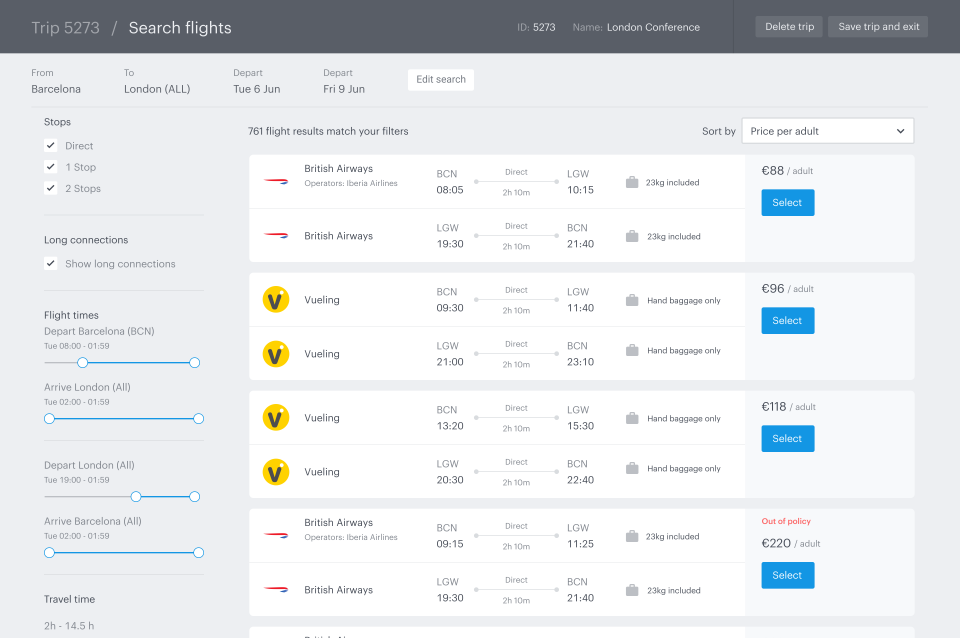 Search Flight functionality by Travel Perk. Source: Capterra.
TripActions
Located in California,
TripActions
is currently trusted by 3000+ companies globally. The growing travel platform partners with Sabre Corporation, Expedia, and the Priceline affiliate program. It also has NDC-enabled direct links with United Airlines, Southwest Airlines and Lufthansa Group. In total, these connections make the TripActions inventory one of the best in the world.
The platform utilizes artificial intelligence algorithms to select and prioritize search results leveraging a company's travel rules, real-time prices, loyalty programs, and individual preferences of travelers. The employee can book flight, hotel, car, and train tickets within a minute. While the employer has full visibility of spend, saving opportunities and locations of business travelers via the admin dashboard.
Most often cited pros
Convenient filters for sorting through flights and hotels
Quick and simple booking process
Great customer support
Most often cited cons
Limited options for non-hotel facilities in certain areas
Some cheaper flights and hotels available while booked on search engines, OTAs, or directly from airlines
High extra fees charged for cancelations and rebooking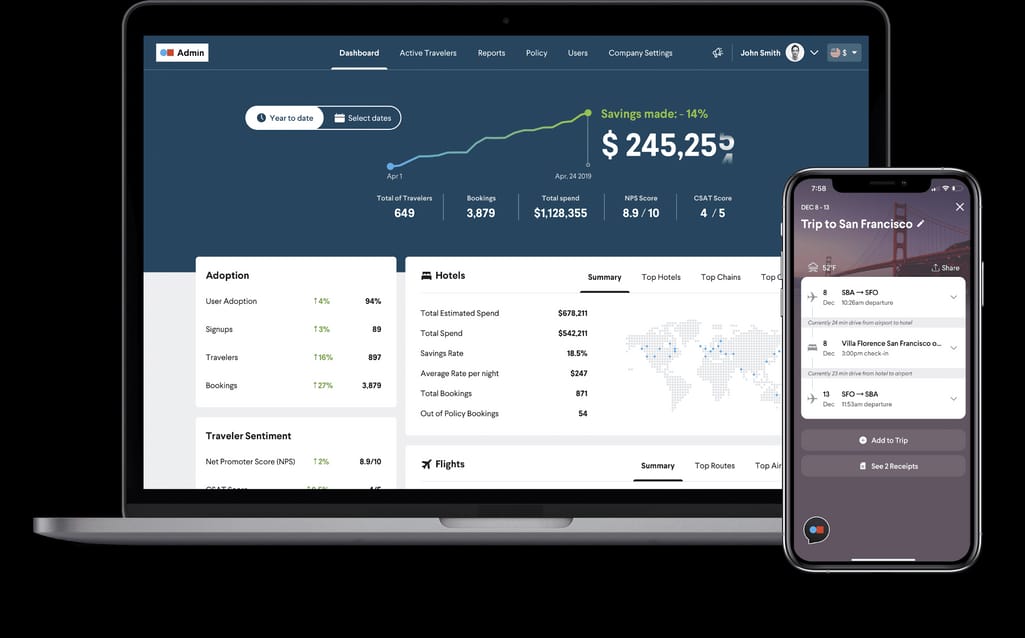 Admin dashboard and travel mobile app interfaces. Source: TripActions.
TMC selection criteria: which solution will fit your business needs
As a rule of thumb, huge international enterprises gravitate to global TMCs, midsize companies team up with Egencia or Concur — directly or via travel agencies, and small firms explore the capabilities of travel startups like TravelBank or TravelPerk. Along with general trends, consider the following details.
Speed and simplicity of software implementation and training.
Robust travel management systems from TMCs or online platforms targeted at large companies take weeks or even months to be implemented — let alone the time needed for employee training. Simpler software fitting SMEs needs can be installed and used in a matter of days or even hours. No extensive training is required.
Expense management functionality.
Efficiency is crucial if your main goal is to seek opportunities to save money. Cost visibility, automation of mundane tasks like submitting receipts and built-in features that encourage saving behavior can significantly slash trip-related expenses.
Value-adds.
Rates offered by travel management software are sometimes higher than those you can see on OTAs or metasearch engine platforms. But when you consider extras, be it the ability to change or cancel flights without penalty, free breakfast, or food and beverage discounts, the overall cost of booking via corporate travel partners can be lower.
Human support.
Technologies make travel easier, but still they can't replace people when it comes to trip disruptions. Customer support provided by human agents is especially important when traveling internationally. You need to check the availability and quality of this service before employing the intelligent software.