If you want to know more about Amazon services, have trouble using your Uber app, or maybe decided to upgrade your Netflix account -- would you actually call customer service for assistance or just pay a visit to their website? Probably, the latter. Well,
your
customers do the same.
According to different studies,
69
to
85
percent of consumers want to get answers and resolve their issues on their own. And it's not only about people hating to talk to other people. In most cases, it's simply faster (at least, we want to believe that's the main reason).
The importance of self-service is steadily increasing, with knowledge bases being the concept's shining example. If you own or manage a business that offers a certain product or service, you have to fulfill your customers' expectations and provide them with a self-service channel.
Research
shows that customers prefer knowledge bases over other self-service channels, so consider creating one -- and we'll help you figure out what it is and how you can make it best of class. Let's get rolling.
What is a knowledge base and why do you need one?
A
knowledge base
(KB), also known as a help center, is a storage of information aiming at solving problems. It's a self-service portal filled with descriptive content, guides, and answers to common questions.
A KB can be created for
internal
usage to share company knowledge between employees or departments, or for
external
purposes, i.e., to provide information to customers or anyone interested in a particular product or service.
You might be wondering how a knowledge base can help your business and if it's worth the hassle at all. Here are a few tangible benefits.
Relief for your support team
. When customers have a comprehensive online self-service channel, they don't bother company reps. So you'll probably need fewer people for your contact center. And their lives will be much easier.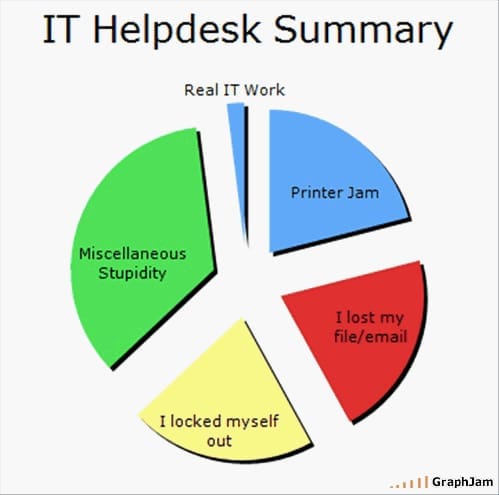 Helpdesk workday breakdown. Source: FailDesk
Lower expenses.
Logically, the fewer people you employ and train, the less you have to pay. Consider wages, training expenses, and operational costs, and you'll see the chance to save a pretty penny. HBR
calculated
that a live service interaction costs a B2C company about $7 and a B2B company over $13.
More sales.
Forrester
claims
that 53 percent of adults in the US are likely to drop their online purchase if they can't find immediate answers. Don't lose your customers so easily.
Customer satisfaction.
As we've already mentioned, consumers want to be in control and have easy access to information. Give it to them and they'll reward you with their loyalty.
More traffic.
A great, SEO-optimized KB can attract more people to your website and increase brand awareness.
Shorter onboarding.
An internal KB helps save time and effort during employee onboarding since it has all the materials about your company/project newcomers might need so other workers don't have to explain everything.
Now that we highlighted the importance of KBs, we'd like to briefly clear up a few concepts which are sometimes confused.
Knowledge bases vs databases
Well, both of them store information which can be accessed and consumed when necessary. But
databases
are collections of data, often organized in tables, that are mostly used for further analysis and decision-making. Modern databases require
database management systems
to work with information and knowledge of specific query languages (like SQL) to retrieve data.
Knowledge bases
are repositories of information in the form of human-readable articles that give answers, guidance, or problem-solving instructions (KBs can be seen as a type of database though).
Knowledge bases vs wiki
Here, both are designed to store information in human-readable form. However,
wikis
are way more collaborative, with more open access and multiple authors contributing and making changes to content. Meanwhile,
knowledge bases
don't permit anyone to produce or alter content, except for designated people (administrators, authors, content managers, etc.). Besides, typically KBs allow for creating user groups that have different access rights and/or can see selective content, while wikis don't. At the same time, KBs can come in a wiki form (especially internal ones).
Okay, so now you know
what
to build and
why
. It's time to talk about
how.
We divided the entire process into several steps.
Organize a team. First, decide on the team to run your KB project.
Choose software. Next, select the software to build a KB upon.
Create articles. Here, we'll talk about content, describe article types, and offer useful tips.
Set up design. After content creation, work on the KB design and layout.
Maintain KB. Last, continuously monitor and maintain your KB.
We'll explore these stages one by one, but feel free to jump right to the section that you need.
Knowledge base team organizing
Creating a good knowledge base that will help your employees and customers is a long-term project that requires time and effort. And, just like any project, it starts with designating people who will be responsible for it.
Project leader
. Someone has to be in charge and make decisions about the structure, content, design, and so on.
Tech specialist
. You might need a developer or any IT expert with programming skills to customize your KB building platform, integrate it with other systems, or add functionality.
Designer
. We recommend that you engage a
UX/UI designer
to make your help desk usable and attractive.
Experts
. Involve people with diverse knowledge from different departments and encourage their collaboration. For example, the sales team has in-depth knowledge about shipping, delivery, pricing, return, and other related questions, while the marketing team knows
how
to present information to promote your brand and make your KB a tool to drive sales.
Authors
. You can either designate authors from your staff members (in this case, consider finding an editor) or seek help from an external professional writer.
Knowledge base software selection
To build a KB, you can choose from various types of software, depending on your needs and existing resources. Here is the main functionality required to create your perfect KB.
Knowledge base system features
Article editor with templates and built-in SEO.
The most important part is a set of customizable article templates for different KB types. It must enable you to
easily create, edit, and format text content,
add images and other visuals,
insert links,
add metatags and descriptions to enhance search engine discoverability,
make a branded look,
modify layout, and so on.
Also, check if there is a version control and support for multiple import formats.
Search engine.
Even with the best headings and most intuitive categories, you still need a search bar with a powerful search engine that will allow visitors to find the necessary content even with partial search or incorrect spelling. Auto-suggesting relevant articles while typing makes the quest for answers faster and more convenient. Oh, and the engine also has to be fast, no matter how many articles it has to scroll through.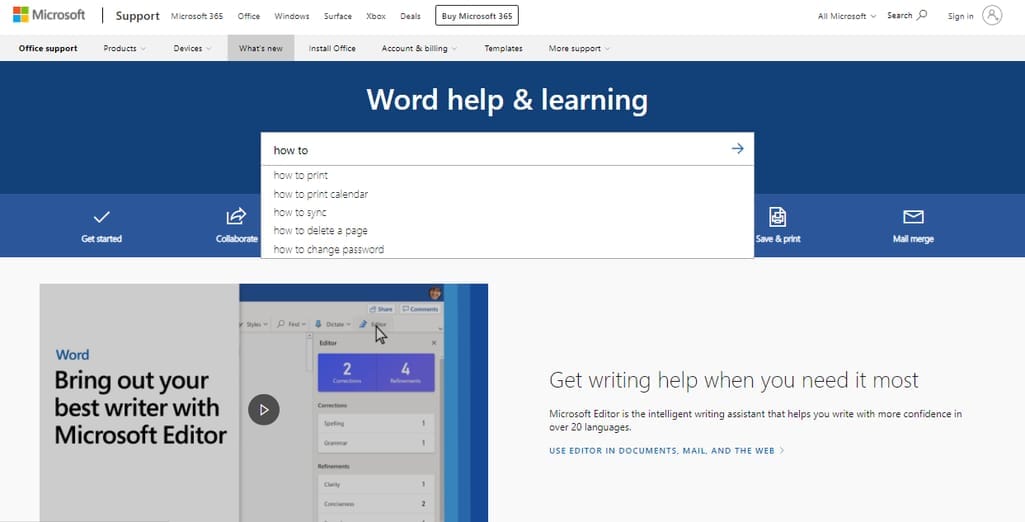 Microsoft Word helpdesk search bar
Feedback
. It's up to you what feedback options you offer to your customers. It can be simple thumbs up and down buttons, a 1 to 5 rating scale, or an opportunity to leave comments.
Analytics.
You need a robust reporting module that will help you monitor the performance of your articles, see what people search the most, and identify content gaps.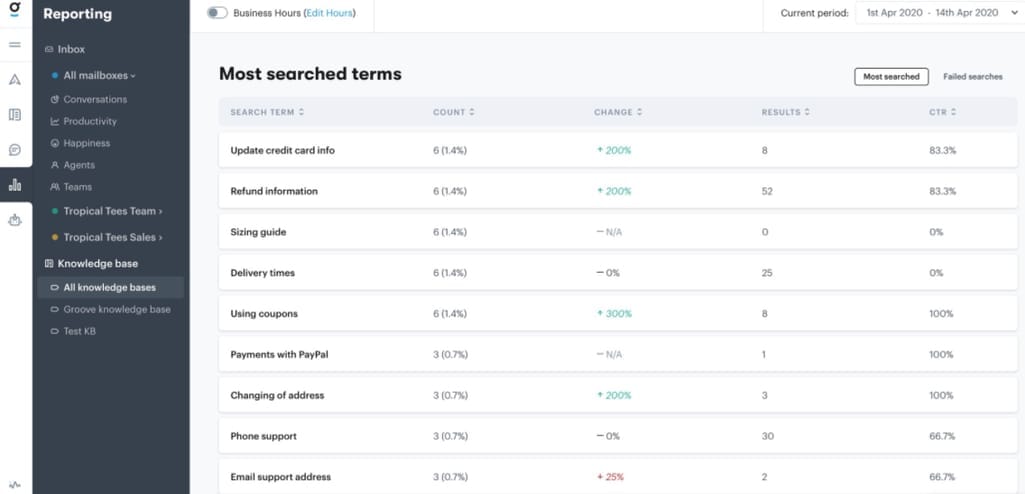 Groove reporting module
Embedding options.
You might want to show your KB articles on all (or some) pages of your website, to see if there are options to present your helpdesk content as a sidebar, popover, widget, etc.
Other customer service tools.
Creating other communication channels such as a live chat,
chatbot
, or forum will enhance your KB and allow your customers to get personalized assistance.
Integrations.
Having a single customer support system is convenient for your team so check for pre-established
integrations
with your CRM, popular chat apps, and the like. Your platform must also have open
APIs
to build custom connections with your other IT systems for seamless data sharing. It will demand some tech expertise, but it's worth the effort.
Mobile-responsiveness
. Make sure your KB software can adjust your content layout to be convenient on any device.
Access control
. Setting permissions for different user groups is important so that only designated experts can modify, publish, and view content. It will also allow you to maintain both public and private KBs.
Localization and translation
. If you operate globally and need to localize content, make sure software offers such capabilities as translation to multiple languages, converting currencies and measurements, etc. Read our detailed
website localization
post to know more about it.
Multiple KB creation
. If you operate multiple businesses or company subdivisions under different brands, you might need to create a number of KBs and manage them from a single login.
The majority of platforms cover most of these features. However, there's such a variety of systems on the market that it's easy to get bewildered. We'll try to shed some light on this mess. So, what platforms can be used to build a knowledge base?
Knowledge management system for internal KBs
A
knowledge management system (KMS)
is a piece of software that retrieves, organizes, distributes, and stores information about business processes. Typically created in a wiki form, it's a powerful collaboration tool and a great choice if you need to build an internal KB to share knowledge within and between teams.
The main focus of a KMS is on
capturing organizational know-how
. Such systems often come pre-integrated with Slack, Gmail, Teams, or other popular work tools and web browsers, allowing your employees to preserve knowledge right from their workflows.
Watch a convenient Guru and Slack integration
Popular tools. Some top-rated KMSs are Confluence, Guru, and Bloomfire. Guru is a comprehensive platform with a vast set of integrations and browser extensions for Chrome and Opera. Confluence is a super-popular solution that connects perfectly with other Atlassian products such as Jira and Trello, while Bloomfire works extremely well with Slack.
Specialized knowledge base software for simplicity
Knowledge base software is specifically designed to develop and maintain KBs, both external and internal. These tools have all the necessary features to manage your content, but their main advantage is user-friendliness. So, if you just need a knowledge base, go for a simple, intuitive platform that will let you build a help desk without extra hassle. But remember about integration opportunities. Connecting your KB software to other systems (messengers, ticketing systems, sales platforms, etc.) will help you offer better service.

Popular tools. You can either get a standalone platform like Document360 or HelpJuice or opt for one of the multiple WordPress plugins such as Helpie or Heroic KB. Plugins are helpful if you already have a website built on WordPress but its functionality is not enough. Meanwhile, cloud-based HelpJuice's simplicity is a good fit for smaller and growing companies, while Document360 is more feature-rich and offers a good set of integrations.
Content management system to administer the entire website
Content management systems (CMSs) are used to create, store, edit, and share digital content. Their strongest side is a powerful editor and a wide selection of templates that allow non-tech users to manage their web content. So, with little to no coding knowledge, you can create and customize the design of a blog, eCommerce platform, or travel agency website -- and develop a knowledge base too.

CMSs are closed systems where only designated users create and edit content. So, if you need the open, wiki access format, you'll have to implement special plugins.

Summing up, if you don't need to capture complex workflows of multiple users but want to make a nice website with a help center on your own -- CMS is the right tool for you. It's also a perfect option if you already have a site built on one of such platforms.

Popular tools. A lot of sites are built with WordPress, Drupal, or Adobe Commerce (formerly Magento), designed specifically for the needs of online shopping. Each of them has a basic set of features as well as some peculiarities. WordPress is very beginner-friendly, Drupal needs some tech expertise but is more feature-rich, and Adobe Commerce helps make awesome eCommerce sites.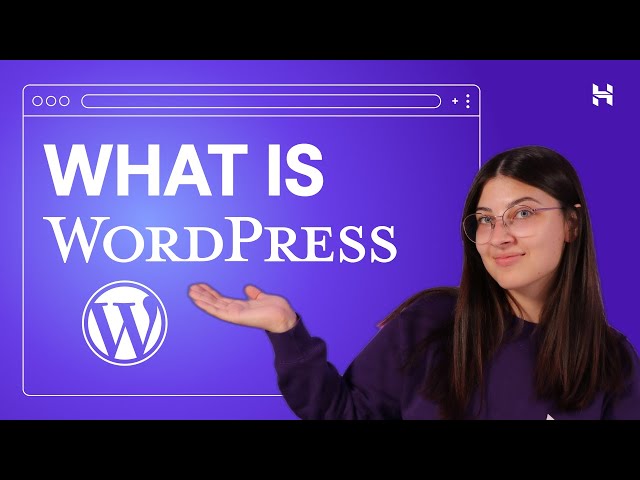 WordPress is the most popular CMS. Watch how it works
Customer service software for a complete support stack
Customer service software is designed to respond to customer requests, often via multiple communication channels such as emails, live chats, social media, as well as support self-service. These systems have a lot of nifty features such as an agent collision detector, pre-formatted auto replying, ticket prioritizing, status monitoring, and so on.

Generally, it's a good practice to have a single system to manage your customer service. In this case, you control the complete workflow in one platform, efficiently distribute tickets, and have a holistic view of your help center performance. Besides, your agents can use the KB to answer tickets and vice versa -- convert their email or chat replies into KB articles.

Popular tools. Some widely used platforms for customer support are Zendesk, Help Scout, and Freshdesk. Zendesk has powerful automation capabilities and a reporting module, Help Scout offers multiple integration opportunities, and Freshdesk would be a great solution for small and mid-size businesses.
Customer relationship management system for personalized support
Customer relationship management (CRM) systems allow you to manage all customer relationships and workflows. Such systems store customer personal details, purchasing history, and behavioral information to support sales and marketing efforts.

Typically, CRMs have a built-in customer support module that also allows you to create a self-service help center as part of your customer relationship program. In this way, you can unify all your customer-facing teams (sales, marketing, and support) and deliver personalized service via all communication channels.

Popular tools. Some well-known CRMs are Salesforce, HubSpot, and Zoho. Salesforce is the choice of every fourth US enterprise, but its KB module has certain access limitations (the permissions to edit/publish/import articles all come at additional cost for every user); HubSpot's strong side is SEO and detailed analytics; and Zoho, a cheaper alternative for smaller companies, still has a user-friendly interface and a robust reporting feature.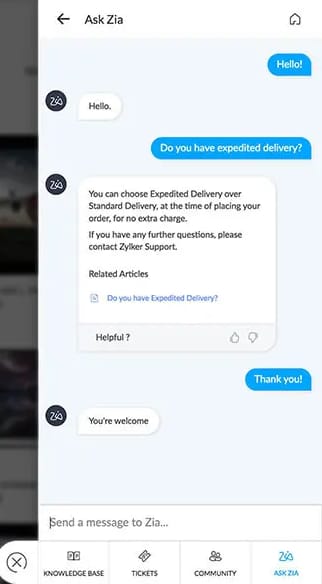 Easily linking KB articles in Zoho CRM Plus support chat
Now, with the right people and tools, you're all set and ready to create a killer knowledge base that your customers or employees will love. There are many types of content articles you can fill your KB with, so it's important to choose the optimal mix. Let's look at the main options.
Knowledge base article creation
Nowadays, knowledge bases, especially in the online format, are made to replace all varieties of traditional paper manuals (check our article about different user documentation types).
FAQs
Frequently asked questions or FAQs is the most basic part of all customer-facing KBs so we recommend you create it no matter what industry you work in.

Tips:

Identify the most common questions. First, ask your support team about their top five tickets -- that would be the basic list of your FAQs. Other sources of information can be your website search function if you have one, your competitors' FAQs, your customer reviews, or even public forums like Quora or Reddit.

Be detailed but succinct. Give clear, comprehensive answers but try to keep your FAQ articles concise and easy to read (remember that people are usually looking for quick answers).

Make it visible. Make sure your FAQs are easy to find on your website (typically, they're located somewhere on the home page).

Group questions. Depending on your product, you might have many FAQs to highlight. In this case, consider grouping them into logical categories.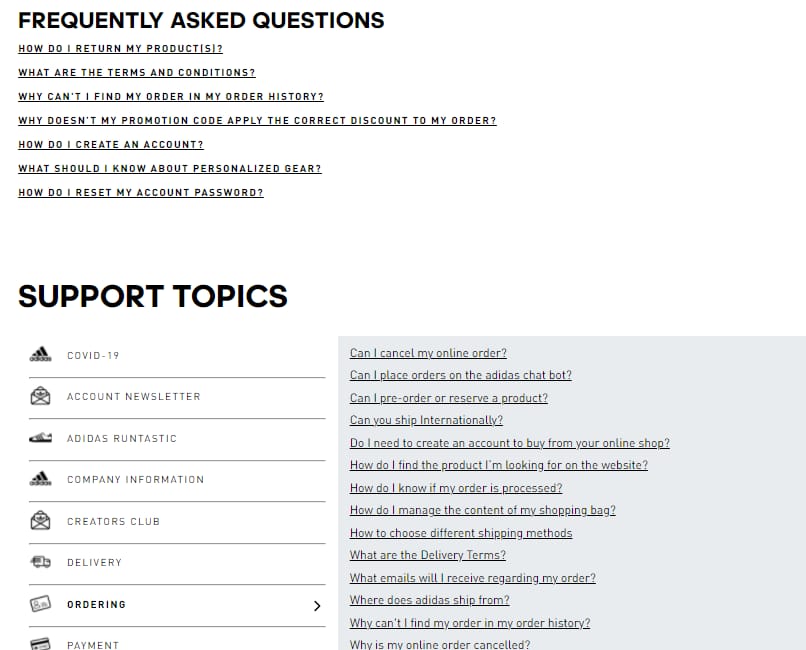 Intuitive categories of Adidas FAQ page
How-tos
How-to articles include materials that describe how to use your product or perform a certain task. It might be of little use for an eCommerce business, but it's essential if you deal with, say, technical devices or software that demand user manuals.

Tips:

Make step-by-step instructions. Break your how-to materials into a set of short, simple steps to gradually guide your customers through the process of interacting with your product.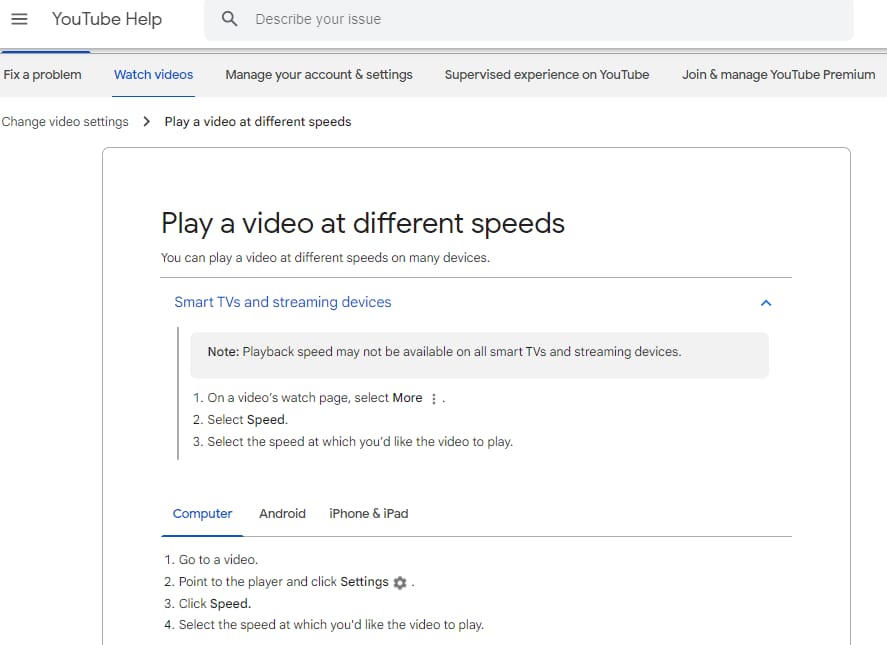 A clear step-by-step instruction from YouTube help center
Use imagery. Include screenshots, video tutorials, and any other visuals that can support your instructions. Illustrations will let you make descriptions shorter and besides, many people prefer to watch rather than read.

Address different user groups. Remember that your guides (especially for software) will be read by both new users and tech-savvy admins. They have different needs, so make sure everybody gets the answers and assistance they need. For example, you can create different groups of articles aimed at different user categories.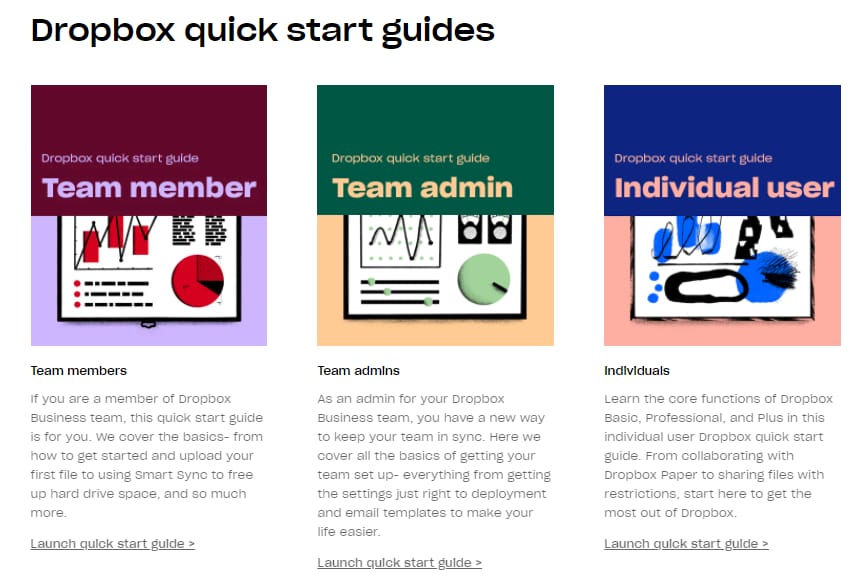 Dropbox guides target different users groups
Troubleshooting
A troubleshooting section is consulted when something goes wrong (we don't mean global crises, you know). You'll definitely need it if you produce/sell technical devices or software that we mentioned above. That's how it works -- you write brilliant how-to guides that no one reads, so you have to make a troubleshooting section to address inevitable issues.

Here's a sample template from Astute Solutions you can start with.


Troubleshooting for service providers like DoorDash is also helpful
Tips:

Define common problems. Again, choose the most common issues your customers face. To find out what they are, consult your support team, read reviews, or just ask your users (i.e., conduct a focused research).

Find user flow gaps. Analyze your user flow to find troublesome steps or actions that cause users to leave and explain them in your KB.

Address even minor issues. Assume that people didn't read the user manual you obviously provided (and most probably, they didn't), so just be patient and list all the problems they might encounter while interacting with your product.

Give all possible solutions. Yes, even the "plug in" and "push the power button." Believe us, there are users who need it.

Provide links. Insert links to other pages of your website with more detailed information on the process or part of the product that causes issues. That will keep your articles short.
Glossaries
Glossaries are made to define business or technical terms, acronyms, and abbreviations that you mention in your documentation or knowledge base. It's not necessary if you use common language with no specialized terminology (e.g., most eCommerce, restaurant, or travel sites). However, if you deal with complex technology or operate a professional vocabulary from any other industry or field of knowledge, we recommend creating a list of definitions to support your users.

Tips:

Engage a nonexpert to choose the words. You don't want to turn your glossary into a common dictionary, but being an expert, you might struggle to find which terms to define. Ask your editor or anyone else who is not so proficient in your field to help you identify unfamiliar or unclear words.

Prioritize glossary articles in search results. If a user looks for a term and you have it explained in your glossary, it's sensible to suggest this definition at the top of search results.

Highlight glossary terms. If such terms occur in your articles, you can opt for pop-ups or redirect readers to your glossary page.



An example of how you can display glossary definitions. Source: Knowledge Owl
Whitepapers
To become an authority in your field and show your expertise, you can create a library of useful articles on the topic. It will demonstrate your competence and proficiency so pay special attention to the accuracy of such content.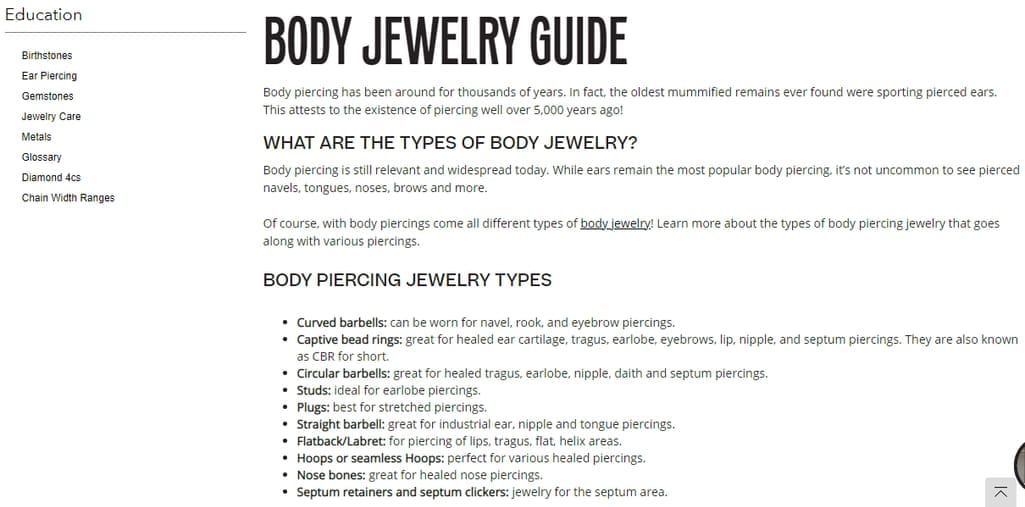 An education section of Banter jewelry store
It can also be an important part of an internal KB intended to provide new or existing employees with information on your company, product, or project.

Tips:

Optimize articles. People most likely look for such materials in search engines, so be sure to apply search optimization (SEO) tricks to make your content rank higher.

Suggest your product as an example. Drive sales by linking to specific items from your catalog and showcasing their value.

So, you've completed your content articles. Now, it's time to arrange them nicely.
Knowledge base design
Design and structure are crucial for a knowledge base as they directly impact your customers' experience with your brand. Consider reading our article about information architecture to learn the main principles and steps for arranging your web content. And we'll recap on the main points.

Solve one issue at a time. Your KB must be user-friendly and readable! Don't make your articles too long: better to break them into small chunks of information that directly address one issue. Or add a table of contents to longer texts to support navigation.

Consider user flow with the product.. Group related questions into logical categories and place them in a sensible hierarchy. For example, start with account creation, then describe basic functionality, and then troubleshoot issues. Or, move from beginner guides to advanced explanations, from simple features to more complex ones, and so on. Or, if you need a KB for a travel agency, arrange content by activity, i.e., booking a trip, managing an account, payment FAQ, etc.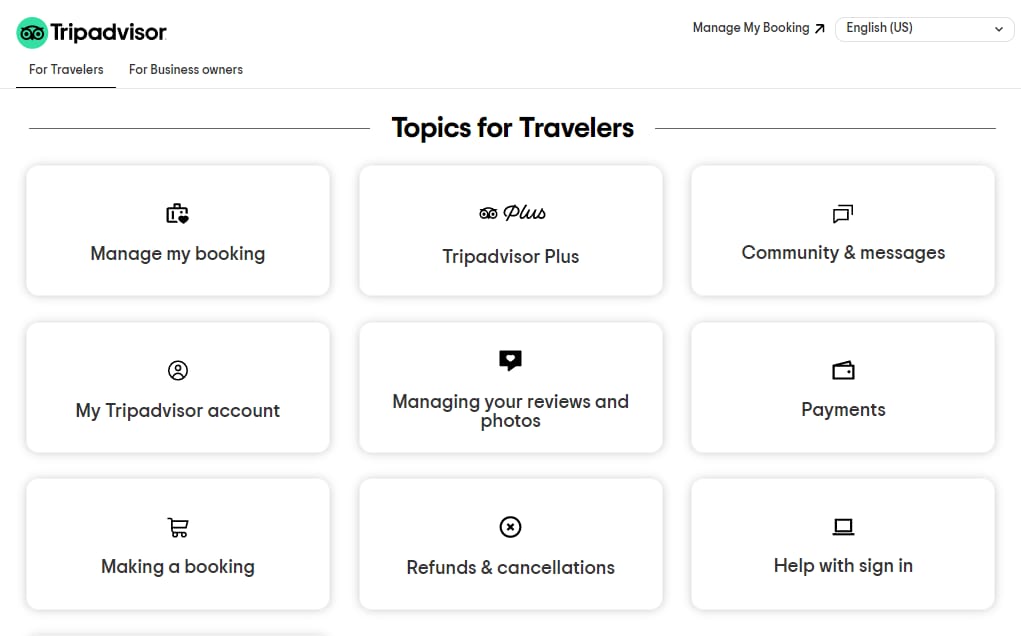 The logical structure of TripAdvisor Help Center
White space is not wasted space. Leave space between KB design elements to balance content and not overload your webpage.

Use clear headings. To facilitate navigation, the titles of your KB articles have to be short, informative, and search-friendly. Name articles based on how people phrase their search requests. Some typical headings start with "How to fix/set up/manage …", "Getting started with …", "A guide to ...", "Installing …", etc.

Include search options. You can add multiple options to help users find what they are looking for, e.g., search bar, static menus, breadcrumbs, and so on. For longer articles, add a table of contents.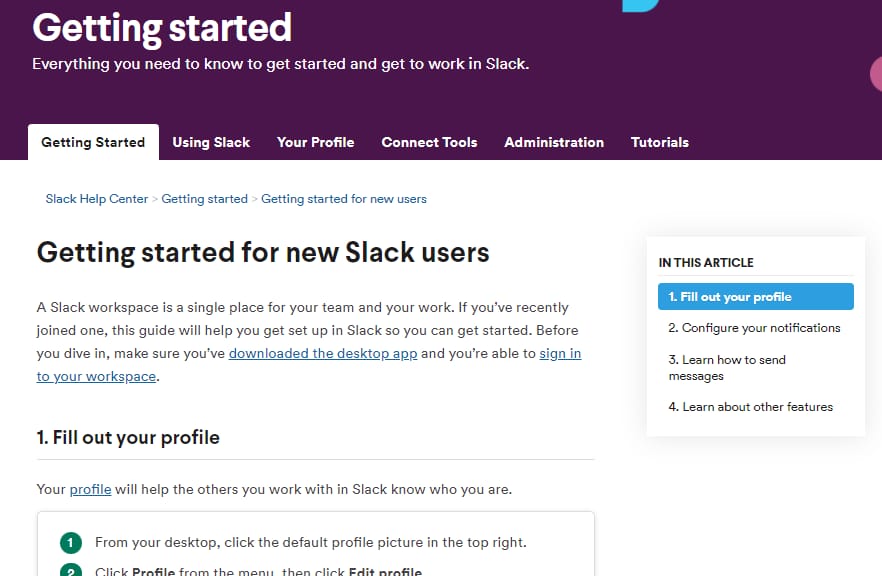 Navigation options of Slack Help Center
Add visuals. Use imagery to support text content, such as illustrations, screenshots, videos, diagrams, schemes, etc. Also, include icons, colored indicators, and text formatting to highlight important pieces of information.

Suggest further reading. Include links to related articles to let your customers know where to get more information.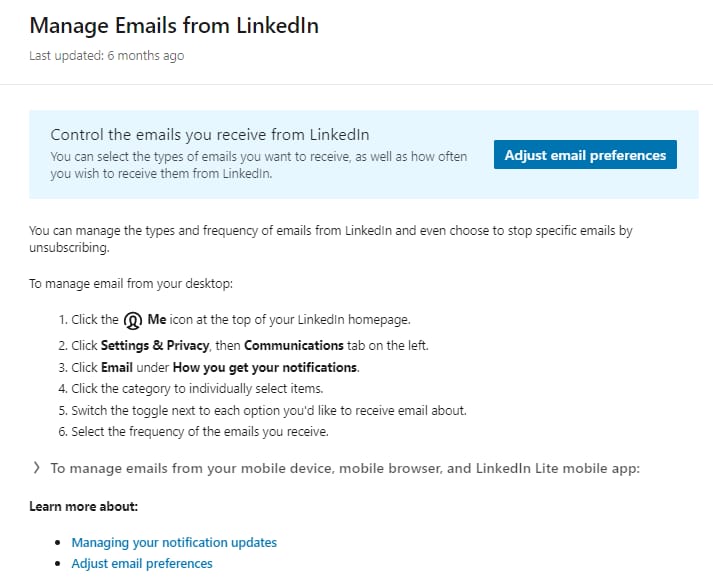 LinkedIn suggests related articles for more information
Follow accessibility guidelines. Accessibility design considers the needs of people with disabilities. Web Content Accessibility Guidelines (WCAG 2.0 AA) is an approved list of recommendations on how to make your website more accessible and usable.

Include contact information. Make sure to include your support team email address, phone number, chat box icon, and/or link to the query form to enable your customers to get further assistance.

Test before launch. Conduct usability tests to check if your KB is comfortable to operate and is meeting users' needs.
Knowledge base maintenance
So, you've composed your articles, devised a beautiful layout, threw in a search bar, your logo, and a couple of cute pics as a special touch. Your KB looks great… But that's not the end yet. You have to keep it dynamic, improve it, and make sure it keeps bringing value.

Collect feedback. Give your customers an opportunity to assess the effectiveness of your articles and/or leave comments. It will give you priceless information on how you can improve. Don't ignore the negative reactions -- offer readers related content or search options. Also, you can conduct periodic surveys to collect more detailed, qualitative feedback.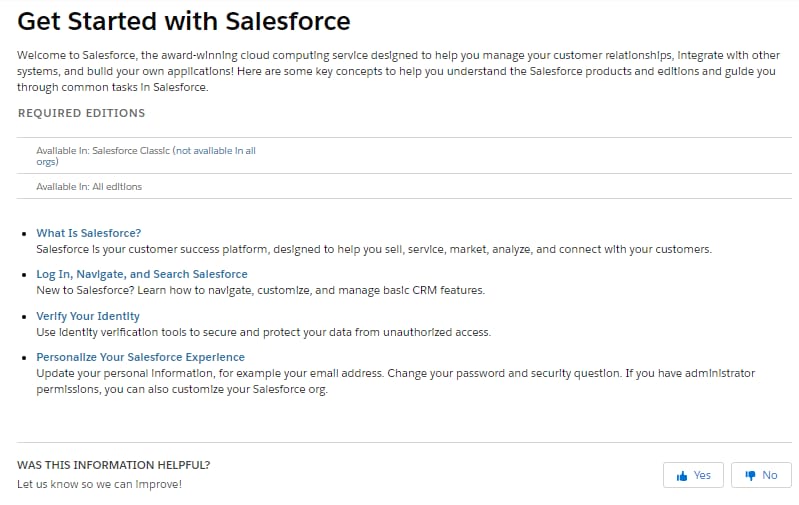 Salesforce asks readers to assess its help articles
Analyze users' activity. You can get insights from Google Analytics or your content management system. Monitor your KB's performance by tracking such metrics as most read questions, most liked questions, etc., analyze comments, and consider how you can improve your content.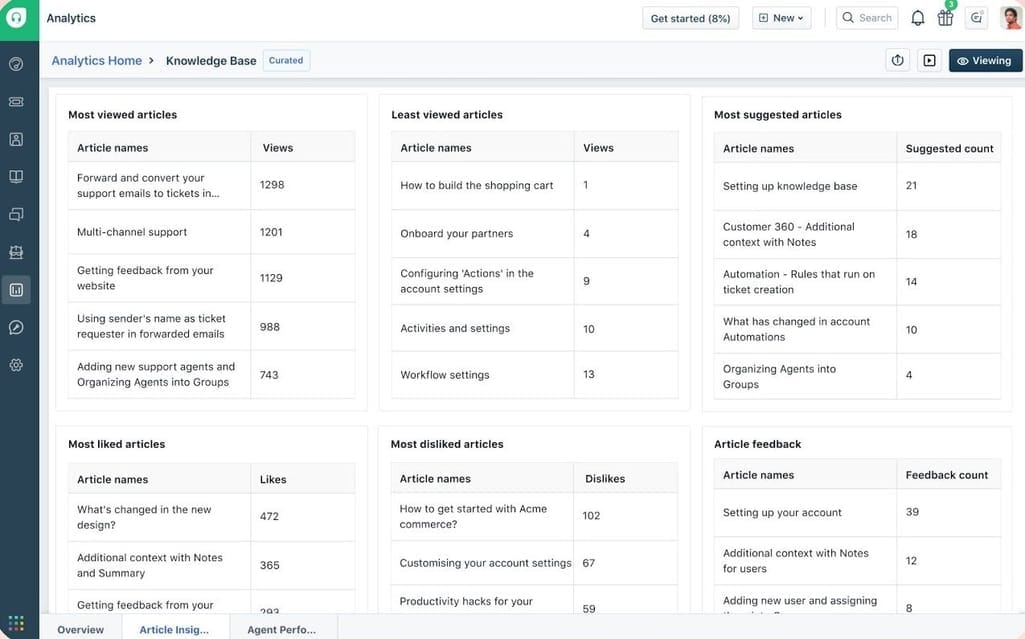 Freshdesk analytics dashboard
Update often. Make sure your KB is always up to date. Refresh or add content whenever you release new products, update features, change your policies, review pricing, and so on. Remove obsolete articles too.

Ask your support team if people are still calling even after viewing your helpdesk. Also, by analyzing performance metrics, you might discover that some articles are lacking information or find other improvement opportunities such as the need for reordering content.
Knowledge base examples
We said that your KB content and structure depend on your business type and the product or service you offer. Let's look at some specific examples of well-built KBs for different cases.

A knowledge base for SaaS (software-as-a-service or web-based software) has to teach users with different technical backgrounds how to interact with the system or application. Such KBs typically include a number of tutorials, step-by-step instructions, and feature descriptions. It's also important to make at least a short FAQ and troubleshooting sections.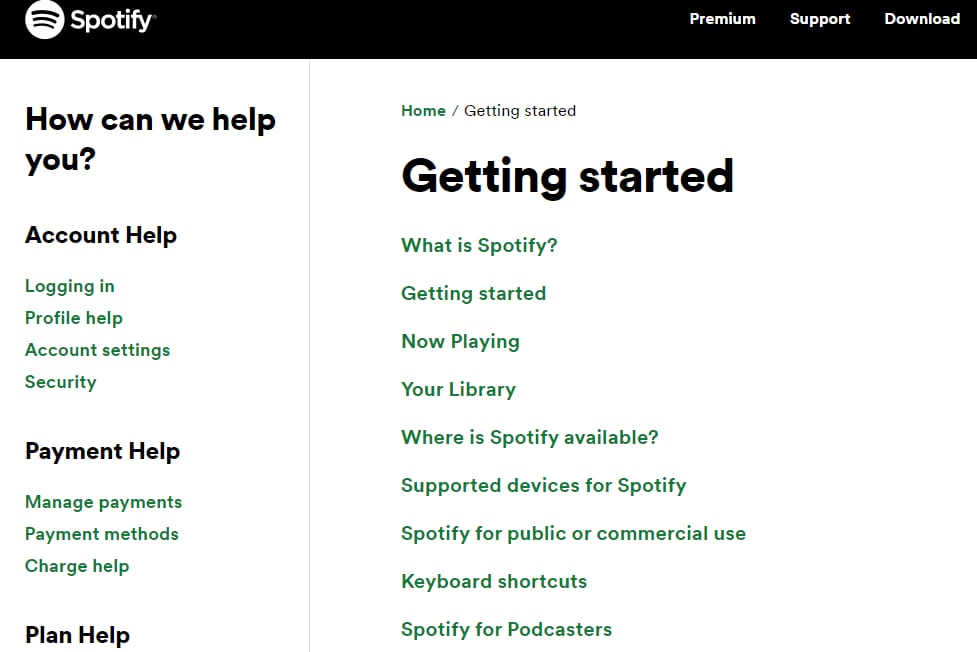 Spotify intuitive, user-friendly helpdesk
A knowledge base for an eCommerce store must have a comprehensive FAQ section that covers the most typical delivery, payment, returns, and account-related questions. Here's a nice template for the eCommerce FAQ page provided by Shopify. Adding detailed product descriptions and some information articles on your field will enhance your help center and demonstrate a holistic approach.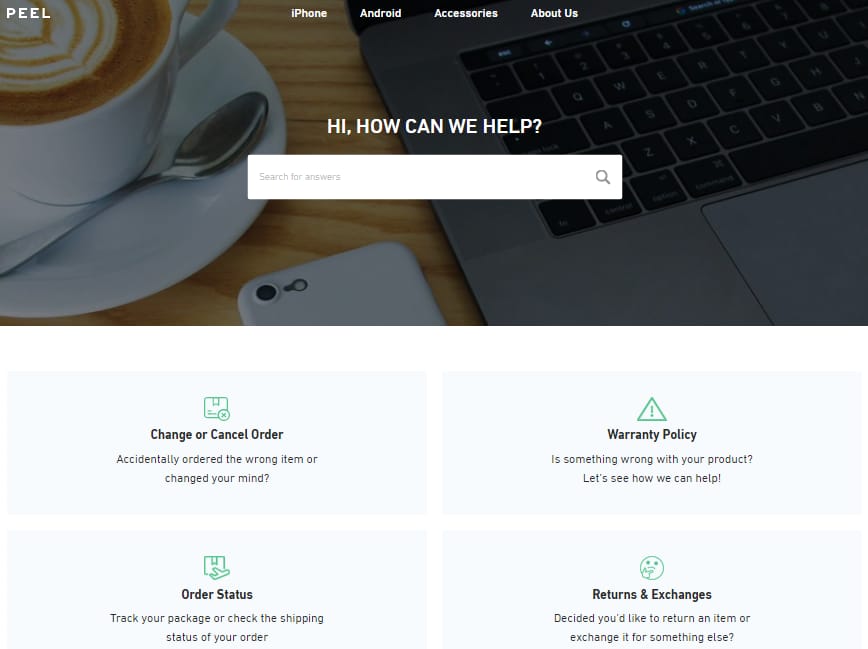 Savor a simple look of Peel help center
A knowledge base for digital devices has to contain product descriptions, user manuals, and various tutorials to help your customers utilize your products properly.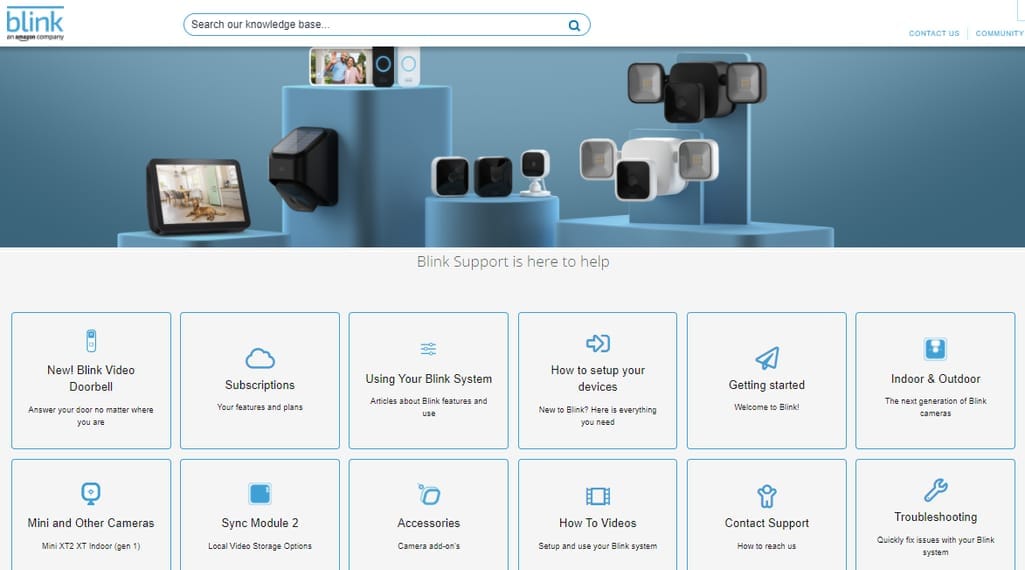 Check the beautiful design of Blink helpdesk
A knowledge base for a booking website has to place a special focus on the terms and conditions section since many users want to know terms of sale, cancellation options, and so on. So, if you deal with tourism, car rentals, or offer other booking services, be certain you are very clear with your policies. And, of course, create an FAQ with articles on account management, booking and payment options, as well as industry-specific information (like baggage size, pet permission rules, or approved gas stations).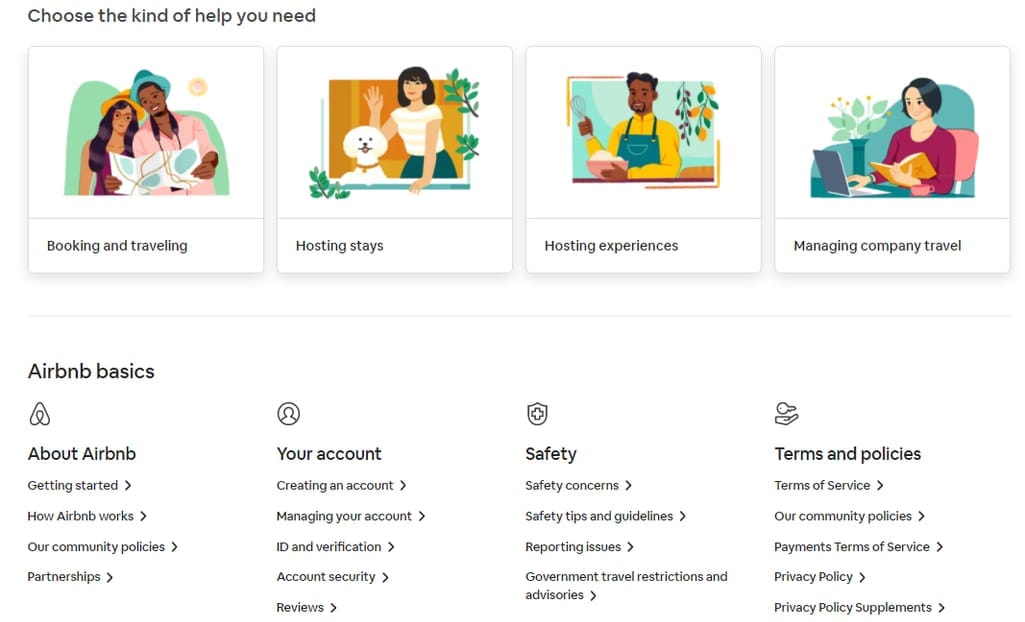 Airbnb help center is well-structured and comprehensive
A knowledge base for a marketplace has to include materials both for vendors and shoppers. FAQs and user guides for various managerial, purchase, and interaction aspects are a must. Make sure to cover the shipping, return, and payment options.


Etsy help center is a great example of a comprehensive KB
An internal knowledge base has to facilitate the onboarding of new employees and provide all the necessary information about the company, e.g., company structure, instructions on proprietary IT systems, contact details for different cases, vacation policy, and so on. Such bases can also store the information about different projects that can be shared with relevant departments.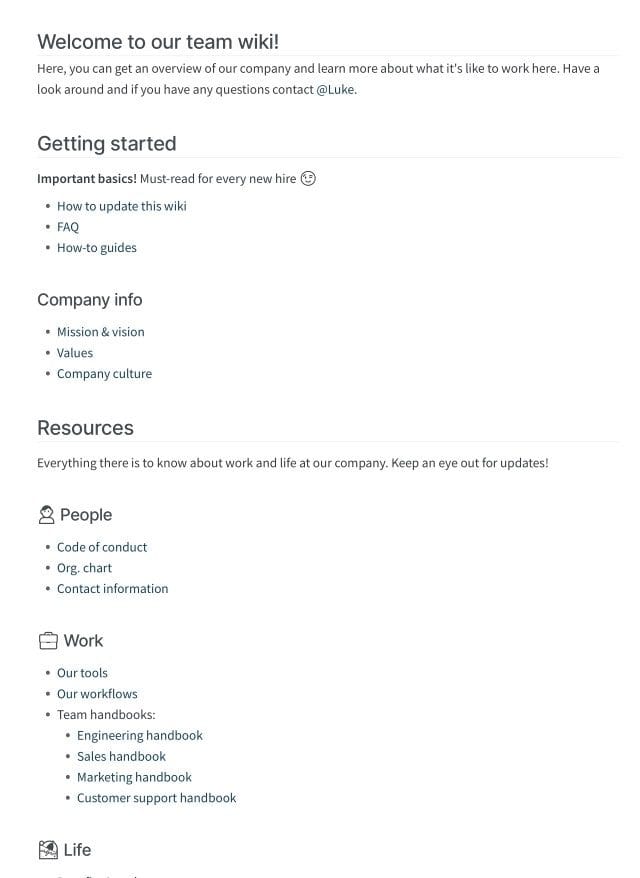 An example of an internal knowledge base in the wiki format. Source: Nuclino
Final pieces of advice
Here are a few more practical recommendations on how to make a champion knowledge base.

Choose your tone of voice. When writing your content, try to find a proper balance between being friendly and authoritative to avoid being either overly familiar or dry.

Cross-link. To avoid repetitions and have shorter articles, insert links to other resources and pieces of content.

Use SEO. If you have perfect articles, but people can't find them, they're completely useless. Make sure your content is discoverable. Play with keywords, optimize URLs, add internal links, win those snippets, and apply other SEO magic to improve your ranking.

Create format templates. We've mentioned how crucial it is to update your KB. To make this process easier and faster, create templates for different article types, including font, style, and image requirements. It will be especially helpful if you have multiple authors contributing to your KB.

Scale your KB. You can start small with a simple FAQ page. However, a comprehensive and well-developed knowledge base will demonstrate your solidity and concern about your customers, so it's worth putting effort into its evolution.

Offer an omnichannel experience. Last but not least. Knowledge bases are a great source of information and can benefit you and your customers alike. But it doesn't mean you shouldn't offer other contact channels. Consider creating a forum. Also, remember that some people still live in an offline world, and others just need a personal touch. Whatever the case, don't shut down your call center or disconnect your email and chatbots. Offer your customers a choice that will show them you're there and ready to help.