In 2007, Airbnb changed the game by giving homeowners a platform to capitalize on their accommodations and travelers a place to find unique and affordable housing. In 2022, there are much more online booking websites that host alternative accommodations. Vacation rentals can be booked on Booking.com, Expedia, Agoda, FlipKey, Trip.com, and more.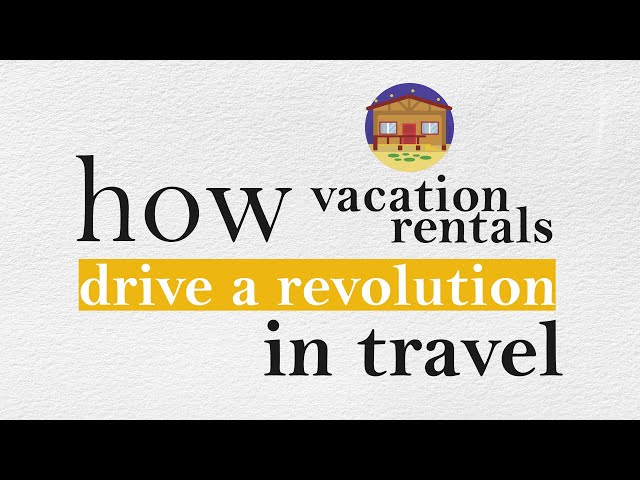 Today is truly the best time to be a vacation rental owner and manager
Property owners and managers don't have a problem finding customers today. But they need to stay synchronized with numerous booking channels. How can they do that? Let's talk about choosing a channel manager.
What is a vacation rental channel manager?
In a nutshell, a
channel manager (CM)
is a software tool that allows you to simultaneously update prices and availability across multiple channels.
Say, you list your property on Airbnb. You want to increase your bookings by posting the same property on a different website, Vrbo or Expedia, or maybe them both. If you're doing it all manually, you'd have to log in to each account and update your calendar every time someone books your rental. You'd have to make these updates immediately to avoid double booking, which is tiresome and unpleasant.
Now if you have
multiple properties to manage
, this will get hectic pretty soon and complicate running your business. And if you decide to start a
dynamic pricing
campaign (which you should), keeping up with price changes manually would be just a waste of your time.
Using a channel manager, you can view and manage reservations made from all channels in a single interface. Whenever you make changes to the calendar or listings, they are automatically applied in Airbnb, Vrbo, Google Vacation Rentals, etc.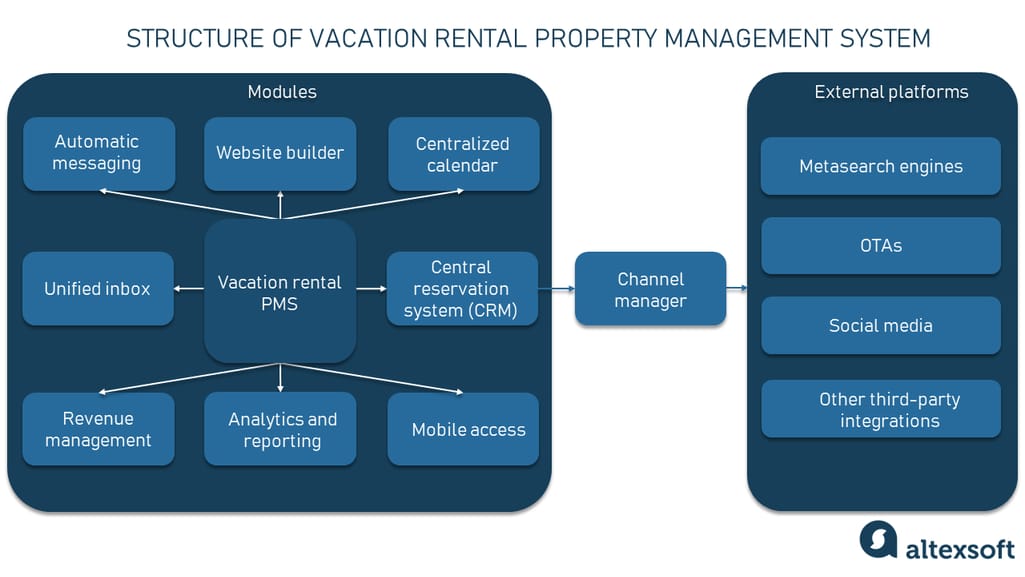 A channel manager sits between your distribution channels and a PMS and shares availability and price information with OTAs and other travel platforms
Your priorities will determine which of these ways to acquire a channel manager:
In tandem with a vacation rental property management system (PMS), specifically, with its central reservation module. You can get a PMS's extensive operational features and a CM's distribution capabilities all in one. Most vacation rental PMSs have their own channel managers, which are easy to set up and run.
As a stand-alone solution, when you want to focus on distribution and don't require extra operational features.
By building your own. As you will see, a channel manager suits you best when it provides those crucial integrations that your business requires. And no one is better equipped to give you those integrations than you are. You can team up with a tech consultant and create software for your unique business model.
Either way, you are free to mix and match and use a PMS that you love with a channel manager from a different vendor. Or, if you want to stick only to a CM, there are plenty of integrations available to extend its functionality.
How to choose a vacation rental channel manager
Originally built for hotels, many channel managers now are targeted at vacation rental managers as the market grows. A specialized CM is beneficial for a few reasons.
Connectivity to vacation rental booking platforms.
Even though alternative accommodations can be booked on general online travel agencies, there are tons of vacation rental websites frequented by niche groups and separate locales. For example, SiteMinder, one of the most popular hotel channel managers, doesn't have native connections with many specialized OTAs, such as Stayz or misterb&b.
Connectivity to vacation rental-specific tools.
Although the vacation rental business is a part of the hospitality industry just like hotels, it's becoming a separate niche with specific tools and ecosystem. This includes vacation rental data providers like
KeyData
and Transparent or revenue management software such as PriceLabs and Beyond. Standard, hotel-focused software rarely has those integrations available from the ground up, while targeted software usually does.
Of course, nothing stops you from using a hotel CM if you prefer the brand or are drawn to their unmatched number of OTA connections. In this case, we suggest you read our
hotel channel manager comparison
. But we urge you to see what the vacation rental market has in store. First, let's talk about the features you may find in a channel manager and how should you approach choosing one.
Direct integration with vacation rental websites
At the very least, a channel manager must track changes to the inventory and automatically update it at other marketplaces. In travel, data exchange must happen instantly and in real time, which is possible due to the
API technology
. With APIs, you can integrate with any distribution channel, but the quality of this connection may vary. That's why native connections are typically preferred – a channel manager provider teamed up with an OTA to ensure the highest performance and integration quality.
Direct connections also mean that you can toggle a connection with a channel in just a few clicks. One easy way to find out if the tool passes the integration test is to see if they've been highlighted by an OTA itself. Channel managers also happily flaunt Preferred Partner badges on their websites.
The minimum list of vacation rental OTAs a channel manager should have direct integration with includes:
Airbnb,
Vrbo,
Booking.com,
Expedia.
But in case you want to grow or expand into other markets, you'll be better off with a provider that gives a wider selection, including:
Tripadvisor,
HomeToGo,
Holidu,
Stayz, and more.
iCal integration capability
Often, when a tool doesn't provide a native connection to a booking platform, they offer a different solution – iCal synchronization. In the hospitality industry, iCal is a common standard for sharing calendar information between different systems. That's how you can easily import and export your reservation data from and to standard apps like Apple Calendar and Google Calendar, as well as Airbnb or Booking.com.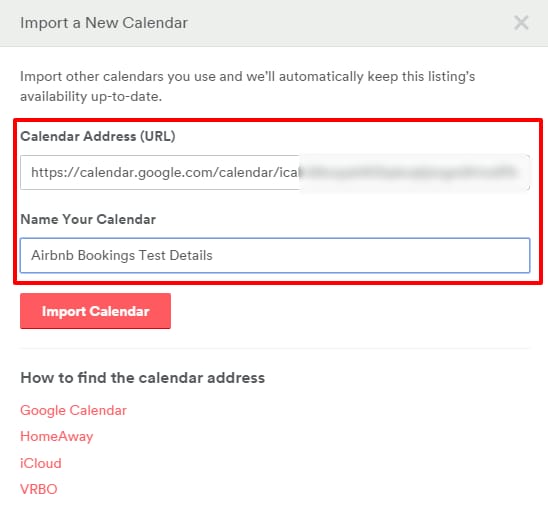 Importing data from Google Calendar to Airbnb using iCal Source: Airbnb Community Center
While iCal doesn't provide real-time synchronization as an API does, it allows you to easily connect to a wider range of websites with minimum setup. If your CM vendor doesn't have a wide selection of direct APIs, make sure it has iCal integration capability, so you can freely expand when you need to.
External tools
Modern travel software is modular and extendable and the more add-ons you can integrate, the better you can grow. Most CM vendors have a marketplace of third-party integrations where you can benefit from extra tools, especially if you're not getting a dedicated PMS. Some popular types of third-party software include the following.
Revenue and rate management
. The importance of rate management techniques in hospitality is underrated, despite it being your best bet at increasing revenues. Look for out-of-the-box integration with
vacation rental revenue management providers
Beyond, PriceLabs, Wheelhouse, or DPGO.
Payment processing.
Channel managers are often responsible for accepting payments for reservations. To do this, they must be integrated with
payment gateways
capable of accepting major international credit cards as well as protecting your business from fraudulent chargebacks and no-shows. Authorize.net and Stripe are common integrations that you will likely need.
Guest experience.
Check-in management, guest apps, smart home technology, travel tip providers, and many more applications can improve your guests' stays and help you create a smooth experience for them. YourWelcome, Duve, CheKin, and DACK are some of the popular products used by vacation rental managers and will benefit from direct integration with your channel manager.
A good alternative to direct integrations is an
open API
. Your vendor's own API will give you access to the software's backend allowing you to set up custom connections with third-party or even tools of your own making. Be on the lookout for this capability as it will give you full freedom when crafting your software environment.
Comparing vacation rental channel managers
In this section, we want to focus on channel managers that can be acquired separately. If you're interested in PMS+CM combo, see our article
comparing vacation rental software
, where we cover Hostaway, Guesty, Lodgify, and iGMS, and more.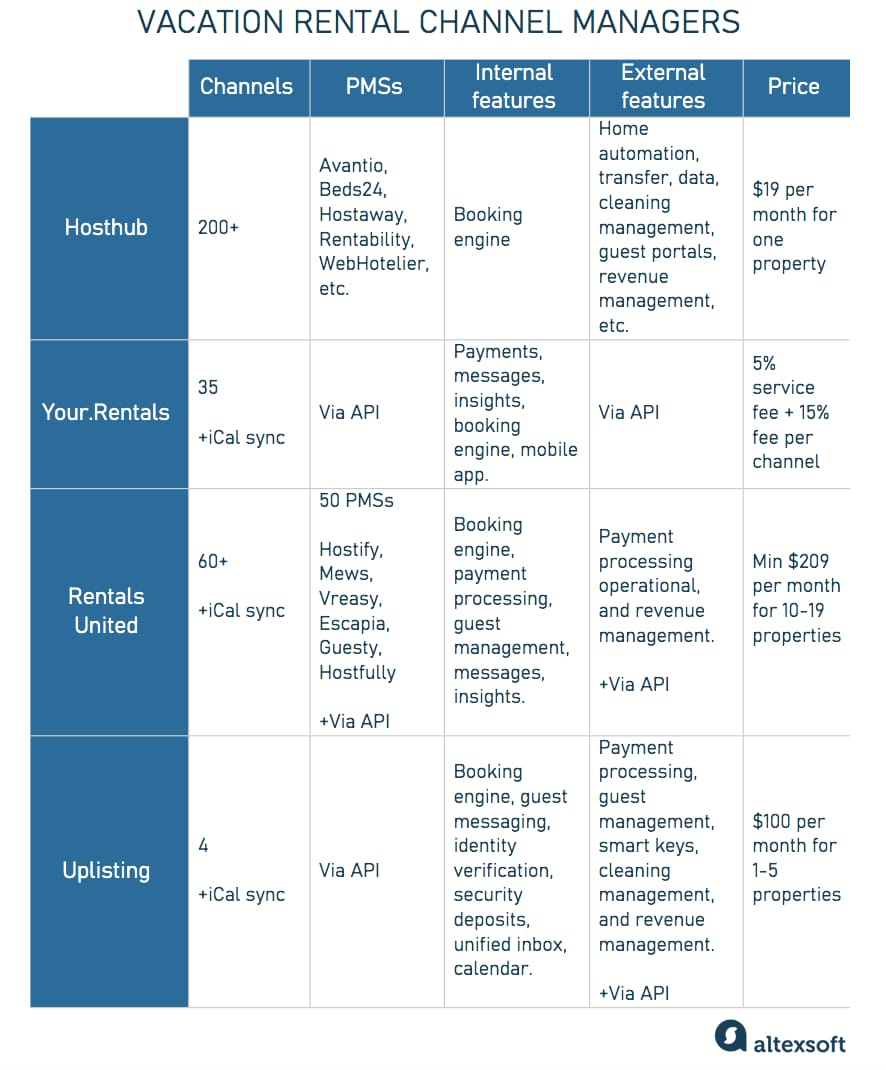 Comparing four popular vacation rental channel managers
Hosthub – minimal tool for 200+ channels
Formerly Syncbnb,
Hosthub
is a Greek startup that fights double booking by employing several update methods. They will also help you sync with your own website. For an extra fee, Hosthub will create you a custom channel portfolio for you to maximize your revenue.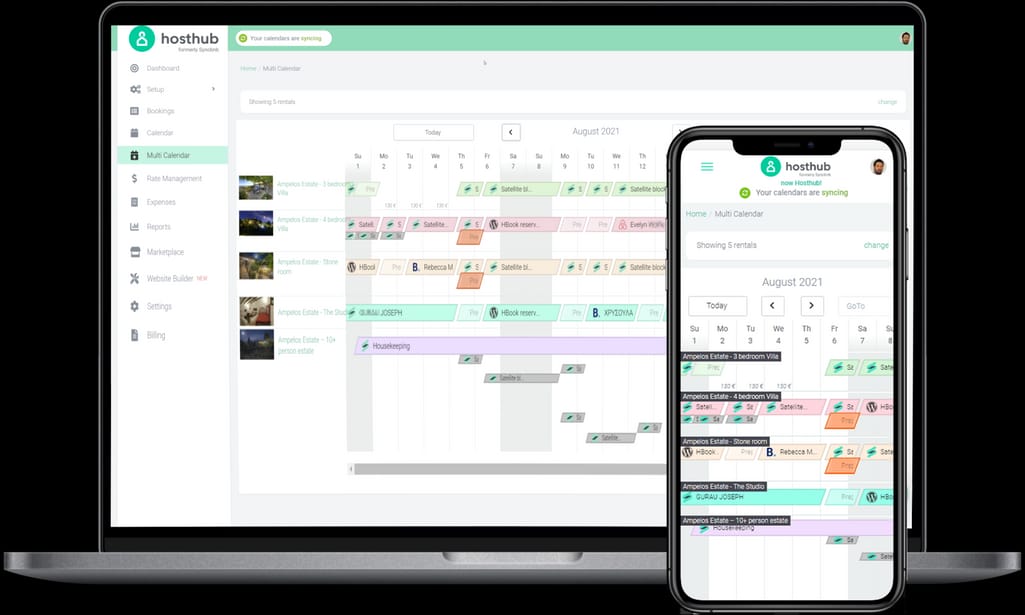 Hosthub's dashboard is fully mobile responsive so you can use the platform on the go
Distribution channels.
Hosthub provides direct connectivity to over
200 channels
and promises to add any new channel if at least two of their clients request it. Apart from classic Airbnb, Booking.com, Expedia, Vrbo, Tripadvisor, and Agoda, the current list of connections include local websites like Alargo (Greece), FeWo (Germany), Niumba (Spain), and more. There are also niche OTAs on the list such as Canopy and Stars, Theatre Digs Booker, and Glamping Hub.
PMS support.
Hosthub can be easily integrated with Avantio, Beds24, Hostaway, and more PMSs. Inquire about your PMS directly.
External integrations
. Hosthub provides
integrations
with cleaning management, data analytics, guest portal, home automation, pricing, and transfer management tools, including such popular products as AirDNA, YourWelcome, and PriceLabs.
Pricing
. There's a 14-day free trial and
pricing
starts at $19 per rental per month with up to 10 active channels. The more rentals you manage, the lower the price will be.
Best for
. Please note that Hosthub currently supports only English and Greek. Also, you can't manage all guest messages through the Hosthub dashboard. These considerations and all of Hosthub's benefits paint it as a tool for businesses operating in unique or local markets that require minimal operational capabilities.
Your.Rentals – stand-alone and flexible
Your.Rentals
is a robust channel manager with PMS capabilities catering both to rental owners and managers. It allows you to integrate with channels both directly and via iCal, has a mobile interface for viewing your calendar on the go, and also messaging, payment, and collaborative features.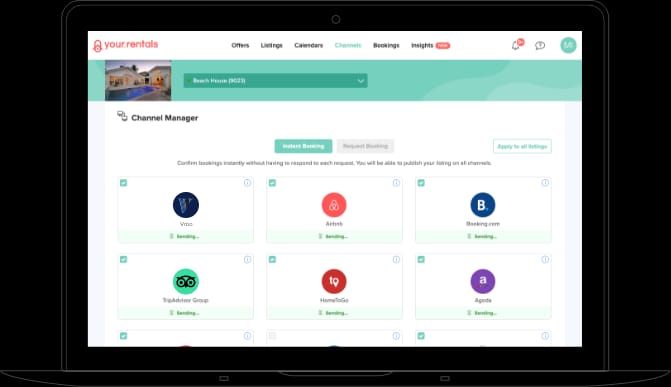 Your.Rentals can be used both by owners and managers
Distribution channels.
Your.Rentals will connect you to 35
channels
and the list keeps growing. Currently, it includes Airbnb, Booking.com, Vrbo, Expedia, Tripadvisor, Google, Agoda, Stayz, Hotels.com, Trip.com, holidu, and more. Among some interesting distributors are Egencia, a travel platform for corporate travel, and HyperGuest, one of the players in the innovative
direct hotel distribution
market.
PMS and external integrations
. Your.Rentals offers an
API
for setting up communication between the channel manager and external products including PMSs. They have both testing and production environments with detailed documentation.
Pricing
. There's a free trial and the standard service fee is 5 percent. Plus, you will pay 15 percent per every channel. You can distribute to up to 20 channels. For those managing over 5 properties, there's custom pricing.
Best for
. Your.Rentals is a comprehensive channel manager with tons of useful features. It's a good fit for businesses of all sizes since it provides flexible pricing. But keep in mind that you would need a techie on your side to set up external connections if you need any.
Rentals United – advanced features for professionals
Rentals United
covers all the bases: a wide selection of channels, partnerships with main vacation rental PMSs, and an open API. Basically, there's everything you'd need to build an extensive software environment. Apart from the channel management function, it also allows you to create a direct website with a booking engine and payment capabilities. Also, there are guest communication and management features, and a dashboard with data insights. Among unique features, Rentals United has a quality checker that assesses how well your listings meet the sales requirements.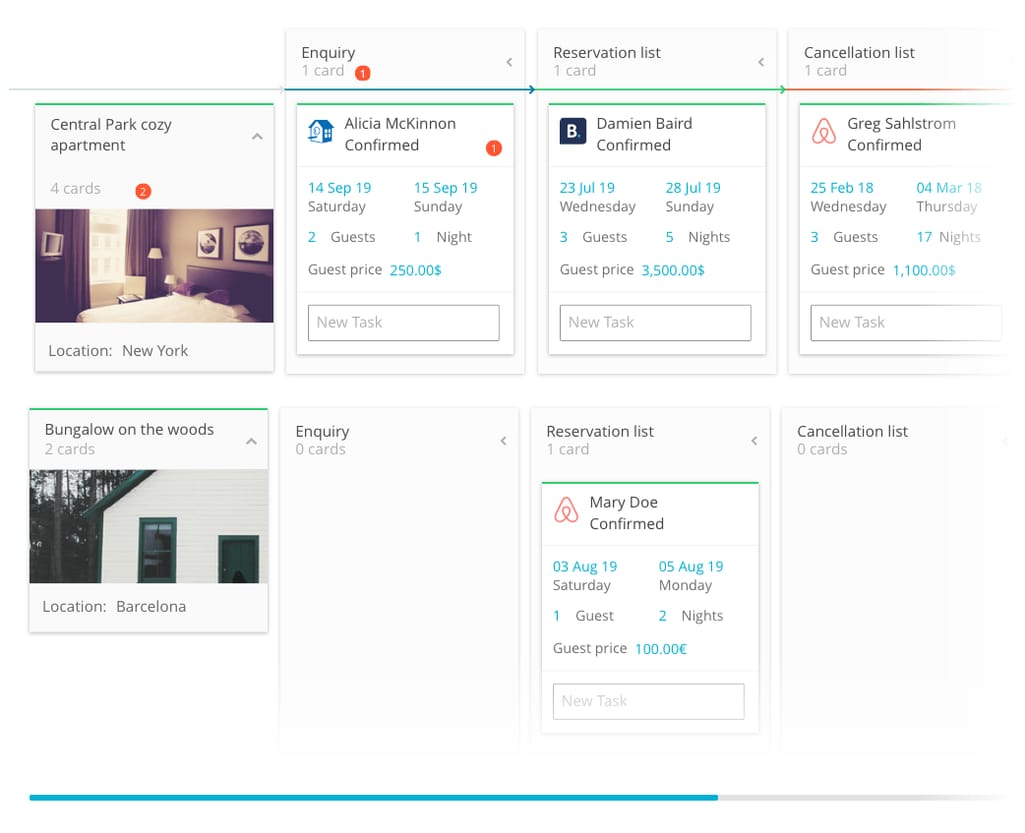 A handy dashboard on Rentals United
Distribution channels.
With Rentals United, you have direct access to 60+
channels
, from big OTAs like Airbnb, Booking.com, Expedia, Vrbo, Agoda, and more to smaller rental sites like Dormoa, Homelike, or Whimstay. They also let you list on other distribution sites like the already mentioned HyperGuest and metasearch sites like Trivago, Kayak, holidu, and Google.
PMS support.
Among Rentals United's 50
PMS partners
are Hostify, Mews, Vreasy, Escapia, Guesty, Hostfully, and more. More system connections are in development.
External integrations.
With Rentals United, you can directly integrate with payment processing (Stripe), operational (ChecKin, YourWelcome, etc.), and revenue management (Beyond, PriceLabs, Wheelhouse) tools. They also have an open
API
to integrate Rentals United with your own PMS or other vacation rental services.
Pricing.
The cheapest tier for those managing 10-19 properties is €199 ($209) per month, which ranges from $20 to $10 per property. Clients with over 50 properties will get a special deal.
Best for.
Rentals United work with property managers with 10+ rentals, so it won't be a good fit for casual owners. But if you're looking for a tool to help you grow as a business, this is a strong contender.
Uplisting – essentials and rental security
Focused on four main vacation rental websites Airbnb, Vrbo, and Booking.com, with the recent addition of Google,
Uplisting
provides a few interesting features to its CM capabilities. For example, to protect your property, you can verify guest identities, automatically collect a security deposit, and attach an eSign rental agreement.
They also help you set up a direct booking channel, and provide a unified inbox and a multi-calendar.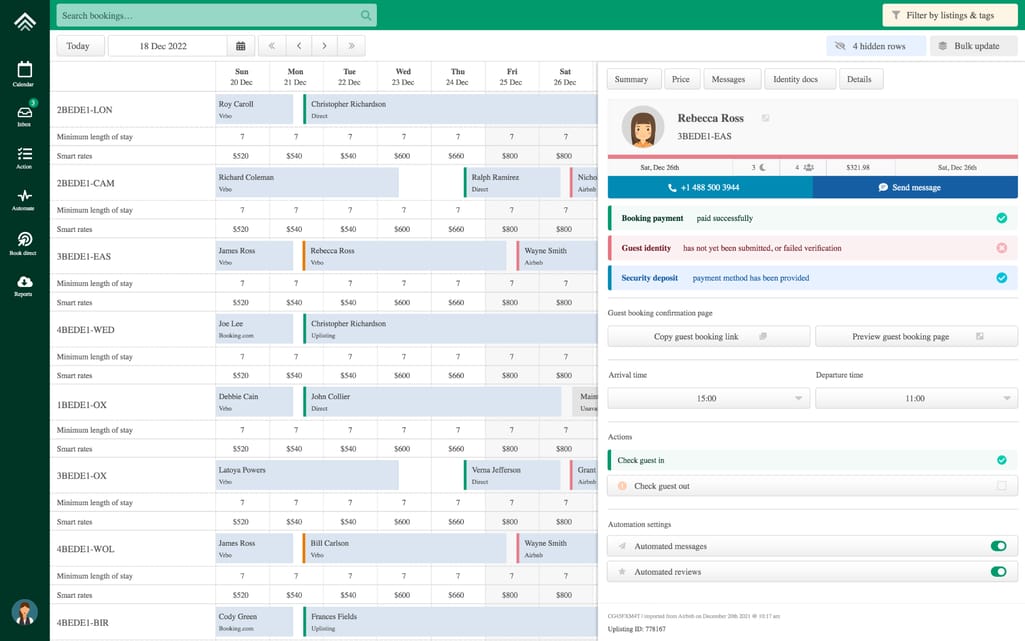 Uplisting gives a detailed outlook of your bookings
Distribution channels.
Uplisting goes minimal by having four partnerships with Airbnb, Booking.com, Vrbo, and Google. You can connect to other websites via iCal.
PMS support
. Uplisting doesn't provide ready integrations with PMSs, but they have an open
API
so you can secure a connection yourself.
External integrations
. There are guest companion apps like Minut and Dack, cleaning management apps such as Properly, integration with Stripe, revenue management tools PriceLabs, Wheelhouse, and Beyond, smart lock services, and more. See the full list
here
.
Pricing
. With one to five properties, you will be paying a flat fee of $100 a month, but the price will be lower the more properties you have. There's also a free trial.
Best for
. Uplisting is a versatile channel manager that prioritizes automation over dozens of integration partners. If you have a tech team to close every gap in your software requirements, consider Uplisting as your main vacation rental tool.
Choosing the best vacation rental channel manager for you
With free trials, you'll be able to go through different providers and see which does the best job for your business. We'll leave you with a few final tips that might help to seal the deal with a channel manager of your choice.
Experiment with metasearch sites.
Some channel managers are capable of posting your listings on metasearch engines like Google, Kayak, or Trivago. If you play your cards right, this type of channel will bring you a lot of booking for attractive commissions. Read more about
metasearch in hospitality
for some tips.
Create your channel portfolio.
The prospect of having your listings on dozens of websites sounds nice, but the quantity rarely results in more bookings. By the Pareto principle, you should focus on those few channels that will bring you 80 percent of your revenue. And sometimes, those channels are not Airbnb or Expedia. Do your research and find out on which websites your clients reside most.
Consider a flat fee vs a percent.
This will depend on the size of your business. Smaller operations would benefit from a percent payment as you will be paying as long as you have customers. But businesses with several properties and tons of bookings are better off paying a flat fee as they won't have to let go of a chunk of revenue every month.
Get acquainted with API
. Of course, integrating with a new channel at the click of a button is easier than establishing a new connection, but it also can be limiting. The travel world can't work without APIs, so don't be afraid to join the web and whip out your tech experts for some custom integration.