McDonald's is globally recognized for its signature burgers and Big Macs, but do you know that its menus are different around the world? For example, it serves spicy vegetarian Dosa Masala Burgers in India and shrimpy Ebi Burgers in Southeast Asia. And not only does it adapt the menus, but also advertising campaigns, website pages, and entire business plans to attract local foodies. And it works. Such an adaptation strategy has made McDonald's the world's largest fast-food restaurant chain.
If you operate a travel business, you most likely deal with multinational customers, and it's crucial for you to localize your content and services and make them more understandable. Having touched on the topic of
website localization
earlier, in this article, we want to dive deeper into the technicalities of the adaptation process and share our experience of adjusting travel platforms to foreign markets. But first, let's briefly recap the basics.
What is localization and how to approach it? Localization vs internationalization vs globalization
Localization
means adapting a website or other digital product for a new region. The term is often used interchangeably with translation, however, it's much more than that. It involves modifying content considering local regulations and cultural differences – and at the same time preserving the company's style and brand integrity.
Localization is also associated with such terms as globalization and internationalization. They are tightly connected but still somewhat different.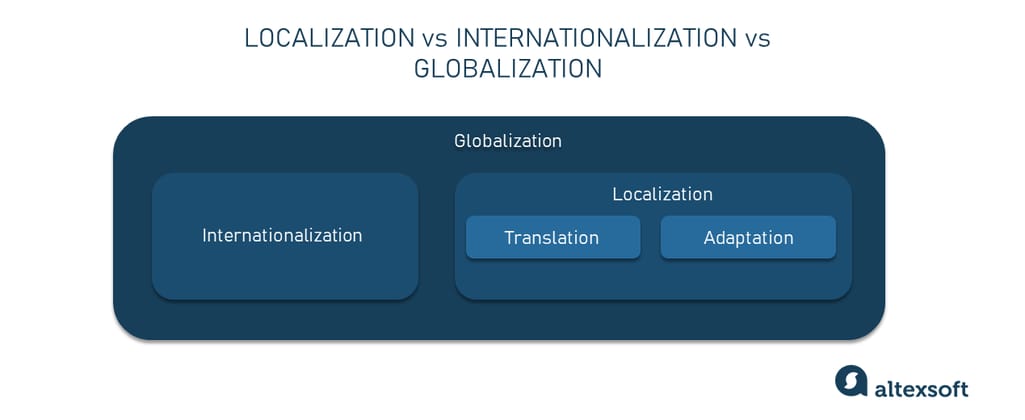 Localization vs internationalization vs globalization
Globalization
is a broad concept that describes the process of economic integration and interaction between countries, companies, and people worldwide. Speaking of websites, globalization means making your site functional and accessible to the
global
audience, including translating and adapting your content (localization) as well as tailoring technical aspects (internationalization).
Internationalization
is about adjusting the
technical side
of your website so that it can handle several versions with different languages, currencies, formats, payment methods, and so on, catering to the needs of multinational customers.
In this article, we'll describe all main aspects of expansion to new markets, but for the sake of simplicity, we'll refer to the entire process as localization.
Which content needs localizing?
As a hotel, airline, OTA, or other company that works with travelers, you have to translate and customize all the elements of your digital product:
Customer-facing content (descriptions, landing pages, blog materials, FAQs and help desks, the "About us" section, terms and conditions, contacts, marketing and advertising materials etc.);
Communication platforms and chatbots (you can either use templates with pre-translated questions and answers or create a natural language processing model that will automatically generate the two-way translation);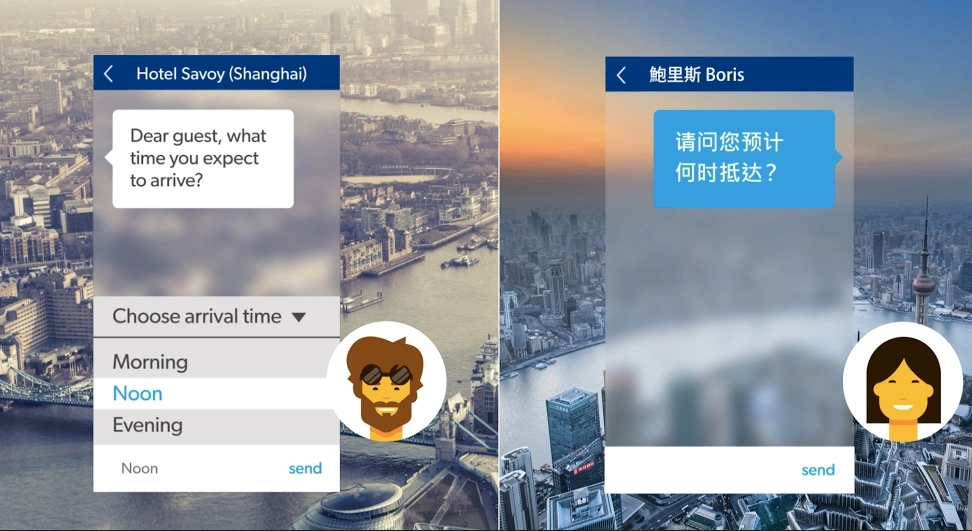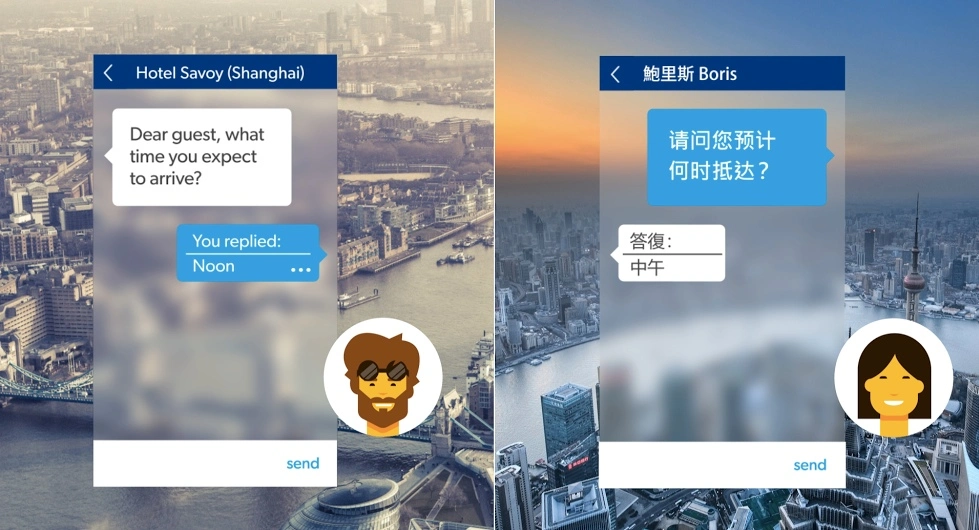 A template-based chatbot. Source: VentureBeat.com
Social media (preferred platforms differ by country, so choose the ones that are popular in your targeted regions);
Mobile app (remember about text sizes and pay attention to which icons you incorporate);
SEO (adjust your SEO strategy to locally preferred search engines, research the keywords travelers use in their search queries, and remember about URL structures, hreflang tags, backlinks, meta descriptions, and all those SEO tricks); and
Reviews.
Okay, now that we're on the same page with the terms and overall vision, let's explore how to approach the localization of your travel digital platform (here, we assume that you already have one and want to adapt it). We divided the entire process into several main components:
localizing website architecture,
receiving static multilingual travel content from content providers,
multilingual support and cultural adaptation, and
localizing payments.
Note, that if your website is built on one of the popular content management systems (CMS) like WordPress, Joomla, Drupal, or Magento, its built-in localization capabilities would be enough to handle a great deal of your project. But if you run a complex travel platform, you probably operate your own, custom-built system, so you'll have to engage software engineers heavily in the localization process.
Website architecture: language settings, domain strategy, and web design nuances
We assume that you've already done your research and know the markets you want to target, the languages you want to translate into, and so on. You also have to make some important decisions on how you want your localized website to function and look.
Automatic language detector or manual language selector?
Basically, there are only two ways your customers can see translated versions. You can either adjust your website's language automatically based on the browser settings or IP address – or offer them a choice. Both approaches have their pros and cons.
Automatic language detection is convenient and is definitely the best option for users who aren't very good with computers or have sight impairments. However, it can lead to a bad user experience, for example, if the visitor is out of his/her resident country or the country has several official languages. Besides, sometimes people don't like being forcibly redirected or get annoyed with the imperfect translation and would rather read the original language.
If Google rankings are important for you, note that its
guidelines
recommend avoiding automatic redirection and allowing the user choose the preferred language.
So, we also recommend you offer your visitors the means to choose their preferred language. It can be done in a number of ways.
You can enable autodetection and then either offer the users to switch themselves to their browser language or redirect them automatically but give them the option to easily override your setting.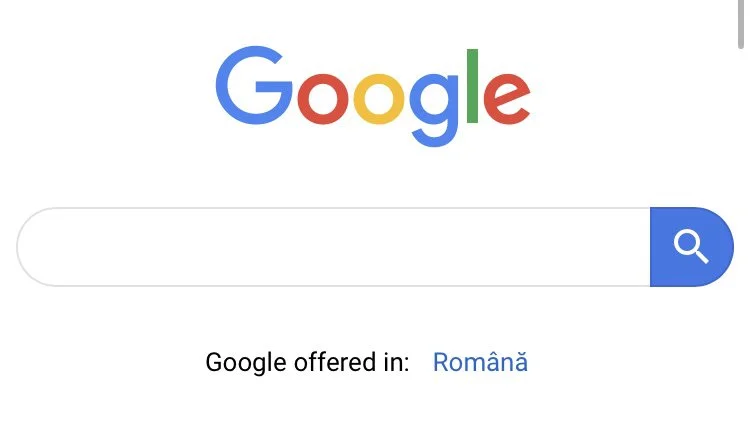 Google makes gentle suggestion on the language
You can ask users about their language preferences on their first visit and remember their selection.
You can include a language selector with the list of available versions and allow your users to make a choice.
Whichever way you choose, the language selector is an essential element. It's important to make it visible and user-friendly. Typically, users would look for it as a globe icon in the header or footer. The most common form is a drop-down menu with country flags or a text-based language switch.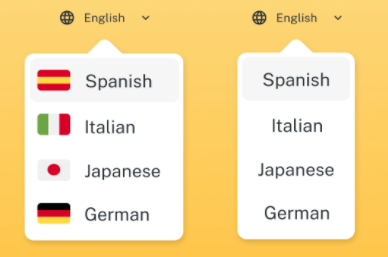 Types of language selectors. Shot by HelloBuild on Dribbble
Multilingual website domain strategy: subdirectories, subdomains, or a country-specific URL?
There are several domain strategies when choosing your URL structures for website versions.
Subdirectories
are one of the most common approaches. They look like
yoursite.com/uk
and are basically virtual subfolders in the same domain. They are easy to create and maintain. Besides, all the link building strategies and SEO efforts of the main domain are applied to all the subdirectories.
The main downside here is that you'll have to equally localize all the versions. Also, you risk not having good rankings in targeted countries without focused SEO activities.

Hilton chose to have a single domain for its multilingual website, just changing the subdirectory
Subdomains
indicate the language in an URL that looks like
de.yoursite.com.
Such an option gives more flexibility because it's like creating a separate website that can have its own design and content, so you don't have to localize everything equally. It's easy to set up and cookies can be shared between variations. However, you'll have to work on the ranking of each version separately.
Country code top-level domains
or country-specific domains look like
yoursite.uk
and have a very clear geotargeting for both users and search engines. You can create a localized design and content version to satisfy user expectations from that kind of webpage. Google
recommends
using different URLs for your website versions since it otherwise might not be able to find and crawl all the variations.
This approach entails creating and maintaining several separate websites, so it takes more resources. Sometimes, the availability of the needed domains is limited. Also note that cookies won't be shared.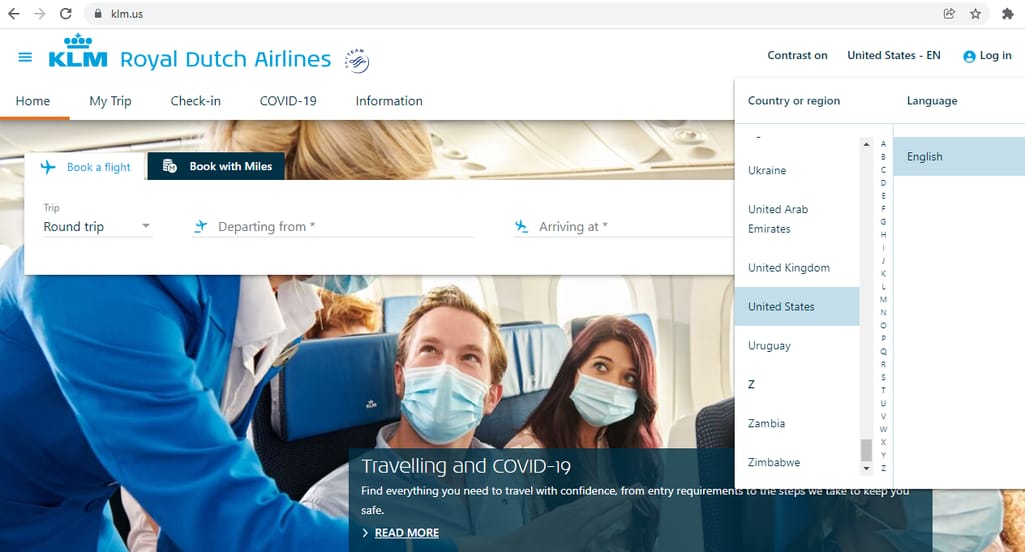 KLM has a different domain for each language version
In any of the above cases, users might be confused about your targeting. For example, if you have "de" in your domain, are you targeting Germany or the German language? So, a mixed approach is also possible to avoid this issue.
You can opt for using both country-specific domains (or subdomains) and subdirectories. For example, Switzerland has four official languages, so you can make versions for each of them. In that case, your URLs would be
yoursite.ch/fr, yoursite.ch/de
, and so on.
There's no single best approach. The choice depends on your business goals and resources.
Information architecture: managing design and layout
As you adapt your content, you'll most likely have to adjust your
user experience (UX) design
as well. Here's why.
Left-to-right vs right-to-left.
Some languages such as Arabic or Hebrew are written from right to left. So, you'll have to change the layout of the elements on your pages accordingly. Be sure to reverse icons, sliders, and any navigation elements. Also, check the position of images (for example, if you have a picture of a person/animal/finger/indicator pointing to some important part, check that it's still pointing where it has to after redesign). For more tips, visit Google's
Material Design guidelines
on mirroring and bidirectionality.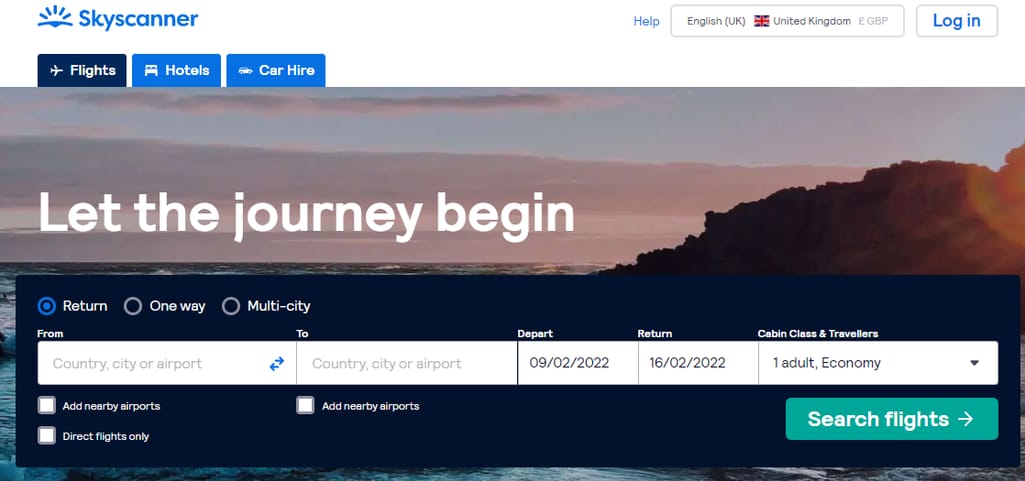 Skyscanner's mirrored versions in English and Arabic
Text expansion and contraction.
Different languages take different space. It happens because the number of letters per word, the number of words in a sentence, and even average letter sizes vary a lot. For example, German words are the
longest
, while in Italian, French, and Spanish they are shorter, but more words are needed to express the same idea. At the same time, Chinese or Japanese characters are typically wider than Latin letters.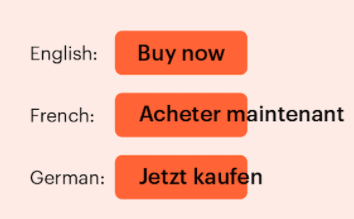 When designing buttons/menus and planning layout, keep in mind that texts can grow or shrink
As you can see, English text is often shorter than the translated one. So, be prepared and use some tips when working on your design:
allow more room on the buttons,
be mindful of white space,
make your table columns a bit wider,
be careful when using abbreviations or short forms (they might need to be written out in other languages), and
pay attention to the text in the imagery (try not to embed it tightly and keep all the source files for further editing).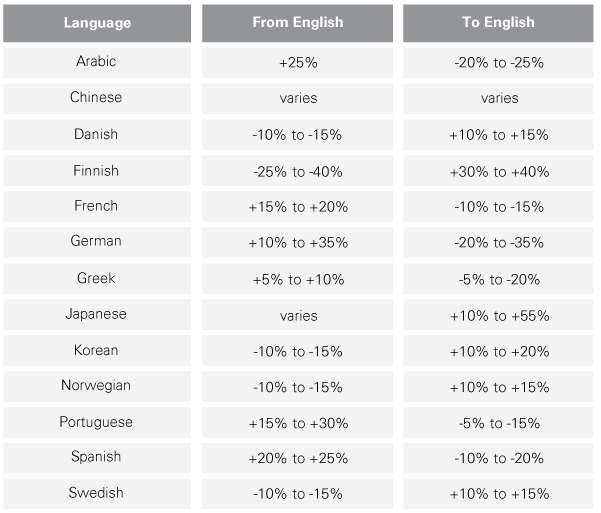 Here's a helpful table on text expansion and contraction. Source: Eriksen
Travel content suppliers: GIATA, ATPCO, and others
Good news – if you're, say, an OTA and want to sell hotel
inventory
, you don't have to translate all the descriptions of your hotel portfolio.
Static or descriptive content
doesn't change often, e.g., location details, amenities, policies, services descriptions, and so on.
There are vendors that provide multilingual static content on properties, tours, and other travel products.
Hotel content
. GIATA is the biggest aggregator and provider of hotel content. Its
multilingual hotel guide
contains information on over 430,000 hotel descriptions in 25 languages, plus images and factsheets.
Airline content
. Integrate with the
ATPCO Routehappy
platform to get the 25+ translations of amenities and ticket content from more than 400 airlines. Product attributes are also available, but translations are provided by the airlines.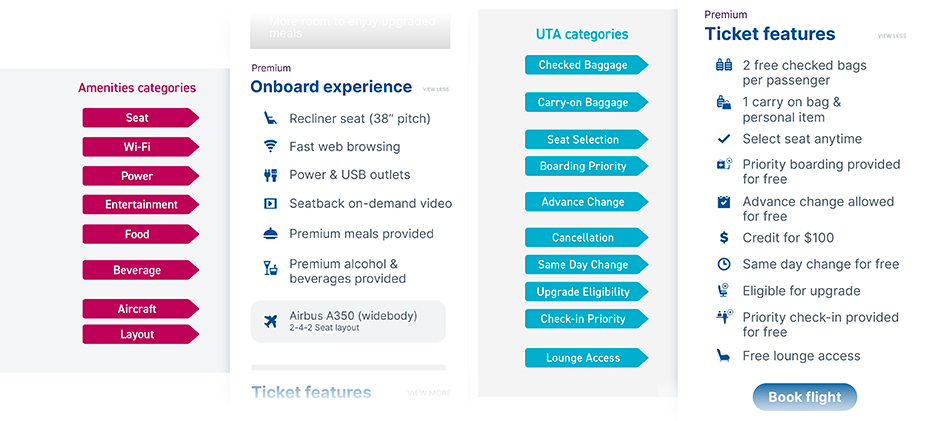 Amenities and ticket attribute categories in Routehappy
Tours and attractions content
.
Viator
offers a set of open
APIs
to their partners who want to obtain information about over 340,000 things to do in 35+ languages.
Smartvel
collects and shares up-to-date information about points of interest, restaurants, local events, and even health restrictions for about 500 destinations in 15 languages.
Reviews content
. Remember we mentioned the importance of translating reviews? Well, you can do this little trick: Integrate with
TripAdvisor
to collect reviews from the most famous travel feedback platform in the world – with a choice of 28 languages.
Tip: Remember to standardize your inventory coming from different providers. For example, your geolocation or destination taxonomy might not match the one that you receive from the content provider, so you'll have to do the mapping yourself to be able to use the acquired information.
Multilingual support and cultural adaptation
Multilingual support is the most important part of a localization project since that's what makes your product understandable to your customers. Here are some of the main considerations related to it.
Human translation vs machine translation
Machine translation (MT) is definitely cheaper and faster than the human one. However, even though modern tools apply those super-smart
deep learning
techniques to achieve state-of-art translations, they still lack accuracy and, well, some kind of personal touch.
It's vital to deeply understand the culture of the country you want to address to avoid misunderstandings or unacceptable/offensive wording. Slang, idioms, jokes, analogies – all that cultural heritage is different in every country (and sometimes even in regions within one country). So, it's essential to engage local experts to proofread your translated content and make it sound natural.
You should be careful when translating taglines and slogans to accurately convey the initial meaning and keep the spirit and voice of your message, though the tone can be adapted to the targeted culture. Also, when translating, don't forget to modify the images, video, or audio materials that contain text.
So, instead of choosing one or the other, we recommend a hybrid approach, i.e., automating the process with machine translation and then involving professional translators to revise the content.
Tip: For marketing materials, use only human translation. Flexibly adapting translations to convey the voice is called
transcreation
. No machine can effectively and accurately communicate the brand message that you've developed. Yet.
Machine translation with Google Translate, SYSTRAN, and other tools
For automated translation, consider integrating with a specialized translation tool to leverage its functionality. Some well-known examples of advanced platforms based on
machine learning
technology are
Google Translate
,
Amazon Translate
, and
Microsoft Translator
.
However, the MT market is developing rapidly and according to a
2021 Intento research
that compared 29 MT engines,
DeepL
,
SYSTRAN
, and
ModernMT
showed best results across 13 language pairs in 7 industries.

Top performing MT engines
These systems are widely used in the hospitality industry (for example, Airbnb works with ModernMT and Lufthansa partners with SYSTRAN).
All of these vendors have a suite of tools that enable real-time translation of huge amounts of content across multiple language pairs, and their ML engines are constantly learning as they process more information. Integrating their functionality via APIs would allow you to get best-of-class translations right in your product.
Translation management systems: good support for large-scale localization projects
A
translation management system
(TMS) is a platform that manages all aspects of the translation process:
translating content into multiple languages using machine translation;
storing and maintaining existing versions;
centralizing translators' assets such as terminology dictionaries to ensure consistency;
keeping translation memories for efficient reuse of previous translations;
performing QA checks to ensure that no misspellings or inconsistencies sneaked in; and
supporting project management, facilitating collaboration, and tracking performance metrics.
For example, some popular TMSs are
Memsource
,
Lokalise
, or platforms offered by localization service providers (we'll talk about those in a bit). A TMS becomes very handy in big translation projects as it automates translation activities and supports collaboration. Just keep in mind that a TMS has to be seamlessly integrated with the content repository of your web application (or CMS) to enable a two-way content flow.
Localizing non-linguistic elements
Besides the textual part, you'll have to localize non-linguistic elements of your content such as
date and time formats,
number formats,
addresses and telephone numbers,
units of measurement,
name formats,
calendar display and local holidays, etc.
You'll also have to check the colors, styles, symbols, and other design elements of your site. Make sure that nothing contradicts any unique cultural, ethical, or religious aspects of your target audience.
For example, in some cultures white is the color of celebration and purity, while in others it's a symbol of grief; the same gesture can mean
hello
in one language and
bye
in another; the way women are pictured differs across cultures; and so on.
Tip: Check
Hofstede Insights
tool to get comparable information on cultural differences between nations.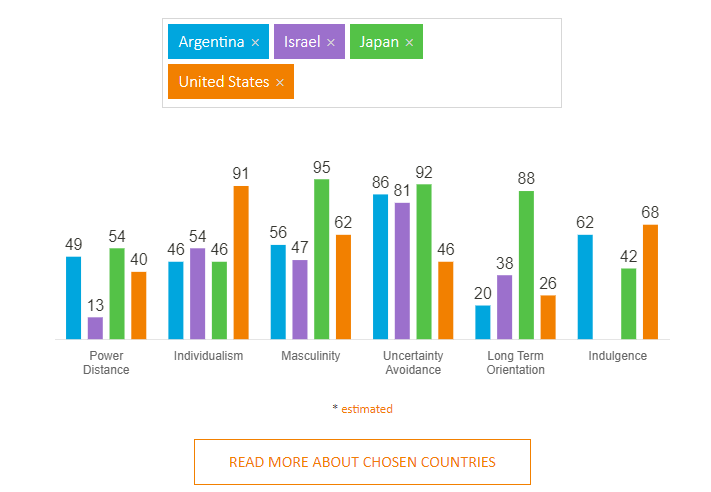 An example of cross-cultural comparison. Explanation is available
Localization services
Localization is a massive chunk of work, so, instead of hiring a translation team, think about outsourcing it (or part of it) to a third-party localization service provider (LSP). Those guys will be happy to take the heat off your shoulders and handle the content part for you. There are lots of companies on the market that specialize in localization and offer a variety of packages. You can check
Gengo
,
Transifex
,
DayTranslations
, or
Smartling
to get an idea.
Connecting to their platform via APIs will automate the content and translations exchange. Note, however, that if you choose to partner with an LSP, look out for hidden costs, e.g., having your staff provide support with guidelines, terminology validation, review, feedback, final content approval, etc.
Localizing payments
If you want to accept payments from around the world, make sure your site's
payment processing
system can handle transactions made in different currencies and via different channels. What does it mean for you as a growing travel business?
Multiple currency converters
First of all, you'll have to display rates in different currencies. To show your customers the most accurate, up-to-date information, you'll have to connect to a reliable provider of exchange rates (e.g.,
Exchangerate.host
or
Fixer.io
). Typically, they offer a suite of open APIs for fast and easy integration. This way, you'll get access to the real-time exchange rates for around 170 world currencies.
Local payment methods
Сheck which payment methods are popular in a targeted country and what the legal requirements are for payment processing. For example, some countries do not trust PayPal, others never heard of American Express, and some use their own payment systems. In addition, new payment methods like cryptocurrency keep emerging and have to be considered.
Here's a list of the most wide-spread payment systems in different regions:
North Americans prefer credit cards and digital wallets over other payment methods.
In Europe, online shoppers opt for bank cards, PayPal, SEPA payments, or local payment systems like iDEAL in the Netherlands or Swish in Sweden.
Australians and New Zealanders pay with bank cards as well as POLi – a local alternative.
The Asia Pacific region is big on digital/mobile wallets (for example, WeChatPay and Alipay rule in China).
South Americans rely on local cards with installments or good old cash-based payment methods (e.g., Boleto Bancário in Brazil).
In the Middle East, while cash on delivery is preferred, it might not work for a travel business, so go with bank cards.
African countries still heavily rely on cash and bank transfers, but digital wallets and mobile transfers are gaining traction lately.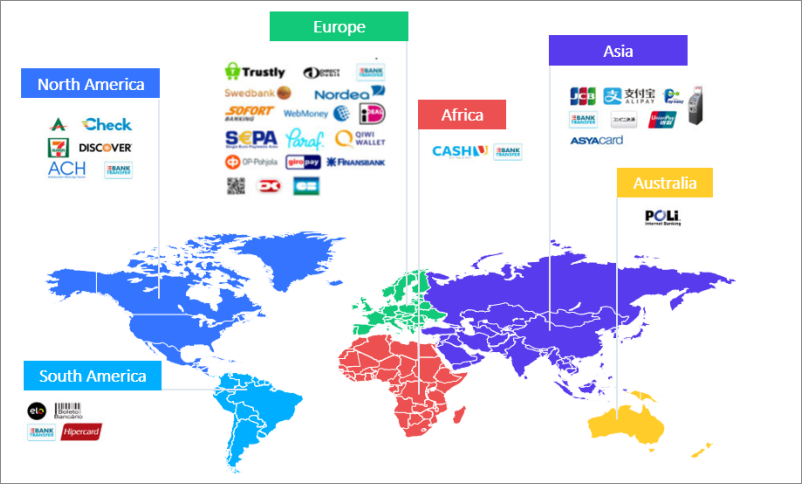 Popular payment methods. Source: 2checkout
Partnering with payment gateways
After choosing the preferred payment methods you want to incorporate, you might have to partner with a local payment service provider that supports local payment gateways. Check our article dedicated to
payment gateways
to get an idea of the process. There are also taxation differences and currency exchange commissions, so be sure to do your research carefully.
There's another option to incorporate multiple payment methods. If you have ambitious expansion goals, consider partnering with a payment processing company that can be an intermediary and handle various transactions for you. Such platforms as
Global Payments
work with 100+ currencies and support around 140 payment methods, so that's kind of a workaround.
Addressing special payment processing cases
If you think about expanding to Muslim countries, here's what you'll have to keep in mind. The use of credit cards is frowned upon in Islam, so debit cards are the most popular payment method. As one of our projects proved, such a small thing can be a game-changer for a hotel or
flight booking process
and, thus, your platform's workflow.
Here's the difference: With a credit card, the money is just blocked after booking, until a travel provider confirms the availability of the seat or room. If something goes wrong — say, all seats are already occupied — no transaction occurs and the block is removed.
In the case of a debit card, the funds are charged immediately after booking. So, if the ticketing is denied, you have to deal with the refund (note that if it's a multicurrency transaction, there's a risk of losing on the exchange rate and commissions). When we at AltexSoft were developing a travel product for a client from the Middle East, we had to build the platform's backend with regard to the region's unique custom.
Localization best practices
Now that you understand how localization works and what has to be done to provide your global customers with an opportunity to conveniently use your services, here are a few more tips on how to achieve a great result.
Be precise with locales
Language is not the be-all and end-all. If you translate into Spanish, you'll still need to adapt your content for Mexican, Argentinian, or Peruvian markets. Same with French and even English, since there would be a lot of differences between content intended for Great Britain, Canada, and Australia (in this case, it's called a multi-regional website). So, when creating different versions, adopt a country-targeted approach and create unique content (especially SEO!) for every locale.
Create glossaries and style guides
It's important to ensure consistency across all the versions of your website, so make a guide for translators and linguists who work with you. Include a terminology glossary, branding and voice, audience information, and so on.
Ensure compliance with legal requirements
Not so about your content, this part is more about your policies. Engage a local legal expert to make sure your operations are in line with the local laws. Check your refund, tax, and privacy policies, data protection, complaint procedures, and so on. For example, in the European Union, you'll be obliged to comply with General Data Protection Regulations (read more about
GDPR
in our dedicated post).
Conduct testing, both linguistic and functional
You have to make sure all the parts of your new site version function properly, are appropriate, accurately translated, and look attractive to your potential customers. You're welcome to visit our detailed article about
user acceptance testing
to learn about why to conduct it and how.
Publishing is not the end of the job
Even after you're done and published, it's too early to rest on your laurels. You have to maintain your website versions, make sure they are properly updated, monitor their performance, and track users' behavior to know if there's a need for adjustments.
As you can see, localization isn't a piece of cake, but somehow people manage. For inspiration, check out some illustrative examples to steer you through this laborious process.
Localization examples from travel industry leaders
Let's look at some big travel industry players and their approach to localization, explore what technologies they implement, and maybe run off with an idea or two.
Booking.com: neural machine translation, personalization, and powerful quality control
Booking.com is one of the biggest online travel platforms with a presence in
228
countries worldwide. It has 200+ language professionals that work on translating and localizing content into 44 languages.
Booking.com adopted a mixed approach, leveraging the power of neural machine translation for 12 languages together with the expertise of both internal and external specialists. It puts a lot of effort into studying local markets and fully understanding the targeted cultures – to provide maximum personalization in communication and marketing.
It also created a solid quality framework that involves getting feedback from stakeholders, internal and end-users, as well as running A/B experiments and multiple surveys on how to provide the best experience when using the Booking.com platform.
Airbnb: a new ML translation engine, localized sign-up methods, and data analytics
Airbnb boasts over
7 million
active listings in 100,000 cities all around the world. The platform is constantly developing to ensure user satisfaction. In November 2021, among other upgrades, Airbnb
announced
the "
most advanced translation technology ever offered to our community
." The ML-based translation engine was created in partnership with Italian LSP
Translated
and designed to provide a user-friendly, intuitive experience for hosts and guests alike, translating descriptions, reviews, and messages in real time.
Other ways Airbnb caters to local markets are
accepting payments in dozens of currencies,
crafting localized advertising and marketing campaigns,
integrating preferred messengers,
making use of referral programs, and
accepting various log-in credentials.
For example, allowing credentials from Weibo or WeChat platforms popular in China resulted in a 700 percent increase in Chinese customers in 2015.
Airbnb, being a very data-driven organization, uses machine learning to define the languages content has to be translated into. Technology helps collect data on the listings and their guests, define the countries most travelers come from, and determine the need for translations – saving money by not translating into all languages.
British Airways: automation, integration, and external help
British Airways chose to seek help from external specialists in their localization journey.
Smartling
, one of the widely used localization service providers,
managed
to integrate the airline's CMS and translation workflows, creating a "
simple, centralized space for authorizing and monitoring translation jobs."
Such automation and integration helped to accurately pull the necessary files into the translation system and easily generate visual context surrounding each snippet of web text.
They started off with a single-language pilot localization version to support the route launch to Korea. Now, all 11 languages of the official British Airways website are managed through Smartling, as well as the regional Travel Agent extranet and a mobile app.