The short-term rental (STR) business has come a long way. From sharing a corner in your living room with an air mattress to running a whole hotel-like operation with multiple properties, alternative accommodation hosts today can make bank. Even in the pandemic years, as the entire travel sector stalled, vacation rentals came out on top, transforming customer expectations for the entire hospitality sphere. Hotels want to be like Airbnbs, investing in unique, homey properties where people come to live, rest, and
work
.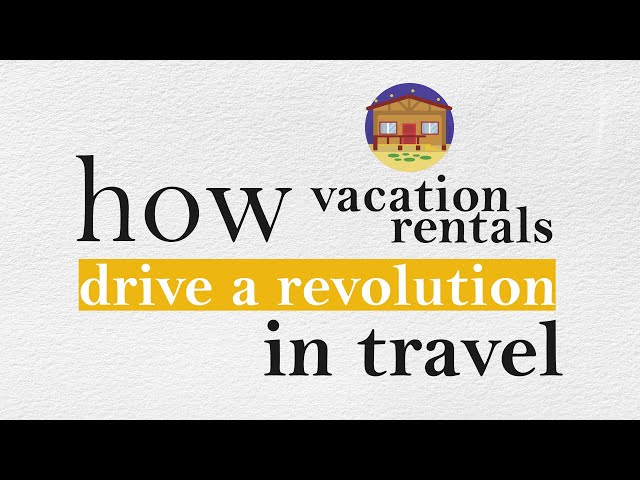 Vacation rentals, explained
Now, hotels don't only compete with hotels. And vacation rentals have entered a larger, more competitive stage. During this transformative period, STR hosts and
property managers
need to employ all the tools available to keep their fingers on the industry's pulse and react to any change coming their way. The best method for doing that is by leveraging revenue management.
A short intro to revenue management
Revenue management (RM)
is the art of achieving maximum profitability. The final goal of revenue management is to sell the product for the best possible price. Set the price too low, you will lose money, too high – no sales. The thing with businesses like hospitality or transportation is that you can't simply sell the product tomorrow. If a hotel room or a train seat stays vacant for a night, its potential value is lost.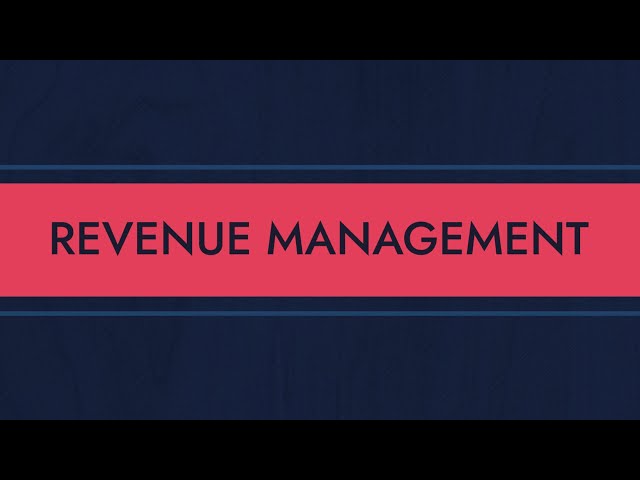 Watch our video on the basics of revenue management in hotels
Some revenue management tactics are obvious to many hosts – the closer the check-in date, the lower the price should be. You might sell it for cheap or even give it away to get on the customer's side – just make sure that it brings value. But the lead time is only one of the factors that impact product demand and, consequently, its price. Low or high season, a local event, day of the week, length of stay – those are just some of the things you should consider when adjusting your price.
That's what revenue management strategies do. They anticipate product demand based on seasonality, economic conditions, or your own past data (
demand forecasting
) and automatically increase or decrease the price based on predicted demand and your business goals (
dynamic pricing
). These complex analytical tasks are typically done with the help of
machine learning
.
Using RM practices and software is immensely important for hotels while they're competing with each other and online travel agencies for the distribution market.
Vacation rental businesses
are in a similar position. Yet they shouldn't blindly derive pricing strategies from their neighboring hotels. That's because regardless of the hospitality umbrella they are both under, hotels and short-term rentals have a few distinct differences that will impact their RM practices.
Specifics of revenue management for vacation rentals
Of course, today vacation rentals are looking more like hotels while hotels try to follow vacation rental trends. Yet, more of them still operate traditionally, creating two starkly different products. Let's see in what aspects they differ.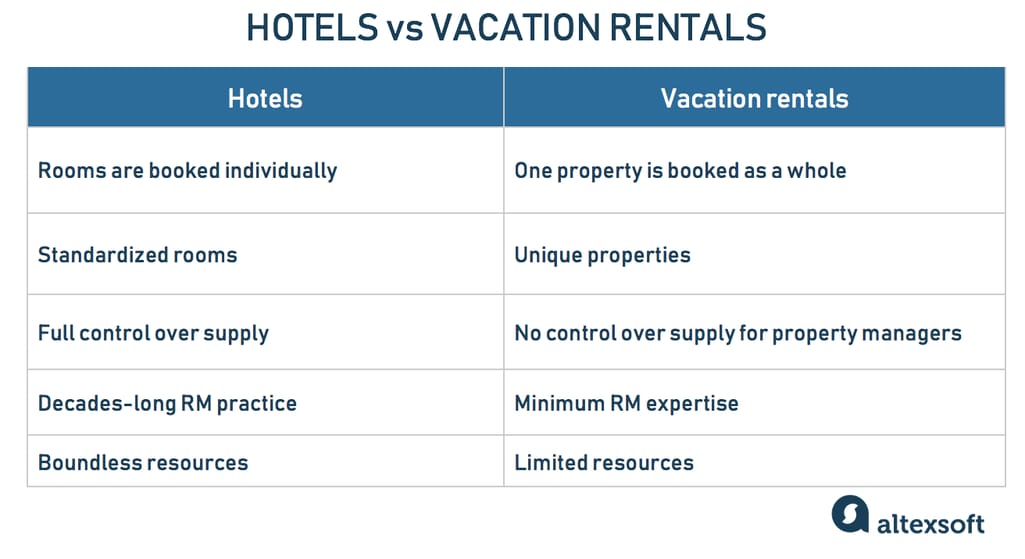 Hotels and vacation rentals, compared
Booking and occupancy
. One hotel may operate hundreds of rooms, each booked individually, while a vacation rental is booked as a whole. This means that both businesses calculate their occupancies differently. A hotel room's occupancy is determined by how many rooms have been booked for a night. Vacation rental occupancy is calculated as the number of nights booked in one time period.
Property nature
. Vacation rentals are by definition unique, while hotel rooms are more or less standardized depending on the number of beds, their size, view, and more. So, short-term rentals have a harder time doing competitor analysis and applying benchmarks, since there are so many nuances to each property. At the same time, it's more difficult to put customers into segments since there's so much to consider from property design to amenities. This makes demand forecasting more complicated.
Control over the supply
. Almost
2 million
vacation rentals in the US are managed by property management companies. Unlike hotels or businesses such as Sonder that own their rentals, third parties are less flexible since contractual obligations to owners can prevent them from applying dynamic pricing.
RM expertise
. The practice of revenue management is not new to the hotels, many of which already employ specialized software and experienced revenue managers. They know how to operate data and actively react to market changes. In the vacation rental field, not only isn't the practice universally understood to be important, but many owners and property managers don't have the skills or experience to apply it, even if they have tools at hand. This brings us to the next difference.
Available resources
. Once again, large hotel chains can dedicate time and employees to do revenue management. But a property owner who listed his rental on Airbnb often can't dedicate time to learn terms such as RevPar and ADR, invest in a third-party tool, and integrate it.
With these market peculiarities in mind, what should revenue management for vacation rentals be like? Let's talk about RM software.
Revenue management and dynamic pricing tools for vacation rentals
The specialized RM tool market for STRs is still new, so many features and practices derive from those already employed in hotels. As we stated above, this can create complications, since you can't do pricing and demand analytics the same way in both types of businesses. Unfortunately, many existing solutions marketed specifically for vacation rentals are not much different from general-purpose RM tools. We will talk about them in more depth in this section.
But first, let's establish a few ways a property owner or manager can adopt RM technology.
From OTAs
. The first and probably the easiest one is using revenue management functionality in your owner profile at vacation rental websites. Airbnb, Vrbo, Expedia, and other places where you list your property can have dynamic pricing and other RM features available for owners and managers. For hosts, using these tools is free of charge. They can be very intuitive and allow both for automatic and manual price setting. At the same time, you can't expect advanced functionality, as they're not targeted at professionals. Of course, those tools are only available to users hosting on the platform, which strips you of any choice.
From dedicated vacation rental revenue management tools
. Beyond, PriceLabs, and Wheelhouse are some of the specialized products that provide cutting-edge revenue management, usually enriched with machine learning capabilities. Using an extra tool on top of your
property management system
is, of course, more expensive, but you're getting access to advanced algorithms and much more customization. We will talk more about the opportunities provided by such software in the following sections.
Custom revenue management for vacation rentals
. There's a lot of sense in going the custom route and developing your own solution. Revenue management will become all the more relevant in the next few years as the vacation rental market grows, so it's worth investing in a product that takes all differences of short-term rentals into account. In this endeavor, you can pick your own
vacation rental data
and analytics providers, develop a custom business intelligence module for insights that matter to you, and be able to create your own network of integrations. To succeed, you will likely need a strong technology partner and a consultant in all hospitality and RM matters.
Now, we will review a few available options in the two groups listed above (obviously, apart from the custom one.)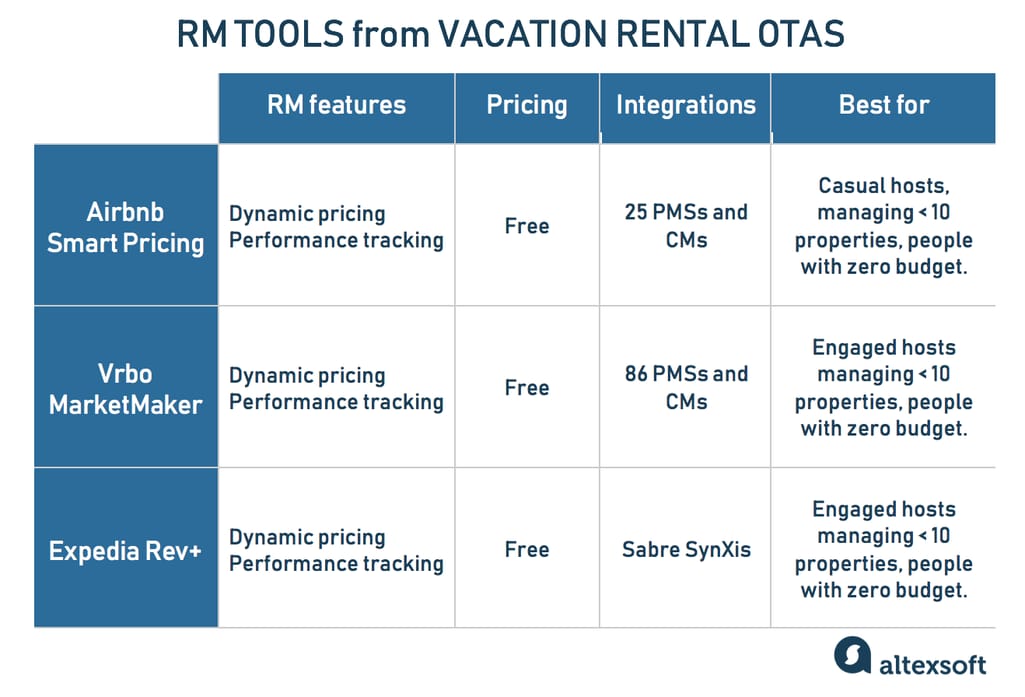 Comparing tools provided by vacation rentals OTAs to their hosts
Airbnb Smart Pricing
Airbnb provides a set of free tools that can be turned on from your Airbnb account. Their functionality includes a variety of handy features such as multi-calendar or personalized marketing.
In terms of RM, Airbnb has the following tools.
Dynamic pricing
. Airbnb's dynamic pricing functionality is called
Smart Pricing
. By enabling this option, you can automatically change prices based on demand, listing type, location, season, and more. Although you can still set up fluctuation limits and set up custom prices manually, which will override Smart Pricing. You can also set up rules to apply changes based on length of stay, time before check-in, trip length, and more. Of course, to raise or lower prices, you must be aware of how you're doing compared to your target revenue and occupancy. You can do that with insights.

Suggested price by Airbnb Smart Pricing Source: Padlifter
Performance tracking
. In the insights, Airbnb provides info on your past, current, and future performance across such metrics as conversion, occupancy rates, cancellation rate, length of stay, and nightly rate. You can also compare your listings to similar ones in your area.
Although these capabilities may be of great help, not many hosts end up using them, specifically the Smart Pricing feature. Since Airbnb as the platform is more interested in a property getting booked rather than maximizing hosts' revenues, it tends to set prices lower than you would do manually. So, any host that's serious about their hosting tasks would do better with a third-party tool.
Direct integrations with PMSs.
Airbnb currently has direct integration with 25 leading PMSs and
channel managers
.
Best for
: casual hosts, owners managing fewer than 10 properties, people with zero budget.
Vrbo MarketMaker
Inherited from Expedia's acquisition of HomeAway,
MarketMaker
is different from Airbnb's tool. First of all, it gets most of the demand data from your and your competitors' PMSs. MarketMaker aggregates data received from many rentals' PMSs to provide a detailed outlook on the competition. Don't fret – no individual booking details are shared with other users.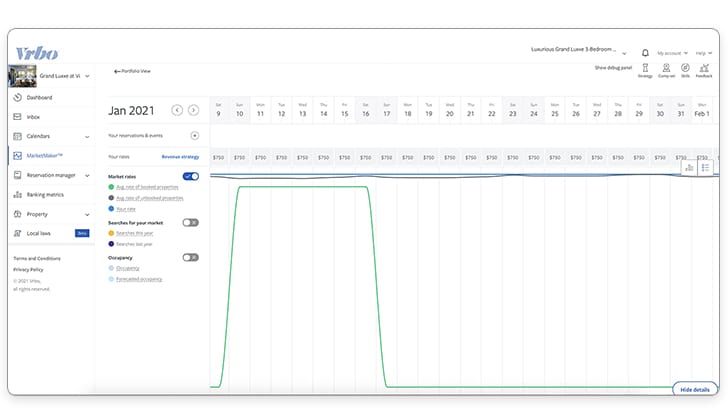 MarketMaker tab in Vrbo host profile
Dynamic pricing
. After you set up your rate strategy, MarketMaker will send you alerts about different opportunities so you can charge more when demand is also high or offer last-minute bookings with lower rates. Apart from competitor data in your location, it uses info on local events, holidays, and, of course, seasonality. It's not automated, which may be a pro for some users but a con for others.
Performance tracking.
On the dashboard, hosts get access to current and forecasted occupancy, as well as traveler searches now and at the same time last year. Of course, there are also data about average prices for your competitors. As is usually the case for revenue management tools, you can create competitive sets (comp sets) to compare against properties in different locations or of different types.
Direct integrations with PMSs.
Vrbo has
tons of connectivity partners
including Rentals United, Hostaway, Escapia, and more.
According to reviews, MarketMaker often suggests higher prices than necessary. So, use it as a smart companion rather than the ultimate truth.
Best for
: engaged hosts, owners managing fewer than 10 properties, people with zero budget.
Expedia Rev+
Of course, Expedia hosts all types of properties on its platform, so it markets its
Rev+
tool as useful to all properties. It's free for Expedia partners.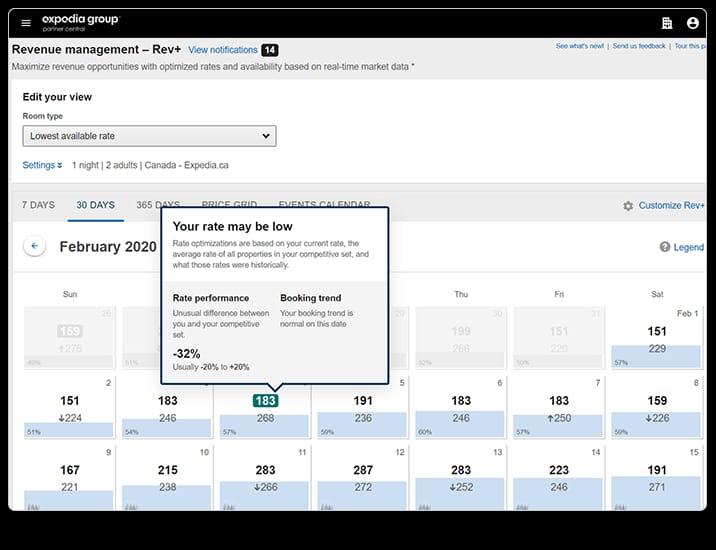 Rate recommendations from Rev+
Dynamic pricing on Rev+
. Similar to Vrbo, it notifies you of changes to market conditions rather than applying new rates directly. Using its own global travel data set and data from your comp sets, it creates occupancy forecasts and provides market rates.
Performance tracking on Rev+
. You can see your property performance against
key hospitality metrics
and track trends. Expedia also analyzes its proprietary search data to share ​​so-called Market Recovery Insights and help their partners understand their markets better since COVID-19 changed travel.
Direct integrations with PMSs.
For now, Rev+ functionality is only available on Sabre SynXis.
Best for:
engaged hosts, owners managing fewer than 10 properties, people with zero budget.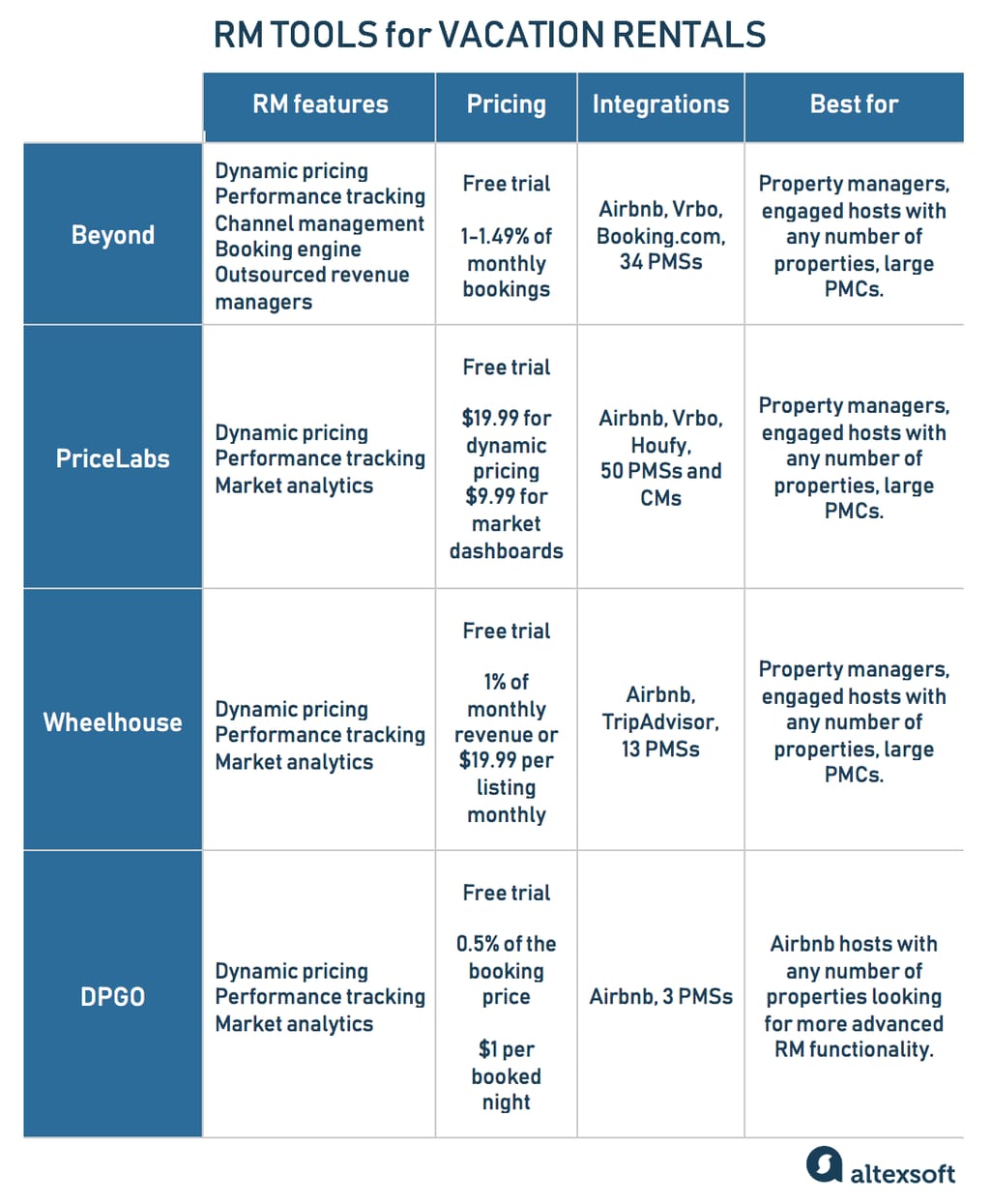 Comparing specialized RM tools for vacation rentals
Beyond Pricing
A leading RM platform for short-term property managers and owners,
Beyond
is almost a veteran in the field serving 340,000 listings in over 7,500 cities since its 2013 inception. Their platform has the following features.
Dynamic pricing
. Beyond's dynamic pricing algorithm automatically updates prices on your properties depending on local demand, seasonality, and day of the week. There's an insights dashboard where you can see real-time and historical data to review market trends and your properties' health scores compared to similar listings to make manual price adjustments.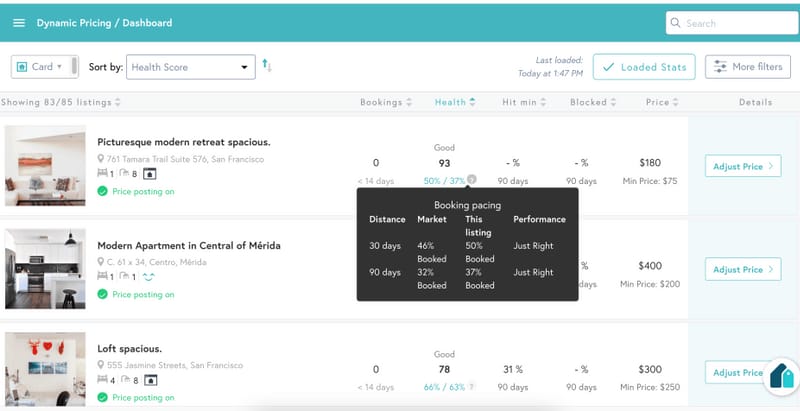 All information for listings demand is available to you on a dashboard
Channel management
. Beyond also works as a channel manager, syncing listings from Airbnb, Vrbo, and Booking.com on the same platform. You can choose which markups to apply to which channels or allow the system to automatically apply dynamic pricing based on availability on them all.
Performance tracking.
Compare your listings to competitors in the area, get data on average daily rate and occupancy, and use complex filters to get to the bottom of analytics.
Booking engine
. Beyond's very own vacation rental website builder allows you to create a direct distribution channel, where no OTA commissions apply. Watch the
demo on this page
.
Apart from sophisticated RM tools, Beyond also has a team of professional revenue managers for you to employ if you lack expertise.
Direct integrations with OTAs.
Beyond has integrations with three distribution channels – Airbnb, Vrbo, and Booking.com.
Direct integrations with PMSs.
You can use Beyond on
34
property management systems, including Guesty, Hostaway, Lodgify, iGMS, and more.
Price.
You can take advantage of a 30-day free trial, after which you have two different payment options: Pay on Book, the default one, which charges 1% of all your bookings at the end of the billing period, and Pay on Stay, when they charge you 1.49% after the guest checks in. In case of cancellations, all fees for canceled bookings will be credited back to you.
Best for:
property managers, engaged hosts managing any number of properties, large property management companies.
PriceLabs
Beyond's closest competitor
PriceLabs
was founded in 2014 and currently serves over 5000 hosts and property managers. It offers three products.
Dynamic pricing
. PriceLabs imports listings data from your distribution channels and PMS and recommends daily rates based on seasonality, day of the week, the number of days left to book, and holidays and events. Of course, you can also adjust prices manually and apply customizations such as minimum prices, last-minute changes, and more. There's also an interesting feature that automatically and dynamically adjusts minimum stays.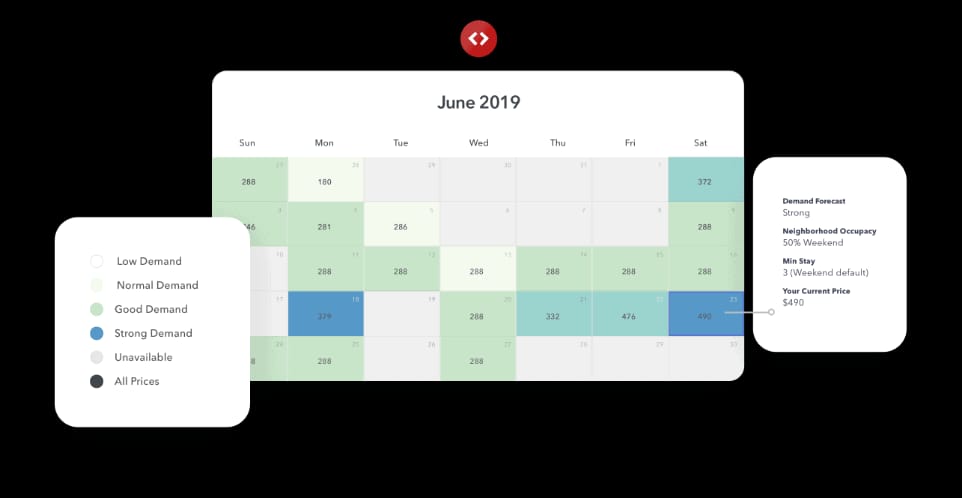 Price calendar with demand data
Performance tracking.
Called Portfolio Analytics, this product will help you access real-time reports on property metrics and compare them to competitors.
Market analytics.
In the Market Dashboards module, you can access insights on short-term properties around the world to help you make better pricing and investment decisions.
Direct integrations with OTAs.
PriceLabs integrates with Airbnb, Vrbo, and Houfy.
Direct integrations with PMSs and CMs.
PriceLabs doesn't have channel management functionality, so it provides direct integrations with over
50
PMSs and channel managers.
Price
. There's a 30-day free trial, but all solutions are priced and acquired separately. For Dynamic pricing, you will pay $19.99 per one listing monthly. Use the
calculator
to see how much it will be for you. Market dashboards start at $9.99 a month. And Portfolio analytics are available for free for users of selected PMSs. See the list
here
.
Best for:
property managers, engaged hosts managing any number of properties, large property management companies.
Wheelhouse
Wheelhouse
is celebrated for its advanced dynamic pricing features, providing very detailed control for property managers and management companies. With over 40,000 customers in 475+ markets, it's growing rapidly. You can also read more about how their pricing engine works in a
research paper
. Now, let's review Wheelhouse's features.
Dynamic pricing
. Based on an analysis of your property and local market, Wheelhouse will offer you a recommended pricing strategy that will keep watch on demand and will earn you the most revenue without having you lose a booking. But you can also easily adjust the risk, dropping prices earlier or later depending on your own vision. Of course, there's also a completely custom option for pros who want full control that allows setting the base price, last-minute discounts, minimum night stays, seasonality changes, and many more. In either case, you can preview how your decision may impact the outcome. Information about all pricing decisions will be available for you so you can adjust your strategy when it's time.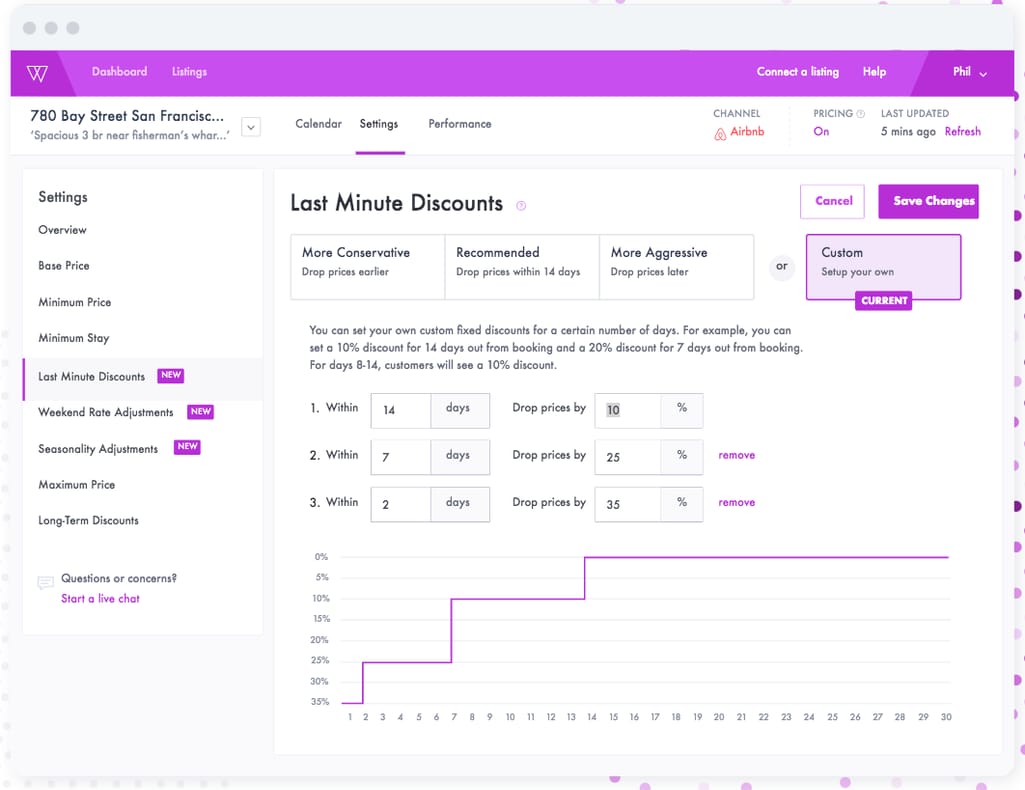 Setting up custom last-minute discount settings
Performance tracking.
Currently, in public beta for Wheelhouse Pro customers, this product called Competitive Sets allows you to create up to three comp sets and see how your portfolio matches market performance.
Market analytics.
All Wheelhouse users get access to detailed market metrics across continents from active listings and nightly rates to RevPar data and Occupancy Rates.
Direct integration with OTAs.
Wheelhouse can directly sync data with Airbnb and TripAdvisor.
Direct integration with PMSs.
Wheelhouse integrates with
several PMSs
including Hostfully, BookingSync, Rentals United, and more. They also provide two APIs so you can set up the connection with other systems. The Pricing API will provide price recommendations, while Demand Signal API sends you predictive and reactive information for each date to show low and high demand. Read more in the
docs
.
Price.
There's a perpetual free tier with limited functionality just to test the waters. In the Pro tier, the pricing is flexible, meaning that you can choose whether Wheelhouse takes 1% of your monthly revenue or you pay $19.99 per listing per month (with discounts available for bigger numbers of listings.) For property management companies with portfolios of over 100 listings, Wheelhouse does custom estimation.
Best for:
property managers, engaged hosts managing any number of properties, large property management companies.
DPGO
DPGO
is a fairly new but growing holistic RM tool on the market. Started by Airbnb investors, DPGO works only with Airbnb hosts. Similar to other products on the list, it offers the following features.
Dynamic pricing.
DPGO evaluates over 200 market data points to create pricing recommendations. They include reviews, location, local events, seasonality, neighborhood, proximity to vital services, and many more. To set up their pricing strategy, users can input over 30 settings that the system will take into account.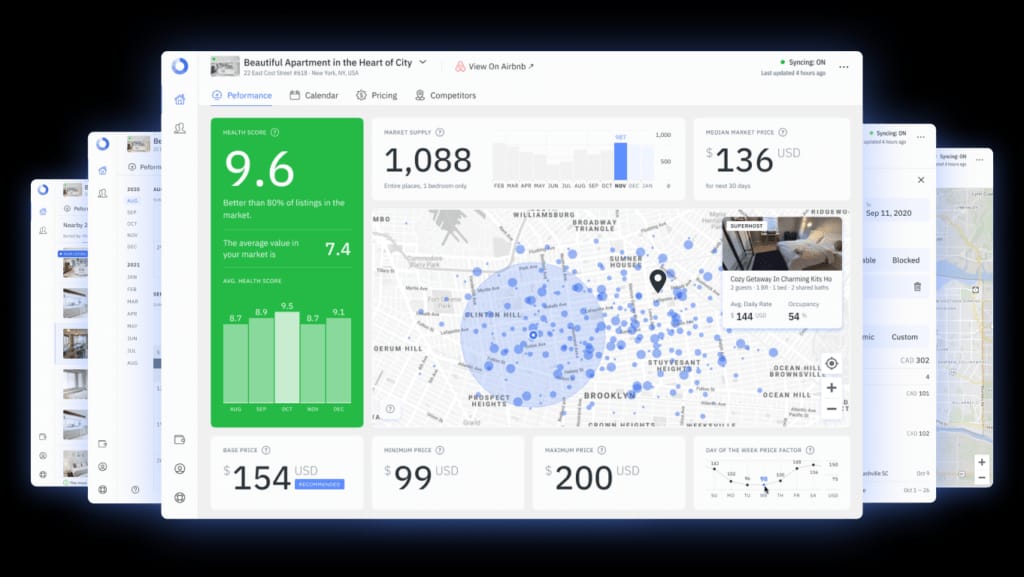 Holistic dashboard on DPGO
Performance tracking
. DPGO has six charting models that display how your pricing strategy performs. There's also a health score for each of your listings, showing how frequently it's being booked and whether you should change something. Also, a predictions calendar for the year ahead will let you see whether the current strategy will help you reach your business goals.
Market analytics
. Just like Wheelhouse, DPGO has insights into the world's vacation rental market. Some insights can be accessed for free from their website. Full data on your local market, such as rental sizes and types and occupancy rates, is available for the platform users.
Direct integration with OTAs.
DPGO works only with Airbnb.
Direct integration with PMSs.
DPGO currently directly integrates with Hostfully, iGMS, and Hostaway, with OwnerRez and Your Porter App coming soon.
Price.
A free tier has limited analytics and allows creation of one comp set. For two other pricing models, there's a free trial. The Flexible model will cost you 0.5% of the booked price while the Fixed one will charge you $1 per booked night.
Best for:
Airbnb hosts with any number of properties looking for more advanced RM functionality.
Closing revenue management tips
The science of revenue management for short-term rentals is a young one. This poses some obvious challenges but it can also be an advantage. Hotels, many of which are decade-old businesses, are burdened by legacy software and the many obstructions that it creates. This means that lots of hotel businesses are first and foremost concerned with the issues of
legacy system modernization
, moving to the cloud, and opening up to integrations. Vacation rentals have more freedom to connect to the growing market of software solutions. They have a solid chance to outpace hotels in this regard.
But that is possible if they learn how to capitalize on this opportunity. Revenue management is not an exact science, and it needs patience and effort to master, learning from your own mistakes. Here are a few next steps for you to consider.
If you're an
independent host or property manager with up to 10 properties
, you might benefit from the native pricing tools that your OTA provides. But if you're curious about other options and have a PMS, you could get a free trial of a specialized tool. Since pricing is typically very flexible, you can even try a paid version. The knowledge of the market that you will acquire may help turn your side hustle into your main revenue source.
If you're a
professional owner or property management company
, you should have gotten RM for your business yesterday. Compare the options, get a free trial for them all to test things out, hire a revenue manager, or invest in your own and your staff's education.
If you're a
large property management business
, we can safely say that you will benefit greatly from custom revenue management. Use your PMS and employ different
sources of vacation rental data
like AirDNA and Transparent to set up your own analytics. Hire professional data scientists to create a dynamic pricing algorithm.