The devastating impact of travel on the environment and local communities is enormous. Greenhouse gases (tourism is responsible for around
8 percent
of global carbon emissions,
three-quarters
of which is due to aviation), local resource overuse (e.g., a tropical golf course uses as much water as
60,000
rural inhabitants), and pollution (e.g., marine litter is up to
40 percent
greater during peak season) are just some of the global problems caused by travel.
Many travelers and businesses today adopt eco-friendly practices, switch to new fuel and energy sources, and manage their waste. In this post, we explore what digital technology can bring to the table.
What is sustainable travel?
Sustainable or eco-travel
is a way of managing travel activities so that the natural environment is preserved and supported.
Sustainable travel
isn't only about minimizing the harmful impact, but it's also about providing beneficial influence, such as protecting cultural heritage, preserving natural sites and ecosystems, addressing the needs of local communities, and so on.
Green travel is based on several main principles.
Three pillars of sustainability
The concept of sustainability encompasses three interrelated categories: social, economic, and environmental.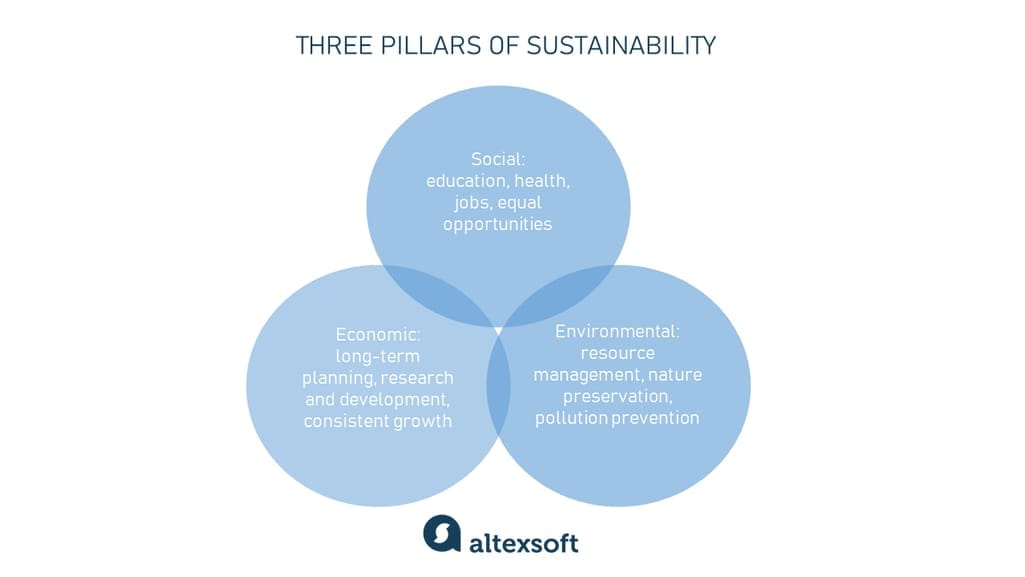 The three sustainability pillars
Social sustainability
considers the impact travel has on the well-being and development of local communities.
Economic sustainability
refers to the ability of businesses to plan long term and stay profitable while maintaining ongoing sustainable practices.
Environmental sustainability
is about protecting natural biodiversity, reducing pollution, using resources responsibly, maintaining air and water quality, etc.
All of these aspects are tightly intertwined so a sustainable travel business has to consider all of them. Only then can the nature and climate problems be tackled and social inequalities improved – all while spurring economic growth.
Now that we described what sustainability is about, let's take a quick look at the main "green" initiatives travel companies can join to address global problems.
Main sustainable travel trends
Today, sustainability is one of the major travel trends according to
Travel Pulse
,
Amadeus
, and other industry experts. A 2021 survey by
Virtuoso
revealed that 70 percent of respondents believe that traveling sustainably enhances their experience.
It means that people want to travel responsibly, so hotels, airlines, and tour companies have to keep up and satisfy their customers (and attract new ones). But what exactly can travel providers do to become "greener"? Here are some areas to focus on:
decreasing carbon footprint and carbon offsetting;
switching to alternative fuel and energy sources;
intelligent resource usage and waste management (food, water, paper, etc.);
recycling and reducing plastic usage;
localizing your supply chains;
inspiring collective action by educating customers, employees, and partners, and so on.
Most of these categories involve performing some practical actions, using different fuel, or installing specialized equipment. However, modern digital technologies can play their part as well. Let's see how they can support you on your way to sustainability.
Sustainability in airline industry
In 2015, 197 countries
agreed
to cut greenhouse gas emissions and slow down global warming. Transformation plans to reach so-called
net-zero emissions
by 2050 are developed and submitted. Hundreds of companies have already joined the initiative and set net-zero targets, including such leading travel providers as British Airways, American Airlines, Japan Airlines, and others.
It's obvious that the aviation industry heavily relies on energy and especially fossil fuels, generating enormous amounts of greenhouse gases which are one of the main causes of climate change. Here are some examples of how technology can help address this problem.
Fuel consumption monitoring and optimization
Airlines implement fuel management systems to measure, analyze, and plan fuel expenditure. Such tools as
FuelPlus
,
SkyBreathe
, and
Jeppesen's Fuel Dashboard
, besides other capabilities, provide visibility into fuel-related metrics and help predict optimal amounts of fuel needed for a flight. They combine flight, environmental, and other external data to suggest recommendations that can help optimize fuel consumption and reduce emissions.
Stig Patey, Fuel Saving Manager at Norwegian (one of the most fuel-efficient airlines in the world),
describes
the benefits of the SkyBreathe platform, "
It brings up a higher understanding and awareness on fuel performance. .. From an analyst view, I really enjoy how easy it is to mix and match different measures to create analysis
."
Edward Pomfrett, Flight Efficiency Project Pilot for Flybe,
discloses
, "
In the first year, Flybe saw a 2% saving per sector from using Fuel Dashboard. An excellent return on investment against an ambitious savings target."
Increasing flight efficiency with AI-driven route optimization
In May 2021, Alaska Airlines
announced
its partnership with
Flyways AI
, an ML-based flight monitoring platform developed by Airspace Intelligence that helps dispatchers make flight operations more efficient and sustainable, optimize routes, and improve the predictability and flow of airline traffic.
The system considers multiple factors that impact the efficiency of an airline's planned and active flights and is capable of predicting scenarios and generating recommendations immediately. For example, if it finds a better route around turbulence or a more efficient route, it notifies flight dispatchers who make a final decision whether to accept and implement the recommended solution. In this way, an optimal, safer, and most fuel-efficient route is created.
Pasha Saleh, flight operations strategy and innovation director for Alaska Airlines reports success, "
Alaska's use of Flyways in just six months, even with significantly depressed flying due to COVID-19, enabled us to save 480,000 gallons of fuel and avoid 4,600 tons of carbon emissions
."
Alaska Airlines was ranked the most fuel-efficient airline in 2010-2017. In 2021, it
declared
that it aims to return to the position in the next 5 years.
Integrating flight emissions calculator
Multiple airlines give their passengers an opportunity to know the carbon footprint of their flight, choose a greener option, and participate in
offsetting
programs. In this way, they not only help people compensate for their carbon emissions, but also communicate awareness and responsible position.
For example, Scandinavian carrier SAS offers an
emission calculator
on its website so that passengers can find out how much greenhouse gas emissions their flight generates and opt for buying biofuel (which is used for some flights) when purchasing tickets. Travelers can also compare emissions created by different plane types.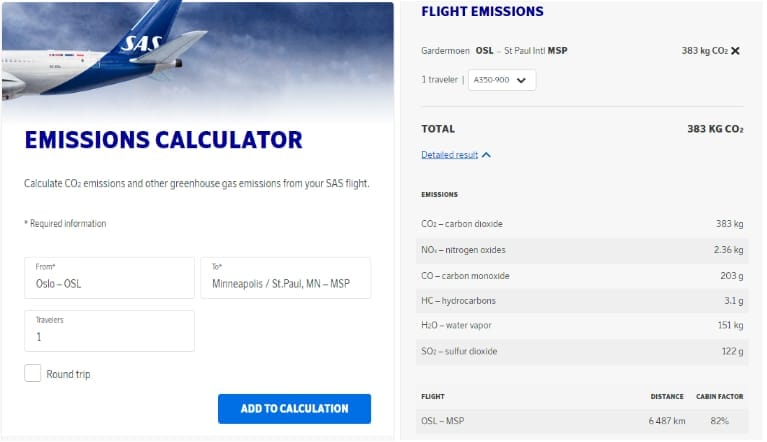 SAS flight emissions calculator
Other airlines (Air Canada, Virgin Atlantic, etc.) partner with outside companies such as
Climate Care
,
Less Emissions
, or
atmosfair
that also calculate flight emissions and suggest offsetting options.
Lufthansa Innovation Hub created the
Compensaid
platform to encourage passengers to compensate for the CO2 emissions by investing in sustainable fuel or other climate projects. Other airlines such as
Swiss
,
Austrian
,
Brussels Airlines
, and others make use of the platform as well.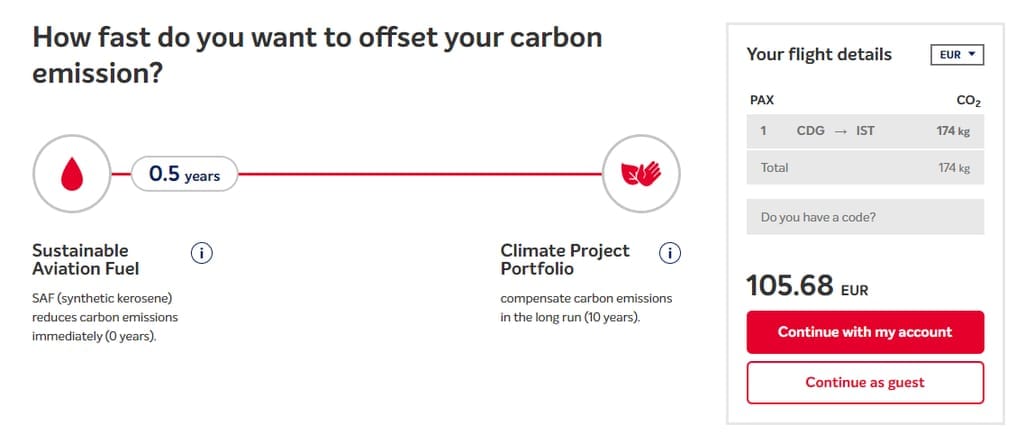 Brussels Airlines Compensaid platform
Sustainability in hotels and hospitality industry
Hotels,
vacation rentals
,
alternative accommodations
, and other hospitality companies are huge consumers of resources and producers of waste. Adopting greener practices and supporting them with technology can help tackle environmental problems, reduce costs, and attract eco-conscious customers.
One of the biggest steps towards sustainability is reducing resource usage. Today, a number of technologies enable monitoring and managing room and entire facility settings for more efficient energy usage. Here are some examples.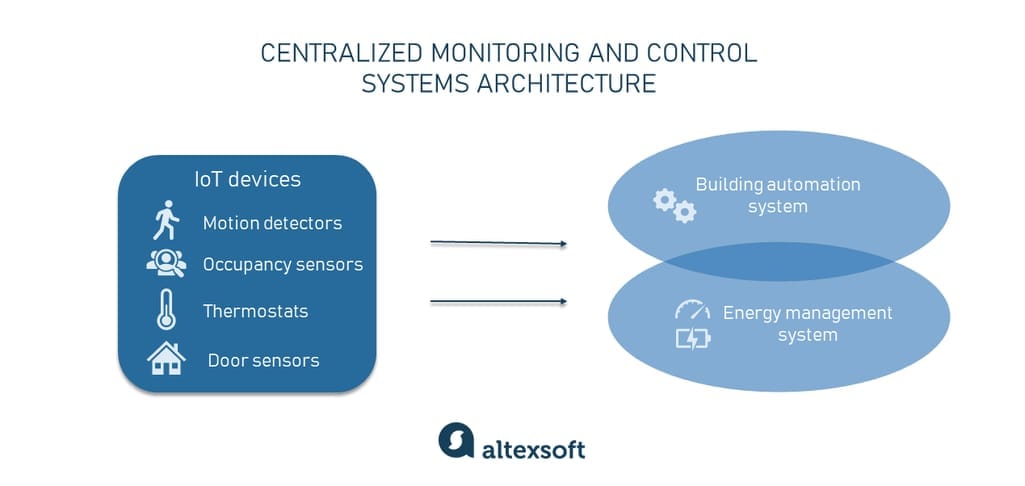 Facility monitoring and control systems
Adjusting room settings through smart IoT sensors
A lot of residential and commercial buildings including hotels have already implemented specialized
Internet of Things
(IoT) devices that help save energy and cut costs. Such devices include
motion detectors,
occupancy sensors,
thermostats,
timers,
door sensors, and so on.
A 2020
study
showed that an IoT-enabled smart HVAC system increased customer comfort from 75 to 95 percent and reduced daily energy usage by 20 percent during the peak summer heat.
Real-world success stories in the travel sector are many:
To learn more about IoT, automation, and other
smart hotel
technologies, check our recent post.
IoT devices work best when they are connected to centralized monitoring and control systems such as building automation systems or energy management systems.
Managing facility functions through a building automation system
Building automation systems
(BASs) or building management systems provide centralized control over all the functions of the facility, from lighting and HVAC (heating, ventilation, air conditioning) to security, elevators, and plumbing. Such systems are associated with smart buildings since they enable operation from a central hub and can even be remotely controlled through a digital platform or app.
BASs are also associated with green buildings since they allow for reducing energy consumption along with greater equipment efficiency. You can set up a set of rules to control your building settings (e.g., turn off lights and HVAC at a certain time in the evening). You can also install sensors and thermostats to capture measurements which are then processed by controllers that decide whether adjustments are needed (more details in the next section).
Nowadays, there are more advanced BASs such as
ActiveBAS
that make use of
AI and ML
techniques to consider a larger number of factors (such as occupants' preferences and behavior, occupancy patterns, indoor environmental preferences, thermal behavior of the building and its environment, etc.) for an in-depth analysis of energy consumption and "learning" the building schedule.
Such systems can provide recommendations on tailoring equipment settings and simulate the impact of proposed energy conservation measures. That might mean adjusting for peak hours/seasons, adapting to weather conditions and guest arrivals, changing the setting of underutilized spaces, and so on. For example, the smart system can go beyond usual "weekday vs weekend" settings by discovering the higher occupancy pattern for a conference room on Friday afternoons and adjusting the controls accordingly.
For a BAS to function properly, you'll have to involve a master system integrator. It's a technology company that will connect all your building systems in one, enabling full control and data flow.
Tip:
Integrating a BAS with a hotel's
property management system
(PMS) or
front desk system
would allow you to automatically regulate room settings when the guest checks in and out.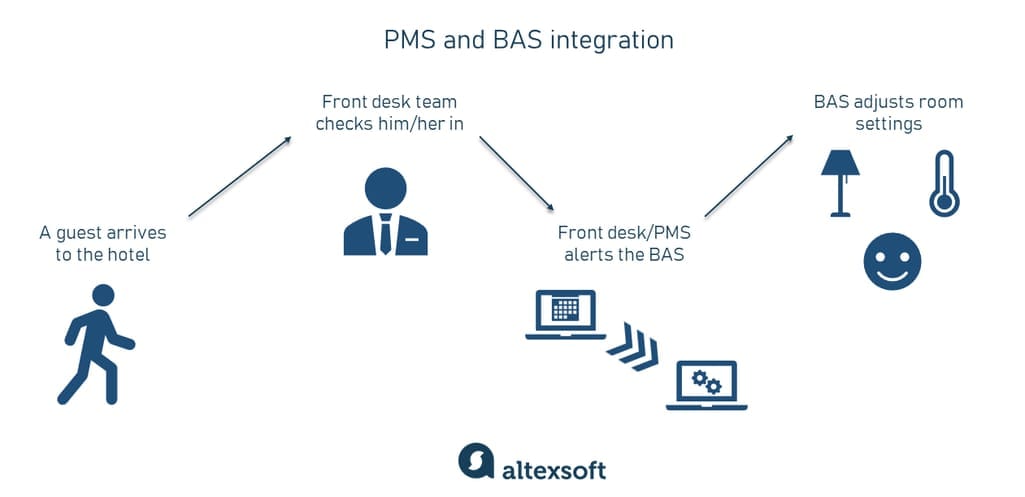 How BAS and PMS integration works
Analyzing and optimizing energy usage through energy management systems
Energy management systems
(EMSs) are tools that allow you to monitor and optimize energy consumption. They don't offer any control or automation functionality; instead, they collect data and provide recommendations for increasing energy efficiency.
So, if BASs help control building functions on a higher level, EMSs provide more in-depth information, helping to identify malfunctioning equipment and areas for optimization. These systems serve different purposes, and even though there might be an overlap, the best results are achieved when they complement each other.
EMSs provide a detailed view into energy usage by
creating comprehensive reports that track site energy cost,
identifying variances in runtimes,
displaying HVAC units with intermittent errors,
detecting areas of inefficiency and high consumption, and more.
You can sort information by room, building, floor, and across multiple properties. You can also set up real-time notifications to immediately be alerted of any unusual energy usage.
Only by seeing the full picture provided by the EMS can you make informed decisions on how to optimize your equipment performance and energy efficiency. Besides, you'll be able to track the outcomes of your actions and understand which changes and improvements pay off.
Clayton Hotel Cardiff Lane in Ireland
implemented
a Wattics EMS solution to monitor its energy consumption. They managed to uncover multiple inefficiencies (such as AC units left on in noncritical areas during off-peak times) and areas of operational waste; such visibility gave managers the understanding of necessary adjustments that allowed them to save hundreds of thousands in kWh and thousands of Euro in energy costs.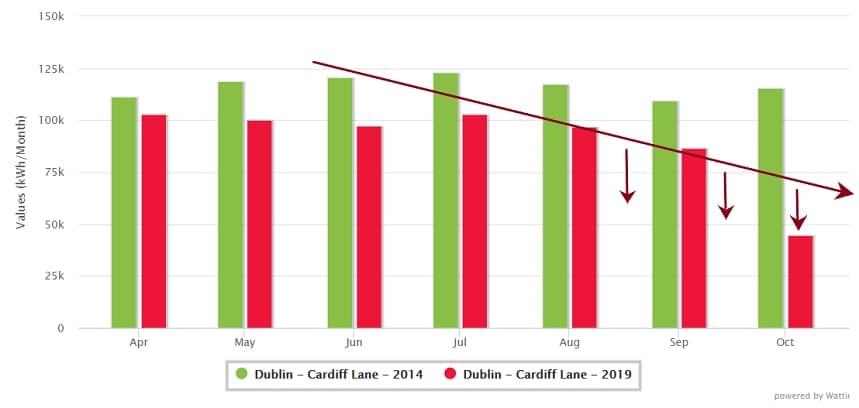 Decreased energy consumption due to Wattics EMS
Today, innovative, ML-operated EMSs such as
BrainBox AI
use AI technology to analyze and adjust HVAC systems (which are the biggest energy consumers) and achieve optimal performance and energy efficiency.
Waikiki Beach Hotel manages to save more than $150,000 yearly after implementing the
EcoSmart EMS
. It installed occupancy sensors and door contacts, integrated their EMS with BAS and PMS, and set up rules and alerts that adjust HVAC automatically. As a result, the hotel enjoys a saving of about 24 percent on utility bills.
Monitoring water usage
Water is another resource that has to be managed responsibly. Hotels consume enormous amounts of water not only in rooms, but also for housekeeping, laundry, pools, irrigation, cooking, cleaning, and so on. According to different estimations, water usage is approximately 100 to 400 gallons per day per room (depending on the hotel type and amenities); on average, water accounts for around 10 percent of the hotel utility bill.
Monitoring water consumption is possible with water metering solutions. They can identify abnormalities and discover leaks (and one leaking toilet can lose up to 200 gallons of water daily!). Such systems typically consist of a data logger connected to the pulse outputs of the water meter and a software platform that collects and visualizes received information. They also have alarm capabilities to notify operators in case of abnormal water usage.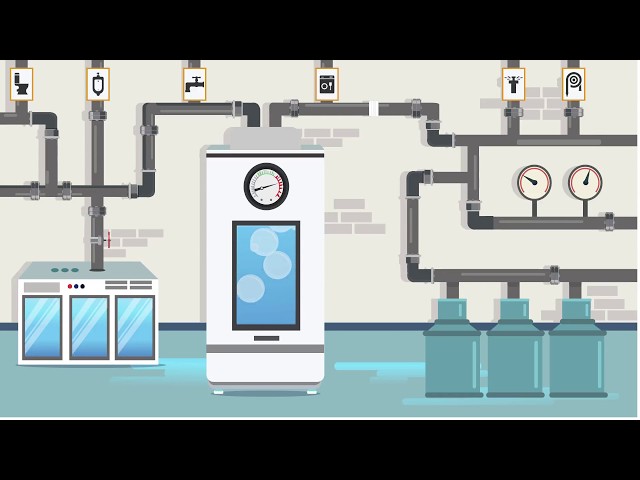 Introduction to Quensus Smart Water Metering
A few years ago, Sheraton Seattle Hotel implemented water metering, monitoring, and water-efficient practices and managed to
save
more than $36,000 in a year. It assessed its overall water use, found hidden reasons for problems (such as ruptured coils), and identified areas for improvement (like replacing showerheads, faucets, and laundry systems). As a result, its total savings in 6 years reached around 25 million gallons of water.
Tracking food waste
Around
one-third
of the world's food is wasted with the hospitality industry alone responsible for about
18 percent
of it. All these tons of waste are a massive source of greenhouse gas. To tackle this problem, hospitality businesses have to implement waste management practices aimed at reducing its amount, donating extra food, and collecting waste to extract energy.
Such solutions as
Winnow
or
Leanpath
monitor your food waste and create insights, which, in turn, can help you significantly cut waste amounts.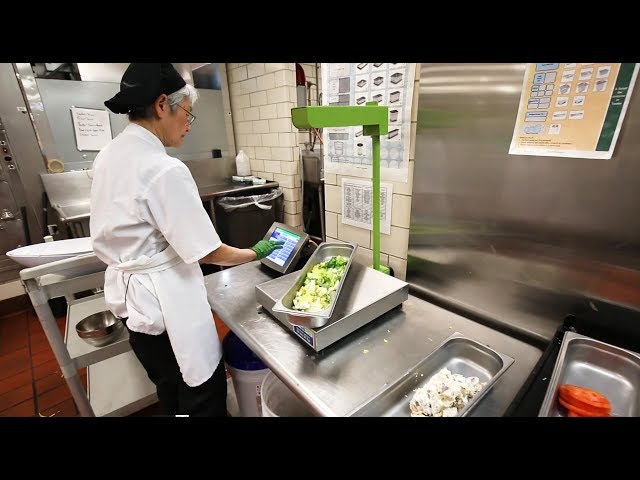 Leanpath platform overview
These tools typically include a smart foodservice-grade scale with a camera and a touchscreen interface to capture and measure daily pre-consumer and postconsumer food waste. The reason for the waste is also indicated.
Images are used to train the AI software so that eventually it can recognize waste types itself. The data is uploaded to the online processing platform and visualized to provide actionable insights.
Winnow interface
Besides, as part of your food waste management strategy, you can make use of platforms that help redirect surplus food to those who need it (like
Goodr
) or tools that help sell extra food with discounts at the end of the day (like
Food for All
or
goMkt
).
Predicting food amounts with demand forecasting
Accurately predicting how much food you need to satisfy your customers would allow you to better
manage inventory
, streamline procurement, and reduce the amount of food waste.
To start with, you can collect and analyze data from your
point of sale system
to understand the demand trends based on historic information. To get more accurate results, you'll need to implement a specialized platform. It can be an advanced inventory management system that uses machine learning algorithms to consider other data sources (like hotel occupancy fluctuations, weather, your guests' categories and buying behavior, etc.) and find hidden patterns and factors that impact demand.
For example,
Tenzo
is one such tool that has already helped restaurants forecast their sales. With the help of data analytics, the Nando's chain in Singapore
improved
the accuracy of their predictions by 30 percent.
For more information on
demand forecasting
, visit our dedicated article.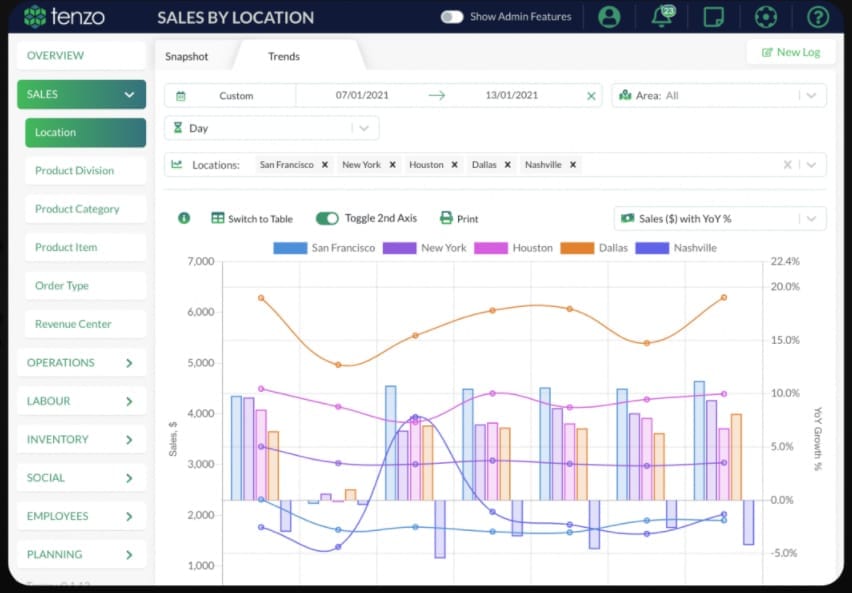 Tenzo interface
Potential areas for technology implementation to address sustainability issues
There's always room for improvement and adopting more advanced technologies. Here are some ways of optimizing your processes that have an indirect impact on sustainability.
Increasing equipment efficiency with predictive maintenance
Predictive maintenance
is the proactive approach to servicing equipment. With the help of IoT devices and analytical software with ML capabilities, you can constantly monitor your assets' performance and know in advance when maintenance is required in order to operate optimally and address failures before they happen.
Timely maintenance allows you to increase asset efficiency (which in many cases means lower energy or fuel usage) and avoid purchasing new equipment (which also requires energy to produce and transport).
As we said, it's hard to measure the direct benefit of predictive maintenance and its impact on the sustainability aspect yet, but here's an example of an Indian hotel chain that
managed
to achieve a 20 percent reduction in equipment breakdowns after implementing AI/ML-based asset controlling.
Analyzing resource consumption with digital twins
Digital twins
are the cutting-edge technology that can also
support
the transition toward sustainability. For example,
creating a virtual prototype of a building or facility can help monitor, assess, and optimize energy and water usage;
a digital representative of an aircraft can help predict the right time for maintenance; and
simulating aircraft testing or building construction processes can help avoid related emissions and optimize resource utilization.
First steps towards sustainability
Today, it's not enough to introduce separate waste bins or encourage hotel guests to reuse their towels to be called eco-friendly (though they're great first steps). Airlines, hotels, tour operators, and other travel businesses have to adopt a conscious approach to global problems and implement concrete practices and technologies. If you are ready to begin your sustainability transition, but uncertain what to start with, here are some ideas.
Measure and analyze
. First of all, it makes sense to find the areas that need improvement. For example, if you're an aircraft carrier, it might be decreasing fuel consumption, and if you run a hotel, you might need to regulate energy usage or reduce food waste. But to figure it out, you have to collect related data and analyze it.
You might need to install sensors and adopt a
business intelligence (BI)
platform (or any specialized platform with
analytics capabilities
depending on your industry) to get a fuller picture of your business processes and assess your expenditure.
Automate
. If you operate a big company, there's no way you can timely react to all the operational changes and perform necessary adjustments. Automation will help you take the heat off yourself. Consider implementing smart sensors and a BAS to automatically regulate the building or facility settings. It will most likely require a lot of integration efforts to connect all the systems, but it will definitely pay off with utility bill reduction.
Educate
. Teamwork makes the dream work. Give your employees, partners, and customers visibility into your sustainability program and encourage them to contribute. A dedicated webpage, motivating signs, food labeling, carbon offset calculators, or any other method of informing people will inspire them to join – and make a difference.