The travel service market operates on a large scale. Online and offline travel agencies provide a wide selection of services to a wide range of audiences, so they rarely have control over the resources at the immediate destination. So, who does then?
Destination Management Companies
or DMCs are the critical link connecting travelers and service providers. Their strong suit is local knowledge: from regional language to the best tourist opportunities to the most authentic dining places.
These niche players offer a lot of opportunities for travel agencies. We spoke with a few industry professionals working with DMCs to share how agencies can benefit from collaborating with destination companies and how to enable this interaction.
How Destination Management Companies work
The need for some local travel representatives appeared back in the 1960s when meeting and convention planners noticed the demand for custom leisure activities for groups. The term
destination management company
was coined to describe the new role of local destination and logistics experts. But don't confuse DMCs with DMOs - Destination Marketing Organizations - nonprofits aimed at improving the locale's competitiveness as a tourist destination.
Destination Management Companies
are intermediaries between a network of local suppliers and travel agencies who further resell those services to travelers. They operate within the distribution chain of tourism products and services. Let's have a closer look.
DMCs negotiate preferential rates and make agreements with different, separate suppliers on the spot: local hotels, restaurants, guides, car rental companies, etc. Then, they mix and match the services, bundle them into attractive packages and resell. Domestic providers get digital representation (if they lack it) and marketing.
Today DMCs function as a single point of contact for their B2B and B2C clients. A travel agency, as one of the B2B clients, connects to the DMC database and offers those services to its clients. A DMC makes sure the suppliers fulfill their obligations and is always there to help if something doesn't go according to plan.
The role of DMC in the travel supply chain
What DMCs do? The scope of services
Just like OTAs, DMCs can specialize only in one travel service:
Cityride
deals only with the transfer, while
Book Island Tours
centers around Antigua, Barbados, and St. Lucia tours. But more often they offer a range of destination services. Let's look at the full list.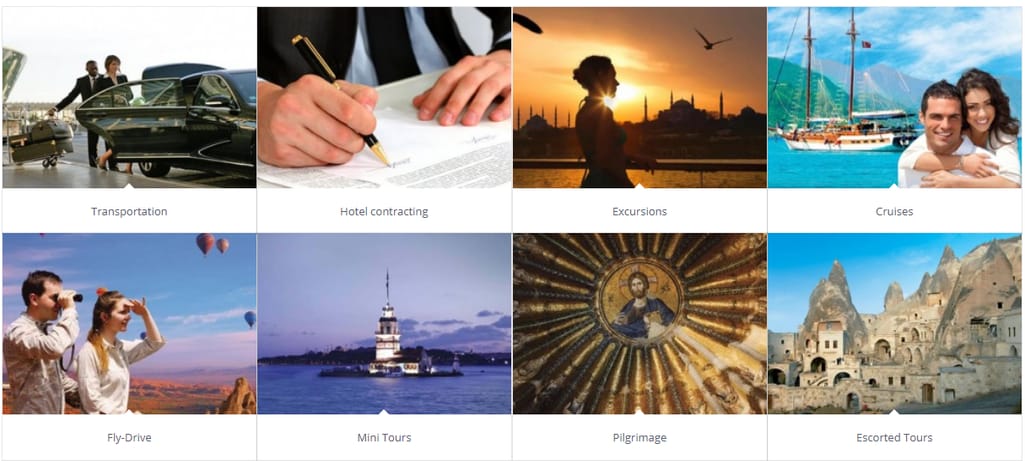 Services of a T.I.T Travel DMC in Istanbul
Arrival and departure assistance.
This is the basic transfer service with meet-and-greets. The locals wait for guests with a welcome sign at the meeting point, help with the luggage, transport them to their accommodation, and back to the airport on the day of departure in the prearranged vehicle.
Some operators increase their service level by introducing an excursion or a story to enjoy on the ride.
SunTours Caribbean
, for instance, assigns dedicated tour representatives in addition to the transfer. They visit in-resort clients to guide them through the area they're staying in and can pay more frequent visits should clients need them.
Mautourco
is noteworthy for offering cold towels, flower garlands, and corporate gifts to their newcomers.

Personalized welcome services at Mautourco
Tours and excursions.
That's the DMC stock in trade: safaris, cruises, cultural tours, sightseeing excursions, and many more exotic
experiences
that travel agencies won't be able to provide on their own.
Orient Tours
, a DMC in Oman and the UAE, offers a range of packages in the Arabian Desert including watching the sunrise behind the sand dunes, a desert ride on a quad bike, and an overnight dune drive with camel riding, sandboarding, and other Arabic entertainments.
Event or activity planning.
Maintaining relations with domestic suppliers, hotels, and venues, DMCs have a great advantage over other travel players in terms of organizing tailor-made activities for groups, themed events, and programs. Many DMCs plan weddings, educational programs, concerts, sports events, roadshows, you name it.
SNTTA Emir Tours
arranges golfing experiences covering the smallest details from hotels and tee times to transfers and excursions.
Accommodation.
DMCs operating in remote locations can also engage in accommodation services there. Take the Turks and Caicos Islands in the middle of the Atlantic Ocean.
Olympia Destination Management
provides a VIP lounge at the local airport and offers luxury hotels and villas for superior vacations.
Meeting, Incentive, Conference, Event (MICE) tourism.
DMCs are there to plan team-building travels and create in-resort meeting programs. DMCs are a lifeline for travel planners at corporations.
Kim Parizek
, an experienced travel advisor says that she uses DMCs to serve her clients at a higher level: "
I rely heavily on the various DMCs to plan trips. In particular, reserve best restaurants and hotels, mind room configurations and ADA compliance, organize hard-to-find experiences, and arrange transfers.
"
Corporate social responsibility
programs (CSR)
. As socially and environmentally responsible tourism is getting more popular, DMCs are receiving a growing number of requests for CSR, as they are a major source of such experiences.
Australian DMC
Beyond Experiences
, builds CSR into the destination boardroom and corporate group packages so that travelers can contribute to the local community by helping koalas who survived the bushfires.
Car rentals.
Working with local
car rental
fleets, DMCs get good rates and can deliver cars for rent either to the airport or to their accommodation. For instance, SunTours leverages Drive-a-Matic, ACE Rent a Car, and National, while Mautourco works with Hertz. Some DMCs add car rental widgets to their websites.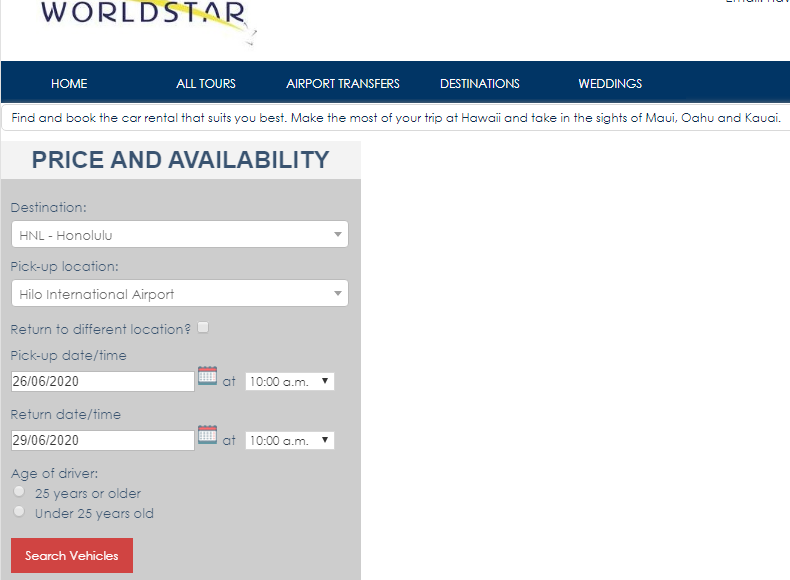 Car rental widget at Worldstar DMC
Travel-associated services.
Some DMCs are one-stop-shops that serve the whole travel process including visas, insurance, and other related documents.
How travel agencies can work with DMCs
DMCs provide services directly to customers, but a majority of them also distributes their travel products through travel agencies and
tour operators
. So, the question is how these B2B relationships work.
First, note that some DMCs establish groups for better efficiency and reliability in working with them. Independent DMCs team up based on destination, the market they operate in, and the type of services they provide. They share business values and principles.
LatinPlus
is a group of four MICE DMCs specializing in Latin America's destinations. "
Latin America is a complex market
," notes the founder,
Patricia Sahin
. "
Our mission is to bridge the gap that sometimes our clients encounter when doing business in Latin America by working closely with the right partners and provide added value as a trusted partner based in the US
."
PLUS DMC
is a group of nine European DMCs specializing in the Nordics. They tailor services with an understanding of the customer's mentality.
So how can travel agencies collaborate with DMCs - whether a group or a single entity?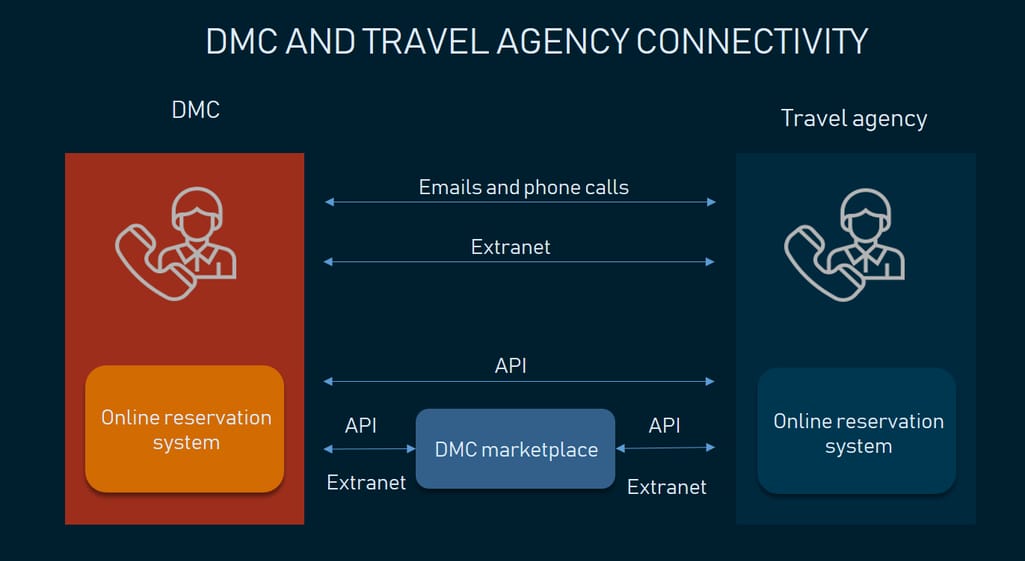 How travel agents can interact with DMCs
Calls and emails: personal communication between small DMCs and agencies
Small DMCs still use an old school approach of calls and emails. Some think it's really inconvenient, while others, like
Ian Ropke
, a founder of
Your Japan Private Tours
, see it as a more personal interaction: "
Our relationships with high-end travel agencies are exclusively by email and by telephone which is fairly intimate and is about people to people communication."
Ian highlights that it's justified for the private travel sector where clients are upper- and middle-class: "
These people expect personal attention from planning to arrival to departure and that is what they are paying for. It's almost impossible for an OTA or a global DMC to create this kind of intimate relationship.
"
Another small DMC -
Adios Adventure Travel
- that operates in South America also sticks to phone and email communication. Customizing itineraries and information to agencies' needs, they can even incorporate it into documents with the agency's branding.
When asked about how they negotiate rates with travel agencies,
Jacquie Whitt
, a co-owner of the DMC, replied, "
Usually the travel agency contacts me and asks for a quote for a custom trip for their clients. We give them a preferential rate and they can add on their commission.
"
Online reservation system: accessing and booking DMC's portfolio
The most widely used means of interaction is a travel agent extranet. Agents leave their details in the registration form, and then an Account Manager gets in touch with them to negotiate terms and conditions. Once their account is activated, they'll get login details to enter the travel system.
Online reservation systems (ORS) come in different forms. It's an
e-Tourism platform
at Greek DMC Zeus Travel. German DMC SETT provides agents with a
B2B Online Booking
page where they input destinations and dates, check availability, and make and manage their reservations.
DONG DMC
operating in Southeast Asia offers different B2B booking engines depending on the agent's location.
Jumbo Tours Group
is one of the largest and most technologically advanced European DMCs. Their agent clients can leverage the
Jumbobeds
ORS. It includes such tourist services as hotels, transfers, and group travel management which improves agent productivity. The system adjusts prices and availability to market conditions, as well as highlights special offers based on current demand.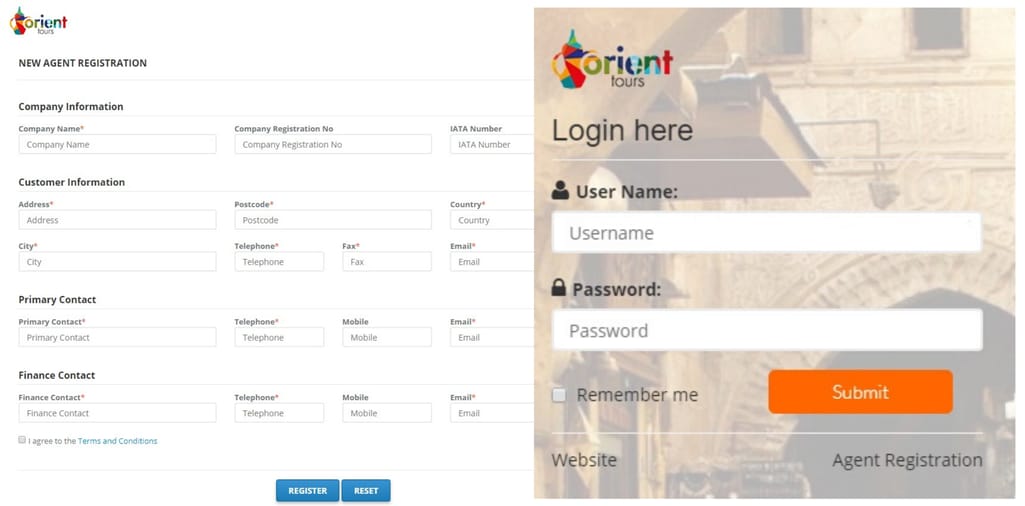 Login and registration forms for travel agencies at Orient Tours
API connectivity: integrating DMC inventory into an agency's system
The majority of DMCs lack technological strength. And not many destination companies offer XML connectivity to integrate their products. But some do.
The Spanish DMC
W2M
offers an online booking platform with properties, transfers, and attraction tickets. Bedbanks, tour operators, OTAs, and travel wholesalers can distribute this
inventory
via API or web interface.

XML connectivity between a DMC and a travel agency, Source: W2M
Red Apple Travel
, a large DMC mainly operating in Asia, also enables integration of its standalone and package products, their real-time price and availability via an API.
Jumbo Tours'
hotel distribution platform
is also integrable. Their API allows agencies to connect to
Channel Managers
and directly to suppliers.
Snami Travel,
a Cretan DMC of luxury travel services, provides online booking engines that partners can integrate using the DMC's XML web services. In addition, Snami Travel has B2C product widgets that partners can post on their websites.
Online marketplaces: one interface for multiple DMCs
Some bookings come to DMCs not directly, but via marketplaces. They aggregate DMC inventory and help them connect with travel agents. Once logged into such portals, agents can book DMC services right from there.
MultiZebra
is an Indian marketplace where DMCs upload their packages and component rates. On the other end, agencies log onto the portal and create a quotation for a chosen destination.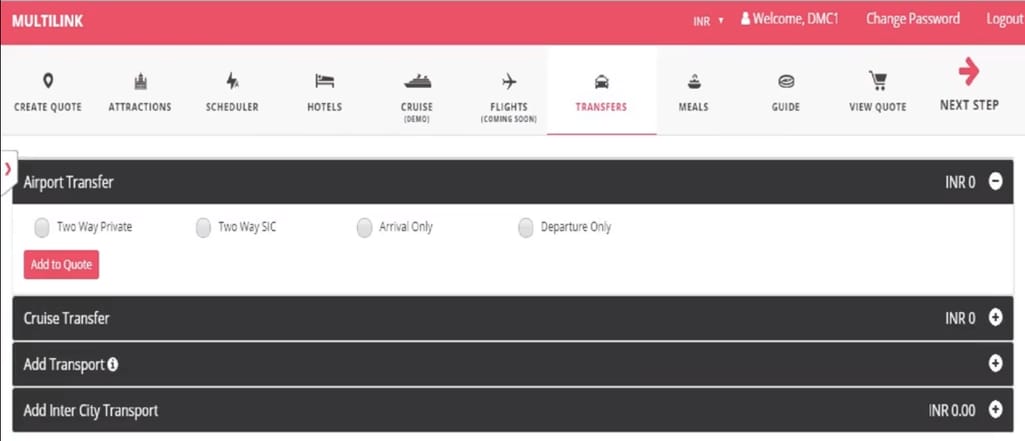 MultiZebra dashboard for DMCs
Adalte B2B Travel Hub
aggregates DMCs into its Travel Platform that agencies can adopt. Alternatively, they can insert it into their system using a Tours API that Adalte provides.
We asked
Vikram Ahuja
, CEO of
Byond Travel
, to let us look under the hood of their marketplace.
If a DMC has a digital booking portal, a marketplace can establish a live booking connection with it. But in some cases, DMCs don't have that level of technology, says Vikram. "
That's when we involve our teams getting in touch with their booking teams and making the confirmation for the booking".
At Byond Travel, travel agents get paid a share of the selling price: "
We share between 7 to 15 percent of our commission with the agency, depending on the time of the year, the destination, and so on.
" In addition, they offer agents
Postpaid
, a travel-now-pay-later payment plan, and also lend a hand with lead generation.
Agents can access the entire trip portfolio by
logging into the system
. They can also integrate the database into their platform using XML and API connect. "
We are currently in the process of starting to integrate with a large number of B2B software,
" confirms Vikram.
How to select a DMC partner
So, if you're a travel agency eager to partner with a DMC, here are a few criteria to help you navigate:
Relevant expertise.
The DMC should be aware of the demand from the customer base. That's how you can check whether their travel itineraries will work for your clients.
Providers.
To be on the safe side that a DMC is able to execute your tourism expectations, it's better to check the number and types of local service providers they are connected to, what property owners, ground transportation companies, activity providers, and in some cases even government bodies they have under their belt.
Technology.
Unfortunately, many DMCs are lagging behind in digital development, especially the smaller ones. So, you might have to keep looking for a better option if emails and calls aren't the communication of your choice.
Quotes and commissions.
Once you narrow your choice to a few potential DMCs, you want to get the best rates, so compare the quotes for any similar service. Maybe you decide to leverage the transfer services at one DMC and buy tours from another. In addition, ask for a full breakdown of commissions, as there might be some hidden fees. For instance, some DMCs apply an event management fee that changes depending on the custom charges.
Reliability.
Сare and caution should never be dismissed. So, don't jump to conclusions but first research their history of working with similar agencies and check their business license. Also, some references would be nice or membership in respected tourism offices.