Metasearch in Hospitality: an Overview of Hotel Search Engines
Reading time:
15
minutes
The hospitality industry was among those that suffered the most because of the COVID-19 pandemic. In April 2020, hotel occupancy in the US dropped to its lowest level ever — a dismal 24.5 percent. The annual average was roughly 44 percent, which means that more than half of the hotel rooms were empty during the whole year.
To survive the crisis, hoteliers have to take measures, i.e., prioritize cleaning procedures, adopt contactless technologies — and reconsider their distribution strategy. Listing your property in metasearch websites and investing in a marketing campaign can help increase visibility and attract more direct bookings.
We've already described the main distribution channels: GDSs, OTAs, and bed banks. In this article, we will explain what metasearch engines are, how they work, and how hotels can connect to main platforms and get the most out of this partnership. The article is addressed mainly to hotel managers, but we're sure OTA representatives can also find some useful information on metasearch management.
What is a metasearch engine?
Metasearch engines are tools that send search queries to many different sources, aggregate results, and organize them in a ranked list. The main task of such platforms is to present the maximum number of options available on the market, so that a user can compare them and make an informed choice.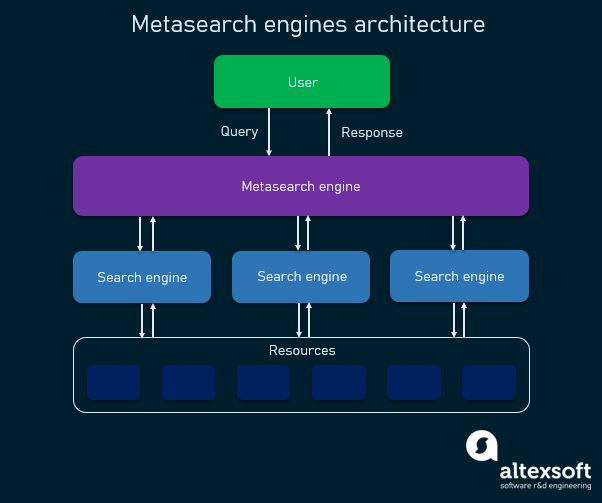 How metasearch engines work
In the hospitality industry, it means that the hotels' inventory, rates, and availability are pulled from their own websites and/or OTAs they work with and displayed in one place. Potential guests can conveniently check prices, view pictures, and read descriptions and reviews without having to browse through numerous travel platforms.
For hotels and OTAs, the main benefit of partnering with metasearch engines is increased online presence and customer reach. According to the Eye for Travel survey, 94 percent of travelers use metasearch sites to compare hotel rates. Another advantage is receiving your guests' contact information, which doesn't happen when your bookings are made through an OTA.
Below is an interesting illustration by Mirai of how the breakdown of hotels' marketing investments changed over just a few years. They compare hotels' total spendings on classic advertising in such metasearch engines as Google and Bing to total investments in partnering with industry-specific metasearch platforms (Google Hotel Ads, TripAdvisor, Trivago, etc.).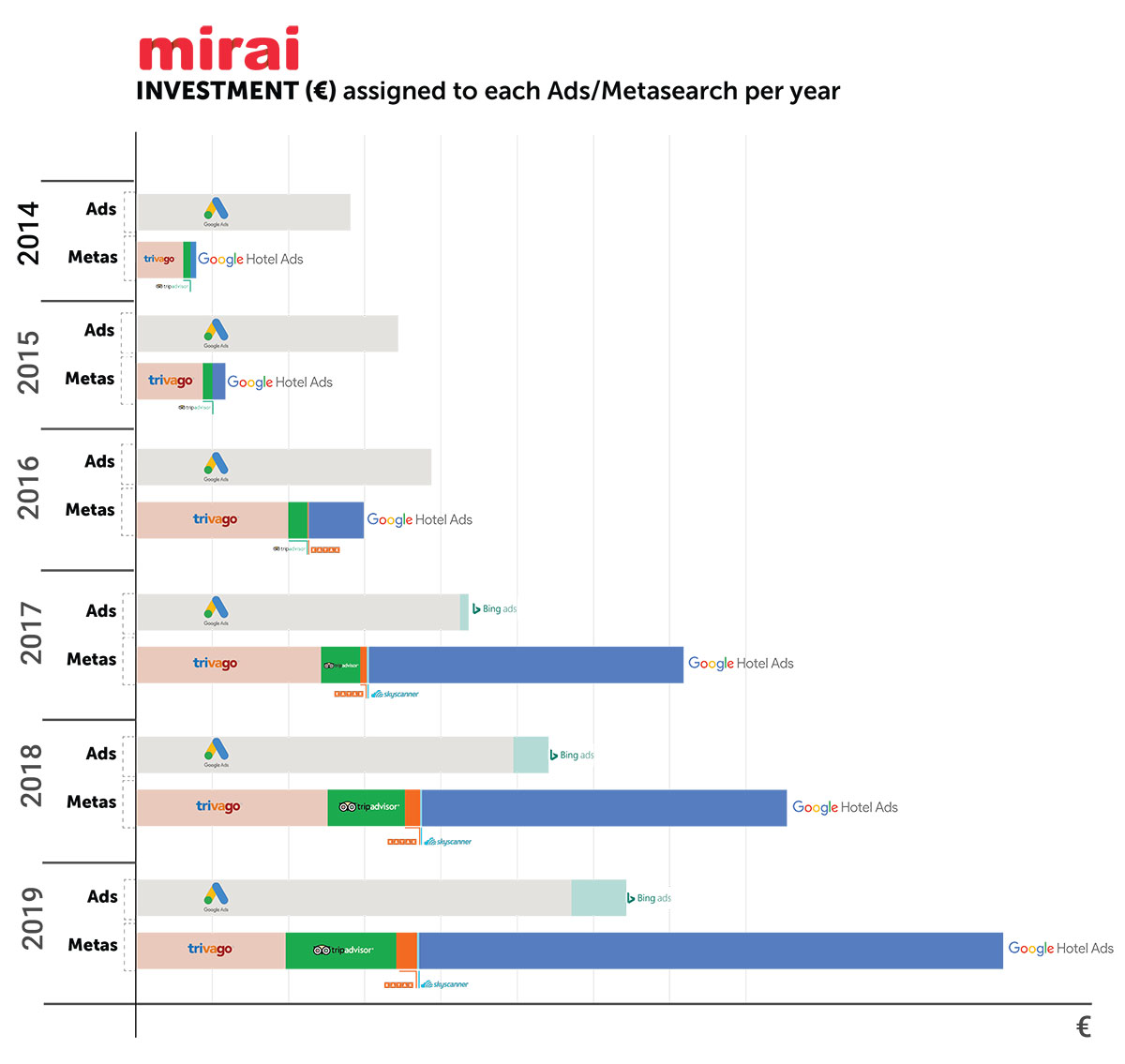 Investments in ads vs. metasearch engines
To get a better understanding of how metasearch engines work, let's first discuss how they make money.
Metasearch cost models
Metasearch engines get their revenue from advertising. In the classic scenario, they don't handle bookings, but instead redirect users to partner websites to complete transactions. So, their typical cost model is CPC (cost per click), or PPC (pay per click). This means a hotel is charged every time the ad is clicked and redirection occurs. This model doesn't guarantee return and creates expenses before revenue but gives maximal flexibility and control over spendings as it can be frequently updated. Here's how it works.
When posting ads, inventory suppliers can bid for ad placements and compete with other advertisers for higher ranking in search results. So, you set the maximum price you are willing to pay for having your ad displayed in the top position. When a related keyword is searched, the publisher runs a real-time auction to determine the order of listings. Generally, the bigger the bid is, the higher the ad ranks (other factors are also taken into account, such as ad relevance, landing page quality, etc.)
That's where it gets complicated and risky because if you bid too low, your position will drop, but if you bid too high, the gains you're getting might not be worth the price (big OTAs are also bidding with entire teams managing their marketing strategy, so winning top positions is quite a challenge). That's why you need to monitor the market and your competitors' activity and dynamically adjust your bidding. If done right, you can get a significant ROI.
HotelsCombined search options from different inventory providers
Another common cost model for metasearch engines is CPI (cost per impression). That's when an agreed rate is paid per 1,000 views of an ad. However, it's rarer in the hospitality industry so we're not going to discuss it in detail.
Today, many large travel platforms act both as a metasearch engine and OTA, allowing for instant booking on the same screen. In this case, a CPA (cost per action/acquisition) cost model is also possible. Here, a commission, or percentage of reservation value, is charged only if the booking is made through an ad or listing. It can reduce the risk of inefficient spending as advertisers pay on performance.
However, since a commission rate can't be adjusted as easily as in the CPC model, there is less flexibility in reacting to possible changes and less influence on the placement of your listing.
Another model adopted by metasearch engines with booking capabilities is PPS, which stands for pay per stay and means that a fixed commission is paid only for actual guest stays.
Also, there are various hybrid models that are combinations of the above options.
Connectivity options and how to get featured
To work with metasearch engines, you have to share your inventory, rates, and availability that is going to be displayed to travelers. Here are the options on how to establish this integration.
Through a connectivity partner. The easiest way to connect to metasearch engines is through a booking engine from a connectivity provider approved by the metasearch platform. Having a booking engine and / or a channel manager is a recommendation and sometimes even a strict requirement of metasearch websites to automate the information retrieval and update process.
Via open APIs. Another option is manually connecting your software and a metasearch engine via APIs to activate data exchange. The main problem here is technical complexity (you need a tech specialist to set up the integration). Many metasearch platforms do not provide APIs at all, forcing hoteliers to connect through partners.
Through an OTA. If for any reason you don't want to work with metasearch websites directly, you can partner with an OTA and it can list your property on your behalf.
You can definitely just have your property's profile on some metasearch platforms without establishing any integration. Sometimes, it can even be created by an OTA you're partnering with (you can claim this listing if you want to manage it yourself). In this case, travelers will be able to see your descriptions, contact details, images, etc., but no current rates and availability would be displayed.
General tips on working with metasearch engines
Before we proceed with describing main providers, here are a few general recommendations on establishing a successful cooperation with metasearch platforms.
Create and maintain a great profile. Make sure you provide all the up-to-date information such as location, detailed descriptions, high-quality pictures, full contact information, etc. The first impression is lasting, you know.
Provide accurate prices. You don't want your guests to be confused with different rates on the metasearch and your own website. Besides, your ranking in most metasearch platforms would depend on the accuracy of provided information. So, make sure your rates are updated and remember to maintain rate parity.
Work on reviews. Since multiple positive reviews give more details and show that you are trustworthy, encourage your guests to write a few words about their experience. Also, respond to reviews to show your guests that you care about their opinions, whatever they are. It's helpful to set up alerts for new reviews or, if you have multiple locations, partner with a review management company to process your reviews and perform sentiment analysis to provide you with valuable insights.
Set up a Q&A section and provide timely answers to demonstrate your customer service level and give more details to potential guests. A little trick is asking yourself questions and answering them using the right keywords and highlighting your strong sides (i.e., amenities, special offers, loyalty program, food or service quality, etc.)
Implement a reliable booking engine. We already mentioned the importance of using connectivity software. Besides establishing a seamless data sharing process, make sure your booking engine provides a perfect booking experience for your guests.
Invest in search engine optimization. Implementing common SEO practices is always helpful so don't forget to work on the key words and overall content of your website, landing page, and posted ads.
So, who are the main players in this market and how can you establish the desired cooperation?
An overview of main metasearch engines
Google Hotel Ads
Today, Google's share in the search engine market is about 92 percent, making it an absolute leader, travel sector included. If you're still skeptical about its importance, check out our thought-provoking video on the role Google is playing in the travel industry.
Google in travel industry
Over the years, Google keeps developing and updating its functionality to provide maximum value to suppliers and travelers. For example, in March 2021, Google announced the unprecedented free booking links update for Google Hotel Ads, which means that hotels and OTAs can now advertise their inventory for free! But let's start from the beginning.
How to connect to Google Hotel Ads
To have your property listed and advertised on the Google Hotel Ads platform, you'll first have to set up a free Google My Business account, a Google Ads account, and a Google Hotel Center account.
Then, you have two options for sharing your rates and availability. You can either do it through connectivity partners or via APIs. Here's a list of authorized software providers already integrated with Google. There's about a hundred companies, including such popular ones as STAAH, Cloudbeds, SiteMinder, eZee, TravelClick, etc. That's an easy and recommended way to go to automate the setup and further updating.
Google Hotel APIs allow you to upload files with your pricing, room inventory, availability, and URL destinations to redirect a user for booking. For price updates, you can choose from three delivery modes:
pull mode when Google periodically queries pricing updates from a hotel website. After receiving the new information, it takes Google approximately five minutes to process and change data;
availability, price, and inventory (ARI) or push mode when a hotel pushes messages to a metasearch engine each time changes in its predefined pricing model occur. This enables setting a pricing strategy based on rate details, restrictions, and availability; and
changed pricing mode which works as a pull mode but only for a subset of property. The mode reduces network traffic when updates are performed.
No matter the delivery mode, all files with hotel information must be presented in XML format and stored on a hotel's server accessible via HTTP.
Campaign options
Once you are connected, by default, your listing will appear among free booking links. Free booking links are displayed below paid ads in the "All Options" section and show less information.
Paid ads and free booking links
You can also start running ads as a part of your hotel campaign. That means you can create and tailor your ads to reach specific customer groups. Google Hotel Ads offers CPC, CPA. and PPS cost models.
If you consider partnering with Google, take a look at its Advanced features guide, which gives useful tips on managing your bidding. Among other things, it recommends using a free conversion tracking tool to analyze the performance of your campaigns. Keep in mind that there are certain limits applied to your ad campaigns, i.e., 1,000 hotel campaigns per Google Ads account and 100 bids per hotel.
Book on Google feature
Google also offers a Book on Google (BoG) feature that allows travelers to complete their booking and payment without leaving Google instead of being redirected to the OTA's or hotel's website. In this case, Google processes payment and sends the booking and customer information to the hotel.
BoG is an optional feature that you can activate at no additional cost in case you have an active Google Hotel Ads campaign. Note that it works only for large hotel chains and OTAs since one of the requirements for this feature is having at least 100 participating hotels or 25,000 rooms.
Of course, there are pros and cons. On one hand, it's convenient for guests and improves user experience and satisfaction. It also increases conversion and drives semi-direct bookings (which means, no OTA commissions).
On the other hand, users won't get to your site so you might miss the chance to upsell or create a stronger brand awareness (though you have their contact details and can still promote your brand and work on your customer relationships). Besides, such important information as conversion rates and customer views that can be valuable for marketing purposes doesn't get to your CRM system.
In case you want to enable the BoG feature, here are the Book on Google APIs that, as we mentioned, cater to larger players. So, besides having a sufficient inventory, keep in mind that BoG
uses JSON data exchange,
requires PCI DSS compliance,
necessitates localized customer support, and
compels on average 50 daily conversions through Hotel Ads.
Also, note that the BoG feature is available in a limited number of countries (here's the list).
TripAdvisor
TripAdvisor claims to be the largest travel guidance platform, hosting 884 million reviews and opinions of about 8 million travel service providers. Hundreds of millions of people visit this website every month while planning their trips. So, you definitely want your property to be there and promote your services.
How to connect to TripAdvisor
The process of joining the TripAdvisor business community is fairly easy. You have to create your business profile or claim the existing business. It takes TripAdvisor a few days to verify your identity via phone or with a credit card and send you the confirmation email. Now, you have access to Tripadvisor's Management Center where you can manage your listing: update information, reply to reviews, upload more pictures, view analytics reports, etc. Here's a description of its capabilities and a detailed user's guide.
TripAdvisor's Management Center interface
This part is simple and free, allowing you to be present on the site, interact with travelers, add TripAdvisor widgets to your website, and so on. If you want your rates and availability to be seen, you'll have to integrate with TripAdvisor through one of their approved connectivity partners (such as Cloudbeds, Sabre, Mirai, etc.). No API connection is possible.
Campaign options
To display your rates on TripAdvisor, you have to either activate a TripConnect campaign or place an ad with Sponsored Placements.
TripConnect CPC. Setting up TripConnect Cost-Per-Click (CPC) will provide searchers with your rates and availability and redirect them to your website to book if they are interested. This campaign operates on a bidding system, so your placement in the list of search results will depend on your bid amount.
TripAdvisor recommends complementing this feature with Sponsored Placements for best results.
Sponsored Placements. If you want more exposure and a higher position in the search results, you can promote your property with Sponsored Placements. Here, the so-called market-based CPC model is used, meaning that your cost per click can fluctuate depending on market changes.
You'll have to create an ad that will be displayed on top of unpaid search results regardless of the reviews and also on your local competitors' pages. You also have to choose one of the three monthly budget options or to set your own custom budget based on the number of desired clicks. For more details, visit their FAQ section.
Instant booking feature
If you want to provide travelers with an opportunity to book your rooms directly from TripAdvisor, you can enable the Instant booking feature and get a "Book on TripAdvisor" button next to your property name. It operates on a PPS commission basis with two options available depending on the share of travelers views. You'll pay a 15 percent commission for half of all views or 12 percent for a quarter of all views.
Here's an Instant Booking FAQ for more information.
Instant Booking on TripAdvisor
TripAdvisor's best practices
Your ranking and performance on TripAdvisor mainly depends on the quality of your reviews, so the goal is to get as many positive reviews as possible. We've already mentioned the importance of this aspect earlier, but here are a few extra tips that relate specifically to TripAdvisor.
Encourage new reviews. Their quantity and recency play a huge role in the ranking (and users' attitude). TripAdvisor now offers a Review Express tool to support you in getting customer feedback and a Reputation Pro service to help you with collecting and managing your reviews (check our article on fostering user-generated content for more details).
Don't fake reviews! TripAdvisor carefully monitors suspicious reviews and in case incentivized reviews are detected, the listing gets a penalty and the ranking is reduced.
Add special offers. That would attract more attention to your ads. However, this premium feature is only available for Business Advantage subscribers.
Get widgets and stickers. Consider inserting a TripAdvisor widget on your website to show off your reviews and get a free TripAdvisor sticker (suspended during COVID-19 pandemic, but they promised to get it back). It won't influence your ranking, but it will add value to your hotel in the eyes of your potential customers.
TripAdvisor Widgets
Trivago
Trivago is a part of the Expedia Group and has a large market share across Europe. It collects information from 300+ websites about more than 5 million accommodations in 190+ countries. Let's see what you have to do to become a part of it.
How to connect to Trivago
To establish partnership with Trivago, you have to register with their Business Studio (formerly Trivago Hotel Manager). Then, you have the following options.
Trivago also recommends integrating with one of their conversion tracking solutions via Conversion Pixel API or Conversion API accepting JSON files.
Campaign options
Getting the Rate Connect app will enable you to start and manage your advertising campaign. Rate Connect offers a CPC model, with each click typically costing between $0.10 and $1.30 and Trivago automatically adjusting your bids on a daily basis. For more information on Rate Connect, check their Q&A page.
In October 2020, Trivago also adopted a CPA model, charging a commission for every booking made through the platform. You can adjust the commission rate (usually between 5 and 8 percent) once a month.
You can either choose one of the suggested models or use a combination of both (different models for different hotels or different markets).
Booking options available on Trivago
Kayak and HotelsCombined
Both Kayak and HotelsCombined are owned and operated by Booking Holdings Inc., which includes multiple travel metasearch engines and OTAs such as Booking.com, Priceline, Agoda, Rentalcars, OpenTable, Momondo, Cheapflights, etc. Since the connection process is exactly the same, we will not describe it for HotelsCombined separately.
Kayak allows travelers to search and compare prices for flights, hotels, car rentals, and packages. It's available in 20+ languages and 30+ countries. Well, we all know it's big and popular so let's get straight to the point.
How to connect to Kayak
Just like TripAdvisor, Kayak doesn't allow manual integration and doesn't provide its APIs but requires a connection through one of their partnered booking engines (such as SynXis, D-Edge, Mirai, etc.). You also need to register on a Hotel Manager page to either claim one of the properties that are already listed or create a new one.
Campaign options
Kayak operates on CPC, CPA, and CPI models. It also offers a variety of advertising options, but you have to contact the team directly for more information.
Skyscanner
In 2019, Skyscanner reached the noteworthy number of 100 million visitors per month. It started in 2003 as a flights aggregator, adding car rentals in 2013, hotels in 2014, and is now the major travel resource for millennials.
When displaying hotel search results, it includes the TripAdvisor's reviews and a price comparison from different sources. The user can either be redirected to a hotel's or OTA website or choose a Book with Skyscanner option for immediate booking (payment will be processed through Trip.com, which is a parent of Skyscanner).
Booking options on Skyscanner
Skyscanner welcomes new partners and offers integrations, but only on request, so fill in this contact form and talk to them directly.
How Skyscanner Transforms Travel Metasearch
Data-driven approach to metasearch management
Today, using analytics to make data-driven decisions can deliver a tremendous competitive advantage. Knowing your best-performing channels and your target audience will let you build an effective marketing and distribution strategy.
Most metasearch websites allow you to evaluate your performance and compare it to your competitors', see who your main customers are and monitor their behavior on your webpage, track your ranking and reviews, and more.
Here are some tips and considerations on managing your metasearch distribution with the help of data.
Dynamic pricing. Since pricing is the key factor that influences customers' choice, it's worth developing a dynamic pricing strategy. It is a powerful tool that can bring many benefits, but it involves monitoring a lot of internal and external variables so using advanced techniques and machine learning algorithms can help with such aspects of pricing strategy as demand forecasting, yield management,etc.
Google Analytics. Integrating your booking engine with Google Analytics platform (most providers offer such integration out of the box) will give you vital information on your online performance. You'll be able to monitor traffic from metasearch websites, conversion rate, revenue generated through different channels, and user behavior.
Competitor analysis. Benchmarking and monitoring your competitors' activity will let you instantly notice market fluctuations and respond by adjusting your own strategy. For example, you can follow your competitors on social media or sign up for their emails to know about their promotions. You can also use rate checking software like RateSTalk by STAAH to easily track their rates and/or a competitor "spy tool" like SpyFu to know everything about their marketing performance. The more you know about your competition, the better you can compete in the metasearch arena.
Consider checking our case study in which AltexSoft partners with Key Data Dashboard to enhance their business intelligence tool with AI-driven features to analyze KPIs like Occupancy Rate, WAPE, Average Daily Rate, etc. In this project, our team of data scientists used ML algorithms to improve the comparison of similar properties' performance and accurately forecast occupancy rate based on the information from the nearest areas.
Testing and monitoring. Even if you have developed a bidding and pricing strategy, you have to stay flexible and continue to monitor your conversion, market conditions, and competitors' performance and rates. Try changing different elements of your campaign to understand how such adjustments influence your result and then optimize your strategy accordingly.
Metasearch management solution. Consider implementing a metasearch manager to assist with your campaigns. Some popular providers are Bookassist, Avvio, and Koddi. Such software automates and facilitates your bidding management, enables customer segmentation, and offers robust reporting.
With strategic, data-informed management, metasearch engines can become a powerful distribution channel. Our recommendation is to start with the most popular ones, such as Google and Tripadvisor, and as you come up with an optimal bidding and pricing strategy, connect to other platforms to maximize your customer reach.