The number of walk-ins in the hospitality industry drops every year. The 2022 stats show that leisure travelers do thorough online research prior to making a reservation, visiting an average of
5.5 websites
. As for completing the booking itself, around
41 percent
of travelers prefer OTAs, 29 percent turn to travel agents or tour operators, and another 29 contact the property directly. That clearly demonstrates the vital importance for hotels to connect to various online booking channels to thrive and attract more customers.
To manage and optimize all the processes related to reservations, specialized software is used. In this article, we will describe the hotel booking process from behind the reception desk, discuss how technology can help you -- the hotelier -- handle reservations and manage distribution, and give a brief overview of the popular software providers.
What is a hotel CRS?
A
Central Reservation System
, or CRS, is a technology that lies at the heart of a hotel's functions. It's a computerized system that contains the hotel's availability, rates, and inventory (ARI) data and helps manage online and offline bookings. Backed by the
channel manager
that we discuss below, it distributes the hotel information to various sales channels (such as
GDSs
,
OTAs
, independent travel agents, and its own website), synchronizes reservations, and processes transactions.
Implementing a CRS increases overall efficiency due to the automation of numerous processes, e.g., immediately updating the hotel's ARI across all distribution channels or sending confirmation emails. Obviously, that speeds up performance, minimizes errors caused by manual operation, and reduces labor costs. Also, the CRS booking capabilities provide an easy way for customers to manage their own reservations which increases their satisfaction and loyalty.
Another benefit involves providing better visibility into the booking activity and other related data, allowing for more comprehensive planning, forecasting, and marketing.
PMS, CRS, channel manager, and booking engine: differences and integration
Sometimes the concepts of PMSs, CRSs, channel managers, and booking engines are understandably conflated as they are closely related and have some overlapping functions. Let's see how they work and what the distinctions are.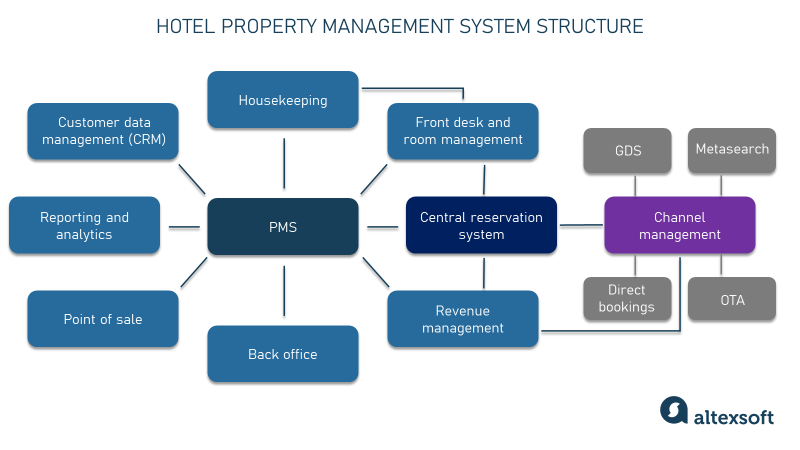 The PMS, CRS, and channel manager interrelation
A
property management system
, or
PMS
, helps manage all the operations in a hotel from catering to accounting with a CRS usually being its main module. We have an all-encompassing article about how a
PMS
and all its parts work.
https://youtu.be/9Jz689rY7uo
A CRS is either included in the PMS or can be a stand-alone solution. It's inextricably linked with the
front desk
module, as it passes all the information about the new reservations for further processing, and the
revenue management
module, as it makes price changes according to certain variables, thus influencing revenue.
The
channel manager
connects the PMS and all distribution interfaces. It collects information about the room
availability
and rates from the CRS and shares it across multiple channels, such as GDSs, OTAs,
wholesalers
,
metasearch sites
, and the hotel's own website through different types of
APIs
. As rooms get booked, it syncs the inventory information throughout all the online platforms to prevent overbooking and also maintains
rate parity
. A channel manager can also come as part of the comprehensive PMS, as part of the CRS (if the latter is designed separately), or as an independent tool to be integrated with the existing hotel software.
https://youtu.be/oMCrdM_ClAU
A
booking engine
is software integrated into the hotel's website and social media pages that helps customers book, pay for, and manage their stay directly. It gets the ARI from the CRS through the channel manager and sends back the booker's reservation information.
Hotel search and booking process steps
Hotel reservation software is designed to automate and facilitate all booking-related processes. So, let's take a closer look at how reservations are created and how technology is involved. A typical hotel reservation process can be broken down into several steps as described below.
Hotel booking process
Search for the options
. Nowadays there is a multitude of search engines and platforms to find accommodation. Companies and travel agencies often use a GDS, while individual travelers mostly browse through metasearch websites and big OTAs. To have all these sources present your hotel's information to potential customers, you have to integrate with them first and then distribute your ARI through a channel manager (we will discuss the integration options in more detail further on). So, when somebody is looking for accommodation, they have to fill in the dates, number of guests, and room type(s) on the website or terminal to check availability and send the inquiry.
An inquiry
. The channel manager delivers these inquiry details to the hotel CRS to get the availability information.
Availability check and response
. At this stage, it's necessary to verify in the system if the requested room types are available on indicated dates and get back with the result. The two-way integration through a channel manager allows this to be done in a flash, pulling the data from the CRS and shooting it back to the booker.
A reservation request
. If the booker is satisfied with the rates and decides to stay at your hotel, the reservation request is created with the help of the booking engine (either the booking engine on your side or the OTA's, depending on the channel) and sent to the CRS. It contains all the essential information about the number of guests, arrival and departure dates, room type, contact details, special requests, etc.
Confirmation and blocking
. In case the requested room is still available, it has to be blocked to prevent double booking. At the same time, a reservation record is created in the CRS that contains all the information related to this booking. An email notification is then generated and sent to the booker to confirm the reservation. Such confirmation letters usually also contain payment details and
cancellation policy
information.
Payment
. This step is optional as many guests still prefer to pay on arrival. Many OTAs do not require paying in advance, but having a secure payment tool included in your booking engine is a big advantage, as it gives travelers the opportunity to pay in a convenient way and to save time during check-in.
Information transfer
. The reservation tool shares all the booking details with other PMS modules. For example, the housekeeping staff has to be informed about all the expected arrivals in order to appropriately prepare all the reserved rooms; the front desk should have this information to ensure a smooth guest check-in; the reporting module uses this data to create reports, and so on.
Optional reservation modifications or cancellation
. Prior to arrival, the booking details might be adjusted. A guest might want to change arrival or departure dates, type of room or desired
amenities
, number of visitors, etc. If that happens, changes have to be confirmed by the hotel, registered in the reservation record, and shared with other modules.
Sometimes reservations are cancelled. In this case, the room has to be unblocked to allow for further booking, and, if prepayment took place, a refund has to be issued (if envisaged by the hotel's policy). As soon as availability changes in the CRS, the channel manager shares this information across different channels.
Hotel CRS functionality
Depending on the software you choose for your hotel, the functionality can be different. Some CRSs only have the basic reservation feature, while others provide a comprehensive solution having the capabilities traditionally inherent in other modules of the PMS. Let's take a look at the possible options.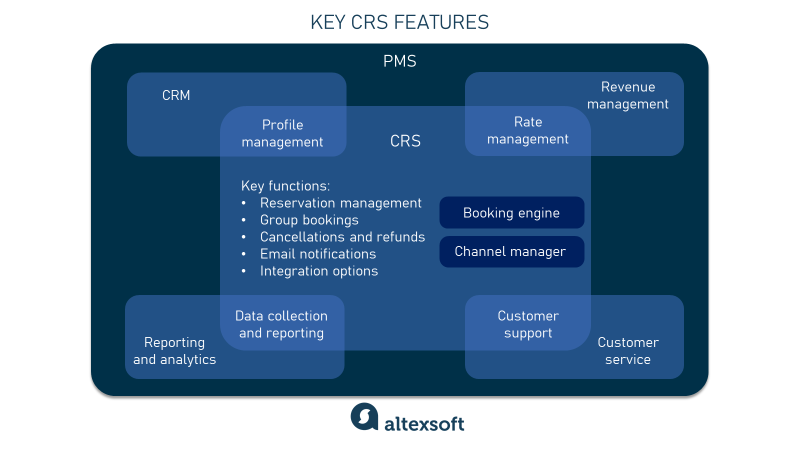 CRS functionality
Key reservation features of the CRS
Most CRSs provide similar capabilities to manage the hotel's reservations. Here are the main features mandatory for a modern hotel to facilitate and streamline the booking process.
Reservations management and synchronization.
Keeping track of your reservations can be challenging, especially if you have multiple properties and work with various distribution channels. A CRS provides you with an effective mechanism to immediately synchronize all the bookings in one system, not allowing double booking or overbooking.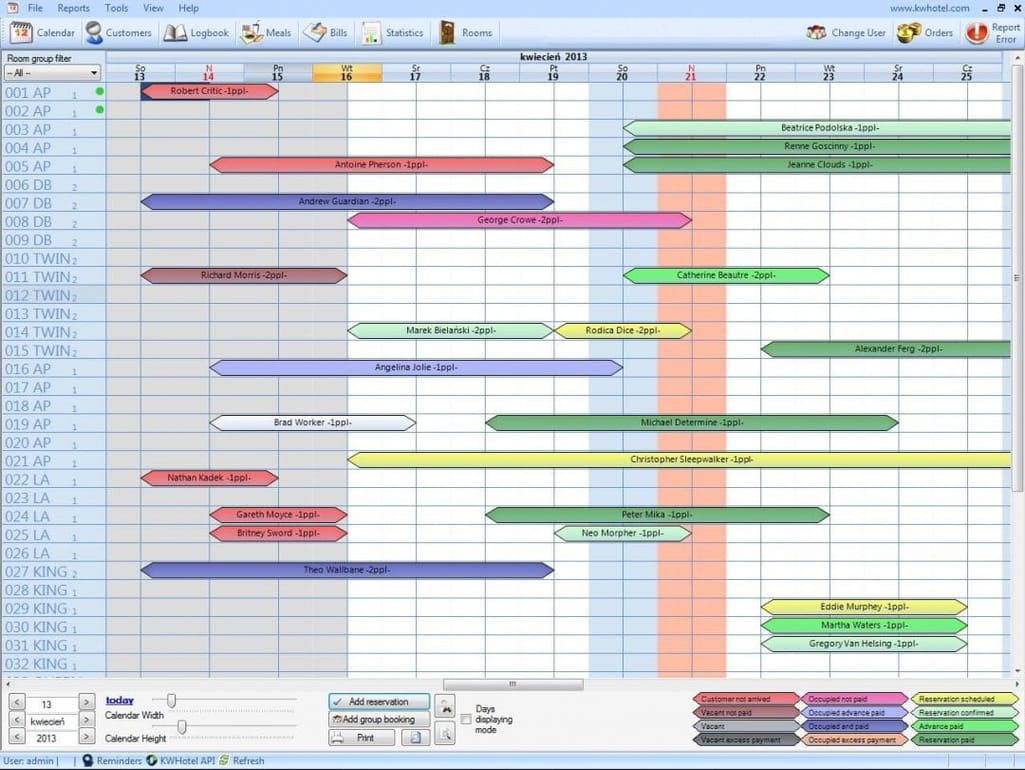 KWHotel's scheduling dashboard
Email notifications.
Besides sending regular booking confirmations and payment receipts, email automation can be used for promotional purposes, personalized offers,
upselling and cross-selling
, and encouraging feedback.
Group bookings.
Sometimes there is a need to reserve multiple rooms with a variety of room types and rates, e.g., for a wedding or a big group reunion. A multiroom booking feature facilitates this procedure and allows for making all the necessary arrangements effortlessly.
Cancellations and refund management.
This feature allows for handling cancellations, updating room availability in all channels, and automating the refund process.
Integration options.
The CRS has to allow for smooth integration with other solutions and technologies you are already using or planning to implement.
Additional features that can come integrated with CRS
A lot of CRS providers offer products with the booking engine, mobile application, and/or channel manager already integrated. That can save you time and money in establishing the connection between separate products and provide better cooperation between these modules. Let's see what those additional functions are and what they can help you with.
Direct booking (booking engine and website).
With OTAs charging up to 30 percent commission, it's critical for hotels to
encourage direct bookings
. This isn't possible without a modern, mobile-optimized website with an integrated booking engine.
A good online booking system gives an advantage over competitors as many small hotels still lack online booking capability, and thus, can't use their website's full potential. Some providers offer website white labels. They are pre-integrated with a booking engine and have all content management capabilities ready. The only thing a hotelier should do is customize the look to match the brand identity.
As of 2023,
86
percent
of travelers expect a
personalized experience
. So besides transferring the ARI information and processing reservations, a booking engine has to offer customers personalization options (e.g., scheduling an
airport transfer
, pre-stocking a room with preferred amenities, or a "choose your own room" feature as in Hilton hotels).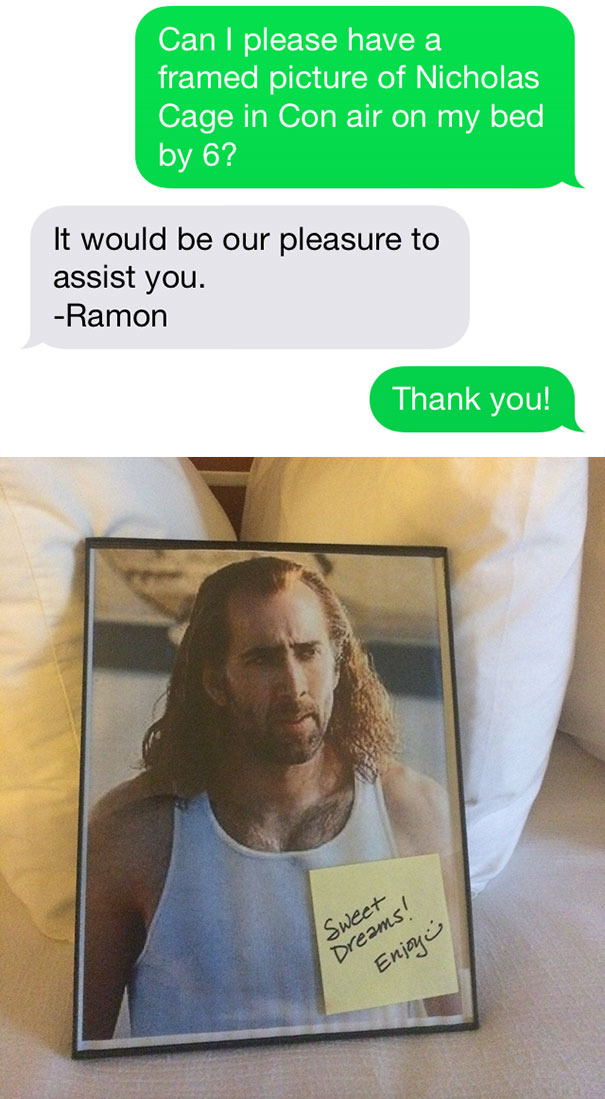 Sometimes guests' special requests are.. very special. Source: Independent
Online payments.
Today, a lot of customers still prefer to pay at the front desk on arrival to the hotel, even if they booked the accommodation online (e.g., through an OTA). Since the share of
online payments
keeps increasing, providing your guests with a secure payment option is essential. Normally, it comes as one of the booking engine's features, but it might still be necessary to research deeper and decide on the
payment gateway
type and provider to work with.
Supporting multilanguage and multicurrency.
To attract visitors from abroad, it's important to offer
localized
, well-translated, and adapted versions of the interface, including automatic rate currency conversion. NB:
53 percent
of people said that they get frustrated when they see a price in a currency other than their own when looking for a hotel.
Mobile app.
The
2022 HospitalityTech Customer Engagement Study
showed that 73 percent of guests use mobile technology to make reservations and interact with hotels. That means that having a connected app is an absolute must today.
Compared to websites, applications are usually more user-friendly and suggest a variety of features for customer convenience, not to mention building brand awareness. For instance,
digital concierges
of big chains such as Hilton or Marriott allow their guests to
find hotels in the area,
create and manage their reservations,
check in and check out on their own,
receive special offers and manage loyalty program memberships,
explore local attractions or restaurants,
use smartphones as digital keys,
control room settings,
make payments,
order room service or book amenities,
have a virtual tour of the property, and more.

Hotel mobile app features. Source: NomadixWorks
Channel manager.
If it comes together with the CRS, it's nothing but convenient. As we've already mentioned, this tool allows you to manage your distribution across various online platforms (we elaborate on different channels in the next section).
Additional features that overlap with other systems in a PMS
A lot of providers now offer all-in-one products that include a wide variety of built-in capabilities, typically characteristic of other solutions, i.e., customer relationship management (CRM), a revenue management system (RMS), or customer support. Here are some of those related additional features.
Rate management.
This module will allow you to
enable dynamic pricing,
manage rate plans and restrictions,
set up season or weekend prices,
assign different rates for different channels,
generate geo-targeted promotions, and more.
You can have your rates changed automatically
depending on market demand
or your hotel occupancy. You can also set up special discounts for certain categories (senior citizens, military personnel, war widows, etc.) to encourage additional bookings.
Profiles management and guest experience (CRM).
According to the
2025 Oracle Hospitality and Skift survey
, about three-quarters of travelers are interested in AI that would analyze their data to provide more personalized offers and customer service.
Collecting customer data is crucial for providing a personalized experience and increasing customer satisfaction and loyalty. So all the information such as contact details, payment preferences, past stay experiences, membership status, special rates, etc., has to be stored for future reference and providing customized offers. There can be different categories of guest profiles, e.g., individual, group,
corporate
, and more. If you already have a separate CRM tool, check whether it can be integrated with the reservation system in question or consider
migrating
to a new one that's connected with a CRS.
Data collection and reporting.
You can maintain control of all the reservation-related processes with the help of the reporting feature. Keep track of expected arrivals,
booking activity
,
occupancy
,
revenue
, and other critical
hotel KPIs
. All the data can then be turned into the basis for further analysis and forecasting. Check out our dedicated article about
hotel data management
for more details.
Customer support and messaging.
Research
shows that almost 70 percent of people are inclined to spend more money with a company that provides great customer service and about 97 percent will share with others if they had an excellent customer service experience. Obviously, providing your guests with an opportunity to contact you 24/7 with any issue or inquiry and receive professional assistance is vital.
Today, with the development of
natural language processing
techniques and increased adoption of
AI-based solutions in travel
,
chatbots
have become extremely popular as they can answer up to 80 percent of simple, routine questions. They also speed up response time, reduce the need for staff to handle customer queries, and help save up to
30 percent
of customer support costs. Some examples of standalone AI-powered, multilingual hotel chatbots are
HiJiffy
,
Asksuite
, and
Quicktext
.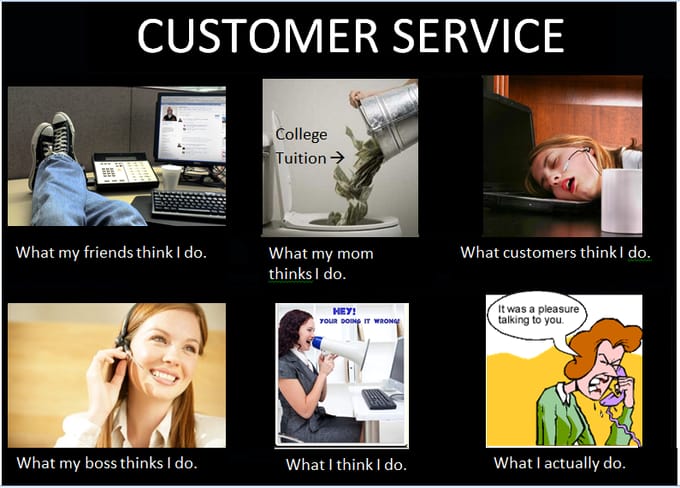 Customer service is not an easy thing
Hotel distribution channels: GDSs, OTAs, metasearch engines, etc.
Even though nowadays the emphasis on direct booking is growing, using different distribution channels is vital. Connecting your CRS with various platforms makes your property visible and accessible to thousands of travelers and
travel agents
, thus attracting more guests and increasing your revenue.
Fuel Travel
research shows that almost 44 percent of
leisure travelers
start their search for accommodation with an internet search provider such as Google, Yahoo, or Bing, and more than 18 percent -- on an OTA website (Booking.com, Expedia.com, or others). Another 30 percent go to review providers,
vacation rental
websites, deal sites, social media, or use other online sources -- which adds up to almost 92 percent of people searching for hotel information online!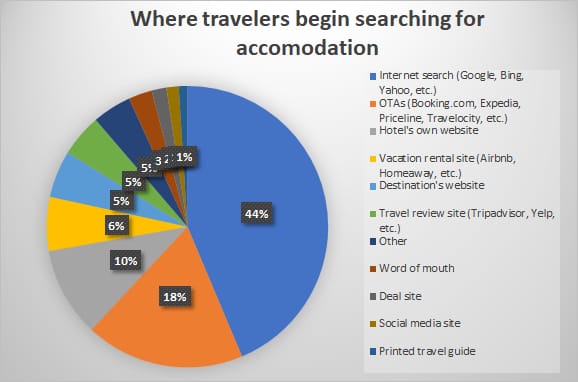 Hotel search statistics
When choosing a CRS, you might want to consider different integration options and select the
distribution channels
that suit your hotel best and can be most profitable.
GDS for corporate travel
Many companies prefer to use global distribution systems, or GDSs, to organize their
corporate travel
because this way they can
book flights
, accommodation, and other activities in one system. If your hotel is located in the downtown or business area and there is a lot of business travel going on, it can be a great option for you to increase your bookings. Besides, thousands of OTAs and travel agents work with the GDS database.
A lot of CRS providers have a channel manager as part of the solution and offer direct connectivity with major GDSs. They enable a single point of entry so that you don't have to sign up for each one individually. As for pricing, you have to pay a small initial setup fee to sign up, and then you pay transaction fees for confirmed bookings.
Once your hotel system has an integration with a GDS set up, the process is fairly simple. Live rates and
inventory
information are sent directly to a GDS from the hotel's CRS. Travel agents and booking websites can then request this data and make reservations. When a new booking is made, the information is immediately passed back to the CRS to update availability across other channels.
OTAs as the main distribution channel
Online travel agencies, or OTAs, spend a large share of their revenue on marketing, thus having a significantly higher customer reach. Besides, they provide a variety of options to choose from and an easy way to compare prices. Therefore, even though OTAs charge frustrating commissions, it's almost impossible to increase your bookings without integrating with at least major ones -- and then encourage customers to book directly in the future.
https://www.youtube.com/watch?v=AOuLyQJkJG4
Most providers offer integration with numerous OTAs. It's not common though that a CRS connects directly to OTAs. Normally, it's done through a channel manager (actually,
Booking.com
doesn't even accept direct connections; it's only possible via a channel manager) that lets you integrate with a number of OTAs and sync your inventory properly.
The procedure is similar to the previous one and involves establishing a two-way integration. After sending in your hotel's information and agreeing on the
commission
rate, your hotel's description and inventory are listed on the OTA's website, allowing visitors to check your rates, pictures, reviews, and other information, and make reservations. The booking details are then sent to your CRS, and availability is updated throughout the channels.
Metasearch as the biggest search starter
Connecting to
metasearch engines
is another way to generate traffic, as the role of, say, Google and TripAdvisor in today's travel research process can't be overstated. These sites don't allow for making reservations, but similar to OTAs they use your hotel's information to present a consolidated offer, letting customers choose between options. Afterward, they redirect visitors to your hotel's website to complete the booking. You only pay for advertising, saving on OTA commission. To make maximum profit from this channel, you need a strong marketing and advertising strategy, an attractive profile, and a well-designed website with a convenient booking engine.
A lot of CRS providers have a metasearch management tool integrated that pulls rates and availability information from the CRS and displays it on different metasearch websites. It can process numerous inquiries from those sites.
Every metasearch engine has its own procedure for connection. For example, to be listed on
Kayak
, you can either connect via your booking engine or have your property on one of the OTA websites they work with (though, in this case, the booking will be made through an OTA with the corresponding commission). TripAdvisor gives
instructions
for hotels to set up the API connection and enable booking, and Google offers the Hotel Ads option with a set of
guidelines
to get listed, unless, again, your CRS provider doesn't offer those integrations out of the box.
Wholesalers to contract allotments
Wholesalers
, or bed banks, are intermediaries that buy rooms in bulk at a discounted price and then resell them to travel providers such as travel agents,
tour operators
, or OTAs. That generates volume and guarantees occupancy. Wholesalers either sign 1-year contracts directly with hotels at a
net rate
, or they negotiate a so-called
best available rate
that can be adjusted through a channel manager. In many cases, wholesalers contract
allotments
, or blocks of rooms that are pre-negotiated and bought out, e.g., for a season or specific dates.
Bed banks can be a good channel to increase distribution. However, before choosing who to partner with, it's important to consider the discounts you are ready to offer. Other issues include possible discrepancies in the services offered, limited control over end price, and rate parity violations.
Social media to reach customers where they spend most of their time
Social media sites are growing in importance. Here are some previously unimaginable
2022 internet usage stats
: Over 58 percent of the world's population is using social media, spending an average of 2 hours 27 minutes per day on it! No wonder social media platforms have become a powerful marketing tool and can't be neglected when it comes to advertising. So if you want to increase bookings, you have to reach your customers right where they are.
NB:
51.4 percent
of travelers under the age of 35 visited the hotel's Facebook page before booking.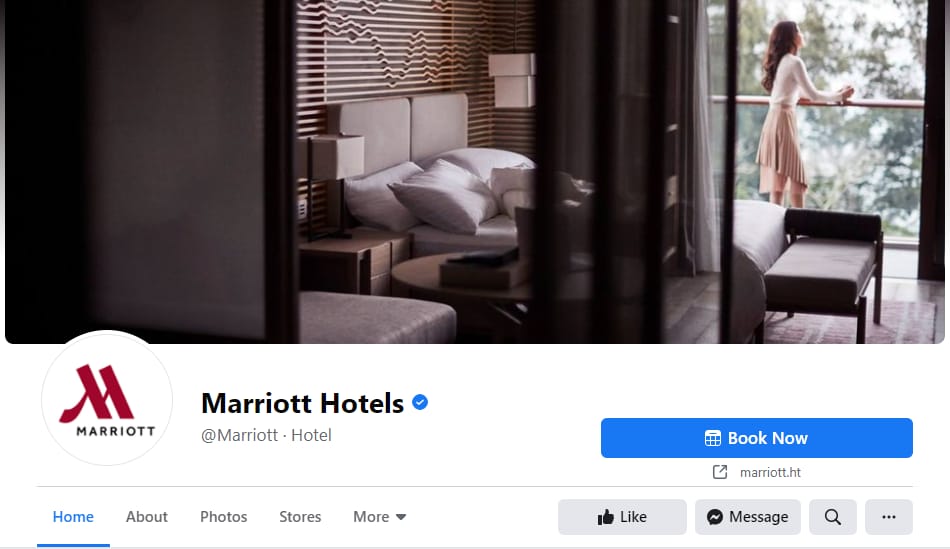 A good booking engine would let you accept reservations right from the Facebook page
Booking engine on the hotel's website for direct bookings
However, relying only on indirect distribution channels would be a huge mistake, as an overwhelming 86.7 percent of travelers visit the hotel's own website before booking. Thus, it is crucial to develop and maintain an attractive website to present the best of your property and have a booking engine to make the reservation process simple and convenient for users, if they decide to book directly with you.
Hotel reservation system providers overview
Not all hotels need or can maintain a standalone CRS. Many hotels prefer to utilize a full-fledged PMS with CRS as one of the modules. On the other hand, small properties might only need a channel manager or online booking functionality. However, if you want to enhance and automate all your reservation-related activities, consider getting a multifeatured CRS tool that best fits your business needs. Let's take a look at some of the popular providers that offer standalone solutions with core reservation functionality.
Cendyn was named the best reservation software of 2023 by HotelTechReport. After its merger with Pegasus in 2022, Cendyn offers the award-winning Pegasus CRS as the reservation tool among other products designed for hotels. While prioritizing direct bookings from the website, this cloud-based software offers full connectivity to all major distribution channels. It provides seamless integration with different channel managers, intelligent rate tools, flexible APIs, and great technical support.
SynXis CRS
by Sabre is one of the oldest solutions on the market and one of the most popular among big hotel brands. It's designed for scale, so it best suits mid-to-large hotels owning multiple international properties. This CRS has a revenue management feature, an integrated channel manager, and offers easy
packaging
creation. It also provides all the necessary integration options.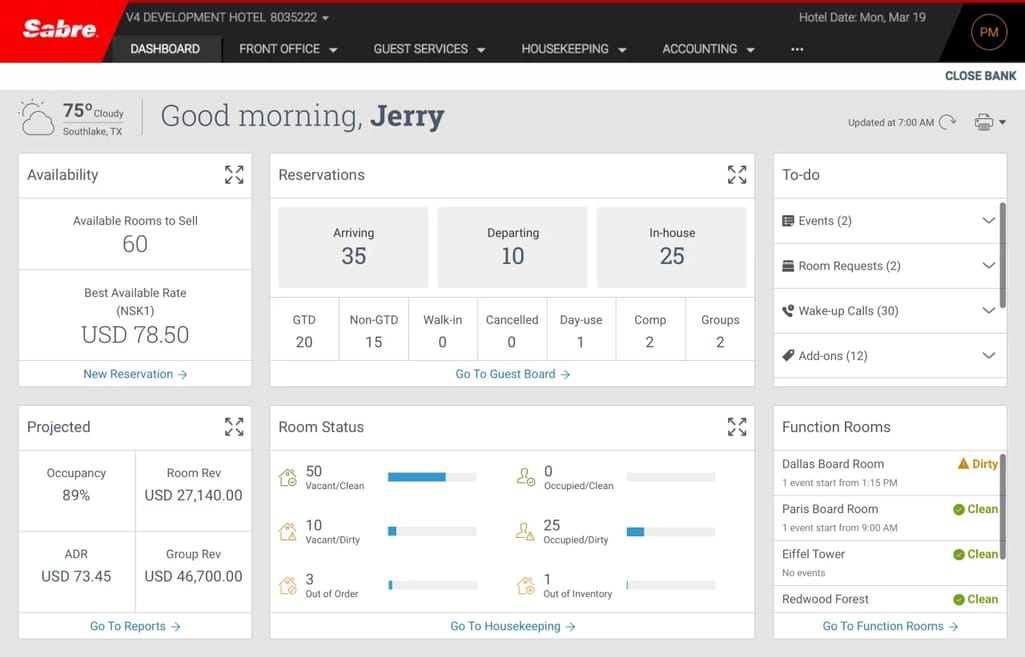 SynXis dashboard
Vertical Booking CRS
is a suite of tools that can be purchased as a package or as separate modules. It includes a booking engine, a channel manager, a rate comparison tool, direct connections to GDSs and metasearch platforms, etc. The platform is available in 29 languages and can be customized for your business needs. This solution is designed mainly for hotel chains.
Allora.ai CRS
(formerly Windsurfer CRS by SHR), besides the usual functionality and integrations, offers robust personalization and data collection capabilities to provide your guests with the best service.
Final recommendations
The world is changing rapidly and the travel industry is no exception. To keep up and succeed in a hyper-competitive environment, hotels have to invest in technology that lets them effectively manage, control, and improve their business. In order to choose the right CRS, the one that would best serve your needs, you, as a hotelier, have to compare the following important factors:
functionality to cover all the reservation-related processes in your hotel and customization options,
scalability for future growth and development,
integrations provided -- both with other software and various distribution channels,
the time necessary to implement the software and train staff,
price, including possible customizations, and
customer service of the solution provider.
Implementing the CRS software will give you the advantage of working with a broader range of distributors, adjusting rates according to market conditions, streamlining all the booking processes, and providing excellent customer service.