The online booking business is only as good as its inventory, so finding the best rooms for the best price is job number one. One of the ways to get a diverse inventory portfolio is to partner with a bed bank.
What is a bed bank?
A
bed bank
(also called a
wholesaler
) is a B2B company that purchases rooms from accommodation providers in bulk at a discounted, static price for specific dates, and sells them to
OTAs
, travel agents,
destination
management
companies
, airlines, or
tour operators
.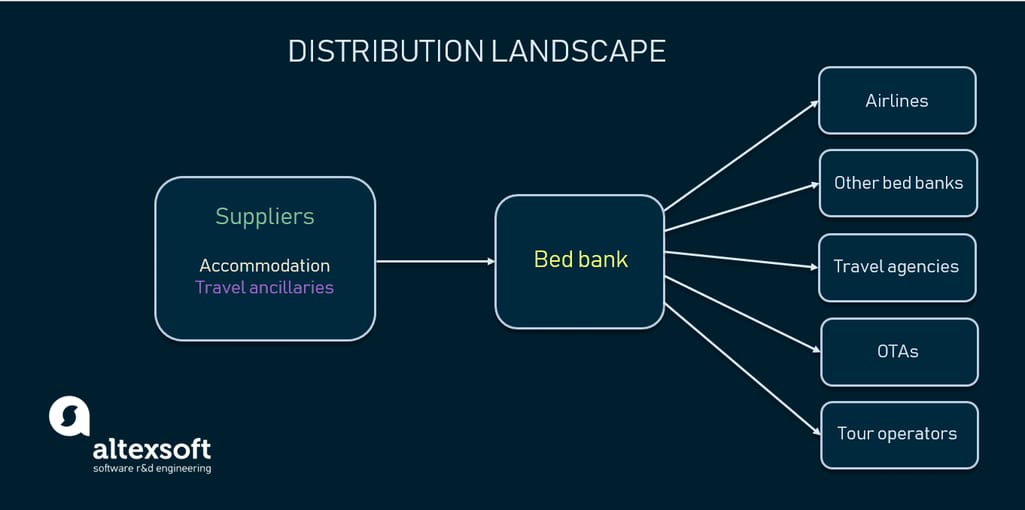 Bed banks aggregate inventory from suppliers and resell it to other businesses
Wholesalers can partner with accommodation providers directly or access their inventory via suppliers or connectivity solutions. Some companies use both approaches. Wholesalers connect with suppliers'
Property Management Systems
to send updates on who will occupy these rooms and when (e.g., guest John Smith will occupy X room from date A till date B).
Many bed banks go beyond selling lodging and offer other types of
travel inventory
such as activities, tickets,
transfers
, or
car rentals
.
So,
bed banks
are middlemen between hoteliers that aim to have decent
occupancy rates
and travel providers looking for inventory for their end customers that will get them a commission.
Which bed banks should you consider to enhance your position in chosen markets? We will explore several major accommodation wholesalers to help you choose a business partner.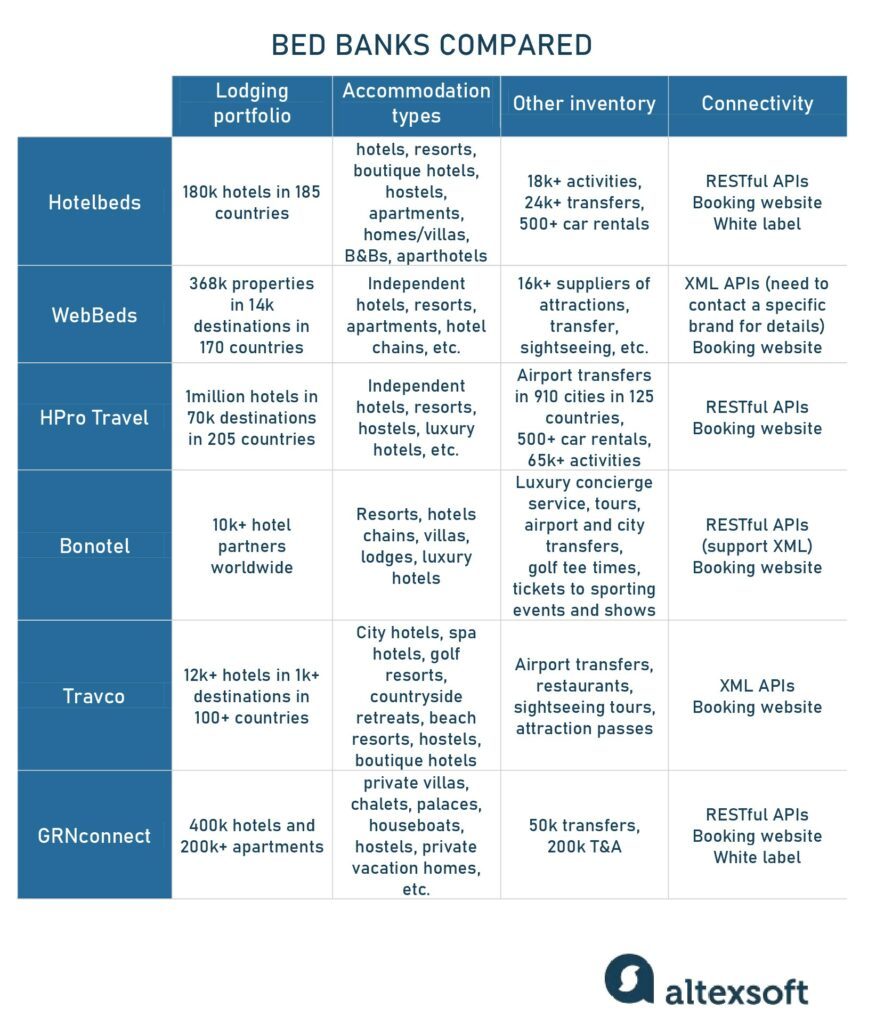 Comparison of wholesalers by accommodation, other inventory types, and connectivity 
Hotelbeds: an industry leader with various accommodation types worldwide
Hotelbeds
provides an extensive listing of accommodations across the globe as well as other travel products. After acquiring of Tourico Holidays and GTA wholesalers, its portfolio includes over 180,000 hotels in 185 destination countries. The average number of properties across the Americas is 85,000, nearly 143,500 properties are located in Europe and the Middle East, and around 71,500 accommodations are in Asia Pacific countries.
To hoteliers, Hotelbeds offers access to a network of over 60,000 travel buyers in more than 140 source markets worldwide.
Accommodation
The properties cover both traditional and
alternative accommodation
types, so Hotelbeds partners can deliver to various market segments:
hotels,
resorts,
boutique hotels,
hostels,
apartments,
homes/villas,
B&Bs, and
aparthotels.
Hotel profiles are marked with tags, such as best for beach, luxury, nightlife, business, families, value, and solo travelers, to help users select the options.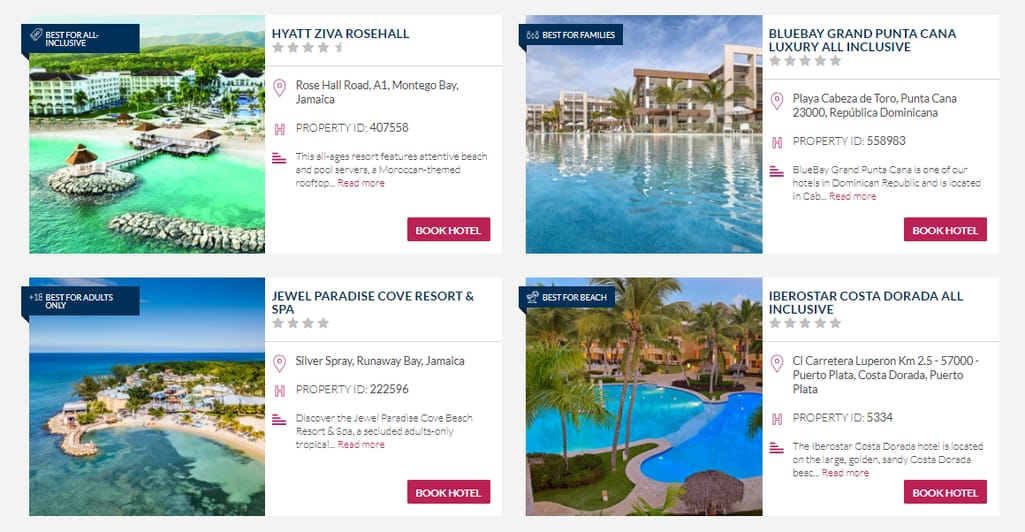 Hotel descriptions with tags to help agents with the choice. Source: Hotelbeds 
The company partners with big hotel brands like IHG, Hilton, Sheraton, Hyatt, NH Hotel Group, Iberostar, Melia, Accor, and Barcelo.
Other travel inventory
Lodging is just one of the travel package components end customers may be interested in, so tours and attractions are here to let them immerse in local culture and learn about the destination. Hotelbeds Beyond the bed portfolio includes18,000+ activities and tickets in more than 680 destinations in 200 countries (i.e., Legoland Windsor Resort, Port Aventura, Big Bus Tours, Gray Line Tours, City Sightseeing hop-on-hop-off bus tours);
24,000+ transfers (private and shared); and
500+ car rental suppliers in over 170 countries (i.e., Goldcar, Hertz, Enterprise, Alamo, Sixt).
Connectivity
Hotelbeds directly contracts hotels,
uses
the services of third-party suppliers, which are the local agents representing numerous hotels from a given zone or region, and partners with many connectivity solution providers (e.g., SiteMinder, e-GDS, HotelRunner, etc.).
Hotelbeds provides APITUDE – a suite of open
RESTful APIs
that support JSON and XML exchange. With these APIs, external developers can integrate their mobile apps and websites with the wholesaler's products accessing up-to-date availability and rate data. The company claims that the API returns a request in less than 1 second.
By the way, if you're not familiar with the
API
concept, read our tech explainer article or watch the short video below to get an idea of how it works in the travel industry.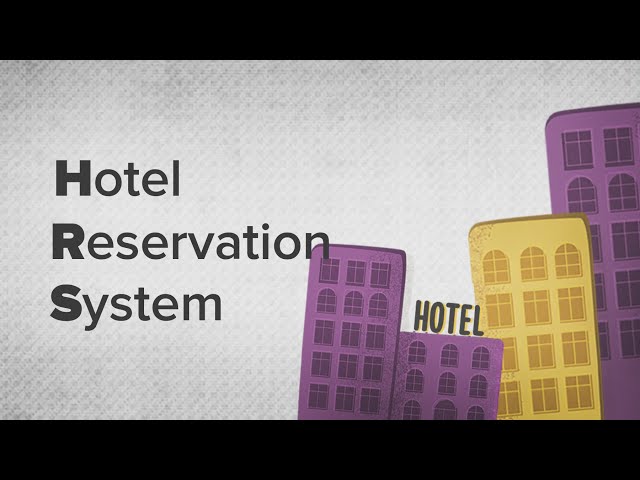 Connectivity in travel explained
Getting back to Hotelbeds, its APITUDE suite includes Booking API, Cache API, and Content API.
Hotel Booking API
.
This API lets users generate lists of hotels with rooms available, confirm bookings, get a list of reservations and booking information, modify (i.e., check-in date or booking holder name), or cancel them (fully or partially). For example, one can request availability using hotel codes (up to 2000 per request), GPS coordinates, by keywords, destination or destination/zone.
Hotel Content API
.
It provides static and dynamic information about hotels available in BookingAPI. Static information includes a hotel location, board types, multilingual descriptions for accommodation and room types, pictures, services, issues or terminals associated with the hotel, contract comments, etc. Dynamic content is related to booking and includes availability dates, cancellation policies, and fees.
Cache API
.
The API enables extensive access to Hotelbeds' prices and availability data, providing a snapshot of a specific moment in time. You can request and use this information to create travel packages or upload prices in a third-party database. Also, the API will be useful if you deal with heavy traffic or if you are integrated with price comparison sites. Cache data updates up to once an hour.
Hotelbeds also provide APIs for booking
activities
and
transfers
. Other distribution options include widgets and white labels (you'll still have to set up the API integration though).
Travel agents can book inventory via a
booking website
, if they choose not to connect via APIs.
In addition to the diverse inventory portfolio, Hotelbeds offers their clients robust tech solutions such as the
Bedsonline
booking engine
for OTAs,
Compass
marketing/analytics tool (with a
Pro version
launched December 2021), and
TravelStack
– a dynamic packaging & ancillary revenue platform for airlines.
WebBeds by Webjet: global presence and a diverse family of brands
WebBeds
, a division of Webjet Limited, is the world's fastest growing B2B travel intermediary and the world's second largest accommodation supplier. Since its launch in 2013, WebBeds has grown significantly through acquisitions and opening new brands. The wholesaler claims to have room inventory in over 368,000 properties (including 30,000 directly contracted hotels) located in 14,000 destinations of more than 170 countries.
WebBeds' clients are retail and corporate travel agents, OTAs, wholesalers, and
tour operators
– totaling an ever-growing network of 44,000+ travel companies.
WebBeds is the family of brands, each with a strong presence in one or several regions.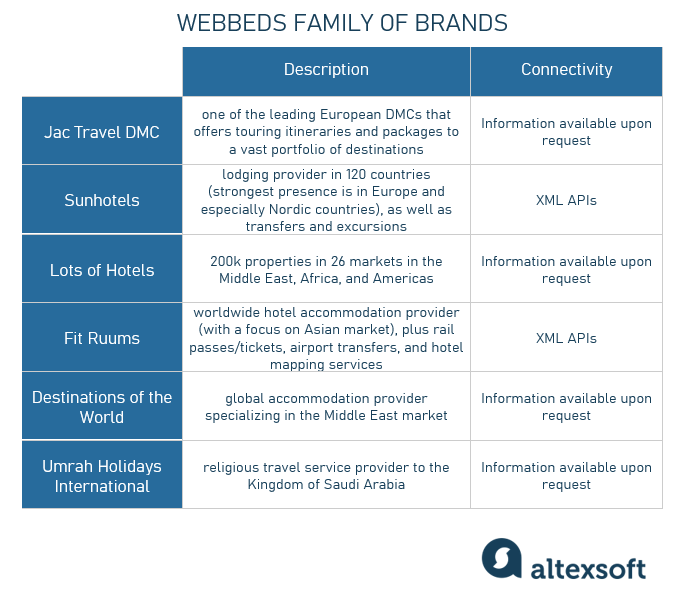 WebBeds family of brands
JacTravel DMC
– one of the leading European destination management companies that offers tailor-made touring itineraries and packages to a vast portfolio of locations.
Sunhotels
– the company operates across Europe and is said to be the market leader in the Nordic countries. Sunhotels offers lodging (200,000+ hotels of all categories) in 120 countries, as well as transfers and excursions.
Destinations of the World (DOTW)
– the global accommodation provider specializing in the Middle East market. DOTW can supply you with more than 130,000 hotels in over 10,000 destinations around the globe.
FIT Ruums
– focuses on the Asian market and offers worldwide hotel accommodation, rail passes, and tickets, as well as airport transfers. One of the things you'll get when partnering with FIT Ruums is
hotel content mapping
.
Lots of Hotels (LOH)
– the company has a solid presence in 26 markets in the Middle East and Africa and has also expanded into the Americas. It has a diverse portfolio of over 200,000 properties, including direct contracts with 2,000 hotels .
Umrah Holidays International (UHI)
– religious travel service provider to the Kingdom of Saudi Arabia, the company has direct connections with more than 600 hotels in cities and partners with local tour operators.
Accommodation
The wholesaler mostly
partners
with small independent hotels saying it serves as an alternative distribution channel. However, it also works with apartments, resorts, and has connections with 65 hotel chains.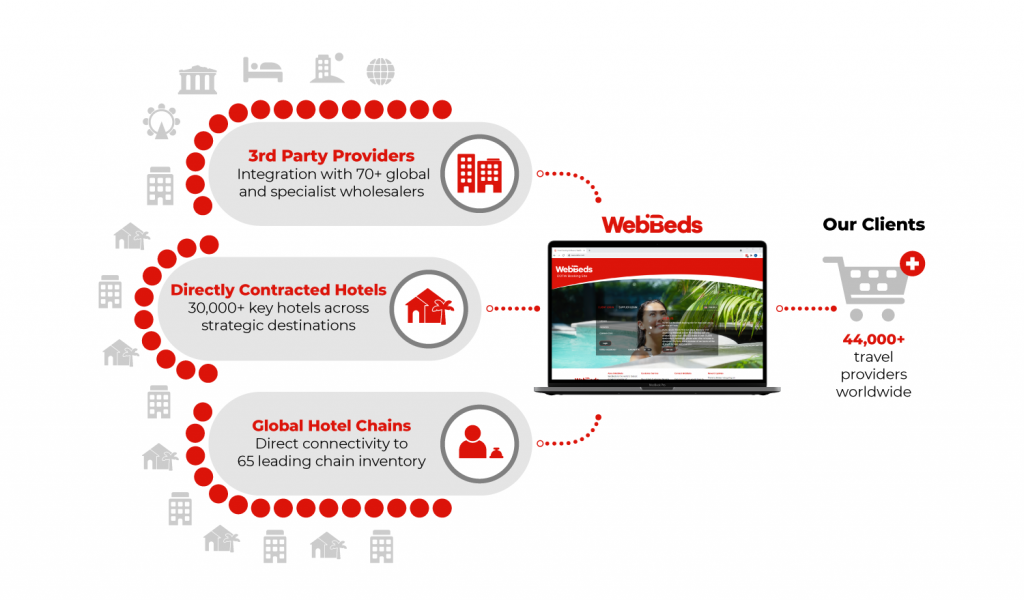 WebBeds' multi-supply aggregation strategy. Source: WebBeds
Other travel inventory
Even though its main focus is accommodation inventory, WebBeds is also connected to a network of 16000+ suppliers of attractions, transfer, sightseeing, and other ancillary travel products worldwide. Besides, in 2016, the Webjet Group acquired
GoSee
, which is a global motorhome and car rental company.
Connectivity
Since WebBeds are essentially a marketplace aggregating inventory from multiple providers, the connectivity options depend on the brand you want to deal with. Most of them offer API integration and direct website booking opportunities.
Jac Travel DMC doesn't have any open APIs, so you have to contact them directly for connectivity information.
Sunhotels have XML APIs to book inventory.
FIT Ruums provide open XML API
Lots of Hotels, Destinations of the World, and Umrah Holidays International don't have their APIs publicly available and have to be contacted for integration options.
HPro Travel (HotelsPro): the biggest portfolio with a majority of European properties, transfers, and activities
HPro Travel
(formerly HotelsPro) is the biggest bed bank in terms of inventory portfolio. It claims to work with 1 million hotels across 70,000 destinations with 15,000 cities in 205 countries. While most of its partner hotels are located in Europe, the company is developing  connections in other regions through investment and opening of new offices around the world. The wholesaler's services are primarily designed for tour operators and travel agencies.
Accommodation
Properties of different categories from budget to luxury make the wholesaler's portfolio diverse. Accommodation types include
budget hotels,
hostels,
beach hotels (resorts),
small town hotels, and
luxury hotels.
Other travel inventory
Distributing not only lodging but also activities and transfers has become a standard among travel and hospitality businesses. So, HPro Travel follows this approach as well dealing with such travel ancillary products as
private, luxury, and shuttle airport transfers in more than 910 cities in 125 countries, to and from 25,000 hotels;
car rental from 500+ suppliers in 175 destinations; and
65,000+ tours and activities, such as tickets to theme parks, attractions, music and sports. The company also caters to experience-seeking travelers and supplies sightseeing tours, air and balloon tours, cycle tours, dinner cruises, and jet boat thrill rides worldwide.
Connectivity
HPro Travel provides detailed
API
documentation that allows developers to establish integrations with third-party systems. Once connected, you'll be able to search for hotel information, cache the search results, check availability, make bookings and cancellations, check booking status, and so on. You'll also have access to static content.
To make use of HPro Travel's JSON APIs, you first have to be registered with their affiliate program.
You can also book via their website directly. HPro Travel's booking interface is very user-friendly, supporting multiple currencies, languages, and payment methods.
Bonotel: luxury properties, activities, and services in the US, Mexico, and the Caribbean
If you focus on high-end travelers, consider
Bonotel Exclusive Travel
. This is a US inbound tour operator and a wholesale distributor of rooms in upscale properties. Its clients are other inbound tour operators, bed banks, and OTAs.
Since Bonotel is very selective when it comes to accommodation suppliers, its inventory portfolio is quite small compared to other wholesalers. However, the company has a large share in its single, luxury segment worldwide having a network of more than 10,000 hotel partners. Also, Bonotel works with hotels in US national parks, for example, Yellowstone, Zion, or Grand Canyon.
Accommodation
Accommodation types include
luxury hotels,
resorts,
villas, and
lodges.
Working with Bonotel, you can distribute rooms of such hotel brands as MGM Resorts International, Four Seasons, Hyatt, Hilton, The Ritz-Carlton, Kimpton Hotels, Mandarin Oriental, Gansevoort, Loews Hotels, Highgate, and others. The company publishes
yearly brochures
with descriptions and photos of partner hotels, T&A providers, so check it out if you're interested.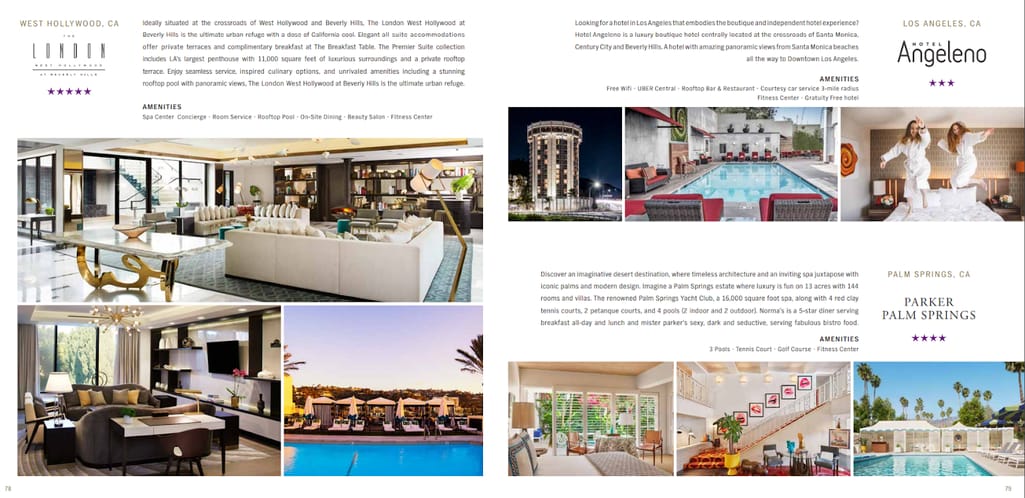 The company showcases partner properties in the annual brochure. Source: Bonotel
Other travel inventory
Bonotel has a division, Beyond by Bonotel, that focuses on leisure experiences and manages corporate events – trade shows, team buildings, conferences, exhibitions, and incentives.
Other options include
luxury concierge service,
airport and city transfers (can be a limo, of course),
golf tee times,
tickets to sporting events (i.e., Super Bowl and the Masters), concerts, and shows (i.e., Cirque du Soleil, David Copperfield, or Magic Mike in Las Vegas), and
tours (i.e., Maverick Helicopters, Pink Jeep Tours).
Connectivity
Bonotel uses numerous
channel management solutions
by DerbySoft, RateTiger, SiteMinder, Travel Click, and other providers for direct connections with hotels.
The company provides
RESTful APIs
with support for XML messaging for integration with its booking platform and managing static hotel content.
Hotel API
is designed for requesting available hotels and rooms based on selected dates and criteria, making reservations, canceling, or modifying them, as well as obtaining booking details. If there is no up-to-date information about the availability of a requested inventory, a user can make an on-request booking. The reservation will be confirmed or canceled within three business hours.
Data API
is used for caching static content like hotel address and contacts, photo gallery, services, and facilities. Hotel content is updated every week and comes in English only. Registered users get email notifications before the release.
Also, users can update hotel content by exporting data files in a ZIP archive in CSV and XLS formats with the
Static Data
service. New static data export ZIPs
appear
on the Developer Services website.
"We add a new entry to the Data Exports RSS feed, which allows you to develop automated solutions which periodically check the RSS feed for updates,"
the hotel content and data specification says.
Bonotel has
certified technology partners
, so you can contact them instead of the provider itself if you need the integration.
Travco: a rich collection of European properties along with global brands and other travel products
Travco
is a hotel wholesaler that provides more than 12,000 hotels located in over 1,000 destinations in more than 100 countries. While the wholesaler can't boast a huge portfolio, its connections with partner hotels are direct. Since its launch in 1988, the family business has grown to 14 offices and regional representatives on four mainlands. The head office is in London.
Accommodation
The wholesaler has a rich collection of European hotels that are the backbone of its inventory. It also partners with global properties noting that new hotels are added to the portfolio every month.
The bed bank works with properties of different status and size, and from five-star hotels to ascetic hostels.
With Travco, you can distribute these accommodation types:
city hotels,
spa hotels,
golf resorts,
countryside retreats,
beach resorts,
hostels, and
boutique hotels.
Various room categories and board basis options are also available.
Other travel inventory
It's not only about hotel rooms. Businesses can add these products and services to their vacation deals:
airport transfers,
restaurants,
sightseeing tours, and
passes to top attractions.
Since the wholesaler doesn't disclose brands of its suppliers, you must contact it for more information.
Connectivity
Following industry standards, Travco offers
two connectivity options
:
Online booking system.
To access hotel inventory, check live availability, and manage individual and/or group reservations, travel agents or tour operators register and log in
here
.
XML API.
You can sell Travco inventory under their brand by setting up API integration.
The content team closely partners with hoteliers to verify hotel information and help them select high-quality photos. The specialists also translate hotel content into nine languages and send newsletters to inform customers about such changes and news as renovations, hotel name changes, or special offers and rates.
GRNconnect: a large variety of alternative lodging and modern connectivity
GRNconnect
belongs to the Indian travel company Aman Travels. It has a strong presence in Europe and the Middle East, with growing connections in Asia and the Americas. Besides direct contracts, this B2B portal partners with over 60 third-party suppliers from different regions offering special rates for their products.
Its distribution network consists of 35,000 agents located in 108 countries.
Accommodation
GRNconnect offers access to 400,000 hotels and over 200,000 apartments around the world, including such alternative accommodation types as
private villas,
chalets,
palaces,
houseboats,
hostels,
private vacation homes, and so on.
Other inventory types
In addition to lodging, GRNconnect has a significant travel ancillary portfolio consisting of 50,000 transfer options and 200,000 T&A offerings. It also offers an AI-based dynamic packaging assistant that suggests recommendations on creating multi-component tours.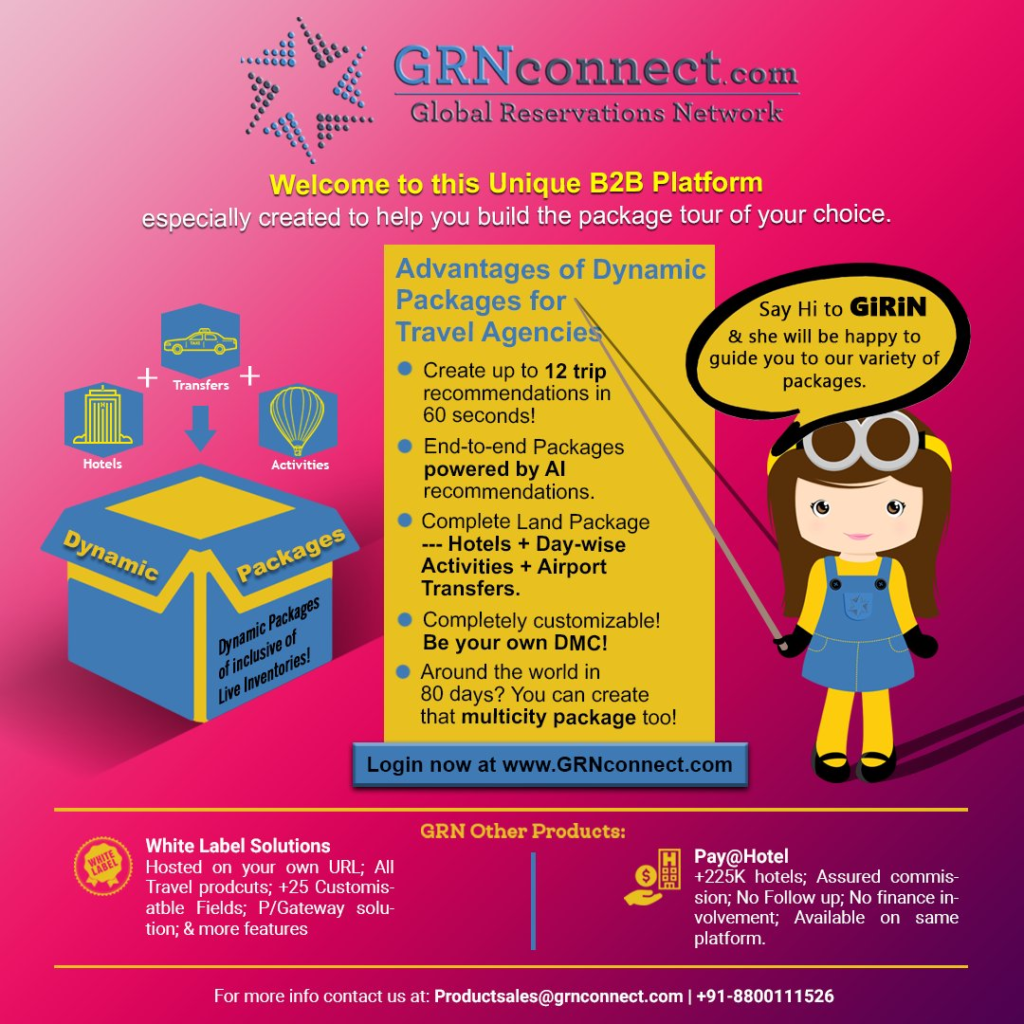 GRNconnect Dynamic packaging promo. Source: GRNconnect on Twitter
Connectivity
GRNconnect offers a convenient white label solution or an opportunity to connect via modern RESTful JSON APIs. To access the documentation, you'll have to register on their platform and send a direct query.
How to choose a bed bank?
It's your decision which bed bank to go with. From our side, we can suggest considering these factors before making your choice.
Market segment.
What do your customers look like and what do they prefer? If they value comfort and a sophisticated atmosphere, among other things, and are ready to pay extra for such accommodation, consider companies focusing on luxury hotels and properties or having a fair share of them in your portfolio. If your goal is to distribute various accommodation types, look at wholesalers with a diversified property selection and, of course, the overall number of lodging suppliers.
Location.
Whether you plan to offer travelers housing in a specific area/region or focus on different countries and destinations, check if a bed bank has partner hotels in parts of the world you're interested in.
Ancillaries.
Contact a bed bank if it doesn't provide detailed info or explore their marketing materials to learn what types of extra services they offer, what suppliers they partner with, and verify whether a rate is better if you have contacted a supplier directly. Knowing this is essential if you provide
dynamic packaging
, predefined travel deals, or upsell after guest arrival.
Connectivity options.
Make sure a bed bank offers the connectivity option you need to run your business. In most cases, the companies offer to book from a website for travel agents and API connectivity. If you choose the API connection, learn about the API speed. In today's online distribution, each millisecond matters, and nobody wants to lose revenue and ruin customer experience due to duplicates, overbookings, or irrelevant availability data.
Ways of sourcing inventory.
Direct connection with hotels is the ideal scenario since the data exchange among a supplier's or wholesaler's system and yours may be faster than if inventory was sourced from third-party providers.
Static data management.
Learn how frequently a bed bank updates static content data to make sure your customers get fresh, accurate information about products and services.
Cloud-based infrastructure.
Cloud computing ensures scalability when it comes to processing booking requests and other procedures. Also, the cloud ensures the security of data. So, our advice is to find out whether the bad bank is migrating or has migrated to the cloud.
Additional features.
Extra features and services such as hotel content mapping or
localization
options may also make a difference.