GDS is one of the first abbreviations you learn in the travel business. Global distribution systems are responsible for providing booking websites with unified access to a massive inventory of flights, hotel rooms, car rental companies, cruises, and much more.
On our own TravelTech forum, we regularly get questions about the pros and cons of different GDSs, integration issues, and basic API information. We've tried to load our best intel about flight connectivity and hotel APIs into separate articles, but the GDS topic is relevant to everyone who's entering the travel booking world.
Here's our guide for understanding the three main GDSs and connecting to them.
What is GDS in travel?
A global distribution system, or GDS, is a computer network operating as a middleman between travel agents and numerous travel service providers. It collects inventory, schedules, and fares from suppliers and gives OTAs and other resellers an opportunity to search and book them using connectivity APIs or agent platforms.
The idea of a global distribution system first appeared due to the necessity to distribute flight tickets. To get a better understanding of how it emerged, how it works, and how to handle it, be sure to watch our video.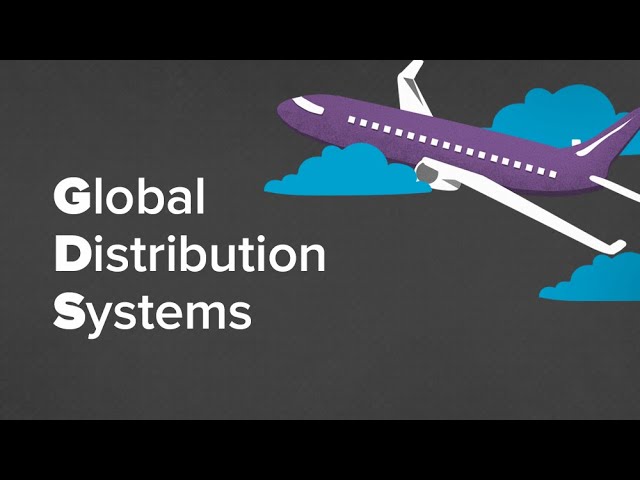 How airline distribution works.
There are various large and local GDSs, but we will talk about the three main ones, covering almost every part of the world. They are Amadeus, Sabre, and Travelport (which combines Apollo, Galileo, and Worldspan).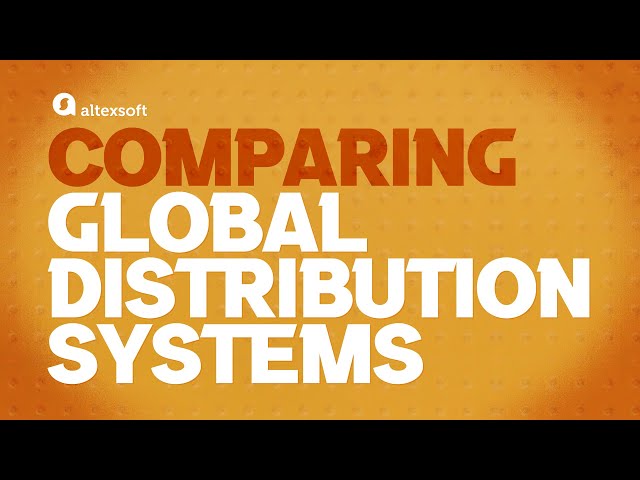 Amadeus vs Savre vs Travelport compared.
Travel content and coverage
The future success of your agency partially depends on the diversity of options that you can suggest. After all, a GDS's main advantage is providing a one-stop shop for various travel services. Here you can compare how broad the industry coverage of each GDS is.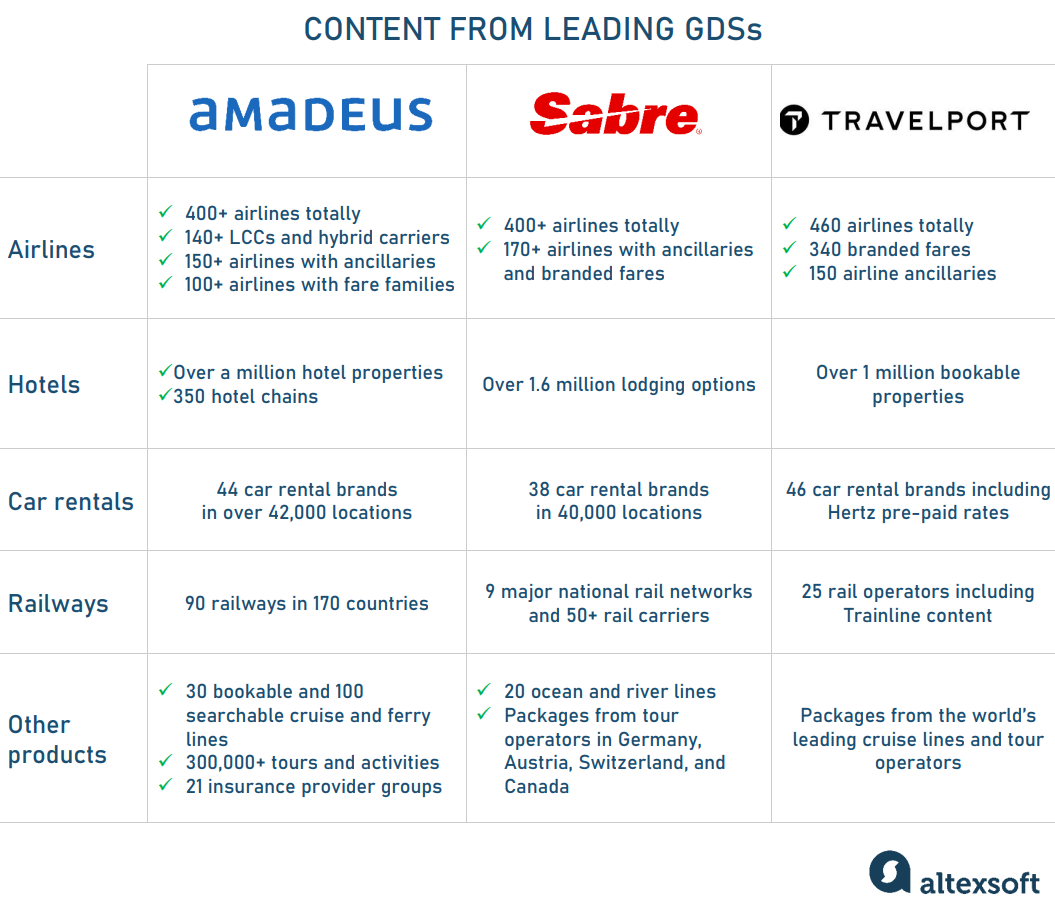 Hotels, flights, or cruises – choose the one that fits your business needs better.
Amadeus inventory and coverage
Headquartered in Madrid, Amadeus was created in 1987 by four leading European airlines — Air France, Lufthansa, Iberia, and SAS. So, initially, its main area of distribution was the EMEA region (Europe, Middle East, and Africa). Today, this GDS has a presence in 190 markets, with over one hundred offices worldwide.
Flights. Amadeus covers 82 percent of the world's scheduled flights, consolidating over 400 airlines, including 130+ hybrid and low-cost carriers (LCCs), with the number one European LCC, Ryanair, among them. Additionally, more than a hundred airlines are available via interline agreements.
Besides bare seats, travel agencies can book ancillaries and fare families from over 150 and 100 suppliers correspondingly. Sellers also enjoy real-time access to unique deals from 120 airlines that host their inventory in Altéa Reservation — a passenger service system (PSS) run by Amadeus.
Hotels. The GDS amasses over a million unique properties derived from leading bed banks and 350 hotel chains. It also provides access to thousands of alternative accommodations partnering with short-term rental aggregators such as Booking.com and TrustedStays. By the way, two of the world's three largest hotel companies — Marriott International and IHG — chose a cloud-based central reservation system built by Amadeus to streamline booking processes.
Other content. Travel agencies can also take advantage of deals from
44 car rental brands delivering services across about 42,000 locations worldwide;
90 railways in 170 countries;
300,000+ tours and activities;
over 30 bookable and over 100 searchable cruise companies and ferry lines; and
21 insurance providers.
All travel content is available on the Amadeus Travel platform, supported by 16,000 professionals (developers, industry experts, local market specialists, etc.) and can be displayed via online self-booking tools, travel agency front office solutions, mobile apps, and more.
Sabre inventory and coverage
Sabre descended from a computer reservation system initially developed by American Airlines. No wonder the GDS mostly works for the Americas, headquartering in Texas and having 7 other offices in the US, Canada, Brazil, Mexico, and Uruguay. Yet, Sabre is also widely represented in the EMEA and APAC (Asia-Pacific) regions, with 30+ and 17 offices respectively. Overall, Sabre serves over 400,000 travel agencies in more than 160 countries globally.
Flights. Sabre links travel agencies to over 400 full-service and low-cost carriers, with 170 of them providing ancillaries and branded fares. Similar to Amadeus, Sabre runs its own passenger service system SabreSonic.
Hotels. Sabre agents have access to over 1.6 million lodging options. The company is chosen to serve as a central reservation system provider for Hyatt hotels — the inventory migration will start in 2024.
Other content. Sabre capitalizes on content from 38 car rental brands delivering services across 160 countries, 9 major national rail networks and over 50 rail operators, 20 ocean and river cruise lines, and tour operators from Canada, Germany, Austria, and Switzerland.
Travelport content and coverage
Travelport, the smallest of the Big Three, actually combines three GDSs — Galileo, Worldpsan, and Apollo. With the head office in London, it operates in 180 countries and is almost evenly represented across the world, outperforming in Eastern Europe and Africa while growing in Asia and the Americas.
Flights. Travelport gives access to 460 airlines, 340 branded fares, and ancillaries from 150 carriers.
Hotels. After striking up a partnership with Booking.com, Travelport added pre- and post-pay rates across 140,000 properties and increased the number of accommodation options to over a million.
Other content. Travelport offers content from 46 car rental brands, including Hertz pre-paid rates, 25 rail operators, and packages from leading cruise lines and tour operators. In 2022, Travelport integrated with Trainline, Europe's leading rail booking platform, enabling GDS clients to reserve and manage cross-European travel by train.
NDC support
New Distribution Capability, or NDC is an industry initiative to drive a rich shopping experience across the air market. With major carriers like Lufthansa, American Airlines, and United withdrawing their offers from indirect channels powered by legacy EDIFACT protocol, GDSs can do nothing but accept the new reality and slowly introduce NDC capabilities.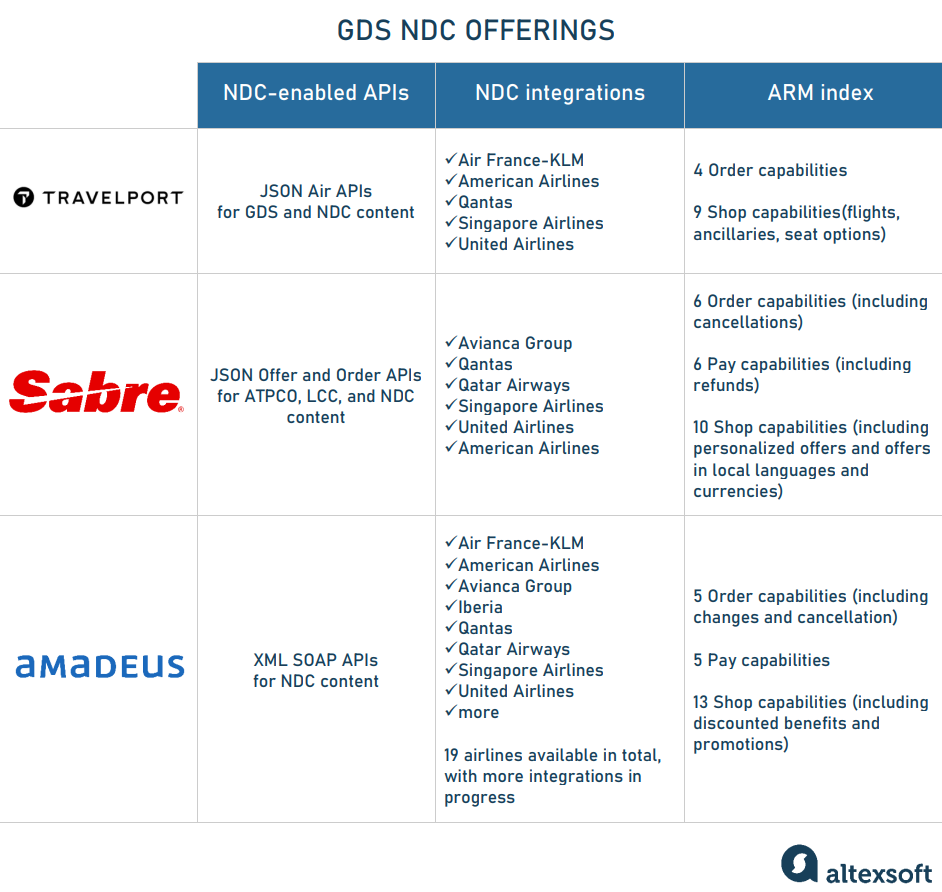 NDC offerings from GDS and verified ARM capabilities as system providers for sellers.
All three major GDSs participate in the Airline Retailing Maturity (ARM) index program launched by IATA in 2022 to replace its 4-level NDC certification. The ARM index encompasses 76 NDC capabilities divided into six groups: Shop, Order, Pay, Settle, Account, and Setup. GDSs differ in the number of verified NDC features and live integrations with airline NDC content available.
Travelport is proud to be the first GDS to introduce the GDS channel. Currently, agencies can source NDC content from Qantas, United Airlines, American Airlines, Singapore Airlines, and Air France-KLM using APIs or the Travelport + retail platform. The GDS verified 13 NDC capabilities as a system provider for sellers.
Sabre maintains access to NDC offers from Avianca Group (Columbia), Qatar Airways, Qantas, Singapore Airlines, United Airlines, and American Airlines. Its REST/JSON Offer and Order APIs support shopping, booking, fulfillment, and several servicing features. Overall, the GDS verified 22 ARM capabilities as a system provider for sellers and 18 capabilities as a system provider for airlines.
Amadeus delivers NDC content from 19 airlines as a part of their Enterprise subscription meant for large travel players. This includes American Airlines, United, Singapore Airlines, Air France-KLM, Qantas, Qatar Airways, British Airways, Lufthansa, Finnair, and others, with more integrations in the queue. The NDC content is available via XML-based SOAP APIs and Selling Platform Connect. The GDS supports 23 ARM capabilities for sellers and 36 features for airlines in Altéa Reservation PSS.
To understand what NDC is, its benefits, and implementation challenges, read our articles explaining NDC in air travel and NDC for airlines.
GDS API functionality
If you have been working in this business long enough, you know that API connectivity is one of the main methods of data exchange in the travel industry. All three GDSs have a wide assortment of travel APIs to power travel agency software, tour operator tools, B2B travel platforms, car rental reservation systems, and other solutions.
Amadeus APIs
Amadeus was the first GDS to launch APIs back in 2000. Today, Amadeus APIs, powering thousands of web and mobile applications, fall into two large categories — Self-Service for newcomers and travel startups and Enterprise for big players.
The Self-Service subscription comes with APIs based on modern REST architecture and supporting JSON format for data exchange. Currently, around 40 APIs in seven categories are available for the development of booking engines and other types of travel software.
Flight APIs enable automating the flight booking process, from offers search to branded fares upsell. You can also take advantage of additional features such as travel recommendations, flight delay predictions, finding all destinations served by a particular airline, and many more. The number of APIs in this category exceeds 20. Note that APIs in the Self-Service catalog don't allow for airline ticketing, so you need to complete the booking process with a partner host agency or air consolidator.
Cars and Transfers APIs facilitate transportation arrangements by standardizing content from global providers, completing bookings, and allowing you to manage and cancel reservations easily. Car rental APIs cover private transfers, taxis, airport express trains and buses, private jets, transfer helicopters, and more.
Hotel APIs cover search and booking across 150,000 hotels and help you find accommodations in a particular area. The search is facilitated with autocomplete functionality. You can also enrich results with travel ratings — the correspondent API applies sentiment analysis to hotel reviews.
Destination Experiences APIs return
a ranked list of attractions for a specific area, with coordinates, categories, and popularity scores calculated by the AVUXI TopPlace algorithm, processing millions of online comments and photos; and
Another feature in this category is finding cities that start with a specific string of letters.
Itinerary Management APIs fulfill two tasks: building a complete itinerary from different booking confirmation emails and predicting the purpose of the trip to deliver a more personalized experience.
Market Insights APIs enable you to make decisions based on information about the most traveled and booked destinations and the busiest travel periods. The insights are extracted from Amadeus's historical flight data, including traffic summary and the total number of passenger name records (PNRs) created.
COVID-19 and Travel Safety APIs deliver detailed information on restrictions and safety situations for above 40,000 cities across the world. It encompasses scores for women's safety, health, theft, political freedom, physical threats, and LGBTQ safety.
The Enterprise subscription encompasses the Self-Service catalog and old-style SOAP APIs, which still prevail in Amadeus's portfolio. Totally it contains over a hundred APIs and offers the following key capabilities unavailable in the Self-Service tier:
air ticketing at booking time,
NDC flight booking,
travel insurance booking,
generating virtual credit cards and paying with them, and
rail booking.
Besides rich functionality, enterprise clients enjoy 24/7 technical support, customized pricing, and the services of a dedicated manager, but to join the club, you must be IATA/ARC-certified.
Note that Amadeus doesn't reveal cruise content via APIs making it available only on its cruise portal.
To dive deeper into business and technical details, read about our hands-on experience with Amadeus API integration.
Sabre APIs
Sabre leverages both SOAP APIs and REST APIs, with the former offering richer functionality and the latter being more developer-friendly. The connectivity suite encompasses
Air APIs, including REST/JSON Offer and Order APIs to integrate NDC, ATPCO, and low-cost deals;
Hotel APIs;
Car APIs;
Cruise APIs; and
Rail APIs.
Besides separate endpoints, Sabre offers orchestrated APIs that join multiple operations into a single call. For instance, you can search for air options, check availability and prices, and book a flight (create a PNR) in one request. Other pre-built workflows are air ticket issuing, NDC air offer fulfilment, car reservation, and more.
To better understand how to tap into Sabre APIs, read about our hands-on experience with Sabre API integration.
Travelport APIs
Like Amadeus and Sabre, Travelport offers RESTful/JSON and SOAP/XML APIs to create booking apps and travel websites. There are four API groups available:
Air APIs with access to EDIFACT/ATPCO, NDC and LCC content;
Hotel APIs connecting to properties across 180 countries;
Car APIs to reserve cars across 38,000 locations; and
Rail APIs to book tickets from five global carriers.
You can try and test REST APIs using 90-day trial credentials. The trial period for SOAP APIs is 30 days.
GDS tools
Today, GDSs work not only as content aggregators: They are also the largest tech providers in travel. In addition to APIs, Amadeus, Sabre, and Travelport offer a wide range of ready-to-use software products for retail travel agencies, travel management companies (TMCs), tour operators, airlines, hotels, and other players. Here, we'll do a short review of key off-the-shelf solutions for travel sellers built on top of their content APIs.
Amadeus Selling Platform Connect, Cytric, and Outpayce
A major product of Amadeus — Selling Platform Connect — enables travel agents to work from any device and any location with an Internet connection. Targeting small and medium businesses, the cloud-based platform requires no installation and enjoys automated updates, so everyone in the organization uses the same version.
Amadeus also has a separate suite of solutions for in-house corporate travel booking — Cytric Travel and Expense. It comes with a mobile app for traveling employees, expense management tools, intuitive dashboards, CO2 compensation reports, and more.
In 2022, the company launched the B2B payments platform Outpayce, fully integrated with the Amadeus tech ecosystem. It allows travel sellers to pay their suppliers with virtual cards and create and manage B2B wallets. The solution connects travel businesses with over 50 card issuers.
Sabre Red 360, GetThere, and Conferma Pay
Sabre agents can take advantage of Sabre Red 360, a marketplace connecting sellers to suppliers. It covers the content accessible via APIs, including NDC offers. In 2023, platform users started to receive carbon offset data when searching for flights. This option enables them to identify the biggest air polluters and make bookings with sustainability in mind.
Sabre's offering for TMCs and corporate clients is called GetThere. It works on top of Sabre Red 360, serving thousands of global and mid-size enterprises, including Visa and JTB Business Travel, across 11 countries. The cloud-based software covers travel booking and reporting functionality, being available on desktop, tablet, and mobile devices.
Similar to Amadeus, Sabre owns a B2B payment platform — in 2022, the GDS acquired its longstanding partner Conferma Pay. It links travel businesses with over 50 banks capable of releasing virtual credit cards in 100 currencies.
Read our article on virtual credit cards in travel to learn about the benefits and drawbacks of this payment method.
Travelport + and Deem
Since 2021, Travelport has been actively developing its retailing platform Travelport+. It's estimated that the software saves agents 1.5 hours a day — if compared to booking through the traditional GDS green screen (we'll talk about it later on.) According to Travelport CEO Greg Webb, over 80 percent of the company's travel agency customers used Travelport+ in 2023.
In 2023, Travelport upgraded its flagship product with Smartpoint Cloud, a technology helping travel agents to create tailored travel packages. Another development is the recent integration of Travelport+ with a corporate booking tool Deem which is expected to double the GDS's global footprint in 2024.
As for B2B payments, Travelport doesn't follow the trend. Instead of purchasing a platform to streamline transactions, the company got rid of one in 2020. Namely, it sold its payment business eNett and parent company Opal to rival brand WEX.
Pricing and time-to-market
One of the primary concerns of any business is the price of integrated technology. None of the three major GDSs will give you a straight answer. Amadeus, Sabre, and Travelport want you to contact them directly to get the details.
The pricing on any GDS will likely be shaped based on the following factors:
the market you would like to expand on;
the technologies you're going to use;
your selling volumes (which directly impact the number of API calls); and
the quality and quantity of content you want to obtain.
Subsequently, for any of the three GDSs, it's impossible to predict the time to market. We can at least say that it depends on how fast you are ready to pay the quoted amount of money, how well your product strategy is built, and whether a suggested technology is easily compatible with your existing system.
GDS systems: how to connect to them
Thanks to the rise of Internet booking engines, you no longer need to know all ins and outs of a GDS to buy travel. However, working directly with a global distribution system gives you a lot of benefits over non-GDS agents — especially when it comes to flights. First-hand access to GDSs remains the fastest and most efficient way to find and reserve airline tickets at attractive prices. Here are standard steps for tapping into a GDS of your choice.
Apply for acceptance
To become a GDS agent, contact a provider and complete an application form. For this step, you have to submit information about your business, such as proof of past performance and industry certifications. For example, if you're going to handle air ticketing, it's mandatory to have IATA accreditation (or IATAN/ARC numbers for US travel agencies.)
Look through our comprehensive guides on how to get IATA accreditation, ARC accreditation options, and Airline Reporting Corporation and IATA Billing and Settlement Plan.
Small businesses and individual travel agents that can't afford pricey industry accreditations can book travel under the umbrella of a host travel agency or an air consolidator. In this case, you need to submit your host's credentials.
To grasp how this scenario works, read about host travel agencies, airline consolidators overview, and booking and ticketing for non-IATA travel agencies.
Pass the GDS terminal training
Unlike modern booking platforms, a native GDS workspace, commonly called a green screen or terminal, has a command-line interface with text-based inputs and outputs. So navigating Amadeus, Sabre, or Travelport is a complex technical skill that involves proficiency in operating and understanding a lot of domain-specific commands and codes. No wonder becoming a GDS expert takes intense training and constant practice (daily booking under mentor supervision for six months to a year.)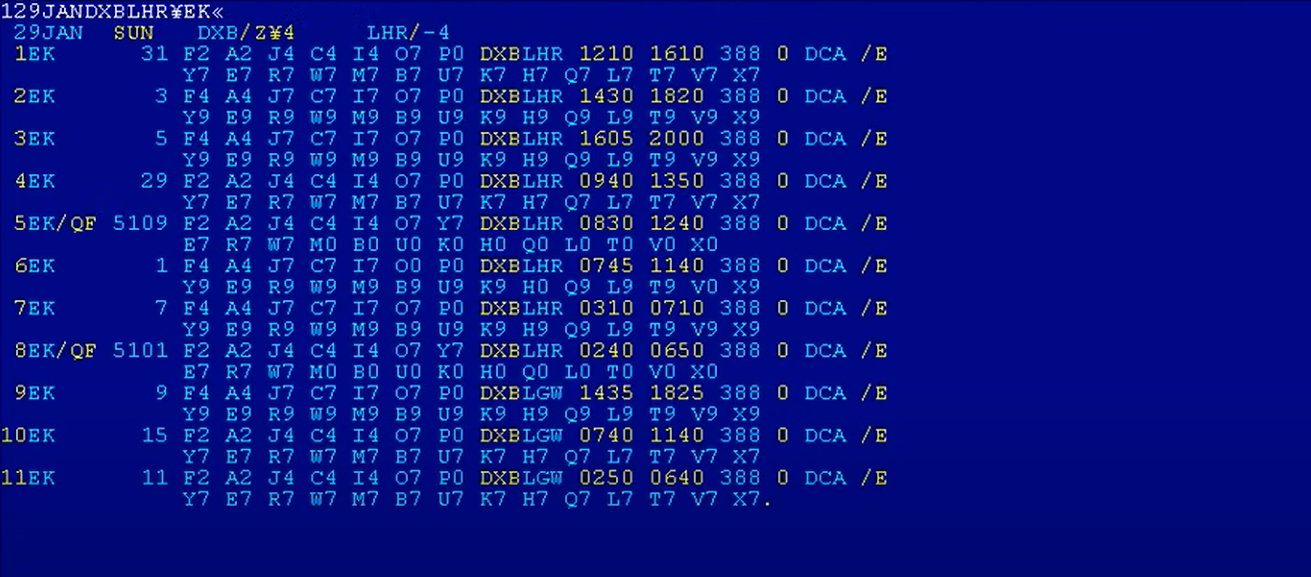 That's what a Sabre green screen looks like.
While all global distribution systems are very much alike, each of them has its own distinctions so you must focus on the one you will actually use. There are a lot of relevant courses provided by GDSs, IATA, and educational platforms like Udemy. The price varies depending on duration, level (basic, advanced, etc.), particular knowledge areas covered, and other factors.
Besides old-school terminals, GDSs offer more modern, user-friendly interfaces for travel agents, such as Sabre Red 360, Amadeus Selling Platform Connect, and Travelport+. They significantly cut training time and enhance productivity. Yet you still need to switch from GUI to manual commands to complete the reservation. That's why global distribution systems require users to accomplish a GDS-provided or approved training course to get access to their innovative products. Note that even the slightest errors made during the booking result in debit memos — fines paid by travel agencies.
Negotiate competitive deals
The success of your GDS cooperation depends on the relevancy of data being submitted by suppliers. So, to obtain the most profitable and beneficial deals from suppliers via GDSs, you should arrange them yourself. GDSs, in turn, allow you to establish the rates negotiated with providers.
Integrate with GDS APIs
Instead of a manual search routine via GDS interfaces, online travel agencies can automatically source and book travel content using GDS APIs. The process of API integration requires a skilled tech workforce and involves additional contracts and negotiations. It may take from several weeks to several months to develop and test connections as well as certify them with a GDS.
If not GDS, then what? Alternatives to keep in mind
Generally speaking, GDSs have two main use cases:
Travel agencies, OTAs, and TMCs that are striving to cover all travel management needs; and
Travel agencies, OTAs, and TMCs where air flight distribution is an integral part of the business.
That being said, GDSs are the main source of inventory for flight distribution. So, if your main focus is hotels, consider other options.
Large OTAs
Anyone working in the travel industry can hardly deny the power of OTA mammoths Expedia and Booking.com. Being dominant in the market, they can also provide distribution support to a smaller business, taking their own profit from it.
Expedia Group has over 1 million properties across its subsidiaries. They can be accessed via Expedia Partner solutions. Also, it has a REST-based Rapid API fueling end-to-end accommodation booking flow for OTAs and other players. It provides
access to 700,000 global accommodations and over 25 different property types, and
over 29 million property images, 21 million room images, 82 million travel ratings, and 57 million reviews.
The user-generated content is updated and becomes available via the API every day.
Booking.com currently has over 2 million properties listed in an affiliate program allowing for different types of services. It includes multiple widgets, banners, search boxes, and many more. The platform also exposes Demand API that supports both XML and JSON formats and covers:
live rates and availability,
hotel content, and
booking processing capabilities.
The API not only provides the widest variety of accommodations online but also enables you to choose which options will appear on your website in the first place. It also helps with keeping track of your earnings.
Wholesalers
For many OTAs, wholesalers or bed banks are the main source of inventory. Some large players, like Hotelbeds, tend to offer high-level customer service, advanced APIs, large inventory, and further expansion in the market.
In this distribution model, a wholesaler signs a contract with a hotel for a particular period of time to sell a set of its rooms for a fixed price. The rooms are then sold to OTAs and TMCs. Hotels and wholesalers are striving to keep their rooms filled to capacity and resort to having to negotiate special room rates.
Direct connection to providers
Direct connectivity to transport and hospitality providers is also one of the appropriate options to focus on. Usually, it's available via two-way API communication that allows exchanging data between different systems. With the direct connection, an OTA avoids middlemen and gets relevant and updated content. The fewer third parties there are, the more competitive pricing you have.
Which GDS system is the best?
No doubt, GDSs are the best at... globally covering distribution for travel networks. Sure, they have drawbacks like extensive requirements, long confirmation processes, and abundant resource consumption. And there's still room for growth for GDS adoption of low-cost carriers and NDC content.
Apart from that, there's no straight answer to the question of which GDS is better: Amadeus, Sabre, or Travelport. The answer is more complicated, and we hope this article helped clarify things.
If your travel company is not that tech-savvy, employ a travel technology consultant, and consider other options.