In April 2023, American Airlines shook the air travel market by making about 40 percent of its fares bookable exclusively via new distribution capability (NDC) channels. Agents who didn't upgrade their technologies lost access to a significant volume of content. And though some of them still cherish the hope that AA will change its mind, most specialists expect other carriers to follow suit and eventually force the entire industry to modernize.
In our previous article, we discussed the impact of NDC on air travel and NDC implementation scenarios for ticket resellers. This time, we focus on the airline side of the story. With the help of industry experts, we figured out what carriers should keep in mind when getting started with NDC and what they can do to facilitate NDC adoption.
New Distribution Capability in air retailing
New Distribution Capability, or NDC, is an industry initiative to enable modern retailing and a rich shopping experience — similar to what customers have with Amazon — in the air travel market. Adopted by IATA in 2012, it introduces an XML schema as a standard method for exchanging air content instead of the EDIFACT protocol that emerged in the 1980s. It still fuels travel retailing via global distribution systems (GDSs.)
Along with shifting from 40-year-old EDIFACT to 25-year-old XML (which, as you see, is not actually that new), airlines are gradually moving from the traditional flight booking process that has been here for the several last decades. Watch our video to learn about the long-established scenario that still dominates the aviation business.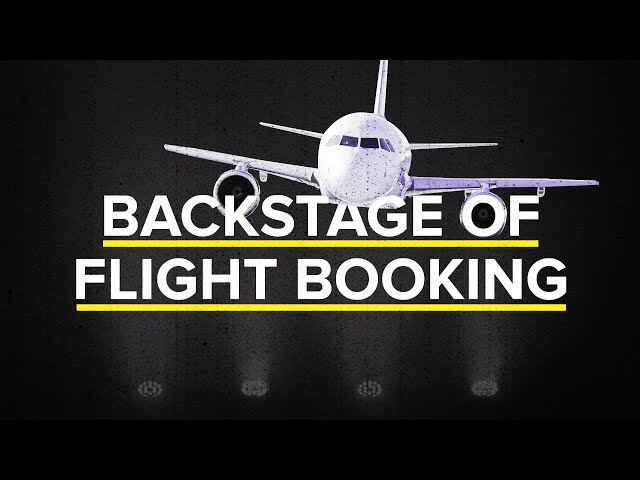 Key steps and systems in the flight booking process.
The main problem with the traditional flow is that carriers receive very slim profit margins for carrying a traveler from point A to point B, ranging from 3 to 5 percent on average. Ancillary revenue and unbundling the flight itself from extra services are what help airlines gain profits. But old data exchange formats hinder these retailing capabilities. NDC is here to change this. But before diving deeper into the details of this revolutionary transformation, we must figure out what NDC is NOT.
NDC misconceptions
Having been there for over a decade, NDC still causes confusion and misunderstanding across the industry. Below we address the most common misconceptions about what this term really means.
NDC is not a piece of software or a database. As we said, NDC is a data exchange approach based on an XML protocol.
NDC is not an API (application program interface). "NDC is a rule dictating how an API must look," Viktor Nekrylov, Managing Partner and Co-Founder of DRCT, an IATA-certified tech provider and NDC aggregator, explains. "But not all airlines follow it. Those who do, theoretically, make it easier for air content users to integrate with carriers. In practice, it's not so since there are a lot of versions of NDC APIs."
No matter the version, the most important thing is that NDC dictates an API-centric approach: Systems and apps involved in NDC workflows are supposed to communicate via API calls, which enables fast and efficient data exchange.
NDC is not a travel-industry-wide standard. Currently, NDC works for air travel only and doesn't cover hotels or car rentals. "Keeping it airline-centric is a big mistake," Ann Cederhall, Travel Technology Strategist and Educator, shares. "If you want to sell other products, you have to talk to players in the industry who offer those products and truly become API-centric. The IATA concept of One Order is working towards the standard to include more products."
NDC is not about direct distribution or lowering costs. One more popular misunderstanding relates to the NDC goals. "We often hear from airlines that they believe NDC lower distribution costs, but it was never the reason why it was introduced," Esther Samtlebe, Senior Consultant at Lufthansa Consulting, clarifies. "Also, NDC was never meant to enhance direct distribution. The main purpose of NDC is to enable airlines to customize and present their product offering through the indirect channels like they already do it on their websites."
NDC is not a synonym for modern retailing. Nor is it the same as dynamic pricing, personalization, and other best practices of eCommerce. You can retail with or without NDC — it just serves as a vehicle to modernize airline distribution. "In the old days, the only way I could get a lounge was to buy a business class ticket or reach a gold membership level," Ann Cederhall comments. "But all of a sudden, the rules of the game changed… And the low-cost airlines were the first to unbundle services and products, enabling me to buy lounge access and many other products. NDC is one of the drivers of change to allow airlines to sell this unbundled content."
Now, let's see what NDC brings to the table and how it fulfills its promises.
Rich data transmission
EDIFACT has been faithfully serving the airline industry for some forty years. High-structured and compact, it successfully copes with the grown passenger numbers but fails to keep up with the needs of modern e-retailing.
The minimalist pre-Internet protocol can transmit only basic information on flights and a limited number of ancillaries with EDI codes. Since it's a legacy technology, adding new products takes time and is often costly.
A much more flexible data exchange standard, XML allows for quickly introducing new features and delivering rich content — texts, pics, and videos. It empowers airlines to provide detailed descriptions of their services and sell a wide range of extras — from lounge access to inflight wifi and car rentals. "You can show in indirect channels what your product looks like," Esther Samtlebe confirms." You can present your seat, your cabin. Plus, you're much more flexible in customizing your offer."
Control over the content
NDC entails not only moving from EDIFACT to XML protocol but also a shift in control that impacts the entire shopping process. In the old scenario, it's a GDS who creates an offer from three pieces of content: a public fare extracted from the air price database ATPCO, a schedule from OAG or Cirium repositories, and availability from an airline's passenger service system (PSS.)
Read our article Airline Reservation Systems and Passenger Service Systems to learn more about key PSS providers and their offerings.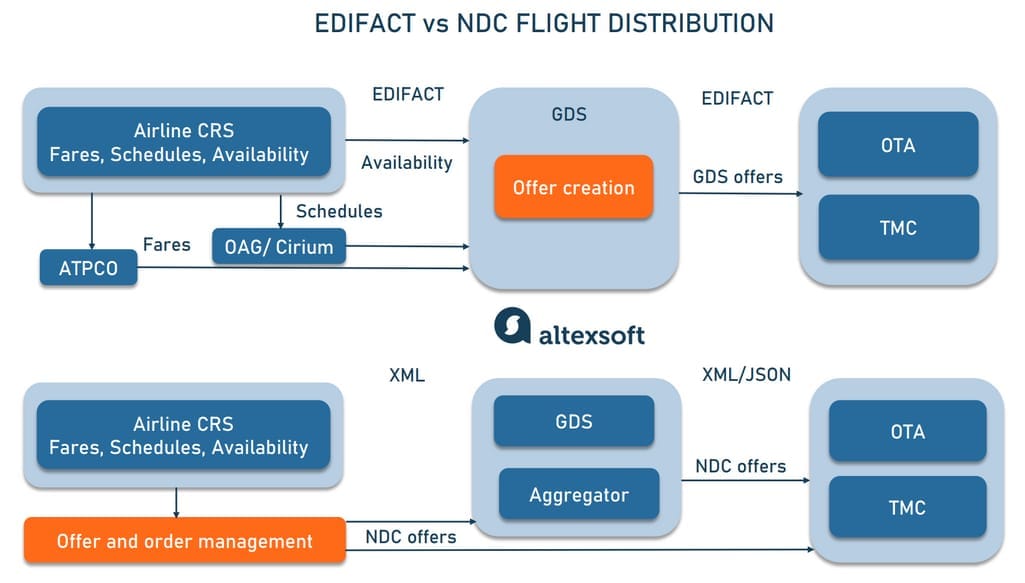 How NDC is changing the flight booking process.
With NDC, a carrier itself builds an offer and can customize it based on the information about a specific customer — in other words, to take advantage of personalization. Control over content also makes it possible to dynamically price products and services in real time, depending on current market conditions.
At the end of the day, NDC creates a foundation for the offer and order framework used in most retailing sectors.
Offer and order framework
People encounter the offer and order framework whenever they buy something on an eCommerce platform. They look through various offers on, say, bicycles and make the purchase decision based on the size, type, price, and other parameters.
Suppliers can group products — like bikes and helmets — in bundles and sell them at lower prices than they would be separately. Or recommend a complimentary product with a discount once you place something in the shopping cart (cross-selling.) Or suggest upgrading to a better model than you are buying (upselling.) All these tactics significantly boost the average purchase value — for example, Amazon attributes 35 percent of its revenue to cross-sells.
When a customer clicks the "Buy now!" button, an offer becomes an order that contains product details and serves as a starting point for all further steps — adding or replacing products, making changes and cancelations, fulfilling, and so on.
Low-cost carriers (LCCs) were the first to tap into the modern framework and provide the same shopping experience to end consumers as other e-commerce platforms. "They introduced internet distribution and retailing," Ann Cederhall says. "And this is where we are today, with traditional airlines saying: "'Oh, my God, you know, 50 percent of the net profit comes from ancillaries. Why can't we do the same? Why are we sitting here with these tiny margins?'"
NDC enables carriers to employ an offer-and-order model when selling on indirect channels, which opens new growth opportunities. To succeed in this endeavor, airlines need a proper IT environment and a global change in processes, operations, and mindset. Let's first look at the technical part.
NDC tech infrastructure: components and partners
From a technical point of view, NDC implementation involves two steps
building an NDC layer on top of the airline's passenger service system; and
integrating with NDC distribution channels.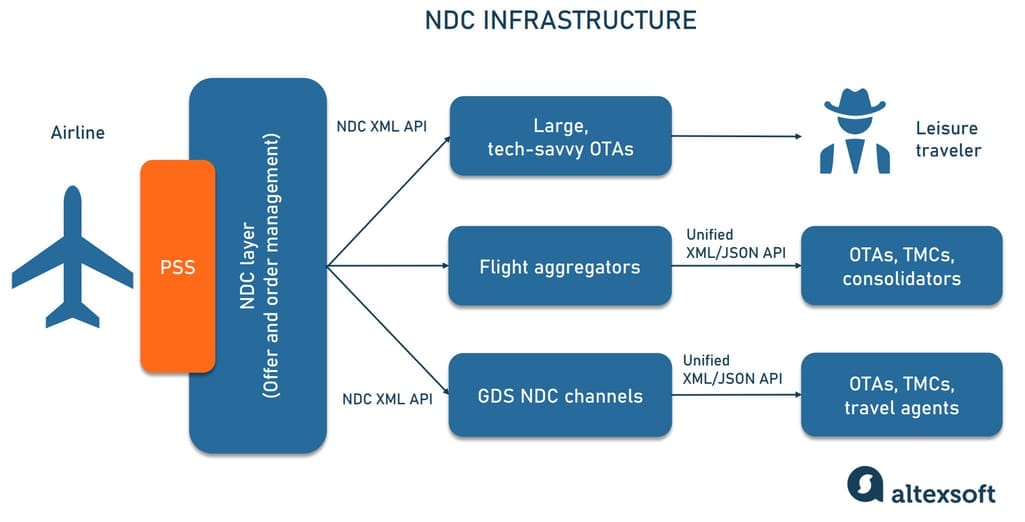 NDC infrastructure and key distribution channels.
Currently, airlines can select from a wide range of partners in each space, with more options appearing yearly. Yet, the right choice will depend on many factors.
NDC connectivity layer
An NDC layer is more than just an API that connects two systems. — it has to solve a lot of additional tasks, which include but are not limited to
putting together content from your PSS with content taken from other sources,
ensuring the proper booking process,
handling prices, and
creating and managing offers and orders.
There are several ways to acquire the NDC layer: working with your PSS vendor, partnering with an NDC platform provider, or developing a custom solution.
"LCCs typically control their own APIs that are used to implement direct connect solutions," Ann Cederhall comments on different approaches. On the other hand, "many traditional airlines have chosen to work with third-party tech providers like, for example, Accelya to help them connect with the agencies. Other carriers manage their own connections. The main difference is whether the tickets are issued by travel agents or on airline stock. These are two different processes, and it's important to understand what technology is available and how it's applied to the NDC connection. It is critical that you can service the NDC tickets in a seamless way."
NDC layer from a PSS vendor. In some cases, this option seems to be the most natural one — but of course, it depends on who you are and who your vendor is. Say, PSSs hosting low-cost carriers are typically API-centric, allowing resellers to connect directly with an airline's inventory. The biggest PSS for LCCs, Navitair New Skies, owned by Amadeus, comes pre-equipped with NDC Gateway, which supports complete offer and order capabilities.
Customers of Amadeus Altéa PSS may take advantage of Altéa NDC solution that covers end-to-end NDC booking flow and enables airlines to sell tailored offers via the NDC channels of their choice. Sabre, another major GDS, enhanced its SabreSonic PSS with the REST/XML APIs and Commercial Platform that provides NDC-enabled offer and order management.
When NDC support from a PSS is insufficient (if there is any), airlines must consider other options.
Pre-built NDC platform from dedicated providers. Airlines can contact reliable providers of NDC offer and order management platforms. Below we'll review a few well-known players.
Accelya's FLX Passenger Platform. The solution is powered by FLX NDC API from Farelogix, an IT company recognized as an NDC pioneer. It covers the end-to-end merchandising process, gathering over 25 percent of the NDC traffic globally. The platform integrates with Billing and Settlement Plan (BSP) processes designed by IATA to handle transactions between airlines and travel agencies. By the way, Accelya, founded to provide BSP services in 1976, currently covers two-thirds of the world's BSP operations.
Read our article Airline Reporting Corporation and IATA Billing and Settlement Plan: How They Work to understand better why ARC and BSP matter.
Among carriers who chose Accelya-Farelogix as an NDC tech partner are Aegean Airlines, American Airlines, Copa Airlines, Emirates, Lufthansa Group, Olympic Air, Qantas, Qatar Airways, Hawaiian, and more.
Datalex. The Irish provider utilizes the latest NDC 21.3 schema version to deliver offer and order management capabilities, enhanced with continuous pricing and bundling. For five years, it supported the NDC strategy of Scandinavian Airlines (SAS) until, in March 2023, the carrier switched to Amadeus as its new tech partner. Today, Datalex is working with easyJet, Virgin Australia, and LATAM to implement full shop, order, and payment, test new ancillaries, and optimize prices.
OpenJaw. Another vendor from Ireland is owned by TravelSky, the largest GDS, PSS, and airline IT provider in China. It maintains NDC partnerships with Cathay Pacific and All Nippon Airways (ANA), the first NDC-enabled carrier in Japan. The OpenJaw t-Retail platform leverages the latest 21.3 NDC schema for most capabilities — including personalized offers based on passenger type and loyalty programs, offers in local languages and currencies, and additional ancillaries (meals, lounge, wifi, insurance, and more.)
TPConnect. Based in Dubai, TPConnect markets NDC solutions for both air travel suppliers and resellers. Its NDC Gateway improves retailing for large carriers such as Air Cairo, Egyptair, Oman Air, Saudia, Gulf Air, and SriLankan Airlines.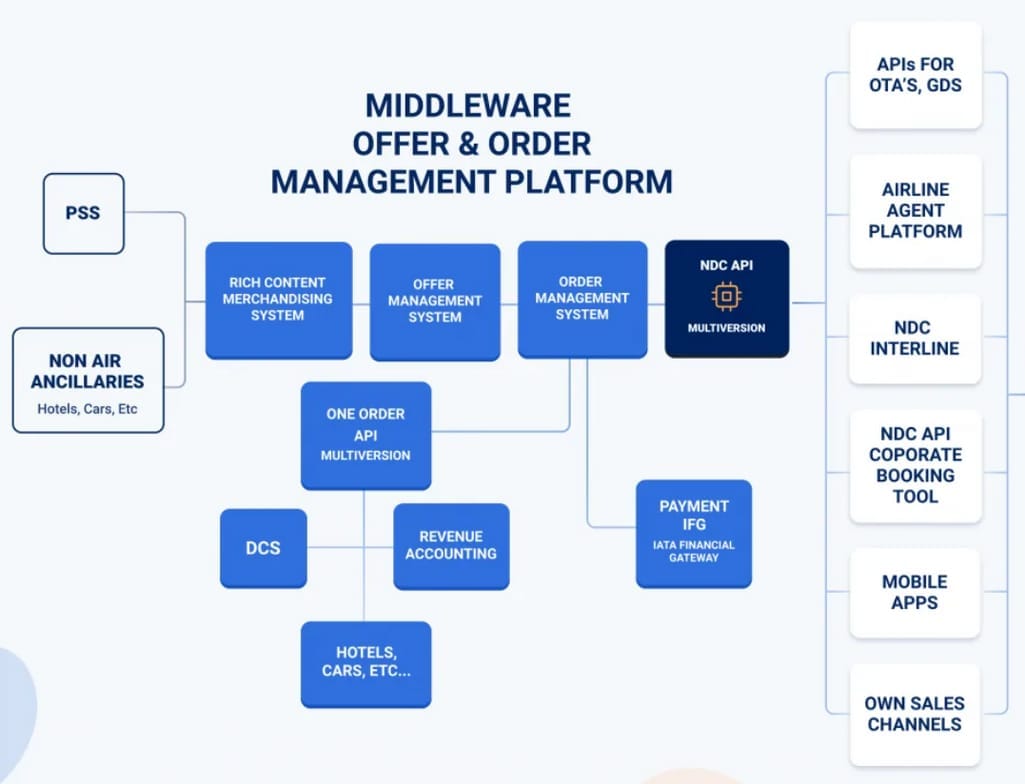 NDC offer and order management layer from Dubai-based TPConnect.
Custom NDC layer. Some airlines build and maintain a custom NDC layer, engaging their IT departments or third-party development companies with domain expertise in the air travel industry. Though this approach takes more time and effort than buying a pre-built solution from a vendor, it eventually gives airlines more control over their distribution strategies and empowers them to fix issues (should they occur) quickly.
"The airlines who have built internally their own NDC platforms (like Iberia, British Airways, Air France-KLM, and LATAM) are quite ahead in the transformation than the airlines who opted to go with NDC vendors, such as Farelogix, Amadeus or Datalex. This is because the ownership and know-how of the technology are becoming critical to operating it," states Jorge Díaz, Founder & CEO at AirGateway, one of the leading NDC content aggregators.
Key distribution channels
Basically, airlines have three main options to communicate their NDC content — direct API connections, flight aggregators, and GDSs.
Direct API connections. Airlines can establish direct NDC connections with online travel agencies (OTAs), travel management companies (TMCs), tour operators, and other resellers. This option mainly appeals to large vendors that leverage enough IT resources to support multiple direct integrations and want full control over their processes. For airlines, direct connections mean bypassing additional intermediaries who charge fees for their services.
Flight aggregators. Aggregators are technology companies that source NDC, GDS, and LCC content from different airlines and communicate it to travel agencies via one normalized API. Read about leading flight aggregators in our previous article on NDC in air travel.
Global distribution systems. Though the initial idea of NDC was to end the so-called GDS oligopoly, Amadeus, Sabre, and Travelport are still here and actively developing their own NDC channels. Amadeus has shown the most significant progress in the NDC space, claiming to go live with rich content from about 20 airlines. Travelport and Sabre lag behind with 5-6 NDC carriers onboarded.
"What airlines should realize is that GDSs remain the dominant market channels, and this will not necessarily change since they continuously develop themselves and expand their offerings," Esther Samtlebe argues. "Major travel agencies still work with GDSs and might eventually use their NDC channels. Apart from the distribution side, the IT companies also act as major providers of all types of commercial IT solutions for airlines — from PSSs to dynamic pricing and revenue management tools. So carriers have a double dependency on the IT providers, which will secure their power."
How to choose an NDC distribution partner
Obviously, airlines would prefer a traveler buy directly from them, with no middlemen and associated costs to be paid. "There are carriers like Spirit in the US or easyJet in Europe who do a great job selling directly," Viktor Nekrylov remarks. "At the same time, they have problems with distribution via third-party platforms since they think third parties are not as good as carriers at retailing — and, to some extent, they are right. Yet, it's tough to expand to new markets without indirect channels."
Esther Samtlebe from Lufthansa Consulting emphasizes that airlines often overestimate their brand awareness. In fact, they still can't do without third-party distributors to successfully sell flights: "The truth is that end customers might know their national carriers. When it comes to other airlines, a traveler usually has no clue about their routes and relies on somebody knowing who's flying from where to where — like OTAs, metasearch engines, Google Flights…."
In an ideal world, airlines should use as many NDC channels as possible to expose rich air content, ancillaries, and add-ons to a broader customer base. But considering that each integration takes time and money, carriers have to select distribution partners carefully. Here are some key factors to consider when making a choice.
Airline's retailing strategy and content accessibility
A preferred distribution channel must match your retailing strategy — in other words, what, where, and to whom you're going to sell. It's crucial to ensure that people or businesses buying from your NDC partner align with your content. "For example, OTAs are very price-oriented. They normally distribute light fares but not much of value-added ancillaries," Jorge Díaz from AirGateway, a mediator focusing on TMCs, reveals. "TMCs are quite the opposite: They rarely work with low rates while add-ons and flexible flights [those that allow you to change date and time — AltexSoft] are the most valuable chunk of the market for them."
Esther Samtlebe recommends that airlines "do a thorough market analysis to define dominant players in the target region. For example, if you're interested in Western Europe and focus on leisure travelers, you'll eventually realize that tour operators still have a strong power there." Consequently, you should either work with them directly or seek NDC partners who have well-established connections with these travel businesses.
Marketing KPIs
Airlines should also evaluate key metrics — like look-to-book ratio and the volume of bookings — along with the general competitiveness of the channel against the others.
"Commercial performance is what really matters when you choose an NDC channel," Viktor Nekrylov states. "Aggregators must bring the results such as an increase in the attachment rate that reflects the volume of ancillaries sold compared to the volume of tickets. GDSs leave much to be desired in terms of attachment rate." So, if your primary goal is to sell ancillary content, you should look for channels other than GDSs.
Functionality
Another important criterion is the functionality delivered by the mediator. Does it work with the payment options the airline chose for NDC transactions? Does it offer multi-currency conversion? Does it support end-to-end NDC workflow, including advanced capabilities like personalization or post-servicing?
Besides connecting to multiple resellers and aggregated content from other airlines, go-betweens may also provide carriers with additional features — like a pre-built portal where travel agents can book NDC offers, a revenue management solution, integrations with non-air suppliers like hotels and car rentals, and more.
Costs and pricing policy
Last but not least: How much will a certain NDC partner charge you for its services? What pricing policy does it stick to? And what markups will it put on tickets and other products?
As you know, in traditional booking flow, GDSs charge distribution fees from airlines (1 to 2 percent of the ticket price on average) but never touch initial fares. Besides, they pay incentives to travel agents for each booking. NDC changed this scenario: In many cases, carriers don't pay anything to B2B channels, be they aggregators or GDSs. So, to make money, intermediaries have to add markups to air products before proposing them to travel agents. As a result, airlines lose control over pricing, and if markups are too high, their fares can become uncompetitive.
"It makes much sense to carefully consider an aggregator's pricing policy and agree upon limitations on the markup," Viktor Nekrylov believes. "Paying intermediaries a small service fee may be a more winning strategy than allowing them to manipulate your prices."
NDC implementation tips: what to consider before getting started
NDC is much more than just an IT implementation and connecting to distribution partners. It entails transformation that impacts practically all airline departments. There are key changes to be ready for.
Create joint teams
It all starts with changing the mindset and core business processes which is even more crucial than updating IT infrastructure. "At the end of the day, NDC is just another data standard," Esther Samtlebe from Lufthansa Consulting states. "To get the full advantage of it, you need to move away from organizational silos. Make sure you don't have those separate departments that can't properly interact with each other. Instead, joint teams with various expertise should create individualized products for different customers and persona groups."
Move from just selling everything to customized packages
Having seized an opportunity to sell more than just a flight, many airlines go no further than proposing as many ancillaries as possible to all travelers, no matter what they want. "This leads to more frustration than satisfaction," Esther Samtlebe asserts."Say, I want to fly from Frankfurt to New York, and I book a cheap unbundled fare. But through my booking journey, with every click, I get additional offers: Buy baggage for $25, buy insurance for another $50…Eventually, I realize that the initial offer — a ticket for $99 — is just a fake!"
Airlines must learn how to customize travel packages so that passengers see the value of products and willingly pay for specific offers that include exactly what they need. But to benefit from such individualized bundles, you need to involve all relevant departments, communicate offer components to all people in charge, and ensure that you stay profitable on the specific route. "It's much more difficult to forecast revenue in this scenario than within the traditional booking process," Esther Samtlebe warns.
Encourage travel agents to book NDC offers
As we mentioned above, GDSs pay travel agents incentives to motivate them to book through old channels. How can airlines change this?
First, some major carriers — like Lufthansa, British Airways, Iberia, and others — implemented distribution cost charges (DCCs), also known as GDS surcharges which vary across airlines and GDSs. For example, the Lufthansa Group's surcharges range from $18.50 to $24 per ticket, depending on whether you use Amadeus, Sabre, or Travelport. Resellers can avoid or lower those additional fees if moving from the traditional EDIFACT environment to NDC channels (including those provided by GDSs.)
The second approach is to stop selling some fares in GDS channels, and that's just what American Airlines did. Finally, carriers can incentivize resellers to move from GDSs, paying them extra for each NDC booking.
"The combination of administrative and commercial methods works best here," Viktor Nekrylov believes."Say, not only do you pay an incentive to a TMC for using NDC channels but make some products — like fares that don't include baggage — unavailable via GDS. As a result, a client who goes on a day business trip and travels light might save up to 30 percent of a flight's cost. If the TMC can't offer such lucrative prices because it's not NDC-ready, it's bad news for it as a business."
Key NDC bottlenecks to be addressed
Despite all advantages, NDC adoption is not as fast as expected. Here are some major bottlenecks experts mentioned when talking with AltexSoft.
Need for various proofs of payment. With NDC, you can customize practically everything you want. But there is no way to put everything on one receipt when it comes to order fulfillment. Traditional airlines still issue tickets, which Esther Samtlebe describes as "no more than electronic copies of what we had in the 1950s or 1960s, so you cannot add all services to them."
This means you need other proofs of payment — like an Electronic Miscellaneous Document (EMD) for ancillaries, different receipt copies, etc. Finally, you have various documents somehow related to the same customer but belonging to different revenue accrual buckets.
"This is a big challenge the industry faces since there is no full agreement on the One Order initiative, which is supposed to replace tickets and allow you to have a single document per customer with all components paid for on the specific flight," Esther Samtlebe concludes.
Lack of standardization. NDC was expected to serve as a data exchange standard, but for now, this mission is still not accomplished. IATA continues to release new versions of NDC schemas, with 21.3 being the latest one. So, as we already said, NDC implementations vary from airline to airline and from one tech provider to another. This adds complexity to integration processes.
Time-consuming certification process. In addition to technical complexity, NDC adoption is slowed by cumbersome legal procedures. "Instead of opening their APIs and automating the certification so that aggregators could quickly integrate their content, airlines certify each partner separately, and this process is usually unpredictable in terms of time and effort," Viktor Nekrylov describes one of the NDC adoption bottlenecks.
The overall industry legacy. The airline industry is often quoted as one of the worst in digitalization, along with hospitality, construction, and agriculture. To adopt NDC, the entire ecosystem and all its elements — corporate booking tools, mid-office providers, back-office systems, not to mention GDSs — need modernization. So, each player has work to do. But most industry experts believe that, finally, airlines will move to NDC channels en masse. It's just a question of time.