Flight consolidators
are brokers that book airline seats in bulk at discount rates and then resell them to travel agencies. These pre-Internet survivors and thrivers continue to play an important role in air ticket distribution.
Our article explains why services of airfare wholesalers are still sought after, what problems they solve, and how their air offerings differ from standard fares you can find online.
But if you already know the context, you can switch directly to the second part of the briefing  — namely,  the sections dedicated to the comparison among legitimate wholesalers and features of reputable consolidators. As a final chord, we outline the future of consolidators based on current trends.
So, let's start from the very beginning — why air ticket consolidation still makes sense.
Airline consolidator business model: how it works
Most of the large consolidators appeared from the 1970s to the 1980s when airlines had more seats than they could ever sell via travel retailers. To reach full or nearly full occupancy on less popular routes, the following three-step distribution model was designed.
Airlines and consolidators negotiate net fares (also known as bulk, consolidator, or private airfares) for blocks of seats which carriers consider hard to fill. The discounts on the risky inventory range from 30 to over 60 percent.
Consolidators pass on net fares to travel agencies, charging a premium on top of each seat. In peak season, when tickets are tougher to get, premiums are increased. In any case, travel agents get a good margin to earn money.
Travel agencies add their own markups but still keep the prices lower than the market rates offered by airlines. It's worth noting that usually, consolidators purchase all the allocated seats only after a contracted number of travelers pay for them.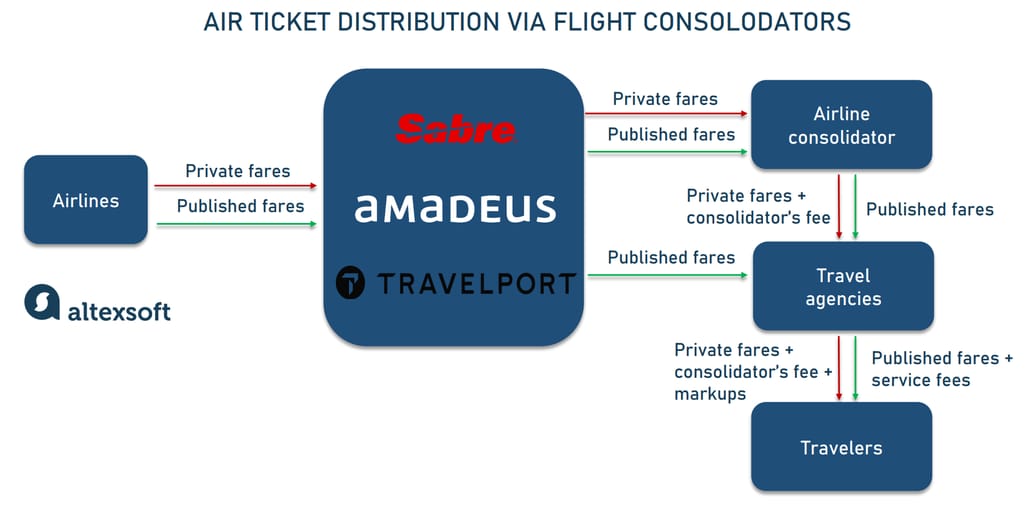 Flight consolidators and other third parties involved in air ticket distribution.
Now, thanks to the Internet, airlines have direct access to a huge pool of travelers via their websites. The need for consolidators and other third parties declined but didn't vanish completely, as no carrier can sell 100 percent of the seat on its own.
Benefits of partnership with air consolidators for airlines
Though to a lesser extent, carriers continue to partner with consolidators to offload their excess
inventory
. The number of bulk tickets and discount percentage significantly depend on booking class and whether the flight is domestic or international.
International flights vs domestic flights.
International airfares are largely regulated by
IATA
(the International Air Transport Association) which struggles to keep ticket prices (and consequently, airlines' profits) high. IATA prohibits airlines from discounting
published fares
, or airfares available to all vendors.
While pursuing the same goal — to sell tickets for the highest price possible — carriers understand that they won't be able to load their planes to the brim at official rates. The solution? To sell a part of their inventory at discounted prices via consolidators. This practice is not forbidden by IATA or any international treaties.
Domestic airfares are subject to local regulations within a given country. In the USA, the world's largest travel market, carriers are allowed to set fares and change them at short notice owing to the 1978
Airline Deregulation Act
. It permits local carriers to offer lower prices without any mediation. Although they sell some of their inventory to consolidators, discounts for third parties are not nearly as large as on international flights.
Business class fares vs economy class fares.
When it comes to fare classes, consolidators typically offer the best deals for business and first-class seats. Again, it's a part of the complex pricing strategy, implemented by airlines to boost revenue.
Carriers try to preserve high official tariffs for premium services — be it domestic or international routes. Rather than cut prices themselves, they use wholesalers to sell off surplus inventory that wouldn't otherwise be purchased. Passengers can save up to
50 percent
on a business class flight if buying consolidated tickets.
So, carriers use consolidators to trade excess seats at steep discounts — without disrupting official fares. This scheme works for regularly scheduled flights but never involves charter operators who are less dependable in their solutions than regular airlines.
Benefits of partnership with air consolidators for travel agencies
Since
1995
, airlines had gradually begun decreasing commissions paid to retailers — until premiums on each ticket reached zero percent. So, the ability to make money by marking up consolidator fares became essential for boosting the profitability of air product sales.
Besides the capability to earn money on cheap flights, partnership with wholesalers brings travel agencies other — less obvious, yet valuable — benefits.
Access to major GDSs.
Large wholesalers have contracts with all main
Global Distribution Systems
or GDSs. So, travel resellers can reach databases of several GDSs via consolidator credentials. It's especially beneficial for small companies that couldn't afford to pay for utilizing even one GDS, not to mention two or three. Partnership with a consolidator enables travel agencies to have a vast choice of both private and published airfares — while saving largely on GDS services.
Booking engines out of the box.
Often, consolidators provide retailers with online
booking engines
featuring modern, user-friendly interfaces. This saves travel agents the headache of time-consuming training needed to deal with each GDS. Watch our video on how booking engines work.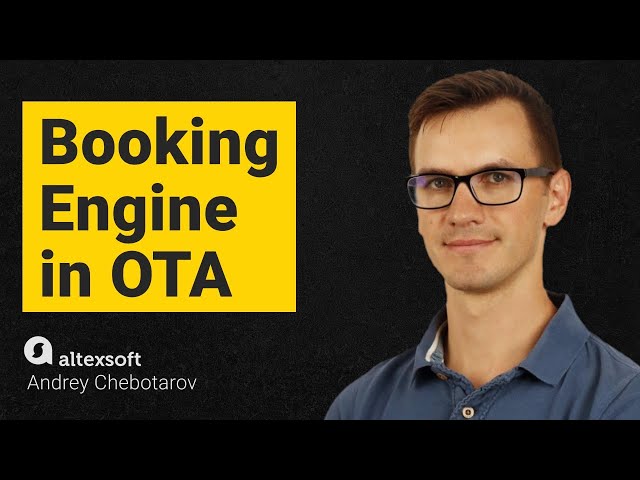 What a booking engine is and how it works explained. 
No need for accreditations. 
Partnership with consolidators enable travel agencies, non-affiliated with IATA/IATAN or ARC, to issue tickets on behalf of airlines You can read more about ins and outs of the licensing process in our
IATA accreditation guide
and
ARC accreditation manual
.
Handling complex itineraries.
Due to established bonds with numerous airlines, consolidators can handle complicated itineraries involving multiple cities and carriers.
24/7 customer support.
Leading consolidators ensure 24/7 support services so that agencies can get assistance in case of flight delays, cancelations, and other issues. Due to the direct partnership with airlines, consolidators always have first-hand information on any emergencies.
Airline expertise.
Most wholesalers have been in the airline industry for decades, so they can bring value as advisors and experts. Consolidators can deliver vast knowledge on best deals, destinations, airlines, and rules, saving agencies time and money.
Private airfares vs published airfares: the core differences
Partnership with consolidators seems to create a win-win-win situation. Airlines keep their planes filled, travel agencies earn more money and attract more customers, while passengers fly cheaper — at least when traveling abroad.
However, discounts come with some tradeoffs for travelers. Below, we'll explain how
private fares
differ from published — or publicly available — ones.
No direct access.
As the very term suggests, private or unpublished fares are not listed anywhere online, be it on an airline website or
OTA
. Travel agencies can access contracted tickets via the consolidators' GDS credentials or a B2B booking platform. They advertise these bargain deals as best prices or cheapest tickets — without mentioning precise figures. End customers need to contact an offline travel agency or OTA in person, via phone or email, for detailed information on fares.
Issues with frequent-flyer miles.
Not all bulk tickets earn award miles. Generally, it depends on the contract between an airline and a consolidator. If
additional mileage
is important for passengers, it's better to clear up the matter in advance.
High cancellation penalties.
Consolidator fares are not recommended if travelers are unsure about their plans. Cancelation fees will be typically much higher than with published fares. The penalties are charged by three parties — the travel agency, the consolidator, and the airline. The last may impose an enormous fine to compensate for lost revenue.
Specific restrictions.
Depending on the contract conditions, consolidator airfares can involve additional restrictions. Some private tickets are nonrefundable, nontransferable, and nonexchangeable. In other words, you use it or lose it.
Key airline consolidator comparison
Despite all limitations, private airfares attract both travel agencies and their end customers as they are unbeatable in terms of price. Until this changes, consolidators are here to thrive on negotiating bargain rates. Below, we'll compare the services and offerings of the most established legitimate consolidators.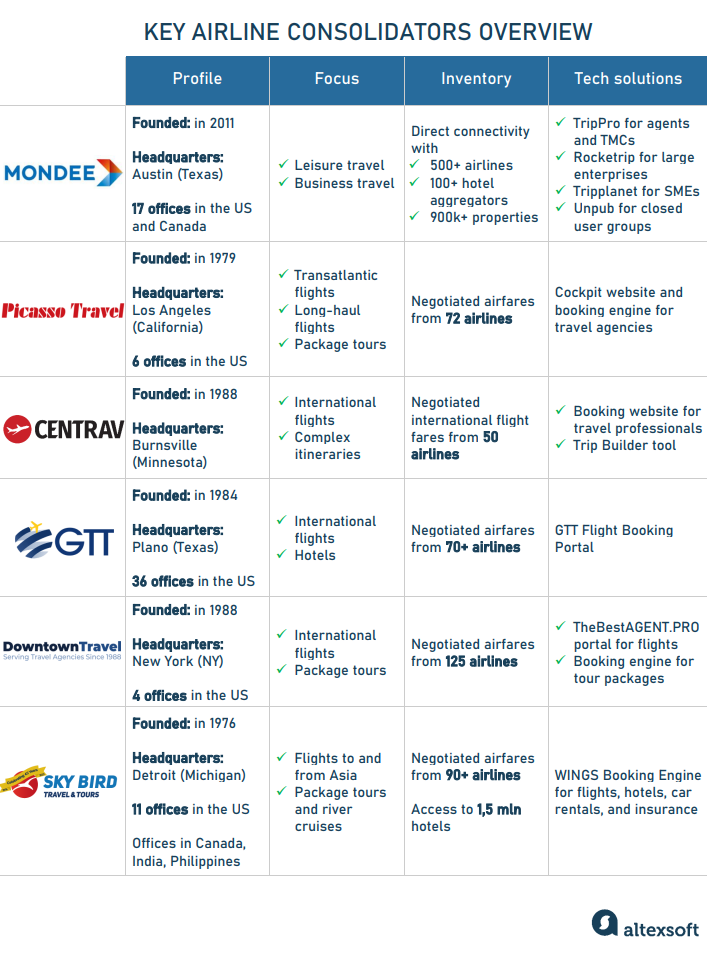 Comparison of the legitimate flight consolidators.
Mondee Holdings: enabling small agencies to get net fares
Special focus on
 leisure travel and corporate business travel
Since its foundation in 2011 in Texas, Mondee has acquired 14 companies and become the
largest
airfare wholesaler in North America by market size. Its portfolio includes six North American consolidators covering different destinations
SkyLink, catering to the Indian subcontinent;
C&H International, concentrating on Asia;
TransamTravel, serving South America and the South Pacific;
Hariwolrld, focusing on the Middle East and Southeast Asia;
CTS Fares, the fastest growing wholesaler in North America; and
Leto Travel, a Canadian consolidator.
Due to this extensive shopping, the company currently has 17 offices across the US and Canada and direct connections with over 500 airlines. Additionally, Mondee established relationships with more than 100+ hotel aggregators and 900 K lodging properties. Yet, as of 2022, hotels make up only
10 percent
of all Mondee's bookings (6 million annually.)
To distribute net fares and other travel products more effectively, Mondee is heavily investing in tech solutions. Currently, its software suite consists of four platforms targeting different audiences.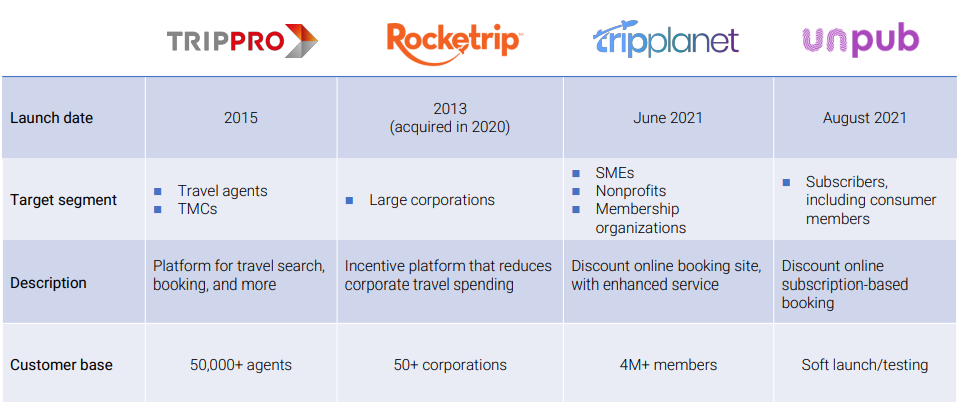 Mondee tech suite. Source: 2022 Mondee Investor Briefing
TripPro
helps home-based agents and
travel management companies
search, book, and sell leisure and business trips. Currently, its booking engine handles over 50 million searches a day. The solution supports automated ticketing,
dynamic pricing
, reporting, notifications about schedule changes, and more. It can be customized according to an agent's needs.
Rocketrip
, a corporate travel platform for large enterprises, promises 20-30 percent of annual travel savings by recommending economical itineraries and rewarding employees who choose the cheapest options available.
TripPlanet
is a subscription-based tool for small and medium-sized companies selling leisure and business trips. It provides SMEs with beneficial deals usually reserved for larger clients.
Unpub
, another subscription-based solution, offers a membership program for end customers. By joining the platform, travelers get access to discounts and exclusive services.
Picasso Travel: transatlantic flights and package tours
Special focus on
transatlantic and long-haul flights
Boasting over 40 years of experience,
Picasso Travel
has a reputation as a leading global consolidator, covering multiple long-haul routes. To expand its presence, it maintains a partnership with
AERTiCKET
, the largest air consolidator in Europe headquartered in Berlin (Germany). Besides flight tickets, Picasso Travel specializes in package tours.
Travel agencies can tap into exclusive offerings from 72 partner airlines via the company's Cockpit website and booking engine that links to Sabre, Amadeus, and other GDS systems. In addition to airfares, companies can search for and book hotels, car rentals, excursions, and more.
Centrav: building complex itineraries
Special focus on
long-haul flights and complex itineraries
Founded in 1988,
Centrav
was one of the first consolidators to enable their clients to book net fares online. Its branded booking engine appeared in the early 2000s, and in 2011, the company introduced the first mobile website for travel agents with access to 700+ airlines and bargain rates. Customers can also take advantage of a Trip Builder tool that simplifies creating and managing complex itineraries "from anywhere to anywhere".
The winner of the 2020 and
2021
Travvy Awar
ds
as the best air consolidator (overall), Centrav has contracts with 50 airlines flying to Europe, Latin America, Africa, Asia, South Pacific, India, and the Middle East. Instead of buying tickets in bulk, Сentrav agrees with partner carriers on the volume of seats to be sold. If the numbers are reached, the consolidator gets discounted fares for resale. Similar to the majority of wholesalers the company applies this scenario to
international flights only
.
GTT Global: flights to and from Southeast Asia and China
Special focus on
flights to and from Taiwan, China, and Vietnam
Gateway Travel and Tours (
GTT
) Global is recognized as one of the most efficient air consolidators in the USA. Having 40 offices nationwide, it assists travel businesses with finding the best prices for multiple routes, building complicated itineraries, and fixing schedule changes. The company proves to be most helpful in emergency cases as its call centers are available after regular office hours.
Customer support is provided in English, Chinese, and Vietnamese. The selection of languages indicates that the consolidator pays special attention to Southeast Asia and China routes. But, of course, it covers other destinations, including Europe, Africa, the Middle East, India, and Latin America
Travel agencies can reach negotiated domestic and international airfares from 70+ carriers along with hotel bookings via their Flight Booking Portal.
Downtown Travel: flights and tour packages worldwide
Special focus on i
nternational flights and tour packages across the world
Established over 30 years ago in New York,
Downtown Travel
maintains partnerships with 125 airlines flying to and from Europe, Asia, Africa, the Middle East, and the Indian subcontinent.
The consolidator offers travel agencies the ability to book negotiated airfares on its OTA-like B2B platform called TheBestAgent.Pro. It also has a division dedicated to leisure travel.
Holidays with Downtown
provides luxury, festival, religious, cultural, and other tour packages in over 75 countries.
Skybird Travel & Tours: flights to and from Asia, tours, and cruises across the world
Special focus on
travel to and from Asia, tour packages
Skybird Travel & Tours
is one of the world's oldest and most awarded air consolidators. Started as a small travel agency in Detroit in 1976, currently, it has 11 offices in the USA and filial branches in Canada, India, and the Philippines.
The company guarantees a smooth workflow through the company's WINGS Booking Engine. It connects with all major GDSs, features side-by-side published and
private fare
comparison and auto-ticketing, and enables travel agents to easily cancel or change flights.  In addition to air, WINGS allows for booking hotels and cars and buying insurance. The consolidator's clients also can take advantage of the separate
Sky Vacations
division to organize individual and group tours and river cruises.
Recently, Skybird Travel & Tours introduced the "Pay now, book later" option so that travel professionals can offer more flexible financing terms to end customers.
Besides serving travel agents, the company has two divisions for end customers:
Students Fare
provides affordable airline tickets for students and
Nova Travel
specializes in budget trips for all.
How to choose a reliable air consolidator
The financial success of wholesalers depends largely on their ability to maintain the trust of both airlines and travel agencies — for short, on reputation. But what does it really mean? Let's explore elements that make one consolidator more reliable than others.
Years in business
The longer a consolidator is in the travel business, the deeper expertise it has and the more established are their partnerships with major airlines. As a rule, reputable consolidators have been serving as mediators between carriers and travel agencies for decades.
Industry Memberships
Any company can claim that it is providing the best services and worth trusting. But how do you check whether it's really so? A reliable indicator of quality is belonging to industry organizations that require their members to adhere to strict business standards. The credibility of consolidators can be proven by certificates from the following travel associations.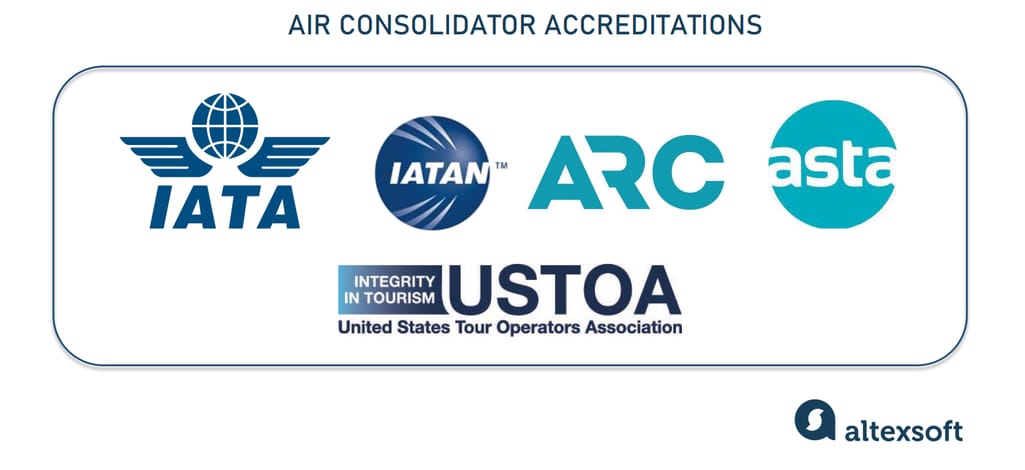 Certifications proving the credibility of a flight consolidator.
The International Air Transport Association (IATA).
Registration in IATA demonstrates a consolidator's commitment to industry standards and empowers it to issue flight tickets. It simplifies business relationships with IATA-certified airlines, travel agencies, GDSs, and other representatives of the travel industry.
The International Airlines Travel Agent Network (
IATAN
).
The American division of IATA accredits US-based travel entities with over two years of experience. The IATAN certificate serves as a mark of professionalism for travel companies. Watch our video to get more information about IATA certification.
IATA certification explained. 
The Airline Reporting Corporation (
ARC
).
ARC is owned by major US carriers including American Airlines, Delta, Alaska Airlines, Southwest, and United Airlines. It performs almost the same role as IATAN, enabling American-based consolidators,
travel management companies
, and other travel businesses to issue air tickets. If a company is ARC-approved, it doesn't need certification from IATAN, however, businesses often prefer to be accredited by both organizations.
The United States Tour Operators Association (
USTOA
).
The declared goal of USTOA is to promote integrity and foster trust within the travel industry. It requires each member to do business in accordance with professional standards and also reserve $1 million of its budget to protect customers' money.
The American Society of Travel Advisors (
ASTA
).
All ASTA members are obliged to uphold its
Code of Ethics
which includes providing accurate information about services, prompt response to complaints from clients, protecting personal information, and more. Accreditation in ASTA is a clear message that a company is intent on helping its clients in any situation.
Long-standing relationships with numerous GDSs and airlines
Established consolidators usually cover at least two of the major GDSs (Amadeus, Sabre, and Travelport, owning Apollo, Galileo, and Worldspan) and hold contracts with dozens of airlines. Some companies focus on a certain destination — say, South America or India. In any case, if a company has links with just a couple of carriers, it won't be able to offer many options.
Tech solutions
Large consolidators usually equip their customers with branded B2B
booking engines
that simplify access to major GDSs and provide a 24/7
flight booking process
. As a rule, modern tech allows for building complex itineraries, generating
PNR
, and auto ticketing. Sometimes (but not always) platforms offered by consolidators also enable travel resellers to reserve hotels and car rentals and buy cruises, tours, excursions, and other travel products.
Physical offices and customer support
If a consolidator exists solely online, it should inspire suspicion. Trustworthy companies have brick-and-mortar offices clients can visit or call by phone. Established international consolidators also guarantee 24/7 customer support provided in different languages.
The future of air consolidators
Airlines often act like they don't need help from travel agents anymore: They ruthlessly cut commissions and market air products through their websites. In fact, carriers depend on third parties more than they are willing to show. So, to mask this dependency, they will continue to use the back door channels of ticket distribution — consolidators — though not as massively as in the pre-Internet era.
Despite the relatively stable status quo, leading consolidators don't just lie on their oars. They are constantly adapting to new challenges. Currently, there are three noticeable trends shaping the present and future of consolidators as an integrated part of the travel industry.
Working with individual passengers.
Most consolidators don't deal directly with passengers, following a B2B business model. However, due to increasing competition, some companies provide services to individual tourists, doubling as a consolidator and a retail travel agency.
Serving as a one-stop shop for travel agencies.
Currently, consolidators are not just brokers, reselling cheap tickets. They often serve as travel consultants and tech providers. Many consolidators sell not only net airfares but hotel net rates, car rentals, cruise getaways, certificates of insurance, and other travel products.
Providing more personalized support.
A couple of decades ago, consolidators offered minimum to no customer support. Now, trustworthy companies demonstrate readiness to help their clients 24/7 — via call centers, travel platforms, or chatbots.
Expanding online presence.
Even though consolidators are quite conservative, more and more of them seek ways to expand their online presence and update legacy tech that restricts their growth. Large wholesalers invest heavily in new technologies, developing their smart booking engines and CRM tools.
Consolidators that primarily rely on physical offices and telephone assistance are doomed to extinction — just like
Thomas Cook
. One of the world's oldest tour operators with 19 million annual customers shut down in 2019 after 187 years in the market. Many factors including Brexit contributed to the "bankruptcy of the year," but the number one problem cited was a refusal to move online and adapt to the digital world.