Last Updated:
03
Mar, 2021
How to Get IATA Accreditation for Travel Business: Options and Steps to Take
Reading time:
12
minutes
Every industry has its own regulator – an authority that sets standards and improves cooperation inside. The air travel industry is no exception.
IATA stands for International Air Transport Association. Its main goal is to regulate distribution-related activities for airlines and commercial aviation. These activities include fare calculations, revenue allocation, and baggage rules.
But how are IATA and travel agencies connected? Why do travel businesses that issue airline tickets have to be IATA-accredited? What are the options for businesses of different sizes and how is IATA-accreditation accomplished? Let's explore the possibilities.
IATA and Travel Agencies
Today, IATA decides who should distribute air travel products and how they should go about it. It supervises travel businesses by suggesting standards. For instance, IATA codes are used everywhere traveling and aviation intersect. Think airline designator codes for reservations, ticketing, scheduling, and documentation; a prefix code to classify passengers and cargo; a baggage tag issuer code to simplify baggage handling; and a location code for easier package handling. These codes are even relevant to those airlines that haven't signed an agreement with IATA.
Back in the 1920s when the mushrooming travel agencies started distributing flight tickets, they acted as clearinghouses or a middleman between travelers and airlines. In addition to spreading vouchers, travel agencies were responsible for smooth money transactions. When IATA emerged in 1945, it took over these processes and became a mediator between travel agencies and airlines.
That is how IATA accreditation was introduced. It exists to safeguard airlines and monitor the revenue flow. So, in order to get access to airline inventories, a travel agency is supposed to undergo verification by IATA. In this case, an airline won't have to check an agency over again every time an agent connects to the carrier's reservation system. If a distributor is IATA-accredited, it's a reliable partner.
On top of that, IATA processes all sales reports between an airline and an agency through its Billing and Settlement Plan (BSP) – a system created to streamline selling, reporting, and transferring operations for IATA-accredited agents.
If you want to do a deeper dive into IATA's history and how it works today, watch our video.
What IATA accreditation can give travel businesses?
That said, let's outline the main benefits that IATA gives its accredited agents.
Airline ticketing
Being IATA-certified, travel agencies can issue airline tickets on behalf of airlines. This is the main advantage that eliminates the need for other middlemen, simplifies booking processes, and cuts expenses for both agents and airlines. With access to IATA's billing systems — the Billing and Settlement Plan (BSP) and the Airlines Reporting Corporation (ARC) — the accredited agents can complete the booking process by accepting payments and issuing tickets, which are basically contracts confirming payment settlement.
Industry recognition
IATA-certified agents must commit to industry ethics codes and meet general industry procedure standards. Working as an IATA agent also means including the IATA logo and branding on travel agents' premises and websites. All these factors combined enhance travel businesses' public image and give it a high-reliability score.
Credibility
As we mentioned, IATA thoroughly verifies a travel agency's business activity, its revenues, and the annual flow of customers. Once in possession of that stamp of approval, a business is no longer examined by an airline or a hotel chain supplier. Hence, suppliers and agents can communicate directly. This significantly simplifies booking, confirmation, and payment processing procedures and eliminates extra effort for both sides.
Access to financial control
The access to almost 300 airlines opens up a gateway to a wide range of options to choose from. The Billing and Settlement Plan (BSP) enables agents to see the air flight distribution in real-time. Above that, with a discount on each ticket sold, every IATA-accredited agent can handle their own markup, earn a reasonable commission, or sell tickets on special conditions, attracting even more customers.
Now let's find out which accreditation options are available for travel agencies of different types and sizes, and even for self-employed agents.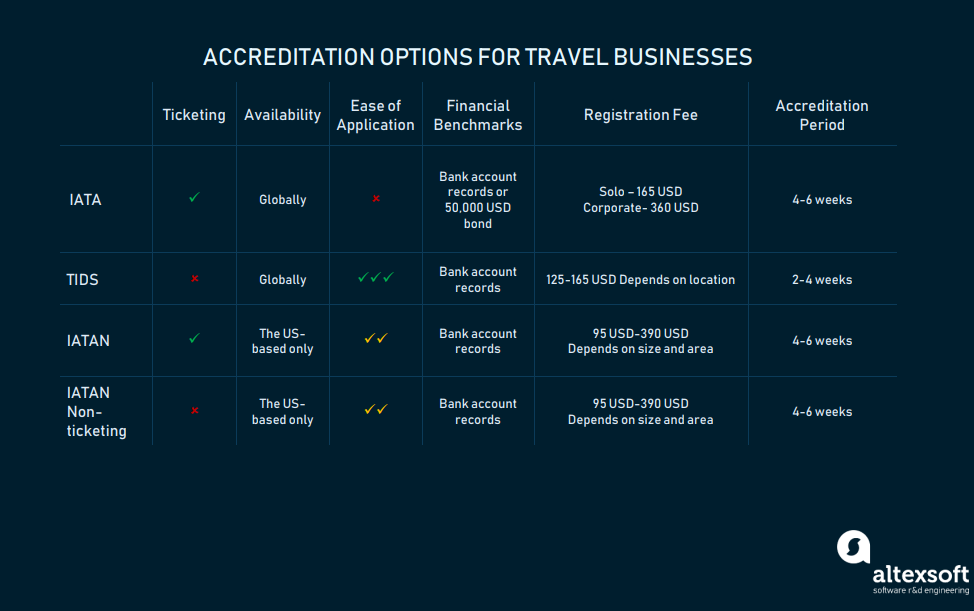 The table shows the accreditation opportunities for travel agencies and solo operators
Full IATA accreditation
The full IATA accreditation package is for travel businesses worldwide that support airline ticket issuing on behalf of suppliers. Additionally, the IATA agent number introduces the travel business to other IATA airline members with a single Sales Agency Agreement and provides access to IATA's BSP. As we touched on earlier, BSP is an invoicing and payment interface between the agent, airlines, and transportation suppliers.
The full accreditation also means that the agent follows standard ethics and behavior codes.
To get it, you must submit a stack of documents and jump through a few hoops. Let's have a look.
Learn about the basics. Read through the Travel Agent Handbook (TAH). It's a thoughtful guide for IATA members and applicants. Here you'll discover general standards, rules, and regulations applicable worldwide. Also, examine the local criteria adjusted to each country individually.
To apply for an IATA number, prepare these documents in the following order:
Proof of general business operations. If you're a branch operator, the documents should include hours of dedicated services or a copy of the agreement to serve as such. For instance, you may attach records about offering a particular kind of tour. The same works for solo operators.
Proof of your qualifications. Regardless of whether you have multiple agents or you are a solo operator, you must submit a business license or copies of any certifications, such as agent training courses. Here you must indicate that your agents meet the professional criteria, according to local business standards.
Confirmation of prior travel agent experience. If you've previously collaborated with an IATA accredited agent or airline, then include this record in your documents. If possible, attach a recommendation letter from that company or documentation of employment. Documents indicating a basic knowledge of airline and ticketing operations may be also attached.
Proof of financial viability. Attach copies of all of the travel-business-related bank transactions for the past year. Include loan or insurance documentation if you have any. All these records should be placed in chronological order. Detailed bank account records with deposits and withdrawals for the previous fiscal year are also required.
Please note that all documents should fall in line with local criteria for your country as stated in the TAH.
2. Be ready to obtain a bond. If your accounts show that your present assets are below your liabilities, you may be required to present a financial security/bank guarantee to insure your financial credibility (the amount varies for different countries).
3. Register at the Customer Support Portal. Use the registration page and proceed with the registration process. You must submit the personal contact information and set up a password.
4. Submit the IATA application form. Complete the application following the guidelines and submit it with other documents via the Customer Portal. Include the letters of recommendation, following the form instructions.
5. Pay the registration fee and wait. Once the application is received and processed by IATA, they will contact you for the next steps and confirm registration fees. Usually, the consideration period takes 2 weeks. For self-employed agents, the fee is $165, while full or corporate travel agencies regularly have to pay $360.
Travel industry designator services (TIDS) – booking without flight ticketing
This option is suggested to travel sales intermediaries such as travel meeting planners or travel agencies that don't plan on doing airline ticketing. Travel Industry Designator Service (TIDS) is an individual code that enables reservations to be recognized by airlines, cruise lines, hotel chains, car-rental companies, railway suppliers, and other travel suppliers. TIDS accelerates reservation processing and makes your travel business visible via addition to all IATA Global Data Products. However, to complete the ticketing process, the TIDS-certified agency would have to partner with a mediator such as a consolidator or host agency. Read on to learn more about these alternative options or check our article dedicated to the booking and ticketing process for non-IATA agencies.
The appliance for TIDS also requires a set of documents and a series of steps.
Prepare a government-issued license for travel agents (where relevant) or a copy of business registration.
Provide evidence of a bank account in the name of the company.
Present National Travel Agent Association proof of membership if you already have it.
If you're not a member of the National Travel Agent Association, submit one of the following recommendation records:
a letter of recommendation from an IATA Airline or Global Distribution System (GDS) or
two letters of recommendation from travel and tourism industry suppliers such as hotel chains, car rental companies, or other entertainment industry representatives.
The letters should be provided on the recommending party's letterhead. If needed, refer to a recommendation letter sample. To check on whether you have all that is required, you can consult with application requirements.
5. Register at the customer support portal. Use the registration page to submit personal contact information and set up a password.
6. Submit the TIDS application form and wait. Complete the TIDS Application form and submit it with documents via the customer portal, including the letters of recommendation, following the instructions in the form. Since the TIDS is free of charge after September 2020, you don't pay any fee and just have to wait for your TIDS Code.
You can also check the TIDS FAQ page for more details on the application process.
IATAN – full package for US-based travel businesses only
IATAN stands for International Airlines Travel Agent Network. Basically, it's identical to what IATA provides, but it's used for US-based travel businesses only. It enables any travel business or representative to issue flight tickets. The difference is only about the US-based location of the travel business and a predefined set of documents. IATAN works for any US travel business with over 2 years of experience.
To apply for an IATAN number, check the following documents and procedures:
Provide ARC (Airline Reporting Corporation) Approval. In the USA, all payment transactions from ticketing are processed via ARC (check how to get the ARC accreditation here). Basically, its function is similar to IATA's BSP.
Provide proof of a Current Business License. It should show the legal name of the entity and say that the business is "active" or "in good standing" with the state, county, or city.
Submit proof of Ownership and Legal Form of Business Corporation. Please note that different forms of ownership require different business licenses and agreements. For more detailed information, you may check the accreditation package (it's a direct downloadable link).
Include proof of Seller of Travel Registration for states of California, Florida, Hawaii, Iowa, and Washington.
Provide Proof of two years of experience for QMP/QTA (Managerial Qualifier and Ticketing Qualifier). Here, the documented evidence of your travel activity experience is required. These may include letters of recommendation from your previous employers or partners, travel industry suppliers, or certifications indicating you are a travel industry expert.
To check out a complete list of valid documents and certifications, please refer to the IATAN requirements webpage or the Requirement Section of the Accreditation Kit.
6. Download the Application Kit. Visit the IATAN Accreditation Page and download a package of documents that you are required to fill in and submit.
7. Submit the documents. Once you've filled in and notarized all the documents and added them to business activities proofs, submit all of them directly to IATAN submission email.
8. Pay registration fees online and wait.  Once all application documents are received and processed by IATAN, you will get instructions on registration fees by email. The average period of application consideration is 30 days.
IATAN Non-ticketing accreditation
IATAN non-ticketing is the most suitable option for any US-based travel agency including home-based, storefront, meeting-planner entity, or corporate travel department. It requires over two years of experience in the industry. Basically, the opportunities are similar to what TIDS provides, meaning that you won't be able to issue tickets on behalf of an airline but will still get access to their inventory.
To get an IATAN non-ticketing accreditation, the travel business must prepare the following documents.
Show your financial benchmarks. Here the document kit varies by the type and size of business: for home-based and new business, for travel business or meeting planner entities, and for corporate travel departments. These may include a financial statement or expense report of the business, the previous year's income tax return (for long-term businesses), sales reports from travel industry suppliers, or letters from travel industry suppliers indicating the volume of sales.
The most complete information is available in the same Application Kit in the corresponding Non-ticketing section.
2. Submit proof of Errors and Omissions or Professional Liability Insurance. Include a copy of a valid insurance policy or errors and omissions waiver with proof of two years' experience for the owner or the legal representative.
Once you are ready, follow the steps mentioned in the IATAN full accreditation section that we described above. For more information, you can rely on the Accreditation Kit or IATAN FAQ section.
NewGen ISS — the updated BSP for flexible simplified accreditation
In November 2017, the Passenger Agency Conference (PAConf) adopted the resolutions for modernizing IATA's BSP. The New Generation of IATA Settlement Systems (NewGen ISS) will "deliver faster, safer and more cost effective and relevant financial settlement services and solutions to airlines and travel agents", as stated in IATA's official publication. The new system has been gradually implemented around the world for the last few years. So what are the main initiatives of NewGen ISS?
Agency Accreditation Models is a range of three accreditation options to best fit the needs of different agents:
GoStandard — a default type of accreditation that corresponds to the one we've described above;
GoLite — a more limited model for agents with no cash transaction (only using EasyPay and cards), offering a simplified accreditation process with minimal financial requirements; and
GoGlobal — a multi-country accreditation model for agencies present in several BSPs that requires such agencies to comply with a single international set of requirements and criteria and accredit all the locations under a single agreement.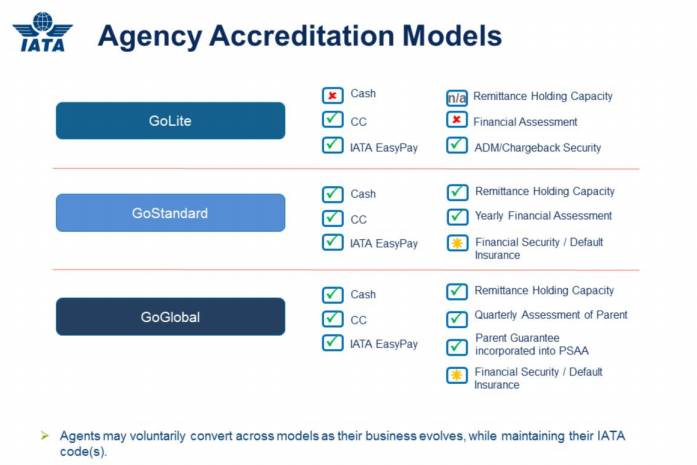 NewGen ISS accreditation models
2. Risk Management and Remittance Holding Capacity (RHC) was designed to help airlines mitigate risks and losses and improve protection against fraud. Read more about RHC in a recent IATA's guideline.
3. IATA Easy Pay is a new, voluntary payment method based on the pay-as-you-go e-wallet concept for faster, cheaper, and more secure transactions.
4. Global Default Insurance is an optional alternative type of financial security for travel agents.
The main target of the NewGen ISS is to simplify booking, ticketing, and payment processes, increase security, and provide a flexible customized scheme to each agent. Here's also a FAQ publication and IATA's recent webinar that provide more detailed information on the NewGen ISS initiative.
The accreditation process for the three new models is similar to the one we described earlier. The main difference would be related to the level of associated risk and risk management conditions applicable to each model.
Basic steps. In all instances, you'll have to register with the IATA customer portal, submit the application form, and pay the registration fee, as we explained before.
GoLite — lowest financial security. If you choose the GoLite model with no cash facilities, there are no risks related to cash operations, so you'll only have to provide minimal financial security to cover credit card sales risk.
GoStandard and GoGlobal — financial assessment and RHC. For the two other models, you'll have to undergo a financial assessment and provide the required financial security. Also, an RHC (a monetary limit) would be implemented for agents' BSP cash sales. It will be calculated based on the agent's risk status, historical BSP cash turnover, and remittance frequency.
EasyPay account (optional). Open an EasyPay account via the IATA customer portal and register your bank account.
Obtain approval and start using your code

. Receive your IATA code and present it to the airlines you want to partner with to issue tickets on their behalf.
IATA accreditation challenges to watch out for
Like with many other industry regulations, IATA has its own drawbacks to be aware of.
Time- and resource-consuming
Applying, collecting documents, and waiting for approval usually takes months. And it requires a lot of paperwork. In addition to completing the application kit, a travel agency or an individual agent usually has to gather business licenses, insurance records, tax forms, bank statements, and even photos of the location. Beyond that, a travel agent or owner has to check their annual and monthly revenues to meet IATA financial standards. And then you have to be bonded for a minimum of $50,000 (for 2-years or less activity) or an amount of money calculated to cover the Amount at Risk as noted in the TAH. There are extra obstacles to get accredited by IATA.
Requires annual reviews
Even after an agent or an agency is accredited, IATA verification doesn't stop. The thing is, IATA conducts interim annual financial reviews. This means that all agents must submit their audited accounts no later than 4 months after each financial year-end, or as required by legislation, during the first two years of accreditation to be evaluated according to financial criteria. By the way, IATA also elaborated on local evaluation criteria for each country. All agents must present a financial security document during the first two years as an agent. It must meet Section 4 of Resolution 800f. If IATA notices financial instability during the financial evaluation, it initiates a trial period to prove financial and business viability.
No guarantee for sales boost
All that said and done, being IATA-accredited doesn't ensure skyrocketing sales and revenue growth. Although it gives you the freedom to play around with your margin, the revenues don't directly depend on your accreditation. Unfortunately, all the financial requirements and application-related costs may exceed your revenues.
If not IATA Accreditation, then what?
As you see, accreditation by IATA is very time- and effort-consuming with many pitfalls.
The fact is that not each and every travel business has the resources to submit to the accreditation process. So, how can you avoid this procedure but still sell flights? There are several ways.
Connect to a consolidator
Consolidators are third-party technology providers that have you covered. Providing services by individual negotiation, fixed price, or through an affiliate program, such solutions offer technical integrations on a turnkey basis. In addition to IATA accreditation, these usually include services such as connections to three main GDSs, travel APIs, separate integration of rail APIs, and many more.
This option usually suits those agencies that have sufficient funds but lack the time and interest to dive deep into accreditation details.
Choose a hosting agency
A hosting agency is a thriving travel business with stable revenues and ongoing customer flow. Usually, these are mature operators with worldwide coverage.
Due to their well-established and long-term presence on the market, big travel agencies have already obtained all required accreditation, including IATA, ARC (for the USA), and CLIA (for cruises). And smaller agencies can use the host agency accreditation number.
When sharing the IATA number, both sides usually sign a contract on mutually agreed terms. Splitting the commission from ticket sales is the most common practice.
This opportunity is most reasonable for small travel agencies or self-employed agents who have only started their path and lack the capacity, experience, and resources to take on the full accreditation procedure.
Consider other niches
Sometimes chasing big volumes of travel sales with flight tickets is not feasible. If a travel business is not yet well-established, or the market is saturated with offers like yours, think of moving to specific segments.
For instance, you may sell only tours to specific destinations. Or sell trips without issuing airline tickets. Here, a business owner has to examine their market, find a particular niche, and thoroughly plan further marketing activities. Thoughtfully planned execution should provide revenue from different distribution channels.