White-label solutions make building an
online travel agency
or OTA extremely easy and fast. You can establish your presence on the web in no time — and with minimal upfront cost. The simplicity of the launch attracts even non-travel players: Over the
past two years
, a number of financial companies, retailers, and loyalty clubs have presented their branded booking platforms.
That said, what kickstarts your business can, over time, hinder its growth. Plug-and-play platforms have many hidden limitations, preventing you from standing out in a saturated travel market.
This article explores the capabilities of ready-to-use
OTA software
and highlights the key reasons to go custom. We considered the experience of our clients who switched from
white labels
to unique solutions and the opinions of our experts who helped make those transitions happen.
If you need to learn the essentials of the OTA business, read our comprehensive article on
how to grow an online travel agency
. Or watch our video explainer.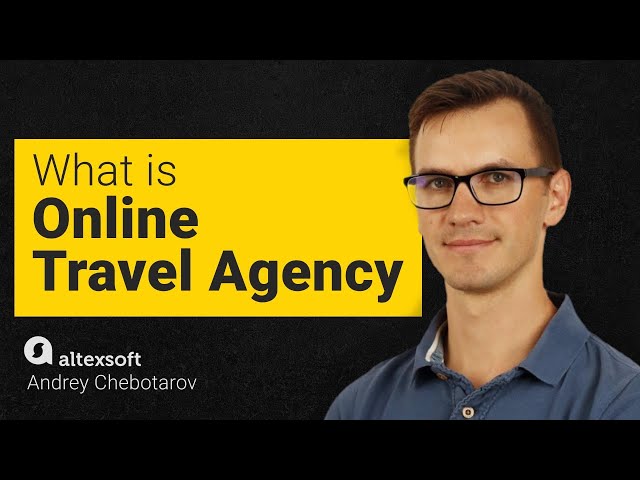 What is OTA, and how does it work?
Online travel agency landscape
If you start an OTA from scratch, plan to get your existing offline business online, or think over a growth strategy, you need to know the current state of affairs in the market, consider the biggest players, and explore the latest trends. It will help you find your niche and make an informed decision on the right technology solution to support your business ideas.
Online booking market: present and future
According to the 2023 Path to Purchase study by Expedia Group, 51 percent of travelers worldwide book their trips via OTAs, while over 80 percent use this resource to search for information, spending around 160 minutes with OTAs before making a purchase.

At the same time, OTAs seem to have lost market share in some regions, particularly in North America. As Phocuswright's US Online Travel Agency Market Report 2022-2026 shows, OTAs receive only 22 percent of total gross bookings, lagging well behind direct supplier channels (41 percent) and offline agencies (37 percent).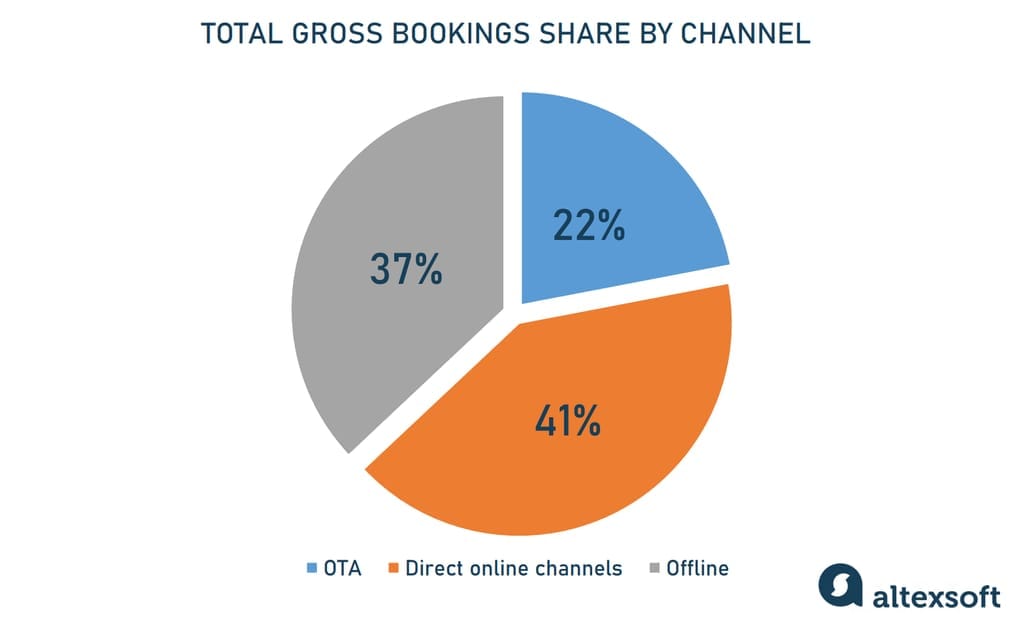 The channel share in US travel as of 2022. Source: Phocuswright.
The good news is that the OTA sector holds promise for steady advancement. The Online Travel Agent Global Marker Report projects an over 22 percent increase at a compound annual growth rate (CAGR) of 5.2 percent from 2023 to 2027. All online travel, including direct channels, is expected to have a CAGR of 11.8 percent through 2030, as another study specifies.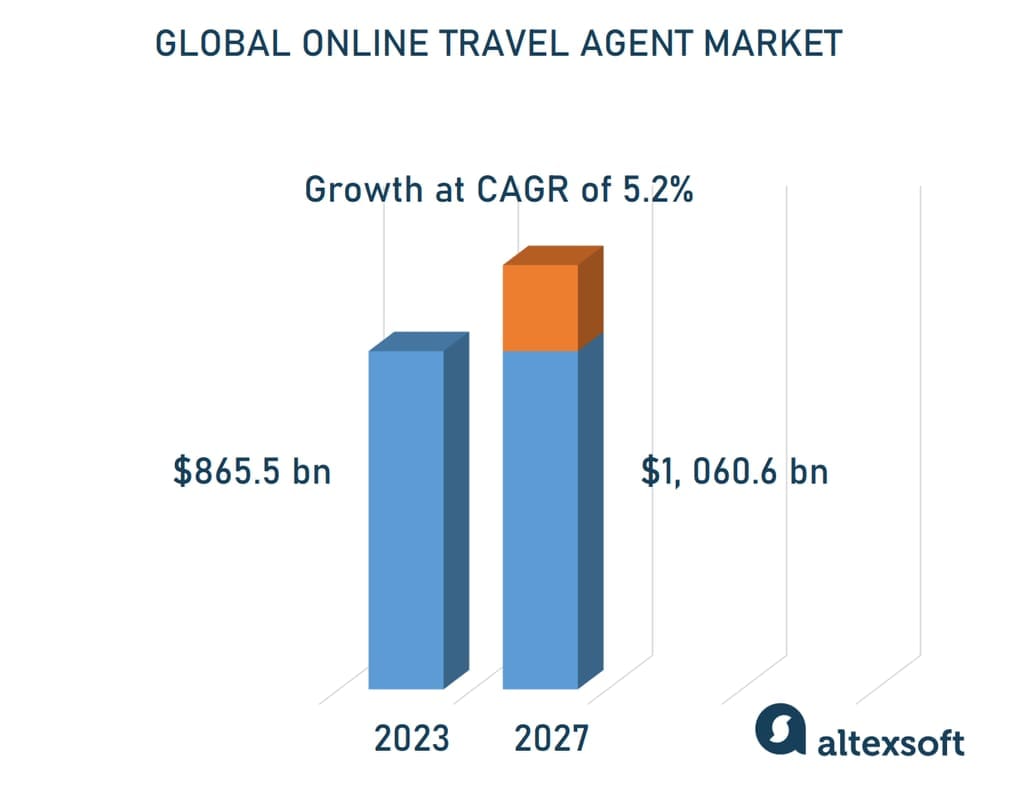 The projected OTA market growth. Source: Research and Markets
While North America and Europe still lead the pack in the sector, the Asia-Pacific (APAC) is the world's third-largest and fastest-growing OTA region. APAC-based online travel agencies accumulate over one-third of global gross bookings, with Agoda headquartered in Singapore and Ctrip (China's largest OTA) dominating the landscape.
Biggest Online Travel Agencies: Booking Holdings, Expedia Group, Trip.com Group, and Airbnb
New entrants must understand that the OTA domain is highly consolidated, with just four players controlling a staggering 95 percent of the market. Besides selling travel to end customers, they capitalize on affiliate programs, data products, access to inventory, and technological solutions (travel APIs, white labels, widgets, etc.) proposed to smaller OTAs, suppliers, and other companies.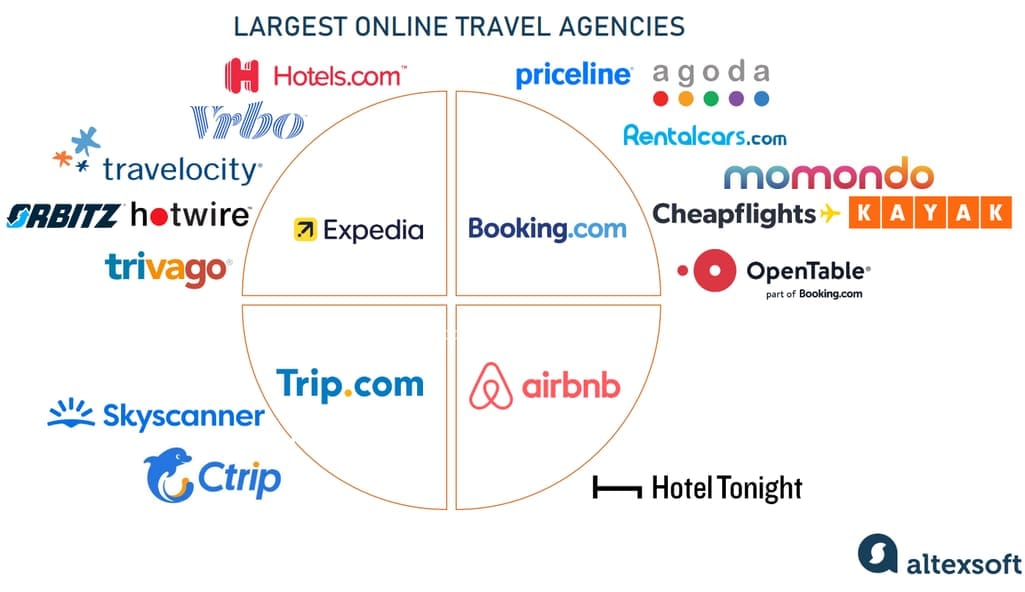 Four largest players on the OTA market and their subsidiaries.
Expedia Group. A former division of Microsoft, Expedia has been in the travel business since 1996. The name should symbolize the union of two concepts: exploration and speed. But today, it's mostly associated with expansion. Over the years, the company acquired a range of online travel businesses — Hotels.com (hotel booking), Hotwire, Orbitz, and Travelocity (OTAs), Vrbo (vacation rentals), Trivago (a metasearch engine focusing on hotels), and more.

For smaller agencies, Expedia provides a prebuilt platform with booking functionality, which you can style to your liking or co-brand with Expedia.

Learn about Expedia partner solutions and white-label products by reading our dedicated article.

Booking Holdings. Born in 1998 as Priceline.com, the American travel giant now makes most of its money on its other site, Booking.com. The conglomerate also possesses the APAC-oriented OTA Agoda, three metasearch engines (Kayak, Momondo, and Cheapflights), the car rental reservation platform Rentalcars, and the online restaurant reservation service OpenTable.

Booking Holdings doesn't offer white label solutions. Instead, it runs affiliate programs, meaning that you can resell their inventory via your website or, say, travel blog, earning commissions for bookings. But remember that your share will largely depend on your sales volumes, and small companies are doomed to tiny tips.

Learn about Booking Holdings affiliate programs and other partnership opportunities from our dedicated blog post.

Trip.com Group. The international travel corporation headquartered in Shanghai started in 1999 as Ctrip and has since evolved into the largest OTA on mainland China. To reach outer markets, it acquired a metasearch engine, Skyscanner, and Trip.com, which represents the company's global identity. The Group also owns several other brands located in Europe, India, and other regions. Similar to Booking Holdings, Trip.com runs an affiliate program

Airbnb. A home-sharing marketplace, it began its transformation into a full-fledged OTA by launching an experiences division, enabling reservation of activities. Airbnb confirmed its OTA ambitions when, in 2018, it acquired HotelTonight, a platform for last-minute bookings in independent and boutique hotels. Watch our video to learn more details about Airbnb's evolution.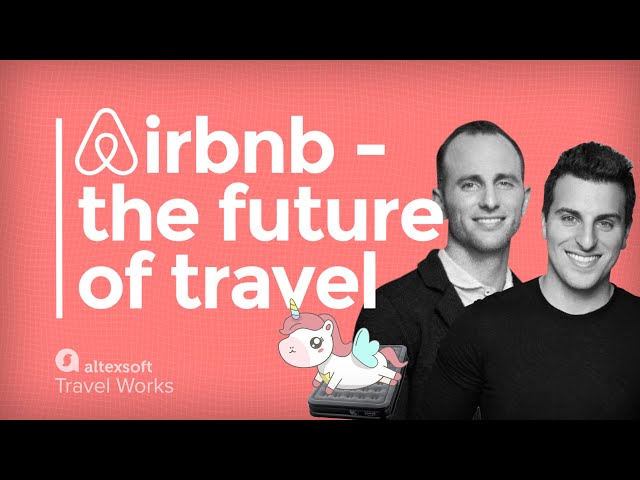 How Airbnb changed the travel market.
OTA trends to consider
When building an OTA platform, make sure you're aware of the current industry trends. There are two key areas of focus, most frequently cited in recent marker studies.

Price-sensitive and picky customers. Attracting and retaining customers remains the most important consideration of OTAs. Most people travel just a few times a year and are highly selective about trips. As the above-mentioned Path to Purchase study found out, a traveler looks through 141 pages of content in 45 days before booking — while in the US, the number is as high as 277 pages. Some studies show that value for money is what dictates their final decision.

Under those conditions, it becomes extremely challenging to draw a client's attention and make them book your products. Best (meaning lowest) prices, unique personalized offers, loyalty programs with exclusive perks, and more — travel agencies use different approaches to win customers. And the capabilities of the OTA platform play an important role in this process.

Growing mobile adoption. The number of smartphone users globally is projected to hit 8.4 billion by 2025, a significant rise from 6.6 billion in 2022. The time people spend on the phone also increases. For example, in the US, it surged from 3 hours 45 minutes in 2019 to 4 hours 29 minutes in 2022. This makes a mobile device an important platform for reaching customers.

Major travel brands admit that app engagement has significantly grown over the past few years. Expedia saw a 40 percent increase from 2019. Its subsidiary Vrbo became the most downloaded travel app in the US in 2022, beating Hopper, Booking, and Expedia itself. While Booking revealed that 60 percent of total room nights came from mobile.

A mobile app not only gives OTAs more opportunities to reach their audience. It also provides access to first-party user data, enabling companies to better serve travelers and personalize offers.

Now, let's see to what extent out-of-the-box solutions can help you develop your business and bring value to customers.
What is a white label OTA platform?
A white label OTA platform is a suite of tools and integrations that are already assembled together or can be embedded as needed to create a comprehensive travel portal. It enables companies to go online or enter a travel business without investing time and money in their own technology, infrastructure, and API connections.

Below, we'll review basic features to pay attention to when choosing a technology provider. We divided them into two large categories
common OTA functionality and
payment management tools relevant to OTAs acting as a merchant of record.
To be a merchant of record or operate on a merchant model means handling the entire sales process and taking responsibility for payments. It contrasts with an agency model adopted by many small OTAs. In this scenario, a travel reseller doesn't manage any transactions, forwarding a customer's payment details to a vendor and receiving commissions afterward. Consequently, there is no need for some additional instruments to work with finances.
Common OTA functionality
A white label portal for OTAs usually comes pre-equipped with the features that are most necessary to start selling travel products.

A booking engine. A booking engine lies at the heart of an OTA business. It connects customers with suppliers through travel APIs, searching for products relevant to a user's request in different systems and filtering results based on pre-defined business rules. Besides searching and booking, these modules can have additional capabilities — like hotel content mapping or dynamic packaging. They also vary regarding business models supported — B2C, B2B, B2E, or combinations of them.

Read our guide on travel booking engines, their types, and functionality, or watch a video explainer.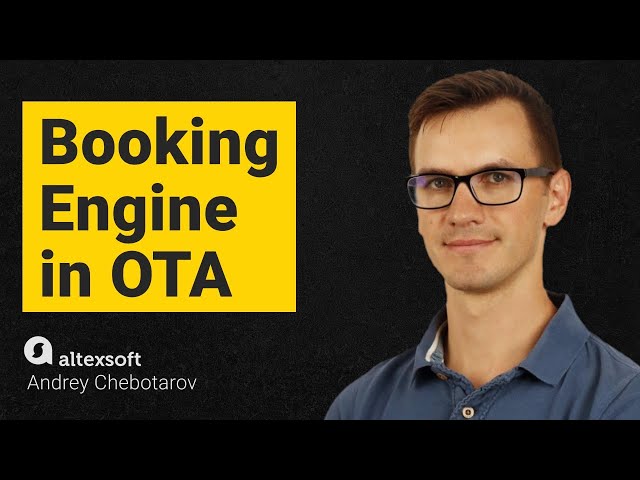 How booking engines work in online travel agencies.
Integrations with suppliers. A basic white label solution is integrated with at least one of the main global distribution systems (GDSs) and a couple of major bed banks (like Hotelbeds.), enabling you to book flights and hotels.

Other products that can be present or added on request are car rentals, cruises, vacation packages, activities, trains, buses, rails, and insurance. Whatever you're going to sell, learn whether the provider has special partnerships with vendors you're interested in so that you may offer the best prices to your customers.

A customizable website. A white label technology vendor sets up a website with your logo, color scheme, and design elements to represent your brand. You may also add or delete modules and features, fine-tune navigation, and make other changes to UI — yet the level of customization will depend on a particular provider. It's crucial to make sure that the site is mobile-friendly — meaning it performs well on a mobile device.

Another important thing to consider is website localization. If you want to adapt your services for different regions, your site must have multilingual support and the ability to display rates in different currencies, to name just a few features.

Reporting and analytics. Analytical tools embedded in white labels enable OTAs to track business performance using basic KPIs. They will help you reveal top-selling and low-profit products (flights, hotels, tours, etc.) and channels (metasearch engines, website, app) as well as spot clients and markets that generate the most revenue.

A mobile app. Some OTA platforms offer a white-label mobile app to complement a website and reach more customers. Note, though, that the app's UI is usually less customizable than those of the site, and there is little to nothing you can do to change its design.
Payment management tools
As an OTA grows, its management generally wants more control over money and, therefore, switches to a merchant model. With this development in mind, check whether a white-label platform has or can quickly add the following features.

Payment options. To process online transactions, your platform must be connected to a payment gateway. Learn beforehand the list of payment solutions available with your potential technology provider. If you target a specific market, integrations with local banks and payment solutions are no less crucial than with world-renowned players like Stripe.

Read our article on travel payment integrations for OTAs to learn more about the pros and cons of a merchant model and the payment options popular in travel.

A commission engine. This module saves you a lot of manual effort, automatically adding markups to get the rate an end user sees on the website. Most white-label platforms have this functionality — yet with a relatively simple logic.

Learn more about OTA rates and commission engine functionality from our dedicated article. Or watch a video explainer.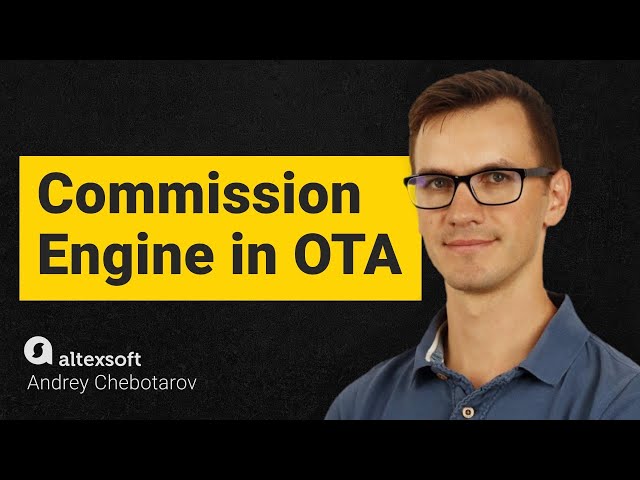 A commission engine in OTAs explained.
Once your OTA is mature enough to consider a range of parameters (like seasonality, a location, a booking window, a client's loyalty, and more) when pricing your products, a basic commission engine won't be enough for you. And this is not the only limitation of white labels.
Limitations of pre-built OTA platforms and main reasons to go custom
A perfect solution for industry newcomers and small businesses, a white-label platform, at some point, starts limiting your business growth. Here are the main reasons why our clients eventually preferred developing their own booking technology.
Minimal functionality
White-label solutions have all the instruments needed to sell travel. But they don't offer features to help you stand out from the crowd.

"White labels are designed to be one-size-fits-all. And to make software universal, you need to simplify it," explains Ivan Mosiev, Solution Architect at AltexSoft. "As a result, you have, roughly speaking, 20 percent of the functionality used in 80 percent of the cases. But If one day you want your commission engine to consider multiple factors and automatically apply sophisticated markup rules, there's no way to do it with off-the-shelf solutions."

As you grow, the lack of functionality leads to an increase in manual tasks. For example, besides issues with pricing automation, our clients faced the need to manually map hotel content.

Read our article on hotel mapping tools to learn how to automate this process.

"Theoretically, if a white label has an API, you can extend its functionality by integrating a third-party module," Ivan says. "Yet, in reality, this mission is almost impossible. That's why we usually ended up developing an entire platform from the ground up — instead of designing and implementing some feature on top of the existing off-the-shelf solution."
Lack of customization on the backend
While you can, to a large extent, modify a frontend part — a website interface, the customization capabilities of white labels narrow down when it comes to the backend.

"Since the same platform serves many companies, it can't be fine-tuned to satisfy every single need," shares Eugene Ovdiyuk, AltexSoft's Project Manager, who interacted in depth with clients moving from a white label to a custom technology. "Some requirements may conflict with each other or break the default system's logic." That's why providers agree to implement only cosmetic changes — if any at all.

"Complaints about poor customization are very common," confirms Yuliia Mozharova, Digital Solution Designer at AltexSoft's Center of Travel Tech Excellence (CoTTE). "It's very difficult to change, for example, the search logic or add filters since it will affect other platform users." So, if you target niche markets or want to focus on sustainable travel, a white label won't meet your expectations."

To explore the back end side of the online travel agency in detail, read our article on an OTA's back office system or watch a video explainer.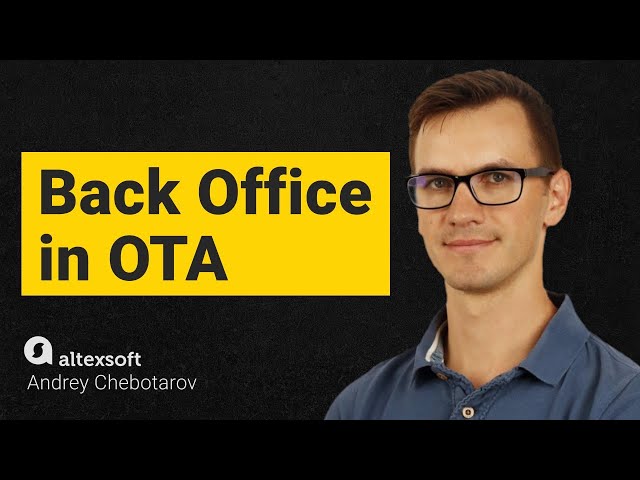 How an OTA back office works.
Low performance
Another problem with universal platforms is their relatively low performance. Targeting small and midsize businesses, they're not good at dealing with massive traffic.

"When COVID-19 restrictions were canceled, one of our customers suddenly got over two million visitors to their website, much more than their system could handle," Ivan Mosiev recollects. The only way to address this problem was to purchase additional cloud resources. "In other words, under heavy loads, it takes a great deal of money just to keep a white label running," Ivan says.

After migrating the client's OTA to the platform our team developed from scratch, the cloud cost dropped threefold. The custom solution was built with scalability in mind and optimized to use less computing capacity for processing the same amount of search queries.
Overpromising on integrations
On their websites, white-label vendors usually advertise a wide range of travel companies accessible with their platform. But in reality, not necessarily all of them are already integrated. Some are actually connected on the go, at your request, and probably for extra money.

And what if you want to add a supplier that is not among the provider's partners? "There are two common scenarios," Yuliia Mozharova says. "In case you're a valuable client that generates a lot of money, the vendor will put you on the waiting list and someday build a connection you want. But if you're small, it makes little business sense for a white label to spend time and effort on this integration."
Lack of data synchronization with internal business systems
White labels are typically pre-connected with several popular ERP and CRM systems. But if yours is not among them, you'll inevitably face data synchronization challenges.

"One of our potential partners sells travel both online and offline," explains Romana Kostsyk, Digital Solution Designer at AltexSoft's Center of Travel Tech Excellence (CoTTE). "But they failed to synс the white label platform with their internal CRM that records reservations made via phone or in their brick-and-mortar office." Since the two systems don't communicate with each other, the company often runs into double bookings and other problems.

Custom development addresses this issue from the very beginning. You are empowered to make architectural decisions considering data integration requirements and services to be interconnected. There will be some kind of central repository, accumulating information in one place to avoid data silos.
Problems with adding new sales channels
This drawback results from system integration issues we partially covered before. A white label can be pre-connected with a couple of metasearch engines and/or give you a mobile app. However, adding more search aggregators than the provider offers is as problematic as linking to new suppliers.

"If you plan to run affiliate programs or enable offline agents to sell travel via the same system, this is not something a regular white label can help you with," Ivan Mosiev warns.
Poor customer support
When using a white label, you don't have a dedicated team to solve your specific problems, and assistance offered by the platform's provider leaves much to be desired.

"Guys from tech support have a good grasp of their platform, but they don't understand how your business works," Ivan says. "Each time an issue arises, a random person is assigned to help you out. And you have to explain your business logic again and again". No wonder there are delays in fixing critical system errors, not to mention addressing less urgent pain points.

With custom development, you can count on the experts who know your product in the smallest detail. In other words, you have tech support focusing exclusively on your unique needs.
Limited analytics capabilities
Off-the-shelf platforms allow you to gather data and derive some insights with built-in analytical and reporting tools. Yet these capabilities are very limited. In most cases, you can't even add new KPIs — to say nothing of personalizing user experience, forecasting demand, or predicting prices.

A custom system opens wider analytics opportunities. You may collect more data and process it as you want: applying advanced BI tools, building a recommender system, or jumping on the ChatGPT bandwagon.

Learn about ChatGPT use cases in travel from our article based on hands-on experience.

Last but not least, white labels charge you for their services. If you feel like you pay too much for a product that doesn't suit you anymore, explore the possibility of creating a booking platform with unique content and functionality tailored to your needs.
What to consider before going custom
Building your own travel platform requires significant investment in time and money. And, despite all the aforementioned benefits, it doesn't always justify itself, especially if you take this step too early or without a clear product roadmap. Here, we share several lessons learned from our experience that will help you to stay on the safe side.
Start earning money sooner, and don't strive for all the best at once
The primary purpose of any business is to earn money. The sooner it happens, the better. So, you can start by launching a simple but effective solution and gradually add new features and capabilities.

If you're on a tight budget, don't spend all of it on building one complex module. Probably, you'll get the best-in-class tool, but it can't generate income on its own without other components in place. In our practice, we dealt with a company that invested a lot into a sophisticated commission engine, but their business never took off since they paid little to no attention to other aspects. They could have gotten by with a more affordable technology, increasing its complexity as they grew.

Another mistake we encountered was launching a booking platform before setting up markups. The website showed the prices from suppliers, which was good for travelers but didn't bring any profit to the OTA. This happened because their tech partner's goal was to go live as soon as possible, while the agency's financial interests were totally missed.
If you have any doubts, do a deep feasibility study
Thoroughly analyze the viability of your project from different perspectives, considering expected financial benefits, technical challenges, operational changes, and regulatory requirements. Our team always does a technical feasibility study for our partners, assessing if a solution they want can be built at all with available tools, experts, and budget. Sometimes, we even talk our clients out of custom development, instead finding more acceptable white-label options for them.