Product Roadmap: Key Features, Common Types, and Roadmap Building Tips
For the sake of interest, one may surf across the web and stumble upon stories telling about the success of a single entrepreneur "changing it all". Larry Page, a co-founder of Google, David Filo, a co-founder of Yahoo!, Steve Jobs, Bill Gates, Michael Dell, David Packard, and many more. We all know them as co-founders or CEOs. But what is less well known, is that all of them did the product manager's job. In this article, we will define a product manager and their role in product development, a product roadmap, and its main features. You will also find common roadmap types with examples and may check some roadmap creating tips.
Who is a product manager?
The duties of a product manager are broad and sometimes coincide with responsibilities of other roles and professions. Some divide the responsibilities into "inbound" and "outbound" ones, some single out technical and marketing activities. Still, the main responsibilities are:
provide a deep market and competitor analysis
build constant channels of communication with customers
develop the vision of the product, its strategy, and tactics
communicate the plan between different levels of the production team
communicate the product details with stakeholders, including management and customers
prioritize the work and set time frames
create multiple types of product roadmaps for each specific group
For a deeper insight of product management as an organizational function, check our dedicated material.
A product manager and a product owner misconception
The misconception about a product manager (PM) and a product owner (PO) being the same role refers to the implementation of Agile methodologies.
According to the Scrum guide, a product owner is a member of a scrum team, responsible for creating product value. The product owner develops a product backlog and writes user stories. In real life practice, PO constantly communicates with the engineering team, clarifying the requirements.
So, what is the reason for such confusion? Before Scrum was actually introduced, product managers used to take the product owner's work, which led to the opinion that both types of managers are interchangeable. Moreover, there is no "product manager" role in Scrum. A PM is a profession, while a PO is a Scrum role.
In today's product development, it's possible that PM and PO have some shared responsibilities like figuring out specifications. But, in a nutshell, a product manager is focused on strategy development, while a product owner ensures correct implementation of it day-to-day.
If you are interested in Scrum, check our article about Scrum best practices.
What is a product roadmap?
A product roadmap is a high-level strategic document that maps out general stages of the product development. The main purpose of a product roadmap is to tie a product's vision with a company's business objectives.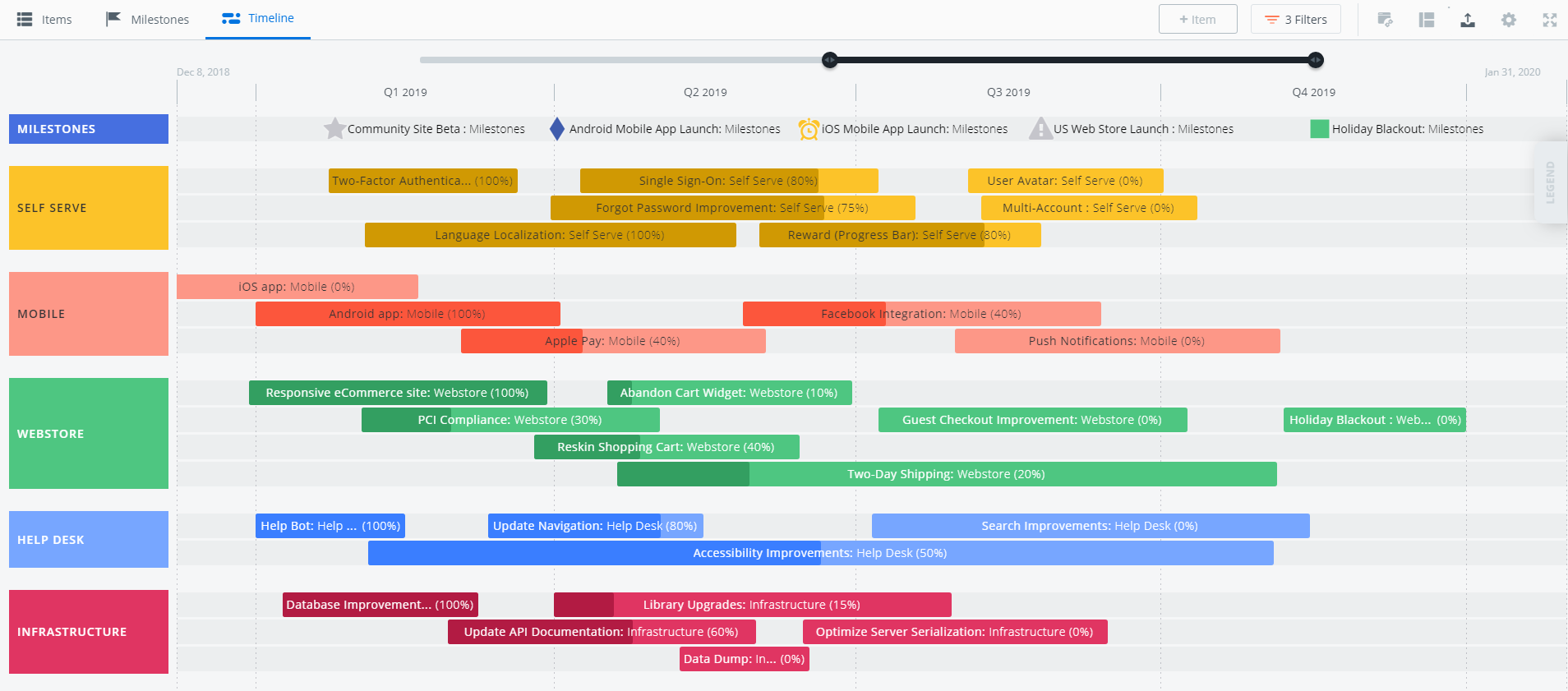 Product roadmap example
Source: Roadmunk
Product roadmaps are created as a result of strategic planning. It both documents the executive strategy and overall goals of a product. A strategic product roadmap typically includes the following key points:
Product vision — is what you want your product to become in the future.
Strategy —  an execution plan of what your company is going to do to meet the vision.
Goal — a time-bound objective that can be measured by a specific metric.
Initiative — represents broad themes which unite features that must be implemented to achieve a goal.
Feature — is an actual piece of a product. It can be a part of functionality or a third-party application.
Time-frames — dates or time periods for a certain goal or feature to be finished. As a rule, a product roadmap suggests just approximate estimation.
Status markers — are used to track the progress of work.
Metrics — help to measure data-driven goals. E.g. churn rate or organic traffic.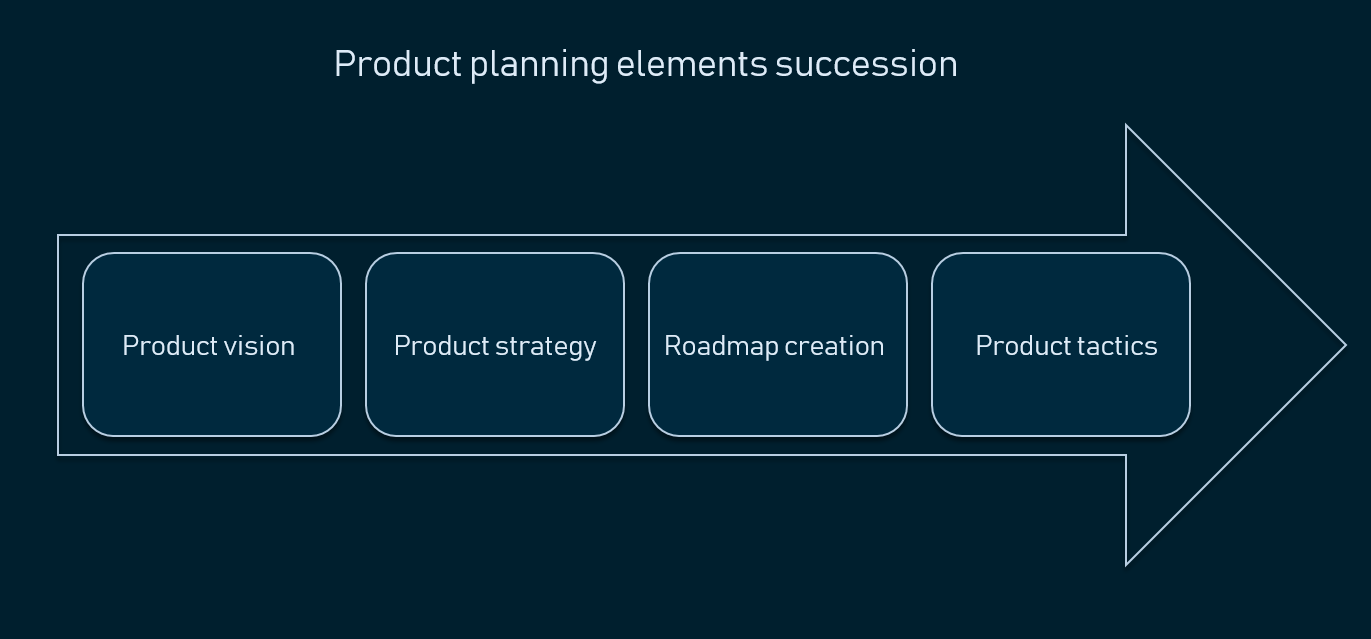 Product planning elements scheme
Creating a product roadmap is difficult and usually requires multiple people or even teams involved in production besides a product manager.
Depending on the product you are developing and methodologies you are practicing, the number of teams involved in roadmapping may vary. Most often, you would have your engineering team, UX, sales, marketing, support team, operational team, designers, and testing team. Those are the people that will work on the actual product.
Any product roadmap must be clear and simple to understand. This helps a product manager guide all the teams throughout the development process, keeping aligned with the customers' needs and business objectives. So, a product roadmap is useful and applicable when it meets the following requirements:
Conveys the strategy of the product development
Shows the vision of the product
Evolves and changes with the product and market requirements
Prioritizes high-level units of development
Acts as a communicative tool between all people involved
Sets long-term time frames
Indicates exact goals and ties them to the business objectives
Sometimes, a product manager would build multiple roadmaps of different types to present the information to internal and external stakeholders.
How to create a roadmap?
Sticking to the general and well-tried practices makes sense when it comes to such multi-step process as configuring a roadmap. So, here are some practical tips:
Formulate your strategy and vision of the product
Talk to your internal and external stakeholders, talk to your customers, look at the market and competitors. Define your customer personas, look at what salespeople are telling you, speak to customers themselves. Provide the customers' voice to the production team and management. Once you've aligned the vision across all stakeholders and participants, you have all input data to begin working on your roadmap.
Define your audience
A product roadmap is not a "one size fits all" plan. The audience you have to present your roadmap to will be a predetermining factor for the format of your roadmap, its type, and contents you have to include in it. But, types of roadmaps is a complex subject, that we will discuss in the next section.
Pick a suitable format
The format also makes an impact on your contents choice. The format you may choose can be more suitable for a specific audience. For example, a feature-based format is not suitable for your marketing department or management but is recommended for your engineering team. A chosen format will suggest the necessary items of the information to be highlighted and which themes or goals should be prioritized on the timeline.
Choose the metrics and tailor them to the actual features
Metrics will help to see an even broader picture and measure your progress. Depending on the purpose of your roadmap, you may choose metrics oriented on the customers' needs or your business' needs. As a source of relevant metrics, you may analyze the market and your competition or have recourse to an industry analyst. To learn more about KPIs and metrics used in Agile product development check our separate article.
Keep the information high-level and up-to-date
To preserve the functionality of your strategic roadmap, you have to focus on providing the general vision and strategy, not tactics. Your minor items of information are valuable, but your roadmap is a strategic document, that has to be clear and easy to understand. For that reason, avoid being too detailed and including too much unnecessary information.
The second point here is the dynamics of your product roadmap changes. Your product progress will bring new features and goals. To keep track of them and convey the information for the rest of the stakeholders, a product map should be constantly updated, which means a gradual evolution with the product.
Use roadmap specific tools
Using a tool like Excel to build a roadmap can be a painful process. As a result, you will get a static presentation, that would be fairly difficult to update. Cloud-based roadmapping tools allow you to speed up the process and keep the roadmap updated when priorities change. Here are just some instruments you can use:
Product roadmap types
A product roadmap can be tailored to a specific audience, type of information, orientation on different key points, and methodologies. Strategic points addressed to your internal team can be converted into completely different pieces of information for external stakeholders and for management. Depending on the type of the product, its quantity, roadmap may include one or multiple products, or include products and features as units of information. Every product manager makes their choice on the best variant for the roadmap. For that reason, there are thousands of custom categorizations that have no common base.
Brian Lawley's classification
Brian Lawley presents his variant of the most common roadmap types used in product development in his book Expert Product Development:
Strategy & Market Roadmap
Visionary Roadmap
Technology Roadmap
Technology Across Product Roadmap
Platform Roadmap
Internal & External Product Roadmap
This type of categorization suits a big company that plans to release multiple products across several markets. So, that is where Strategy & Market roadmap comes in. Brian also includes Technology and Technology Across Product roadmap types as the part of the product manager's responsibility.
But the spectrum of the product roadmaps used in regular product companies, digital technology companies, and by Agile practitioners is much wider. The types can be categorized by the audience, by the industry, by the format, and by the purpose.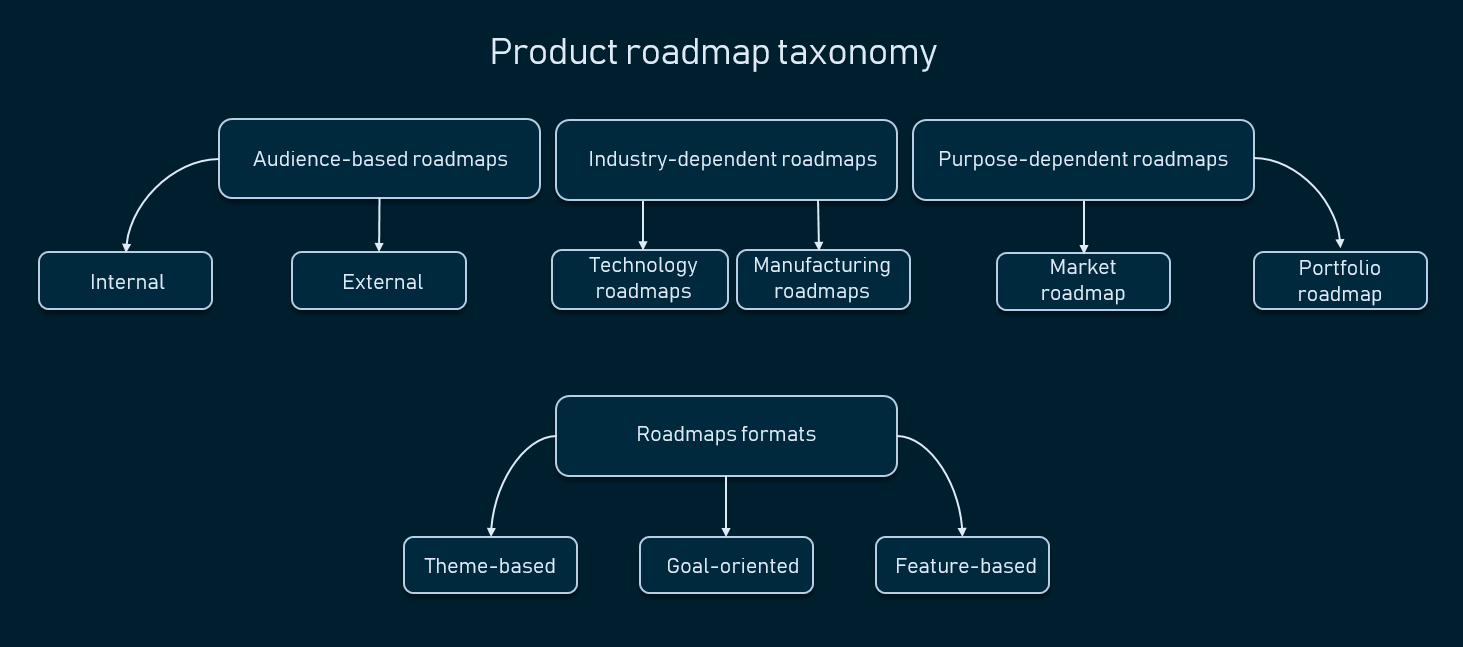 Common roadmap types scheme
Audience-dependent roadmaps
Roadmaps are shared with various audiences to align the vision of all production participants. To simplify the conversation between different groups of people involved in a project, a product manager has to create multiple roadmaps to present the same information from different angles. This helps to initiate a discussion of necessary features and strategy.  It also keeps the internal team in touch with the customers' needs. The following scheme represents the categorization by the audience.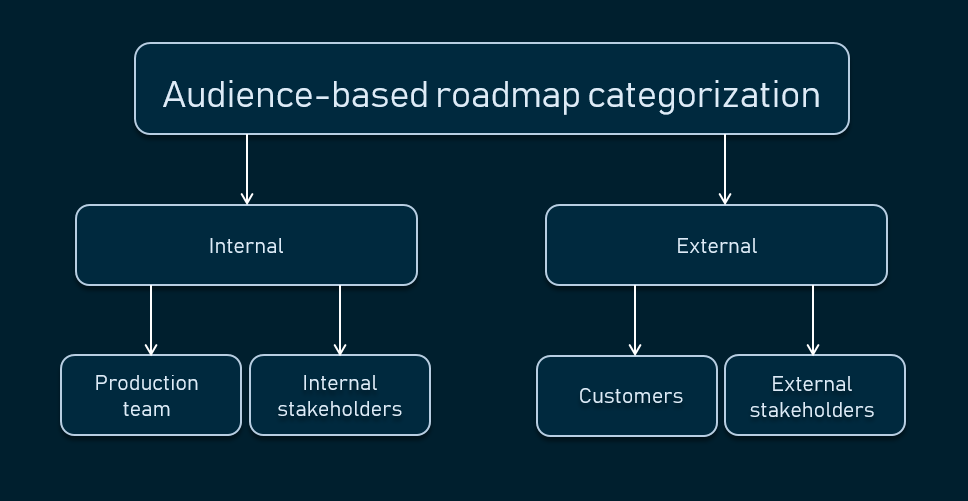 Types of audiences in roadmapping
The audience of the product roadmaps can be internal and external. An internal audience is your executive team and production teams. The executive team usually consists of stakeholders from the management of your company. This segment of your internal audience is interested in the detailed vision of the product and its strategic goals. Typically, those are strategic roadmaps that include details about customer growth, the introduction of the product to a new market, competitor analysis, and customer satisfaction.
The production team may be complex and every part of it sometimes requires a roadmap tailored to their specific needs. Engineering team roadmap is likely to be a Technology roadmap. This type of a roadmap is feature-based, as it focuses on technical details and is built around the actual features to be released, whether it a search-bar, a registration form, or integration with some third-party service/application or website redesign. It also defines strict deadlines and includes high-level information like goals. Your engineering team should be less focused on the vision of the product, but still, keep track of what other members of the internal team are doing.
Sales team roadmap. A sales department is especially interested in the combination of product features and its benefits for customers. That's why this type of roadmap should be concentrated on the product value. Theme-based format fits the best, as themes can show graphically which goal each feature serves.
External roadmaps, as a rule, have a presentation-like format, as they don't share any specific information about internal processes. External roadmaps should be easy to understand, visually clear, and share maximum information about the benefits for the customers. Most often roadmaps shared with the public don't contain any deadlines, they commonly introduce approximate time frames and the succession of feature releases.
Product roadmaps formats
The format heavily relies on the type of the product roadmap that we mentioned above, as it will determine the type of contents and key-items used to build it. Nevertheless, the most universal formats are Goal-Oriented or a simple "GO" roadmap, Theme-based, and Feature-based ones.
A Goal-Oriented format helps to keep all information grouped and clearly explained. Goals determine a reason for every feature to exist. A goal can be stated in simple words as "Increase user engagement" or "Make registration process faster". By organizing the information around the goals, you will keep your roadmap high-level and make your strategy and vision easy to understand.
A Theme-based format is similar to the goal-oriented one. The goal and theme concepts are close as they both answer "why" questions. The only difference is that themes consist of several goals at once.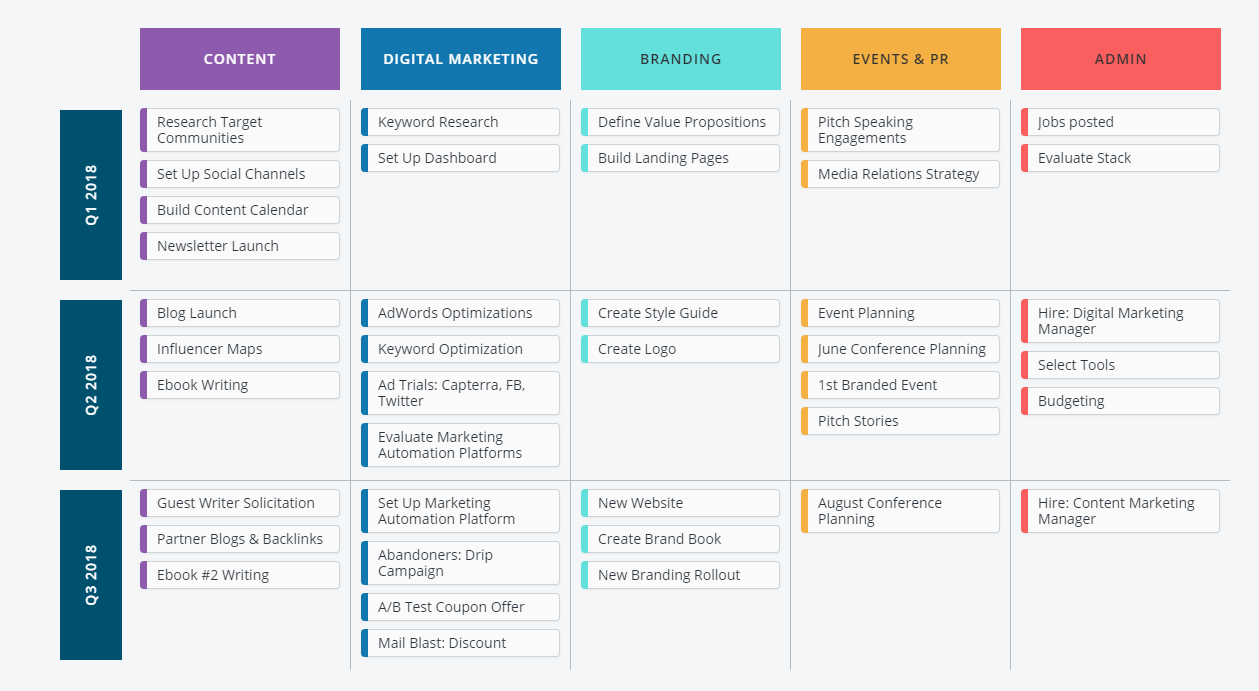 Theme-based roadmap example
Source: Roadmunk
A Feature-based format entails using a feature as a central point of your roadmap making it very detailed. The drawbacks are:
A feature is not a stable unit considering the changing market. Technological innovations and customers' needs make your feature set change quite often.
A feature-based format doesn't provide high-level details, which blurs a general vision of the product, making your roadmap practically more difficult to maintain and harder to understand.

Feature-based roadmap example
Source: Roadmunk
Industry-dependent roadmaps
Roadmaps can be used in various industries for a specific purpose. To meet the requirements of an industry, you need to create a roadmap with unique contents and suitable formatting. Examples below represent common industry roadmaps:
Technology roadmaps or IT roadmaps are more low-level and strict documents usually created to support the main strategic roadmap. They are used for the internal teams to formulate tech requirements. Technology roadmaps determine the use of a certain technology and help to allocate resources they depend on.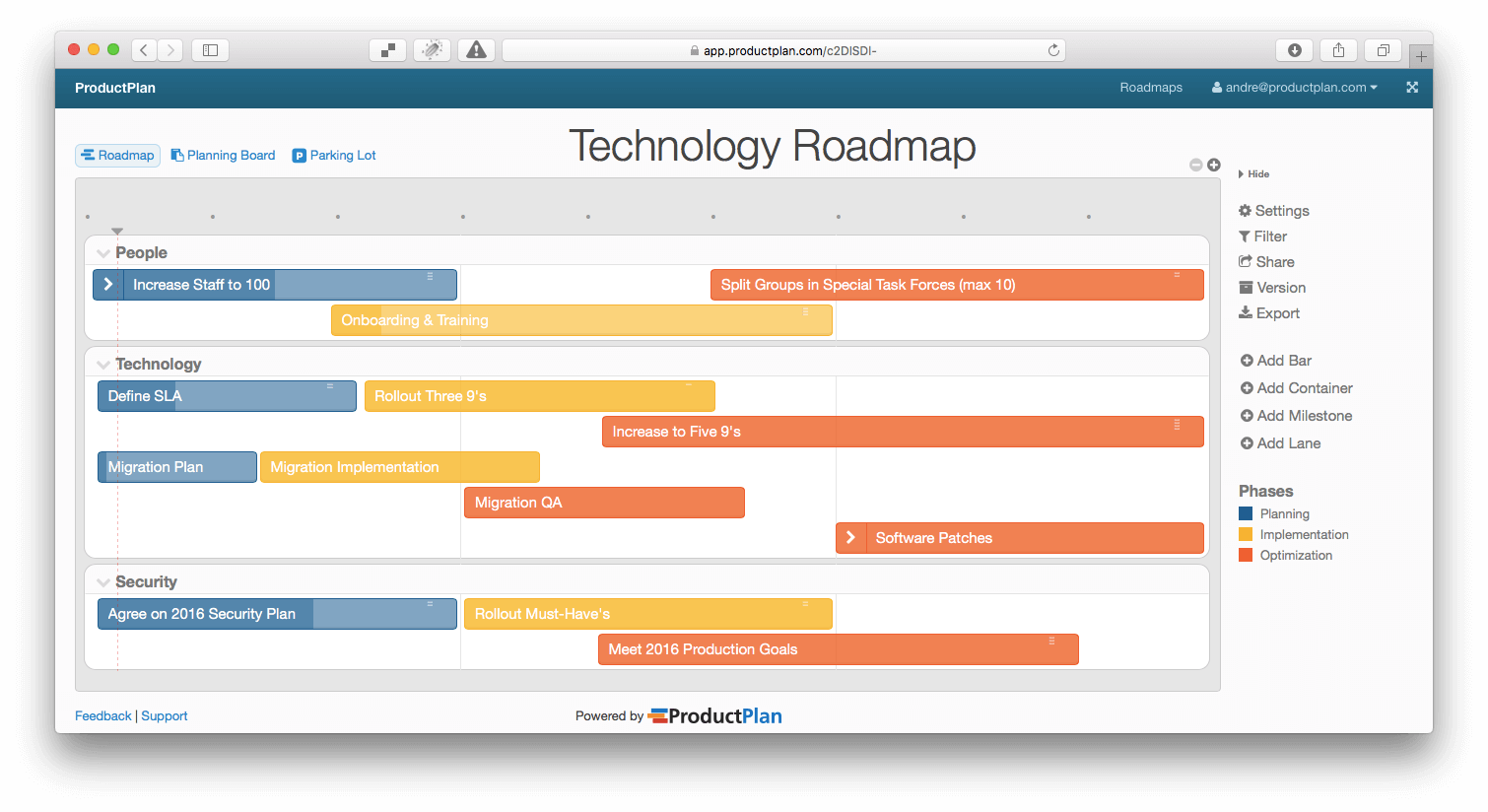 Technology roadmap example
Source: ProductPlan
Manufacturing roadmaps are created when it comes to the actual manufacturing of a physical product. The name is self-explanatory, as manufacturing roadmaps help to control the manufacturing and set actual dates for a particular release.
Purpose-dependent roadmaps
As we mentioned before, roadmaps can be created for different purposes. In general, the main purpose is to communicate the strategy and vision between people involved. But, there also can be additional options.
A portfolio roadmap is used to communicate the strategy of a product line between executives and product managers. In companies with multiple products, it's essential to see how each product evolves and how different products relate to each other to accomplish high-level business objectives.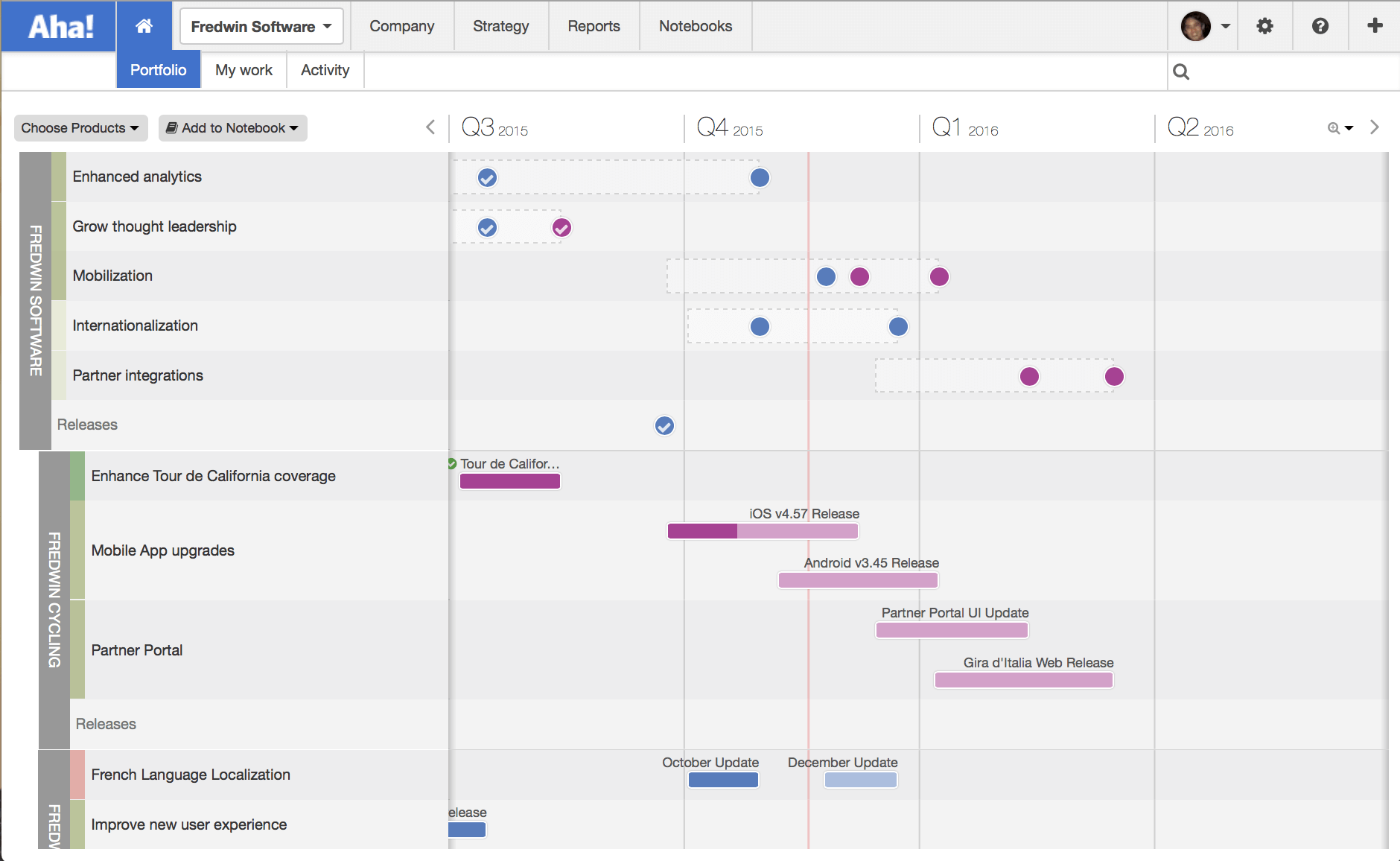 Portfolio roadmap example
Source: Aha!
A market roadmap is a document that may be used if the launch of the product is planned across multiple markets. It's mostly developed for the marketing department and internal stakeholders to plan the marketing strategy for a single or multiple products. Market roadmaps are, perhaps, the most dynamic ones, as they have to capture the rapid changes on the market. Competitor or technological progress may cause significant shifts which will require strategy adjustment.
Roadmap-supporting documents
A product roadmap in any of its forms still has to preserve the general key points of information. To avoid adding low-level information in the document, we can use two more artifacts supporting a strategic roadmap.
A release plan is a document that sets strict release dates. Product managers mostly set floating time frames for releases. While the goal of the product roadmap is to show the succession of product releases, a release plan presents more precise dates for a specific feature to be released. It's also a normal practice to match development sprints with certain features or bug fixes.
A product backlog is a Scrum artifact with a list of high-level requirements and features. Backlogs are created by product owners and consist of user stories. A product backlog is basically a to-do list that defines product development at the tactical level.
A technology roadmap is often used in digital product development as a separate document. It describes the "how" of your product on the technical level and covers technologies that should be used to meet the product roadmap. While a product roadmap keeps high-level descriptions and focuses on the overall business objectives, a technology roadmap shows which technical means should be used to achieve them.
Examples and templates of product roadmaps
If you are struggling to find templates for your own roadmap, you may check services mentioned above. Roadmunk gives a 14-day trial period and a bunch of free-to-use templates. ProductPlan also proposes various templates for different purposes you may try for free within a 30-day trial. Or you may use our simple spreadsheets template for a theme-based roadmap.
To have a basic reference, you may also look at our examples of different types of roadmaps for the same food delivery application. These are illustrations showing structural differences in some roadmap types. The first example is a theme-based roadmap organized around different platforms and high-level objectives within multiple domains.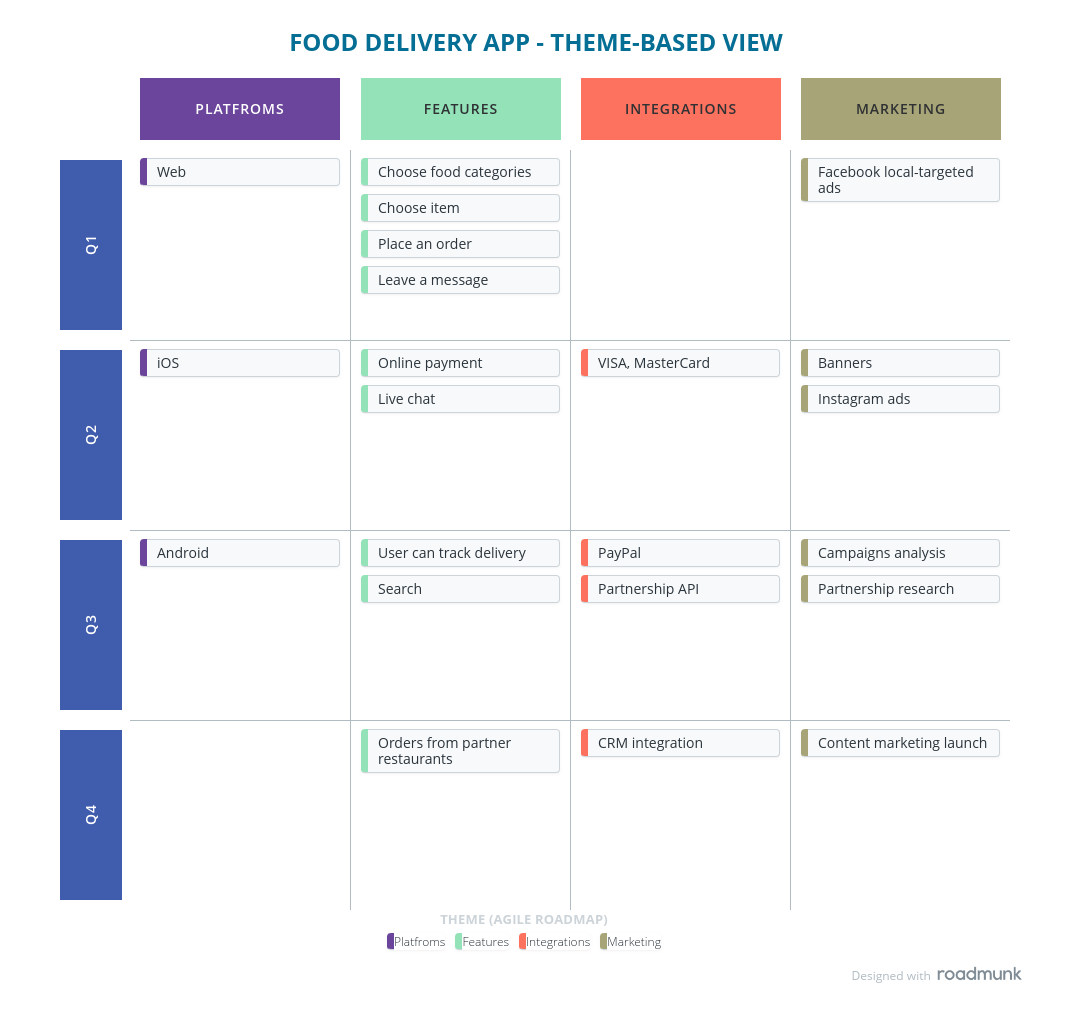 Food delivery app roadmap in a theme-based format
The next one is a technology roadmap. As you can see, it contains technologies required for implementation of the given features and provides a more detailed technical overlook at the same application development cycle. While it doesn't clearly communicate the vision, different teams can align their understanding of the product delivery.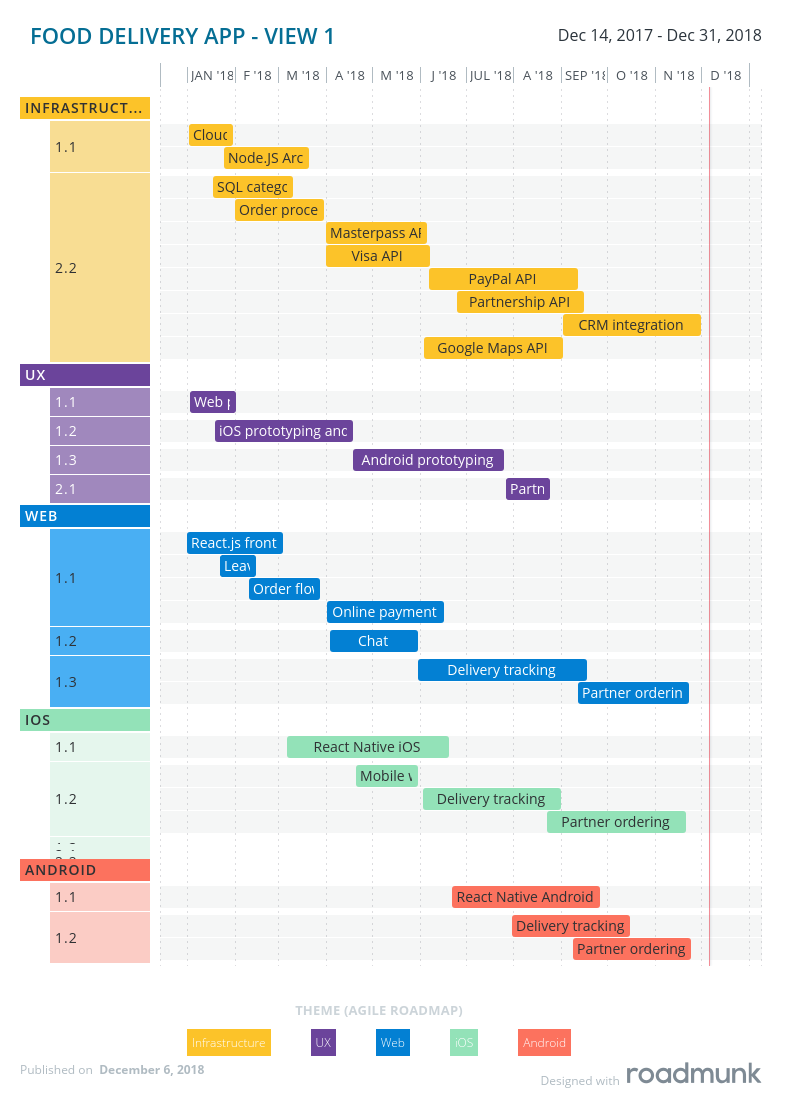 Food delivery app technology roadmap
And here is an example of an external roadmap, presented to the customers. This type of roadmap represents major releases of the app functionality for the external public, so it doesn't need many tech and practical details.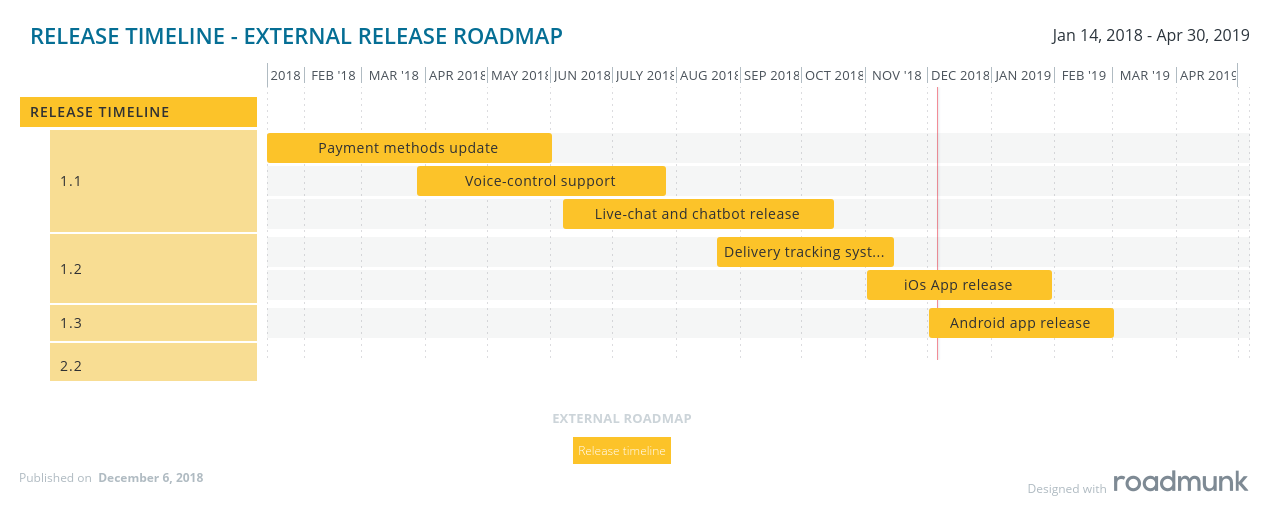 Release timeline roadmap for the external stakeholders
Final Word
A product is a revenue channel for many businesses. Without precise planning and maintenance, it will fail, no matter how mature your product is. This makes a product roadmap an irreplaceable tool for any product development team.
Without any doubt, roadmapping is time-consuming. According to the ProductPlan's annual report 2018, the most tedious product planning tasks are determining initiatives (34 percent of respondents), prioritizing and scoping them (26 percent), and gathering input data (17 percents). But templates and cloud-based applications for roadmap creation can make your life as a product manager a lot easier.
Photo by Curtis MacNewton on Unsplash