Helpful articles:
About TravelTech
It's overwhelming how much technology transforms the way we travel. Mobile check-ins increase customer satisfaction tenfold, content from travel brands helps travelers make a final decision about destinations, and the whole 83 percent of millennials don't bother about personal data sharing as long as it gives them the desired personalization. AR tours, data-driven flight shopping, Alexa in hotel rooms – this is just the tip of the TravelTech iceberg. Here, on Techtalks, you can discover new opportunities for your travel business, ask about the integration of certain technology, and of course – help others by sharing your experiences and reviews. Let's grow the TravelTech community together.
Amadeus has two API packages: Web Services and Travel Innovation Sandbox. The former is created for students or startups, as an exploration stage before the actual production. Amadeus Web Services also has two sets of APIs: Self-Service and Enterprise.
Self-Service is also a testing-only environment, but the production usage promises to be available soon. To try it out, review Amadeus' catalog of REST/JSON APIs and then create an account in the Developers portal. In your personal profile, you will automatically get an API key that allows you to start testing APIs right away.
Enterprise APIs require requesting an access. The approval takes longer to receive, but you will get access to the full Amadeus API catalog. You can read about each API in the Enterprise stack here.
As for examples, see Aladdin Travel – a travel management company that uses Amadeus GDS to organize corporate and student travel. There's also Titan Travel that specializes in escorted and solo tours. It switched to Amadeus exclusively after unsuccessfully trying to handle Galileo systems also.
Hi Cho

Yes, Travelpayouts looks like a nice option. Rome2Rio doesn't have booking capability. It has search only.

If you're fine with affiliate programs, also check Skyscanner, Allmyles, and KIWI. You may also consider Booking.com and Expedia affiliate programs, but they mostly address accommodation booking.
It depends. There's no single best flight API. Your choice depends on the specific problem you're trying to solve (e.g. enable flight and fare search, or track flight status with departure and arrival times, or enable flight booking). Generally, there are two basic options: source data from global distribution systems (or GDSs, the major, worldwide flight aggregators) or directly from airlines. In some cases, you can check APIs by tech providers like FlightStats.
If you need the widest airline coverage and you want to implement flight booking, check GDS APIs by Sabre, Travelport, and Amadeus. Each of them covers about 400 active airlines. They search for flights and low fares, and do booking and ticketing. The problem with this approach is that some airlines like Lufthansa set surcharges for booking through GDSs because they want to encourage direct booking or direct cooperation with resellers.
So, the option is to integrate and partner directly with each airline you need. That, however, presents an even larger number of problems as there are only about 40 airlines that have standardized XML-based APIs and each of them is slightly different. So, the engineering effort may be enormous. On the bright side, with direct connections, you get the widest ancillary booking support, seat selection, baggage customization options, etc. The most balanced approach to flight search and booking is to combine GDSs with some direct integrations.
If your goal is general info without booking capabilities, you may not need GDS or direct integration. The first place to go for fresh flight fare data is ATPCO, the main fare distribution provider. The largest pool for timetables, routes, and connections is provided by Innovata, a travel tech company. Also check FlightStats and Flightradar24 for flight and airport details like delay indexes, arrivals and departures, aircraft equipment, airport FIDS, flight status, etc.
If you need something simple and don't want to go through raw airline data, you may contact OTAs or metasearch platforms to integrate their APIs. The key provider here is Skyscanner, but also consider Expedia or Kiwi.
For more details, have a look at our travel API's articles.
The main providers of car rental APIs are global distribution systems (GDSs): Sabre, Amadeus, and Travelport. You should contact them directly to gain access and receive and API key.
It may be a challenging task for a small business to get full access to GDSs solutions, so you can consider traveltech providers that support car rental connection like Trawex or Travelpro.
There's also some support at online travel agencies (Skyscanner, Priceline, etc). To access those, you normally must use affiliate partner contacts. Finally, one of the largest car rental suppliers, Avis, has a public API.
Besides APIs, many suppliers support affiliate links and banners, if that works for you. You may check car rental connectivity options in our article in more detail.
Hello Todd,
We can tell you've done quite a research on this topic. And we feel you.
The functionality of Amadeus' self-service API has a number of limitations. But the reality is that it's the only self-service API available among the global distribution systems. Other GDS solutions are truly legacy cumbersome systems. And that's one of the key hindrances to smooth airline distribution.
As for Skyscanner, you're right. On a case by case basis they accept only those businesses capable of generating traffic and attracting users. So if you're only setting your foot in the travel industry, chances are you might not hear from them soon, if at all. In addition, Skyscanner API won't allow for facilitating bookings as it's a metasearch.
Now, regarding ATPCO, the main fares provider. In terms of the traditional flight distribution, ATPCO is an intermediary that transmits tariffs from an airline to a GDS.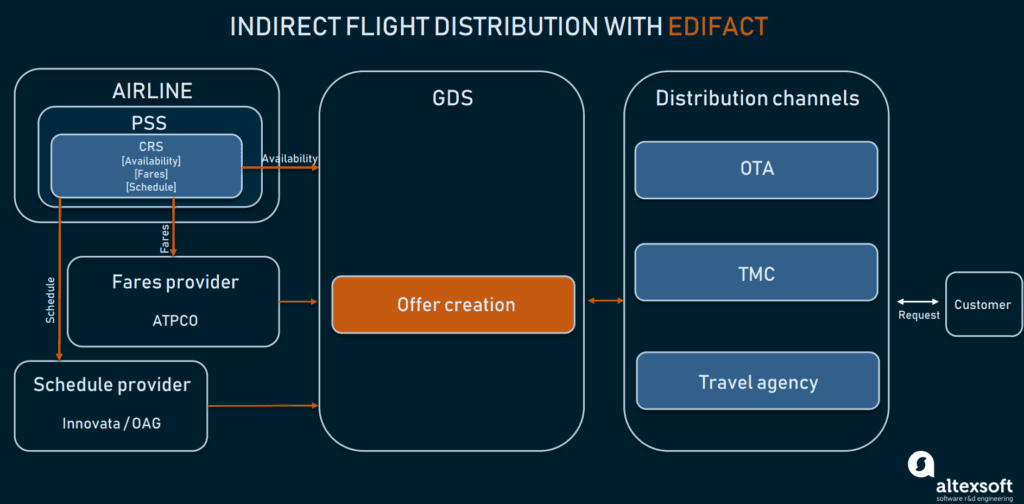 ATPCO's JSON Routehappy API has direct connections with GDSs and some airlines. Akin to Skyscanner, they won't enable booking capabilities. The API access involves monthly payments starting from $2,500, which may not fit into the budget.
If your distribution market isn't too big, you may try connecting to each airline directly avoiding GDS. If you decide to follow this path, you'll need to adopt the New Distribution Capability XML standard.
As you can see, many scenarios are possible in your case. As we have extensive experience in building OTAs, we surely can give you good advice, to say the least. But for this purpose, we'll need to dive deeper into your situation. So why don't we keep our communication in DMs? Contact our sales team and they'll sync you with our best experts.
Hotelbeds Group has a huge market coverage allowing you to distribute accommodations, activities, and transfers in 185 countries. It has a few APIs but all with the same integration process, so we'll walk you through it.
Register for a test key. This will create an account in Mashery – an API database that powers Hotelbeds and many other APIs in different industries.
After receiving a confirmation email, generate your API key, which will give you access to documentation and the Sandbox. At this stage, you'll also need to choose at least one Hotelbeds API that you're planning to choose. There are three: Booking API, Content API, and Cache API. Read a brief explanation here.
Be prepared for integration. You will be contacted by a Hotelbeds representative.
Hi there,
It's nearly impossible to get access to all airline seating info as some airlines may not share this data in the first place.
However, there are two main options. The first one is obvious: you may contact airlines directly and ask for their API access with seating capabilities. For instance, Lufthansa Open API provides seat maps. But most airlines don't support APIs at all.
The second option is to source seating info from GDSs.
Amadeus provides seat maps in their enterprise APIs.
Sabre has a broad set of APIs for seating.
And TravelPort Universal API has a seat map capability.
They still may be limited by the data that carriers provide.
It doesn't look like SeatGuru has an open API, but it's also worth trying to contact them directly.
Getting access to GDS APIs isn't that simple, but it seems like the best option for your problem.
Hi Olexander
Sorry I didn't reply sooner and thank you for your detailed answer which has helped explain the differential between numbers of deployed channel management products versus numbers of hotels presented within the larger OTAs.
Best regards
Ted


Hi there,
We mostly work with GDSs. So, Amadeus suggests 2,000 free requests per month for low-fare search and 3,000 requests for a regular search, given that you use their self-service APIs. Sabre doesn't have fixed rates and everything must be discussed individually.
As for other players, Skyscanner claims to provide all API services for free, if you can negotiate commercial partnership with them. Their limit is up to 100 requests per minute for live prices. You are right that Kiwi doesn't provide open info on their rates, so it's worth contacting them directly. The same for Travelfusion, Orbitz, and Priceline.
You can also try your luck with ATPCO, that's where all flight prices come from.
There are mainly two types of use cases for integrating Booking.com APIs.
Accommodation booking by travel providers. The model is quite simple. You enroll in the affiliate program and then use the Booking.com API and other affiliate products to either sell rooms from their inventory for a part of a commission or redirect users to Booking.com. The example of the former integration is Aegean Air, a Greek airline that allows travelers to book rooms in addition to flights. The latter is Rome2Rio.com, an itinerary planning and travel search platform. While Aegean uses full Booking.com functionality under its brand, Rome2Rio suggests accommodations, ratings, and pricing with range filters coming from the Booking.com inventory.
APIs for channel managers. Another major API package is Connectivity. It suggests channel managers and other connectivity providers integrating Booking.com as one of the sales channels. Examples for integration are all the popular accommodation channel managers that you can think of (SiteMinder, Dhisco, DerbySoft, etc.) Also keep in mind that Booking.com doesn't allow properties to connect directly. If you're a hotel owner, you must connect via a channel manager only. You can set your property management page on the Booking.com portal and pick your channel manager from there.
Galileo is one of three GDSs along with Apollo and Worldspan that comprise Travelport GDS. Travelport has a pretty straightforward workflow to get started with product.
Request trial access to Galileo APIs and submit a form on Travelport's website. There, you'll have to choose your preferred GDS from the three (Galileo in your case). This is free, and you will receive a key to Galileo in a few minutes. Here's a link to documentation to help you.
When you're done with testing, contact an Account Manager from your profile or Travelport itself, and they will supply you with authorization.
After you are authorized, contract finalization and certification will start. This is called the Pre-Production stage. Travelport asks you to complete a Universal API Requirements Questionnaire [.docx] to evaluate your capacity needs. After completion, you should request a sales representative call to review your questionnaire and finalize certification.
When you receive your API certification, you enter the Production system. Make sure your developers and systems comply with Travelport's requirements. You will receive further instructions from your account manager.
Sabre is one of three main global distribution systems (GDSs) on the market, along with Amadeus and Travelport. GDS is a database of travel data pulled from various service providers that connect travel agents with hotels, airlines, car rentals, cruises, and railways. What used to be a manual system with each reservation taking up to 3 hours is now a global network. Sabre was the first of such GDSs. Basically, you can't make the reservation process automatic without connection to this system.
You can use just one GDS – Sabre, for example – or a combination of a few, but if you specialize in only cruises or railways, research which GDS gives you a better shot at covering all providers. As you can see from the image below, Amadeus is an undisputed leader in everything but hotels, and with Sabre you'll receive an average number of companies, only if you don't want to cover all the cruises.

Hi there,
First, this business model is viable. There are hundreds of online travel agencies that work with flights and hotels only.
But it's actually hard to give absolutely accurate numbers. Why? The thing is, every online travel agency tries to get a competitive edge over others by finding the lowest rates possible to increase their margins. This can be done by negotiating rates with GDSs, suppliers, and consolidators/wholesalers. And, these negotiated deals aren't usually disclosed.
Traditionally, commissions that large OTAs like Expedia and Booking.com receive range from 15-30 percent in the hotel industry. If you use the Booking.com API as a partner, expect an average commission of about 15 percent going to Booking.com with commissions differing based on the region.
Flights are more complex and commissions there are usually lower. But they will depend on the agreements that you negotiate with providers, GDSs in particular. Also, keep in mind that you won't be able to issue tickets if you aren't IATA-certified. This also comes at a cost that will depend on what kind of travel provider you are and the regions you operate in.
Also, a large part of online travel agency success revolves around the search and commission engine that you tweak on your side.
Finally, you have to invest heavily in marketing to jumpstart your traffic.
So, yeah it's a viable business model if you do a lot of things right.
What are the basic requirement and approaches you will follow for any software testing project?
Currently, Moovit doesn't provide a public API for their services. Instead, they suggest using their widget, links, and buttons. So, you should contact them directly to access the API.
And there's another thing you can try. Since November, 2018, Movit is a partner of Microsoft's Azure and their transit data is available through Azure Maps service. It supplies developers with a variety of APIs and a rich customization toolset. To start using Azure Maps, you must create an account, sign into the Azure portal, choose subscription, pricing options to start working with APIs.  You may check their documentation first.
Still, working with Azure maybe more expensive than getting access to the API directly.
Hi there,
It's not unusual for PMS providers to separate their Revenue Management module from the base software. With providers such as Protel and eZee Absolute, you will have to either pay extra for RM features, while others like Little Hotelier have simple tools for integrating with third-party revenue management software. Both of these options are normal in the industry and are not complicated to set up.

If you still require RM to be included in the base PMS package, consider these products:
OPERA 5 and OPERA Cloud have rate management functionality and flexible inventory control features out-of-the-box, plus numerous add-ons. Read more about Oracle's proposition here.
Maestro PMS has an integrated dynamic rate and yield management module.
Hotelogix has dynamic pricing features and offers price recommendations.
IQware provides occupancy forecasts and calculates five levels of yield.

We have a more detailed overview of these and other PMSs in a separate article, so make sure to check it out. Hope it helps!
Hello,

Perhaps, there are not many options rather than described in official PNR retrieval guides by SABRE. Concerning the price, retrieving PNR doesn't require any payments, despite the fact you have to be subscribed to SABRE.
Hi there,

We totally understand your desire to tap into the cruise line industry, as it's a rapidly growing sector within the global tourism market. However, it's not that simple. You must have noticed that there are significantly fewer APIs for cruises than for flights, hotels, and car rentals as it's a quite reserved space. Still, we're not agitating for web scraping as it's a quite unreliable way to aggregate data.

Out of all global distribution systems, only Amadeus provides APIs to access 53 connected lines. Have a look at their SOAP Enterprise Cruise APIs. Their Fare Availability API can respond with available prices from a particular cruise provider on a certain date. You can ask Amadeus for access to try it out.

Also, there are technology partners in the distribution of cruises. They offer cruise aggregation platforms you can connect to and have access to the integrated suppliers (e.g. Travelopro, Traveltek, Trawex, IST). But of course, none of them are free.

You can also go your own way of partnering and making XML connections with each cruise supplier separately. For example, MSC Cruises offers its partners an API Technology allowing for prices, availability, and bookings. Alternatively, they have a catalog with their routes and rates suitable for a "search tool" and a "quick request function", as they claim. It's called Flat File and you'll need to download it daily from their database. But not many cruise lines are as integration-friendly as MSC. If you're interested in any specific integrations, contact our sales team and we can advise you on the best approach.
Hi there,
Hotelbeds is the leading wholesaler on the market with proven technology support and rich inventory. So, it's definitely the first place to try. HotelsPro is much smaller, but it's also worth checking out as they claim to have content mapping technology. If you get hotels from multiple sources, content mapping is a need-to-have feature. But keep in mind that you can also get content mapping from tech companies that specialize in it, like Giata or Gimmonix.
Besides the technical part of it, your choice boils down to specific deals that you can negotiate with wholesalers. If you can get better rates at HotelsPro, it may be the best option for you.
Also, check out our article on hotel APIs for more detail.