Helpful articles:
About TravelTech
It's overwhelming how much technology transforms the way we travel. Mobile check-ins increase customer satisfaction tenfold, content from travel brands helps travelers make a final decision about destinations, and the whole 83 percent of millennials don't bother about personal data sharing as long as it gives them the desired personalization. AR tours, data-driven flight shopping, Alexa in hotel rooms – this is just the tip of the TravelTech iceberg. Here, on Techtalks, you can discover new opportunities for your travel business, ask about the integration of certain technology, and of course – help others by sharing your experiences and reviews. Let's grow the TravelTech community together.
Hi Cho

Yes, Travelpayouts looks like a nice option. Rome2Rio doesn't have booking capability. It has search only.

If you're fine with affiliate programs, also check Skyscanner, Allmyles, and KIWI. You may also consider Booking.com and Expedia affiliate programs, but they mostly address accommodation booking.
It depends. There's no single best flight API. Your choice depends on the specific problem you're trying to solve (e.g. enable flight and fare search, or track flight status with departure and arrival times, or enable flight booking). Generally, there are two basic options: source data from global distribution systems (or GDSs, the major, worldwide flight aggregators) or directly from airlines. In some cases, you can check APIs by tech providers like FlightStats.
If you need the widest airline coverage and you want to implement flight booking, check GDS APIs by Sabre, Travelport, and Amadeus. Each of them covers about 400 active airlines. They search for flights and low fares, and do booking and ticketing. The problem with this approach is that some airlines like Lufthansa set surcharges for booking through GDSs because they want to encourage direct booking or direct cooperation with resellers.
So, the option is to integrate and partner directly with each airline you need. That, however, presents an even larger number of problems as there are only about 40 airlines that have standardized XML-based APIs and each of them is slightly different. So, the engineering effort may be enormous. On the bright side, with direct connections, you get the widest ancillary booking support, seat selection, baggage customization options, etc. The most balanced approach to flight search and booking is to combine GDSs with some direct integrations.
If your goal is general info without booking capabilities, you may not need GDS or direct integration. The first place to go for fresh flight fare data is ATPCO, the main fare distribution provider. The largest pool for timetables, routes, and connections is provided by Innovata, a travel tech company. Also check FlightStats and Flightradar24 for flight and airport details like delay indexes, arrivals and departures, aircraft equipment, airport FIDS, flight status, etc.
If you need something simple and don't want to go through raw airline data, you may contact OTAs or metasearch platforms to integrate their APIs. The key provider here is Skyscanner, but also consider Expedia or Kiwi.
For more details, have a look at our travel API's articles.
The main providers of car rental APIs are global distribution systems (GDSs): Sabre, Amadeus, and Travelport. You should contact them directly to gain access and receive and API key.
It may be a challenging task for a small business to get full access to GDSs solutions, so you can consider traveltech providers that support car rental connection like Trawex or Travelpro.
There's also some support at online travel agencies (Skyscanner, Priceline, etc). To access those, you normally must use affiliate partner contacts. Finally, one of the largest car rental suppliers, Avis, has a public API.
Besides APIs, many suppliers support affiliate links and banners, if that works for you. You may check car rental connectivity options in our article in more detail.
Hello Todd,
We can tell you've done quite a research on this topic. And we feel you.
The functionality of Amadeus' self-service API has a number of limitations. But the reality is that it's the only self-service API available among the global distribution systems. Other GDS solutions are truly legacy cumbersome systems. And that's one of the key hindrances to smooth airline distribution.
As for Skyscanner, you're right. On a case by case basis they accept only those businesses capable of generating traffic and attracting users. So if you're only setting your foot in the travel industry, chances are you might not hear from them soon, if at all. In addition, Skyscanner API won't allow for facilitating bookings as it's a metasearch.
Now, regarding ATPCO, the main fares provider. In terms of the traditional flight distribution, ATPCO is an intermediary that transmits tariffs from an airline to a GDS.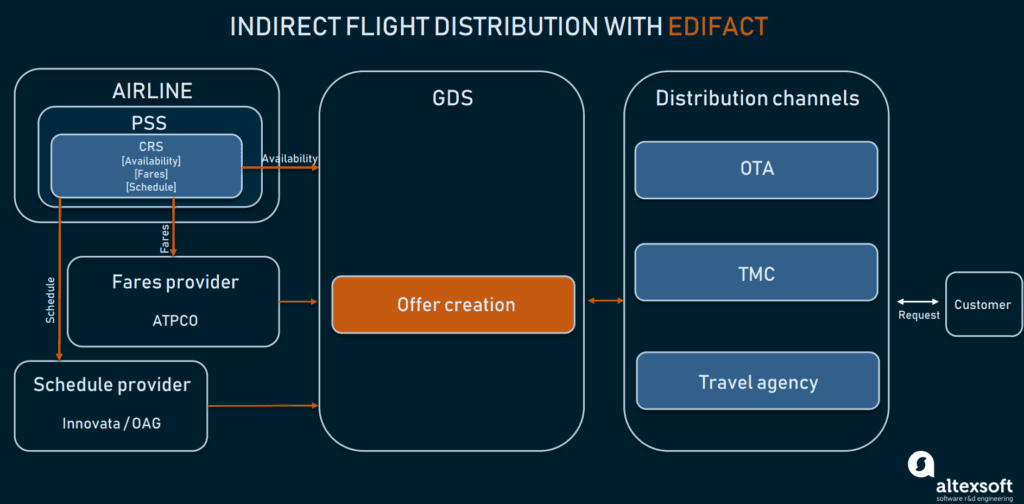 ATPCO's JSON Routehappy API has direct connections with GDSs and some airlines. Akin to Skyscanner, they won't enable booking capabilities. The API access involves monthly payments starting from $2,500, which may not fit into the budget.
If your distribution market isn't too big, you may try connecting to each airline directly avoiding GDS. If you decide to follow this path, you'll need to adopt the New Distribution Capability XML standard.
As you can see, many scenarios are possible in your case. As we have extensive experience in building OTAs, we surely can give you good advice, to say the least. But for this purpose, we'll need to dive deeper into your situation. So why don't we keep our communication in DMs? Contact our sales team and they'll sync you with our best experts.
Hi Olexander
Sorry I didn't reply sooner and thank you for your detailed answer which has helped explain the differential between numbers of deployed channel management products versus numbers of hotels presented within the larger OTAs.
Best regards
Ted


Hi there,
We mostly work with GDSs. So, Amadeus suggests 2,000 free requests per month for low-fare search and 3,000 requests for a regular search, given that you use their self-service APIs. Sabre doesn't have fixed rates and everything must be discussed individually.
As for other players, Skyscanner claims to provide all API services for free, if you can negotiate commercial partnership with them. Their limit is up to 100 requests per minute for live prices. You are right that Kiwi doesn't provide open info on their rates, so it's worth contacting them directly. The same for Travelfusion, Orbitz, and Priceline.
You can also try your luck with ATPCO, that's where all flight prices come from.
There are mainly two types of use cases for integrating Booking.com APIs.
Accommodation booking by travel providers. The model is quite simple. You enroll in the affiliate program and then use the Booking.com API and other affiliate products to either sell rooms from their inventory for a part of a commission or redirect users to Booking.com. The example of the former integration is Aegean Air, a Greek airline that allows travelers to book rooms in addition to flights. The latter is Rome2Rio.com, an itinerary planning and travel search platform. While Aegean uses full Booking.com functionality under its brand, Rome2Rio suggests accommodations, ratings, and pricing with range filters coming from the Booking.com inventory.
APIs for channel managers. Another major API package is Connectivity. It suggests channel managers and other connectivity providers integrating Booking.com as one of the sales channels. Examples for integration are all the popular accommodation channel managers that you can think of (SiteMinder, Dhisco, DerbySoft, etc.) Also keep in mind that Booking.com doesn't allow properties to connect directly. If you're a hotel owner, you must connect via a channel manager only. You can set your property management page on the Booking.com portal and pick your channel manager from there.
Amadeus has two API packages: Web Services and Travel Innovation Sandbox. The former is created for students or startups, as an exploration stage before the actual production. Amadeus Web Services also has two sets of APIs: Self-Service and Enterprise.
Self-Service is also a testing-only environment, but the production usage promises to be available soon. To try it out, review Amadeus' catalog of REST/JSON APIs and then create an account in the Developers portal. In your personal profile, you will automatically get an API key that allows you to start testing APIs right away.
Enterprise APIs require requesting an access. The approval takes longer to receive, but you will get access to the full Amadeus API catalog. You can read about each API in the Enterprise stack here.
As for examples, see Aladdin Travel – a travel management company that uses Amadeus GDS to organize corporate and student travel. There's also Titan Travel that specializes in escorted and solo tours. It switched to Amadeus exclusively after unsuccessfully trying to handle Galileo systems also.
Galileo is one of three GDSs along with Apollo and Worldspan that comprise Travelport GDS. Travelport has a pretty straightforward workflow to get started with product.
Request trial access to Galileo APIs and submit a form on Travelport's website. There, you'll have to choose your preferred GDS from the three (Galileo in your case). This is free, and you will receive a key to Galileo in a few minutes. Here's a link to documentation to help you.
When you're done with testing, contact an Account Manager from your profile or Travelport itself, and they will supply you with authorization.
After you are authorized, contract finalization and certification will start. This is called the Pre-Production stage. Travelport asks you to complete a Universal API Requirements Questionnaire [.docx] to evaluate your capacity needs. After completion, you should request a sales representative call to review your questionnaire and finalize certification.
When you receive your API certification, you enter the Production system. Make sure your developers and systems comply with Travelport's requirements. You will receive further instructions from your account manager.
Hotelbeds Group has a huge market coverage allowing you to distribute accommodations, activities, and transfers in 185 countries. It has a few APIs but all with the same integration process, so we'll walk you through it.
Register for a test key. This will create an account in Mashery – an API database that powers Hotelbeds and many other APIs in different industries.
After receiving a confirmation email, generate your API key, which will give you access to documentation and the Sandbox. At this stage, you'll also need to choose at least one Hotelbeds API that you're planning to choose. There are three: Booking API, Content API, and Cache API. Read a brief explanation here.
Be prepared for integration. You will be contacted by a Hotelbeds representative.
Hi there,
It's nearly impossible to get access to all airline seating info as some airlines may not share this data in the first place.
However, there are two main options. The first one is obvious: you may contact airlines directly and ask for their API access with seating capabilities. For instance, Lufthansa Open API provides seat maps. But most airlines don't support APIs at all.
The second option is to source seating info from GDSs.
Amadeus provides seat maps in their enterprise APIs.
Sabre has a broad set of APIs for seating.
And TravelPort Universal API has a seat map capability.
They still may be limited by the data that carriers provide.
It doesn't look like SeatGuru has an open API, but it's also worth trying to contact them directly.
Getting access to GDS APIs isn't that simple, but it seems like the best option for your problem.
You can enroll in their affiliate program and then use a RESTful API. Useful info can be found here. Basically, you apply and, if approved, you get all needed credentials and can find the key in their Partner Portal.
Then you can enter a testing environment to try you requests and configure the integration.
The final step is to ensure that your site meets Expedia requirements. You'll undergo their review prior to going live and then you'll start working with end-users.
Hi there,
Traditionally, GDSs offer access to back office via dedicated account. That assumes you will have to sign a contract with whichever GDS provider you choose and discuss the price to access this data personally. In any case, there is no well-known GDS back-office system that offers openly-published data without any subscriptions.
We hope it answers the question.
Hi there,

Thank you for the question.

Airlines used to pay commissions to travel agencies for reselling their tickets but they rarely do it today. Commission cuts started in the 2000s and these days they've been brought down almost to zero. Though, airlines still give agencies a productivity-linked incentive of two percent on average.

If not commissions than what?

These days, OTAs rather make money by topping the flight price with markups. OTA's commission engine adjusts markup sizes depending on a number of factors like current demand, competition, season, etc.

Agencies have other income streams like service fees, consultation or planning fees, insurance costs. In addition, OTAs provide other services like hotels or car rentals where the commission situation is more favorable.

Besides that, OTAs have agreements with some airlines that allow them to negotiate more favorable terms for selling their tickets. Usually, it means aligning with a host agency or consortium.
Expedia is the second largest player in the online travel agencies market with about 32 percent market share, according to 2018 data. It's second to Booking.com, which has 41 percent of the market. Actually, we've compared these companies in our infographic. Keep in mind that it uses 2017 data.
Hello everyone. I want to make an app for my shop, so I`m interested in a qualified web application development team/service, which can help me.
Kayak has an affiliate program that you must enroll in before integrating their API. Keep in mind that Kayak doesn't permit integration unless your platform has more than 100,000 monthly visitors.
If you have more, you can use their API or white label. To proceed you have to define which kinds of search data you want to receive and contact them directly.
If you have fewer than 100,000 monthly visitors, Kayak offers an affiliate programs trial using third party affiliate networks like CJ or Webgains. They will connect you with smaller brands belonging to Booking Holdings, like Momondo.
Thank you for your question.

We haven't found any proof that the GDS has stopped supporting e-Power. Moreover, we communicated with Amadeus representative who also confirmed that they do sell e-Power as usual.

Have a look at a non-customized standardized e-Power instance on staging at https://staging.epower.amadeus.com/noramstarterbase/. Amadeus warns that it might work slowly which doesn't reflect the real response time in production.

If you still have any questions regarding e-Power left, we advise addressing them directly to Amadeus.

For those who don't know, here are a few words about the product.

e-Power is an online booking engine fully integrated both with the Amadeus system and a travel agency website. e-Power enables OTA customers to book flights, cars, and accommodations. OTAs can customize e-Power design, including banners and logos. The e-Power platform also includes:

1. marketing tools to manage customer relations and conversion rate,
2. technical tools to expose content on metasearch engines,
3. set of service fees and mark-up rules to resell services with benefit,
4. mobile-friendly interface,
5. available ancillary services to upsell.
While they are subsidiaries of the same holding company, there are some differences both in terms of business models and the ways they partner with affiliates.
Booking.com is an online travel agency, meaning that travelers pay a hotel directly for a stay including a fee to an affiliate and Booking itself. They use a progressive approach to affiliate earnings. In other words, the more checkouts per month you generate, the higher your earning rate is. For instance, if you bring only 0-50 customers, your rate will be 25 percent. If you make 501 or more, you get 40 percent. Booking provides an API. You can also place branded banners and widgets on your website or integrate a search box.
Agoda combines a travel agency model (similar to Booking.com) with that of a wholesaler. The latter means that at some hotels they purchase an inventory in advance to sell at a higher rate. Agoda also suggests a progressive approach, but in this case, you can get 35-60 percent in commission earnings. You can use an API, Agoda ads, links to integrate with the portal, and some other tools.
As you've guessed, Booking is a more robust and complex product than Agoda. And it deals with a lot more customers daily, being the largest accommodation OTA in the world. It's also a more trusted one. On the other hand, with Agoda you have the potential of earning a higher commission per checkout.
There are various types of services given by dialing Air Canada Airlines Reservations number are given below:
•Flight Schedule
•Flight status
•Flight Cancellations
•Refund status
•Check-in facilities
•Baggage facility