The work of radiology departments is associated with medical imaging and diagnostics. But behind the scenes, their day-to-day routine covers myriads of other operations, from scheduling appointments to billing to reporting. If handled manually, these mundane processes take much time and generate heaps of paper documentation, not to mention endless phone calls.
Fortunately, modern imaging centers can reassign a lot of tasks to specifically designed software — a radiology information system (RIS). More and more diagnostic centers and departments are investing in RISs to minimize administrative costs with North American radiologists leading the pack in terms of technology adoption. This article explains what this system can do, how to choose the best tech provider, and how you can contribute to implementation success.
What is a radiology information system?
A radiology information system is a technology to store, manage, and share data generated in radiology departments (RDs) and diagnostic imaging centers. It streamlines daily operations like patient registration, scheduling, order tracking, billing, and reporting, to name a few. RIS greatly simplifies collaboration between radiologists and physicians as well as between administrators and medical workers.
RIS functions
What exactly can a RIS do? It depends on the provider and the requirements of the intended users. However, in most cases, the radiology software will contain modules covering the following processes.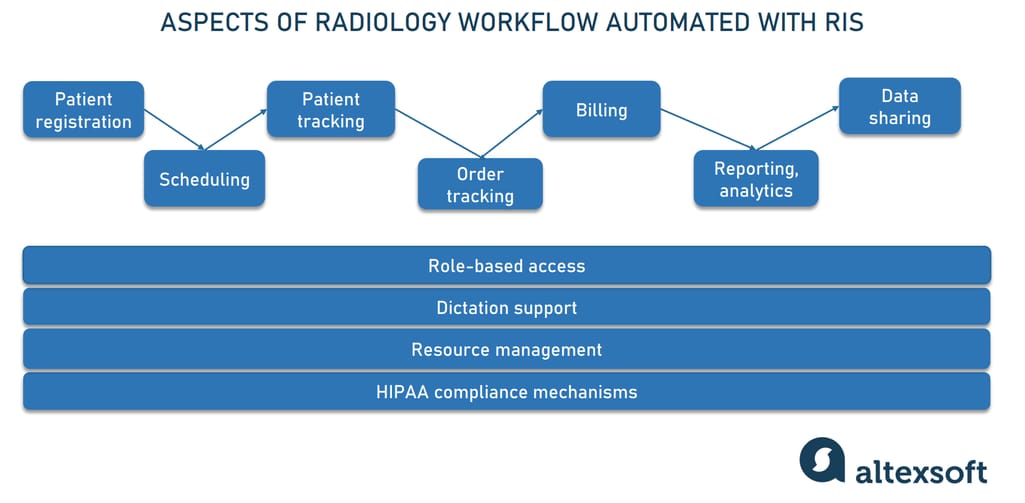 Main capabilities of a radiology information system.
Patient information management (registration, scheduling, tracking). The RIS enables radiology centers to get rid of paper-based documentation by digitizing patient registration and scheduling. Also, radiologists and physicians can access the complete patient history and check for any diagnosis updates.
Order tracking. The system saves the history of orders for diagnostic imaging, from the moment a physician places a request to exam completion. As a result, users can keep track of images and related information.
Billing. RIS software creates electronic invoices against imaging exams and supports medical codes used for billing purposes (ICD-10 and CPT.) Automation of this step results in fewer errors that, in turn, eliminate the risk of payment delays or denials.
Reporting and analytics. Another desired function of the RIS is generating reports on patient no-shows, radiologist workload, the dollar volume of exams, and other vital aspects of the radiology department lifecycle. The results can be shared in comprehensive visual forms via an analytic dashboard. This helps managers identify bottlenecks and performance issues and address them.
Role-based access. The RIS is typically used by various groups of employees — administrators, managers, nurses, radiologists, medical coders, and so on. The role-based access helps restrict workers from exploiting features and data they don't need for fulfilling their immediate tasks.
Resource management. The RIS can store information on material inventory, making it accessible whenever required. This helps radiology managers make the right investment decisions, reduce expenditures, and maintain an efficient budget.
Dictation support. Many modern radiology systems have an in-built voice recognition module that allows doctors to dictate notes and navigate the software hands-free.
HIPAA compliance mechanisms. Radiology software inevitably deals with protected health information (PHI), or patient data that contains personal identifiers. That's why your RIS is subject to the Health Insurance Portability and Accountability Act (HIPAA) that takes care of preserving people's privacy. To prevent common HIPAA violations (and associated penalties), your system must have built-in security mechanisms like automated backups and logoffs, end-to-end data encryption, etc.
Besides built-in features, the important RIS component is that it integrations with other healthcare systems. This prevents data from getting locked. Instead, it can be smoothly shared across authorized users outside the radiology center.
RIS integrations
The RIS is an essential part of the health information management infrastructure. To establish interoperability and exchange information with other systems, radiology software must align with the industry-specific healthcare data standards — namely
Health Level 7 (HL7), adopted for messaging between medical apps, and
Digital Imaging and Communications in Medicine (DICOM), commonly used for storing and transmitting medical images.
The key system integrations for radiology information software include but are not limited to the following.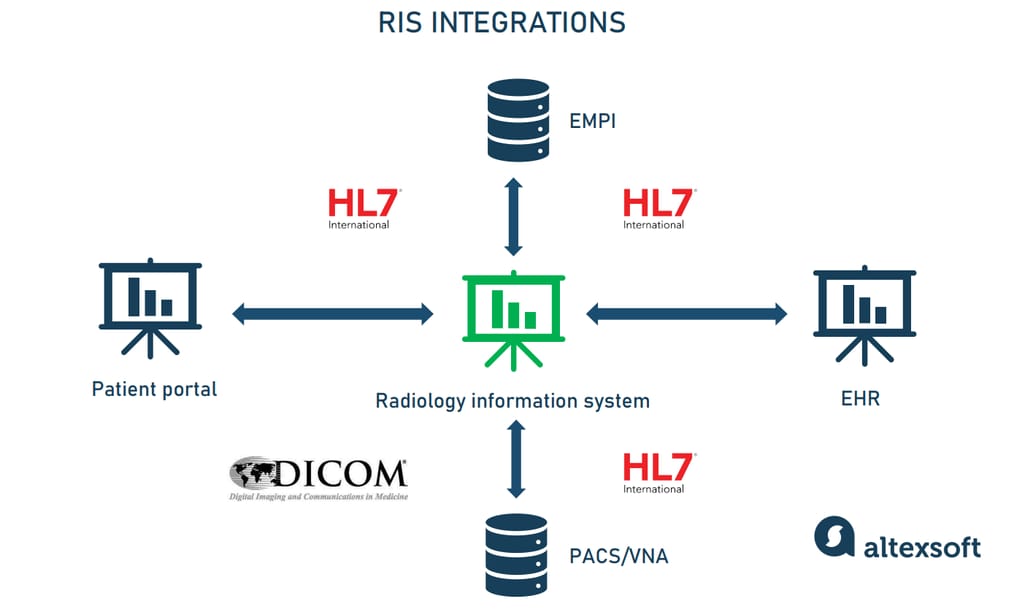 Key RIS connections to allow for data exchange.
A picture archiving communication system (PACS) or a vendor neutral archive (VNA). The RIS takes care of the entire imaging workflow, from the moment a physician places an exam order until the bill for the service is paid. However, it usually doesn't communicate directly with radiology modalities. Instead, it retrieves images and related data from the PACS. The latter immediately interfaces with machines and stores scans in the internationally adopted DICOM format.
In modern infrastructures, there can also be the VNA in-between. The main function of the VNA is to normalize data coming from different PACSs and make it compatible with any system.
To understand the difference between the two archiving approaches, read our article PACS and VNA Explained.
An electronic health record (EHR) system. This is the heart and soul of the health IT environment, where all the essential data on patients is aggregated. The RIS must be integrated with the EHR system to send imaging results back to the physician who ordered them.
An enterprise master patient index (EMPI). In most healthcare institutions, the RIS is closely integrated with an enterprise master patient index, a database serving as a single source of truth for patient identities. It stores the name and demographic data of each person registered in the hospital system under a unique code. Once a new entry occurs, the EMPI uses its matching engine to check for duplicate records and
A patient portal. With the connection between the RIS and patient portal established, people undergoing diagnostic imaging can also get convenient access to their results, enhancing patient engagement and overall satisfaction.
Now that you have a broad picture of RIS functionality and its place in the health IT environment, let's narrow the topic to "Ok, our imaging center deperately needs a RIS. Where should we start?"
Requirements — definition and submission: what are the unique needs of your radiology office?
No vendor or software development company knows your pain points better than you and your team. Before investing in a new system or features, you should clearly outline your requirements and put them in a request for proposal (RFP).
RFP creation
A detailed RFP is key for the RIS implementation success. So, it's not a one-man task. Experts to be involved in its development include:
radiology department or/ and hospital managers,
health information managers,
clinical engineers, and
financial specialists.
Below we list areas the document typically covers.
Workflow. In this part, you need to
describe your current workflow from patient registration to result distribution,
identify bottlenecks, and
outline the desired workflow.
For a radiology office within a hospital or clinic, consider all departments interacting with imaging services. This will help synchronize your operations with those of the entire institution.
Users. Provide information on the number of RIS users and their types. In other words, specify how many radiologists, coding and billing technicians, physicians, IT specialists, administrators, and other employees are supposed to work with the system. This data is important for specifying software licensing, training requirements, and implementation timeframe.
High-level functionality. Describe your existing system detailing its vendor, functionality, most recent updates, and limitations. Specify what new features and improvements you expect to get.
Integrations. Give granular information on other software tools your department works with — PACS, patient portal, EHR, billing software, etc. Write about current and desired integrations.
IT infrastructure. Here, you go into detail about your network topology, server and storage infrastructure. Mention your current hardware vendors and operating system. IT details are essential to understand if it's possible to run your new system with an existing environment or it needs upgrading.
Timeline and budget. By setting timeframe and budget limitations, you'll eliminate providers who can't meet your constraints.
In the course of the RFP development, you'll be able to better understand and prioritize your expectations and requirements. This, in turn, we'll help you to narrow down the choice of potential tech partners to whom you'll finally submit your request.
Development vs purchasing
Broadly speaking, there are two large groups of service providers to help you with the RIS.
1. Software engineering and consulting companies with experience in the healthcare industry.
They will assess the feasibility of your requirements and offer different options, from custom development of features your current system lacks to configuring a ready-to-use solution according to your needs.
Applying to companies of this type makes perfect sense if you are not going to replace your current software but only want to enhance some functionality. Say, you consider adding a business intelligence dashboard to display key performance indicators. Consulting services can also help you with selection of the proper RIS vendor and integrations.
2. Out-of-the-box RIS vendors.
Building a radiology system from scratch is an extremely time-consuming and cost-intensive process. It comes as no surprise that most imaging centers would prefer to purchase out-of-the box software from a RIS vendor.
Suppose, you consider several providers who have acceded to your request and seem to perfectly meet your requirements. Your next step is to finalize the selection based on additional criteria we'll talk about in the next section.
Things to find out when choosing a RIS vendor
Radiology information systems have been here for decades, and by now the number of technology vendors has multiplied. At first sight, they are much alike, offering the same functionality. Yet, upon thorough examination, you'll see significant differences in usability, configurability, interoperability, and other not-so-obvious factors. Here are some things to focus on in the first place.
Size of your business
Not all radiology apps are designed equal. They can be roughly divided into three large groups, serving different targeted audiences:
small radiology practices with fewer than 10 workers on the staff;
enterprise imaging centers with at least ten radiologists and equipped with PACS software; and
hospitals with many departments and a diverse IT infrastructure.
Before going any further, learn which type of companies tends to use the platform that interests you. Are they similar to your organization?
Some vendors offer systems for radiology practices of any size. In this case, you should request details about how fast the system can scale up and down if such a need arises.
Connectivity
Some vendors specialize exclusively in RIS software. Others offer a range of related products — such as PACSs, VNAs, EHR, laboratory information management systems (LIMS), and so on. There are also combined PACS/RIS platforms with a single database.
The advantage of multi-product providers is the seamless connectivity between their solutions. So, if you're planning to acquire a range of apps, it makes sense to stick to the same vendor.
In case you already have a PACS/VNA, patient portal, and other systems, make sure that a new RIS can be easily integrated into your existing environment. As we mentioned above, medical apps communicate with each other via HL7 messages. The problem is that the standard comes in different variations. In the US, health software uses primarily HL7 version 2 (V2), while many other countries prefer more modern, XML-based version 3 (V3).
What if your existing systems and a new RIS run incompatible types of the same messaging mechanism? Ask your vendor how they usually address data integration issues. Say the provider doesn't have an out-of-the-box solution to the problem. Then, you'll have to invest in purchasing a third-party mapping tool or creating a custom one to convert V2 to V3 and vice versa.
The level of tech support
The importance of support from the system provider is obvious and hard to deny. Try to find out what services you can count on. This may include such options as
IT training for hospital staff,
an onsite service engineer, or
only remote support (by phone, email, live chat, etc.).
Also check response time and whether tech specialists are available 24/7.
Many RIS vendors outsource maintenance services abroad to reduce costs, often leading to communication difficulties. Another issue is that support workers with no radiology background don't understand your staff's daily workflow. Better, if you discover all possible pitfalls and take them into consideration before the purchase.
When asking a vendor about the cost of their product, you'll most probably get general details like license and annual support fees. But beyond this, there can be hidden costs, and the real price of ownership becomes clear only after installation. To prevent unpleasant surprises, keep in mind the following expenditures associated with the RIS.
Software upgrade fees. Some vendors charge up to 20 percent of license fees for upgrades, which are normally made every 12-18 months.
Custom programming fees. Buying an off-the-shelf system doesn't mean that you won't require development services. More often than not, the RIS has to be customized to fit the requirements of your center. The need for software changes typically arises during the first year of use.
Interface costs. Interfacing with platforms from other vendors also comes at a price. There can be fees per connection, per system, or per transaction, not to mention initial integration costs and payments for tech support of these connections.
Radiology information system vendors: what IBM, GE Healthcare, and others have to offer
To further assist in the selection process, we've created a short overview of top RIS vendors serving different audiences. Note that we don't pursue any advertising purposes but rather give additional guidance. All platforms mentioned below have established footprints in the radiology sector and at least two decades of market history.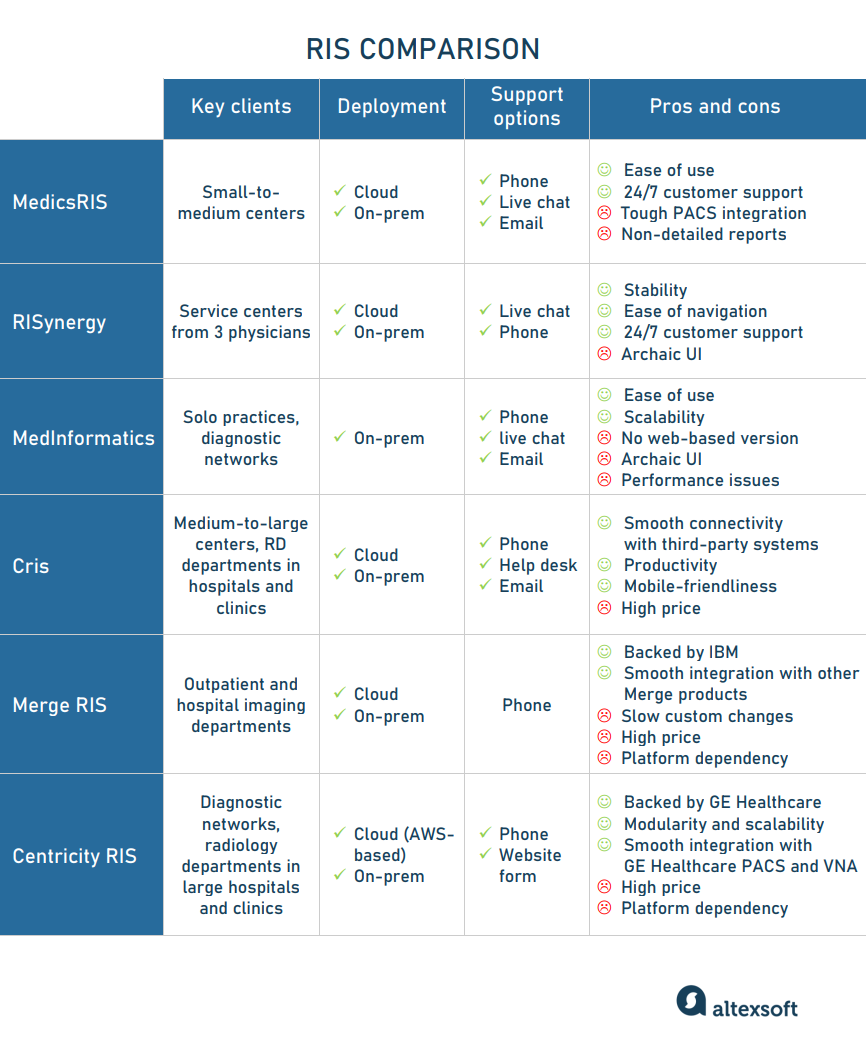 How established RIS vendors differ from one another.
MedicsRIS: Quality UX for small-to-medium centers
MedicsRIS is a product by the Advanced Data System Corporation that has been working on radiology software since the late 1970s. Their key clients are small to medium radiology centers aiming to combine scheduling, billing, patient tracking, and reporting functionality in one program.
The system is praised for its ease of use and great tech support. Among the widely cited cons is the complexity of integration with third-party PACSs. Also, reports are not always as detailed as expected. This can be fixed by custom development of required changes.
RISynergy: Leader in stability and best-in-class tech support
RISynergy by Swearingen Software caters to practices with as few as three doctors on staff. Besides typical RIS features, it offers optional modules like biometrics-based login, appointment reminder, DICOM worklist manager, and many more.
Though the vendor is relatively small, it often outperforms bigger companies in terms of stability, timely tech support, and feature accommodations according to individual needs. On the dark side is the somewhat outdated interface.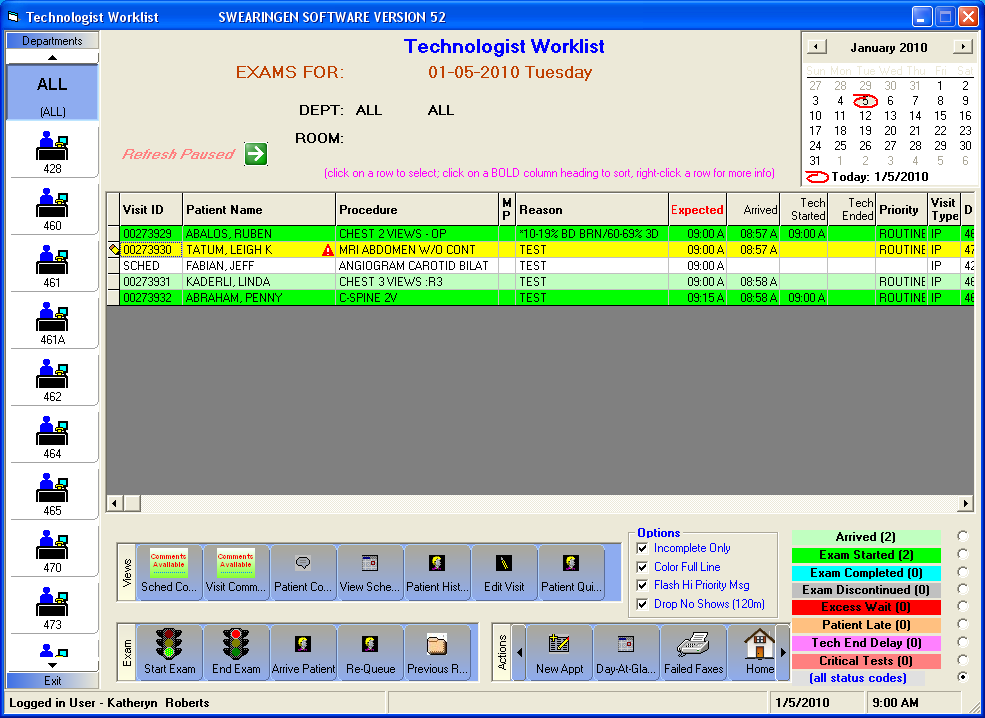 The user interface of the RISynergy system is quite easy to navigate but looks a bit outdated and clunky.
MedInformatix RIS: Windows-based system trusted by top radiology centers
MedInformatix RIS is a pioneering technology that has been automating radiology workflows for over 30 years. It works on top of the Windows platform, in tandem with other MedInformatix solutions such as a PACS and laboratory information system. Among their clients are four of the top ten radiology centers in the US.
The core platform features scheduling, registration, billing, and reporting functionality. On-demand, an executive dashboard with business metrics, a patient portal, and an e-prescribing module can be added. The platform meets the requirements of both solo practices and networks of radiology centers.
As for the cons, the system looks and feels quite archaic, with no web version available. Some clients complain of frequent downtimes and crashes.
Cris: platform-independent technology, preferred in Britain
Cris is the most popular RIS in the UK, installed in over 700 separate locations and supporting nearly 200,000 users across the country. Its vendor, Wellbeing Software (formerly known as HSS), claims that the platform handles more reports than any other RIS.
Cris goes with a patient attendance module for remote check-in, an intelligent dashboard to track productivity and effectiveness, and a mobile app for radiologists. The system is provider-independent and smoothly interfaces with literally any PACS, VNA, and EHR solution.
Merge RIS: IBM solution for large imaging services
Merge RIS by IBM fits enterprise-grade diagnostic centers and radiology departments in clinics and hospitals. It has extensive document management and billing functionality. Coming as a part of the Merge radiology suite, the RIS can be easily complemented with optional modules such as a PACS, dictation tool, patient portal, and business intelligence dashboard for tracking schedules and productivity.
Custom modifications are also available but their development might take quite a while.
Centricity RIS: scalable enterprise-grade product from GE Healthcare
Centricity RIS is designed by another tech giant, GE Healthcare. It has a modular structure and easily scales across multiple departments. The platform focuses on patient data security and integrity. The RIS naturally integrates with other radiology solutions from GE Healthcare — like Centricity Universal Viewer (PACS) and Edison Datalogue (VNA).
For small practices, the RIS may be too pricey. Besides that, your business automatically becomes dependent on other quite expensive technologies from GE Healthcare.
What to do before going live
Simply buying a RIS, even from the best vendor on the market, is not the end of the story. The implementation may last weeks to months. In many cases, it will be accompanied by data migration, which is moving your information to a new database or from on-prem to cloud.
Though this stage will be mostly handled by your tech partner or provider, you can also contribute to the project success.
Take your time for planning. Once you define the partner — be it a development company or a software vendor — create a detailed project plan, ensuring that you are on the same page. To build mutual understanding, discuss with the service provider in depth where are you now and where you want to be.
Involve as many experts in testing as possible. First, the system is set up in a test environment. At this step, engage a wide range of people representing different types of users (administrators, radiologists, physicians, etc.) in test driving the capabilities of the new software. This will help you unearth possible issues and get the vendor to fix them long before the launch.
Appoint trainers. Most vendors provide training to teach future customers how to use their system. However, they often fail to cover all staff members. Besides that, it takes some people longer to master new technologies than others. A good practice is to define trainers inside your organization to run on-demand classes for underperformers and newcomers.