Innovation and healthcare always go hand in hand. As we upgrade our regulations, advance administration practices, and learn to use data, we make the physician's job more complex too. That's why doctors heavily rely on Electronic Health Record systems to be able to concentrate on patients. Now they get immediate access to patient data, guaranteed security compliance, and streamlined day-to-day operations. Of course, with great technology comes a lot of effort to understand it and adopt. Here we clear this up.
What is an Electronic Health Record
An
Electronic Health Record
is computer software used to capture, store, and share patient data in a structured way. An EHR is able to share
medical information
among all the authorized parties involved in the patient's care: clinicians, labs, pharmacies, emergency facilities, nursing homes, state registries, and patients themselves.
The first EHR prototype called a Problem-Oriented Medical Record appeared 50 years ago. It consisted of a database of a patient's complete clinical history, a problem list with the patient's medical complaints, initial plan of care in which a doctor decides what to do about the problem, daily progress notes, and a discharge summary that tells about the fullest resolution of a problem emphasizing the remaining concerns.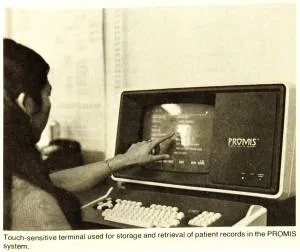 Problem-Oriented Medical Information System in use, Source: Automation of the Problem-Oriented Medical Record, 1977
Today EHR software is beyond basic record management. With helpful practice and revenue management tools, EHR is turning into a comprehensive clinic management system.
Nabil Manzoor
, an expert with over 15 years in healthcare consulting and a founding member of the Healthcare Blockchain Working Group
INATBA
, considers it a fundamental principle:
"EHR should manage all the operations from the frontline care to the back office. It shouldn't be just sorting out the bedside processes in isolation but rather linking them with the back office so that everyone is on the same page being equally informed."
EHR Workflow
EHR exists to support the workflow already present in the clinic. It also implies the connectivity between all members of the patient care environment. What are these members and how does EHR help them?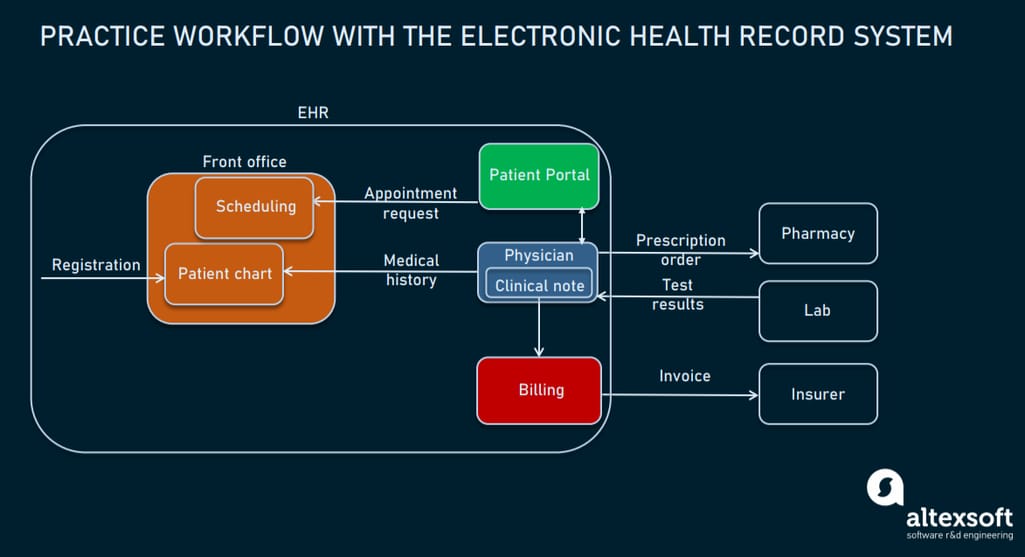 How EHR helps manage the practice
Patient.
A patient wants to see a doctor. First, he or she needs to register at the clinic. It can be done either via a self-service check-in kiosk or at the front desk. There, a patient fills in their details including their history of present illness, allergies, treatment taken, as well as billing details. On registering, a patient gets an account at the patient portal where he or she will be able to view the summary of the visits, request appointments, etc.
Front office.
A receptionist makes an appointment for a patient with a doctor in the centralized scheduling module. The system automatically accommodates each doctor's workflow and distributes patient queues considering multiple sources: online scheduling, check-in counters, and reception desks.
Physician.
Then, a physician is notified of the upcoming appointment. He or she can access the patient's demographics, medical history, and symptoms in the patient chart. After the consultation, real or virtual, a doctor enters a clinical note from the visit into the practice's EHR system including the diagnoses, prescription, and further instructions. Later, a nurse, therapist, or another physician can look up the note to carry out the necessary procedures.
Pharmacy.
A prescription is transmitted to the pharmacy to order drugs. Then, a patient can pick them up at the pharmacy directly reducing the wait time.
Finance department.
Based on the visit, the finance department uses the billing module to generate an invoice for the patient.
Insurance company.
The EHR's billing module then prepares an insurance claim. First, it checks it for errors at the clearinghouse, reformats the claim to match the insurer's standards, and then sends the claim to the insurer to cover the expenses.
Labs.
As an EHR is integrated with labs using HL7 standards, a physician can make direct lab requests to receive a patient's results for review.
Post encounter, a patient can proceed to see a number of other doctors or specialists for further analysis and treatment. Each visit will generate its own record in that doctor's separate EHR system. If these systems don't talk to each other, the patient's data remains fragmented across many data capture systems. This raises another question: how to link a patient's disparate records from different facilities?
Interoperability among different EHR systems
Directed Exchange.
Under the HIPAA Security Rule, an electronic health information exchange must ensure the confidentiality, integrity, and technical safety of patient information. So, healthcare providers use the Directed Exchange method that allows them to be compliant with HIPAA. DE is a secure email-based solution available within a certified EHR and it always has a specific sender and a designated receiver. Connected via Directed Exchange, EHRs enable physicians to share messages, attach information in interoperable formats, electronically manage referrals, etc.
Health information exchange organization.
HIE is a secure central repository of patient data aggregated across multiple facilities and EHR systems. So, a participating provider can send out a query asking other connected EHRs whether they have information on a specific patient.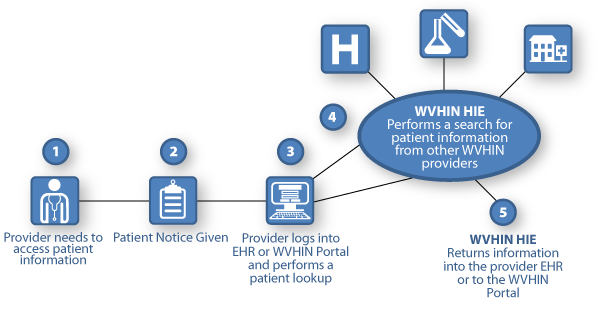 Health information exchange among the providers through an HIE, on the example of the West Virginia Health Information Network (WVHIN)
Patient matching algorithms.
EHR's automated algorithms match the records from different authorities comparing demographic data and making sure they refer to the same patient. Variations in the patient demographics formatting among systems can hinder accurate matches. That's why ONC recommends standardizing demographic data and requires using the following elements for matching: address, name, birthdate, phone number, and sex. Using an email address or mother's maiden name also contributes to the accuracy of matching.
EHR vs EMR
Talking about EHR, we can't help mentioning
Electronic Medical Records
. EMR is a digitalized patient's chart from a single provider or clinic. Its primary focus is on making the right diagnosis, prescribing necessary treatment, and
monitoring patient's medical state
. An EMR system is designed to keep health information locally and isn't intended for distribution outside the individual practice.
Though frequently EMR and EHR terms are used interchangeably, the
Office of the National Coordinator of Health Information Technology
(ONC) highlights the significant difference they have: EMR lacks interoperability which is the priority for EHR systems.
Next, we'll tell you about the EHR features, key vendors, and how to navigate among this pool of offerings toward the
implementation of the EHR system
that will serve your unique operational needs.
EHR features and modules - how are they important?
EHR isn't just a repository for digitized health records. It puts a patient's information to work.
"The simplest value chain of an EHR is capturing patient's data, analyzing it, and providing insight for a clinician,"
sums up Nabil Manzoor.
At the same time, EHR must ensure
patient data protection
. It should authenticate users and/or entities and determine their levels of access. EHR safeguards a patient's details against potential threats and data loss with automatic data backups, automatic log-offs, data encryption, audit trails, access control, secure messaging system, etc.
Now we'll describe the building blocks of an EHR system that manage operations from the front office to the finance department.
Front office management
Schedule management.
The EHR provides the necessary data to a scheduling system to make an optimal agenda and keep up with it.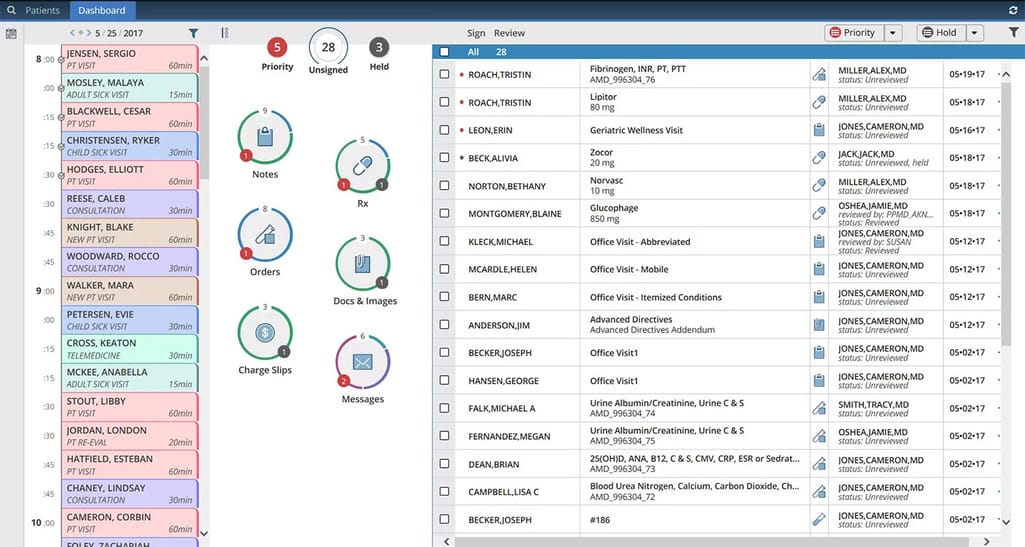 Patient scheduling dashboard, Source: AdvancedMD
Patient tracking.
EHR can manage patient status, providing the front desk with their rooming updates, sending wait notifications, analyzing peak times, etc.
Task assignment and prioritization.
EHR directs the flow of work assignments, delegation and transmission of tasks to the appropriate parties. Further, the system tracks tasks to guarantee they've been carried out and completed appropriately.
Generation of clinical documentation.
EHR provides tools to build patient-specific care plans, organizational guidelines, and protocols to manage patient care and support order entry.
Reputation management.
This feature performs ongoing satisfaction tracking and analysis, notifying of any disappointments a patient has experienced.
Physician support
Patient chart.
EHR groups patient's health information in an electronic chart. Accessing a patient's chart, a doctor gets summarized data including patient demographics, immunization dates, allergies, medical history, lab and test results, radiology images, vital signs, prescribed medications, and current health problems along with the health insurance plan and billing details.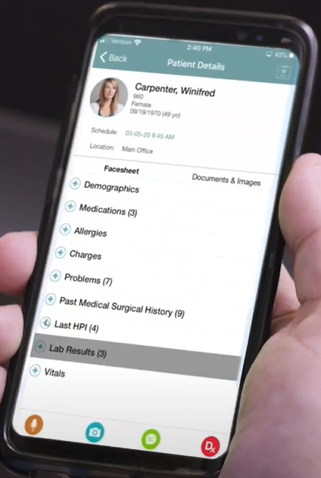 Patient's data available for physician, Source: NextGen
Recording capabilities.
Clinicians are able to enter a patient's data into an EHR system in several ways:
filling out templates
dictating straight into the software (voice recognition)
writing (handwriting recognition).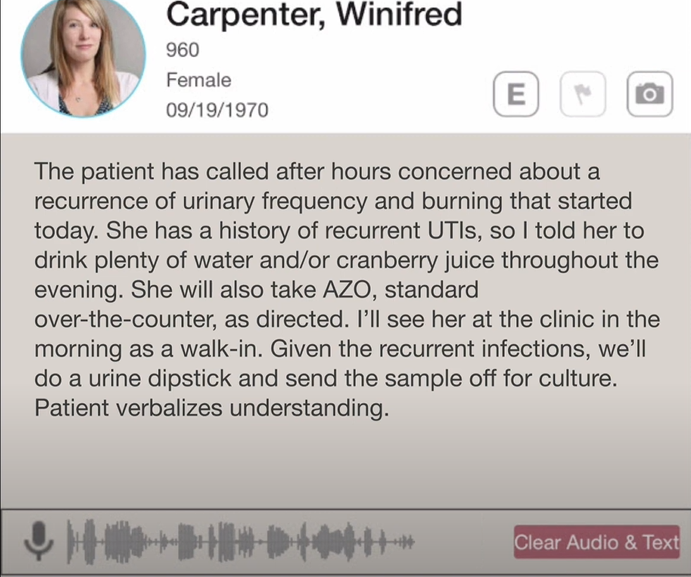 A physician can record a note for the front-office to save time, Source: NextGen
Reports generation.
The standard patient-specific reports include a problem list, medication list, encounter reports, clinical notes from the visit, treatment plan, progress notes, instructions related to pre- and post-procedural and post-discharge requirements, medical histories, patient care orders, etc. Templates are customizable with a menu of options depending on the specialty and the nature of the visit.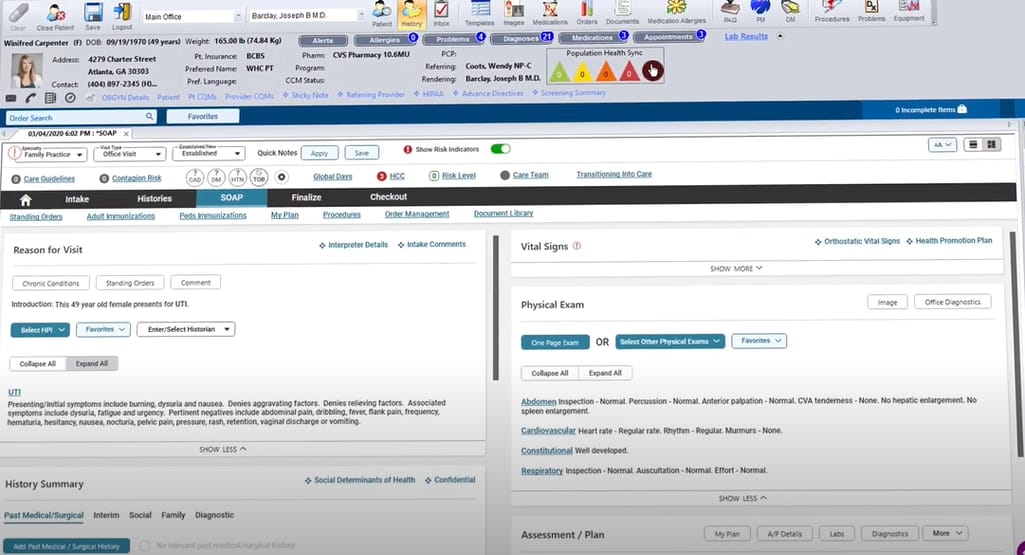 Dashboard for physicians to generate notes, Source: NextGen
ePrescribing.
EHR captures all prescription info, transmits it directly into the pharmacy's computer system, while keeping it on the patient's record. The system can also analyze the prescription, signaling drug interaction warnings or appropriate dose recommendations based on patient-specific conditions and characteristics at the time of medication ordering.
Notifications.
Between healthcare encounters, the system notifies the patient and/or appropriate provider of those preventive services, tests, or behavioral actions that are due or overdue. EHR can monitor if expected actions have been taken, and if not - execute follow-up notifications.
Big picture tools.
These tools help doctors make informed decisions allowing them to quickly identify the higher-risk patients and receive other data that can improve treatment.
Public health reporting.
EHR enables moving patients' medical data to state registries and across state lines to report immunization and manage population health.
Data segmentation.
This feature allows for tagging and sharing parts of the patient record but not all of it. This contributes to the privacy of patient records.
Patient portal
Patients log in and can proactively participate in their care: check their recent visit activity, track their symptoms, schedule a follow-up appointment, get automated appointment reminders, even make a virtual visit, pay for the visit online, request a medication refill, etc.
Available via a mobile app, the patient portal allows both clinicians and patients to perform on-the-go processes.
If patients aren't available to come to the doctor's, they can make a telehealth visit through the patient portal, Source: NextGen
Billing module
Payment processing and statement generation.
After a doctor generates a clinical note from the visit, the EHR's billing module compiles an insurance claim and sends it over to the clearinghouse and then to the patient's insurer. The process includes handling unpaid claims, payment exclusions, and denials.
Financial analytics.
This module analyses the revenue cycle providing valuable insights on the gaps and areas for improvement. The NextGen system, for instance, also benchmarks and compares a practice's financial performance against other practices in their network.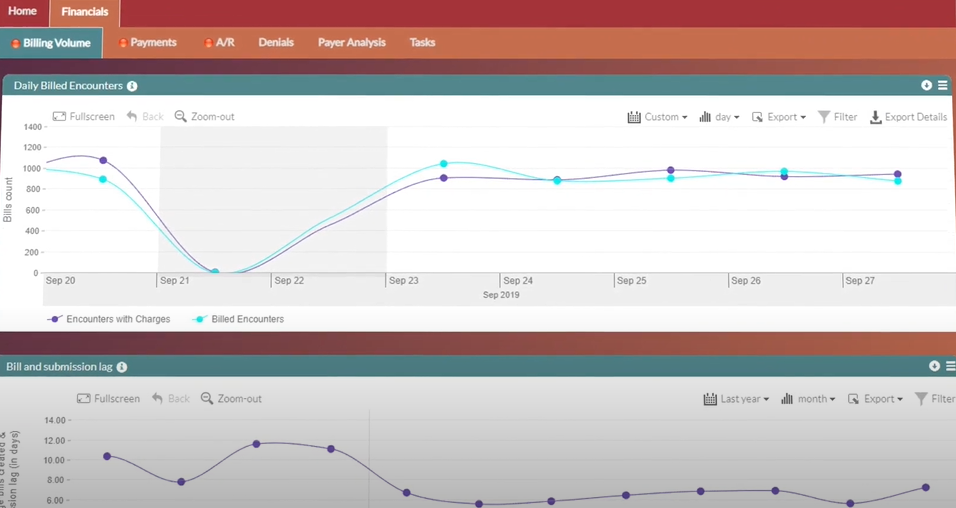 NextGen's financial analytics
Reviewing top EHR vendors
With over 500 vendors offering some type of EHR product, the market is vast and saturated. However, its lion's share is controlled by a small fraction of vendors.

Source: Datavant
Epic, Cerner, and Allscripts are the three biggest players in the whole EHR market. Some vendors specialize in hospitals, while others target ambulatory practices.
Ambulatory and hospital EHR market share, Source: KPMG
We've reviewed six large EHR products. For more options, you can consult the
SelectHub buyer's guide
that contains descriptions of over 60 EHR software.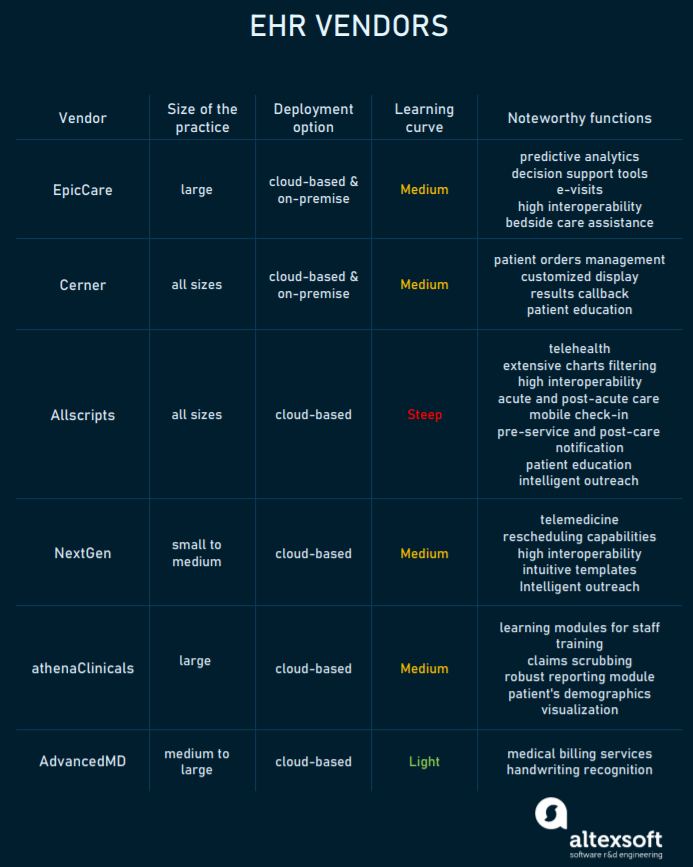 Comparison of the leading EHR vendors
EpicCare: acute and ambulatory EMR for physician productivity and effectiveness
Epic
is a modular, cloud-based ambulatory EMR software appropriate for large health systems, community hospitals, and academic medical centers. The solution has a module for every medical specialty.

Epic's dedicated modules
However, some find that too many icons and tabs on the page make the EHR difficult to navigate.
Its features include AI- and analytics-powered smart tools, insurance operations management, and a Care Everywhere feature that enables data sharing with any other EHRs that uses data exchange standards. At the same time, it provides an integrated portal to share patient data with other community providers. The Epic software includes a mobile option for smartphones - Haiku, for tablets - Canto, even for smartwatches, and offers a patient portal
MyChart
. Bedside patients can stay in touch with their care team, review their schedule, access personalized education materials, and request help. Epic Systems has a robust community of providers who communicate to improve their understanding of illness trends and health performance.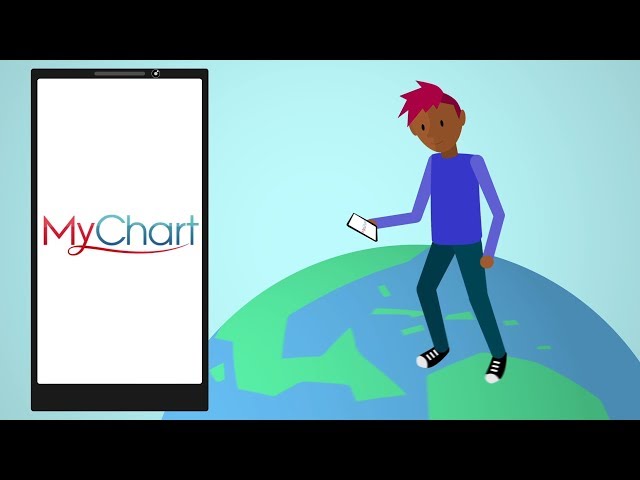 How patients can use MyChart patient portal
Cerner Ambulatory: the largest provider of systems for inpatient care
A well-known EMR vendor,
Cerner
supports more than 50 medical specialties and produces clinical applications for almost all healthcare areas: hospitals, clinics, labs, primary care, etc., which makes it suitable for hospitals and large health systems who integrate care across many levels.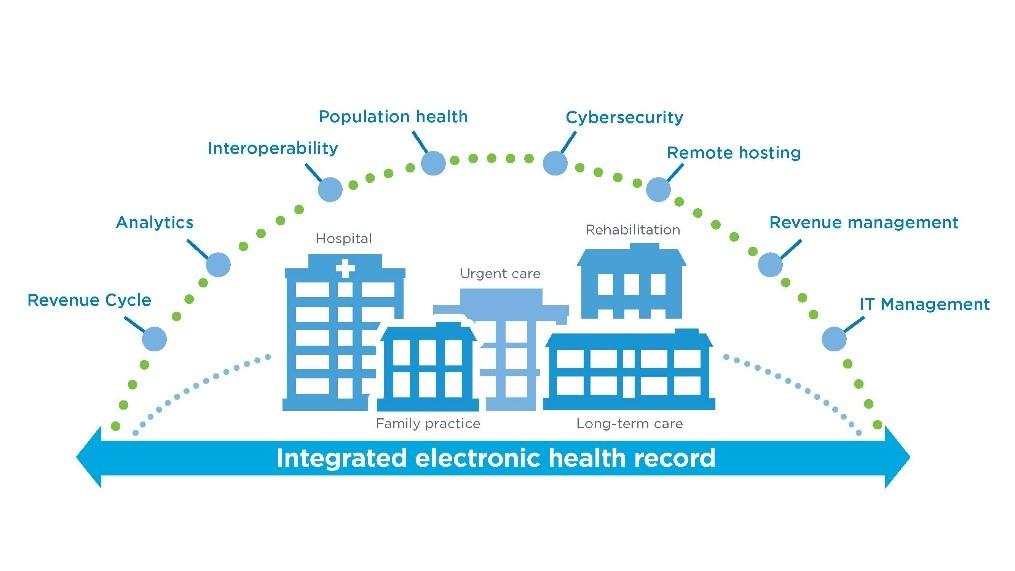 The interoperability of Cerner's EHR platform
The
PowerChart Ambulatory
EHR integrates with various health care entities using industry standards and communication protocols, including local, regional, and national health care information exchange.
HealtheLife Ambulatory
is Cerner's patient portal. Also, Cerner has supporting documentation tools that automate clinical notes creation using narrative, auto text, and voice recognition.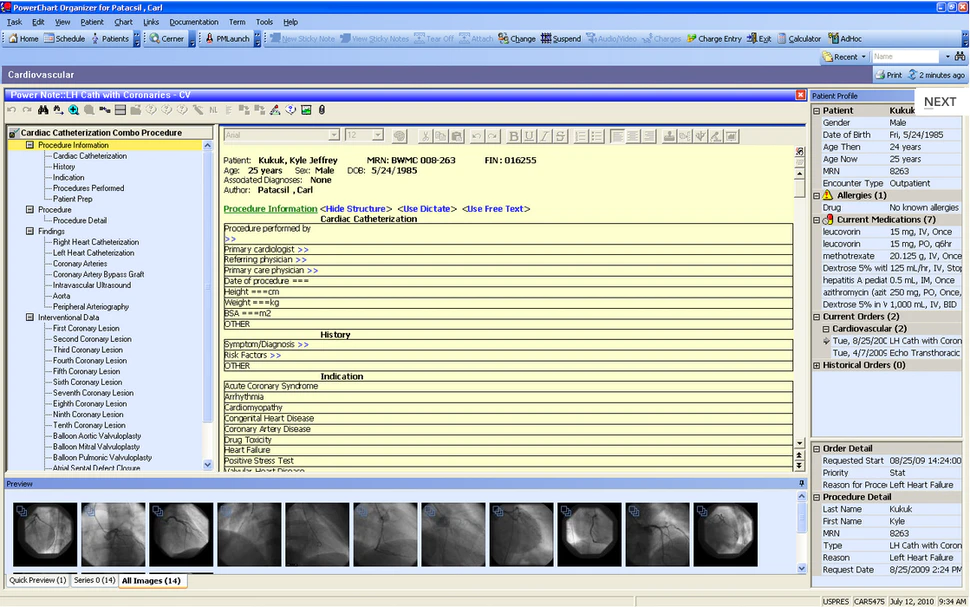 Cerner PowerChart clinician's dashboard
Allscripts EHRs: solutions for all sizes
Allscripts' products cover most areas of clinical care, including emergency department, surgery, anesthesia, population health, and more. For large organizations and ambulatory practices, they have
Allscripts Sunrise
, while the
Paragon
product is aimed at smaller health networks and community clinics. Allscripts has
FollowMyHealth
, a mobile-first solution for ambulatory, acute, and post-acute patients. For doctors, they offer -
Professional EHR Mobile
, a mobile extension of Allscripts EHR where physicians can write and refill prescriptions, complete rounding workflows, and track their schedule.
Allscripts Professional EHR Mobile interface
NextGen Healthcare: tailored to the needs of small to medium ambulatory clinics
One of the leaders in the
ambulatory EHR market
,
NextGen
used to be a dental software company that started its EHR pathway in the 1990s. NextGen handles a range of clinical and administrative tasks from appointment scheduling to revenue management. Its key features are high interoperability and intuitive templates as they are organized in the traditional SOAP format.
NextGen offers two plans:
NextGen Office
, a cloud-based EHR for small practices of up to ten physicians, and NextGen Enterprise platform equipped with
advanced analytics
and specialty-specific clinical content.
athenaClinicals: geared towards large, multi-physician groups, and hospitals
Athenahealth makes software for healthcare networks and private practices of all sizes. Athena gives access to a large connected network in healthcare. So, physicians can always check what others have ordered for similar patients.
athenaClinicals
EHR allows for viewing a patient's records across healthcare facilities, even the ones with other EHRs. Athena analyzes interactions across its network and makes personalized suggestions to each practice.
Also, athenaClinicals offers the
athenaOne
app integrated with the EHR. So, physicians can have on-the-go access to patient records: review patient charts, create and sign orders, view test results, respond to patients, and more.
AdvancedMD EHR: for advanced medical note-taking
AdvancedEHR
is a feature-packed solution intended for use on mobile devices that can easily be installed on any desktop environment. Among its distinct features is handwriting recognition, especially useful for prescribing information. AdvancedEHR is fully integrated with AdvancedScheduling and AdvancedBilling. Another product, AdvancedMD Rhythm, is a comprehensive software platform for the entire practice.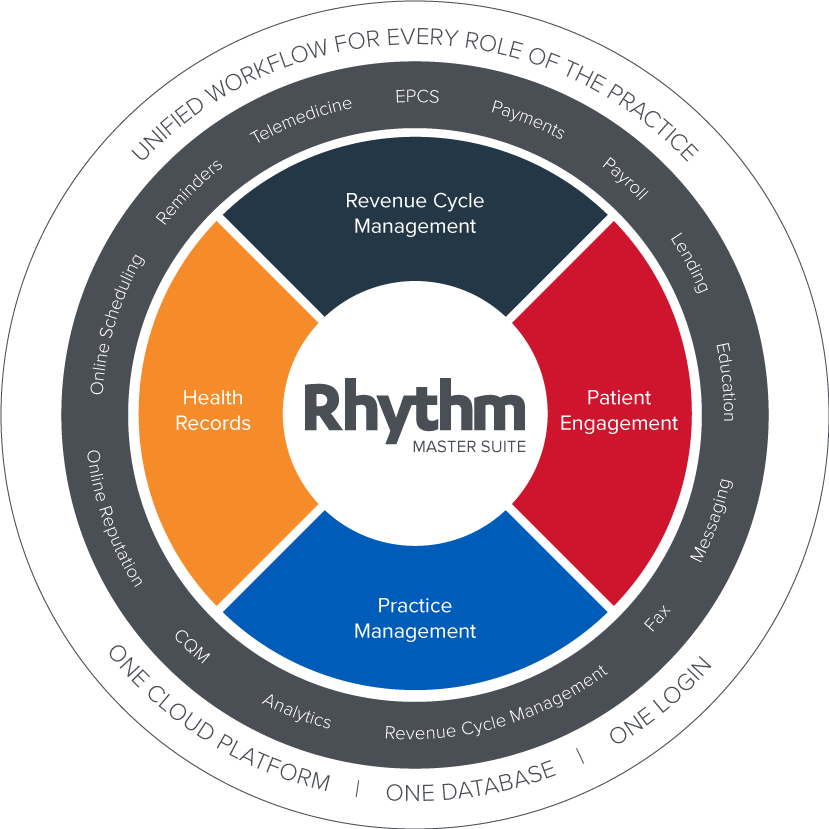 AdvancedMD Rhythm comprehensive software platform supporting the entire practice
Buy vs Build: How to approach Electronic Health Record adoption
Most practices use one or another form of storing patient data. Some use spreadsheets, others work in legacy systems. Some use limited features and want to transfer to a full-fledged EHR solution or create a custom one. How do you know which way to go?
Nabil Manzoor advises starting by considering the following:
size of clinical practice
types of services provided
future growth plans, and
interoperability with other information records both internal and external.
Having the answers will help you determine the best strategy.
When to buy an EHR solution
For limited business needs and size.
You can purchase a solution if you find something on the market that meets your specific case and budget constraints. A small practice that doesn't need too many capabilities to start can even go for a subscription-based plan.
For worry-free cloud infrastructure.
Most clinics prefer cloud EHR software that provides them with scalable, on-demand access to IT services. Cloud hosting allows for a rapid launch with minimal management effort. It guarantees a higher level of service availability with no hardware costs, eventually resulting in fewer maintenance costs. However, you don't have full control over your patients' data and its security.
For an already certified product.
One of the biggest deterrents for EHR developers is compliance with security standards. While all the time-tested solutions are well certified, it's a lot of upfront cost and paperwork for a new player. Having a data protection officer in place will help handle compliance more effectively.
When to build an EHR solution
For a larger budget and greater ambitions.
Build if your ambition goes beyond what an off-the-shelf solution can offer you. If you're aspiring and creative, Nabil recommends building your own solution
: "A proprietary solution allows you to integrate more technologies making it more interoperable and decentralized. In addition, you can
commercialize your solution
and benefit from it".
For those ready for a challenge
. If staff is reluctant to accept the change, it'll require a lot of education effort to develop a digital mindset. Some hospitals even end up running a modern system in parallel with a
"
good old
"
one, while others give up deciding that it's too much cost and hassle.
For custom UX and evident value
. It's important to create an environment where nurses and physicians clearly understand the reasoning and the benefits behind using EHR. EHR's usability directly influences how people embrace it. Nabil estimates EHR's UX by the number of features being actually used:
"If users utilize eight out of ten features, that's an excellent outcome. But what if it's only three out of ten? If EHR's full capacity isn't really being used, it means that a large sum of money spent on the untapped features was wasted.
" In this regard, Nabil advises involving hospital workers in the design of the product because they are the ones who are going to eventually interact with it on a regular basis.