Administrative routine makes up an essential part of running a medical company, be it a small physician's office or a huge multi-specialty hospital. While doctors literally save lives, somebody has to coordinate daily business operations, from patient scheduling to getting paid for services.
This activity is behind the scene but if it goes badly, the entire healthcare facility can't function efficiently as well. That's why software supporting nonclinical tasks deserves special attention.
In this article, we'll discuss the main features of medical practice management systems, things to consider when choosing one for your organization, some popular providers, and how to make the transition to a new platform as smooth as possible.
What is medical practice management software?
Medical practice management (PM)
software streamlines, coordinates, and automates administrative tasks in doctor's offices, hospitals, clinics, and other healthcare organizations. The main users of the tool are non-medical employees like receptionists and administrators. A full-fledged system embraces
front-office operations like patient scheduling and insurance verification; and
back-office operations including medical billing, financial analysis, and reporting.
If properly used, the technology helps reduce human errors, keep track of the financial situation, and ensure a high quality of patient care.
But to achieve the best results, the PM solution should work as an integral part of the entire health IT infrastructure, closely interacting with two other important pieces of software — a patient portal and an electronic health record (EHR) system.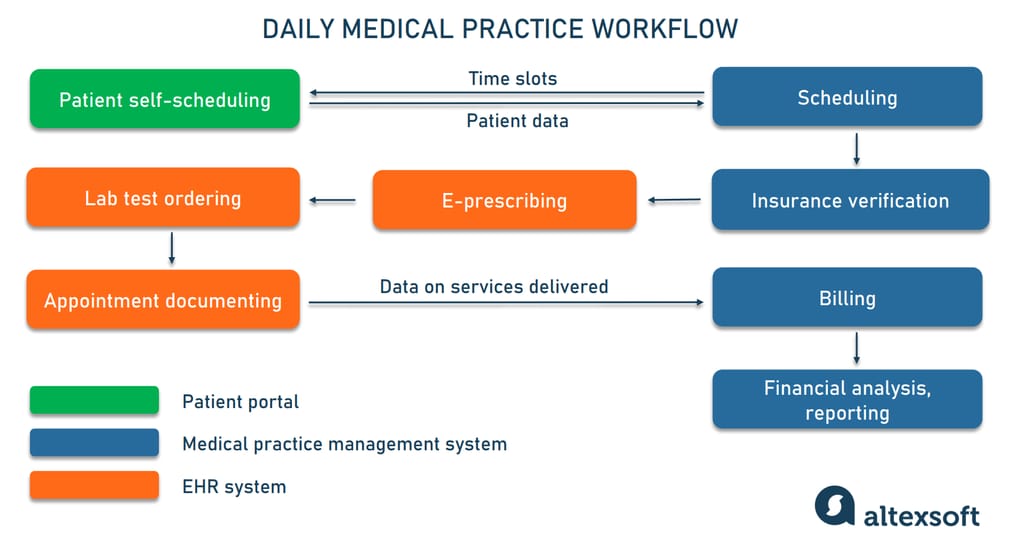 Which system does what in the daily medical office workflow?
Practice management system and patient portal
A
patient portal
is a website or mobile app people use to view their medical records and communicate with healthcare facilities. Among other things, it allows patients to book an appointment and fill out required forms online.
The patient portal takes available time slots from the practice management system and upon booking, sends appointment notifications. Smooth data exchange between the portal and practice management tool helps reduce no-shows while increasing
patient engagement
.
Practice management system and EHR
A practice management tool can come in a combo with the
EHR system
, as a separate module from the same EHR vendor, or as a standalone solution.
In any case, it by no means replaces but rather complements the EHR functionality. The latter caters to the clinical side of the job: In addition to collecting and storing patient histories, it enables
e-prescribing
, lab test ordering, and documenting every single appointment. After the visit, EHR sends data to the practice management system for billing and reporting,
Top components of medical practice management software
So exactly what can a practice management system do? Though it depends on a particular provider, there are several key components to explore in more detail.
Scheduling
One of the basic elements of any practice management system is a calendar tool that helps front-office staff schedule and manage appointments. It typically lets you search for available slots by day, location, and provider. Advanced software also allows for sending automated reminders with appointment details by email or SMS.
Insurance eligibility verification
Prior to a doctor's appointment, the staff must verify a patient's insurance benefits: Do they cover the services required? If done manually, this process involves calling insurance companies or logging into multiple web portals. This module automates much of such routine, finding all required details in seconds. It eliminates financial surprises for patients after visits and reduces the number of claim denials. The eligibility verification is a common use case for
robotic process automation in insurance
.
Patient data and documentation management
The system enables medical personnel to easily enter, find, and access patient data — such as demographics, medical history, or reasons for previous visits. Employees can also build and customize templates of registration forms, treatment plans, and other documents. Another wanted feature is creating and editing notes that administrators or doctors may leave for themselves or their colleagues.
Billing
This module is extremely important for practices that decided to control medical billing themselves instead of outsourcing it to third-party services. It helps staff submit claims to payers properly and timely, cutting the number of denials and speeding up reimbursement. Often, this component comes with basic
automated assisted coding
capabilities. The most common example is a code scrubbing tool that checks claims for common errors and flags issues.
But keep in mind that if you're going to bill with your practice management system, you must engage a certified coder to align diagnoses, drug prescriptions, and procedures with industry-specific
data standards
.
Reporting and analytics
Designed to generate financial reports and track profitability,  this module provides information on
accounts receivable (A/R), or the amount of money patients and insurance companies owe your facility for services provided;
days in A/R, or how long, on average, it takes a hospital or clinic to be paid. The rule of thumb here is that the metric should stay below 50 days; and
total reimbursement compared to expected reimbursement.
By monitoring these metrics, the practice stays informed about its financial situation and can take timely action to improve it.
What to consider when choosing a practice management system
Besides features, there are several important aspects to ponder before opting for a particular practice management system.
Hosting options
You can install the system either on your local server or in the cloud. On-premises deployment allows you to store all critical and sensitive data away from third parties. On the dark side, you'll be in charge of security, maintenance, and system backup, so make sure you have enough tech talent o your staff. While the in-house setup requires significant investment in hardware and a license agreement, your monthly fees will be minimized.
On the other hand, cloud deployment saves you all technical challenges as a software vendor or cloud provider will take care of your system and data. Also, it takes much less time to get the tool ready for work compared to in-house software. The initial price of ownership will also be lower. But later you'll have to pay monthly fees that can include many hidden costs.
Integrations
A practice management system should easily integrate with your current EHR and patient portal if you have one. If these components of your IT infrastructure don't connect and exchange data seamlessly, your employees will have to do double work.
The simplest way to guarantee that your EHR and PM tools work well together is to buy both solutions from the same provider, as a complete suite. If this option doesn't suit you for some reason, learn which EHRs are pre-integrated with a PM system of your choice.
Your EHR is not on the list? Consider linking systems via application programming interfaces (
APIs
). Note that an API integration project costs additional time and money. Most likely, you'll have to hire third-party tech specialists to perform this task.
Ease of use and training
This factor matters a lot: Even the most advanced technology won't improve your workflow if your staff has problems adapting to it. Schedule a demo and make sure that all key users will be present. Figure out whether the vendor provides training and how long it lasts. Ideally, you choose the software that requires minimum effort from your employees to get comfortable with it.
Main use cases
The needs of a primary care office will differ from those of a diagnostic imaging center or a multi-specialty hospital. Check whether the solution covers processes specific to your healthcare facility. Look through the list of companies using a particular system or reach out to organizations similar to yours to learn which software they employed.
Configurations and scalability
No two practices are exactly alike, even if they operate in the same medical area. Besides that, your requirements may change with the growth or transformation of your practice. So it's essential that you'll be able to get your system configured and scaled with a minimum amount of effort.
The scope of changes can vary from customizing templates to adjusting reports and implementing
business intelligence
for running more sophisticated analytics than a basic reporting module can offer. Talk about configurability and scalability with a provider to understand what it will take to modify the software should such a need arise.
Tech support
No technology is immune to glitches and malfunctions. The question is how fast you can fix them. Don't underestimate the importance of technical support from the system's provider. Learn beforehand about the average response time, the experience of tech specialists, their working hours, and available communication channels.
Pricing
Prices vary greatly depending on the size of your practice, the number of features you need, and the type of deployment you choose. Most vendors can give only a general idea of how much the system will cost until they understand all your requirements.
Once you nail down your needs, ask each potential provider for a formal proposal with a clear description of how much you will pay and for what. Consider the total cost of ownership, return of investment (ROI), and the value a particular system will add to your business.
HIPAA compliance
All systems dealing with data that can identify a patient (known as
protected health information
) must comply with the Health Insurance Portability and Accountability Act (
HIPAA
). To avoid violations and subsequent penalties, PM systems have security mechanisms like rule-based access control, data encryption, auto logoff, etc.
It goes without saying that available practice management solutions are HIPAA compliant. However, it's worth checking which security measures a particular provider implemented in his product.
Medical practice management systems
Here, we'll explore several popular PM systems to give you a clue as to various options available on the market. But it's up to you to do deeper research and decide on the best choice.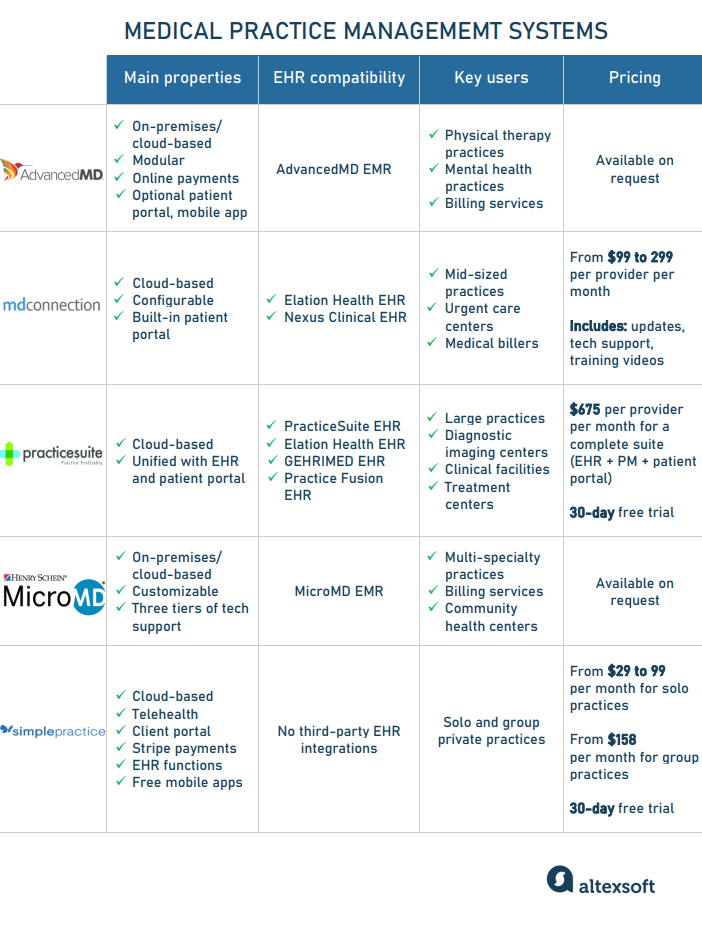 Comparison of medical practice management offerings from different providers.
AdvancedMD: a complete suite of medical office software
AdvancedMD
presents an all-in-one platform to manage your medical office, available in two versions — on-premises and cloud. You can buy the required tools separately or as preconfigured bundles. The PM system bundle includes scheduling, billing,
payment processing
, and analytics. But you may complete this basic set with a patient portal, messaging, EHR, mobile apps, and more — all from the same vendor.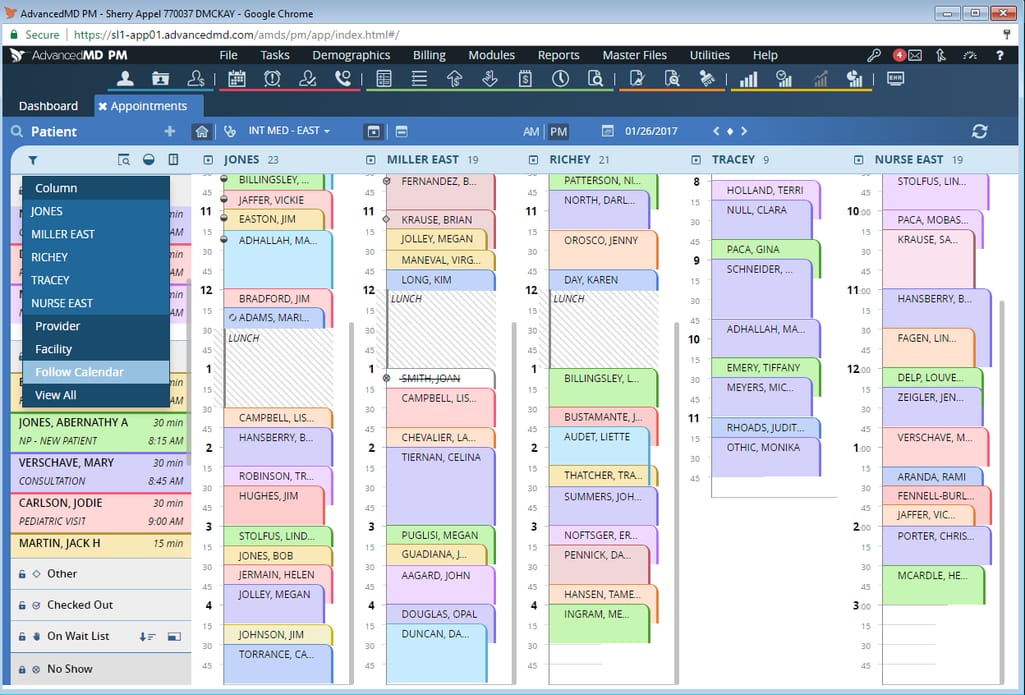 Scheduling with AdvancedMD.
AdvancedMD also has a proposition tailored to behavioral and mental health practices. Overall, more than 13,000 medical offices and 850 billing companies have preferred AdvancedMD to all other alternatives.
Training.
The vendor provides supplemental implementation, consultant, and training services. Training will cost you $150 per hour. You also can take advantage of the free
learning center
with videos, ebooks, and other resources for personal development.
Support.
Ask for help from a live support agent via a toll-free
phone number
. You can also submit a ticket on the website.
Pricing.
The vendor calculates the price after you decide which features you need. You can also buy pre-configured bundles (such as PM, EHR, or PM+EHR.) In any scenario, there are two pricing options: subscription and per appointment.
MDConnection: a customizable tool with a focus on billing
MDConnection
is a cloud-based solution designed to streamline processes of medical offices, urgent care centers, and billing services. The software doesn't target any particular specialty and can be easily customized to support a unique workflow.
The system has a strong focus on billing, offering reusable coding templates and built-in tools for code lookups, claim management, and insurance payments tracking. It also comes with a branded patient portal and pre-built integrations with Elation Health and Nexus Clinical EHRs.
Providers with multiple practices can buy a billing dashboard as an additional module that gives visibility into the most important data.
Training.
Clients have free access to a library of training videos. Also, they can order an online training session for up to 25 participants. It lasts for about an hour and costs $100.
Support.
Free support is available during regular business hours, via email, phone, or web requests.
Pricing.
MDConnection designed four
pricing plans
ranging from $99 to $299 per provider per month. The cost depends on the number of claims to be handled. All plans include free software updates and unlimited tech support.
PracticeSuite: a unified EHR and PM platform with a patient portal
PracticeSuite
is the cloud-based software of choice for over 57,000 medical professionals. It unifies an EHR system, practice management tool, and patient portal on a single platform. Yet, you can purchase only a PM module that comes pre-integrated with EHRs from third-party providers — namely:
Elation Health EHR,
Practice Fusion EHR, and
GEHRIMED EHR designed specifically for long-term and post-acute medical care.
The platform partners with medical imaging software providers RamSoft and Candelis, so its PM component can be used for a radiology department workflow.
Training.
PracticeSuite offers over 100
training videos
at no cost.
Support.
You can get in touch with support via phone.
Pricing.
The services of a unified platform (EHR + PM + patient portal) will cost you $675 per month. You can take advantage of a 3-day free trial to understand if it's worth the price.
MicroMD PM: a robust solution with configurable and extendable functionality
MicroMD Practice Management
is a time-tested system that can be deployed both on-premises and in the cloud. The vendor sells the PM software as a standalone solution or in combination with its EHR system — MicroMD EMR.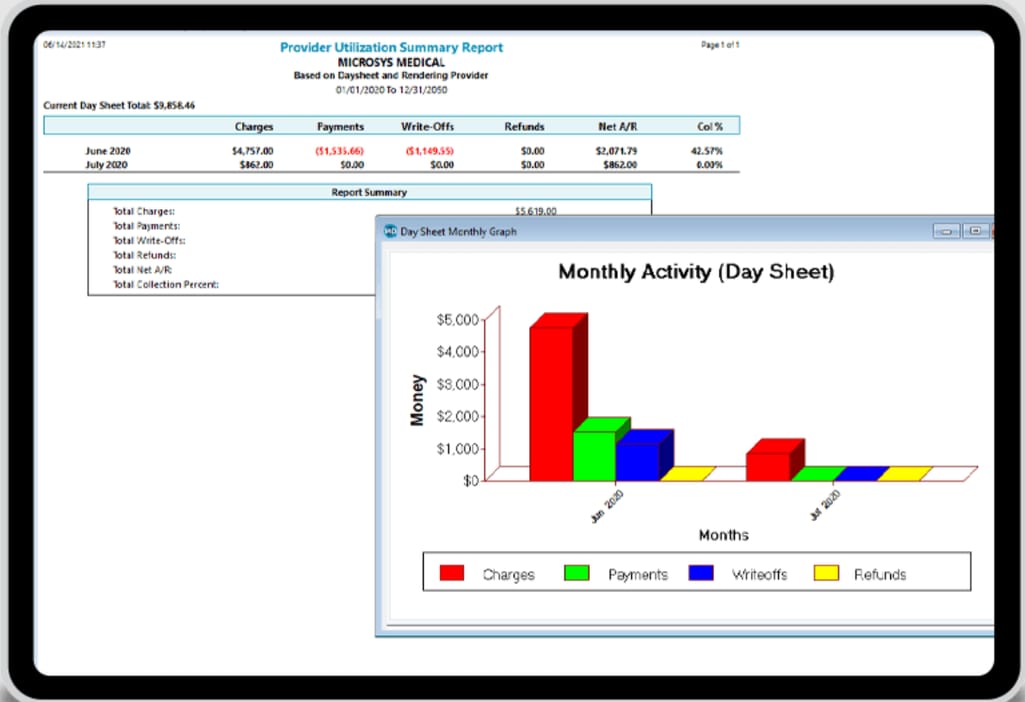 MicroMD billing module.
The PM system is highly customizable, enabling you to tailor it for your specific practice. At the same time, according to reviews, its functionality isn't that rich, especially when it comes to reporting. You can mitigate this issue by adding pre-connected tools — from patient auto-reminders to advanced analytical dashboards to the branded
Henry Schein Secure Chart Patient Portal
(see the full list of possible integrations
here
.)
Training.
Training and assistance with implementation and adoption are available before, during, and after the sale.
Support.
The level of client support depends on the tier you choose and pay for. With the Silver Tier, you can reach out to tech specialists via phone or e-mail during working hours. It also includes access to a
knowledge base
and other self-help resources.
The Gold Tier contains 4 hours of online training, annual checkup, and discounts. The Platinum Tier grants you exclusive access to additional tools and services, advanced support, 8 online training hours, and other perks. Learn about details
here
.
Pricing.
The type of deployment, the number of additional features and services, the support tier, and other factors impact the final price. So, you can get it after you discuss all the details with the vendor.
SimplePractice: an easy-to-use tool for private practices
SimlplePractice
helps more than 100,000 health and wellness specialists run their private businesses. Among customers are therapists, dietitians, speech-language pathologists, psychologists, and other professionals.
Besides features common to all PM systems, it offers unlimited appointment reminders, payment processing powered by Stripe,
telehealth
features, and a Client Portal. Patients and care providers can download a free Android or iOS app to work with SimplePractice on their smartphones.
SimplePractice has no pre-built integrations with third-party EHR systems. Instead, it has basic EHR functionality that can be enough for small practices.
Training.
SimplePractice conducts free
on-demand classes
and daily Q&A sessions where product experts teach you how to work with their software and answer your questions.
Support.
Get help from specialists via email or live chat from 6 am to 6 pm excluding weekends and holidays.
Pricing.
Solo practices can select from three pricing plans, ranging from $29 to $99 per month. Group practices pay $99 per month for the first clinician and $59 for every additional one. In any case, you may first opt for a 30-day free trial.
How to approach practice management system implementation
Choosing and implementing a new system is a complex, time-consuming process. Here are some tips for facilitating a smooth transition.
Start the project with inspecting your current workflow
Before buying a certain tool, you should decide on the functionality that will streamline processes in your practice best. Ask employees who'll be working with the system which capabilities they consider most helpful. Create a list of must-have, nice-to-have, and not-so-important features. Then, you can compare this list with solutions available on the market and narrow down your options.
Don't be lured by big names
Well known doesn't necessarily mean good for you. Large providers of healthcare solutions often concentrate on their EHR systems and big clients. Medium-sized and small practices have other requirements. So, if you don't want to overpay for unused features and capabilities, choose a system that closely corresponds to how your practice works.
Get ready for data migration
Most probably, you already have some kind of office software. If you are going to replace it, you'll need to move information from your old platform to a new one.
Data migration
involves a lot of planning and resources, so pinpoint in advance who will undertake the job — your previous vendor, your current vendor, or a third-party tech partner.
Get your PM system up and running first
Say, you decided to acquire both PM and EHR at the same time. It's advised to buy them from the same vendor to avoid integration problems. Another recommendation is to install a PM system first. This will enable you to get business processes up and running before diving into the long
EHR implementation
project.
Consider adding functionality instead of changing the whole system
Suppose, your current PM system serves you well. Or you already have robust medical billing software and don't need this part of a full-fledged PM platform. All you want is to expand the functionality with several features. In this case, consider integrating an out-of-the-box tool that will bridge the gap. It can be a standalone scheduling or code scrubbing solution or a more advanced analytics dashboard.
You can also opt for custom development to create the instrument for a particular task or to introduce business intelligence.
Extending functionality instead of radical changes will save you time and budget. Besides, you won't need to retrain your personnel and face a slowdown in business operations, inevitable during the transition period.