A hotel jam-packed with people isn't always a profitable hotel. The hallmark of a successful hospitality business is revenue. To increase the bottom line, hotels have to employ various
revenue management
techniques and strategies.
Ludovic Cacciapaglia (hospitality distribution and eСommerce specialist and former head of global distribution at Shangri-La Hotels and Resorts)
emphasizes
the role of revenue managers in the current unstable environment:
"
... the pandemic requires the revenue manager to take a leadership role in the hotel commercial strategy; for example, revenue managers are likely to be the only ones to know when and how marketing campaigns should be run and to create truly relevant offers."
In this article, we will define hotel revenue management, identify the facets that shape it, and look at the most effective revenue-increasing strategies.
What is hotel revenue management?
Robert G. Cross, the author of the book
Revenue Management: Hard-Core Tactics for Market Domination
defines revenue management as
"the art and science of predicting real-time customer demand at the micromarket level and optimizing the price and availability of product."
How hotel revenue management works
Simply, revenue management means predicting consumer behavior to sell the product at an optimal price every day. Therefore, the definition of hotel revenue management is straightforward:
selling the right room to the right client at the right moment at the right price on the right distribution channel with the best commission efficiency.
Sometimes revenue management is called yield management, but these terms aren't interchangeable.
Revenue management is defined by interconnected components, which are
Customer segmentation,
Demand forecasting,
Inventory management,
Yield management, and
Pricing.
Each plays a crucial role and greatly impacts the ultimate financial result of a hotel, so let's describe them one by one.
Hotel revenue management elements and strategies
Revenue management components don't exist in a vacuum. They complement each other and form a general strategy, which serves as a basis for rates, policies, distribution, and marketing activities.
Customer segmentation
Customer segmentation is an important part of marketing and pricing as it allows you to define groups of travelers that visit your hotel and address them differently. For example, business travelers have different needs and preferences than backpackers on a budget, so you have to know your customer and be ready with the offers that fit each group.
However, there are more possible categories that you might want to identify and market to than just "
business vs leisure
". Some typical segmentation criteria are
demographic factors (age, gender, marital status, etc.),
the trip's purpose (business, sport or entertainment event, family vacation, wedding, etc.),
stay duration,
traveler status (new, returning, or regular),
booking channel (direct, through an OTA, or walk-in), and so on.
Each customer group provides opportunities to gain extra profit -- if you do it right. For example, you might offer discounts to your loyal customers, create tour packages for families, or negotiate rates with companies that have many business trips.
Further analysis can help you discover important trends in customer behavior. You might find out that some customer groups have a high rate of cancelations or no-shows, so it makes sense to focus your marketing efforts on other segments. Here, the technique that can help predict such disruptions is demand forecasting.
Demand forecasting
Customer demand is never static. It fluctuates depending on different factors such as the season, important events in the area, or even macroeconomic conditions.
Demand forecasting
is the analysis of information about past demand, as well as current and future events across all the customer segments. Based on this data, you can predict when the demand will increase or decrease, and develop the right pricing, marketing, and distribution strategy.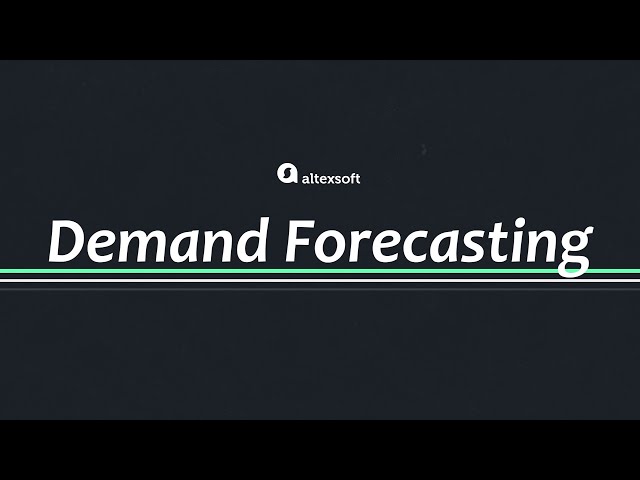 Check our short explanatory video about demand forecasting and predictive analytics
This part of revenue management is especially important because it serves as a basis for setting prices, choosing distribution channels, creating promotions to engage more guests, or launching other marketing activities to increase occupancy. To learn more, visit our post about
machine learning
approaches to
price forecasting
.
How demand forecasting works during peak and low demand periods
Yield management
The goal of yield management is to define customer behavior and set the best price to sell rooms with maximum profit. This concept appeared much earlier than the concept of revenue management and is narrower. While revenue management is focused on the whole revenue of a business, including
ancillary revenue
and spendings, yield management focuses on the price and the volume of sales.
Yield management is closely related to both
inventory management
and demand forecasting since it aims at selling the greatest number of rooms at the highest possible price according to customer demand. Here are some of the tactics and tricks you can use to play around with your inventory and maximize revenue.
Maximum length of stay (MaxLOS)
restricts reservations to a maximum duration. It can be used to limit the availability of discounted or promotional rates.
Minimum length of stay (MinLOS)
restricts reservations to a minimum duration. It's used during high-demand periods to encourage longer visits.
Closed to arrival
means that no reservations are allowed with arrival on a particular day. It can be applied to lighten the workload of the
front desk
team on a busy day but is definitely risky as it can turn away some of the guests.
Allotment
is giving your partners (such as wholesalers, travel agents, or event organizers) a pre-negotiated number of rooms to sell, often at a discounted rate.
Last room availability
relates to a contract between a company and a hotel that fixes the room rate. It is done to support last-minute reservations for business trips and guarantee room availability for a pre-negotiated price.
Inventory management or distribution management
In revenue management, the term inventory refers to the product (i.e. rooms) sold. A room is considered a perishable product with a certain "
expiration date
". It means that if you do not sell a room for tonight, you can't sell it later. And if a room is not sold, a hotel loses money.
So, another core aspect of revenue management is choosing the right mix of distribution channels. The main channels you deal with are probably
GDSs
,
OTAs
,
bed banks
(or wholesalers), and
metasearch engines
. Using demand forecasting results for various customer segments and channels, you build the distribution strategy that will balance occupancy and revenue maximization.
For instance, hotels may use online travel agencies as the leading distribution channel, while making allotments for bed banks to fill in remaining rooms for a lower cost.
Pricing
Price is one of the main factors impacting a guest's decision to choose your hotel. Pricing, or setting optimal rates for your inventory, is the key to maximizing your revenue. You have to carefully analyze the market to understand your customer and see booking trends. That will help you build the right pricing strategy for your hotel.
Note that you have to analyze demand and set your rates well in advance so that you have everything ready for travelers who prefer to book early.
Pricing strategies and approaches
You already know that it's a good idea to base your pricing strategy on customer demand forecasts and the different groups of guests that you can carve out. However, there are several approaches to price setting. Let's see what the main ones are.
Dynamic pricing
Dynamic pricing
is about changing the room rates regularly (sometimes multiple times per day) according to market demand.
Dynamic pricing strategies
are built around selling the property for the best price possible. They are based on supply and demand ratio, as well as external and internal data.
External data
includes such data points as competitors' prices, weather data, and booking patterns; while
internal data
includes segmentation, customer profiles, rates, etc.
Dynamic pricing strategies allow hotels to keep up with the market and maximize
occupancy rate
, as well as the other hotel revenue management KPIs (we'll talk more about them in the next section).
Open pricing
Open pricing
refers to creating different prices for reservations made by different guest segments at different time periods through different distribution channels, etc. Such flexibility allows you to maintain stable levels of occupancy and generate revenue even during low demand periods.
So, if dynamic pricing mostly focuses on the supply and demand balance, open pricing is more about varying profitability margins across segments and channels.
Open pricing requires building complex price matrixes based on accurate forecasts; however, it enables discount channels to generate revenue instead of closing them off.
Here's an example to illustrate the concept. Imagine you have your standard room priced at $100 and your luxe suite at $200. But you know that there's going to be an elite car show in the area so you can charge more for your luxes since they would be in demand. At other times, you expect a big business conference nearby, so you can discount the luxes to get them occupied together with standard rooms.
Additional pricing strategies
There is a wide variety of other pricing strategies that can be implemented (often in conjunction with one another):
Length of stay pricing
can refer to either setting a minimum visit duration (can be effective during high-demand period) or offering a lower rate for longer stays (say, set a discount for reservations of more than 4 nights). The latter not only ensures higher occupancy, but might also lead to higher ancillary revenue.
Packages and value-added pricing
is offering a bundle or
package
of services at discounted rates. You can include other hotel services in such packages (e.g., airport transfer, meals, spa, etc.) or partner with external providers (such as car rentals or tour agencies) to provide guests with special deals.
Cancellation policy
can also impact your pricing strategy. For example, you offer higher prices with an opportunity to cancel the reservation and get a refund and vice versa.
Segment based pricing
is setting different rates for different guest segments. For example, you can offer special rates or create special offers for those who book directly through your website (read on to learn more about the importance of encouraging direct bookings).
Exclusivity vs affordability
are two opposite approaches when you either position yourself the highest (most exclusive) or the cheapest on the market. Depending on your property, you can promote yourself as a luxury place and target top-shelf travelers or as an affordable place for price-sensitive guests. Note that in the first case, it's important to create and maintain an excellent reputation and also to be fully transparent with what you offer, letting your guests understand what they are paying for. In the second case, remember about the break-even point and don't let high occupancy with low prices lead to losses.
Usually, a revenue manager is the person in charge of deciding on a pricing strategy. Let's look closer at the revenue manager's role and tasks.
Revenue manager: job description
A hotel revenue manager has a long list of responsibilities that largely match the main elements of revenue management that we described above. To achieve best results, this specialist must cooperate with all hotel departments, especially sales and marketing teams to push the hotel business forward.
So, the main activities of a hotel revenue manager revolve around the following.
Forecasting
is based on data and segmentation, the main pillars supporting revenue management. Predicting customer behavior enables a revenue manager to optimize revenue. The primary intelligence is derived from historical data on occupancy, room rates,  previous revenue, and the current data on customer activity.
Pricing
depends on market demand and customer desire to pay for a particular type of property. To set the price, a revenue manager analyzes the market, competitors' prices, and their products. The prices are optimized according to different pricing strategies.
Inventory management.
Since one of the main tasks of a revenue manager is to make sure that all the rooms are occupied, he or she sets the entire marketing, pricing, and distribution strategy to maximize occupancy.
Distribution channel management
. Building a
distribution strategy
is one of the core activities of inventory management. Channels are often closely tied to the customer segments that use them, so depending on the product type, a revenue manager can choose a channel and set prices for a particular segment of a target audience.
Marketing.
The goal of any marketing activity is to increase the volume of sales. It uses the tools that allow a property to sell all the inventory by keeping customer flow steady and attracting new guests. This includes such marketing activities as promotions, discounts, and loyalty programs. So a revenue manager has to work closely with the marketing team to align their efforts with the overall strategy.
If you are a hotel owner who is considering hiring a revenue manager or someone looking for this position, you have to understand that this is a highly analytical role requiring a strong statistics or math foundation. Specialized training and a dedicated degree or certification are good ways to prove qualifications. Some top-notch schools offering best-in-class education are
A good skill set can be obtained not only through a full-fledged degree program, but also with the help of specialized certifications or even online courses. Here are some widely recognized options you can trust:
A specialist in revenue management should be able to perform the following tasks:
Market analysis and segmentation,
Competitor analysis,
Customer behavior analysis,
Historical and current data analysis,
Yield management,
Revenue performance forecasting,
Daily and monthly reporting, and
KPI tracking.
The last point is of special importance, because the KPIs define the success of the whole strategy and highlight the possible weaknesses and areas for improvement. Let's look at the main ones used in the hospitality industry.
KPIs in hotel revenue management
Traditionally, the effectiveness of revenue management strategy is measured using the following KPIs:
Occupancy rate
– the number of occupied rental units at a given time, compared to the total number of available rental units at that time.
Occupancy rate = Rooms sold / Room available
Average daily rate (ADR)
– this rate is applied to a room's average rental income during a certain period of time. It's compared to the hotel's historical
ADR
or competitors' metrics.
ADR = Rooms revenue earned / Number of rooms sold
Revenue per available room (RevPAR)
– a KPI that assesses financial and business performance of a hotel. RevPAR measures the ability of a property to fill all the rooms and define the best price for them. There are two ways to calculate it:
RevPAR = Rooms revenue / Rooms available
RevPAR = Average daily rate * Occupancy rate
Total revenue per available room (TRevPAR)
– a metric that assesses total revenue, generated by the property, including additional revenue streams. This KPI captures a snapshot of overall business performance. TRevPAR is one of the main benchmarking tools for big hotels and resorts.
TRevPAR = Total revenue / Total number of available rooms
Net revenue per available room (NRevPAR)
– a KPI that includes spendings on marketing and distribution in the calculation. It allows hotel revenue managers to measure the impact of distribution costs on the room revenue.
NRevPAR = (Room revenue – distribution costs) / Number of available rooms
Gross operating profit per available room (GOPPAR)
– measures the profit of a hotel and value of all assets at any given time. GOPPAR measures profit to capacity, including all the hotel's expenditure.
GOPPAR = Gross Operating Profit / Number of available rooms
For a fuller list and more detailed descriptions, check our article on
hotel metrics and KPIs
.
A revenue manager's task is to track these KPIs and develop a strategy to improve the metrics, making the hotel a successful business. A hotel revenue manager has to deal with multiple reports and data. Specialized software can save time and resolve some issues. In the next section, we'll look closer at some of those systems.
Revenue management software solutions and systems
Even today, in the world of global digitization, revenue manager spends most of the time managing reports manually, rather than analyzing them and working on an effective pricing strategy. Automated revenue management software can facilitate everyday manual tasks that he/she performs.
Hotel revenue management software facilitates setting the best prices for hotel rooms, based on data and helps generate dynamic offers. Typical features are
Detecting the most profitable pricing options,
Demand forecasting,
Analysis of lost revenue due to overbooking or cancellations,
Revenue reports by KPIs,
Collection of historical inventory data,
Channel- and segment-based revenue analysis, and
Day- or week-based performance analysis.
The software can consist either of several modules or be oriented to particular revenue management tasks. Let's look at some popular tools. Note that we don't promote any of them but want to give you an idea of what's on the market.
Duetto
– industry-leading, cloud-based revenue management software featuring three main modules: GameChanger to support pricing and segmentation, ScoreBoard for advanced reporting, and BlockBuster for contracted-business optimization.
IDeaS
– another popular automated solution for revenue management, pricing, forecasting, and reporting. IDeaS also offers products that track revenue of parking lots and function space.
Atomize
-- a top-rated, innovative specialized platform for dynamic pricing and demand forecasting. It can manage multiple properties, optimize group pricing, and track performance through a robust
business intelligence
module.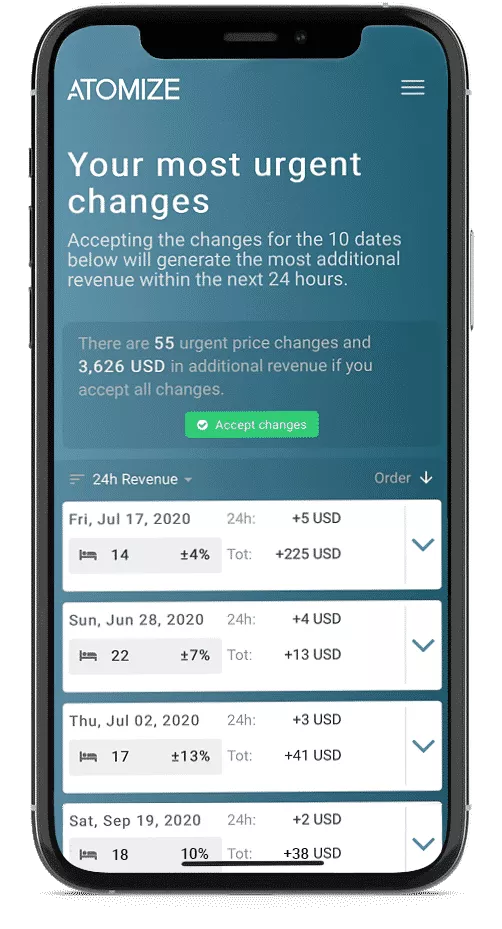 Manage your prices on the go. Source: Atomize
Kepion
– a revenue management platform powered by Microsoft that has integrated planning and reporting features. And, the vendor offers additional solutions with an expanded business intelligence module.
RateBoard
– a software that uniquely focuses on yield management and analysis. It analyses booking habits and the market to suggest prices for 365 days in advance.
RevPar Guru
– software focused on tracking hotel KPIs and dynamic rate optimization. Besides the revenue management system, RevPar Guru has a channel management module and a
booking engine
.
ResNexus
– a yield management solution with front desk, CRM, reservation manager, housekeeping integrations, and reporting.
On top of that, some
hotel property management systems
like Maestro, Oracle PMS, or IQware have integrated revenue management modules.
The application of automated hotel revenue management systems is one possible strategy to increase revenue. In the following section of the article, we will go into more details on the most effective strategies at work in the hospitality industry today.
Best practices in hotel revenue management
Although hotel revenue management doesn't evolve fast, strategies aimed at improving it develop in tandem with modern business and technological trends. Here are some practices that hotels use to improve revenue.
1. Shift to profit management
For a long time
Occupancy rate, ADR, RevPAR,
and
 NRevPAR
were the most important KPIs in hotel revenue management. They measured business success and were compared to the same metrics of competitors, but today's paradigm is different.
Hotel revenue management is moving towards strategic profit management, as confirmed by a 2017 study
Total Hotel Revenue Management: A Strategic Profit Perspective
. This means that the KPIs will focus mostly on GOPPAR (gross operating profit per room) and TRevPAR (total revenue per room). Another 2017 study, conducted by Sheryl E. Kimes of Cornell University School of Hotel Administration
The Future of Hotel Revenue Management
, reveals that GOPPAR and TRevPAR are indicated as the most important benchmarks with 33.7 and 17.5 percent of respondents supporting this idea. The research participants were 400 revenue management professionals. RevPAR (revenue per room) remains an important KPI for hotel revenue management, but its relevance is declining.
Compared to the other KPIs, GOPPAR and TRevPAR draw a broader picture of business performance. This means that a revenue manager focuses not just on a single parameter that relates to the occupancy, but the value of a room in the global economic prospects of a hotel. Another significant metric is NRevPAR (net revenue per room), because it allows revenue managers to account for expenses in their calculations.
2. Using data analysis and predictive analytics
Data is the foundation for effective business operations. Currently,
data science
and
predictive analytics
are trending in many business areas, the hospitality industry being one of them. By analyzing historical data on cancellation rates and denials, you can predict occupancy rate levels and room rates, based on past booking calendars. Deep
analysis of customer behavior
allows for personalizing the offers for different customer segments across distribution channels.
Today, hotel revenue managers shift from relying on general historical trends to current data that captures guest online activities, like shopping behavior analysis, cancellations and no-shows, booking patterns, and more. Such data allows hotels to improve marketing and dynamic pricing strategies.
 Check our article about
data management in hospitality
to know more.
Grounding on data, you can use predictive analytics in pricing strategies. During the last few years, some hotel giants like Marriott International have been
creating analytics divisions
that
use existing data
for further development and managing their pricing. The potential data analytics holds is immense. You might find some hidden dependencies you could never imagine and use them in your revenue management strategy. For example, you might discover that on rainy days people are more likely to book trips to the seaside (and you can make them a special offer) or sport fans need a gym and a spa at the facility (offer them a package to meet their needs!)
Here's another example. In 2013,
El Cortez Hotel & Casino
started using Duetto revenue management software to track shopping behavior. Based on predictive analytics data, they canceled discounts on some unnecessary positions, changed their pricing policy by decreasing midweek rates and increasing rates on weekends or during some events. Also, the hotel changed their policy for the casino segment by identifying the most valuable players and offering them additional services. As a result, they achieved a 30 percent increase in cash revenue in 2013 and a 36 percent increase in 2014. Other KPIs such as ADR and occupancy also showed an obvious and steady growth.
3. Channel and overbooking management
Revenue highly depends on the channels that guests use for booking.
Channel management
influences revenue management, preventing overbooking and managing customer bookings sources.
Channel management software
, like
SiteMinder
,
AxisRooms
, or
ChannelRU
SH
, automatically updates information about the available rooms across all the channels to avoid double bookings. But there are situations when overbooking can benefit the revenue of a hotel. Let's see how.
A revenue manager must analyze daily statistics by channel to understand where the bookings come from and watch the sources of double bookings to close sales on these channels. Sometimes a couple of overbookings won't matter if a cancellation is predicted. In case there isn't a cancellation, a hotel can either send a guest to another hotel, provide compensation, or offer a future discount, which costs much less than a room without a guest.
Selling slightly more inventory than is actually available can be a good revenue management strategy. For instance, it's widely used by US airlines. Cancellations and no-shows, which always happen, lead to empty rooms. Overbooking strategy can maximize total capacity and increase revenue. In case of no-shows or cancellations, a hotel manager still can fill a previously booked room. Based on historical data of cancellations and no-shows, a revenue manager in cooperation with a front desk can distribute more property in a certain period of time to avoid unoccupied rooms.
4. Driving direct bookings
Before booking a room, travelers visit one to five websites, the 
2017 Fuel Travel Behavior Study Report
shows. Bookings that come from a direct channel increase RevPAR, remaining an effective distribution channel. At the same time, OTAs are growing more popular, making hotels visible to a larger number of travelers worldwide – for instance, in the United States
OTAs had 39 percent of the digital travel market in 2017
. But there is something that makes it less great:
rate parity
.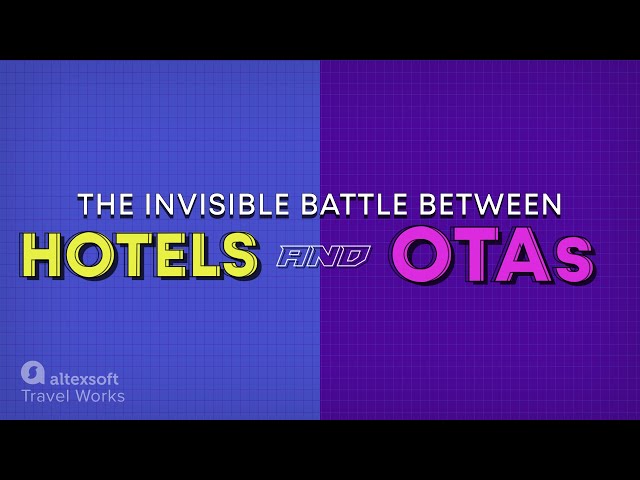 Check out the never-ending, invisible battle between hotels and OTAs
A legal agreement obliges a hotel to keep prices the same across all distribution channels. It means that regardless of the channel a person uses to book, via an OTA or directly at a hotel, it makes no difference to him/her because this traveler gets the room for the same price. But it does make a difference to the hotel by forcing it to pay a commission to an OTA.
Decreased spendings on OTA commissions allows for maximizing revenue, but here is the problem: how to encourage the travelers to book directly? First, by offering comps like free Wi-Fi, breakfast, or a discount for a direct booking.
Second, you can improve your website. In an increasingly competitive hospitality industry, a hotel website must be user-friendly and equipped with a robust booking engine to enable your guests to make reservations easily and provide opportunities for upselling. Also, make sure your website is optimized for search engines and mobile channels. That is how travelers will find your property faster if they are looking for a room in your area.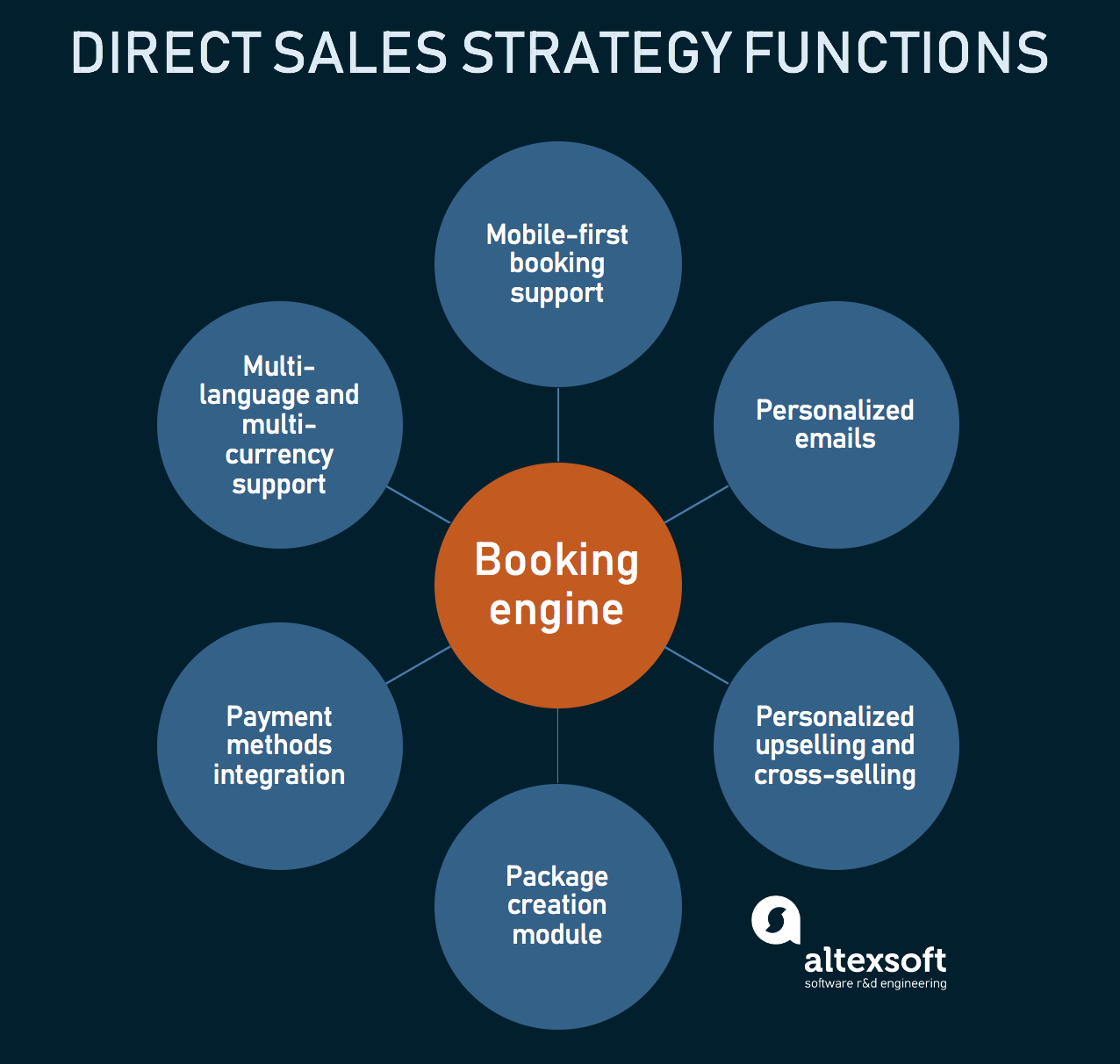 Components of a booking engine
You can learn more about
driving direct bookings back to your website
in our dedicated article. Also, be sure to check the
success stories of some famous hotel brands
as a real-world example of implementing
direct booking strategies
.
5. Mobile-driven booking
Today
over one third of travelers
book hotels online via their smartphones or tablets. So, once you have a website, make it mobile responsive for this category of customers. The three main elements of a mobile responsive website are: enhanced UX, a shorter reservation form, with only critical fields, and a secure mobile
payment system
.
Another way to give the users opportunity to book online is an app. International chains like Hilton, Marriott, and Hyatt have their own iOS and Android apps, where users can book and pay online.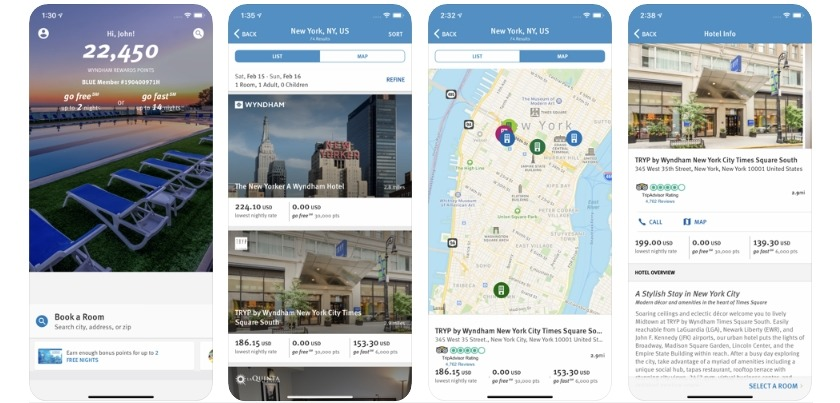 La Quinta mobile app interface. Source: Thinkmobile
A successful mobile app for a hotel
is a great opportunity to cross-sell hotel services and make a guest's stay more comfortable with online check-ins and
virtual concierges
. And if you add an opportunity to earn points through a
customer loyalty
program, the chances that a traveler will choose your hotel again increase.
6. Using AI and chatbots
Artificial intelligence and data science in the hospitality industry
is not just trending, it's also impacting revenue. A chatbot on a website or within an app can answer common questions, upsell or cross-sell additional services 24/7, interacting with a customer in a natural conversation manner. A chatbot on social networks, like a hotel's Facebook group, can serve as an additional sales channel.
Chatbots can answer travelers' questions about a property, services, facilities – redirecting more complicated requests to humans – and collect information about the target audience, e.g. customer preferences and the purpose of a trip. To learn more about
chatbots in the travel industry
, check out our related article.
7. Generating ancillary revenue
In the hospitality industry, the term
ancillary revenue
refers to the revenue gained from sources other than the primary product offering, the rooms. These sources include food and beverage services, transportation, entertainment, spa and wellness, or miscellaneous services such as extra beds, flower delivery.
Several types of sources can be packaged and offered to a particular customer segment, like business, leisure,
bleisure
, family, or group travelers. Additional services are in high demand by business travelers of all age groups; while packages are more popular with leisure travelers.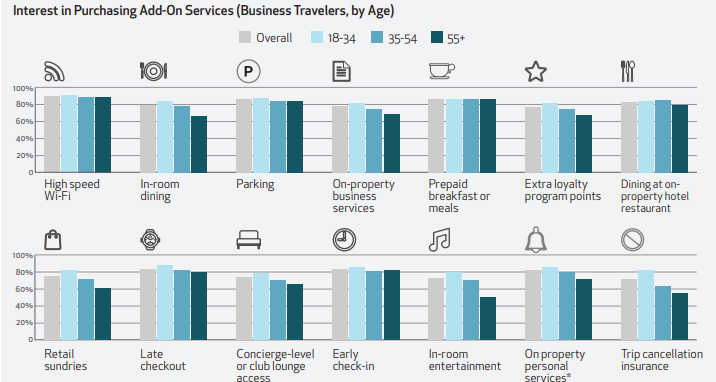 Interest in buying additional services by business travelers. Source: iSeatz
Ancillary revenue influences GOPPAR, so a hotel that offers packages will be much more profitable than one that doesn't. There are internal and external packages. An internal package consists only of the items, produced, controlled, and offered by a hotel, for example, a wellness package that includes airport pick up, spa-service in a hotel, access to a gym, and a dinner at the hotel restaurant.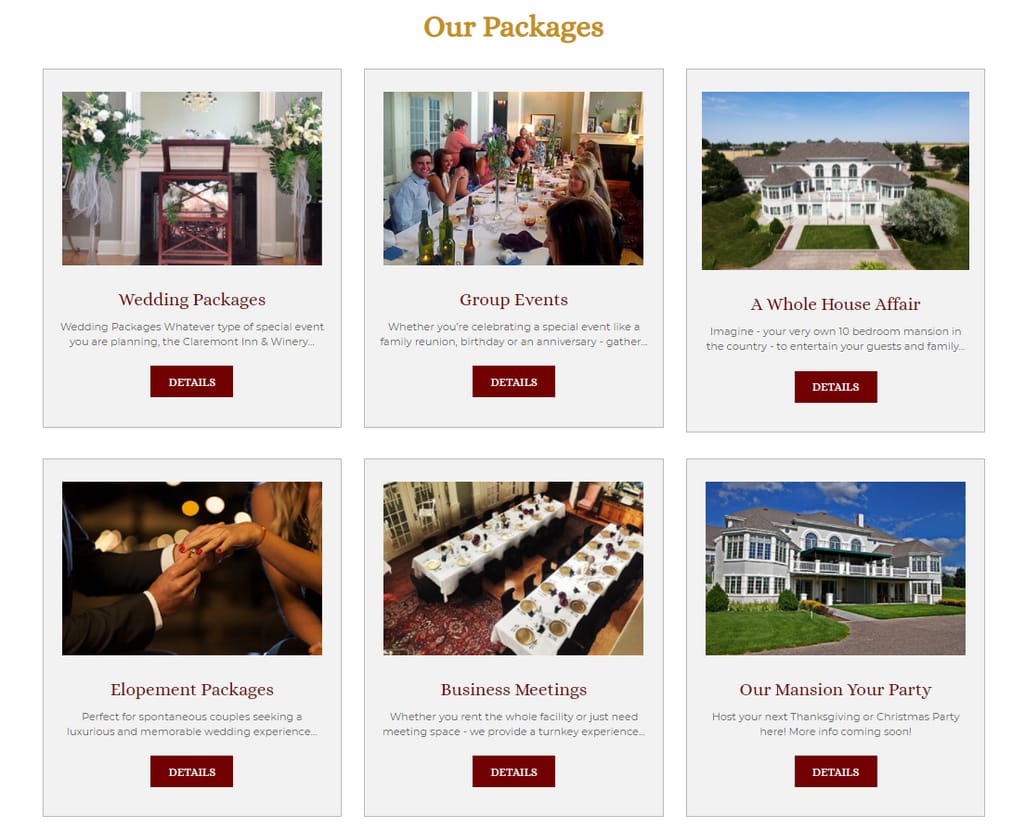 Internal packaged offers by Claremont Inn. Source: Claremont Inn
An external package entails offering third-party products and services, like
car rental
, transportation, or coupons/vouchers. For instance, travelers can book rooms with an airport-hotel transfer from a single interface; while a hotel receives a commission from the transfer partner. We've described how to
include airport transfers
in a booking engine in a related article. A hotel can choose a third party for cooperation or leverage a dynamic packaging platform, which is another revenue-increasing strategy.
8. Dynamic packaging
Dynamic packaging
is a strategy that allows travelers to customize their trip by adding necessary services through dynamic packaging engines. This method allows travelers to book from multiple sources using a single online application. People find this way more flexible and customizable than ordering any ready-made tours or trips or booking everything manually.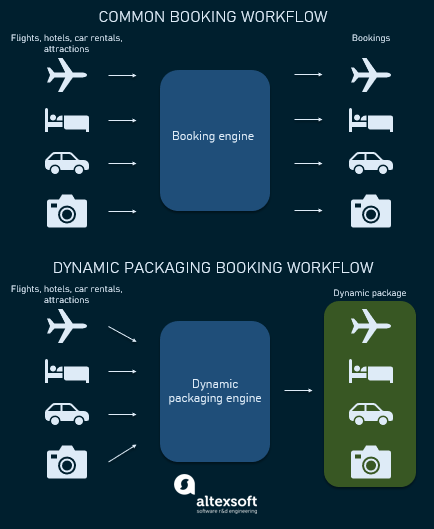 Dynamic packaging engine vs traditional booking engine
When a property utilizes a dynamic packaging platform, room prices, as well as the prices on other inventories, can be adjusted in accordance with them. So, if your guest books expensive ancillaries, the cost of a room will change accordingly. But the pricing approaches may be more complicated than that.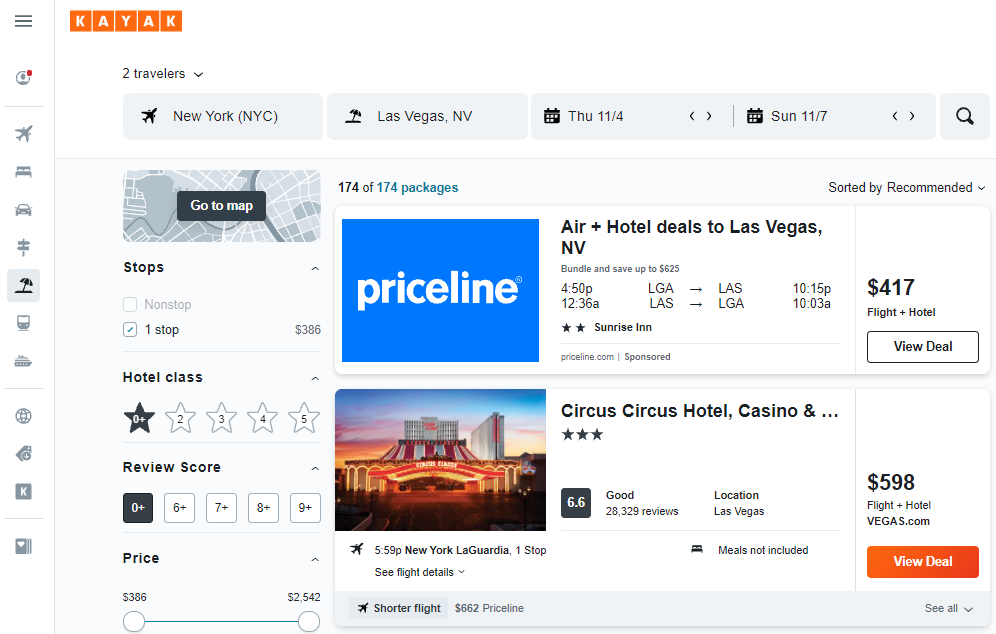 Kayak packaging interface
9. Launching loyalty programs
Loyal customers are an indispensable part of increasing revenue. So, various loyalty programs for existing guests help retain people who already used your services. You can create targeted email campaigns with special offers for such customers.
Also, discounts can attract people who don't know whether they should stay in a given hotel or not. For instance, with segment-based discounts for participants at a festival that takes place in your area, you can attract more guests.
Loyalty programs can be launched independently, or a hotel can join a network loyalty program like
Stash Hotel Rewards
or
IHG
. Depending on the hotel, guests can earn points for direct bookings or even passing on housekeeping. Then they can use earned points on other services or hotel stays. Such activities not only allow hotels to win a guest's trust, but also increase revenue: According to Cornell University's School of Hotel Administration
study
, hotels that joined Stash Hotel Rewards experienced an almost 50 percent increase in annual room-nights for each guest and a 57 percent revenue gain per year.
10. Benchmarking
Competition analysis or benchmarking is an important part of evaluating a hotel's performance and position on the market. Typically, you'll compare your indicators to that of your hotel's compset, which would include properties with similar characteristics (e.g., location, number of rooms, amenities, etc.). Another option is benchmarking against industry leaders to identify your areas for improvement.
To get the information on how your competitors are performing, consider the
STR report
with data on thousands of properties around the world. Once you compare your KPIs and see where you stand, you might find opportunities for adjusting your pricing or distribution strategy to generate more revenue.
At AltexSoft, we worked on a tool that collects performance data of multiple properties and analyzes it. You can check the
case study
of the project.
When you monitor the situation on the market, you can choose if you want to be
reactive
or
proactive
. In the first case, you
react
to the market fluctuations and set prices accordingly. The advantage here is that you can outprice your competitors and make more appealing offers in reaction to theirs. If you decide to be
proactive,
you'll have to get the most out of your data, make your own forecasts, and set rates yourself.
Revenue management challenges in the hospitality industry
Managing revenue and building effective strategies is a lengthy and laborious process. But time is not the only factor that adds up to the complexity. Here are the main revenue management-related challenges hoteliers face today.
Lack of experienced specialists
. Revenue management is a highly intricate process that requires professionals with deep knowledge of the industry and exceptional skills in data analysis, consumer psychology, communication, and critical thinking.
Lack of technology
. Without comprehensive software that is connected to other internal and external systems, it's impossible to conduct efficient data analysis, get a holistic picture, and make
data-driven strategic decisions
. Transition from manual calculations or
legacy systems
to modern technologies is a major industry problem, especially for small and medium businesses. It requires investment, development effort, and more importantly, change of mindset.
Unstable demand and market conditions
. The COVID-19 outbreak showed how unpredictable things can be. Consumer behavior, competition, and macroeconomic conditions are changing so rapidly that making accurate predictions is almost impossible. At the same time, revenue managers have to develop a long-term strategy and decide on pricing, distribution, and marketing well in advance (and under the pressure of realizing the costs of possible mistakes).
Distribution channels costs
. When we talk about revenue, it's not only about the incoming money flow, it's also the expenses that matter. When developing a distribution strategy, it's easy to overlook the costs that varied channels bring along. For example, paid ads on metasearch websites and social media increase the cost of direct bookings, but also improve brand awareness. Establishing the most effective mix of channels requires thorough analysis and close cooperation with the marketing and sales teams.
Lack of communication and trust
. Changing the
company culture
is never easy. Managers of other departments might have a different vision of a company's strategy and development. And often, people with a traditional mindset don't trust automated calculations and forecasts and prefer to make intuitive decisions. A revenue manager has to break through the internal silos and explain the effectiveness of actions and measures taken.