Hotel Booking Engine: How to Boost Direct Bookings
Reading time:
13
minutes
In 2021, the biggest challenge hotels face is successfully recovering from the COVID-19 impact. The outlook is optimistic. With vaccine distribution and countries opening up for visitors, the occupancy rates are creeping up and it won't be long before operations normalize.
But is normal filled with optimism? Even before the pandemic, when travel was booming, hotels — especially middle and small size — experienced difficulties of another sort. Shaded by online travel agencies, they struggled to get users to shop directly. Lacking technical muscle, hotels must share up to 30 percent of sales with OTAs — a type of partnership that never seemed fair for hoteliers.
Watch our overview of this decade-long struggle
To attract that share of direct sales they're losing, hotels need to match the perceived convenience of OTAs. One of the ways to do this is by implementing a booking engine.
What is a hotel booking engine and how does it make you competitive
Unfortunately, bound by rate parity, hotels often can't offer travelers better rates via direct channels. But those direct channels do receive visits. Research shows that travelers visit around 38 sites when planning a trip and they end up visiting OTAs, metasearch sites, and supplier websites to review their options. Some also check a hotel's own website to see if the offer is better there. That means that OTAs are not their first choice, but rather the most convenient one to choose, book, and pay for hotel rooms. Luckily, the same functionality can be achieved anywhere using internet booking engine features.
A booking engine is software that connects customers and travel providers. It's an integral part of hotel management that helps automate routine reservation processes.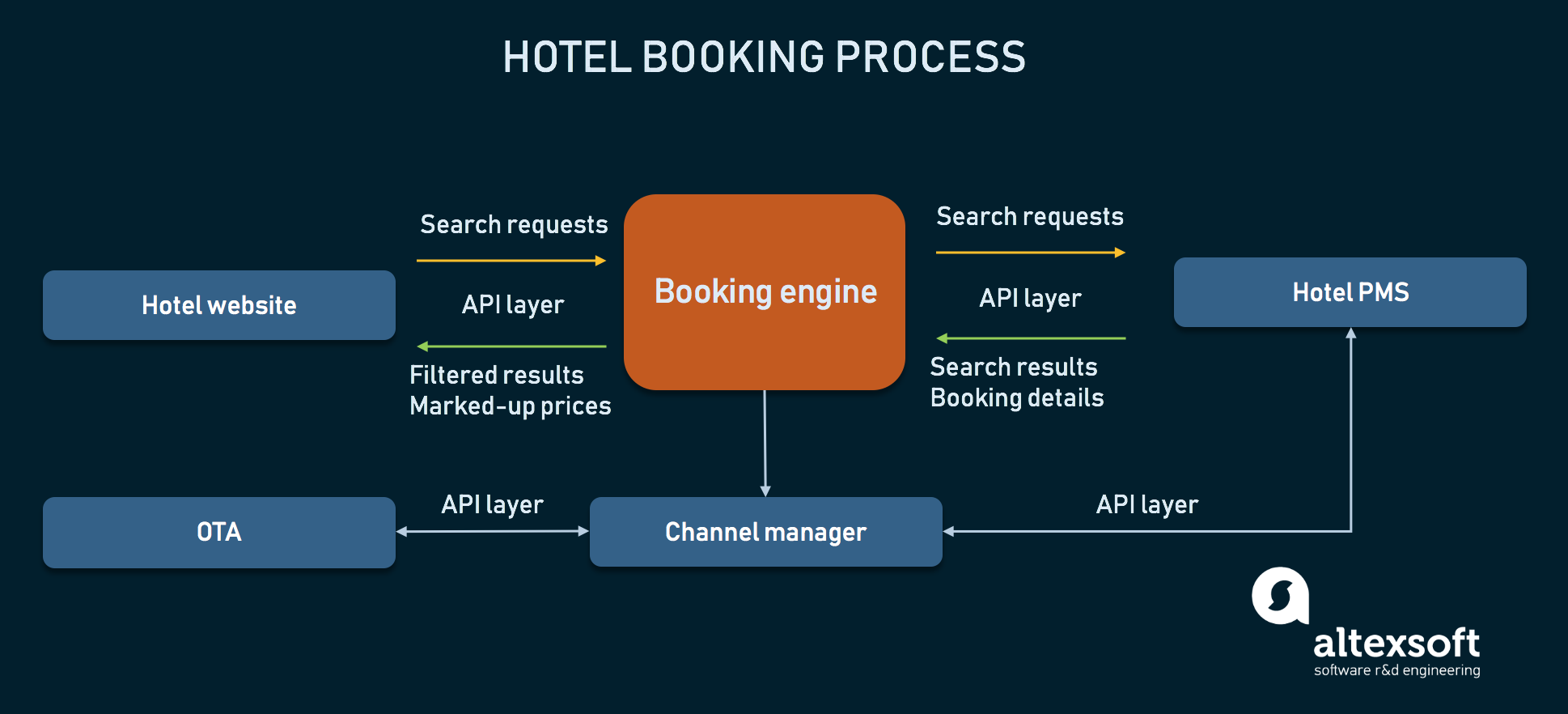 Systems taking part in direct hotel distribution
Here's how it works.
When a traveler uses a hotel's app or website, they're interacting with a booking engine interface to do a search.
A booking engine uses its own predefined logic to pull the requested data from a hotel's property management system (like OPERA PMS) via a connectivity technology called API.
The engine configures this data according to the applied filters, considers pricing rules based on discounts and rates, pulls extra services for cross-selling, and finally returns the information back to the user.
Basically, a booking engine makes it possible to not only access the inventory and perform the search, but also do it smartly, by displaying the information in the manner most beneficial to the hotel. This functionality alone results in many benefits both for travel shoppers and hoteliers.
Great user experience. A booking engine is the ultimate self-service technology for travel. Although some users (like groups or first time travelers) still prefer talking to a person to make reservations, most modern travelers are tech-adept and require little assistance. Moreover, they will seek platforms that give them the independence to do a search and make payment. As long as they have a choice of Expedia over calling a hotel, they won't be making direct purchases. But booking engine can match an OTA experience.
Search results personalization. As we mentioned, a booking engine will display results based on its internal logic. This is mainly done to personalize search results for each guest. By identifying which type of traveler is currently browsing, the system will offer them deals, packages, and rooms they will find most appealing. And subsequently, close a sale.
Convenience to loyalty members. In the video above, we mentioned that one of the strategies for driving direct sales for hotels is running a loyalty program. Unfortunately, if guests need to call the hotel to use points, they won't bring you those sales. A booking engine takes all discounts and loyalty systems into account and automatically recognizes them when compiling an itinerary.
Better business efficiency. When the hotel staff spends less time on the phone or emailing with potential customers, they're occupied with the tasks that they're better at, like attending guests and running the property. Besides, without having to manually log in reservation data, they always have up-to-date information about hotel occupancy.
Valuable hospitality insights. A booking engine is a valuable data source that will contribute information about guests and rates to the hotel's analytics module. Automatically collected and integrated, this data will result in accurate insights on booking patterns that will help you understand your guests and cater to them better. Or, if you get bold enough to apply AI, data can even predict your occupancy rate, for example. You can consult our article on hospitality analytics to learn more.
This is just the tip of the iceberg. A booking engine is a part of a larger mechanism combining at least two other programs — a property management system (PMS) and a channel manager. Acquired separately and then integrated or bought/built as a single solution, these tools cover all areas of efficient hotel distribution and successful direct booking strategy.
Now, let's take a closer look at functions typically supported by booking engines that will help attract users and convert them into guests.
Features for a successful direct booking strategy
The main components of direct sales are communication, personalization, and usability. Here, we will cover functions that help build these components for your hotel. Sometimes, a solution comes with all features out of the box, but in some cases, you can acquire them in modules. Besides, most providers will support external integrations such as a TripAdvisor interface with reviews, so the feature set can be extended. Either way, these are the functions you will often find in the booking engines on the market.
Components of booking engine
Mobile-first booking experience
On Booking.com, mobile reservations exceed desktop ones. More than that, according to Triptease, the share of revenue from mobile has doubled since the beginning of 2020, and up to 35 percent of booking engine searches happens via smartphones. So, having a mobile hotel website is the first step in delivering a great booking experience.
The idea behind the mobile-first design is that if your website looks and feels great on mobile, the same will translate to other devices. Although mobile websites are not apps (and we don't recommend investing in those if you're a small or midsize hotel), they should feel like apps and all main content should be available on the same screen without having to click through many pages. For hotel reservations, this also means such features as
clear booking flow with a minimum number of steps;
content merchandising system for promoting deals and packages;
SEO performance tactics;
content personalization based on device, geolocation; demographics, past searches, etc.;
complete independence from the desktop version, which allows full customization;
displaying only relevant information.
Step-by-step booking workflow is easier to follow and brings confidence to travelers
Source: Mirai
Some providers like Сlock PMS+ offer booking engines as a module integrated with your existing website, while others such as SiteMinder have solutions for hotel website design as well. If your website needs redesign, consider the latter option: Ready-made templates and hotel-specific features help create great booking experiences without the hassle.
Personalized communication
Email is the main form of communication between a hotel and a guest pre- and post-arrival. There are two main types of such messages.
Notifications. The first one includes emails notifying that the booking was confirmed, modified, or canceled, or reminding guests that they're expected in a few days. They are usually automatic and don't require personalization or additional set up, though you may create subgroups for different user groups or include additional information. For example, you can attach a map with some routes to help people reach your property, or offer last-minute extra services, such as airport transfer.
Compiling an email template with custom values
Source: Cloudbeds
Promotion. Promotional messages can differ depending on how much time after the guest's departure they're sent or whether they've booked at all. In one instance, a couple of days after their stay, you can send an email to thank them or ask them to leave a review. After that, you can send them your best offers, discount vouchers, or useful content. Users who simply browsed or left the booking process mid-way can also receive automatic emails urging to come back.
So, a features you should look for in booking software include
customizing the look of your emails using templates,
creating email templates,
scheduling emails based on chosen intervals or triggers,
setting up email rules.
By creating different templates, you can send all types of emails you see fit, based on numerous variables like the number of guests visiting, their payment method, the room type, etc.
Personalized upselling and cross-selling features
Selling room upgrades or complementing services is an important part of direct sales since OTAs rarely cover such touchpoint experiences. When a guest is already in the process of booking, you can expect them to be more inclined to splurge a bit, especially if the offers are delivered at the right time, cater to their needs, and their benefits are clear.
Such personalization is powered by data collected from your booking engine, PMS, and channel manager. Metadata from their web sessions, user behavior data based on user actions, and CRM data from their past stays will help you create detailed guest profiles, automatically segment them, and offer relevant content. Learn more about travel website personalization in a separate article.
Last-minute deals and discounts in the booking flow
Source: SiteMinder
Some examples of automatic upselling include:
displaying a banner during the booking process that there's a superior room available for just an extra $20. Room upsells can be customized depending on the type of travelers (honeymoon suites to couples, spacious rooms for families, etc.);
offering special affordable treats such a bottle of wine at arrival, a fruit basket, or a massage after a long trip;
suggesting leisure activities for tourists: bike renting, a city tour, a local food experience at your hotel restaurant, and many more, to acquire a share of tours & attractions revenue;
highlighting other benefits your property offers, such as a gym, spa facilities, an airport transfer, etc.
You can read about hotel upselling and cross-selling in more detail in our dedicated explainer.
Creating package offers
A package deal is an efficient way to make sales by offering predetermined experiences at an attractive price. Deals are usually time-sensitive, so customers must make quick decisions, which helps occupying rooms that wouldn't have been occupied otherwise.
Here's how it works. Using a content management system, you create a rate plan and add values, such as number of nights and occupants, dates, etc. The engine can take care of displaying deals depending on a schedule, for example, during low season.
A section in the booking engine dedicated to deals
Source: HotelFriend
Just like upsells, packages can be personalized for leisure and business travelers, families and solo guests, and many more.
Flexible payment methods
Hotels should accept online payment and offer guests a wide range of options. A booking engine typically has built-in integrations with many payment gateways and supports different credit card types. Integrated payment options are secure and PCI-compliant, so the risk of fraud is smaller.
Setting up credit card surcharges and types of accepted credit cards
Source: SiteMinder
Here are some more convenient features a payment processing feature offers:
Saving credit card numbers in an encrypted format for easy subsequent payment
Creating invoices automatically
Making refunds easily
Saving payment actions on a dashboard to see the status
Prepaying charges with supporting gateways like Stripe
Creating custom payment options
Multilanguage and multicurrency support.
OTAs are great at accommodating international travelers while hotel websites are often inaccessible to guests coming from abroad. And even if they speak your language, it may be difficult to navigate foreign currencies.
Multilingual and multicurrency abilities are usually offered via two ways:
Dropdown menu for manual choice
Automatic selection via geolocation
Activating languages on the website
Source: Amenitiz
Both options should be present as travelers might not be located in their native country or they simply want the convenience of choice.
Despite how small this feature may seem, you might find it crucial when choosing a booking engine provider. If you're targeting a specific geographic area, you may not find their language represented with a popular vendor, and will have to pick a different one or take care of translation yourself. Also remember that any custom copy like room descriptions won't be translated as the engine supports only the interface changes out of the box.
How to define requirements for a hotel booking engine
Here are the main factors that should influence your decision about a booking engine.
Must-have features. Functionality covered in the previous section of this article is a bare minimum for a hotel booking engine. In short, a booking engine should fulfill all three goals: boost conversions, provide great user experience, and simplify back office tasks.
Integration capability. This includes both the integrations already available with software and the ease of connection to more third-party software, basically, whether the solution has an API.
User experience. How easy is the booking engine to use by the staff and by website visitors? "Intuitive to use" is one of the most common phrases you can see in booking engine reviews.
Cost. Booking engine providers usually use one or a combination of two revenue models: a monthly subscription or a commission per booking. For large hotels with hundreds of rooms, commissions will be a big issue, while smaller hotels might handle them fine.
We used HotelTechReport rating for booking engines to choose the five most popular products on the market and gave a short overview of each, considering the previously mentioned factors.
Bookassist
Bookassist offers a number of hotel distribution products, the main one being its booking engine. On HotelTechReport, it's the highest ranked booking engine with 360 reviews and 93 percent recommendation rate. It's also marked as a great solution for boutique hotels, B&Bs, and resorts.
Although it doesn't have an API, you will be able to connect to most channel managers (SiteMinder, D-EDGE, SmartHOTEL) and PMS vendors (OPERA PMS, Protel, Amadeus) with built-in integrations. Its cost is a combination of regular payments and commissions per booking.
Cloudbeds
A provider of all types of hospitality solutions from a PMS to a revenue management system, Cloudbeds booking engine has a 91 percent recommendation rate with 454 reviews. Preferred by smaller hotels and hostels, it doesn't charge any commissions and offers four pricing plans. API access and payment processing must be acquired separately as add-ons.
Cloudbeds offers consistency across all platforms
The marketplace of integrations (which becomes available with a second tier) has tons of upselling and guest communication services, but no integrations with other PMSs and channel managers apart from Cloudbeds. Yet, the Cloudbeds open API can bridge some of those gaps.
SiteMinder
Another all-in-one hospitality technology platform, SiteMinder booking engine has the clearest pricing strategy among other solutions in this list. Depending on your number of rooms and how often you wish to pay, you can calculate the price — a hotel with 100 rooms, for example, will pay 109 euro a month.
SiteMinder offers a detailed but not overcrowded interface
There's also a free trial available, which is not always the possibility with such software. SiteMinder has an unmatched selection of integrations with PMSs, RMSs, CRSs, and more. The process of integration is also described in detail in their docs.
Net Affinity
A self-described booking engine for independent hotels, Net Affinity is easy to use and combines all features needed for a small hotel. Aside from a flat subscription fee, the service provides an opportunity for room upsell revenue. A training platform with instructional videos, a free trial, and integrations with all main hospitality technologies make it a great choice for a property that looks to incrementally grow direct revenue.
Profitroom
A booking engine is a part of Profitroom's suite of revenue boosting solutions. The software focuses on detailed and personalized communication, increasing conversions, and convenient mobile reservations. Its user base spanning mainly the EMEA region highlights fast and helpful tech support and easy installation.
Profitroom incorporates deals into the search results
Profitroom also has the longest trial — 90 days. The selection of integrations should cover all your needs, especially if your guests come from Europe and the Middle East.
Booking engine implementation scenarios and recommendations
In this article, we addressed hotels that don't currently have online booking capabilities on their direct selling channels. But the extent of your digital prowess may vary. Here are some of the common scenarios and recommendations for them.
If you don't have a functional hotel website
If you're running your distribution operations on Booking or Expedia and using their PMS and channel management tools, you probably want to finally venture into direct sales. To bridge this gap with minimum effort and cost, you need a strong base to start from.
1. Develop or upgrade your hotel website. Talk to travel technology experts about creating a website that performs well and drives search engine results via smart SEO and content marketing.
2. Get an all-in-one solution. Go to a vendor that offers a selection of cloud hospitality software that will be easy and inexpensive to set up and integrate with each other. Make sure you pick a solution with great training and tech support to help you and your staff accept the change and overcome challenges easily.
3. Research additional integrations. After you get familiar with your new distribution and operations model, consider what tools you can benefit from and grow your infrastructure.
If you have a solid PMS and a modern hotel website
Building upon the base of existing software will be both the easiest of all and introduce a lot of unexpected challenges. System integrations can be tricky, so you will either have to choose a booking engine that seamlessly integrates with what you already have or go to tech experts who will help you make all integrations seamless.
1. Audit your direct channel. Compile a list of features that perform well and the ones that don't. For example, if you don't have convenient payment features or a consistent strategy of posting deals, take note of that.
2. Consider implementing add-ons or a complete booking engine. Sometimes it will be cheaper to replace old functionality with a modern personalization-driven solution. Once again, you will probably need a tech partner to evaluate existing options and offer the one that helps with your goals.
3. Make custom changes. Customization is usually inevitable when you have a vision for the product as there's rarely perfect software waiting for you. Take one step at a time, iterate, and learn what options bring the most revenue.
If you've tried it all and lack customization
If you have a budget and some ambitious plans for your direct channel, consider custom booking engine development. You don't have to go all in with custom PMS and channel manager but will be able to deliver booking experience beyond standard booking flows and be different from OTAs. You also won't be limited with integrations and be able to connect to whichever tools you see fit.
1. Document your idea. Start with the reason you want to go custom and why you don't think any of the existing solutions fit. Or maybe you like the products on the market but want complete control on how they're connected with a layer of custom interface on top.
2. Choose an IT partner. Use review platforms like Clutch to find a vendor that fits your budget. Ask your hotelier friends who they recommend. Finally, look through their travel-related case studies to learn if they've done similar projects.
3. Enhance your booking experience with extra technology. Having full control over your system gives you more freedom to introduce advanced functional elements, for example, based on AI. From here, the opportunities are endless.