In the world of global trade, the traditional way of shipping involves relying on a
freight forwarder
to handle all the
logistics
hassle. However, as the transportation industry digitizes, shippers have the newfound opportunities of self-managing their entire shipment process – and saving costs on intermediaries.
These digital platforms are still young, and just like in travel, it can be intimidating to switch from a live agent to online bookings. So in this post, we discuss digital freight marketplaces and describe their functions, partnership programs, and integration options.
We did our best to explore the needs and available options for both sides involved in the shipping process, so this article will be useful for both shippers and freight forwarders.
What is a freight marketplace (or digital freight matching platform)?
A
freight marketplace
(also called
digital freight marketplaces
or
digital freight matching platforms)
is an online platform that connects shippers and logistics service providers such as air, ocean, and land carriers, freight forwarders, 3PLs, custom brokers, consolidators, etc.
Freight marketplace vs load board
Sometimes, trucking
load boards
are also called freight marketplaces because essentially their functions are similar. However, it's a different concept in the sense that they connect shippers with truckers to arrange inland transportation, while freight marketplaces we're going to talk about help organize international shipments. So such platforms as DAT, uShip, Trucker Path, Truckstop.com, and others are a completely different story and are out of this article's area of focus.
Why do shippers use a freight marketplace?
The logical question arising is
why should you deal with freight marketplaces instead of partnering with forwarders or carriers directly
? Well, there are several reasons.
You see the options
. First, freight marketplaces are aggregators that allow shippers to conveniently compare multiple transportation options based on such key criteria as price and duration.
You save costs
. As you compare quotes from different service suppliers, you can choose the best rates.
You get instant quotes
. Instead of waiting for the partner's response to your RFP, you get the quotes immediately.
You trust your supplier
. You don't have to assess the potential supplier's reliability yourself since there's a strict vetting procedure for marketplace partners. Some platforms also show the partner ratings and reviews other users left about their cooperation with a service provider.
You evolve
. Even if you have a freight expert you trust and have been working with for a while, you might have different needs as you develop, e.g., shipping to new locations or using a new transportation mode. There's a chance that your partner might not be able to provide the needed services, so you can look for new suppliers that will help your business grow.
Why do freight forwarders use freight marketplaces?
The freight forwarder's benefits of using marketplaces are pretty much obvious. Those include getting access to a large number of cooperation opportunities, expanding a customer network, receiving guaranteed payment, and taking advantage of the platform's quoting, booking, and management technology.
How do freight marketplaces work for shippers?
So here's a common scenario describing how shippers interact with a freight marketplace.

A typical freight marketplace workflow
Enter shipment details including origin and destination information, shipping date, and whether it's an FCL or LCL. At this stage, some marketplaces also offer additional services such as insurance, last-mile delivery, handling equipment usage, customs brokerage services, and so on.
Review and compare quotes from different service providers. Depending on the marketplace and shipment requirements, it can be direct carriers, freight forwarders, 3PLs, and/or other parties.
Book and pay for the transportation option of choice. Enter the company, contact, and payment information, as well as additional requests, if any. Note that if you order other services such as customs clearance, you might have additional charges later.
Submit documentation required for international shipping including commercial invoice, packing lists, letter of instruction, and so on. In most cases, the marketplace team and/or service provider contacts shippers after the booking to confirm the details and give shipment status updates.
Track the shipment while en route. Typically, shippers receive automatic status updates and/or monitor shipment progress through the customer portal or via tracking APIs.
This is how it usually works. However, since there are nuances in how different platforms function, let's explore the top freight marketplaces and their specifics.
Freight marketplaces compared
Freightos: the industry-leading freight booking platform
Freightos was founded in 2012 and is now the world's largest global digital marketplace for international freight connecting over 13,000 shippers to more than 2,000 logistics service providers.
Freightos products and tools
. The Freightos tech company offers three main digital products created to streamline global logistics:
Freightos.com – a booking platform designed for shippers;
WebCargo – a solution for freight forwarders that digitizes air cargo bookings offering instant quotes, digital freight negotiation, sales portals, rate management software, etc.; and
Freightos Data – an analytical resource that publishes the Freightos Baltic Index (the industry's key daily benchmark of container shipping prices) among other data products.
In addition, Freightos offers several free tools to make shipping estimates, i.e., Freight Rate Calculator, US Import Duty and Customs Duty Calculator, and a Routes analyzer.
Freightos booking flow
. Freightos allows shippers to list specific load information (like freight dimensions, packaging, and value) and select additional services (such as handling equipment, customs clearance, insurance, labeling, etc.) to obtain the most accurate quotes.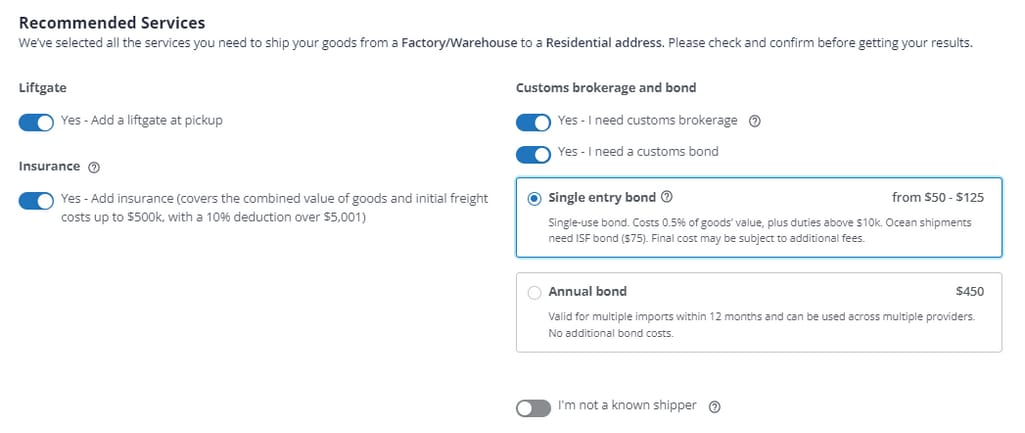 Freightos recommended services as part of the booking process
Once you enter all the shipment details and indicate required services, you'll get a list of transportation options. You can filter results, choose the quickest/cheapest/greenest option, and check the reviews and rating of suggested suppliers.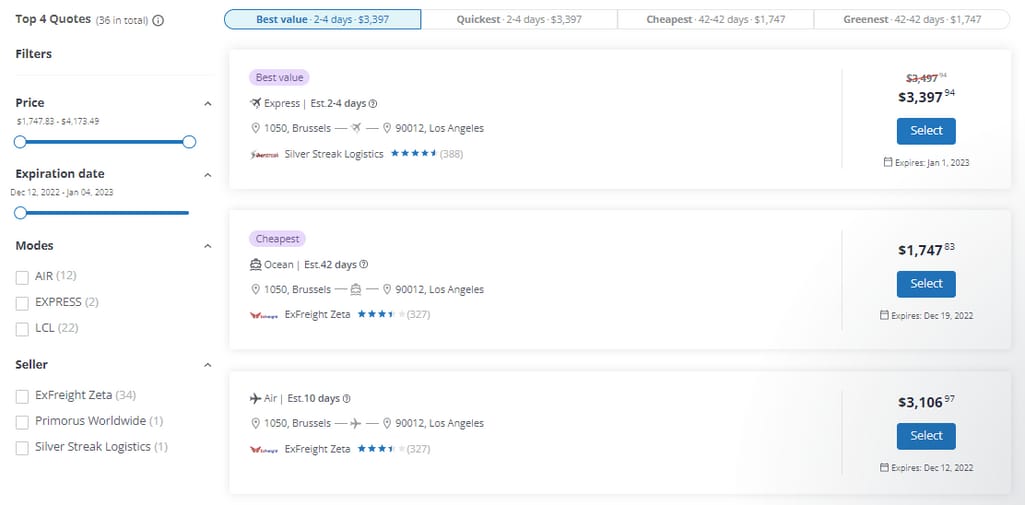 Freightos search results
At the last stage of the booking flow, you get the price breakdown (the platform fee is added to the quote), enter the company details, and proceed to payment. Some charges such as customs duties/taxes aren't included in the quote so you have to pay them later on when they are incurred.
After you're done with booking, you have to upload the needed documentation and communicate any additional details to the forwarder in charge of your shipment.
As the freight is en route, you can see its progress on the "My shipments" page of the customer portal. You can also receive all the status updates if you connect to Freightos via
APIs
.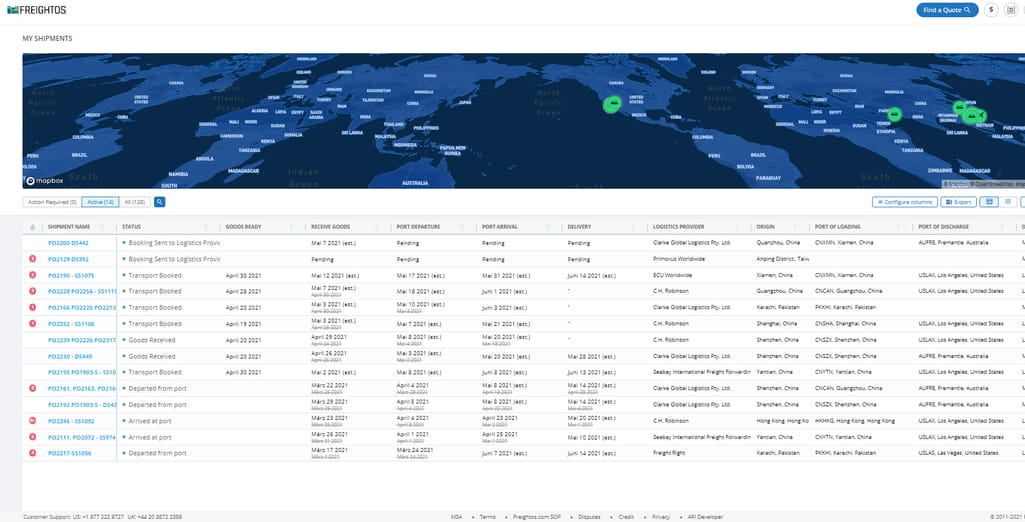 Tracking shipments on Freightos
Freightos partnership and integration
. Freightos caters to small importers, enterprise shippers, and Amazon FBA users alike. If you are a small company with few shipments, you can create an account and manage your bookings in a customer portal.
For big enterprises that ship multiple loads regularly, Freightos offers
Freight as a Service
(FaaS). It involves building an integration with your system via a set of
REST/JSON APIs
to bring all the platform functionality to your own interface including
freight pricing,
booking,
shipment management,
documentation exchange,
communication, and
tracking.
There's also a
Developer portal
with open API documentation for freight estimation and CO2 emissions estimation, but they are in beta for now.
As we said, Freightos also makes shipping easier for
Amazon importers
offering them a tailored booking flow and additional services such as palletization and labeling.
Freightos pricing
. There's a fixed 3 percent fee the platform charges shippers for every booking.
Freightos for freight forwarders
. As we mentioned earlier, freight professionals can use the
WebCargo
platform to price, book, and manage their air and multimodal freight.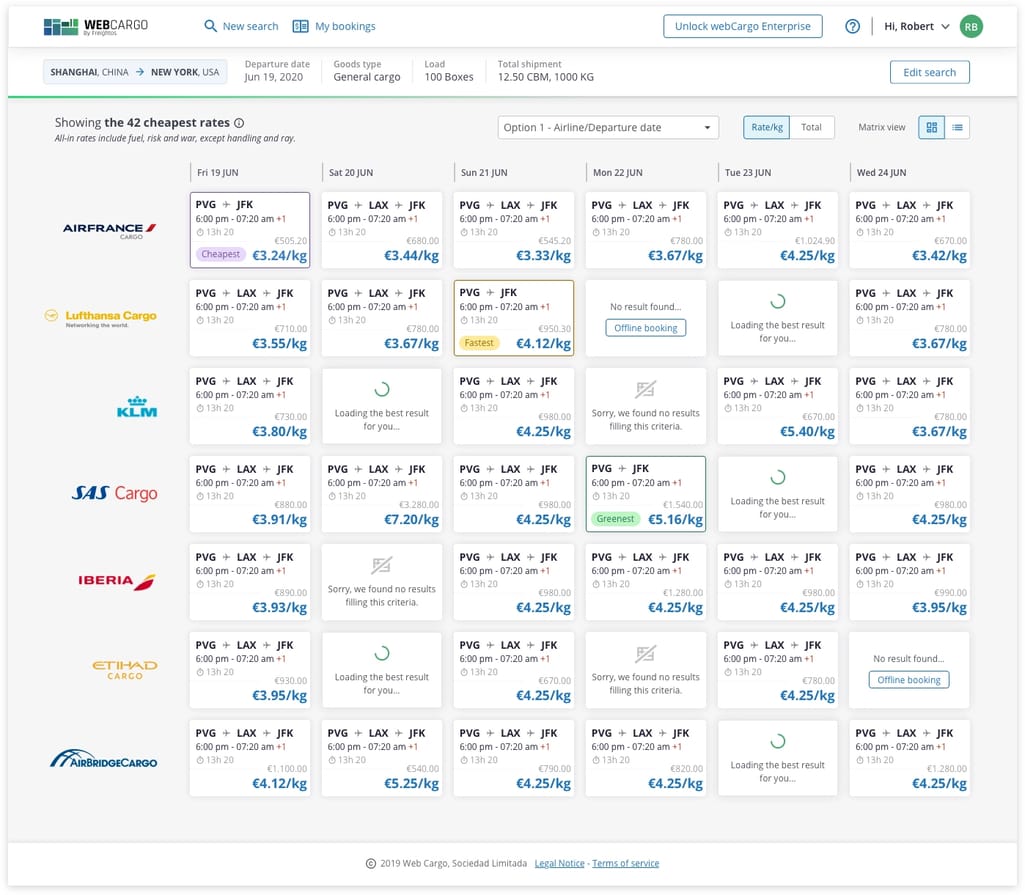 WebCargo search results
Freight forwarders can use the web-based WebCargo version. Or, if you consider building an API integration, the WebCargo
Developer portal
provides open API documentation for
AcceleRate APIs that allow you to search for rates, feed in rates from your own system, and sync your secured quotes to your TMS and
Vista APIs that allow you to receive shipment details, manage updates, get tracking information, and so on.
If you want to register as a logistics service provider, apply by filling out
this form
and be ready to go through a vetting procedure, confirm your legal and financial status, and so on. The pricing for freight forwarders comprises 2-5 percent from each booking.
SeaRates: a search engine for ocean transportation
SeaRates is the online freight matching and booking platform that is a part of
DP World
– the leading provider of smart logistics solutions, from
terminal software
to maritime services to free trade zones. It's also been announced that AirRates and LandRates are being developed with similar functionality to digitize other transportation modes.
SeaRates tools
. SeaRates platform offers a suite of tools that cover shippers' different logistics needs.
Logistics Explorer is the freight matching tool that helps find and compare carrier rates for your shipment.
Container Tracking is where you can monitor the progress of your containerized freight, get and share status updates, view current ETD/ETA, etc.
Load Calculator is a load planning and optimization solution.
Ship Schedules is a place to check itineraries and schedules by routing, by port, by vessel, or by carrier.
Distances and Time is an app that helps estimate distances and times of sea routes.
Smart Documents (beta version now) is meant to facilitate shipping documentation generation and exchange.
Route Planner is a tool for creating and assessing transportation routes.
SeaRates partners with Digital Freight Alliance – a network of freight forwarders from 150+ countries giving its members access to the marketplace and numerous shipping requests. So, if you need additional services such as insurance, customs clearance, LTL consolidation, warehousing, etc., you can send a request and receive quotes from SeaRates partners.
You can also look for a freight forwarder in your or any other country in the
Logistics Services
section which is a database of SeaRates partners.
SeaRates booking flow
. To start the search, enter the origin and destination, indicate the date when the load is ready, and select whether it's an FCL, LCL, or bulk freight. The system will offer you several options from different carriers. You can review the included services price breakdown and filter by carrier.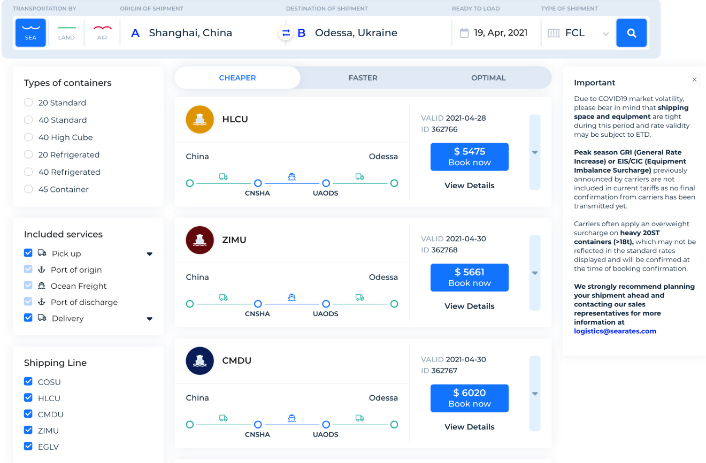 SeaRates search results
If no quotes are found, you can fill in the request form and the SeaRates specialists will try to get an individual offer.
Once you select the transportation option, you proceed to booking and enter more information about the cargo. Note that you don't have to pay at once. The agent will contact you to go through your details and send you an invoice.
You can then review the booking and track your shipment in the Virtual Office.
SeaRates partnership and integration
. Most SeaRates tools can be accessed online on their website via Virtual Office, added to your own website (customizable widgets are available), or integrated with your business management system via their JSON APIs. The list of available APIs includes
Logistics Explorer API,
Tracking System API,
Ship Schedule API,
Load Calculator API,
Distances and Time API,
Booking API,
Route Planner API, and others.
Check their
Integration
and
API
pages for more details.
SeaRates pricing
. SeaRates does not charge a separate booking fee for using its freight matching tool (Logistics Explorer) since its services are included in the prices. However, if you want to use other tools (Container Tracking, Load Calculator, or Shipping Schedules), you'll have to pay a subscription fee.
The platform has a discount system for active and long-term customers. In addition, SeaRates has a
loyalty program
with special offers, promo codes, and other perks that's worth checking out.
SeaRates for freight forwarders
. To partner with SeaRates, get access to their tools, and reach out to 30 to 50k potential daily customers, you have to join the
Digital Freight Alliance
by filling out the contact form. You can then load your rates and the platform will start matching you to shippers' requests.
You can accept booking either via the SeaRates platform or from under their white label solution on your own site. You can also quote the
shipping leads
from the SeaRates shipping list.
If you choose to connect the SeaRates platform functionality to your system via APIs, you can use the following integration options:
Adding Rates API,
Route Planner API,
Rate Request API,
Individual Quote API,
Load Calculator API, and others.
Some of these APIs have open documentation on the SeaRates website, while to access others you need to send a specific request to their team.
FreightMango: procuring FCL/LCL ocean container capacity
FreightMango
is a digital freight marketplace established in India in 2019 that digitizes ocean container capacity booking.
FreightMango products
. FreightMango offers four main services for shippers:
Ocean Freight which is essentially the load-to-carrier matching platform,
FBA Imports which helps consolidate and manage Amazon shipments,
Customs Clearance Procedures which automates the customs clearance and documentation management processes, and
Trade Finance which is a risk management and cash flow optimization instrument.
FreightMango booking flow
. After entering the origin and destination ports, cargo details (FCL/LCL, type and number of containers, weight, and type of commodity), drop-off date, and required services (customs clearance and insurance), you get a list of quotes from ocean carriers. If there are no quotes generated, you can send a rate request for a personalized offer.
FreightMango search results
Note that you can't ship dangerous loads,
temperature-sensitive goods
, oversized cargo, or live animals through FreightMango.
As you proceed to booking, you'll get a detailed price breakdown and will be required to enter the company and payment information.
Once you complete your booking, you'll be getting automatic status updates or you can also track the shipping progress in the customer portal.
FreightMango partnership and integration
. You can use the FreightMango online customer portal to book, manage, and track your shipments or build an
API integration
to use their search and quoting functionality from your own interface.
FreightMango pricing
. FreightMango is free to use. The API connection has a free trial period but you have to contact the representative for a further quote.
FreightMango for freight forwarders
. FreightMango connects shippers to carriers directly so they seem to not partner with freight forwarders.
SHIPNEXT: a ship chartering platform
SHIPNEXT
founded in 2015 is a blockchain-driven cargo-to-ship matching platform that helps digitize the workflows related to
chartering vessel
capacity. It uses
natural language processing
,
machine learning
, linear programing, and
Big Data
analysis to process information from 85 databases and a range of other information sources, find best matches, and efficiently connect all logistics parties.
SHIPNEXT products
. The SHIPNEXT suite of digital solutions includes
Trading Desk – a platform to view market data, search cargo or vessel, and tender freight;
Cargo Monitor – a freight management solution to manage and track bookings and quote requests, receive analytics, etc.;
Fleet Monitor – a tool to manage fleet data, monitor the vessel's commercial and operational performance, and track its past and current employment, build up a historic records database on each vessel, store time-charter-related data, review sanction and compliance checks, and so on;
Exchange – an email solution that streamlines communication and data management;
Documents – a contract and export documentation management tool; and
Ports – a database of ports data such as restrictions, congestion, and more.
SHIPNEXT booking flow
. SHIPNEXT Trading Desk has a different flow from other marketplaces. The tool has a split-screen design where you can see open market data about current available ships and cargo.

SHIPNEXT interface
To add your own freight, you can connect your email service, messenger, operational management system, or other data flow to automate the process. Otherwise, you can add your cargo details manually or send the information to the company email. SHIPNEXT works with breakbulk, dry-bulk, wet-bulk, and containerized cargo.
You can either make your freight publicly available or limit the range of carriers who see your listings.
When you add your cargo, you'll get a list of eligible carriers that you can charter. You can either click on the carrier listing, or drag-and-drop your shipment to see a contact form (with prefilled freight information) and send an RFQ to the carrier of choice.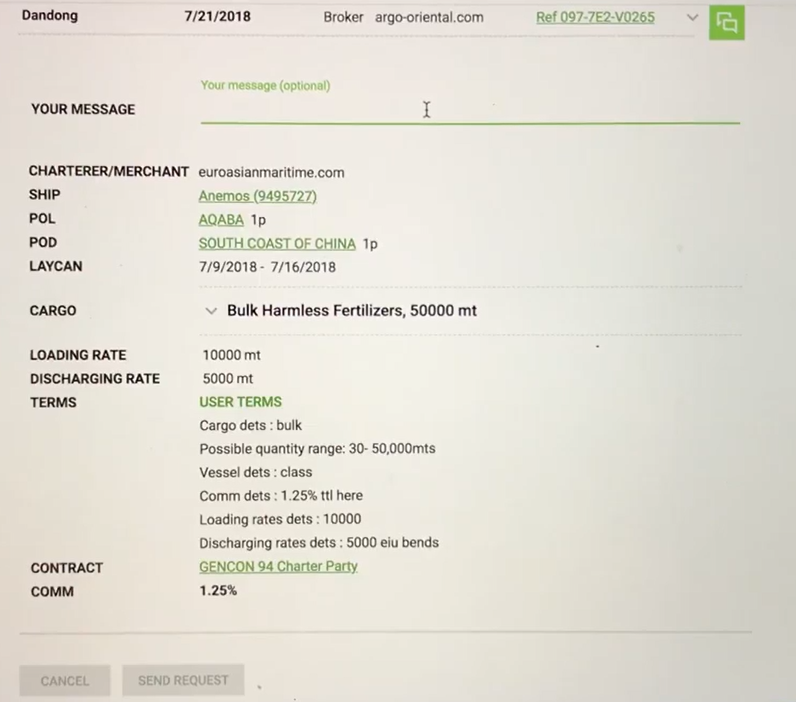 SHIPNEXT request form
After you send the request, the carrier should contact you with a freight quote.
The customer portal allows shippers to track their cargo, manage bookings, and view activity reports.
SHIPNEXT partnership and integration
. You can use a desktop or mobile website version of SHIPNEXT or build an API integration with your business management system. For white-labeling options, contact their team directly.
SHIPNEXT pricing
. The Trading Desk yearly subscription
costs
$799, the Connect tool is $300, while the combination of two is $999 per year. The free plan is available but has limited functionality. For other quotes, you have to contact their sales team.
SHIPNEXT for freight forwarders
. SHIPNEXT is primarily designed to facilitate direct shipper and carrier cooperation. However, the platform can be used as a source of global trade market and ports data.
Main doubts discussion and final tips
Every business has different logistics needs, so the decision whether to work with a live freight forwarder or go digital and book logistics services through a marketplace is definitely yours. Some of the key uncertainties that make most shippers doubtful are
Lack of personal touch
– even when shipping through a freight marketplace, you still work with a freight forwarder or carrier that you can contact, question, and discuss transportation options. Besides, most platforms have decent customer service and their operators are there to assist you with any issues.
Disruptions management
– which you believe the freight forwarder can do better (well, no). Again, when you ship through a digital platform, you still have someone who is responsible for your shipment, so establish a regular communication and rest assured your freight-related troubles will be addressed.
Additional or hidden charges
– such added charges as duties and taxes are also present in a traditional workflow since they are usually unknown before the clearance procedure is completed; the best you can do in both cases is ask your partner about standard rates and rely on your and your partner's previous experience.
If you hesitate about trying out something new, you can always test the waters with one small shipment, see how it works, evaluate the service and final charges, and then make your decision.
If you do choose to ship through marketplaces, we also recommend
building an API integration
to establish a seamless data exchange between the systems. This way, you'll avoid manual entry mistakes, get timely updates, and enjoy working in your own familiar IT environment.