The coronavirus pandemic has given a huge boost to eCommerce. In 2020, US online sales showed a year-over-year growth rate of 32.4 percent, more than doubling 2019 results. And this trend won't go away. Most experts agree, that even when COVID-19 is controlled, Internet shopping will continue to increase — though not at such an incredible speed.
People get accustomed to the conveniences of buying things from home: Three out of four Americans want their online orders to be brought right to their doorsteps. This places additional pressure on logistics and especially on its final stage — last mile delivery.
What is last mile delivery?
Last mile delivery is the transfer of orders from a warehouse, shop, restaurant or any distribution center to the final destination, usually a customer's doorstep. This involves different transportation options — by foot, bike, van or, eventually even an unmanned vehicle. But no matter the mode, the final leg of a product's journey still remains the most costly, complex, and critical step of the entire retail supply chain.
Different estimates reveal that the last mile comprises from 28 to 53 percent of the total shipping cost. The high price stems from the efficiency problem — namely, the need to make multiple stops with low drop size. The delivery is additionally slowed down by long distances between destinations in rural areas or by heavy traffic in cities.
Besides the high cost and complexity, the final stage is associated with rising expectations for timeframes. Fast, same-day delivery has become a key to customer satisfaction, with Amazon leading the pack and setting hard-to-beat standards. A recent study shows that 56 percent of American shoppers won't buy from the store again if they are not satisfied with shipping services.
The challenge known as the "Amazon effect" forces retailers and their logistic partners to seek ways to improve the last mile delivery strategy. This goal can hardly be achieved manually, without proper technologies.
Last mile logistics software: must-have features
In response to rising demand, the last mile delivery software market is growing at an annual rate of over nine percent and is expected to double by 2026. The core audience for these solutions are retailers offering home delivery services and logistics companies focusing on the final leg of shipment.
A complete software suite to run last mile delivery typically consists of a mobile app for drivers, a fleet management system for dispatchers, and a tracking and notification mechanism (usually, a free mobile app) for customers. Based on our experience working with a nationwide express delivery company, we can specify the following must-have features for effective final mile logistics systems.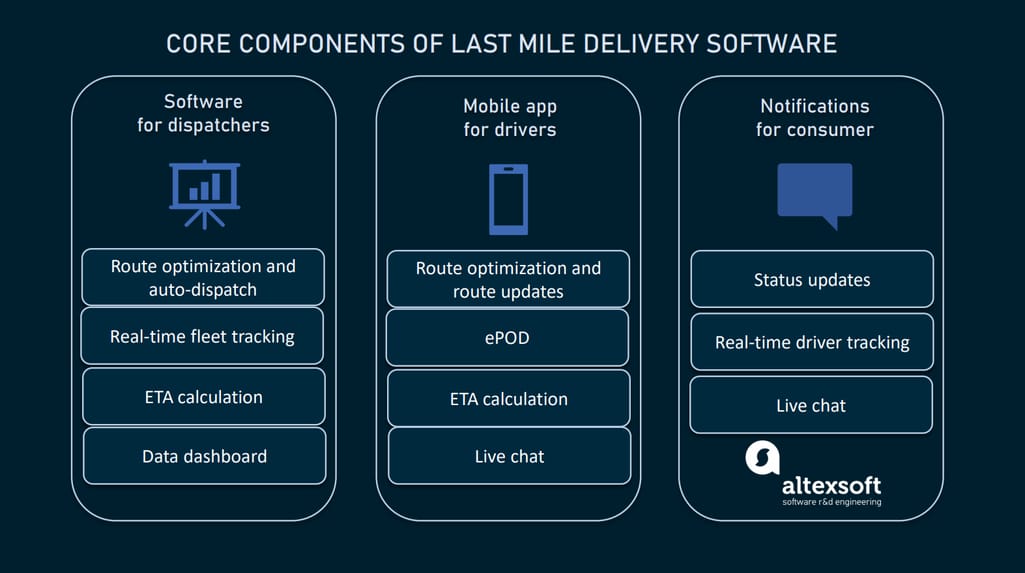 Main components and features of a typical last mile delivery system.
A route optimization algorithm identifies the fastest and most cost-effective, multi-stop routes for drivers, considering numerous factors — such as traffic, travel distances, and time windows offered to customers. Advanced solutions may accommodate predefined routes to real-time changes.
An auto-dispatch engine matches a delivery task with a specific driver based on pre-defined priorities and business rules. This significantly saves labor cost and service time.
Real-time driver (fleet) tracking leverages GPS technology and drivers' smartphones to ensure fleet visibility. They let dispatchers and customers know where vehicles are without the need for any additional hardware.
An estimated time of arrival (ETA) calculation predicts when a driver or courier will place the parcel on a customer's doorstep. Predictive analytics and machine learning technologies increase the accuracy of such estimations, taking into account different factors — like GPS coordinates, distance to the next stop, the average length of breaks, and historical data.
Status updates are sent to customers on a regular basis to keep them informed about their orders. Some solutions may come with live chats or the ability to make a direct call to a dispatcher or driver.
An electronic proof of delivery (ePOD) allows customers to sign their names electronically right on drivers' tablets or smartphones. E-signatures are uploaded into the system's backend to confirm deliveries.
A data dashboard displays all key performance indicators (KPIs) and metrics to monitor operations and optimize services.
With all basic modules in place, there is still no universal solution fitting any existing last mile scenario. Functionality for prepared meal deliveries will somewhat differ from alcohol deliveries coming with confirmation requirements, or white glove shipping that deals with expensive, fragile, and climate-sensitive purchases.
Each category presents its specific challenges to be addressed. So, a software suite should be tailored to unique requirements and integrated with an ERP system, online store, ordering app, and other platforms a particular business uses or interacts with.
Fast growing platforms to run last mile operations
Keeping the need for a customized approach in mind, let's take a quick look at some ready-to-use options already on the market. All of them are startups that saw the fast growth in 2020 — thanks to lockdowns and rising demand on home deliveries.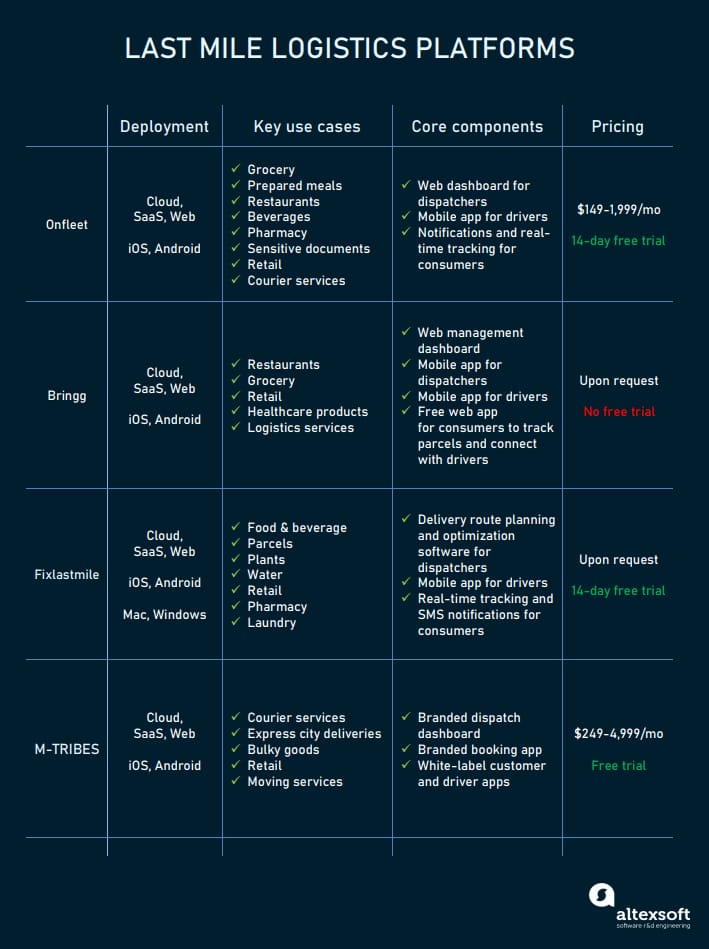 Last mile delivery startups boosted due to the coronavirus pandemic.
Onfleet: powering food and beverage deliveries
The San Francisco startup launched in 2015 helps retailers from over 90 countries manage their fleets of drivers and couriers. The primary focus of Onfleet is food and beverage deliveries, including alcohol. However, its functionality also extends to pharmacy, flower and gift shops, sensitive documents, and various consumer goods.
Onfleet takes care of the end-to-end last mile delivery process, from routing to customer notifications. The vendor claims that some of their clients previously used only Google Maps to plan routes for drivers. After tapping into the SaaS platform, they've increased their delivery capacity by 50 per cent.
The Onfleet data dashboard with the export feature to upload analytics data in the CSV format.
The platform provides a developer-friendly API to integrate with a user's website, mobile app, ERP or inventory management system. Pricing plans vary from $149 to 1,999 monthly, depending on the number of features and level of support.
Bringg: improving delivery for the largest retailers and restaurant chains
The AI-driven delivery orchestration platform, used by Walmart, McDonald's, KFC, and METRO, works primarily with retailers, restaurants, and grocery stores. But among its customers are also field service providers, large distributors, healthcare organizations, and logistics companies.
Bringg, co-headquartered in Tel Aviv (Israel) and Chicago (USA), provides services to over 50 countries. It helps customers leverage their own delivery fleets and can expand the fleet capacity on demand, engaging third-party logistics providers. The platform also acts as a hub to connect retailers who have no trucks of their own and external fleets.
The SaaS platform offers an API and detailed developer documentation to integrate with almost every platform in the customer's ecosystem. Due to the modular structure, users can build a customized last mile delivery solution meeting their particular requirements.
Integration options offered by Bringg.
Fixlastmile: transporting everything — from laundry to bottled water
Launched in 2018, Fixlastmile currently offers last mile delivery software for a wide range of industries, from restaurants to laundries to bottled water providers. No matter the use case, a solution comes with advanced features like a map interface to visualize route planning or a POD tool capturing not only electronic signatures, but also photos, barcodes, and notes.
Customers can launch delivery operations in no time, connecting their existing tools with Fixlastmile via API. The integration fulfilled by qualified software engineers allows users to achieve full control over their last mile operations.
M-TRIBES: launching new urban logistics businesses
The German startup sells technology components to run transparent and efficient last mile operations. M-TRIBES aims at launching new delivery and courier businesses or improving services of existing companies.
Their offering comprises while label mobile and web apps for drivers and consumers, which can be customized to reflect a brand identity. The suite also includes a branded booking system and admin dashboard with a live map of a fleet to manage deliveries — both manually and with the help of a smart algorithm.
Last mile delivery outsourcing
Large retailers usually run last mile operations on their own to keep a tight rein on customer experience — building brand loyalty and awareness. But for most companies, it doesn't make sense to maintain a delivery fleet or hire full-time couriers, since their sales volume per day is not sufficient to justify the investment. Instead, they outsource last mile logistics, often leveraging several delivery channels.
Below, we'll discuss methods and online platforms eCommerce businesses use to organize timely delivery while saving on their own transport.
Parcel carriers: from UPS and FedEx home delivery to local same-day shipments
In the US, last mile is dominated by two global logistics players, FedEx and UPS. The industry giants provide door-to-door, same-day delivery services seven days a week —- along with the ability to track and manage shipments via FedEx and UPS websites or branded mobile apps .
FedEx calculates that itself, UPS, and US Postal Service (USPS) fulfil more than 95 percent of all eСommerce orders in the United States. However, there is still room for local carriers offering a lower cost and more flexible terms.
Sellers may outsource local or same-day deliveries to companies like Dropoff, operating a fleet of trucks and a team of vetted drivers in 29 US cities. Retailers are welcome to schedule, track, and confirm order fulfillments via the carrier's online platform. They can either enter order details manually or integrate retail software with Dropoff and send orders automatically via API.
Given a wide choice of service providers, the best option is not always obvious. And here, again, technology gives a helping hand. Logistyx solution for parcel shipping comes pre-integrated with over 500 global carriers. Once you place an order, the system identifies suitable carriers based on a destination, service level, rates, business rules, and other factors.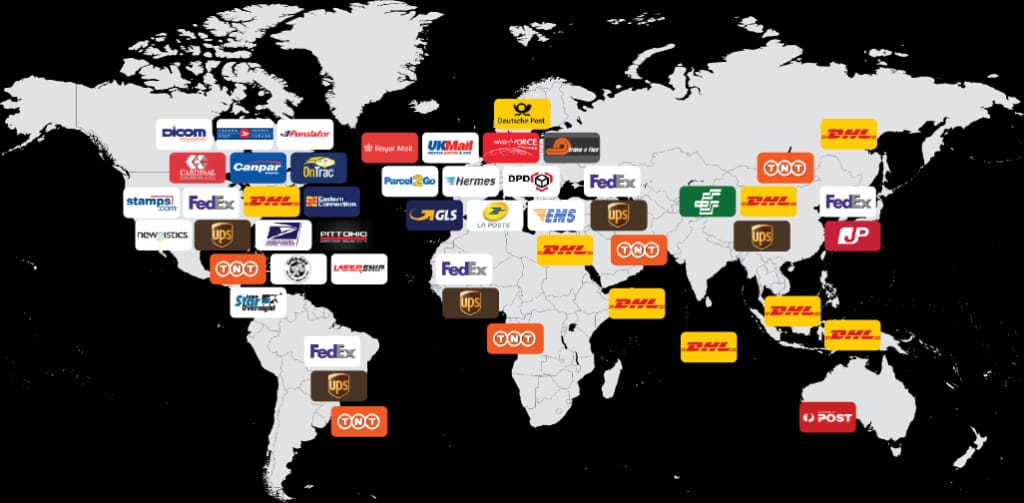 Logistyx boasts a global network of last mile delivery carriers.
Dropshipping: AliExpress and SaleHoo take care of final mile
In the dropshipping model, a retailer receives customer orders and re-directs them to a manufacturer, wholesaler, or fulfillment house that takes care of shipment. The seller doesn't need a brick-and-mortar store — instead, they run a website with information on available dropshipping products. As a result, companies save money on storage and transportation expenses, making profit on the difference between a product's wholesale and retail price.
Platforms supporting dropshipping businesses allow retailers to find products from popular marketplaces, add them to their online stores, route orders, and track deliveries to end customers fulfilled by product vendors. Popular solutions for dropshippers include AliExpress, Oberlo, Spark Shipping, SaleHoo, and other platforms pre-integrated with numerous vetted suppliers.
3PL delivery partners: integrating retail software with logistics systems
3PL or third-party logistics partners provide warehousing and transportation services that can be scaled and customized depending on your requirements. These days, they are also offering last mile delivery services as well, competing with shipping carriers and outperforming them in terms of flexibility.
Typically, 3PL partners heavily rely on technology solutions to improve efficiency and provide routing visibility. But to reap all the benefits, you must make sure that transportation management systems, warehouse management systems,or other systems used by a 3PL can be easily integrated with your retail software.
Crowdsourced delivery: Amazon Flex, Uber Eats, and others create jobs for couriers and drivers
This approach is becoming more and more popular among groceries, restaurants, and specialty retail stores. In the crowdsourced scenario, companies engage local, non-professional couriers to handle parcels.
The primary advantage of crowdsourced delivery is the ability to get, process, and fulfill online orders faster — sometimes, in less than an hour. It also saves retailers money on transportation, warehousing, and other costly operations. Multiple online platforms fuel this type of service connecting stores, shoppers, and couriers. Here are some popular examples.
Amazon Flex engages independent drivers to transport groceries and household items from Amazon stations, stores, and restaurants to customers. In select regions, the app can also be used by bike couriers. Drivers scan packages with their smartphones and get turn-by-turn navigation to their destinations via GPS.
Amazon Flex invites drivers to make money on last mile deliveries. Source: Money
Uber Eats works via a mobile app, similar to its parent company — popular ride-sharing business Uber. It yields benefits to restaurants, their hungry customers, and car, scooter or bike owners who want to make money delivering food orders.
Instacart hires "personal shoppers" to purchase products, beverages, and home essentials from partner retailers and deliver goods to a customer's doorstep.
Lugg connects consumers with a vehicle and two movers ready to pick up and deliver a piece of new furniture, a TV set or a large parcel within a timeframe from 30 minutes to an hour. Users also can utilize the platform to move their belongings to a new destination or to get rid of junk. Lugg welcomes truck owners and strong people to join their team of "luggers" and earn up to $2.5 k weekly.
Posmates operates in 3500 US cities to enable "anybody to have anything delivered on demand." The mobile app connects buyers with retailers and nearby couriers to shop locally. Businesses can easily integrate their website or app with the platform via API to offer customers convenient delivery options.
Though currently only nine percent of companies use crowdsourced delivery, 25 percent are going to try it in the next few months. It is expected that by 2028 90 percent of retailers will tap into crowdsourced delivery.
Technologies that will change last mile logistics — once and forever
Coronavirus heated up interest in contactless solutions — such as sidewalk last-mile delivery bots, drones, and smart parcel lockers. They haven't made their way into the mainstream yet but will definitely reshape the last mile delivery in years to come.
Delivery robots
Before the COVID-19 outbreak, autonomous robots were already in service in some corporate campuses, large industrial areas, hotels, universities, and airports. But since the pandemic started, demand has grown dramatically and now robots powered by deep learning algorithms are expanding into new territories.
Say, New York Style Pizza in Venezia, Arizona, engages six-wheeled autonomous bots created by Starship Technologies. Equipped with sensors and cameras, they deliver food within a half-mile range. To make an order, customers have to download the Starship app. In Mountain View, California, several grocery stores and restaurants use similar bots traveling within a 2-mile radius.
Starship's delivery robot traveling along the sidewalk of Washington. Source: npr
Even considering the recent boom and support from the government, the adoption of robots is still relatively low — not least because of restrictions imposed by local authorities. However, more and more US states are giving  the green light to "personal delivery devices." In December 2020, North Carolina Senate Bill 739 legalizing delivery bots passed in that state. Under the new law, sidewalk robots must weigh fewer than 500 pounds, travel at a speed not greater than 10 miles per hour, give way to humans, and transport no hazardous materials.
Delivery drones
The first company to propose using unmanned aerial vehicles (UAVs) to deliver packages was Amazon. In 2013, Jeff Bezos announced their plans to launch a fleet of drones capable of shipping parcels under five pounds, up to ten miles, and in just a half an hour. As of the end of 2020, Amazon Prime Air services have not yet materialized, though in August the technology was approved by the Federal Aviation Administration.
Another tech giant building delivery drones is Google's parent company Alphabet. Its subsidiary Wing fulfilled the first store-to-customer shipment via UAV in October 2019. Now, it offers shipment services in the US in Virginia and in Australia and Finland.
Finally, in September 2020 the world's largest retailer Walmart partnered with Flytrex, an Israeli-based drone startup, to explore UAV delivery of grocery and household items in one USA state, North Carolina. And there, the list of active players in the drone delivery market comes to its end.
UberExpress, Uber's drone delivery initiative, was expected to drop food into the consumer hands by 2021. But something went wrong. Source: The Hustle
An extremely promising technology, drone delivery sees limited use due to regulatory obstacles. More testing must be done to prove that packages will be dropped on the doorstep rather than on someone's head. Nevertheless, 11 percent of retail companies are investigating the possibility of engaging sky couriers in the future.
Smart parcel locker networks
Smart lockers are secure storage solutions that minimize costs of last mile operations while bringing many advantages for both end users and delivery companies. In essence, this innovation follows the logic of old mailboxes. It's just a place where a courier drops off a parcel for a recipient who can pick it up 24/7, whenever it's convenient.
Simple as they may seem, intelligent lockers leverage a range of modern technologies, including IoT, security cameras, and cloud-based software to send real-time notifications and access instructions to recipients.
Such solutions save companies time and fuel and cut maintenance expenses as instead of multiple door-to-door trips a vehicle fulfills just one — to the parcel locker station. Besides, the innovative approach reduces traffic congestion in cities resulting in lower CO2 emission.
Today, over 800,000 smart parcel lockers solve last mile delivery problems in China — which is more than in all other countries in the world combined. Singapore is planning to launch 1,000 smart locker stations by the end of 2021. The locations will be within a five-minute walk of housing board blocks. In the US, FedEx, Amazon, UPS, DHL, and other large players are investing in their parcel locker networks. However, there is still enough room for further expansion.