Where does hotel revenue come from? Obviously, the main source is room reservations, but a lot of hotels offer additional services, sell tours, rent out meeting rooms for corporate clients, and have bars, restaurants, spas, gift shops, and other additional profit streams -- or points of sale.
Guests can make numerous purchases and other transactions on the property and it's important to have them all accurately processed and synchronized to ensure an effortless checkout resulting in customer satisfaction.
In this article, we will talk about how point-of-sale systems help streamline hotel operations, what their main types and functionalities are, and how they are integrated with other hotel management software.
What is a POS system?
A
point-of-sale, or POS, system
is a computerized network made of software and hardware components that process and record payment transactions between a company and its customers. You can think of a cash register that is traditionally used to accept payments, but a modern POS system is much more complex. Now, it's an essential tool that helps consolidate and optimize such areas of business management as sales through multiple channels, inventory management, customer management, and marketing. Besides, it serves as a crucial source of information that can be used for further analysis and decision-making.
POS systems are widely used in retail stores, restaurants -- and hotels. In this case, POS systems allow for collecting guests' orders and purchases from different points of sale and charging them directly to their room. For example, if a guest had breakfast at your restaurant, then chose a massage at the spa salon, followed by a glass of wine at the terrace bar -- he or she doesn't have to pay for any of these at once. All the charges will be connected to the room number, automatically added to the bill, and withdrawn at check-out.
Now, let's take a look at the other capabilities of POS systems and what business processes they are involved in.
Hotel POS system key features
POS systems allow hotels to optimize their daily operations with the help of the following features.
Payment processing.
Customers can pay in various sales outlets and with different payment methods, i.e., cash, debit/credit cards, checks, etc. POS systems accept, verify, and process such transactions. Advanced POS tools offer multi-payment transaction features to manage bills, for example, to split the bill and pay via different methods, split a single item on the bill, or subtract the order of one guest if he/she wants to leave earlier, etc.
Inventory management.
POS software can track your stock levels and send customized alerts when the quantity drops below a predetermined amount. Some POS platforms also allow for setting up automated reordering of the most popular products. POS systems are often integrated with third-party inventory management software to ensure an uninterrupted supply process.
Customer management.
Collecting information about your guests and their transaction history in your hotel can help you build stronger customer relationships,
personalize guest experience
, and influence your marketing campaigns. Understanding customer preferences is the reason for 60 percent of POS software upgrades, claims the Hospitality Technology
report
.

Main reasons for POS systems upgrade
Employee management.
POS systems can be used to track employees clock-in and clock-out as well as monitor their performance. Some platforms also have scheduling capabilities.
Reporting.
All POS systems include basic reporting functionality and, as we already mentioned, can help monitor inventory levels, employee performance, sales activity across channels, and so on. Another benefit is increased visibility of your revenue streams, as the income from both walk-ins and hotel guests will be sent to your PMS to provide you with the full picture of your revenue sources.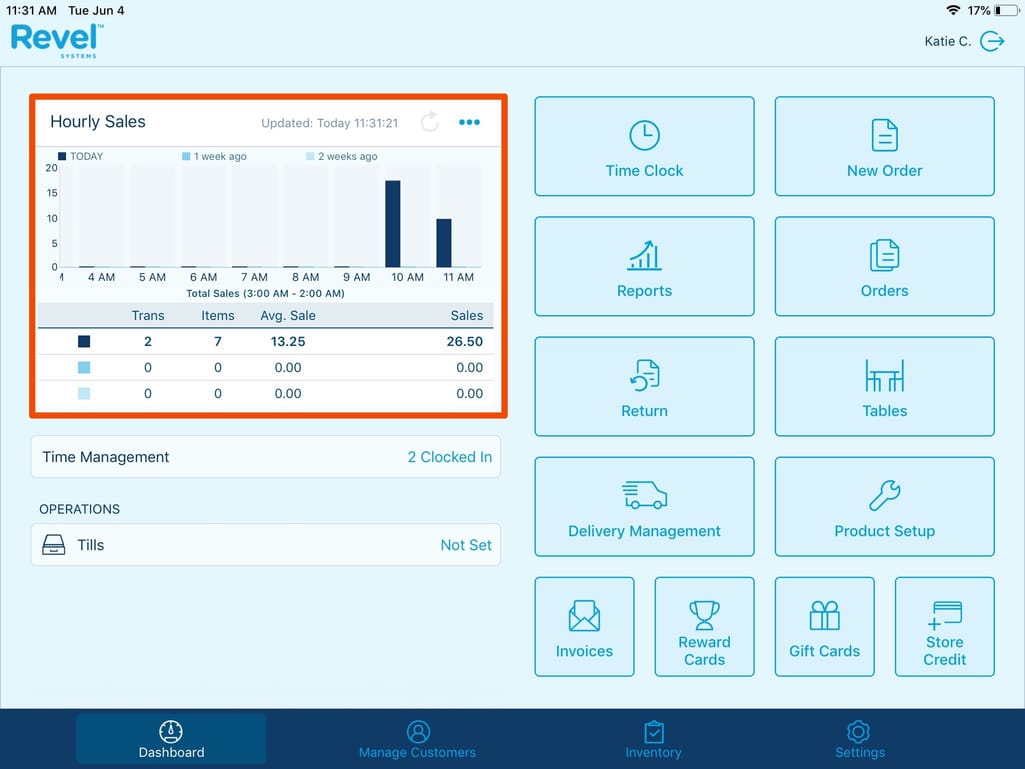 POS system reporting dashboard. Source: Revel Systems
Integration options.
Connecting your POS software with other business management systems (including accounting and CRM) is vital for establishing a flawless information flow and data sharing. We will describe possible integrations in the next section.
Main types of POS systems
There are several ways to categorize POS systems. Here, we will describe two approaches. First, there are two main
deployment types
of POS software:
1.
Traditional, on-premise, or legacy POS systems
have software installed on the computer system and store all the information on a local server. Typically, they require bigger upfront investments (in license and hardware) as well as greater efforts and more staff to maintain and upgrade them.
2.
Cloud POS systems
allow access from any device as they store data on the online server. Such software usually involves paying a monthly fee with updates installed automatically and free of charge.
Depending on the
functionality scope and mobility
, we can distinguish the following types of POS tools:
1.
Terminal or desktop POS systems
include a counter or cash register where transactions are performed. They typically have broad capabilities, covering inventory and staff management, and are the best option for full-service restaurants, hotels, stores, spa salons, etc.
2.
Mobile POS systems
can come as standalone apps for mobile devices or as extensions of the countertop POS systems. They are often bundled with some accessories like a credit card reader and receipt printer. Their functionality is limited compared to full-featured POS terminals, but they are most affordable, some even coming for free (you only pay a fee for processing transactions). It's the best fit for small businesses that don't need extra features but require greater mobility like food trucks or traveling vendors.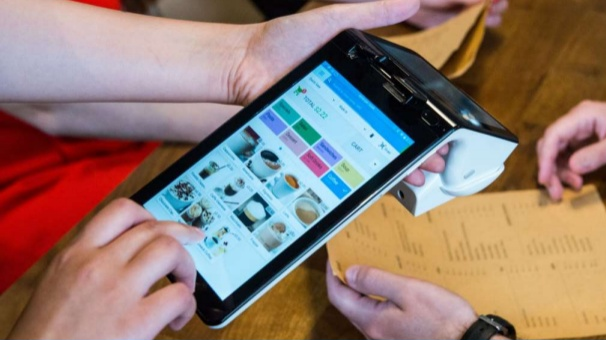 Mobile POS terminal
3.
Self-service POS systems
allow customers to place orders and make payments themselves. Such systems help speed up the checkout process, shorten waiting time, reduce manpower, and offer the contactless experience that has now become so important. They are used in a variety of industries, including fast-food restaurants, cinemas, parking lots, grocery stores, etc.
Depending on the size, model of operation, and potential growth, different businesses would need different POS systems. If you own a small hotel where all the transactions are made at the
front desk
, you need a basic POS terminal. But if you have multiple POS outlets, it's worth considering implementing a combination of different types to optimize operations throughout your points of sale.
POS systems hardware
Any POS system requires some physical components to operate. Again, they will vary depending on your specific needs. Here is a list of equipment that might be necessary to complete the setup and smoothly process your transactions.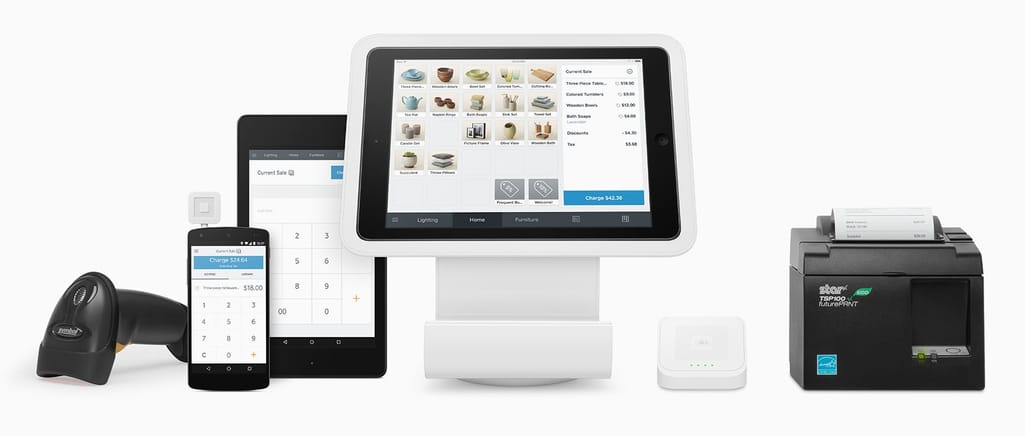 POS system hardware
Cash drawer -- to you to store your cash safely;
Monitor/tablet/smartphone -- as a display for performing operations and visualizing reports;
Credit/debit card reader (payment terminal) -- make sure it's EMV compliant and can process contactless payments;
Receipt printer -- for guests who prefer to get a paper receipt at once to have a snapshot of their order. It's also a way to communicate with your customers and inform them about upcoming promotions or invite them to join a loyalty program;
Barcode scanner -- an essential element for retail stores to speed up checkout and help manage inventory; and
Customer display -- with capabilities that range from just showing the total cost of a purchase to capturing signatures and customer information with a touchscreen.
Now that we've covered the basics, it's time to get more industry-specific and explain how exactly the POS system can be incorporated into the hotel management system.
How does the POS system work with PMS and other hotel software?
Today, to manage a hotel in the most productive way, you need technology that would support your daily operations and development. Here are several types of software systems you might be using that would require integration with a POS system for maximal efficiency.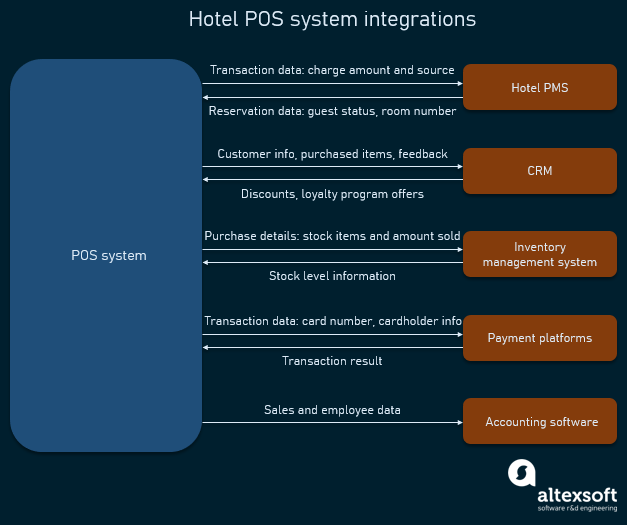 Data sharing between POS system and other hotel software
POS system and PMS integration
A hotel
property management system
(PMS) helps facilitate all the administrative and management tasks and connects all the processes in one system. The core functions of any PMS are handling reservations and processing payments -- and that's where POS system integration is necessary.
We've already mentioned that your guests can make purchases in several different sales outlets throughout their stay, be it restaurants, bars, spa, travel desk, boutique, or gift shop. Once you have integrated your PMS and POS system via APIs, all these ancillary charges can be added to the guest's bill automatically, avoiding manual errors and discrepancies.
So, how exactly does it work? For example, when your guest Mr. John Smith orders a meal in the hotel restaurant, the POS system queries the PMS to verify his name, status, and room number. Then, by choosing the "charge room" option as the payment method on the POS tool, the order details are sent to the PMS to be added to the relevant folio (taking into account possible discounts and promotions for this specific guest). At check-out, Mr. Smith receives a total room bill with all the charges included and can pay for everything at once. Just as simple and convenient as that!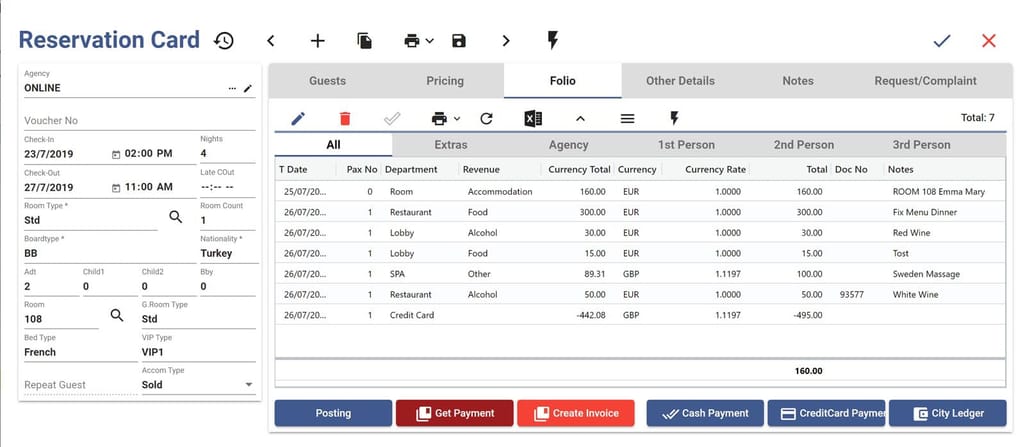 Example of a room folio
Needless to say, such an integration speeds up operations, ensures billing accuracy, and improves guest satisfaction.
POS system and CRM integration
CRM software collects, stores, and analyzes customer data to improve customer experience and support your marketing decisions. Since POS systems capture customers' information during payment transactions, connecting it with your CRM will help manage your customer database, track customer buying history, build loyalty programs, and receive valuable insights about your target audience. POS systems send sales details to the CRM and retrieve membership discounts or special offers from the CRM database to adjust the bill.
So, when our imaginary Mr. Smith arrives at your hotel and comes to the front desk to check in, the staff member enters his name and retrieves his details from the CRM. Since he's a regular guest and his previous POS transactions clue the system in to his preferences, he will be informed about a promotion at the hotel golf club and a happy hour in the bar.
When Mr. Smith checks out at the end of his stay, a 5 percent discount is automatically applied to his final bill containing all the POS charges since he is a loyalty program member. In a couple of days, he will receive a personalized email that will ask if he enjoyed his stay and inform about the new spa program he will definitely want to try during his next visit.
Most POS systems can be integrated with CRM software, and more advanced POS platforms offer out-of-the-box CRM features like loyalty programs and feedback collection.
POS system and payment gateways integration
Today,
cashless and digital payment methods are on the rise
, leaving good old cash in the dust. If you want to accept credit cards, contactless payments, and digital wallets, you'll have to partner with a
payment processor
. All of them have different pricing conditions and support different payment methods. To make the optimum choice, look for the one that can handle multiple currencies, provides maximum security, and covers all the payment methods you need to accept.
If you already have a
booking engine
on your website that allows you to accept online payments, and you want to implement a new POS system, you can either integrate the new software with an existing
payment gateway
or use the one suggested by your POS provider (most of them offer a built-in payment integration). Then, transaction details from your online channels and your POS system will be sent to your PMS.
POS system and inventory management system integration
Inventory management is especially important for retail stores and restaurants since stockouts in these industries can result in huge losses. Hotels, while not as dependent on selling goods as their main profit comes from room reservations, still deal with handling stock.
As we mentioned above, modern POS systems have a lot of built-in inventory management features that go beyond tracking stock levels, i.e., barcode labels creation, low-stock alerts, and even ordering replenishments directly from the POS tool. Or they can also be integrated with a separate inventory management product. In this case, the inventory platform sends product availability data to the POS system when a certain product is ordered or scanned for checkout, and the POS software shares sales information every time the product is purchased, updating the stock amount.
So, when Mr. Smith orders a bottle of wine from the hotel bar and a tour guide from the hotel bookstore, these items are first scanned with a barcode scanner, letting the POS system automatically update the relevant inventory levels and inform staff if these items need to be replenished.
POS system and accounting/payroll system integration
Today, most businesses use accounting software to calculate and pay taxes, run financial reports, pay bills, and manage their books, cash flow, and payroll. When it comes to money, you want maximum accuracy and flawless data flow within the system, so integrating the POS and accounting software is a must. Such connectivity enables exporting all the financial and sales information from the POS system to support your back office operations. Additionally, POS systems track employees working hours so syncing that data lets you handle payrolls, accurately calculating wages, taxes, and tips.
Collecting sales and customer data also allows you to create customized reports, monitor your business performance, and analyze KPIs to provide understanding of what's happening in the company and support further decision-making.
A lot of POS providers offer out-of-the-box integration with some third-party accounting software (QuickBooks being the most popular one) to automate data sharing. By the way, QuickBooks also created their own
POS product
for a seamless integration experience.
Implementing PMS and POS systems integration
Now, you might be wondering how to establish perfect connectivity and data sharing between your software modules and have the entire system running smoothly. Let's describe some of the options.
1.
You don't have any management software in use
. In this case, the best option would be to choose a PMS offering the POS system as one of the modules out of the box. That would ensure frictionless connectivity between all the parts of the system. For example, consider comprehensive multi-featured solutions offered by
Oracle
,
Hotelogix
,
Clock Software
, or
Agilysys
.
2.
You have a PMS and want to add a POS system
. Here, two scenarios are possible, depending whether you choose a POS software yourself or you have to connect with a specific product.
a. If you already have a PMS in use and want to enhance it with a POS system, check standalone POS platforms that are tailored for hotel specifics, i.e., Lightspeed, Epos Now, or Bepoz. Such POS solutions offer an out-of-the-box integration with popular PMS products and vice versa, so connecting them should be easy.
b. You want to sync with a POS system that doesn't offer a pre-prepared integration (for example, you start working with a restaurant that already has a POS platform in use). In this case, syncing your PMS with outside software would require technical knowledge and the effort to develop smooth API connectivity between all the modules. So, to establish a seamless and secure two-way data exchange, you'll either have to involve your own IT specialists or find an experienced integration provider to set it up for you.
3.
You want to build a custom POS system to suit your needs.
If you explored the market and didn't find a solution that would perfectly fit your specific requirements, it's worth considering creating a fully customized POS system. Reasons can vary, i.e., you might be working with a specific payment provider and want to tailor your POS system for seamless connectivity.
Stripe
, for instance, suggests its own SDK to connect their payment gateways to a custom POS terminal. Or maybe you need some specialized import/export formats or unusual business rules. Besides solving the unique problems of your business with custom-built features, another big advantage of this option is that maintenance expenses are significantly reduced. Check the
case study
detailing how AltexSoft developed a cloud POS system for the pawn software provider to create a cost-effective, scalable, and secure solution.
4.
You have outdated PMS and POS software
.
Modernizing legacy systems
is crucial for efficient operation and getting the most out of your technology. The reasons for initiating modernization are many: moving your digital assets to the cloud to provide flexibility and scalability, the need to go mobile to speed up customer service, increasing security or usability, adding new features, adopting new payment methods, etc. Our advice is to consult the
digital transformation specialists
to analyze your current software and find out how you can update or rebuild your outdated systems to support your development and stay competitive.