There doesn't exist an airline that would cover all the world's regions and destinations. So carriers should cooperate with each other to provide their customers with the expanded route network, offering more opportunities. No wonder that, for now, many of the world-famous airlines belong to global alliances. In this post, we explain what airline alliances are, discuss the largest players in the industry as of today, explore their services, benefits, limitations, and mention some other types of airline partnerships.
What is an airline alliance?
An airline alliance
is a partnership between two or more airlines to expand routes, share resources, and establish a seamless travel experience for international passengers who get access to multiple destinations and more convenient airway connections.
The participating airlines carry out mutually-agreed upon commercial policies, coordinate the scheduled flights, and ensure high quality of services and security standards. At the same time, they maintain a high degree of financial independence and preserve brand identity.
Sometimes you can see the alliance's logo right on the plane. Source: ARGS
It's impossible to belong to more than one alliance at the same time. By doing so, a carrier can definitely expand its market reach, but such a situation would decrease the ability of other member airlines to stay competitive.
Yet, alliance members may go into other forms of partnership — like a
codesharing
agreement
or joint venture — with other airlines, no matter whether they belong to the same alliance or not.
For example, Air India is a member of Star Alliance and also has a
joint venture agreement
with a smaller Indian-based alliance the Tata-SIA Vistara. Another example is China Southern Airlines that is a member of SkyTeam and also has a
strategic partnership
with American Airlines. We'll discuss these types of partnerships later on.
There are three key benefits airlines get when joining a global alliance.
Increased market coverage.
Member carriers can expand their networks without investing in new aircraft. Instead, they offer new destinations and longer routes to their passengers by picking up and connecting existing partner flights.
Lower operational costs.
Within an alliance, airlines can share resources and important facilities such as lounges, terminal space, ground handling services, or maintenance bases. They also may run common marketing programs and use the same IT system. All these reduce overall costs while still guaranteeing a consistent level of service.
Customer satisfaction.
Members of an alliance work together to provide their passengers with the following benefits:
a larger choice of destinations and flights. This is particularly important for business travelers, who often have tight schedules and complex itineraries with multiple connections;
seamless travel experience. By coordinating schedules, alliances reduce waiting and transfer time between flights. They also take care of baggage and rebook passengers on other flights or provide alternative travel arrangements in case of delays or cancellations.
ability to earn and redeem frequent flier points (also called miles) across all member airlines.
Currently, there are three global airline alliances operating in the air travel industry — Star Alliance, SkyTeam, and Oneworld. According to a global travel data provider
OAG
, they account for 43 percent of total seating capacity. Below, we'll have a closer look at each of the Big Three.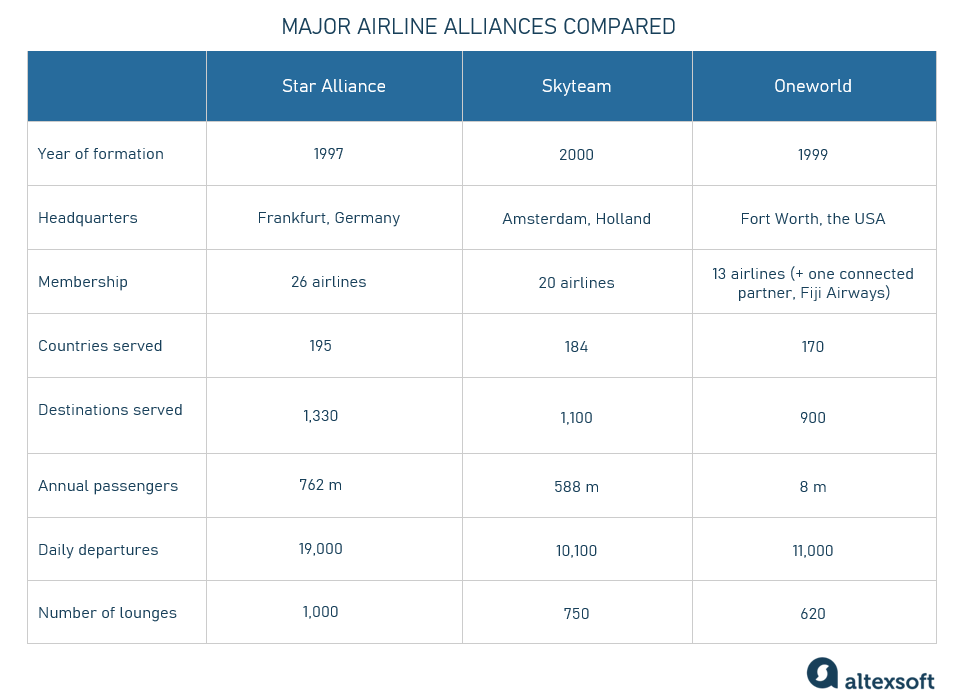 Here are some figures to know when comparing the large airline alliances
Star Alliance: the largest provider with over a thousand lounges worldwide and solutions for corporate travel businesses
Founded:
1997
Headquarters:
Frankfurt, Germany
Membership:
26 airlines
Coverage:
195 countries (98 percent of the globe), 1,330 destinations, 762 million annual passengers, 19,000 daily departures, 1,000 lounges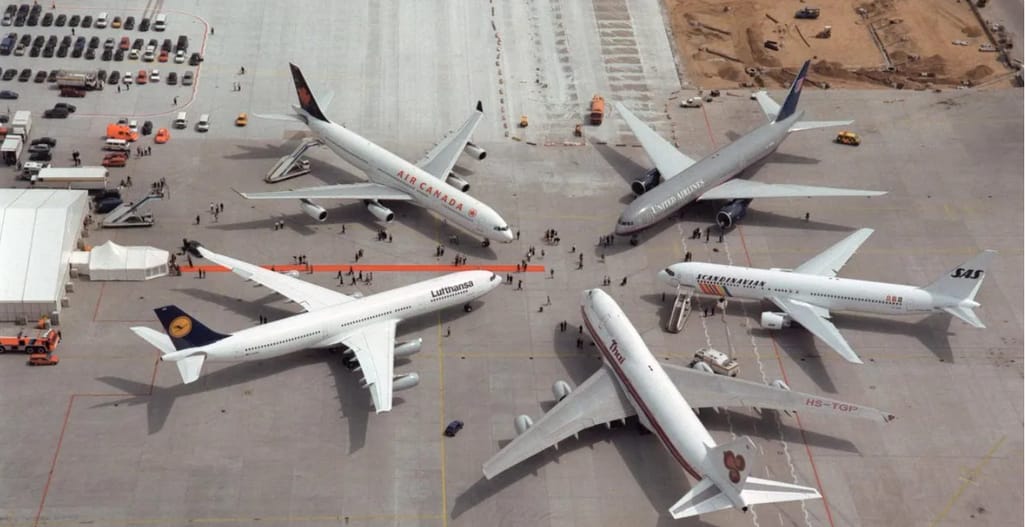 There were five airlines participating in the foundation of Star Alliance. Source: Airways Mag
Star Alliance
was launched in 1997 by five founding member carriers: Lufthansa, Air Canada, Thai Airways, SAS, and United Airlines. The alliance's mission is to provide seamless service to international passengers and improve the customer experience for travelers. At present, Star Alliance comprises 26 member airlines, including the world's top carriers, each having its distinctive culture and services. It operates nearly one in six seats globally, with United Airlines accounting for 21 percent of the alliance's capacity.

All 26 Star Alliance member airlines and their logos. Source: Star Alliance
In 2022, Star Alliance was named the
World's Leading Airline Alliance
at the World Travel Awards. This was the third time the alliance received this title that, at that time, coincided with Star Alliance's 25th anniversary. Let's see what they have to offer to all stakeholders -- airlines, corporate clients, passengers, and travel agents -- besides regular benefits.
API access to Star Alliance services and data for member carriers
Star Alliance Developer Portal
is created to integrate airline websites, apps, or systems with Star Alliance
APIs
. This way, carriers can link to Star Alliance services and source data on baggage, frequent flier programs, or
seat maps
, enhancing the experience of app users or website visitors. The APIs are available exclusively for Star Alliance members and their IT providers while third parties are not allowed.
All-in-one solution for corporate travelers
Star Alliance Corporate Plus
is the all-in-one corporate travel program for multinational corporations. It allows companies to have a single contract covering all the member airlines, which considerably simplified the process of booking and managing travel arrangements. This means the companies can avoid all the hassle of dealing with multiple contracts and different booking systems. The extensive list of benefits offered by the Star Alliance Corporate Plus includes
one global network covering 98 percent of the globe;
a single point of contact — the entire process from contract negotiation to lifecycle management;
a single contract — there is no more need to deal with complicated administrative and legal procedures as Star Alliance Corporate Plus offers a single agreement that covers all the member airlines in a company's account;
a single report — the companies receive one consolidated report with simplified performance tracking;
time-saving for processes — with the help of structured analysis and reporting capabilities, the Corporate Plus team helps businesses optimize the time needed for processes and operations; and
the regional focus for such countries as China, Korea, and Brazil.
So, all in all, the program is designed to make business travel more efficient and cost-effective for corporate customers.
GDS access codes for travel agents
Authorized travel agents
can book the alliance's branded fare products using
the GDS Access Codes
. The proposition embraces
Circle Pacific Fares covering over 85 destinations in 25 countries and designed specifically for visiting Asia, North America, and South West Pacific. The itinerary must start and end in the same country and have a minimum of three stopovers in each of the above-mentioned regions. The available duration of stay ranges from 7 days to 6 months; and
Round the World Fares, or multi-destination tickets for journeys that start and end in the same country. The itinerary must have a minimum of two stops (with a maximum of 15). The fare allows for a flexible duration of stay, ranging from ten days to one year.
Agents can check availability and book fares via three main
global distribution systems
(Amadeus, Sabre, and Travelport), the largest Chinese GDS TravelSky or SITA system.
Online booking tools for travelers
The alliance provides several digital products for travelers. It includes
All these instruments make it easier for passengers to plan trips and book flights across member carriers. Besides, they prompt passengers to travel with the same alliance and this way earn more frequent flier program miles.
Frequent flier program privileges
Star Alliance does not have a single frequent flier program. However, all its member airlines run individual programs and, by joining one of them, a passenger is empowered to earn and redeem miles or points across the entire network. Travelers can join several programs but since airlines manage them separately, there is no way to transfer miles between them or combine them into one.
When passengers reach elite status levels with a chosen program, they automatically gain one of two status levels offered by Star Alliance and acquire a card with either a Gold or a Silver status logo on it.
Silver status
comes with two benefits — priority reservations waitlist and priority airport standby.
Gold status
also includes
priority airport check-in;
priority baggage handling;
access to over 1000 lounges;
priority boarding;
extra baggage allowance;
a free upgrade to business first class on the Heathrow express; and
Gold Track — access to dedicated lanes at more than 150 locations globally that enables passengers to get through airport security faster.
Gold Track is also available for customers traveling in First or Business Class on flights operated by the alliance members.
SkyTeam: the youngest global airline alliance with innovative products for businesses
Founded:
2000
Headquarters:
Amsterdam, Netherlands
Membership:
20 airlines (Aeroflot was temporarily suspended in 2022 and Virgin Atlantic joined up in March 2023)
Coverage:
184 countries, 1,100 destinations, 588 million annual passengers, 10,084 daily departures, 750 lounges
The youngest among the three major alliances
,
SkyTeam
was established by Aeromexico, Delta Airlines, Air France, and Korean Air in 2000. In 2022,
Aeroflot
was temporarily suspended shortly after the full-scale Russian invasion of Ukraine. However,
Virgin Atlantic
has joined the SkyTeam in March 2023. So at present, SkyTeam includes 20 airlines.

For now, there are 20 member airlines in SkyTeam. Source: SkyTeam
Here's what SkyTeam offers to corporate clients and passengers.
Solutions for enterprises
The suite of business products includes the following five offerings.
Global Meetings
is designed to save companies time and money on international event travel. Attendees book flights with discounts of up to 15 percent or benefit from promotional fares. Organizers, in turn, get personalized services, including a dedicated account manager to help with travel arrangements. Besides, they earn one reward ticket for every 50 passengers traveling to an event with Global Meetings. The program is available for events that have a minimum of 50 participants traveling by air and originating from at least two different countries.
SkyTeam Corporate Agreements
simplify cooperation with airlines and centralize travel management for global enterprises. Instead of signing multiple bilateral agreements, they enter into one partnership — with the SkyTeam alliance.
SkyTeam China Corporate Connection
targets China-based companies. They can sign a corporate agreement with 3 to 12 member airlines and get access to nonpublished fares with discounts.
SkyTeam Marine and Offshore
offers pricing,
ticketing
, and support services to
travel management companies
servicing clients from shipping, offshore oil and gas, and alternative energy industries. The program focuses on movement of crew personnel from or to ships, offshore drilling sites, and energy farms.
Frequent flier program privileges
Similar to Star Alliance, SkyTeam doesn't have a separate frequent flier program. Instead, passengers can join a program with any of the SkyTeam's member airlines that best suits their needs and earn miles across flights operated by the alliance.
At the same time, the alliance grants Elite and Elite Plus Status Levels to loyal passengers who earned enough miles with their preferred frequent flier programs.
Elite
passengers take advantage of
priority reservation waitlist;
preferred seating;
priority check-in;
priority boarding, and
extra baggage allowance.
Elite Plus
status adds
guaranteed full-fare economy class reservation on sold-out long-haul flights at least 24 hours prior to departure;
access to lounges worldwide, no matter the class of travel;
priority baggage handling; and
priority immigration and security lanes.
SkyTeam Elite Plus members along with the First and Business Class customers of SkyTeam can benefit from
SkyPriority
, a special airport services program that aims at providing a more efficient and seamless travel experience. Also, the alliance has
Lounge Finder
on its website to look for available lounges.
Oneworld: the smallest airline alliance with an expanded corporate travel program
Founded:
1999
Headquarters:
Fort Worth, Texas, USA
Membership:
13 airlines (+ a connect partner Fiji Airways)
Coverage:
170 countries, 900 destinations, 8 million annual passengers, 11,000 daily departures, 620 lounges
Oneworld
is the smallest global airline alliance. It was established in 1999 and is now headquartered in Fort Worth, Texas, USA. There were four founding carriers: American Airlines, British Airways, Cathay Pacific, and Qantas. At present, Oneworld consists of 13 airlines.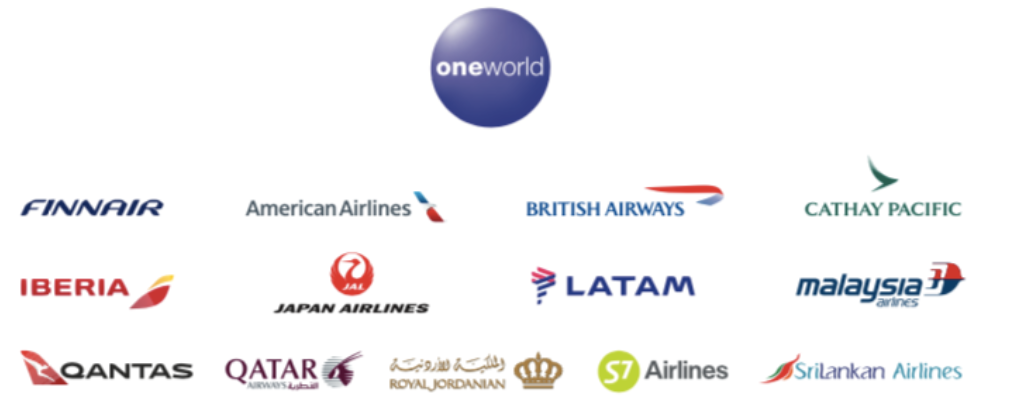 Oneworld alliance includes 13 member airlines. Source: The Miles Genie
Collectively, Oneworld offers flights to more than one hundred destinations in over 170 countries. According to the alliance's official website, statistically, over 185 million people belong to Oneworld member airline loyalty programs.
Corporate travel program for large businesses
The
Global Corporate Travel Program
is designed to offer a range of services for corporate clients and make business traveling more efficient and cost-effective. The following are some key benefits and services of the program.
Airline discount. It can vary depending on the airline and specific terms of the corporate agreement.
Airport lounge access. Corporate travelers have access to Oneworld's network of airport lounges worldwide, with the comfortable and convenient space to work and relax in before flights.
Priority services. Business travelers are eligible for priority check-in, boarding, and baggage handling that is both time-saving and stress reducing.
Customized travel solutions. The program offers such options as centralized billing, and travel policy compliance management.
Oneworld events and conferences. This option includes discounted airfares for attendees of corporate meetings and events, as well as dedicated support.
Let's say a large multinational corporation has employees who often travel to multiple locations around the world for business meetings and conferences. Enrolling in the Oneworld Global Corporate Travel Program can help the company take advantage of the discounted fares, flexible booking options, and priority services.
Round the world fares and booking tool for travelers
The
Round the World Airline Tickets
are branded fares that provide access to hundreds of destinations in 170 areas. There are three types of Oneworld Round the World trips.
Explorer
(a continent-based fare) helps passengers travel from city to city, as well as from continent to continent.
Global Explorer
(a distance-based fare) grants access to an extensive list of airlines (such as Bangkok Airways, Aer Lingus, Oneworld connect partner Fiji Airways, Jetstar, Jetstar Asia, Jetstar Pacific, WestJet, Qantas, and others).
Circle Pacific
(inter-continental journey for exploring continents that border the Pacific Ocean) would benefit travelers who want to visit multiple continents without actually flying all the way round the world. There are several continents passengers can choose as the starting point and the destination of their journey, such as
Asia (China, Cambodia, Indonesia, Hong Kong, Japan, Korea, Malaysia, Philippines, Singapore, Taiwan, Thailand, and Vietnam);
Southwest Pacific (Australia and New Zealand);
North America (namely USA and Canada); and
South America.
Round the World Airline Tickets offers its own
booking tool
to plan multi-city or multi-continent trips and buy them online.
Now let's see what loyalty statuses and frequent flier perks are available for passengers flying with Oneworld members.
Oneworld frequent flier perks and loyalty statuses
The same as it is with the rest of alliances, Oneworld doesn't run an individual frequent flier program, but offers three elite status levels — Ruby, Sapphire, and Emerald. A passenger can achieve them by aggregating miles with a loyalty program from a member airline.
Ruby
status has the shortest list of privileges including
priority check-in;
access to preferred or pre-reserved seating; and
priority waitlisting and standby.
Next comes the
Sapphire
status which adds
access to Business Class lounges;
priority boarding and baggage handling; and
extra baggage allowance.
The highest status among the three is the
Emerald
and besides all above-mentioned perks it offers access to First Class lounges and the ability to use a fast track/priority lane security pass to skip the queue at security screening.
Similar to other alliances, Oneworld offers an
online tool
to search for available lounges.
What are other types of airline partnerships?
Besides alliances, there exist other popular forms of partnerships available inside the aviation industry — such as interlining, codesharing, and joint ventures. These agreements can be entered by members of the same alliance, carriers from rival alliances, or airlines that don't belong to any group.
Interlining
Interlining
is the most basic commercial agreement between airlines that allows them to sell each other's tickets and services to passengers on itineraries with more than one flight.
Interlining
was introduced by
IATA
, the trade association representing the global airline industry in 1947.
Due to interlining, passengers can buy a single ticket for complex itineraries with several
flight legs
, check in only once, and have their baggage transferred through to the final destination. In case of disruptions, travelers are rebooked to other flights.
One of the airlines signing an interlining agreement acts as a validating carrier that tickets an itinerary and must be a participant of Airline Reporting Corporation (
ARC
) or IATA Billing and Settlement Plan (
BSP
.) Others are participating or operating carriers that actually serve legs of the trip.
Codesharing
Codesharing
is a commercial agreement between two or more airlines that extends the concept of interlining. The scheme appeared in 1989 when American Airlines and Qantas provided the first
connecting flights
of this type. In addition to all interlining capabilities, carriers sell seats on each other's flights under their own flight numbers. Travelers booking a flight with, for example, Delta Airlines can find themselves on a flight operated by Air France. Still, the flight will have a Delta flight number.
On the surface, codesharing might look like a Wheel of Fortune. Source: The Wall Street Journal
As for additional benefits, codesharing enables airlines to expand routes without inflating fleet size, have more control over itineraries and pricing, and spread loyalty programs across partner flights.
Joint venture
A
joint venture agreement
is a partnership between two or more airlines to operate as a single entity on certain routes. This form of cooperation always requires government approvals. Airlines involved in a joint venture share their costs and revenues, and closely coordinate planning and conducting flights.
Joint ventures are typically formed between airlines inside alliances. At present, there are three major transatlantic joint ventures created between the carriers:
Air France-KLM & Delta & Virgin Atlantic -- all the airlines are members of SkyTeam;
American Airlines & British Airways & Iberia -- all the airlines are members of Oneworld; and
United Airlines & Air Canada & Lufthansa -- all the airlines are members of Star Alliance.
Generally speaking, the level of integration between airlines would be the highest for joint ventures, and the lowest for interlining, while codesharing agreements and alliances are right in the middle.
The life beyond the Big Three
Not every carrier, even the large and world-famous ones, can easily enter the airline alliance as it's always about meeting high standards. Therefore, many of them just can't be accepted. The ones who can, though, are not necessarily seeing any sense in doing so.
Say,
low-cost carriers
(LCCs) operate on a different business model, and the strategies used by global alliances are simply not beneficial to them.
LCCs
focus on optimizing operations, reducing a number of services, and using secondary airports to offer low fares on regional flights. This is the opposite of what alliances typically propose (long-haul destinations, high-quality services, access to lounges, etc.)
No wonder, LCCs aren't part of global associations. Yet, they still can form their own groups. As for now,
V
alue Alliance
, created in 2016, is the only functioning unit of this type. It's composed of six budget carriers with a combined fleet of 180 planes operating in the Asia Pacific market.
The alliance serves over 160 destinations from 17 hubs across Australia, North Asia, and South East Asia, covering a third of the world. This makes it the world's fourth largest alliance. Passengers can build itineraries across the network and buy a single ticket at a competitive price via a standalone booking system.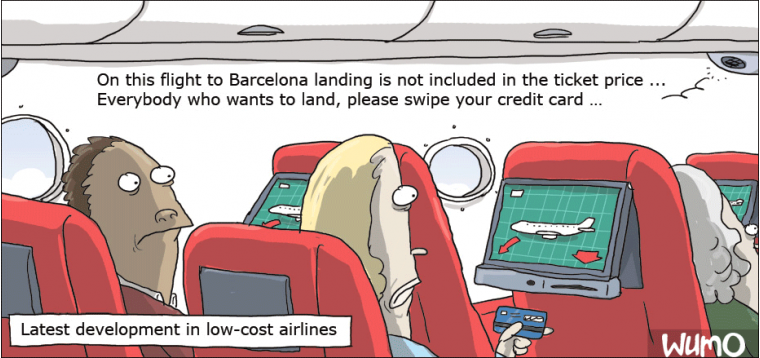 Just a comic about the challenges of low-cost carriers to help you recharge a bit. Source: Wumo
Besides LCCs and small regional players that can't join the big three alliances because of a high entry level, there are also large, full-service airlines with global reach who prefer to stay independent. This includes two UAE flag carriers — Emirates and Etihad. Both offer flights to most major cities worldwide via connections in their hubs -- Dubai and Abu Dhabi -- and don't want to share this profitable traffic with others. At the same time, those Middle East airlines maintain multiple codeshare partnerships to offer their passengers an extensive network of destinations and the ability to earn miles on multi-leg flights.