A single carrier, no matter how big, can hardly reach all airports existing in the world with one single flight. So, most air travelers to or from the US have to
make
at least one transfer en route to their final destination. To meet the popular customer requirement "to fly from anywhere to anywhere" and reduce inconveniences associated with multi-leg journeys, airlines have no alternative but to cooperate with each other.
There are different types of
alliances
, enabling carriers to bring better services while gaining the opportunity to sell itineraries impossible to handle alone and reach new markets. Yet, going into traditional partnerships is not as simple as it may seem. This article explains the complexities of old approaches and navigates through modern technologies addressing challenges of legacy agreements.
Traditional partnerships to connect flights
Key partnership frameworks in aviation were designed decades ago in the era of large, state-owned airlines and regulated fares. They are controlled by the International Air Transport Association —
IATA
which still represents
82 percent
of air traffic. Let's explore how these alliances work and how they benefit passengers and airlines.
What is interlining?
Interlining
is the most basic agreement between airlines that ensures a smooth experience for passengers whose itinerary contains more than one flight on more than one plane. It has the following advantages for travelers:
they buy a single ticket for several flight legs;
they check in only once, at the starting point of the complex itinerary;
their baggage is carried through to the final destination with no need to collect it at transit airports; and
in the event of disruptions, travelers will be rebooked to another flight.
Behind the scenes, the entire framework is based on the concept of a validating and operating carrier. The former actually tickets an itinerary and, to do this, must participate in Airline Reporting Corporation or IATA Billing and Settlement Plan (
ARC or BSP
, for short.) The latter serves legs of the journey and gets its share of the fare when a passenger takes a flight.
If a passenger buys a multi-leg flight directly from an airline, it will, in most cases, be the one to issue the ticket. Otherwise, the carrier for this role is typically selected by a travel agent. The choice may depend on the commissions a carrier pays to a retailer.
Steps of interline booking flow
For the most part, the interline
booking processes
are managed by a Global Distribution System (
GDS
) and a passenger service system (
PSS
) or central reservation system (CRS) of the validating airline. This is how it happens, step by step.
How interline booking works.
Itinerary construction. On a passenger's or travel agent's request, the GDS or PSS builds an itinerary. If there are no direct flights, it constructs options of complex routes from the list of interline agreements, published schedules, and Minimum Connecting Times (MCTs). The schedules and MCTs are received from data aggregators (like OAG or Cirium) or directly from carrier reservation systems.
Itinerary pricing. After obtaining unpriced reservations from each carrier serving the itinerary, the system requests published fares from the ATPCO (Airline Tariff Publishing Company) and prices the entire multi-leg journey.
Super PNR generation. Pricing and other data related to the itinerary is sent to a validating airline. It links all flight segments into a Super PNR (To learn more about personal name records or PNRs, read our article What is PNR.)
Ticketing. After the itinerary is paid for, the validating carrier issues a single ticket covering all flight segments.
Settlements. Once the flight takes off, operating airlines bill the validating carrier for their share.
This scenario, however, lacks  the marketing opportunities that become available at the next level of cooperation — codesharing.
What is a codeshare flight?
While the interline concept was introduced by IATA in 1947, the term
codeshare
appeared in 1989, when Qantas and American Airlines started providing the first connecting flights of this type.
Codeshare relationships are built on top of interline arrangements. In addition to the above-mentioned connection opportunities, airlines can sell flights they actually don't run under their names. In other words, they market seats operated by their partner as if they were flying it themselves.

Codeshare flight London-Tokyo-London operated by Japan Airlines and marketed by British Airways. Source: Kayak
Let's take an example of a recent
codeshare agreement
between Qatar Airways and Alaska Airlines. It enables the Persian Gulf region carrier to connect to over 150 routes across North America. Conversely, customers of Alaska Airlines may book trips to the Middle East, Africa, and South Asia, served by Qatar Airways.
In this way, both carriers expand their reach without increasing fleet size. Besides, they gain more control over itinerary combinations and ticket prices and can spread their
loyalty programs
across a codeshare flight.
Another advantage is that GDSs prioritize "online" connections (between flights of the same airline) over "interline" connections (involving planes from different airlines). Owing to the fact that codeshare trips appear under one carrier's umbrella, they have a better chance of being sold. (Yet, with GDSs becoming less important in marketing tickets, this benefit will eventually lose relevance.)
Key challenges of a legacy interlining framework
Advantages delivered by traditional partnerships come at a price. IATA itself
recognizes
that "the complexity of today's interline environment limits the involvement of many players." While most
full-service carriers
(FSCs) have already invested in the infrastructure and find that benefits are worth the hassle,
low-cost carriers
(LCCs) are often unwilling to support such connections at all.
Administrative and financial burden
Interlining involves numerous agreements that regulate different aspects of a partnership and entail a number of expenses.
MITA agreement.
If airlines want to build and serve a complex itinerary, the first step to doing it is to enter into the
Multilateral
Interline Traffic Agreement (
MITA
)
. It provides a standard path to cooperate with numerous
IATA and non-IATA
carriers across the globe. However, the contract doesn't cover all nuances of interlining, so many other things have to be formalized separately.
Bilateral agreements.
The MITA membership itself doesn't mean that a carrier automatically cooperates with any other airline of its choice. Bilateral agreements must be negotiated by each pair of carriers to confirm their readiness to partner, elaborate general business rules (GPRs), and specify the distribution of fees (this is made in a Special Prorate Agreement or SPA.)
ICH agreement.
The mandatory step dictated by the MITA is to join the IATA clearing house (
ICH
) which delivers billing and settlement services for interline arrangements. To become an ICH member, non-IATA airlines
have to post
$5,000 in a standing deposit account plus make a $100,000 security deposit. The initial contribution for IATA carriers is $5,000. In addition, all participants pay monthly recurring charges and transaction fees.
Other agreements and associated costs.
They
involve
but are not limited to
GDS distribution fees;
IATA agency commissions;
e-ticket agreements and charges for interline e-ticketing setup per each new partner, usually collected by an airline's PSS provider;
a codeshare agreement and associated charges (typically ranging from $10,000 to $12,000);
an interline service fee (9 percent of the fare issued) paid by operating airlines to the validating airline;
e-ticket database charges; and
Interline Through Check-in (IATCI) gateway charges including those paid for setting up each new partner carrier and monthly service fees or per checked-in bag charges.
Additionally, new airlines have to invest heavily in complex integrations with
legacy systems
.
Technological obstacles
In the IATA interlining framework, systems communicate with each other via the
EDIFACT
data exchange protocol, established in the 1980s. For new entrants, this means setting up multiple and difficult-to-maintain connections. The implementation process is expensive and may take years.
And that is not the end of the story. Airlines have to be reconciled to the knowledge that, after all investments have been made, they have little to no control over their revenue.
Lack of commercial control
More often than not, an interline itinerary is constructed by a third party (a GDS or other airline's PSS.) That's why carriers have limited access to real-time data about their segment of flight and can't gain commercial control over it.
Other factors also prevent carriers from understanding their financial prospects. Say, according to the IATA standards, the itinerary fare must be constructed in the national currency of the country where the journey starts. Multiple conversions occur before final settlements which often happen weeks or months after the reservation is made. By this time, currency rates may change dramatically, impacting the profit margin and often causing
revenue leakage
.
Problems with ancillaries
The MITA per se doesn't support the distribution of ancillaries such as excess baggage or online food. So, to market extras, carriers have to tap into proprietary processes and sign additional contracts — such as an Interline EMD (Electronic Miscellaneous Document) agreement. Without it, a carrier can't sell its products across partner airlines and issue EMDs that contain information about purchases of this type.
According to IATA
statistics
, the incremental revenue from selling ancillary products across all interline flights would surpass $3.3 billion annually — if it were not for current obstacles.
New models of interlining
Considering all the above-mentioned conditions, no wonder that airlines and passengers seek new ways to connect flights. Here are three alternatives to traditional interlining.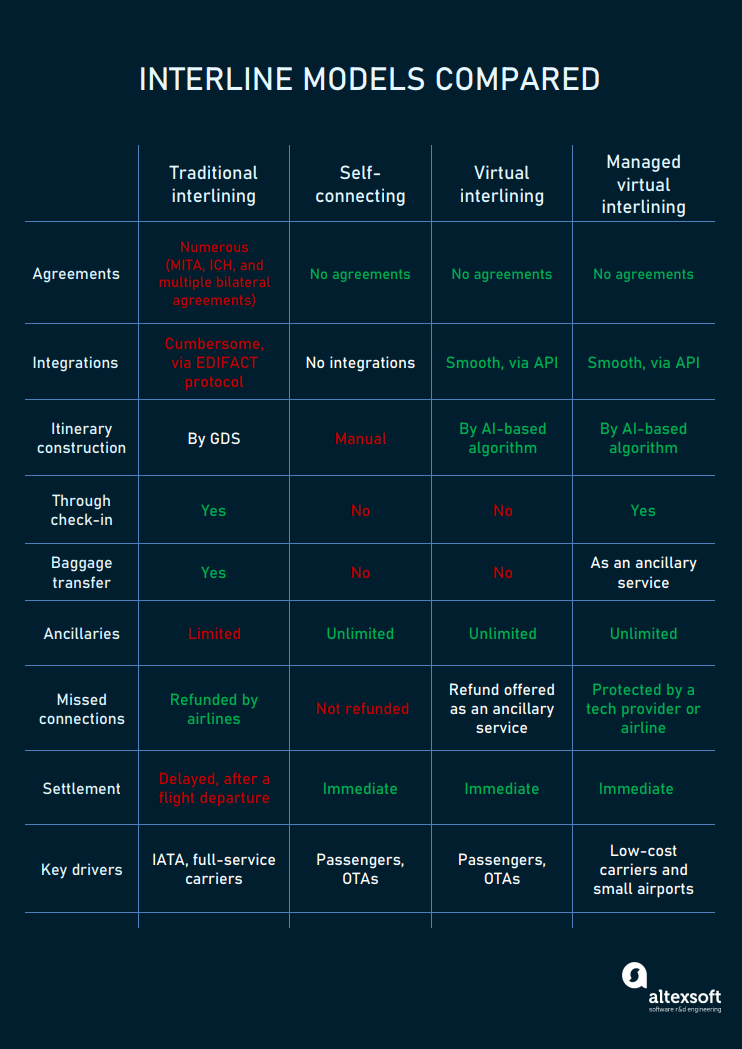 How interline models differ from each other.
Self-connecting flights
In this model, passengers book separate tickets to fly from destination A to destination C with a
stopover
at destination B. The journey is not supported by any interline alliance and, as a rule, involves at least one low-cost carrier. Self-connecting allows travelers to find the cheapest options possible and cut travel expenses.
On the dark side, searching for the right flights at the best rates may take hours. Besides, baggage is not automatically transferred. And in the case of delays and missed connections, passengers need to take care of themselves and re-book tickets on their own.
Virtual interlining
The
virtual interlining
model was introduced in 2012 by the Czech startup Kiwi.com. The
online travel agency
filled the gap between extremes of traditional interlining and the self-connecting approach. Its AI-based algorithm combines separate routes from over 500 carriers and over 200 ground transportation providers into seamless itineraries.
The company also has a paid-for refund service meant to protect a traveler if a flight is rescheduled or canceled by a carrier. (Yet, many passengers reported significant reimbursement delays during the COVID-19 pandemic outbreaks.)
Anyway, the idea of virtual interlining proved to be viable, so other OTAs and booking platforms got on the bandwagon and offer coverage for disruptions as an ancillary service. However, in this scenario, there are still no integrations between airlines themselves.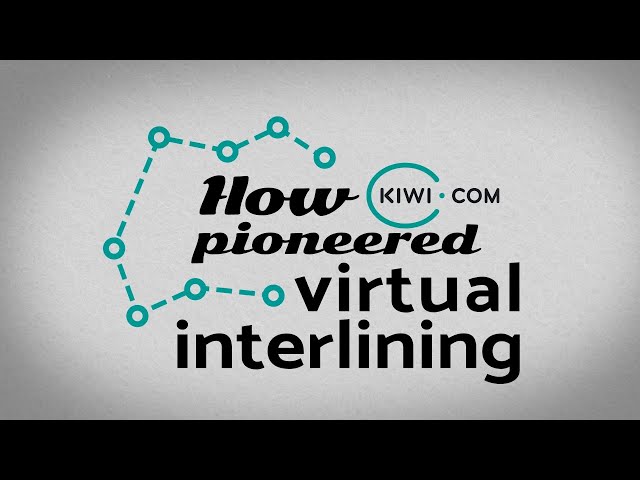 Kiwi, a pioneer of virtual interlining, explained
Managed virtual interlining
The concept of managed or third-generation interlining is an improvement over the previous model. It makes possible partnerships between FSCs and LCCs while skipping the complexities of the IATA framework. This approach is backed up by such tech providers as Iceland-based
Dohop
and
Air Black Box
head-quartered in the UK.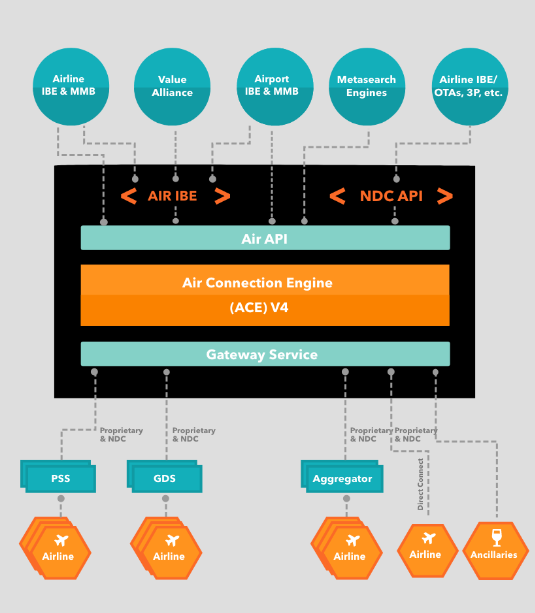 Air Connection Engine from Air Black Box. IBE is short for internet booking engine and MMB is short for mobile message board.
How does a typical third-generation interlining platform work? It integrates with an airline's system via an
API
, creating a layer to connect the carrier directly to other FSC, LCCs, and multiple data sources. This allows for expanding networks, establishing new routes and cross-selling seats and ancillaries without numerous commercial agreements. In turn, passengers can buy multi-leg journeys and add services with a single reservation.
Other features that can be delivered by technologies of this kind are:
an AI-based itinerary building algorithm,
a mechanism to protect passengers from disruptions such as a travel insurance voucher or coverage offered by the platform provider.
super PNR building capabilities,
support for through check-in,
integrations with airport systems to provide baggage transfer services, and
NDC compliance that makes the technology ready for expected  big innovations (Read more about new standards in our article New Distribution Capabilities for Airlines).
It's fair to say that new approaches to flight connection are still evolving. They don't cover the big share of the air transport market that IATA does. However, the ease of entry and a range of opportunities offered by virtual interlining are definitely worth consideration.
What options to consider if you are into virtual interlining
Key early adopters of virtual interlining (hereafter — VI) are small OTAs, regional airports, and low-cost and
ticketless
carriers that mostly operate point-to-point trips, but already understand the value of connecting flights. While the concept of VI is quite clear, the implementation steps can be somewhat tricky. So, let's clarify from the start, what key options you have.
Build a network of partner airlines via a white label platform
The option may fit small airlines that have only basic or obsolete software and operate point-to-point domestic flights but seek ways to expand their reach via partnerships.
A white label VI platform is a ready-made software product with a built-in mechanism to construct flight connections. It can be customized and rebranded according to your requirements. This removes the necessity to build your own website (if you still don't have one) or modernize an old, clunky one.
Kiwi.com built such a solution for airlines in partnership with
AeroCRS
, a cloud reservation system that mainly serves small carriers. Another tech provider, Dohop, already powers
WorldWide by easyJet
platform, which allows passengers to build convenient combinations of flights from easyJet and its partners.
Extra benefits.
The platform provider usually covers expenses associated with missed connections.
Things to be aware of.
An airline or its passengers are charged a small fee for each transaction. Also, there is no mechanism to through-check passengers and baggage to the final destination — something that traditional interline flights do automatically.
Integrate with a hub preconnected to numerous travel providers
The option may fit low-cost and full-service carriers that develop direct sales via their websites and explore possibilities to create new routes, cross-sell with other travel providers and expand the presence in targeted regions.
The fastest way to achieve these goals is to integrate your system with a hub like
Air Black Box
. It comes pre-connected with many FSCs and LCCs, OTAs and metasearch engines.
Thanks to the ability to sell inventory and services from numerous providers, an airline's website can work as an OTA. The hub also maintains integrations with legacy GDSs and PSSs and at the same time supports NDC connectivity.
Extra benefits.
Air Black Box promises that integration will take no more than a few days or weeks, which is really fast. By comparison, customization of a white-label platform will take several months and custom development may linger for years. Besides that, Air Black Box is the first virtual interlining company to create a check-through baggage solution.
Things to be aware of.
Air Black Box has been working primarily with Asian LCCs. Not that it's so important — just to let you know. And, similar to a previous scenario, the hub charges fees for transactions.
Develop a customized virtual interlining algorithm
The option may fit mid-sized and large low-cost airlines and OTAs with a content-rich website and wide range of integrations in place.
If your company is already equipped with a modern marketing platform but still lacks a mechanism to construct flight itineraries, consider a custom development.
Of course, we don't propose that you design an interline algorithm on your own. For this complex task, you'll need to hire a team of software developers and
data scientists
 with expertise in the travel industry.
Extra benefits.
You gain full control over the technology that can be aligned with your requirements and business rules. Besides, you don't have to pay a mediator for building convenient itineraries anymore. This allows you to offer customers the best prices and increase your revenue.
Things to be aware of.
The development of AI-based solutions takes time and requires significant financial investment. To understand the complexity of the task, read our case studies describing how we built
If you aim at providing the full range of services expected from interlining, you also need to think out beforehand how to organize through check-in and negotiate who will cover expenses and on what terms in the event of travel disruption.
What to expect from the new IATA interline framework
The rise of new technologies prompts such a plodder as IATA to think about breaking changes. In 2019, just on the threshold of the coronavirus pandemic, it revealed the draft of the Standard Retailer and Supplier Interline Agreement (SRSIA) as a simplified alternative to the outdated MITA. So, what improvements are expected from the new framework once it is implemented?
Many products, one offer.
Instead of operating and validating airlines, SRSIA introduces the roles of a Retailer and a Supplier. This supports the common, non-industry-specific scenario where products and services from different suppliers can be combined in one offer and delivered to a customer by a retailer. The model complies with the
ONE Order
initiative by IATA which aims at merging three documents — the PNR, e-ticket, and EMD — into one record.
Cross-sale of ancillaries.
IATA contemplates introducing dynamic
product catalogs
containing data on available products and services that can be requested and sold by partner airlines.
Billing at time of sale.
This will simplify billing and enable carriers to calculate their revenue almost at once instead of waiting for the flight departure.
Full commercial control.
Suppliers will be able to react to interline bookings in real time and declare on what terms they are ready to participate in the itinerary — if at all. Retailers, on their end, will get full control over products included in the offer, their prices, and distribution strategy.
Simpler integrations, fewer agreements, and more flexibility.
To engage new players, IATA is going to adopt new messaging formats and more flexible cooperation terms. Instead of striking numerous agreements, carriers will have a choice of several pre-build models of partnerships.
Say, LCCs may be wary of the prospect of arranging the entire flight in the event of the disruption. They can take the role of a supplier and choose the model in which a retailer is always in charge when something goes wrong. IATA hopes that flexible options will attract not only low-cost and ticketless carriers but also rail and other ground transport operators.
When will all these wonderful plans come to fruition? As of 2021, the SRSIA is still under development, and its first version is to be adopted at the online
Passenger Standards Conference
in October 2021. All that is left to do is to wait and keep your fingers crossed.