Helpful articles:
Hi there,

Unfortunately, as of January 23rd, SAP Concur terminated this travel metasearch turning down its co-founders' buyback offer. While there might be some efforts taken to revive the brand, in the meantime, we suggest looking at some other alternatives.

The first substitutes that come to mind are Skyscanner and Kayak. Both offer flights, hotels, and car rental APIs while Kayak also distributes trains and package tours data.

But getting access to these APIs might be hard for small businesses. Kayak doesn't permit integration unless your platform has more than 100,000 monthly visitors. In case of no response, we advise considering APIs of Global Distribution Systems like Amadeus. Their self-service air and hotel APIs are free for test environments, while fees apply when you exceed the number of free calls.

You may find more providers to consider in our extensive article on travel APIs.
There are almost no absolutely free APIs in the travel industry. One way or another, you have to pay for product use. That said, you may enroll in affiliate programs to share commission fees with a provider or just try sandbox versions for your MVP. Here are some popular APIs that you can get kinda free or with shared fees.
Travel Innovation Sandbox by Amadeus
Sandbox APIs include: flights, hotels, cars, trains, and points of interest.
How? Just register, get your API key, and you're good to go.
Limitations: No commercial use. No more than 5 concurrent transactions and no more than 5,000 calls per user per month.
Use cases: PoC, testing, student works.
API Explorer by Sabre
Flights, hotels, ground transportation, and cruises. Additionally, fare ranges, low fare forecasts and history, top flight destinations, and air travel seasonality.
How? After you fill out the test API form, the Sabre account manager will contact you and provide you with a token.
Limitations. No commercial use. You get access to REST APIs only, while Sabre also suggests a set of SOAP APIs. Depending on your profile, some APIs may not be available at all.
Use cases: PoC, testing.
Skyscanner API
The API includes info on flights. As soon as you generate over about $1300 worth of revenue per month, you can start earning.
How? You directly request API access from Skyscanner.
Limitations. Only info sourcing with no booking. They'll vet you. Live flights calls are limited to 100 per minute, flights cache up to 500 per minute, car hire up to 100 per minute.
Use cases: Metasearch startups.
OpenSky API
You get real-time flight and aircraft info.
How? It's open and can be used right away.
Limitations. Noncommercial use.
Use cases. PoC, student works, nonprofit projects.
Booking.com API
The API is mostly aimed at accommodations. You become their affiliate partner and receive part of the booking fee.
How? Apply for an affiliate program and receive your API access.
Limitations. Booking will vet you. Some APIs may not be available and no more than 20 simultaneous API connections are allowed.
Use cases. Accommodation booking.
Very similar terms are available at Agoda Affiliate Program as they belong to Booking Holdings.
Expedia Rapid APIs
The APIs are also aimed at accommodations. As with Booking.com, you get an affiliate fee.
How? Apply for the affiliate program and receive your API access.
Limitations. Each API has its limits of updates per message. Consult the FAQ at each API documentation for specifics.
Use cases. Accommodation booking.
Ticketmaster APIs
Ticketmaster provides info about and ticket reservations for concerts and sport events. They have two open APIs that are free to use.
How? You have to create an account on the developer portal.
Limitations. Up to 5000 API calls per day.
Use cases. Tour and attraction services.
Other suggestions to try?
It depends. There's no single best flight API. Your choice depends on the specific problem you're trying to solve (e.g. enable flight and fare search, or track flight status with departure and arrival times, or enable flight booking). Generally, there are two basic options: source data from global distribution systems (or GDSs, the major, worldwide flight aggregators) or directly from airlines. In some cases, you can check APIs by tech providers like FlightStats.
If you need the widest airline coverage and you want to implement flight booking, check GDS APIs by Sabre, Travelport, and Amadeus. Each of them covers about 400 active airlines. They search for flights and low fares, and do booking and ticketing. The problem with this approach is that some airlines like Lufthansa set surcharges for booking through GDSs because they want to encourage direct booking or direct cooperation with resellers.
So, the option is to integrate and partner directly with each airline you need. That, however, presents an even larger number of problems as there are only about 40 airlines that have standardized XML-based APIs and each of them is slightly different. So, the engineering effort may be enormous. On the bright side, with direct connections, you get the widest ancillary booking support, seat selection, baggage customization options, etc. The most balanced approach to flight search and booking is to combine GDSs with some direct integrations.
If your goal is general info without booking capabilities, you may not need GDS or direct integration. The first place to go for fresh flight fare data is ATPCO, the main fare distribution provider. The largest pool for timetables, routes, and connections is provided by Innovata, a travel tech company. Also check FlightStats and Flightradar24 for flight and airport details like delay indexes, arrivals and departures, aircraft equipment, airport FIDS, flight status, etc.
If you need something simple and don't want to go through raw airline data, you may contact OTAs or metasearch platforms to integrate their APIs. The key provider here is Skyscanner, but also consider Expedia or Kiwi.
For more details, have a look at our travel API's articles.
Hi there,
Hotelbeds is the leading wholesaler on the market with proven technology support and rich inventory. So, it's definitely the first place to try. HotelsPro is much smaller, but it's also worth checking out as they claim to have content mapping technology. If you get hotels from multiple sources, content mapping is a need-to-have feature. But keep in mind that you can also get content mapping from tech companies that specialize in it, like Giata or Gimmonix.
Besides the technical part of it, your choice boils down to specific deals that you can negotiate with wholesalers. If you can get better rates at HotelsPro, it may be the best option for you.
Also, check out our article on hotel APIs for more detail.
We are India based searching ePower API for our travel website. In Indian Amadeus office nobody knows details of ePower.
Hi there,

We totally understand your desire to tap into the cruise line industry, as it's a rapidly growing sector within the global tourism market. However, it's not that simple. You must have noticed that there are significantly fewer APIs for cruises than for flights, hotels, and car rentals as it's a quite reserved space. Still, we're not agitating for web scraping as it's a quite unreliable way to aggregate data.

Out of all global distribution systems, only Amadeus provides APIs to access 53 connected lines. Have a look at their SOAP Enterprise Cruise APIs. Their Fare Availability API can respond with available prices from a particular cruise provider on a certain date. You can ask Amadeus for access to try it out.

Also, there are technology partners in the distribution of cruises. They offer cruise aggregation platforms you can connect to and have access to the integrated suppliers (e.g. Travelopro, Traveltek, Trawex, IST). But of course, none of them are free.

You can also go your own way of partnering and making XML connections with each cruise supplier separately. For example, MSC Cruises offers its partners an API Technology allowing for prices, availability, and bookings. Alternatively, they have a catalog with their routes and rates suitable for a "search tool" and a "quick request function", as they claim. It's called Flat File and you'll need to download it daily from their database. But not many cruise lines are as integration-friendly as MSC. If you're interested in any specific integrations, contact our sales team and we can advise you on the best approach.
Hello Ted,
We haven't heard of that kind of software. Usually, channel managers and other travel data providers reveal their data to hotels, property/revenue management systems, online travel agencies, and metasearch engines – basically, customer- or hotel-facing businesses to support room reservation.
Without any detail about the problem you're trying to solve, it's hard to suggest anything specific. But if you consider data mining and analysis, consider open datasets like these on data.world. Also, check what's available on data.gov for hotels, and Kaggle for hotel reviews.
Have a look at our article on mining public datasets. These datasets can provide you with locations, reviews, and some inventory details. But if you're looking for pricing and changes in pricing over time, this might be a much trickier data-mining problem. There are some datasets with pricing like this one but usually the pricing and demand data isn't available in dataset formats.
I hope this helps.
Say I have two flight segments A to B and B to C with three hour overlay. A to B is by (say) United and B to C is by another Airline where United may or not may not have a codeshare.
Now I want to build a single ticket from A to C in an single PNR so that baggage is automatically transferred and missed connections will be handled.
How can I do it?
Revenue management is a set of practices to maximize returns. In terms of the hospitality industry, revenue management entails finding the right clients for the right room and selling it at the right moment. To achieve this complex goal, hoteliers break the problem into four main problem areas:
Customer segmentation - understanding the groups of customers, their requirements, price expectations, and booking patterns. For example, business travelers are more likely to book alone, they don't care much about price, and may resort to last minute bookings. Leisure travelers, on the other hand, are likely to book in advance, be looking for cheaper rooms and may be traveling as a couple and their children.
Demand forecasting - the name is pretty self-explanatory. Hoteliers look at the past demand numbers to predict future demand. E.g. there's a higher demand for our rooms in July than in October unless there's a football match in our city.
Yield management - finding the best price that would both allow you to sell all rooms and sell the right rooms at the highest price possible.
Dynamic pricing - a rather advanced technique of regularly changing prices depending on the demand at the moment to sell the room at a higher price. It's usually solved with machine learning algorithms that consider multiple factors impacting the demand. For instance, we may increase the price if the weather is good and most hotels around look fully booked.
These problem areas and their solutions aren't siloed. You would normally approach them simultaneously to improve gains. So things may get a bit complex and require active investments in IT, channel management (finding the best place to sell rooms), improving and selling ancillaries like food, transportation, or spa, and better managing overbookings (when the same room is booked twice). We've explained revenue management in more detail in our article, so check it out if you want to learn more.
Kayak has an affiliate program that you must enroll in before integrating their API. Keep in mind that Kayak doesn't permit integration unless your platform has more than 100,000 monthly visitors.
If you have more, you can use their API or white label. To proceed you have to define which kinds of search data you want to receive and contact them directly.
If you have fewer than 100,000 monthly visitors, Kayak offers an affiliate programs trial using third party affiliate networks like CJ or Webgains. They will connect you with smaller brands belonging to Booking Holdings, like Momondo.
Hi there,

SeatGuru doesn't seem to provide an open seat map API. Still, you can contact them directly and discuss a possible solution.

Data scraping won't work as there are dozens of airplane types that vary from airline to airline.

Meanwhile, we can advise the following APIs from Global Distribution Systems:

SeatMap Display API. A part of the Amadeus Self-service APIs suite, the API retrieves the necessary information pre-booking from the Flight Offer including the flight number and displays an airplane cabin plan for a traveler to choose a seat during the flight booking flow. In addition, the API can display an airplane cabin plan post-booking from an existing Flight Order.

Get Seats API. It's an API from Sabre. Get Seats retrieves flight seat location within the aircraft, availability, and pricing in New Distribution Capability (NDC) standard format. On the other side, the API is connected to the external seat map providers which are airlines including low-cost carriers, and Airline Tariff Publishing Company database. The obtained data follows the Passenger and Airport Data Interchange Standards.
does someone know if ElAl has open api of flights and others..
and how to access it?
There's no best software for all. It may depend on the type of hotel you run and the kind of property management system you have. There are several market leaders that fit large hotel chains, independent hotels, and even those who have a private home for rent.
The market leaders are SiteMinder and Cloudbeds. Both have large pools of distribution channels, Airbnb connection (not all channel managers have this one) and can integrate with many PMSs.
PMS integration must be the first criteria of choice if you have one. For midsize and large businesses, other essential things would be real-time property updates to avoid overbooking, analytics, and centralized content management to update hotel info across all channels. SiteMinder, Cloudbeds, STAAH, and eZee fit these criteria.
For small property owners and vacation rentals, you may look for Airbnb integration and well… low price. E.g. eZee Centrix and Lodgable look like the cheapest options for properties with 10 rooms. Lodgable is actually free for its main features and caters to vacation rentals.
We have a broad review of the main platforms in our article about channel management, so you may check this one as well.
Recently I've been put in charge of testing and implementing WCAG 2.0 AA compliance into our websites (PHP CMS based). However, my experience with this is pretty limited. My questions are:
Is Mac VoiceOver sufficient enough to test?
Should I test with JAWS on Windows instead?
Any tools besides the VO's I should be using while developing and QAing our products?
I use the Wave tool as of now to check code, but not sure if there anything else that could help this process speed up.
Thank you for your suggestions and help. This is a big step for us and we are hoping to create a standard where accessibility and compliance is 2nd nature to us and our devs.
What are the basic requirement and approaches you will follow for any software testing project?
Hello Massimo,
Thank you for your interest.
First, let's unravel the payment processing flow.
You described the business model where a travel agency is accepting direct payments from customers and functions as a merchant of record. Adding a commission to the net-price, an OTA charges the client. Usually, an agency integrates a payment gateway to process payments.
In more detail, payment processing works like this: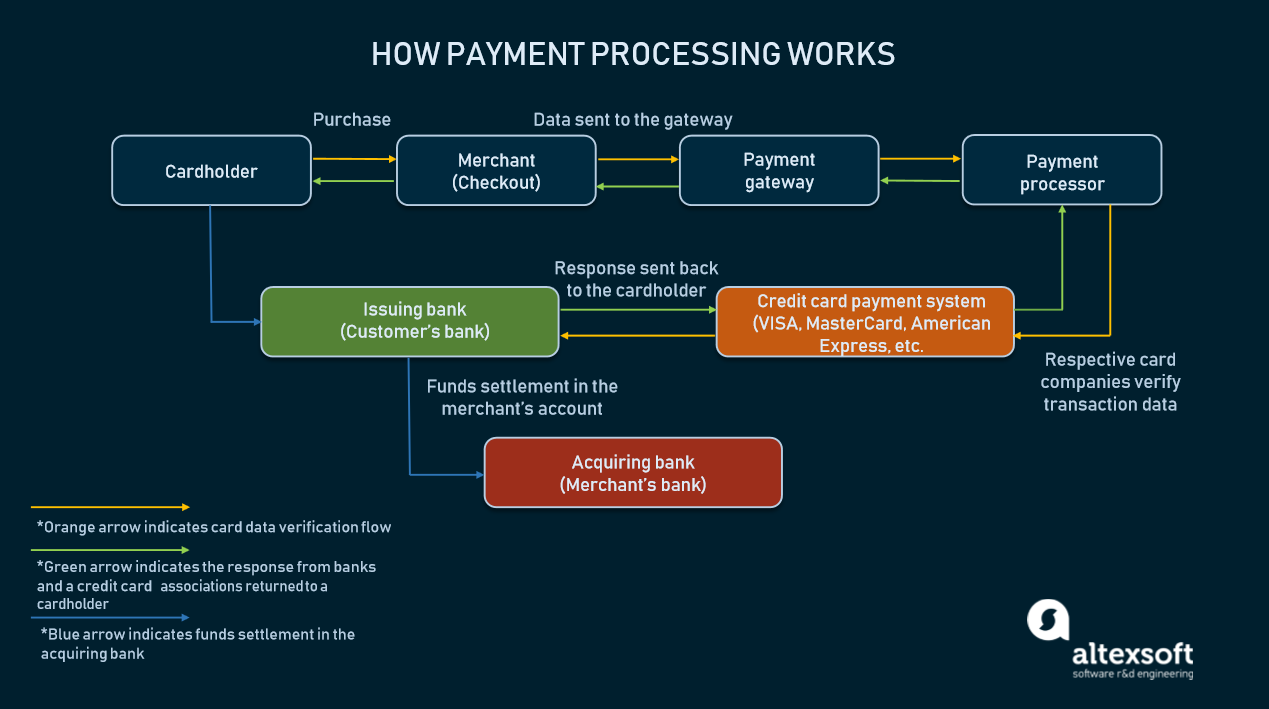 When the money is on the agency's account, it pays the supplier its share. In the case of flights, OTAs must be IATA-accredited to pay airlines directly. Small OTAs aren't usually certified, so they leverage a consolidator as a payment mediator between them and an airline.
But if an OTA doesn't function as a merchant, usually, it redirects to a supplier (in case of a direct distribution) or a larger OTA like Expedia or Booking.com for a transaction. According to this business model, OTAs get paid their percentage of the total price at the end of the month. Payment processing isn't on their shoulders so they don't owe commissions to payment gateways.
Expedia, for instance, provides EPS Checkout - a white-label solution that collects credit card data and then transmits it to EPS servers where the data is validated and stored.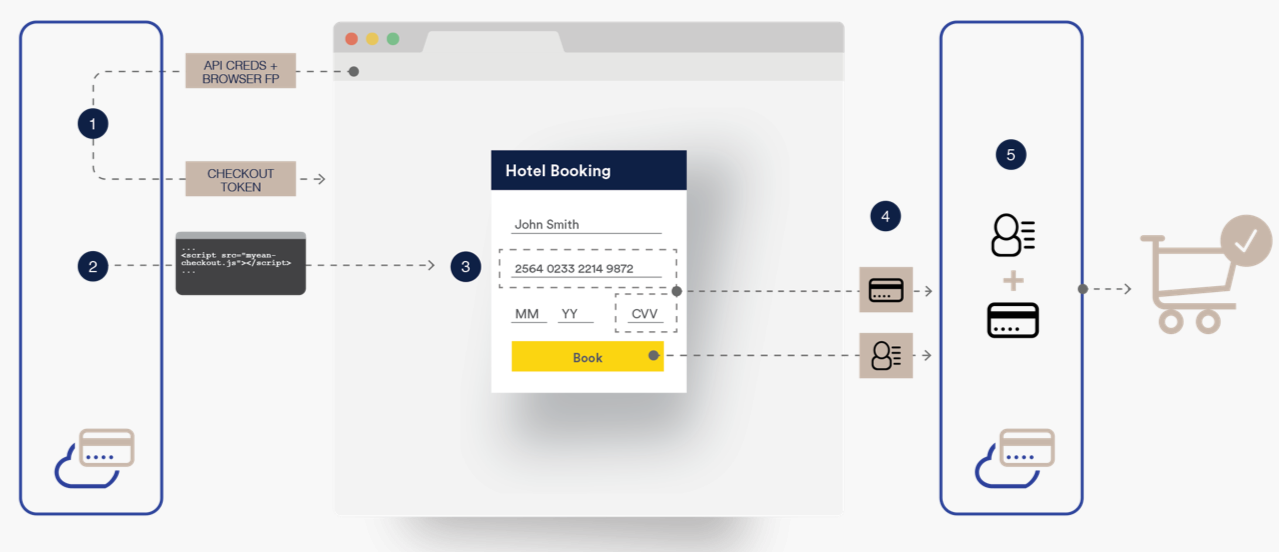 Distributing hotels, some agencies list the rooms and allow customers only to book but pay already at the property. So that the hotel will pay back the OTA the contracted commission after the check-out.
Your second inquiry was about cost-efficient payment processors.
Setting up a payment gateway is lucrative in case your OTA has a large payment volume:
The more transactions a gateway processes, the less percent it charges per card. Hence, an OTA with about 5000 transactions per month will pay a higher commission per transaction than an OTA with 50000 transactions.
There's a great number of payment gateways but they offer a similar set of services for a fairly similar price. So, we wouldn't say that looking for a cheaper payment gateway can save you a lot of money. What really can be a game-changer is negotiating competitive rates and deals with end-product suppliers. Besides leveraging GDS generic deals, it's necessary to extend your own pool of providers ready to work with you on exclusive conditions. You can read more marketing tips for travel agencies in our article.
All in all, defining a payment processing strategy is a complex task. So, you may want to get in touch with our sales team for further discussion.