Let's be honest, for many hotels, payment functionality is not a priority. Once integrated, the payment gateway or processing solution isn't customarily upgraded or reviewed. It works and that's what matters, right?
But if you work in the hospitality business, you must have noticed that the way people book and pay for hotels has changed, especially since the start of the pandemic. Mobile payments, contactless payments, peer-to-peer payments, and so on are some of the now usual ways customers want to use. It's become difficult to view your payment functionality as simply an enabler of transactions. If you ignore the change, you will lose a valuable touchpoint with your guests. If you embrace the evolution, you will elevate your guests' experience and drive your revenues.
Let's talk more about those changes and how you can take advantage of them.
Hotel payments challenges
Currently, there are four main areas where hotels experience shortcomings with their payment technology.
Accommodating guest needs and expectations
Hospitality traditionally introduces a lot of friction. Clunky websites have guests email or even call for information, availability updates are often manual, and check-ins and ancillary bookings also often happen only in person. For today's customer, crazy about the convenience of eCommerce, such experience contrasts with what they expect. For hotels, this means lower conversion rates and upselling revenues.
The payment process is a point of friction, too. A limited number of payment methods, lack of international payments, and no currency conversion on the website are just some of the ways you make your payment process inconvenient. Which translates into people abandoning the booking process or not being satisfied.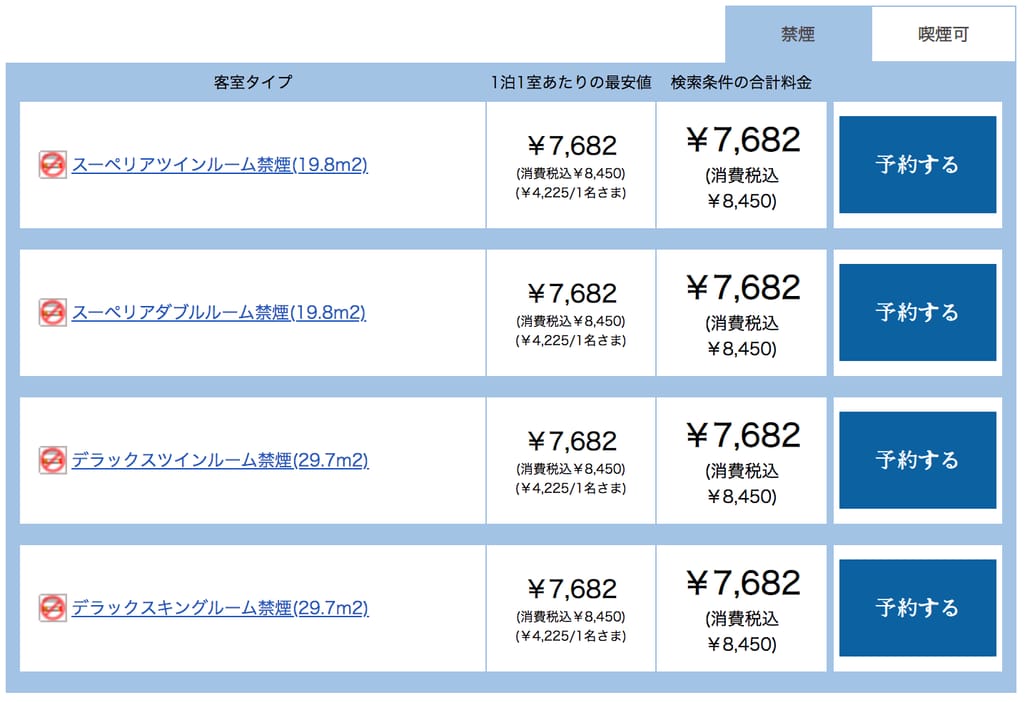 Booking the same hotel on Booking.com is a more user-friendly experience than on the hotel's own website
But the disconnect between customer expectations and hotel reality is not the sole reason why the payment process needs restructuring.
Streamlining and automating processes
Taking payments manually and offline remains a common practice for many properties. While some are finding automated
payment processing
too confusing to switch, others are hoping to avoid the possibility of fraud. Yet this feeling of safety is misleading and will inevitably waste your time and introduce unnecessary errors.
Most of these fears and discomfort stem from the lack of understanding and the inability to think long-term. Credit card payments may be costlier, but you're losing much more money from lost bookings and cash shortages.
Legacy system modernization
and
integrations
are difficult only if you're not working with a partner or a provider who does the heavy lifting for you.
Addressing fraud and security concerns
It's true that the risk of fraud increases when you start accepting alternative payment methods, such as a direct prepaid model or via a mobile app. But avoiding those methods altogether is not a solid strategy. Modern
fraud detection
technology, as well as security practices, allow you to minimize that risk with low added complexity.
Complying with complex and constantly changing regulations
Compliance with regulations such as PCI,
PSD2
, SCA, or 3DS may be overwhelming for independent hotels, and having to deal with requirements when you have limited resources and infrastructure seems like a battle already lost.
But hotels now rarely go through this experience alone, employing payment processing companies or integrating already compliant solutions, without having to manage that burden on their own.
These common problems stall many hotels' transformations. But they don't have to.
In 2016, Hotel Electronic Distribution Network Association (HEDNA) established a working group focused on clarifying the best practices for hotel payments. We will be using findings from the group's
report
to share how accommodation businesses can improve on their issues, namely by integrating a comprehensive payment solution. But before we do that, let's explore how hotel payments work.
Hotel payment types
First things first, hotel payments come in two types: guest payments and B2B payments.
The first is pretty straightforward – these are the transactions between a hotel and a guest paying for a hotel room and extras. But B2B payments are just as important – those are the payments between a hotel and its partners such as
online travel agencies (OTAs)
, travel agents,
travel management companies (TMCs)
, corporates, and so on. We will give a quick description of how both of these payment types work.
Guest payments
There are numerous payment methods used in accommodation businesses. The most straightforward way is, of course,
cash
. This legacy approach may be simple for hoteliers to handle, but remains inconvenient for guests – both international and local tourists often don't have large amounts of local bills available.
The world of cashless payment is much more versatile.
First, there are credit cards used both at the point-of-sale terminals and online, when paying via your booking engine.
Then, there are mobile or e-wallets – apps like Apple Pay and Google Pay that store credit card information and allow paying by holding the device over the payment terminal or once again, online during the booking process.
But even if the property does take various payment methods, they are not always accessible and convenient. Specifically, it's common for a hotel chain to have one
centralized reservation system (CRS)
but a different payment processing solution, which results in the following problems:
limited payment methods, for example, accepting only local payment types;
limited currencies, when prices are displayed in the currency of the country where a property is located;
fragmented payment control when the chain can't overview the company's overall efficiency;
PCI compliance hurdles, when multiple connectivity interfaces are not PCI-compliant even when separate parts of the infrastructure are.
To handle these problems, HEDNA, for once, offers hotel businesses to adopt a centralized payment solution. We will talk more about them after we cover the second hospitality payment type.
B2B payments
To survive in the modern travel market, hotels have to play by the rules of their leaders – online travel agencies. For a guest, a booking process must look seamless and identical regardless of where and how they book. But on the back end, hotels and their partners manage payments under different rules, depending on the relationship model they've chosen.
Under the
agent model
, a customer makes a reservation through an OTA and pays the hotel directly at checkout. Only then, an OTA charges a hotel a commission for its services.
Alternatively, in a
merchant model
, an OTA purchases hotel rooms in advance at discounted prices and applies its own markup. Here, customers pay for the booking online and after they check in, a hotel charges the OTA for the original hotel room price, without the markup. This relationship model is preferred by many OTAs, so it's more common.
Of course, OTAs and hotels are not always directly connected – quite often, between them, a few middlemen such as TMCs,
bed banks
, or
GDSs
reside. So, it's not uncommon for these intermediaries to use a mix of agent and merchant models.
Most B2B payments under the merchant model use
virtual credit cards (VCCs)
for money transfers. VCCs are temporary credit cards issued for a specific amount so as not to reveal actual credit card information. Booking.com and Expedia, for once, use VCCs for every online transaction, thus keeping their customers' data secure. Hotels process VCCs in a different way from other methods because there are a few variances such as higher interchange fees and longer processing times. Such cards also can't be charged with extra room charges.
A centralized payment solution that we mentioned earlier can also process B2B payments safely and smoothly. Now, let's review those options.
Features of hotel payment solutions
What do we mean when talking about an integrated hotel payment solution?
Booking engine integration
A
booking engine
is a piece of software sitting between you and your customers. This is how they search for appropriate rooms and book them. And if you accept online payment, it's also involved in the flow. So, a booking engine and a payment solution come in a package. That's why it's important that both of these puzzle pieces of the booking experience fit together neatly.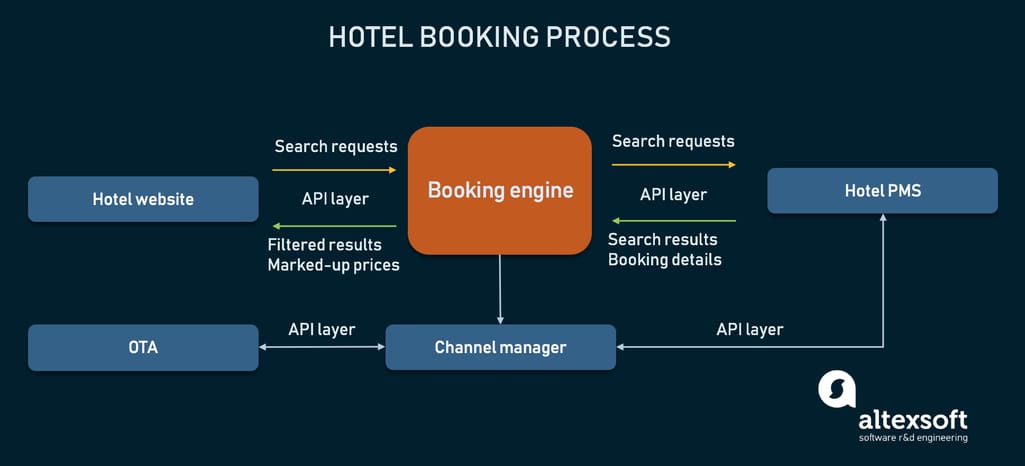 Booking engine's role in hotel distribution
Typically, vendors provide a few integration options.
Going with the booking engine of the same vendor
. Quite often, hospitality tech providers have multiple solutions, which are easily integrated. This is a great option if you're satisfied with both of their offerings, but they shouldn't constrict you to using only their product. This is why there should be other options.
Going with the booking engine from the marketplace
. Often, vendors will have a few booking engines ready for simple integration at the click of a button. The choice is rarely big, but if your preferred provider is on the list, you're in luck. Vendors are also often open to integration suggestions and may start working on the plug-and-play connectivity at your request.
Going for custom integration
. Modern travel technology businesses have open
APIs
for you to connect to allow you to build your perfect technology environment from a variety of businesses. Sometimes, vendors offer their help in building custom connections, but often this responsibility will fall on the shoulders of your IT team.
Payment process automation
Processing payments automatically means that at no point in the payment process does a staff member need to be involved. The system takes the payment information, saves it, preauthorizes it, and then automatically charges the customer. The lack of human involvement in this process means that a client's credit card data, for example, is never revealed or shared, and there's a zero error rate. The receipt is also sent to the guest's email automatically, so payment and booking confirmation happen instantly.
Apart from the basic functions, there are also other benefits.
Point-of-sale system integration
. When a guest's card is securely saved in the hotel's system, it can be used for other payments – minibar, room service, restaurant, etc.
Integration with a point-of-sale system
enables centralizing this process and clearly seeing what guest was charged where.
Eliminating the night audit
. For many hoteliers, the process of closing out the day in the
PMS
, also called the
night audit
, is associated with a lot of downtimes. This means that someone has to manually process financial information, change room statuses, and generate reports, which takes hours, depending on your property size. With automation, the night audit practically isn't needed anymore because all this information is processed in the background.
Facilitating self-service
. Automated payment processing is the first step in
going fully contactless
and providing self-service check-in, checkout, in-room service, and any other touchpoints your guests will have with the property. Sometimes, hotel payment providers also support countertop and kiosk integrations, which can fully transform the guest experience for those who don't want or need face-to-face interactions.
Accepting major global payment methods and payment gateways
Hotels typically provide payment methods that are easier to integrate and more familiar rather than the ones their customers actually prefer. You won't know how many customers you've been losing before you provide all the main local and global payment options that you can.
This includes such payment methods as
Credit card networks (global - Visa, MasterCard, AmericanExpress, Diners, local - China Union Pay, Japan Credit Bureau, European Cartes Bancaires, etc.)
Online banking (iDEAL, FPX, CUP Online, etc.)
E-wallets (global – Apple Pay, Google Pay, Samsung Pay, local – Alipay, WeChat Pay, etc.)
Bank transfer
You don't have to implement every method known to man, but you need the freedom of knowing that you can.
The same goes for payment gateways. Your
choice of a payment gateway
will depend on the complicated fee structure, international availability, and many more, so going with standard PayPal and Stripe might not be your best option. Consider what available plugins the payment solution already has, so that the setup is simple and smooth.
With a hotel payment solution, you don't have to set these technologies up manually – many of them are available for you to turn on and off depending on your customer base and their locations.
Payment dashboard and analytics
To learn what payment methods bring you the most value and to understand your guests better, you need reports. Payment solutions often have dashboards providing insight into the hotel's financial performance across the locations, updated in real-time. Sometimes, you can tailor them to your liking.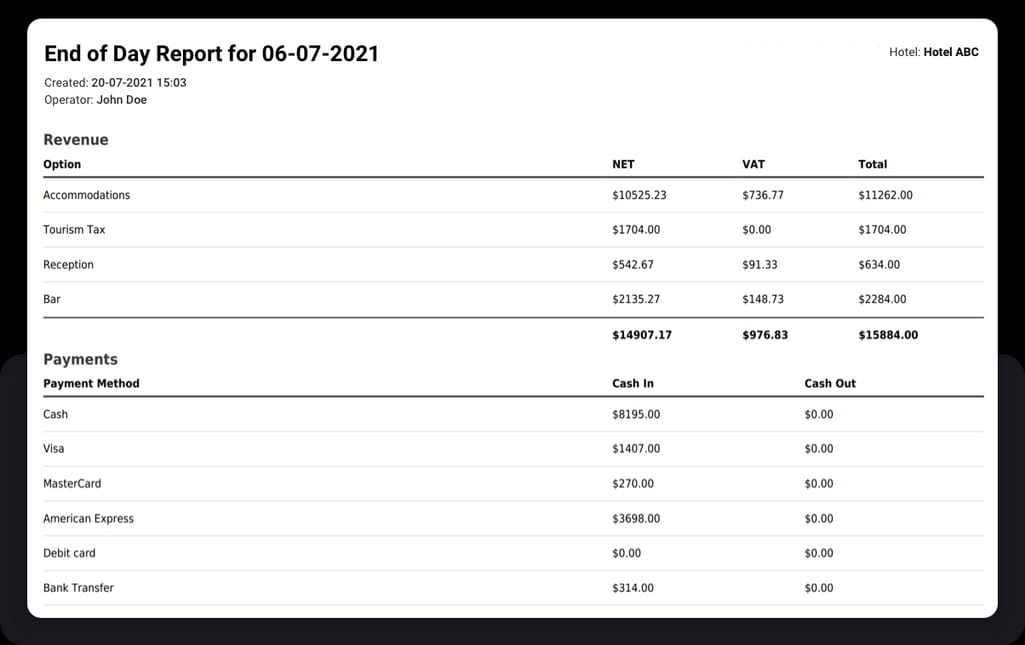 Example of a payment report Source: Hotelfriend
Of course, if you have larger analytical goals, you might opt for a
dedicated hospitality business intelligence
product, but for many, just having concise online reports will be a great improvement already.
Data security and compliance
This is kind of obvious but definitely worth mentioning here. To accept and process card payments, your software must be PCI-certified and PSD2-compliant. These standards ensure that customer data is protected and allow businesses to safely store and process it.
There's also sometimes functionality to support your business from fraud. For example, a feature of card preauthorization will help you ensure that guests have sufficient funds prior to arrival. Some vendors will also provide support when defending claims against fraudulent chargebacks.
But if you're looking for cutting-edge
fraud detection technology
, you'd have to acquire such products separately, so don't expect from your payment provider much AI-induced magic.
Main hotel payment solutions, compared
When facilitating online payments, hotels are not very different from eCommerce businesses. This means that you don't necessarily need specialized hotel software for payment processing. You can simply integrate with a payment gateway like Stripe and PayPal or adopt an end-to-end payment solution like Windcave or Paya. Your PMS or booking engine hopefully allows you to easily implement such products.
In this section, we want to talk about hotel-specific payment processing, often offered by travel tech vendors. Not only are those companies typically smaller than general-purpose vendors, but they are also experts in the hospitality field, so you can expect that their payment functions are tailored to your needs, both guest and B2B ones.
There are a few ways you can implement such products.
An add-on to your PMS or CM
. Many property management systems and
channel manager
providers have extra tools for payment processing. Typically, they come as a part of an advanced pricing tier and provide the fastest and most seamless integration. The price for that would be the lack of choice, so you'd have to consider if you want to work with a known vendor or explore your options further.
A plug-and-play integration into your PMS
. Popular systems have marketplaces providing simple integration to a few select third-party providers. Acquiring a separate payment solution will be more expensive, but will allow you to choose your payment processor better. Of course, to a certain extent as the list of integration is always limited.
A custom integration via an API
. If you have engineers on the team, they will help you set up a connection with pretty much any provider. This will take more time and will be more expensive, but we always recommend going the custom path if you have resources and ambitions.
So, let's review a few popular options.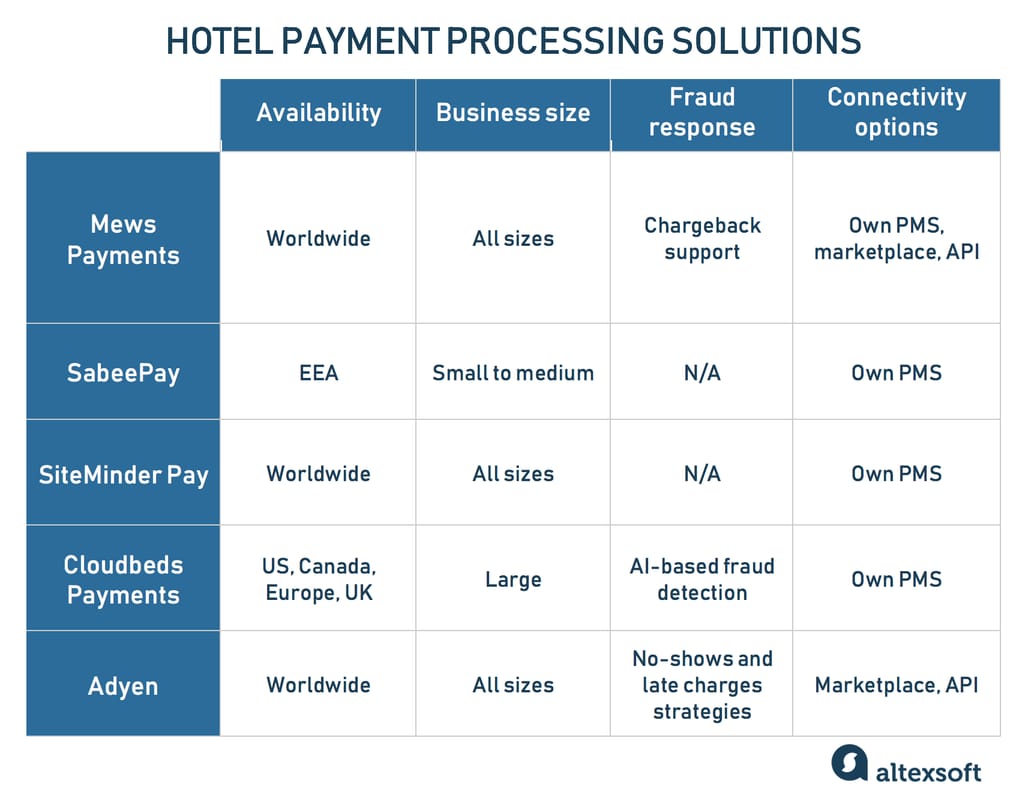 Comparing hotel payment solutions
Mews Payments – easy to adopt and grow for all business sizes
A cloud hospitality software provider, Mews' ecosystem of tools allows you to create your own modular system.
Mews Payments
is one of their independent modules that work smoothly with other ones like Mews Operations or Mews Business Intelligence.
Mews processes payments online, through a gateway, and offline, via a terminal or a kiosk. Their current payment methods include Visa, MasterCard, American Express, iDEAL, Apple Pay, Google Pay, Samsung Pay, JCB, UnionPay, Diners Club, and Maestro. They also recognize VCC payments and adjust the process accordingly.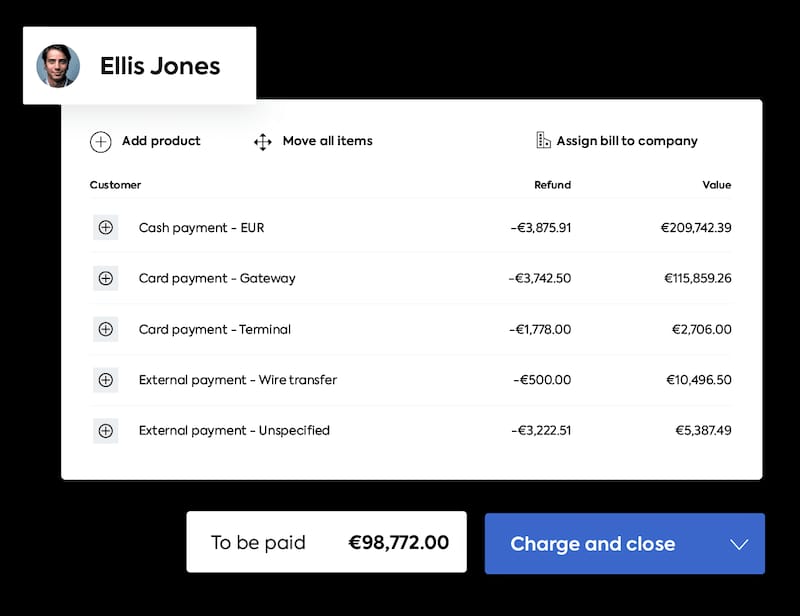 Mews Payments dashboard example
Apart from the standard payment processing features, Mews offers a massive marketplace of integrations, including 51 point-of-sale systems, 26 BI tools, and 44 accounting tools, allowing you to create a financial ecosystem in just a few clicks. Alternatively, Mews' well-documented Open API will make it easy to establish a connection with any provider not on their list.
Verdict
. With their 24/7 customer support and training and onboarding program, Mews is a great choice for those looking to switch from manual payment processing and ready to expand in the future.
SabeePay – simple solution for small to medium hotels and property owners
Sabee is another hospitality provider. While its basic software includes a PMS, a channel manager, a booking engine, and a marketplace,
SabeePay
comes as an add-on and can't be purchased separately.
SabeePay processes physical, online, and in-terminal payments, as well as VCCs. They're currently accepting 15 currencies, but are only available in the European Economic Area. They also make it easy for you to directly order POS terminals from their partner myPOS, though you're free to integrate with any other POS provider via their
Connect API
.
SabeePay ecosystem
Verdict
. Their subscription pricing model and a free trial period make Sabee a great tool to test without commitment.
SiteMinder Pay – a neat addition to your channel manager
The leading channel manager provider, SiteMinder has a hotel payment processing tool called
SiteMinder Pay
. They've used their experience in hotel distribution to seamlessly manage deposits, payments, and refunds from 450 online distribution channels.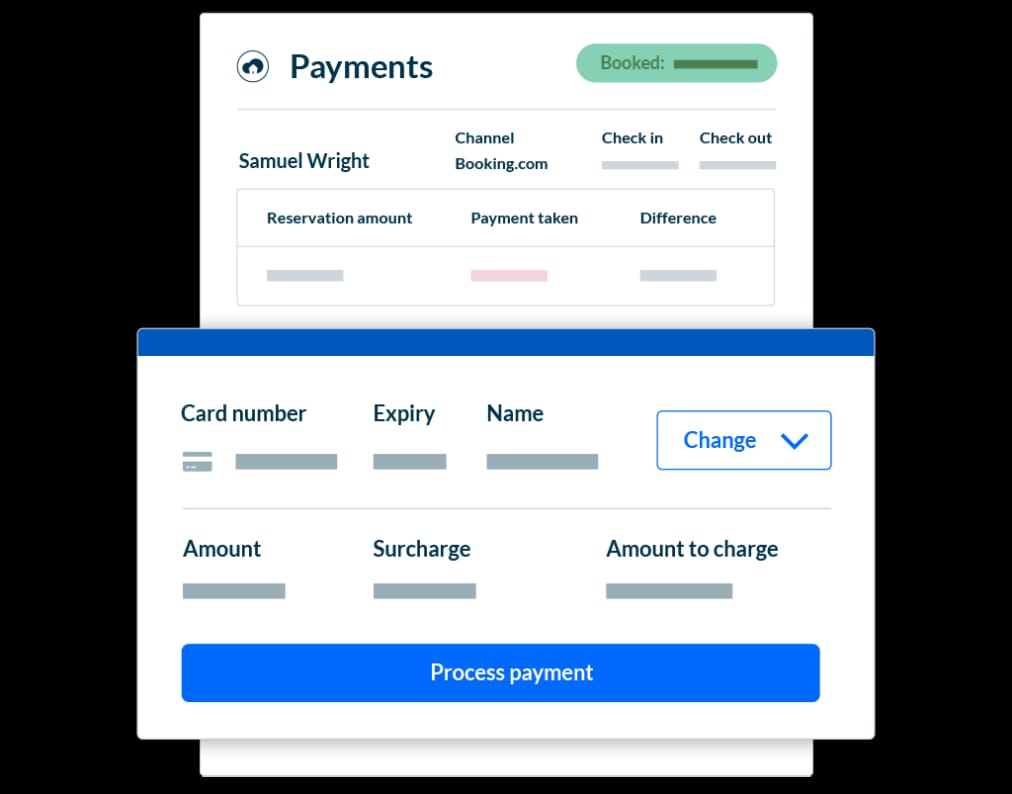 SiteMinder Pay interface example
SiteMinder Pay is focused on online and contactless payments, accepts all major credit cards and virtual credit cards from OTAs, and provides a handy dashboard with real-time updates.
Verdict
. You will have to figure out your POS payments separately, but if you're a larger business accepting tons of payments from tons of channels, this is a great tool to have on your workbench.
Cloudbeds Payments – end-to-end tool for large hotel chains and resorts
Another leading CM and PMS provider, the Cloudbeds platform has a separate
Cloudbeds Payments
product, currently available in the US, Canada, Europe, and the UK. Accepting payments both online and in-person, it also provides you with terminals like Sabee.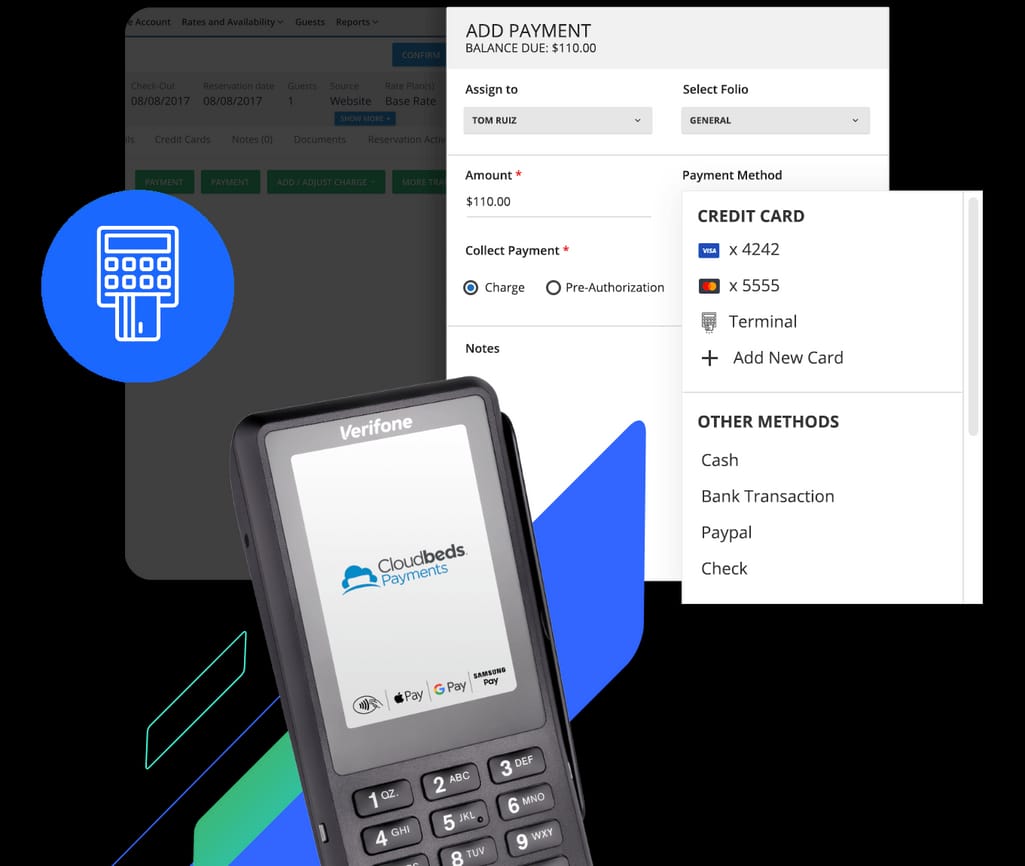 Cloudbeds Payments' robust capabilities
All payment methods replete with bank transfers and checks, detailed reports, various currencies, even advanced fraud detection tools make Cloudbeds a great partner. Have in mind that it's available as an add-on at extra cost to your Cloudbeds account only if you're using the Enterprise tier.
Verdict
. If you're a Cloudbeds client with a few hundred rooms to operate, there's no better payment solution out there.
Adyen – robust and PMS-agnostic
A leading payment management provider,
Adyen
is the only one on our list not hotel-focused. Yet their partnerships with the largest PMS providers such as Oracle Hospitality, Infor, Sabre, Protel, apaleo, Clock PMS+, and more earned Adyen a place in this overview. You don't have to be loyal to any PMS or booking engine to use it.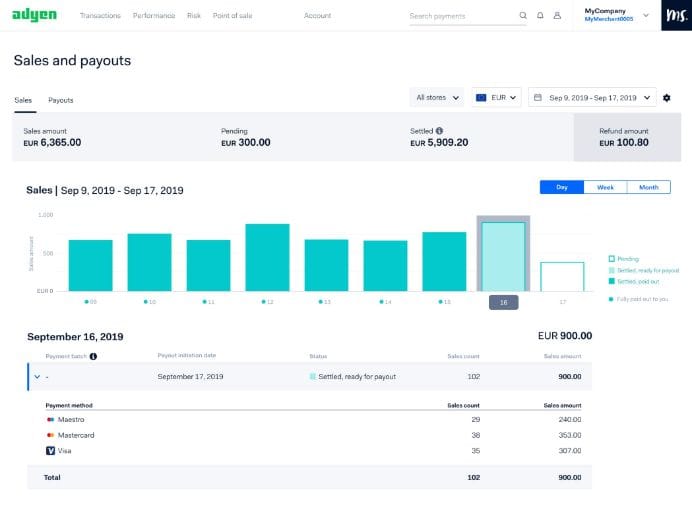 Adyen payment dashboard
Adyen positions itself as a tool for all types of hospitality businesses, from luxury resorts to B&Bs, and it looks as versatile as it is. Dynamic currency conversion, a myriad of payment methods from QR codes to wearables, card preauthorization and tokenization are just some of its hospitality-friendly features.
Verdict
. Adyen is a robust tool that can also be implemented as your first payment processing solution. A great option if they are partnered with your favorite PMS.
Start prioritizing payments today
Whether you're finally considering switching from paper and pencil to a payment solution, changing a payment processing provider, or upgrading your PMS with advanced payment tools, this change will positively affect your business on the whole.
Data security, guest experience, productivity, being competitive with OTAs and other properties are all affected by your payment technology strategy. Supporting all of these areas will relieve your and your staff from no longer necessary tasks and give you peace of mind. Of course, you need to invest in such improvements. We hope we managed to persuade you to put that on your 2022 agenda.