In one Hotel Hell episode, lodge guests had to search for a front desk employee by themselves. Eventually, a bartender checked them in with a pen and notebook...The property owners didn't have an online booking system and were losing a significant amount of revenue they could have used for development. This situation is more an exception than a rule. Businesses understand that the only way to attract modern, tech-savvy travelers is to focus on online sales across numerous travel markets, including their own websites. And that's a lot of manual, time-consuming work for one person. How to make inventory distribution smooth and stress-free? With channel management software.

We've already discussed APIs and services for custom channel management. This time we contacted specialists from Cloudbeds, SiteMinder, and eZee Technosys to talk about channel management functionality and get recommendations on a solution choice.
What is a hotel channel manager?
A channel manager is a software tool that enables achieving multichannel inventory distribution with instant updates of prices and availability. In other words, it allows you to simultaneously sell your inventory across several websites and provide customers with actual information on prices and a property occupancy.

A channel manager can be a stand-alone solution or part of a hotel's property management system (PMS) or central reservation system (CRS).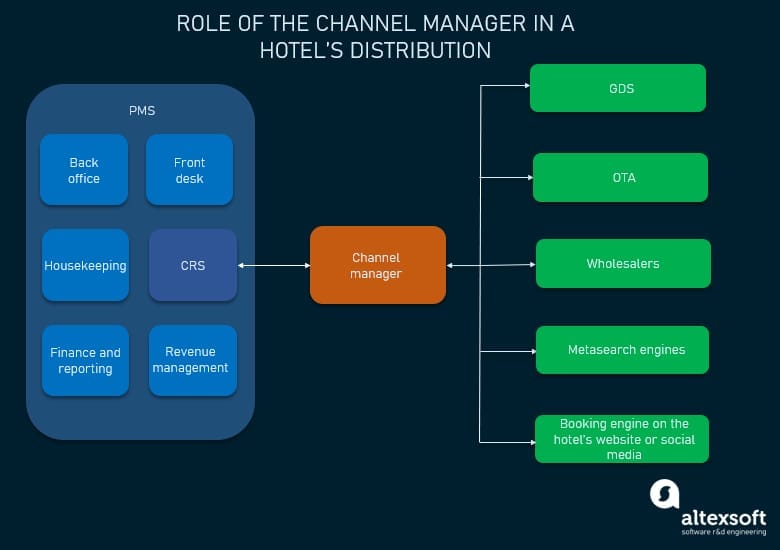 A channel manager's function related to a property management system
If you're new to hotel distribution and the way connectivity is achieved in the hospitality industry, we have a comprehensive article on the main travel APIs as well as a video explainer to provide you with an overview. Skip it if you look for deeper insights into channel management.



So, there are 3 main reasons why property owners use channel managers: managing distribution, ensuring consistency across channels, and providing analytics. Let's take a closer look at each of them.
Managing distribution across multiple channels
Needless to say, managing and diversifying the hotel's distribution is crucial as promoting your property through a variety of channels increases visibility, drives occupancy, and consequently, increases profit. Developing a successful distribution strategy is about choosing the right number and mix of channels.

There are multiple channels available for hotels to distribute their inventory.

An Online Travel Agency, or OTA, is an online platform that gives travel consumers access to various travel products and services. It's one of the main distribution channels for hotels as millions of travelers use OTA websites like Expedia or Booking.com to arrange their travel due to huge marketing investments from these companies. Learn more about OTAs in a dedicated article.

Becoming increasingly popular, vacation rental listings such as Airbnb and HomeAway operate in a similar way, charging property owners a monthly fee or a fee per booking. The difference is that they often also charge guests and mostly deal with short-term rentals of private properties or shared-space accommodations.

A Global Distribution System, or GDS, is a worldwide network that connects travel service providers (hotels, airlines, car rental companies, etc.) to travel agencies. The three major ones are Sabre, Amadeus, and Travelport. Each GDS aggregates inventory, rates, and schedules information from the providers and allows travel agents to book their services. This channel can help promote your inventory globally and attract corporate travelers. Here's an article for more information on how GDSs work.

Metasearch platforms such as Google, Kayak, or TripAdvisor make your property visible to travelers that make general inquiry searches. Such websites present to consumers a list of options and either redirect them to the hotels' websites to complete a reservation or allow for booking directly (there are certain limitations, check Book on Google and Instant Booking on Tripadvisor).

Wholesalers, or bedbanks, buy hotel rooms in bulk at discounted rates for further reselling. We have an article about the major bed banks and how they operate.

Social media and the hotel's own website are the primary channels for direct bookings. An integrated booking engine allows travelers to manage their reservations directly. To maximize the performance of this channel, you have to develop an attractive mobile-friendly design, invest in online advertising, and consider SEO practices to increase ranking.

Gregor Vogel, director of product at SiteMinder, defines the role of channel management software the following way:

"At its core, a channel manager creates a two-way connection between a hotel's property management system and that hotel's chosen marketing and sales channels, be they online travel agencies (OTAs) like Expedia, metasearch sites like Trivago, wholesalers, tour operators, travel agents, and even their own hotel Brand.com website. It literally connects the hotel's PMS to those channels, so property owners can instantly and simultaneously distribute all their rooms on the Internet, and have reservations delivered back to them just as fast."

Cloudbeds specialists in their Big Book of OTAs note that channel managers can simplify and speed up the connection with third-party websites, which may "take days-long to complete."
Providing consistency throughout the chosen channels
As a reservation may be made at any moment, a hotel must ensure that rates and availability information are up-to-date on each of these sites. The more channels accommodation providers use, the more difficult it is to manually track reservations, and update prices and calendars. A channel manager also frees property owners from managing inventory and distribution by themselves. Once someone books a room or a property on a third-party website, a channel manager receives and confirms the reservation and marks it as occupied at other marketplaces.

"The real-time syncing and delivery of information means, as a property owner, you know the room rates and availability that you have displayed online are always the most current, so you can increase your chances of getting booked and therefore grow your revenue," continues Gregor Vogel.

Thanks to real-time updates of availability and price data, hospitality entrepreneurs can easily forget about the embarrassment of overbooking. "It also means you can eliminate your chances of getting double booked or overbooked, so you no longer have to worry about time lags and human error or be in the awkward position of telling your guest upon arrival that you don't have a room available for them."

Another benefit of a channel manager is that it helps avoid rate parity issues. Rate parity is about keeping a consistent rate across all the distribution channels. This way, OTAs make sure that hotels don't offer discounts to drive direct bookings. Channel managers allow for managing your rates throughout the sales channels simultaneously or separately. For more details, check our video dedicated to the ongoing rivalry between hotels and OTAs.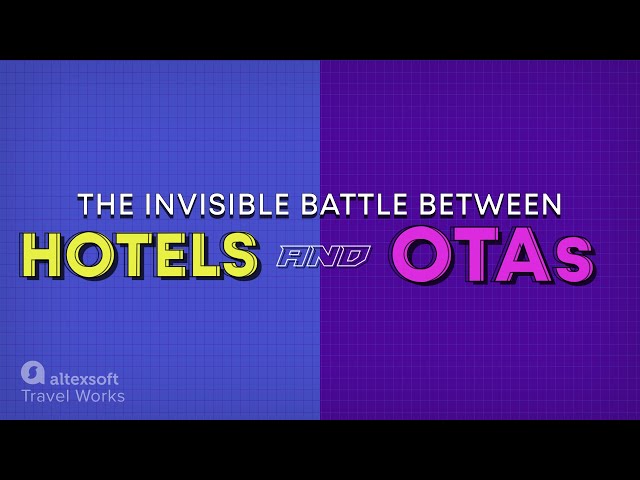 Analyzing data and creating reports
Every channel manager provides analytics and reporting. The software collects and maintains booking data across all channels and presents it in charts, diagrams, and other graphic forms. Property owners can access information on occupancy, reservations, or revenue for a specific period at any time. That way they can define high- and low-performing channels and adjust their distribution strategy.

Eventually, this software is a time-saver. Hoteliers can concentrate on making guests feel comfortable in their temporary home.

"The job of hoteliers is incredibly demanding these days. Not only are they expected to be experts in hospitality; they're expected to be experts in revenue management, online reviews, social media and everything in between, all while having to tend to the guest standing in front of them asking for a new set of towels. By automating an otherwise tedious and costly process of updating several extranets manually, a channel manager can give hoteliers countless hours back in their day, so they can focus on their guests rather than technology," concludes the specialist.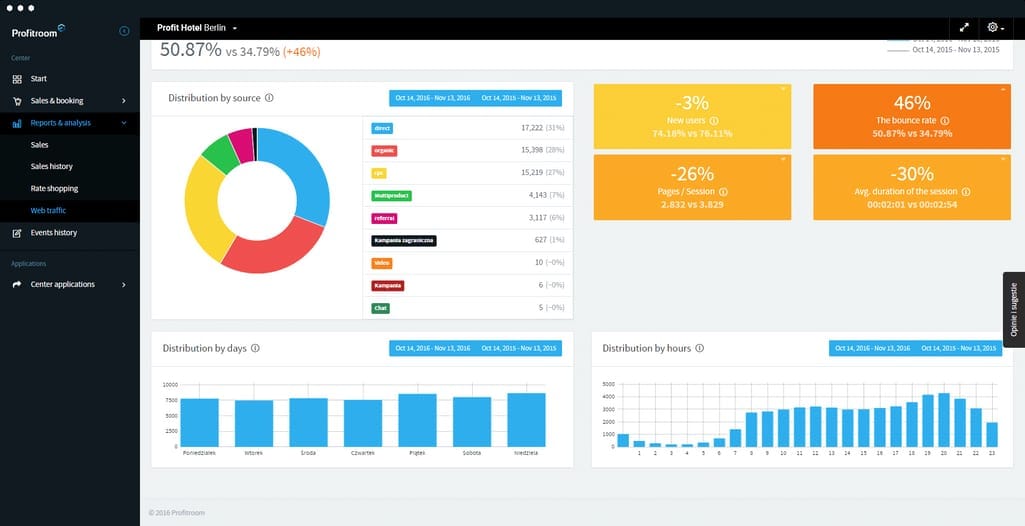 The Profitroom channel manager analytics interface
How to choose a channel manager? Features and aspects to consider
Before we talk about the products that exist on the market, let's discuss the main points to be considered when you choose a channel manager product for your hospitality business.
Define optimal channel mix
The first aspect lies on the surface. Keeping in mind that you need a channel manager to increase your online visibility and welcome more travelers, it must connect with channels that are optimal for your property and the experience you offer. More importantly, a channel manager should provide quality connections to channels used by the types of guests you're hoping to attract. "If you're a hotel looking to attract Chinese travelers, for example, you will want access to the booking channels that Chinese travelers use most, like Ctrip or Fliggy. The makeup of travelers is constantly evolving, so gaining access to these more niche channels, as well as the top global ones, will allow you to broaden your distribution strategy and attract new types of guests," explains Gregor Vogel from SiteMinder.

It's not only about big brands, thinks director of global partnerships at Cloudbeds Sebastien Leitner. Listings on popular OTAs help accommodation providers drive direct business. But channels catering to a dedicated customer base must not be ignored. "Most hoteliers understand they need to connect to large players such as Booking.com and Expedia. While those players aren't going anywhere, there is a move towards niche distribution channels that can cater to a property's unique experiences and customer segments. Hotels that stick to their legacy list of channels will ultimately lose out on incremental revenue and miss an opportunity to meet guests where they are shopping," says Sebastien.
Ensure two-way XML connectivity
Fast connection between a PMS and chosen third-party channels as well as your booking engine is one of the must-have features for a modern channel manager usually realized with the XML data format. Two-way connectivity implies systems continuously exchanging data about rates, bookings, availability, and restrictions. Using such channel managers, property owners can avoid overbookings and pricing that doesn't match reservations. The speed with which a channel manager updates your data is also important. Channel managers with higher update speed also allow hotels to reduce overbookings and rate disparity cases, notes team lead of content marketing at eZee Technosys Manasi Shah.

"Hotels get reservations daily from their channels. Now often they might receive walk-ins or sudden (unplanned) bookings on a day-to-day basis. In such cases, hotels need to update their inventory on the channels immediately, as someone might be booking a room which is not actually available (which is what happens at the time of overbookings.) Similarly, selling the right room at the right price at the right time is the key to a hotel's success and revenue growth. Rate updates on the channels, if not done on time, may lead to revenue and booking loss to a hotel. Besides, the hotels' rankings on OTAs also improve owing to the consistency maintained with the rates and inventory," adds Manasi.

While in most cases apps or services are connected via APIs, there is also an iCalendar (iCal) format for sharing calendar and scheduling data. It's a lot more limited than APIs as it doesn't allow for sharing, for example, any pricing information, but can come in handy when for some reason the API connectivity can't be used or you have too few properties to qualify for some channels. If that's your case, check if your channel manager provider supports syncing via iCal.
Look for PMS/CRS integration for booking automation and speed
Inventory availability is updated instantly when a channel manager is compatible with your PMS or CRS. That means travelers always see the exact number of vacant rooms, beds, or properties. In turn, you fully use your assets and avoid reservation and pricing errors. So, you should ensure a software seamlessly integrates with your current property management system.

It's also worth providing integration with your revenue management system (RMS) to have full control over the rates and effectively manage profit. If such two-way integrations aren't available out of the box, you have to consider partnering with an outside integration provider to set them up for you.
Prioritize pooled inventory
Look for a channel providing a central location for inventory management. Pooled inventory allows you to simultaneously distribute all available rooms on various channels, including your own website, without the risk of double bookings or overbookings. For instance, a booked room or property is automatically removed from a list of available inventory across all channels.
Check whether system has centralized content management
A well-showcased property is a busy property. A user wants to know everything about a place of interest: policies, interior design, amenities, attractions, etc. A modern channel manager must allow you to edit content across all channels at once. In other words, it has to integrate well with other channels' management systems. "Distribution is no longer about syncing inventory and rates," notes Sebastien Leitner from Cloudbeds. "Richer integrations allow for centralized management of content which can streamline initial registration/contracting all the way through ensuring seasonal photos and offers are accurately synced across channels. The ability for distribution technology to seamlessly manage and sync content can save property's time and, more importantly, drive reservations."
Assess analytics and reports capabilities
Informed is forearmed. Opt for a channel manager providing detailed analytics and reporting. Insights on revenue per channel, booking volume, total revenue for a specific amount of time, competitor analysis, or parity rate will help you develop your distribution strategy.
Inquire about security
Hotel reservations deal with such sensitive data as your guests' personal and payment information. Your inner systems (PMS, booking engine, and channel manager) as well as distribution partners handle this private data, so it's important to ensure maximum safety is provided. Ask the channel manager provider about the connections security and also major standards compliance such as the Payment Card Industry Data Security Standard (PCI DSS), Strong Customer Authentication (SCA), and General Data Protection Regulation (GDPR). We discussed what data protection regulations are about and how to comply with GDPR in a dedicated article.
Seek fixed pricing
You've researched multiple channel managers, compared their functionality, and bookmarked those that meet your requirements. Now it's time to estimate how much each of the solutions would cost you. It's not a difficult task if a vendor provides several pricing plans. But what about additional fees per each booking or a percentage of a channel revenue? Our advice is to consider vendors that provide fixed monthly payment options. A price for each plan depends on a set of functionality and the ability to customize and scale a solution. Most vendors also follow a "try before you buy" strategy, so you can test each of the products and decide which of them is right for you, if it has an intuitive interface, integrates seamlessly with marketplaces and systems, and updates travel-related information instantly. Another benefit of a demo version is that you can check whether a customer support team is responsive and professional.
The main channel managers on the market
Regardless of the type and size of property you manage, you can find software whose functionality will meet your requirements and needs. As we mentioned earlier, some channel managers are integrated into a hotel's PMSs or CRSs. At the same time, there are companies providing channel managers as separate products. Let's take a look at some of the most popular solutions in more detail.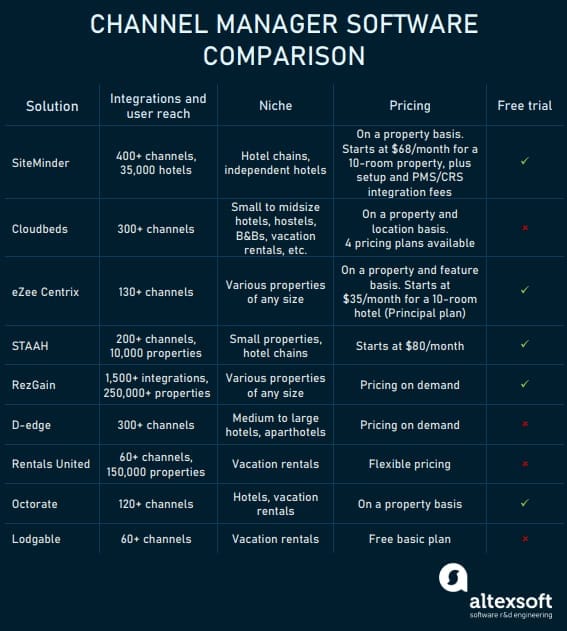 Channel manager software comparison
NB: Since Airbnb has become one of the major players on the hospitality market and even managed to beat Expedia in the number of bookings (here's more interesting statistics on its performance), most of the software providers established a partnership with this platform. All of the listed below vendors offer an integration with Airbnb out of the box.
SiteMinder: best all-in-one solution for hotel chains
SiteMinder is a global online hotel marketing and sales company with more than 35,000 hotels using its services and solutions. The Channel Manager, one of the products within the SiteMinder platform, is developed for both independent hotels and hotel chains. It provides a two-way connection with 400 channels (OTAs, wholesalers, and GDSs) and currently integrates with 300+ PMSs/CRSs.

The company was the first industry player to allow boutique hotels and B&Bs to set a real-time connection between their PMSs and the accommodation sharing platform, notes director of product at SiteMinder Gregor Vogel.

The software supports a pooled inventory model and allows hoteliers to simultaneously manage image and text content on all third-party sites. Reports on yield and performance of each of the channels are accessible through a dashboard. Travelers can securely pay for accommodation in multiple currencies; payments comply with PCI DSS.


Demo video about SiteMinder channel manager
Cloudbeds Сhannel Manager: popular and niche marketplaces for independent hotels
Property owners from more than 135 countries choose Cloudbeds as their hospitality management software vendor. The company offers a cloud-based Channel Manager that can establish a two-way connection with more than 300 third-party websites (including metasearch platforms). It's a module of Cloudbeds property management suite and can be used separately or together with the PMS. While the software is designed for small and medium independent properties, hotel groups can also use it: Developers add new functions to make inventory distribution more convenient for them.

Cloudbeds Channel Manager connects with both popular OTAs and niche marketplaces for bed and breakfasts, hostels, hotels, vacation rentals, guest houses, ranches, campgrounds, inns, etc. Every listed channel comes with brief info on property types and locations, making it easier for users to choose necessary markets. Property owners can set and quickly update rates specifically for each channel and convert them into various currencies. Pricing is available on demand and depends on the property location and number of rooms, as well as features provided.
eZee Centrix Hotel Channel Manager: rich functionality, mobile version, data analysis for various properties
Centrix Channel manager by eZee Technosys is suitable for both small properties and larger ones with up to 1000 rooms. Businesses can list and sell their inventory on more than 130 online channels, including OTAs, GDSs, as well as vacation rentals (+30) and metasearch engines. Centrix can be integrated with 20 third-party PMSs, as well as its own hotel management solutions – eZee FrontDesk and Absolute.

The solution automatically updates prices and availability across all channels in real-time, preventing data mismatches and increasing booking opportunities. Along with getting booking details, the channel manager fetches OTA vouchers.

Users can choose among several deployment options – SaaS, Web, and cloud. The solution also runs on mobile devices, so entrepreneurs aren't tied up to a workplace anymore.

eZee Centrix provides detailed business insights and data analysis. Such insights as revenue by a selected channel or revenue monthly breakdown "can be accessed anytime from anywhere." Three types of activity logs ensure the security of transaction and inventory data.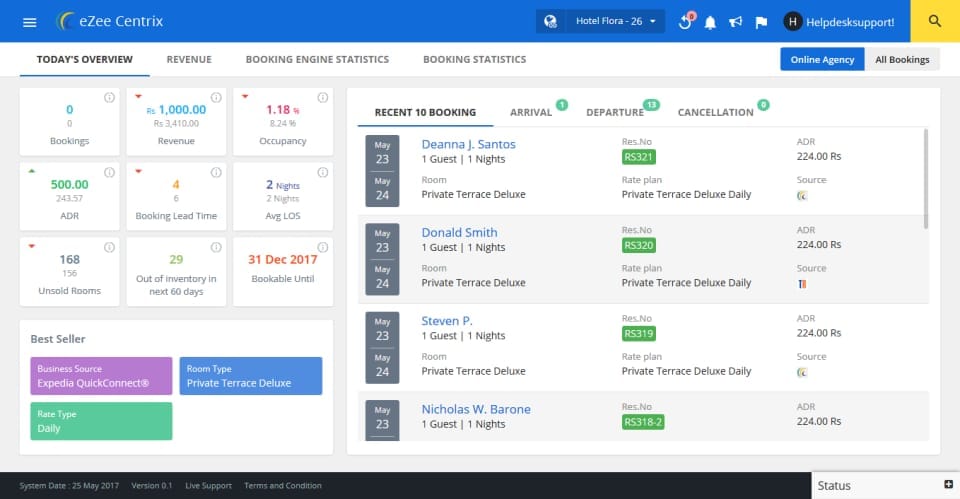 Daily performance insights in eZee Centrix channel manager
The channel manager allows you to monitor competitor rates in real time with the Rate Shopper Tool. It also analyzes offers competitors place on their partner channels and forecasts prices for the next 30 days. However, the Rate Shopper Tool isn't free and costs 4 dollars per month.

There are four pricing plans that depend on the property type, number of rooms, and desired functionality scope.
STAAH: solutions for both small properties and hotel chains
Over 10,000 properties from 90 countries use STAAH solutions to distribute their inventory across more than 200 channels, including OTAs, GDSs, payment gateways, and other booking systems. The company provides two product versions – Instant and MAX Channel Managers.

Instant Channel Manager supports instant bulk updates of rates and availability via a dashboard. Inventory is sold from a central pool to decrease double bookings. Analytics suite allows users to evaluate how successfully they run their business. For example, they can track sales across channels, determine rates and stop sell limits, check booking statuses and a percentage of reserved rooms by type, or compare current results and historical results.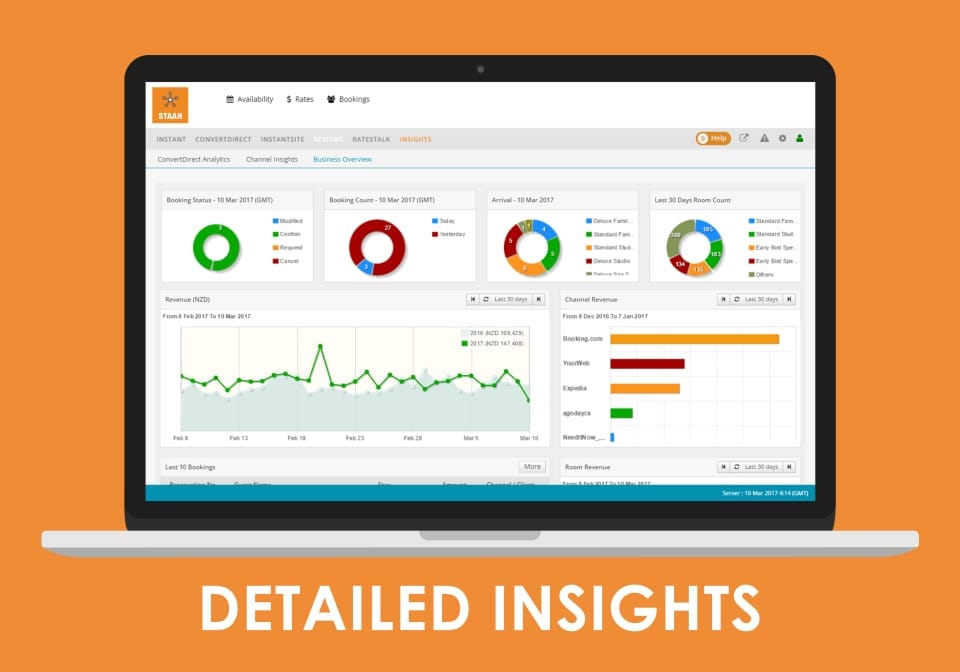 Performance insights in STAAH Channel Manager
MAX Channel Manager is designed for hotel chains (with its group view, reporting, and centralized management) and comes with revenue management features, particularly up-to-minute market data monitoring for dynamic pricing.

Both channel managers can be complemented with the RateSTalk tool for competitor rate comparison. Users can check the rates of up to five competitors for any seven-day period (data is presented in graphic forms). Property owners can accept and confirm reservations on the go with the STAAH Mobile App.
RezGain by RateGain: smart distribution and revenue management
According to the official website, RezGain channel manager is used to manage more than 250,000 properties in over 120 countries. The software is supported by DHISCO distribution technologies and provides more than 1,500 integration options, which includes partnering with 900+ tour operators, major OTAs, GDSs, wholesalers, as well as PMS, CRS, and RMS providers. It offers an automated mapping feature, a channel recommendation tool, and easy new channel setup.
There is no mobile app, but developers say that the system is compatible with smartphones and tablets. Rate parity assurance, analytics, 24x7 chat support, and regular online training sessions, trial accounts with one channel are some other perks RateGain has in store.
Other products to consider
While we haven't included all products available, let's mention some of less widespread but still decent options as you may also consider checking them.
Final words
A channel manager is an integral component of multichannel inventory distribution strategy. It allows you to simultaneously manage reservation, prices, availability, and guest data, as well as image and text content from one place. However, just having a channel manager doesn't guarantee that travelers will queue to book rooms in your properties. You must choose a solution that fits you in terms of budget, property type and size, as well as one that smoothly integrates with a property management system and third-party websites with which you aim to partner. Connectivity options, a channel mix, analytics capabilities, and excellent customer care are factors you should consider as well.

Interested in travel APIs? Check our other pieces on the topic:

Main travel and booking APIs

Flight and air booking APIs

Airport transfers APIs and solutions

NDC connections and APIs

Low-cost booking APIs

Hotel APIs

Car rental APIs

Tours and attractions APIs

Custom channel management in hotels APIs

Public transportation APIs

Restaurant and table reservation APIs