Airline product distribution has always been a challenge. Since the emergence of
Global Distribution Systems
(GDSs) and migration to digital marketplaces, airlines have been constantly locked in their
marketing efforts
. The
GDS-centric system
blurred the distinction between carriers. Besides, airlines stuck with GDSs didn't get enough customer data to offer personalization. This led the whole industry to seek new ways of selling their products.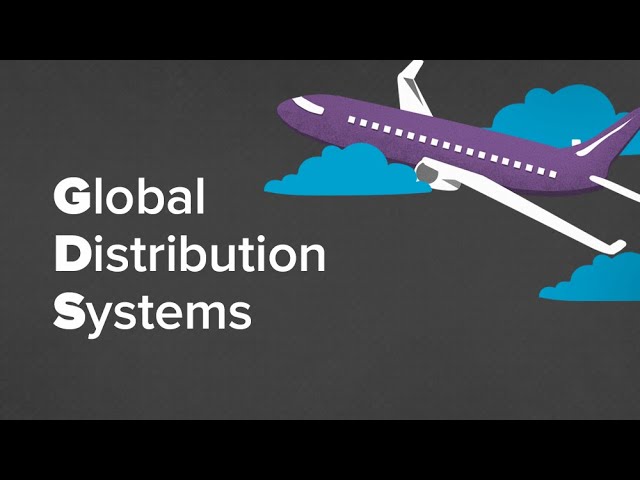 How airline distribution works in a nutshell
In 2012 the
International Air Transport Association
, or
IATA
, announced the
New Distribution Capability (NDC)
program. NDC is a data exchange standard intended to replace the old
EDIFACT protocol
used by GDSs for direct distribution of travel products. This became the first legacy system modernization effort that helped airlines move closer to the retail model. But the overall transformation is just beginning.
Enabled by NDC, IATA facilitates the shift to a new retailing model with its ONE Order initiative. In this article, we'll analyze a relatively new standard. We'll look at the recent state of ONE Order adoption, its conditions, and define how it might impact the industry.
Because this topic is tricky to understand without a prior background, we suggest reading the following materials to be fully armed:
How airline booking works and the main documents used in it
The impact of NDC on the airline industry
NDC key providers, GDSs, and implementation scenarios for airlines
What is PNR?
What is ONE Order in a nutshell
ONE Order
is a standard that aims at simplifying data exchange between airlines and distributors. Historically, three types of records are used for data transfer: a document containing traveler data and flight details, a document for ticketing and billing, and an additional one for ancillaries.
The core idea of ONE Order is to use a single document type instead of three to manage order exchange. All told, storing all the data in a single container for information interchange would simplify data updates and order management.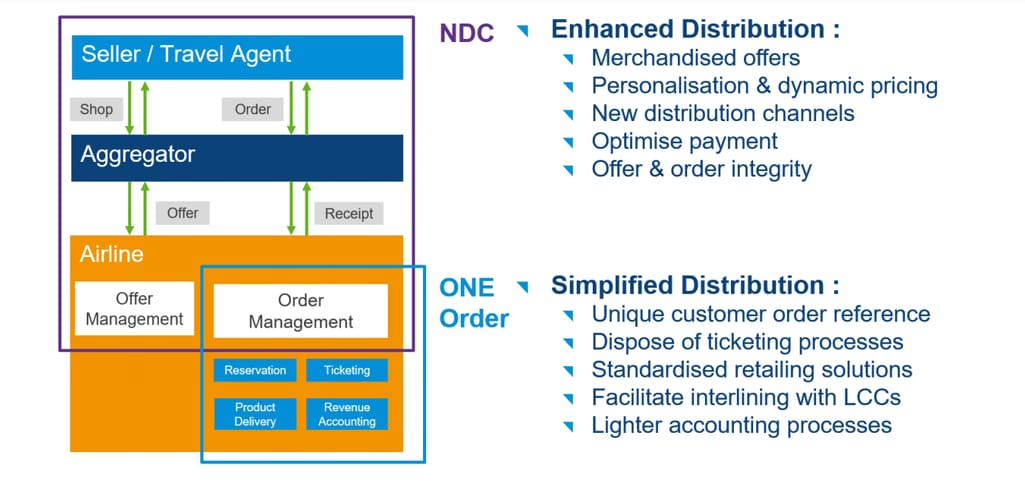 NDC and ONE Order capabilities from the perspective of airline distribution
Source: www.iata.org
ONE Order is an extension of the NDC program, already adopted by the airline industry leaders. In short, that's all you have to know about the program, if you have a strong understanding of how offers and orders work in air travel and how they are managed. If this information is enough for you, we suggest you go to the ONE Order benefits section for further reading.
If you need deeper explanations, the following section explores the concept of order management and record types used in it.
Order handling in legacy systems: PNR, ETKT, and EMD
Currently, the travel industry operates its offers and orders with the help of legacy systems and data record types. These records are basically documents passed between airline companies and distributors. So, when we speak about offers and orders, we assume the way airlines send and receive data about the products and services purchased.
An offer
is the way an airline represents its inventory to distributors. Basically, it contains availability, prices, schedules, destinations of flights, on-board services. Everything the airline wants to present to the customers is an offer.
An order
is the information that comes from the customer side. It includes items ordered, passenger personal data, payment information, additional services, dates, etc. In legacy systems, order management is handled via three types of data records:
Passenger Name Record (PNR)
. The PNR is a traveler's personal code generated from their personal information by the airline or GDS (depending on the reservation place).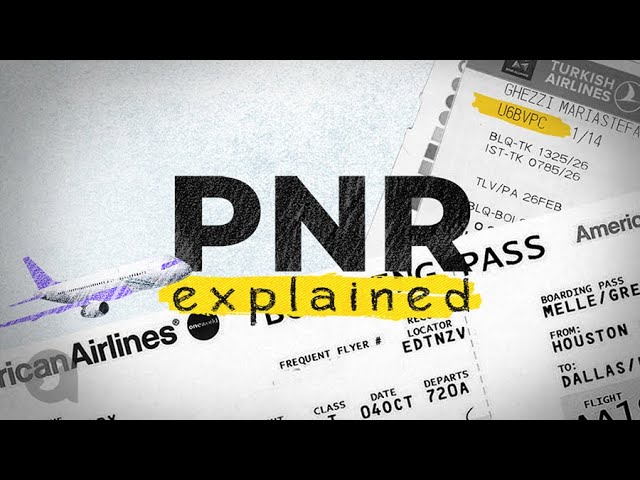 What is PNR?
PNR content may vary depending on the company it is generated by. But the main items of information are flight itinerary, passenger information, their contacts, and ticket number.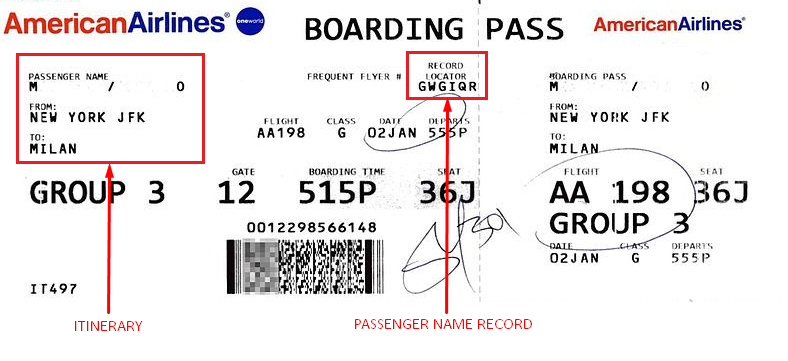 PNR example on a American Airlines ticket
Source: www.pinterest.com
ETKT
or
e-ticket
is a digital equivalent of a paper ticket, which became mandatory for issuing in the airline industry in 2008. Issued tickets are generated and linked to an individual PNR.
E-tickets are issued either by the airline, or by an
IATA certified Online Travel Agency
after the payment is complete. It basically takes a couple of days for all the members of the
payment process
to validate data. After that, the funds are settled, ticket issuers receive the confirmation, and generate an e-ticket that is sent to the customer. So ETKT serves ticketing purposes.
Electronic Miscellaneous Document (EMD)
is a non-flight record, containing information about purchased ancillaries. Those include additional services like on-board meals, luggage, etc. The information of the services varies by the sphere of travel. You can download a complete list of codes from
ATPCO
.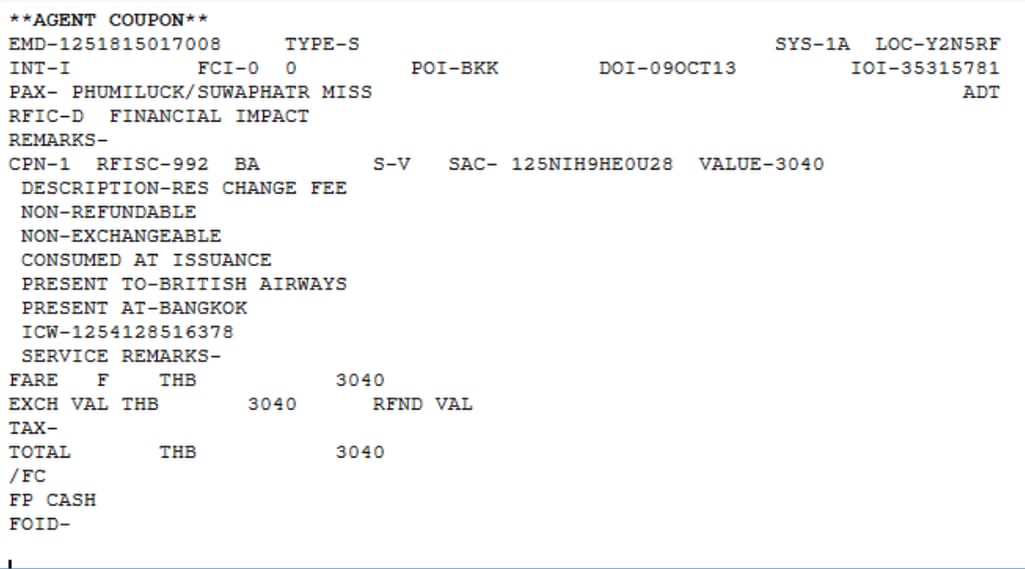 EMD example
Source: www.thaiamadeus.com
Each of these records mentioned constitutes order creation in legacy systems. This is how the information on ordered tickets and ancillaries is passed on in the airline industry today.
Order management with ONE Order
Referring to the main idea of ONE Order, the documents mentioned above will be merged into a single document. The unified container for all order data would have the following items:
PNR number;
passenger personal data;
passenger contact information: emails, phone number, passport series;
itinerary with flight details: dates, airlines, city pairs, time;
payment statuses;
ticketing information: ticket issuer, issuing date, expiration date; and
ancillary information: ordered services.
The list of data points can be different for every airline, but items mentioned are mandatory in most cases. The advantage of using a single container for all this data is simple: It is easier to access, check, or update data when it's in one place.
What ONE Order integration brings to the industry
It's too early to draw any conclusions or make predictions about One Order's impact on the industry. Running through
IATA's documentation
, we can spot many strategic points that cover desired outcomes of the program.
However, ONE Order is not supposed to be a standalone program: NDC adoption is still in progress. So, in the next sections, we'll analyze both the innovations NDC has brought to the airline industry and what ONE Order adds on top of it.
NDC basis of ONE Order initiative
Both NDC and One Order are closely related. NDC, which came first, enabled the industry to modernize the Order and Offer creation process. One of the key objectives of NDC was to allow airlines to enrich their content with the help of XML messaging, which replaced cryptic EDIFACT used by GDSs. The "enrichment" literally means including more content in offers, so customers could now book flights with ancillaries regardless of the distribution channel. Additionally, airlines could get the customer data to create personalized content.
Legacy systems provide a bunch of limitations that can be resolved with NDC and ONE Order. As we're speaking about two programs that extend each other, and facilitate the same idea, we'll run through the advances of NDC for the airline industry first.
As NDC XML is a modern standard, it offers much wider data transmission capabilities than EDIFACT. That means airlines can enrich their offers with any type of content sourced out of their inventories.
With XML messaging, airlines should be able to distribute their products directly with OTAs and TMCs. So, this could eliminate the need for GDS and break its oligopoly on the travel market. For carriers this can also reduce distribution costs, as GDSs charge fees for transactions.
Establishing direct channels would help airlines access the information about their customers that was earlier lost in the distribution pipeline. This data would make custom offers possible.
Direct channels of distribution also will help market airline products better and be distinguishable for the customers.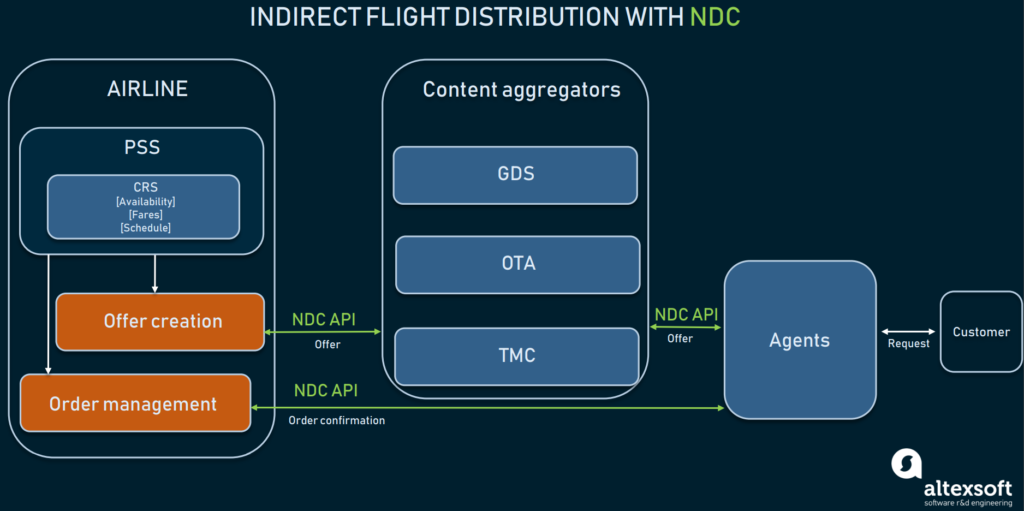 The distribution scheme using NDC channel
Now let's look at ONE Order's part in the whole transformation suite and what benefits it brings.
The benefits of ONE Order
ONE Order extends NDC by transforming order management into a retail-like model, simplifying the whole process of order record fulfillment. As in the case with NDC, IATA doesn't provide strict instruction on how ONE Order implementation should look. It focuses more on strategic points an airline should reach with the help of NDC-enabled order/offer management. So, in its basic form, ONE Order brings several benefits.
Simple order management
. Managing a single record will help the airline create a single version of truth for each order in the sales pipeline. Storing and processing a single type of record would also require less infrastructural resources, but more on that later.
Efficient billing and record editing
. Each order record is basically a chunk of information used by transaction members to validate/check their items. For example, parties involved may edit a customer's itinerary, or bought services, or check billing status. Transferring data within a single record makes it easier to access and update this information.
Reduced costs on finance operations
. As we remove manual operations with different records, financial operations and accounting should become cheaper.
Modernizing airline infrastructure
. Currently, order management in airlines is held by different parts of the Passenger Service System (PSS). There are separate systems responsible for generating, processing, and storing order records. PSS stores and processes reservation data, so that PNR, EMD, and ETKTs are generated and managed here. But, with the shift to a single record, it won't be needed anymore.
With ONE Order, airlines are supposed to move order-related operations to a dedicated
Order Management System (OMS)
. This would remove the load from PSS and give centralized access to order management within a single system.
The market of OMSs
. The OMS retail market will become accessible for airlines, and the border between industry specific technologies like PSS and OMS used in retail may possibly be blurred. Read more about
offer and order management systems
in our article on NDC adoption.
Shift to retail model
. The offer and order system is how basically every eCommerce store operates now. Bringing this simple process to the airline industry presents simpler ways to manage reservations/cancelations and order fulfillment/settlement. But, more importantly, this gives the airline a visibility of its inventory sales. This leads to more customization capabilities on par with NDC.
The current state of ONE Order adoption
The initiative is slowly being adopted in the industry, as increasingly more airlines switch to NDC-capable PSSs. According to IATA's ONE Order roadmap, this year the program has to reach initial industry capability.

3 year roadmap of ONE Order adoption
Source: www.iata.org
In 2019
Lufthansa
became the first airline to get ONE Order certification, after completing a one-year pilot project, and in addition
Lufthansa Systems
became ONE Order capable as an accounting provider. Currently, only three airlines are listed as certified in IATA's
ONE Order registry
: Lufthansa, China Southern Airlines, and Singapore Airlines Ltd.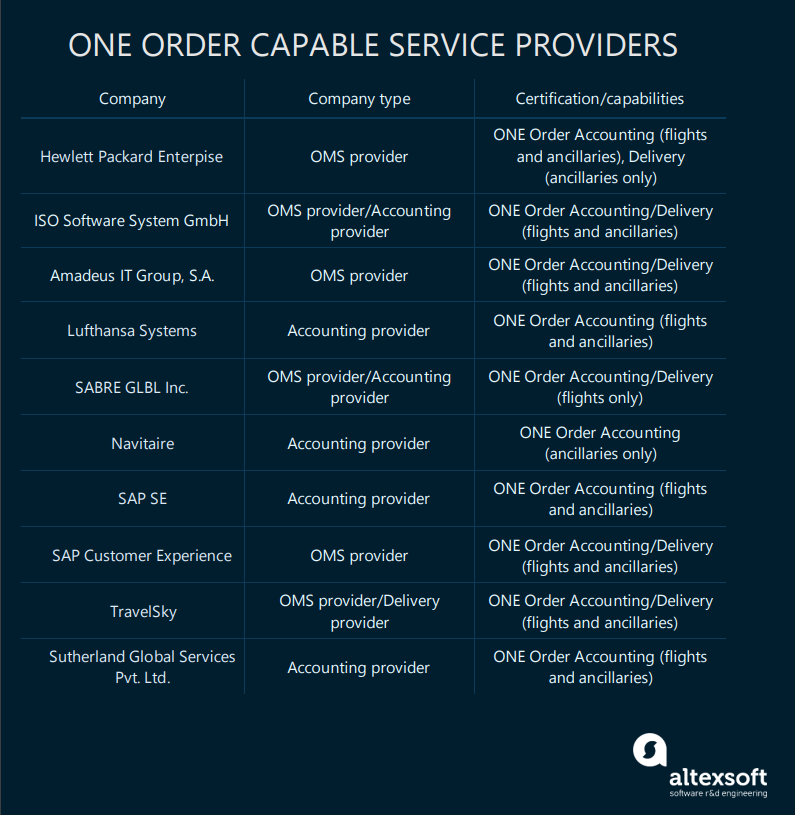 A list of the biggest ONE Order certified OMS, accounting and delivery providers
But, what's more important is that a substantial number of OMS and accounting providers have also come in. Among them are GDSs, PSSs, and IT providers working in the airline industry.
Reasons to embark on One Order transformation
We'll outline this shortly. The initiative of ONE Order is a back-office optimization opportunity for the airlines. As long as it requires implementing new systems like OMS, IT service providers can also extract value from this modernization.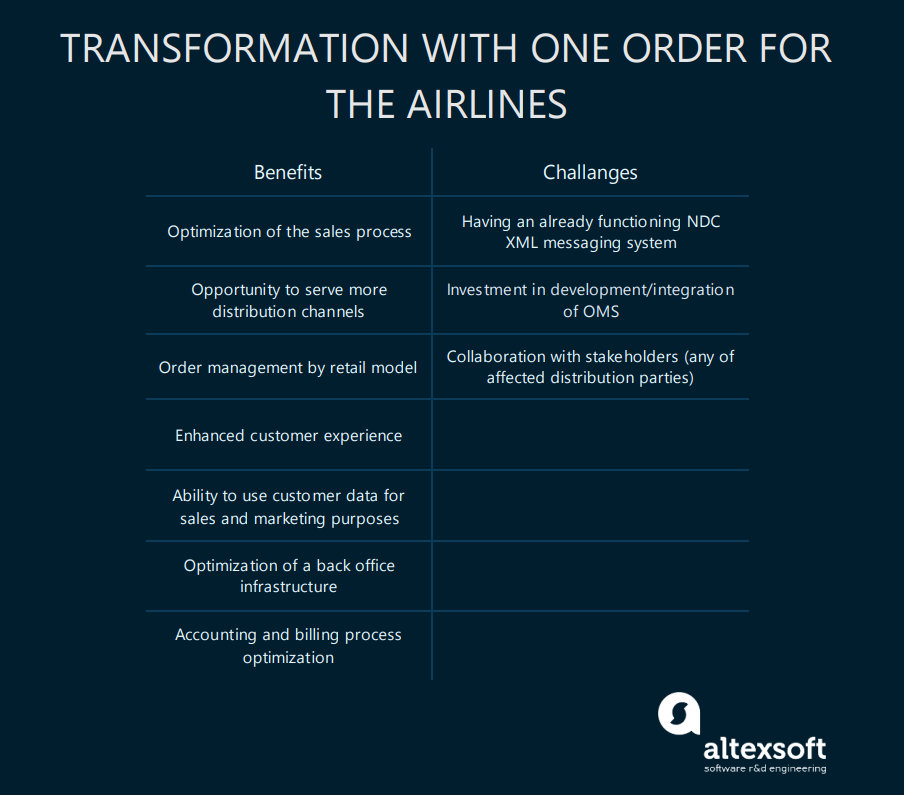 Benefits and challenges of going through ONE Order transformation
ONE Order may affect distribution partners the airline holds data exchange with. However, this shouldn't be a serious burden, in case there is an NDC basis. The potential outcome of the program for the airlines is a transition to a retail model that will enable richer sales and marketing. But this will be possible when the major part of the airline's distribution pipeline utilizes NDC as its main technology.
How to get started with ONE Order?
Implementing ONE Order is a serious infrastructural challenge that requires investments backed by NDC. Keep in mind that using a single order record would require setting infrastructure for each channel of sale and NDC can be just one of them.
Yet NDC is highly required to set the overall infrastructure, as these technologies constitute the modernization of the data exchange pipeline. Based on these statements, we would recommend the following steps to implement One Order:
Become NDC capable. NDC certification assumes that your organization has established a working NDC solution capable of sending offers and orders. According to IATA's ONE Order Transition Study, getting started with the NDC-enabled channel is the fastest way to establish a single order management.
Invest in OMS or find an OMS provider. The migration to ONE Order processing requires using OMS. It can be a module in your PSS, a stand-alone system, or an OMS service provider. You can check a list of ONE Order certified providers at IATA's registry.
Establish an accounting system or find an accounting provider. As well as solving the OMS question, you will also need an accounting system. You can find one in the provider's list in the registry mentioned above.
Check real world cases. As we mentioned before, the program is pretty raw at the moment. However, industry giants have already adopted new technology, so you can read the Lufthansa case study about ONE Order to extract some value.
Become ONE Order certified. With a blueprint of a future solution, you can apply for ONE Order certification to approve your capabilities. You can apply for certification on this page. Notice that airlines and OMS/accounting/delivery providers should apply in different forms.
Implementing ONE Order will require investing time and money. So, getting into the program is not a small decision for an airline.