Two fundamental needs connect all airlines: revenue and passenger satisfaction. To satisfy customers, carriers seek ways to learn more about their clients and provide a set of additional services like baggage insurance or onboard food.
Those services, also called ancillaries, are offered for additional fees. Given the small margins for core transportation services, the fees help to generate profits. To be able to sell ancillaries to passengers and be more profitable, airlines struggle to deliver personalized content. Considering that getting in touch with the end user is nearly impossible via the channels provided by
global distribution systems
(or GDSs), a new standard emerged to resolve the issue.
What is NDC?
New Distribution Capability
or
NDC
is essentially an XML-based communication standard created by the International Air Transportation Association (IATA) to let airlines bring rich content and ancillaries directly to
online travel agencies
(OTAs),
travel management companies
(TMCs), and other flight resellers through a set of
travel APIs
. It's aimed at replacing the old
EDIFACT
(Electronic Data Interchange for Administration, Commerce, and Transport) protocol, which has been around since the 1980s.
NDC booking flow
In a traditional booking flow, it's up to a GDS to build an offer from pieces of flight content. For this, it takes data on availability from an airline's CRS, rates from air price repository
ATPCO
,  and schedules from
OAG
or
Cirium
databases. The NDC approach allows carriers to take back control of their products adjusting offers to current market demand and customer preferences. Airlines can distribute their offers both directly and via middlemen capable of delivering NDC products (GDSs and aggregators.)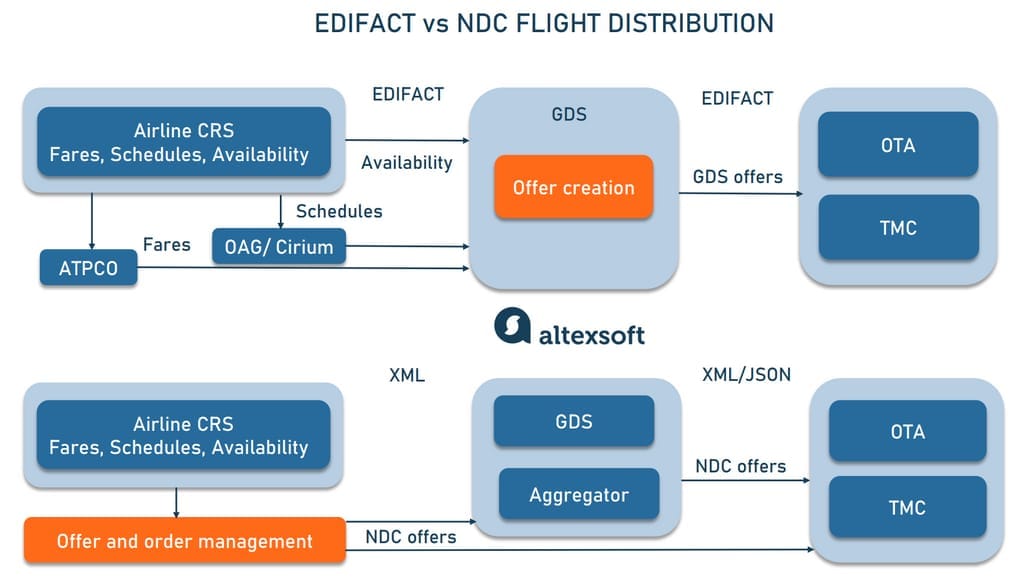 Booking flows with EDIFACT and NDC APIs compared.
Note that in NDC distribution XML is used for messaging between airline
passenger service systems
(PSSs), GDSs, and NDC aggregators. However, retailers sourcing airline content may expect to receive travel data in more readable JSON format via modern
REST APIs
.
NDC advantages
NDC delivers a number of benefits to all parties involved — airlines, travel resellers, and end customers. Here are the key advantages promised.
Rich shopper experience.
Using EDIFACT, airlines can distribute only limited information about flights. For example, they can't merchandise additional services via third-party vendors. This results in financial losses since ancillaries are the main source of profits for carriers. NDC addresses this issue as it allows carriers to merchandise
excess baggage,
extra legroom,
onboard WiFi and entertainment,
pre-ordered meals,
day of departure changes and upgrades,
carbon offsets, and more.
Besides that, NDC makes it possible for airlines to provide distributors with photos, detailed product descriptions, promotional messages, comprehensive
seat maps
with pricing details, and other types of flight content. In turn, resellers can allow customers to choose seats, use different forms of payment, and apply
loyalty program
miles or points.
Reduced dependency on legacy systems
. Most airlines rely on legacy PSSs that may have poor performance, and a number of other limitations since
PSS providers
really lag in
modernization
. An NDC-capable engine works outside of legacy systems and allows for presenting information from PSS databases through airlines' private interfaces.
Personalized offer creation.
The NDC flow enables airlines to
personalize the customer experience
. In turn, GDSs, OTAs, TMCs, and other distributors are empowered to deliver those customized offers to end users — travelers.
Flexible, real-time ticket pricing.
Currently, most airlines publish their tariffs via the Airline Tariff Publishing Company (
ATPCO
), which became the main source of pricing data. It sits between airline
revenue management
teams and distributors, not allowing prices to be quickly matched to changing demand. NDC enables carriers to adopt
dynamic pricing
— or tailor fares in real-time, based on the current market situation and passenger profile.
Learn more from our dedicated article on
dynamic pricing strategies for airlines
or what the video explainer.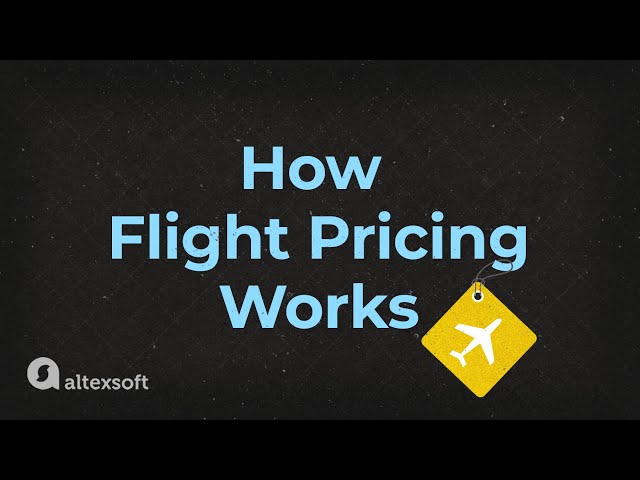 How dynamic pricing works.
To understand the real value of NDC and why it has emerged at all, we need to look back in time.
History of air distribution
The distribution system in the air travel industry includes many players in the field. To link end customers with the actual airline, there are a number of intermediaries, such as travel agencies, tariff publishers, GDSs, and so on. Most of the major players appeared decades ago or morphed from the older formations and continue to exist.

To quickly learn how distribution in airlines works, you may check our video and get back for details.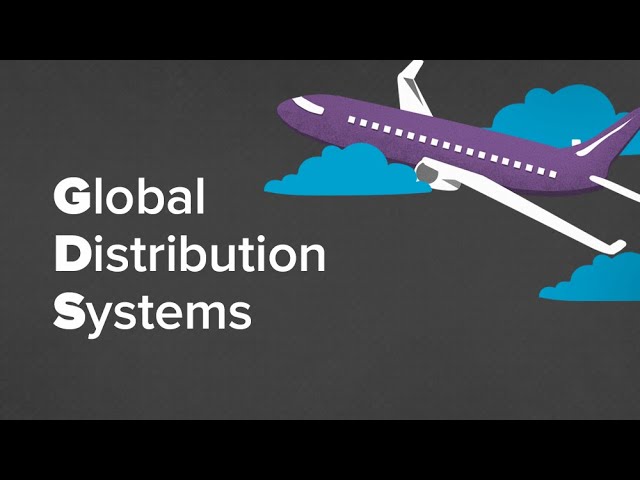 How travel systems in aviation are connected and what is NDC
Let's have a deeper look at the airline distribution landscape from a historical perspective. This will allow for a comprehensive understanding of the current state of NDC adoption and the players involved.

Flight distribution automation. In 1964, IBM and American Airlines developed the first computer reservation system (CRS) Sabre, which is still around today. It allowed American Airlines ticketing agents to search for flights using digital inventory, make reservations, and confirm them via computer terminals. The system decreased the error rate and gave access to passenger name records (PNRs). Sabre quickly became a serious advantage for Americans, resulting in the appearance of more CRSs.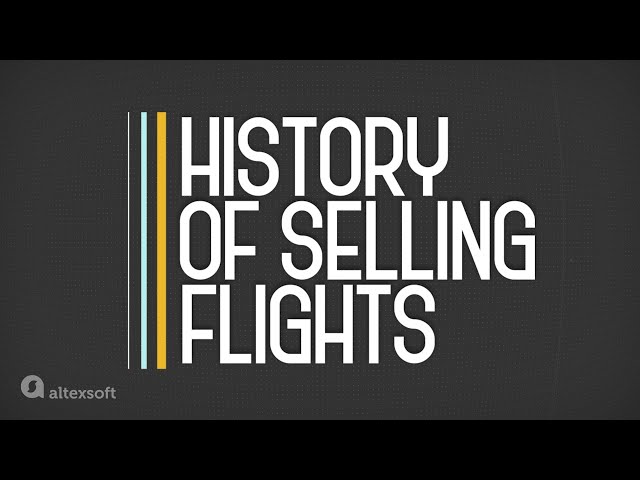 The history of flight distribution told in less than 8 minutes.
Wide adoption of CRSs. Until 1972, nearly all major airlines in America adopted their own customized versions of CRSs. All of them originated from PARS – a standardized system for medium-size carriers by IBM.

Bringing terminals to travel agents. During the 1970s, all CRS providers struggled to bring their systems to travel agents, providing them with terminals for semi-automatic flight booking. In 1976 United, American, and Eastern Airlines shared access to their CRSs. Carriers offered travel agencies long-term contracts and supplied hardware, software, and training for a monthly subscription fee. In exchange, travel agents were obliged to book more using CRSs.

Price independence. The Airline Deregulation Act of 1978 allowed airlines in the USA to set the price for fares independent of government regulations. This influenced the market and the demand for CRSs among travel agencies increased even more.

Mass CRS adoption. By 1989, over 95 percent of travel agents signed contracts with CRS providers, and 75 percent of all tickets were booked via travel agencies. After 1996, the US Transportation Department obliged airlines to share the same content from their inventories across all CRSs equally.

CRS to GDS transformation. In the late 1990s, CRSs started to become independent businesses. Galileo CRS, created by European airlines to compete with Sabre, went public in 1997. Amadeus, another European CRS, did the same in 1999. Sabre became independent of American Airlines in 2000. This doesn't mean that CRSs disappeared. They became parts of PSSs, which also include airline inventory and departure control systems. Currently, the major GDSs are represented by Sabre, Amadeus, and Travelport (Apollo, Galileo, and Worldspan).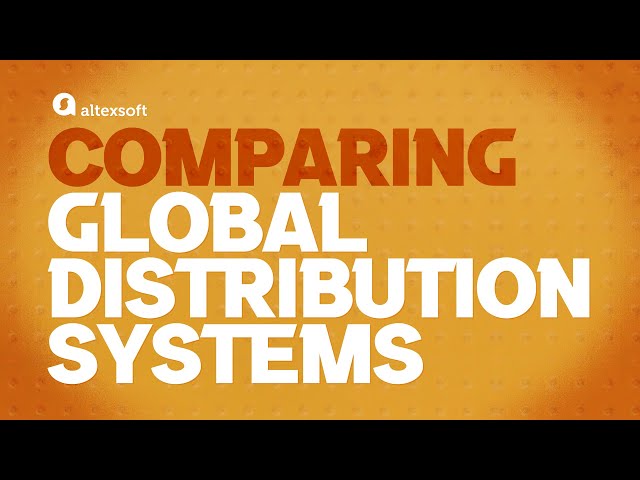 Shift to web distribution. In the 21st century, the Internet era forced each and every player to go online. Airlines started to build websites to offer their services and post schedules. Carriers also invested in metasearch and booking engines such as Hotwire, Orbitz, Kayak, and Skyscanner Meanwhile, GDSs settled Internet connection, providing travel agencies with the software to build their own websites. So, new channels of distribution came up via the web, and online travel agencies emerged.

NDC arrival. The first set of NDC official standards was released on September 1, 2015. A new messaging standard promised to change the way airline tickets are distributed. It allows airlines to bring personalized content directly to OTAs, TMCs, and metasearch engines.

Learn more from our article on the history of flight booking.
IATA NDC certification, and Airline Retailing Maturity (ARM) index
Currently, representatives from nearly all airline distribution companies have embarked on the NDC initiative in one way or another. To facilitate this process, in 2022 IATA replaced its 4-level NDC certification with a unified program — Airline Retailing Maturity or ARM index. It's supported by three pillars:
capabilities verification to confirm that a company has a certain NDC functionality. Note that it doesn't validate the quality or other aspects of features presented;
partnership deployment to assess the scalability of airlines and distributors in terms of partner connections and network reach; and
value capture compass to help carriers evaluate their merchandising maturity in eight core dimensions.
"ARM combines NDC and a range of additional licenses, explains Ksenia Penkova, Head of Marketing and Sales at DRCT, an IATA-certified tech provider and NDC aggregator. Instead of several accreditations, you undergo just one. Plus, you can select and certify only the functionality your business uses. This saves you time and money as you don't have to develop and maintain unnecessary features. Another benefit is that ARM makes it simple to understand which NDC capabilities a certified company really has and choose the right partner accordingly."

You can find detailed information on ARM on the IATA official website. Here are links to the most important resources.

ARM Index Registry. It contains an official list of ARM adopters and represents their retailing capabilities. For now, the number of participants is about 160, including 66 airlines, 22 sellers, and 69 system providers for airlines, sellers, or both. You can compare them against 76 capabilities grouped into 6 large categories: Shop, Order, Pay, Settle, Account, and Setup.

IATA ARM Index Program Guide. This document introduces newcomers to minimum application requirements, validation processes, and pricing options.

Resources and documentation. Here, you can find all documents and information needed to understand ARM and apply for it. This includes educational videos, application forms, and detailed descriptions of all capabilities being verified.
NDC implementation scenarios
As of 2023, there are three distinct ways for OTAs and other travel sellers to access NDC content:
via GDS NDC connectivity,
via NDC aggregators, and
directly, via an airline's NDC API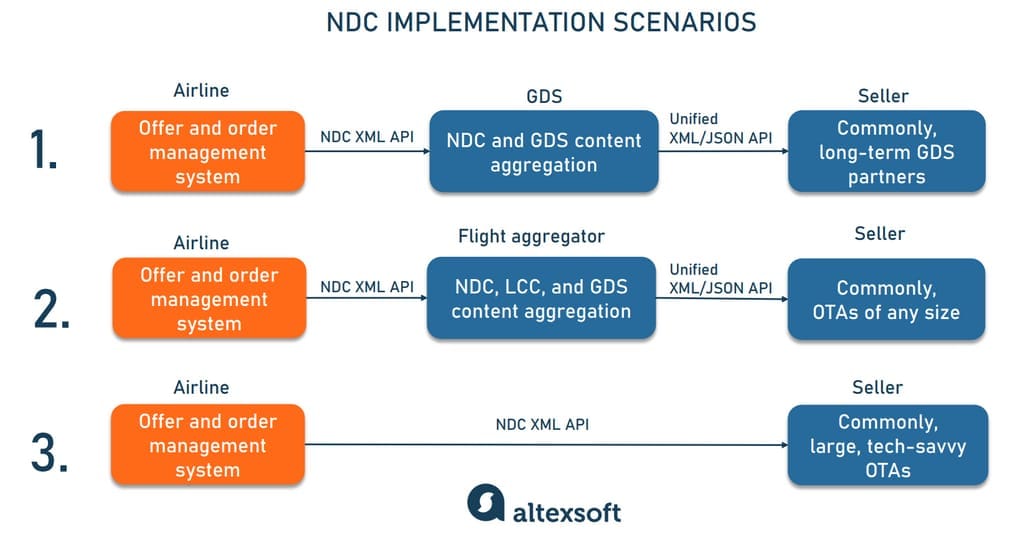 Three common ways to implement NDC.
Let's explore each option in more detail.
NDC with GDSs
The natural choice for large travel companies with weak IT expertise whose processes are tightly connected with Sabre, Amadeus, or Travelport (for example, TMCs).

For GDS aggregators, NDC implementation became a vital question so they decided to force the expansion of an XML standard across the industry. The process goes even further as all parties of a traditional distribution chain start working with NDC. Say, ATPCO offers the services of the NDC design team as well as the proprietary NDC Exchange technology. The fare aggregator also designed Routehappy — a tool for the distribution of visuals, videos, and other types of rich content from airlines.

All three major GDSs have ARM index certifications: Sabre and Amadeus as system providers for both airlines and sellers and Travelport as a system provider for sellers only. Yet, the number of NDC integrations and capabilities covered leave much to be desired. Besides that, the striking partnership with GDSs involves complex negotiations and significant investments.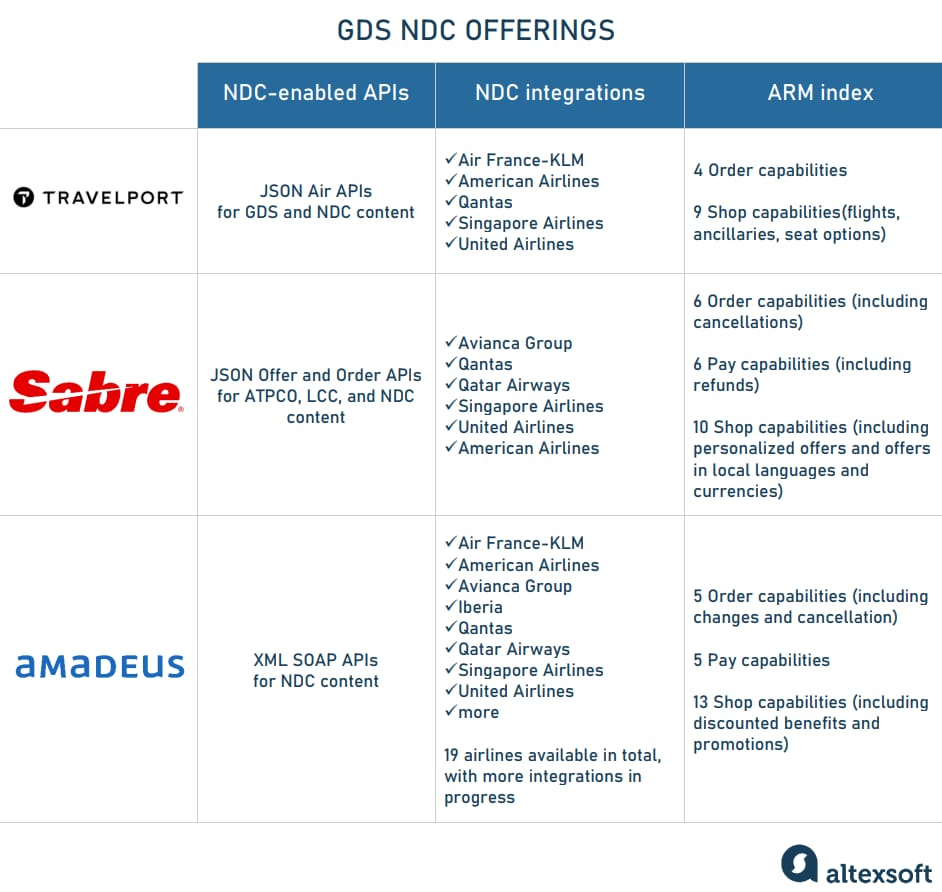 Comparison of NDC products from three GDSs.
Travelport was the first of the GDSs to develop the NDC channel. Сurrently, the NDC capabilities are available via their JSON-based Air APIs that also support traditional GDS offers. Six carriers provide rich content to the GDS: Qantas, United Airlines, American Airlines, Singapore Airlines, and Air France-KML. However, the two last integrations don't support booking seats or ancillaries. Overall, the GDS validated 13 capabilities with the ARM index. Check the complete list here.

SABRE provides REST/JSON Offer and Order APIs to source NDC content from Avianca Group (Columbia), Qatar Airways, Qantas, Singapore Airlines, United Airlines, and American Airlines. The GDS verified 22 ARM capabilities as a system provider for sellers. Check the full list here.

Amadeus made NDC a part of their Enterprise subscription meant for large travel players. The modern functionality is delivered via XML-based SOAP APIs that are quite complex and a bit outdated in comparison with REST APIs. The GDS's spokesperson has confirmed that NDC content from 19 airlines is already available for sellers. This includes American Airlines, United, Singapore Airlines, Air France-KLM, Qantas, Qatar Airways, Iberia, Avianca Group, Lufthansa, Austrian, Brussels Airlines, SWISS, Air Dolomiti, Eurowings Discover, and Finnair, with more implementation projects in progress. Amadeus supports 23 ARM capabilities for sellers. Check the complete list here.
NDC with flight aggregators
The natural choice for travel agencies that lack the time or other resources to develop multiple integrations.

Flight aggregators are relatively new players in the airline distribution landscape. They establish direct connections with full-service and low-cost carriers (LCCs) as well as with GDSs to source NDC, GDS, and LCC offers. Travel vendors can reach this content via a unified API or a prebuilt booking tool.

Compared to GDS NDC, this option comes with more NDC connections (25-30 airlines on average), lower prices, a faster integration process, and more flexibility in terms of commercial negotiations and developing customized tech solutions.

On the dark side, "Aggregators often lack out-of-the-box connectivity with mid- and back offices which is very important to run operations in TMCs," Ksenia Penkova warns. "These integrations still have to be developed and financed while GDSs already have them in place." That's one of the reasons why much of corporate travel stays with Amadeus, Travelport, or Sabre. It's worth noting that some aggregators are already working on this problem and offer solutions to meet the needs of TMCs.

Below is a brief overview of popular flight aggregators and their products. The companies are placed in alphabetical order.

AirGateway serves over 200 travel agencies worldwide, having a strong focus on the needs of corporate travel management. Besides connections to 25+ NDC airlines, it offers GDS, LCC, and Consolidated content which you can compare and book in one place. The company also supports downstream reporting to mid- and back offices, a feature sought by TMCs.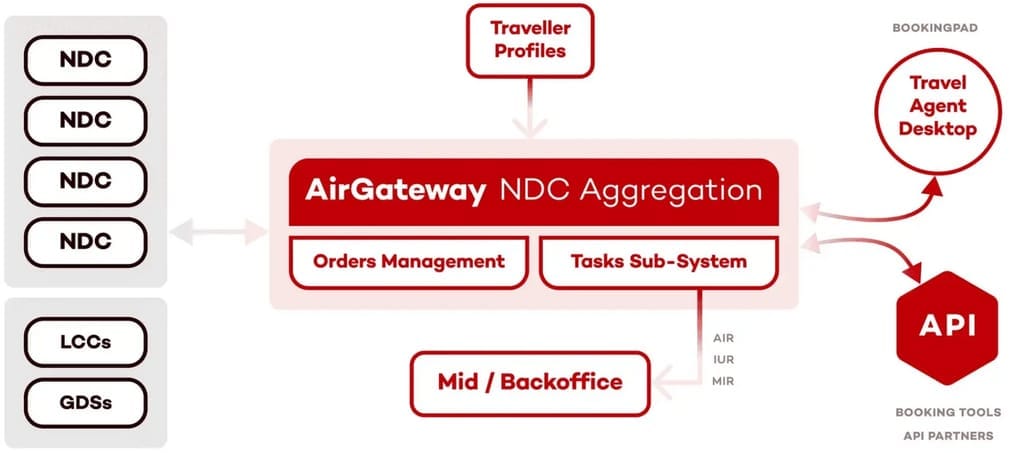 NDC aggregation platform by AirGateway.
There are two ways to tap into AirGateway functionality. The first is Bookingpad, an NDC-ready platform designed with TMCs in mind. The second is aggregated NDC API targeting OTAs, online booking tools (OBTs), and corporate booking tools (CBTs).

DRCT offers three products to reach flight content
an extension that allows travel agents to see direct airfares alongside those living in a GDS and book cheaper options;
a simple air search and booking tool; and
an API with over 30 direct airline integrations.
The company caters to all types of sellers, yet its priorities lie with OTAs and airline consolidators. Check the information on the DRCT NDC capabilities verified by IATA here.

Duffel links OTAs and other distributors to over 300 carriers with a unified Flight API. The fast-growing British startup maintains direct connections with airlines while all others are available via Travelport GDS. ARM-confirmed capabilities span Order, Pay and Shop categories, and amount to 15. See the full list here.

HitchHiker maintains the Flight API that retrieves data from GDSs, wholesalers, and over 120 FSC and LCC carriers, more than 20 of them being NDC-enabled. Besides that, the API simplifies the integration of allotments and group bookings into the vendor's selling system. As for the ARM index, currently, the aggregator has verified only 3 capabilities — Cancel Full Order, Order Information Upon Request, and Shop for Flights.

Travelfusion works with over 400 low-cost carriers and has established NDC connections with 55+ full-service airlines. The aggregator's Direct Connect XML API and other technologies fuel leading OTAs, TMCs, and metasearch platforms. Currently, Travelfusion has 4 capabilities confirmed by ARM — Notification of Airline Initiated Changes on an Order, Pay Using Customer Card, Pay for an Existing Unpaid Order or Order Items, and Shop for Flights.

Verteil lets agents book directly with 33 airlines, including NDC and LCC offers. The India-based aggregator has a distinct competitive advantage for businesses working in the Asia-Pacific market. Yet, the company has global ambitions, constantly adding connections with Middle-East, European, Australian, and North American carriers to the portfolio. Their list of AMX-verified NDC capabilities totals nearly 30 items including additional ancillaries (meals, WiFi, lounge, board priorities, etc.). Look through them here.

With the enabled rich content, the choice between platforms depends on your content preferences and the airlines you want to work with. Using such marketplaces, it is possible to avoid the direct integration burden with separate NDC solutions because we can plug in just one API to source content from multiple suppliers.
NDC with airlines
The natural choice for large OTAs and tech providers who want to control integrations and have an IT department to build and maintain them.

As we mentioned above, 66 airlines already participate in IATA's AMX index program that aims at boosting NDC adoption across the travel industry. Almost all top airlines have direct NDC APIs, with more middle-sized carriers joining the initiative.

"NDC was a strong trend in Europe a couple of years ago. Also, carriers from Singapore, the Middle East, Latin America, Australia, and lately in the US boldly announced direct distribution strategies, admits Jorge Díaz, Founder & CEO at AirGateway which runs an NDC-compliant aggregation platform. At the moment, it's difficult to find the region that doesn't have strong NDC players."

Ksenia Penkova from DRCT confirms the growing interest of airlines in NDC: "They understand its potential and take a closer look at the technology. Some of them deploy NDC within 1,5-2 months which is really very fast."

It's worth noting that coverage of verified NDC capabilities ranges from just one (Shop for Flights with Eastern Airlines, Hahn Air, and Virgin Atlantics Airways) to 48 with Lufthansa (including support for continuous pricing and rich media added to offers) On average, big players like American Airlines, British Airways, Emirates, United Airlines, Iberia, Cathay Pacific, Qantas, and others have 30-40 verified features. Yet, the number doesn't always correlate with the carrier's size.

Anyway, sellers who choose the direct connection scenario will definitely face several big challenges — besides the obvious need to develop multiple integrations, which requires more time and initial investments compared to the NDC adoption via aggregators.

Lack of standardization. "Today, each airline builds its own NDC-related commercial models and constantly upgrades them," Ksenia Penkova explains. "This creates confusion among sellers and prevents them from understanding how direct distribution really works." Airline APIs also vary greatly, and this lack of common standards and rules makes integration projects much more complex.

Complicated certification. Sellers and aggregators must certify each direct integration with the airline owning the API. This process can last from several weeks to several years. Additionally, to start working with the API, users must receive credentials. Their issuing is not automated and may take several weeks.

Technological problems. Airlines usually lack internal IT expertise so their frontend and backend technologies have a lot of room for improvement. Low-performance, slow, and glitchy software with a non-intuitive user interface may damage the NDC's reputation making vendors come back to old distribution schemes.

Poor after-sales service. "An Achilles' heel of NDC" — that's how Ksenia Penkova refers to after-sales service (order cancellations and changes, making refunds, etc.): "Those processes must be automated wherever possible to minimize the number of contacts with the support team." While some carriers already provide after-sales functionality via NDC APIs, others have only started this journey; so in many cases servicing passengers after a purchase is completed poses a problem.

With all these details in mind, it's time to decide on the NDC implementation strategy that will fit your business best.
What to consider when choosing NDC content providers
Here are some insights from industry experts to help you choose the best approach to NDC implementation and define the right partners.

Don't wait for GDSs to add more airlines to their list of NDC connections. GDSs obviously lag behind new players in terms of NDC integrations: 5-8 airlines as opposed to 25-30 and more. Yet, many TMCs and large OTAs that established relationships with GDSs decades ago expect the situation to change for the better.

Working with "GDSs involves complex negotiations and a lot of marketing efforts. If they announce new integrations to be added in the next year, it doesn't mean that this will happen," notes Ksenia Penkova. If you're looking for NDC integrations with a large number of carriers now, don't wait for GDS to implement them anytime soon.

Focus on functionality rather than on a number of integrations. "It's an extreme simplification to compare a number of integrations when choosing, say, between aggregators and GDSs," warns Jorge Díaz from AirGateway. "What really matters is functionality. Shopping and booking are not even 20 percent of the workflow in full-servicing airlines like British Airways or Iberia. The ability to automatically change information, rebook, reissue tickets, split orders, and make refunds is more important than how many carriers are connected."

Combine aggregators for better coverage. "We recommend integrating with several aggregators since some of them focus on the European market while others have a strong presence in Asia or other regions," Ksenia Penkova says.

Compare service charges. NDC commercial proposals from GDSs can be five to eight times more expensive than those from aggregators. "That's because they charge per segment and we charge per booking," Jorge Díaz says, clarifying the calculations behind the figures. "And one booking can include several segments. A round trip for one person contains two segments. A round trip for two persons is still one booking but with already four segments, and so on."

Pay attention to the quality and quantity of technical support. There are providers who offer no technical support at all. Others, on the contrary, cover all possible technical issues and even provide development services to tailor solutions for the unique needs of a particular seller.

Interested in travel APIs? Check our other pieces on the topic:

Main travel and booking APIs

Flight and air booking APIs

Airport transfers APIs and solutions

Low-cost booking APIs

Hotel APIs

Car rental APIs

Tours and attractions APIs

Channel management in hotels APIs

Custom channel management in hotels APIs

Public transportation APIs

Restaurant and table reservation APIs