As we all know, international air traveling involves numerous restrictions and extensive document checking. All countries have different travel requirements for crossing their borders, which makes things even more complicated.
Timatic
by IATA became a great solution to this problem as it automates the verification of passenger documents. Every year, airline employees and ground handlers use Timatic by IATA to check the travel documents of over 700 million passengers.
In this post we discuss what is IATA Timatic and look through its main functions and different ways to access its content.
What is Timatic?
Timatic
or
Travel Information Manual Automatic
is a database of travel requirements for international air passengers. First established by
IATA
in 1963, Timatic currently stores travel documentation rules and recommendations for over 220 countries collected from over 2,000 sources and updated up to 200 times a day. This includes such details as:
passport requirements and recommendations,
visa requirements and recommendations,
health requirements and recommendations,
airport tax information,
customs regulations concerning the import and export of goods and small pets,
currency regulations, and
news on regulation changes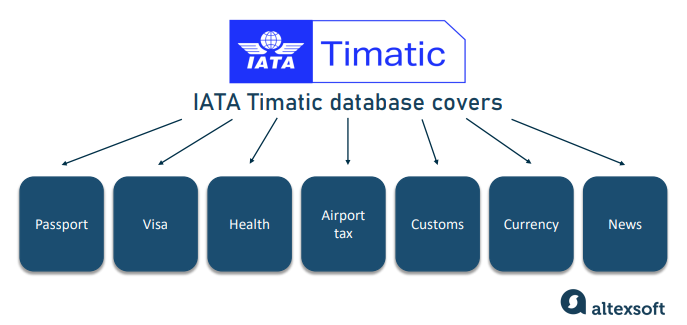 What IATA Timatic database covers
Airlines, airport staff, and travel agencies can use the Timatic database for several use cases. Let's mention them all below.
Timatic for check-in
According to
ICAO
, almost all airlines are already using Timatic to check if the passenger is valid for travel. It helps them reduce manual operations, make fewer mistakes, and prevent immigration fines and expenses associated with returning incorrectly-boarded passengers to the airport. Utilizing
Timatic for check-in helps airlines save up to $0.59 per international passenger.
Timatic for booking
The second use case for Timatic database is booking. Flight retailers — such as airlines,
OTAs
,
tour operators
, and
corporate travel management companies
— can quickly provide their clients with comprehensive information on the documents required for the upcoming trip at the time of reservation.
There are different ways airlines and travel agents can access Timatic databases, which are reflected in the number of tools IATA developed and provides. Let's go through who can use these tools and when.
Timatic Mainframe: A standard source of travel requirements data
Users: airline and airport staff, offline travel agencies, and agents
Timatic Mainframe is the product most closely associated with the Timatic brand. It gives access to Timatic databases via major
airline reservation systems
,
departure control systems
, and
global distribution systems
using a command-line interface.
Airlines, airport staff, and travel agents
accredited by IATA
can retrieve information by typing specific commands or accessing different databases. There are three types of queries users can run.
Full Text
returns all information on the requested topic, divided into seven subsections. For example, if you request full text on the United Kingdom, you will get all of its geographical information, passport, visa, health, tax, customs, and currency data.
Specific Database
returns only the requested information for Passport, Visa, and Health databases. For example, you can look up visa requirements for US citizens traveling to the Netherlands.
Miscellaneous
contains information about Timatic itself: news, rules, country code tables, etc.
For example, below is the part of the response an agent at the check-in desk will get if they want more information on Somali minors traveling with parents to the UK.
Here, an agent can learn what forms and registrations are needed for specific passengers to travel
As you can guess, this is not actually automatic -- users should be trained to use the system, write relevant requests, and freely navigate the query. But this solution is currently used by most airlines and there's almost nothing replacing it completely.
Timatic content can be also accessed via API integration. How does it work?
Timatic API: Beneficial solution for large, tech-savvy travel businesses
Users: large airlines and online travel agencies with IT departments
Application Programming Interface
(or simply
API
) is a software intermediary that makes different applications communicate with each other. To put it simply, an API is a messenger that takes your request (what you want to do right now), goes to the software system with it and gets back to you with a response after the system processes this request.
To learn more about API and its principles, enjoy our video dedicated to this topic.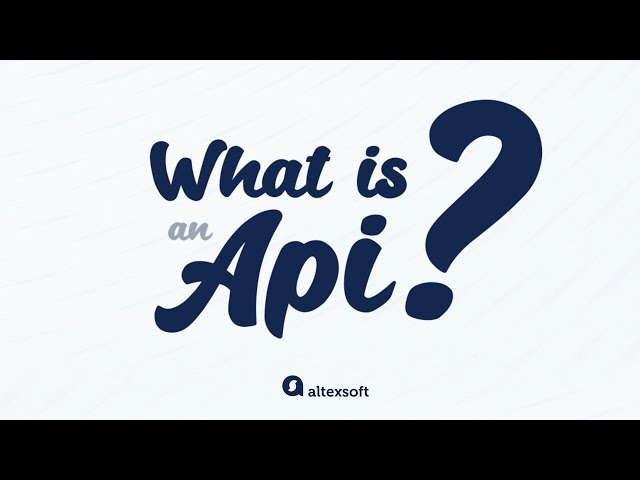 Get to know more about API in 8 minutes
Once the itinerary and traveler details are specified, Timatic API responds with all the info about passport, health-related and visa regulations of a destination country. You can source content right from your existing system, so there is no longer a need to waste time switching between the screens to find some relevant information.
API can be a great solution if you have a large business with an extensive internal team of developers that can maintain API access. You also can cooperate with technical partners and outsource this task to qualified programmers which is not as costly as hiring a regular IT staff. For small businesses with no extra resources other Timatic products will be better options.
Travel Information Manual (TIM): for those who prefer paper to digital
Users: brick-and-mortar travel agents and airlines
Travel Information Manual (TIM)
provides Timatic content in a paper form. The subscribing process is simple:You just have to fill the order form on Timatic website, and then pay an electronic invoice received on the email. There are three available payment methods — by credit card, by bank transfer, or through the
IATA Clearing House
.
TIM subscription period lasts from January till December and it cannot be canceled during the year. Note that IATA automatically prolongs the subscription unless you send a written notice for cancellation at least two months in advance.
TimaticWeb 2: Web access and page customization
Users: airline websites, online travel agencies
TimaticWeb 2
is a web solution that allows airlines and travel agencies to access concise travel document information online. It's almost as if the Mainframe was made more user-friendly and accessible to everyone, passengers included.
There are two options for working with TimaticWeb 2.
The first is for
travel agents on the TimaticWeb 2 website
. An agent fills out a form with passenger information (destination and nationality, duration of stay and visa expiry date, etc.) and receives commentary on document validity. They can then send this information to a customer via a link, where they can re-enter details and run the check once more.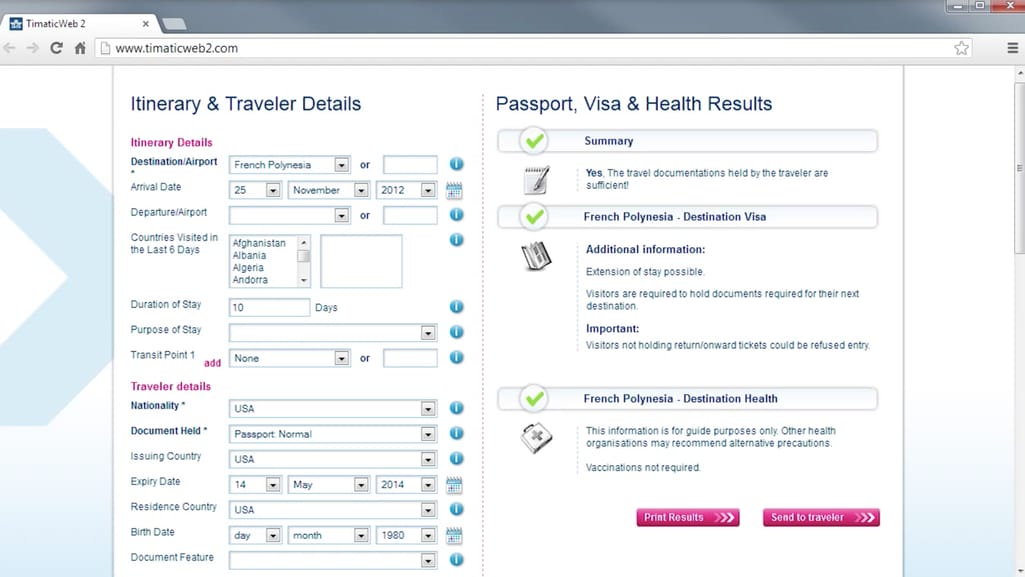 A passenger information form for travel agents, Source: IATA TimaticWeb2
Another option is for
travelers on an airline's or agent's website
. With the co-branding version of TimaticWeb 2, you can put the custom page on your own website allowing passengers to use it for checking their documents. You can select what fields and elements to include and which attributes to set as default. For example, below is the TimaticWeb-powered page for United Airlines.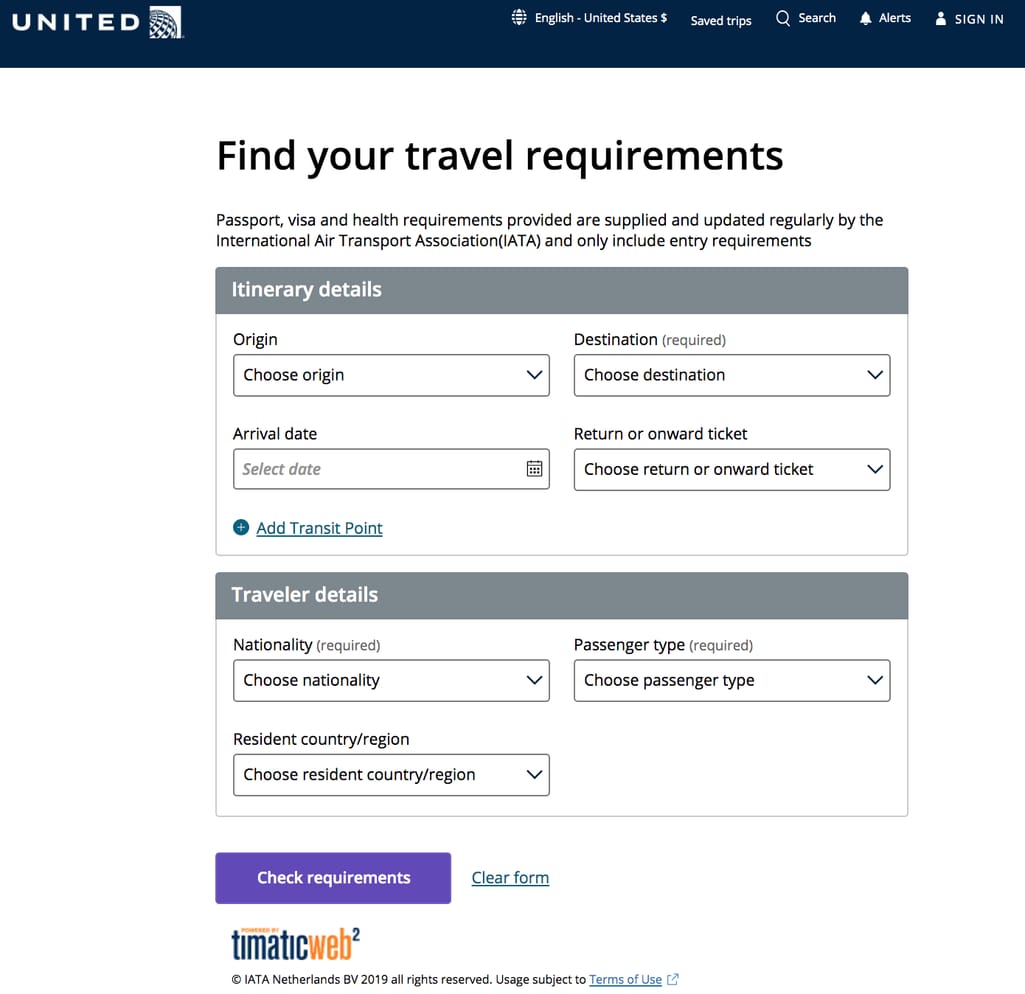 United uses a form with minimum fields, making the experience easy for its customers
Access to TimaticWeb costs €499 a year and is provided immediately after
registering
. The first 500 transactions are free with a fee of €0.1364 per transaction thereafter that will decrease as the number of transactions increases. There's also a
free 14-day trial
with a limit to 20 daily transactions.
There are opportunities to customize and integrate it into your
booking engine
, for example, when customer data is already entered into the form, making the process easier for them.
Timatic Mobile: Document scanning in an airport
Users: airport staff, ground handling agents, security crew
Timatic Mobile app for both iOS and Android allows airport agents to perform document checks wherever they go using their own smartphones. It's mostly used for quick checks at boarding, helping agents detect any issues without having to distinguish between various travel documents.
The app scans travel documents (passports, visas, national ID cards, seaman books, residence permits) and boarding passes via a smartphone camera, crosschecks collected information with Timatic databases and notifies agents of the results. It then walks them through possible solutions.
There's also an admin panel for reporting, flight and passenger monitoring, and managing staff.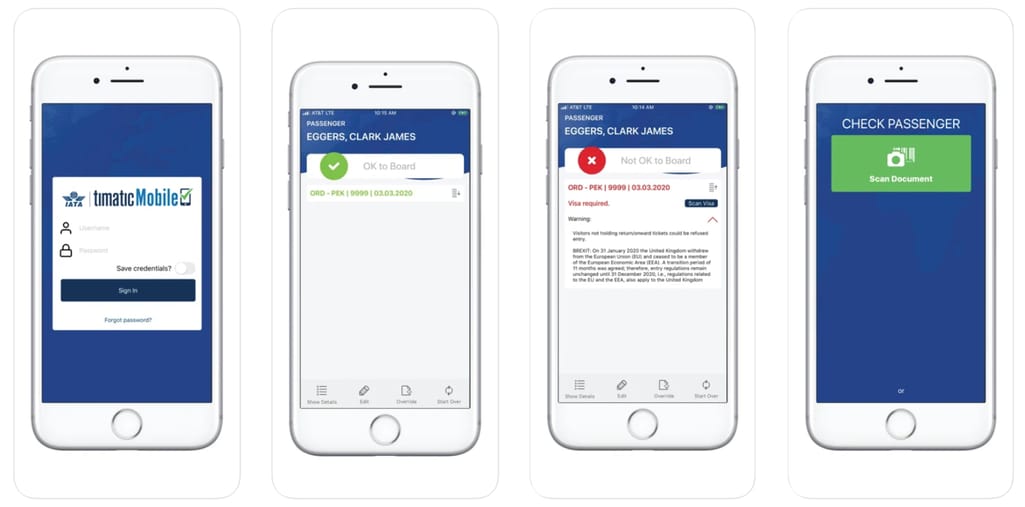 TimaticMobile requires no training and minimal operational expenses, Source: AppAdvice
Timatic Mobile can be freely downloaded from App Store and Google Play and accessed with your existing Timatic Mainframe subscription.
Timatic Widget: Helping travel websites improve conversion rate
Users: online travel agencies, tour operators, airlines
Timatic Widget
is a tool easy to embed into your existing website. After signing-up, you can launch the solution and get access to the database in just a few hours. You may even choose a style to make the widget suit your branding and the overall web page design.
One of the main benefits here is that Timatic widget helps OTAs and other travel distribution channels increase their conversion rate. How? For passengers, it's convenient to use the Timatic Widget as they can learn about all travel requirements at one place. As a result, people tend to visit OTAs and airline' websites more frequently.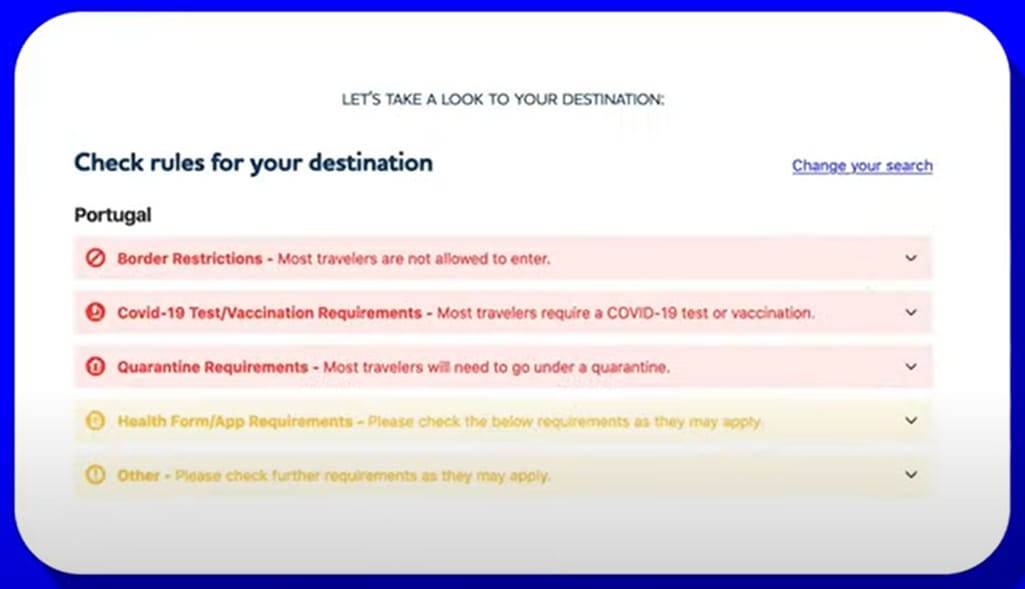 How Timatic widget shows travel requirements for visiting Portugal, Source: Timatic
There is a demo version of the widget, which is limited to 10 countries only, meanwhile the full version can be accessed at IATA's official website.
TravelDoc: Timatic alternative
Although Timatic can be considered a monopolist on the travel document verification market, there's another solution you should know of.
TravelDoc is a software developed by ICTS, the popular provider of cargo and security screening services for airports. In February 2021, they rolled out CertiFLY -- a product including a standalone mobile device, an app, and a website that allows ICTS security staff at airports to scan passenger documents and COVID-19 test results to make it available to the airline.
TravelDoc is a website and an app that uses a database called TravelDoc Library to provide up-to-date travel requirements information with Go/No Go instructions on the missing documents. Among its users are KLM, Ctrip, EasyJet, Air France, and more.
There are several ways to use TravelDoc.
Via OTA software from Amadeus and Sabre
. Amadeus Altea and Sabre Red both have built-in TravelDoc integration for a separate price.
As a page on the airline's website or app
. Similar to what TimaticWeb offers, an airline can use the
standard form
by customizing the URL and the general look of the page. Besides that, TravelDoc can be integrated into an airline's app via mobile SDK.
As a mobile app
. Available only via TravelDoc Library subscription,
the app
allows you to check travel requirements on the go and download data on specific countries to the device so you can browse even without Internet connectivity.
Timatic and TravelDoc are both very similar and different. For example, if you're already using one of Timatic products, you'll benefit more from integrating their other solutions as some of them come cheaper when bundled. But if you're just looking into the travel document verification software, it makes sense to contact both providers for pricing estimates and consider your specific capabilities and goals.
The future of travel document check
Moving from paper to digital documents is an overall trend which touches all industries, and the travel sector is no exception. Imagine that happy day when you don't have to worry about the passport being left at home, lost, or stolen. Here are some initiatives that bring a paperless future closer.
Facial recognition technologies in airports
Facial recognition is a verification technology based on
biometric data
— namely, unique features of your face (other biometric solutions involve fingerprints, iris scans, voice characteristics etc.). It's already widely used in airports to confirm the identities of travelers.
In the process of identification, onsite cameras capture a passenger's picture at the airport's security checkpoints. Then, an algorithm compares this live image with a traveler's passport or visa photos, stored in the airport's database. In case no issues arise, the officer admits the passenger. While manual verification usually takes from 10 till 30 seconds, facial recognition screening lasts only up to three seconds.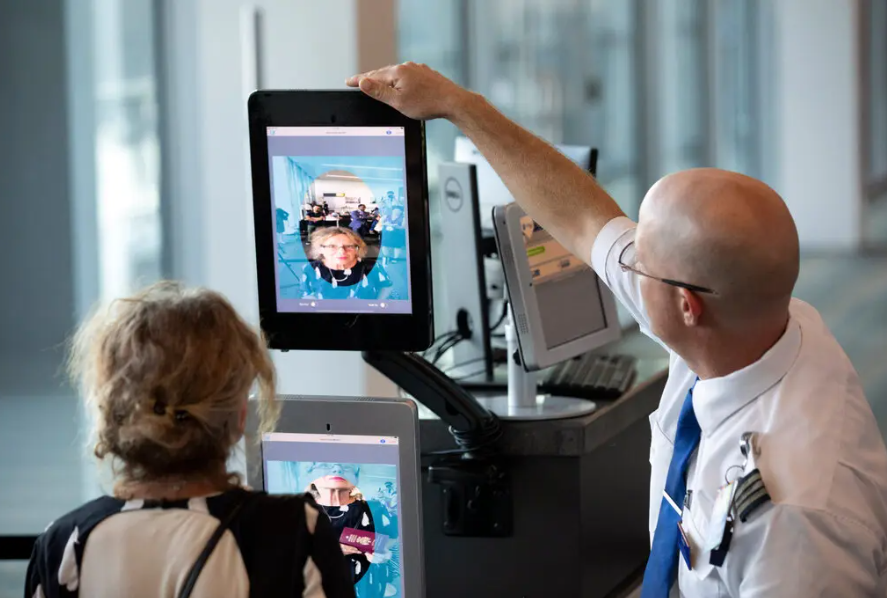 Facial recognition screening at airport in Virginia, Source: NYT
One of the examples is a SelfPass biometric solution by the global aerospace and defense industry leader
Collins Aerospace
which makes pre-registration at airports a redundant procedure.
SelfPass was successfully implemented in several airports worldwide. These are, for instance,Tokyo Haneda Airport in Japan, Harry Reid International Airport in Las Vegas and others. It is expected that SelfPass will be integrated at Kuwait International Airport by mid 2023.
Also, as of July 2022, US Customs and Border Protection (CBS) deployed facial recognition technologies at
32 airports
to verify identities of travelers leaving the US and at all airports for passengers coming to the country.
IATA One ID: confirm your identity long before the actual trip
IATA One ID
is a document-free verification initiative based on facial recognition and remote check-in. This concept combines biometrics, an electronic boarding pass and visa into a single digital document. The project will enable travelers to prove their identity prior to the trip, without showing documents at checkpoints.
The core of One ID is an identity management platform with a virtual bank of digital information. Stakeholders (airlines and airports) will get access to passenger data and be able to track movements of travelers through the airport in real time.
Yet, launching such a system requires cooperation between airlines, airports, and governments. Besides, its end-to-end
feasibility
hasn't been tested so far. The most optimistic prediction is that One ID can be widely adopted
by 2035
. But several countries might benefit from the innovation earlier — in just a few years.
Additional information about the objectives, status and benefits of IATA One ID can be found on its free-access
Fact Sheet
.