Airline distribution
is complex. On one side of the airline industry, we have legacy carriers mostly represented by full-service airlines. Since the late 70s, legacy airlines have used a complicated model of distribution that included various data aggregators,
consolidators
, tech providers, and other intermediaries. As a result, in the mid-90s, global distribution systems or GDSs (Amadeus, Sabre, and Travelport) became monopolists in air travel distribution as the key flight aggregators.
How airline distribution works in a nutshell
Nowadays, struggling to compensate for the lack of differentiation, legacy carriers are creating new
travel APIs
and establishing direct channels with travel agencies to show even more flight information. This became possible with the advent of
New Distribution Capability
(NDC) by
International Air Transport Association (IATA)
. NDC is an initiative to set standards that would allow airlines to distribute their flights directly through online travel agencies or through global distribution systems and also provide ancillary offers.
The other end of the air travel industry is occupied by
low-cost carriers (LCC)
. A totally different business model from the offerings of full-service airlines, the low-cost sector omitted global distribution systems' oligopoly, leveraging direct online booking. Today,
low-cost airlines cover 32 percent
of the worldwide airline market, with over 40 percent in Europe and 36 percent in Latin America compared to
full-service carriers
. While it seemed nearly impossible for online travel agencies (OTAs) and metasearch engines to offer budget airlines' inventory, some brands managed to do so one way or another.
Here are some examples of the websites and airlines they distribute:
Momondo.com
is a Danish metasearch website that distributes Ryanair, Wizz Air, WestJet, Spirit Airlines, Norwegian Air Shuttle, Southwest Airlines tickets through its platform.
Kiwi.com
is a Czech online travel agency that works with Southwest Airlines, Spirit Airlines, Ryanair, Transavia Airlines, EasyJet, and Wizz Air.
Travelfusion.com
, an online travel data aggregator headquartered in London, is a direct distribution platform certified by IATA's NDC. Travelfusion works with such carriers as Eurowings, Flybe, and Spirit Airlines.
In this article, we will explain how low-cost carriers distribute today. We'll also give recommendations on how to use each channel if you plan to integrate LCC distribution in your product and explain the pros and cons of each type of connection.
What are low-cost carriers (LCCs)?
Low-cost carriers (budget, no-frills, or discount airlines)
represent a business model that lowers ticket prices by cutting costs on customer service, distribution, and optimizing their fleet utilization, all features that make them different from traditional, full-service airlines.
Southwest Airlines
first introduced the low-cost concept in the early 70s. Companies like
Ryanair
,
EasyJet
, and others copied and modified Southwest's business model over time. And now LCCs compete with legacy airlines.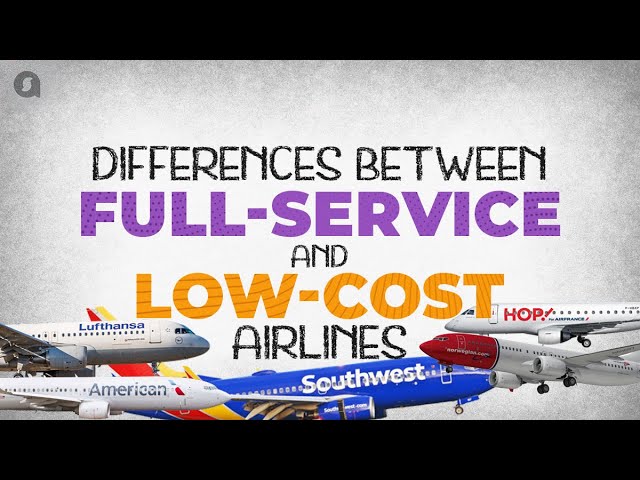 The difference between low-cost and full-service carriers, explained
Low-cost carriers offer unbundled services and charge additional fees for ancillaries. For a long time, most budget airlines operated between secondary airports (hubs), working on short-haul flights only. Until recently, these were the main pillars defining the low-cost model. Now, ultra-low-cost (e.g. Spirit Airlines) and hybrid carriers (Hop! by Air France and Germanwings by Lufthansa) appear on the market. The landscape is changing, and today the budget sector looks for long-haul opportunities (e.g. LEVEL, Norwegian Airlines) and offer bundled services to attract even more customers.
The main low-cost distribution channels
Since the beginning of the 21st century, no-frills airlines had changed a lot in their distribution. Major budget carriers have outgrown their home markets, struggling to establish new indirect distribution channels. Since the beginning of the 2010s, budget airlines started to settle or renew agreements with GDSs. So, Travelport, Sabre, and Amadeus listed various low-cost carriers and started distributing their tickets to online travel agencies. The list of IATA's NDC adopters also includes several LCCs, proving the importance of rich content distribution for the low-cost sector.
Generally, distribution channels for low-cost airlines can be divided into four types.
Direct connection
. The main channel of sales for low-cost airlines are their own websites.
Selling tickets
directly, budget carriers get information about their customers and optimize their systems using
ticketless bookings
(a type of booking without a physical ticket). They manually manage only necessary services, automating check-ins, luggage, and meal orders.
Global Distribution Systems
. Budget airlines are also looking towards GDSs, as providers like Travelport and Amadeus offer services tailored for low-cost needs.
IATA's NDC channel
. Some low-cost carriers were the first to adopt NDC and provide XML APIs for OTAs and TMCs to connect.
Low-cost consolidators and aggregators
. A couple of years ago, technology providers (including global distribution systems) focused on developing dedicated portals for travel agencies to source low-cost and full-service flights via a single channel.
That said, in 2019, traditional and low-cost airlines have a lot in common. But, for budget airlines, cost remains the key factor in its distribution. By building indirect channels, most carriers still attempt to avoid excessive distribution fees formed at global distribution systems.
Direct connection to low-cost carriers
Historically, low-cost airlines sold their tickets only on their own websites, rarely establishing individual connections with big travel agencies and metasearch websites. Customers could book tickets after being redirected to the airline's website. So, direct distribution allowed LCCs to control the customers' flow, analyze data, and use their own ancillary selling methods. It also gave budget airlines differentiation, so that the creation of
personalized offers
became possible over time.
Now, the situation is different. Travel agents can connect to budget carriers via their direct channels, as well as through GDSs, as long as they distribute budget airlines and share rich content. Nevertheless, direct booking remains the main distribution channel for low-cost carriers. As an example of high competition, look at JetBlue's
attempt
to drive more customers to use their website directly.
How to use direct connection
To connect with a low-cost airline, you may contact the required airline representative to learn about their available options. Some budget carriers like
Ryanair
,
JetBlue
, or
flydubai
will offer to source data via XML or JSON APIs.
Pros:
Direct API distributes a full range of airlines content without additional intermediaries like GDSs and ATPCO, the main tariff publishing and ticketing provider.
Cons:
Very few LCCs offer their own APIs.
To learn about various
APIs used in air transportation industry
, check our dedicated article.
Web scraping
Web scraping is a questionable and sometimes illegal method of extracting data from a website. Scraping can be done via a
crawler
– a program that mimics human activity (searching and browsing fare information) on the website, collecting and extracting flight data. Web scraping had been the main method for online travel agencies to get low-cost flights for a long time. That led to various lawsuits with travel agencies and data aggregators, fines, bans, and even
start-ups shutting down
.
Ryanair is well known for having sued Skyscanner, Expedia, TravelSupermarket, and other aggregators in an attempt to cut indirect bookings. Until recently, Skyscanner and TravelSupermarket preserved their right to scrape data from Raynair.com, followed by KAYAK and Fly.com reaching an agreement with Ryanair to scrape legally.
Ryanair is not the only low-cost carrier to appeal to the court to prohibit web scraping. The same approach was chosen by
easyJet
and
Southwest Airlines
. But the situation has changed, and budget airlines became available on various travel metasearch and price comparison platforms. It is also important to point out that screen scraping led to the appearance of scam metasearches, and OTAs distributing dated flight information.
How to use web scraping
A large number of low-cost carriers don't offer any direct connect APIs. But since nearly all major LCCs appeared on GDSs, web scraping is suitable only to avoid integration expenses and get the widest range of low-cost inventory. Although it is not recommended to screen scrape flight data at all, it is one of the easiest ways to source flights from discount airlines.
In some cases, if airlines don't provide their APIs, you may reach an agreement with them to legally scrape their inventory.
Pros of web scraping:
It's easy to do via ready-made crawlers.
Cons:
Scraped data is not reliable and is difficult to update. And web scraping doesn't allow for booking support. Allegedly, travel agencies that use scraping and at the same time suggest booking options resort to manual bookings by their personnel. If you do this without a prior agreement, you risk losing a large sum of money if you're sued or your OTA might be closed.
Global distribution systems in the low-cost world and XML enabled channels
For a long time, GDSs were completely ignored by the low-cost sector for two reasons:
The main reason is the distribution fee charged by global distribution systems providers. Since budget airlines struggle to reduce ticket price by any means, indirect distribution via GDSs wasn't a suitable option.
Additional expenses on distribution could negatively affect ticket prices, requiring additional investment in technical infrastructure to offer travel agencies relevant data. That's why online travel agencies and travel metasearches used web scraping to get flight information from budget carriers.
With the rising popularity of budget airlines, capturing leading positions and occupying a significant part of the market, GDSs started putting no-frills airlines on their platforms. As a result, since the beginning of the 2010s, nearly all the larger budget carriers signed distribution or merchandising contracts with global distribution systems. Those connections include both standard GDS distribution or NDC channels by GDS provider (rich content agreement).
For example, in 2014 Southwest Airlines signed a contract with Amadeus for its reservation system, expanding on other products like
Amadeus Sky Suite
scheduling system in 2018. Nevertheless, Southwest fares aren't available through Amadeus, while they are present on
Travelport
due to the renewed content agreement in 2018.
Meanwhile, Ryanair is available for distribution through
Sabre
and
Travelport
. In 2017, Ryanair left Amadeus because of growing distribution fees but continued to use
Navitaire
, a passenger service system owned by Amadeus.
Norwegian Air Shuttle had also signed a
contract with Amadeus
to distribute its long-haul flights, reporting 110 percent growth in sales during a three-year period from 2015. They had also renewed the
contract with Travelport
, signing for a rich-content agreement, merchandising, and branding to enable ancillary offers via Travelport's e-Commerce platform.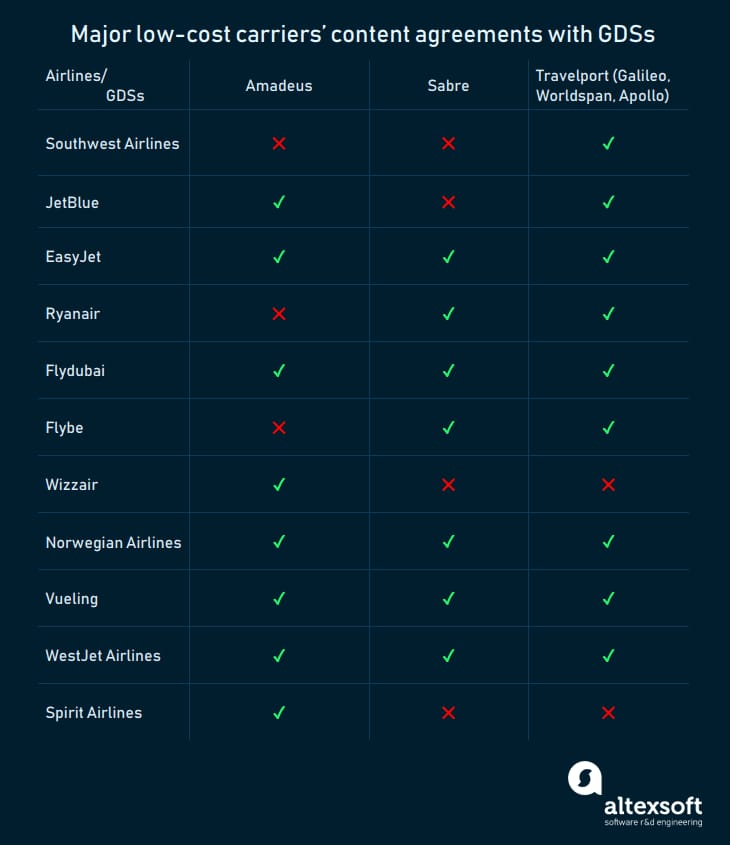 The table of the major budget airlines in contract for content distribution with GDSs
Currently, all major budget carriers work with at least one GDS provider distributing through indirect channels. With the emergence of NDC channels and expanded capabilities of direct bookings, GDSs started to offer a number of products tailored to the low-cost model.
Amadeus
claims partnering with almost 110 LCC and hybrid carriers with 12 newly signed airlines in 2017. It proposes three methods for booking a ticket from a budget airline on its
dedicated page
:
E-ticketing assumes a complete integration of the airline with equal booking capabilities compared to full-service airlines. Currently, Amadeus mentions WestJet, Vueling, and Norwegian Airlines using this type of ticketing.
Light-ticketing is an e-ticketing type of booking, offering immediate ticket issuing as an advantage. Light-ticketing allows excluding ATPCO from the distribution pipeline, using the XML interface. It is used by several airlines like AirAsia, Spring Airlines, Transavia, and Jet2.
Ticketless booking via SSR e-pay. This type of booking requests the customer's credit card instead of issuing a ticket. Among the airlines using it are Jetstar, Spirit Airlines, and TUl fly (formerly TUIfly).
Low-cost carriers can also configure the Amadeus connection to distribute bundled and unbundled ancillaries through their NDC channels. It's also worth mentioning that some airlines with no GDS connection still can be booked via Amadeus.
How to source tickets from low-cost carriers via global distribution systems
To source tickets of a specific airline, the first thing to do is to check whether the carrier is connected to a distribution system provider. You can also contact global distribution systems providers themselves to see if the required LCC is available. The next step will be integrating with a given GDS to get a booking management interface connected with an API.
Pros:
Like full-service distribution, global distribution systems offer rich capabilities, allowing you to source GDS and non-GDS content through their APIs. Furthermore, for the infrastructure-mature OTAs, GDS providers may offer countless products, booking tools, and merchandising platforms. A distribution provider is usually a technology provider, so you have an all-in-one solution through the distribution pipeline.
Cons:
The issue with global distribution systems is the integration costs.
Direct distribution via new distribution capability by IATA
Since the beginning of new distribution capability talks, among the first carriers to implement real NDC APIs were budget airlines. Currently, most airlines listed by IATA in their previous reports lag in the release of a working XML channel, receiving certifications only. Among the others, only two airlines seem to have their APIs in open access.
British budget carrier Flybe implemented its
NDC API
in 2016 offering it to corporate buyers. Flybe is one of the first budget airlines to come up with an XML enabled channel. IATA has also written an in-depth
case study
on the Flybe's NDC implementation.
Flydubai, a Dubai government-owned LCC, was the first budget carrier to obtain IATA's NDC compliance level 3. They also implemented an
NDC API
, partnered with
TPConnects
as an IT provider to distribute ancillaries to travel agencies.
A number of low-cost airlines like Norwegian Air Shuttle also on the
list of IATA NDC adopters
claimed to achieve level 3 certification in 2018 without any visible signs of public API existence. WestJet works on its API in partnership with Farelogix without releasing it in public. While Vueling Airlines and JetBlue can also be found in
IATA's lists
as new distribution capability adopters, there are no public APIs available.
If you'd like to follow in the footsteps of these LCCs, we advise reading our article where we review
the leading solutions to make your airline NDC-capable
.
How to use NDC APIs
Direct connection with the airline requires using their XML API. The problem is that developing new distribution capability channels requires expenses on IATA's certification, development, and integration. For that reason, not so many LCCs release their APIs, as they already have direct distribution channels.
Pros:
These include dynamic pricing, rich content, configurability, and personalization.
Cons:
Most budget airlines prefer to distribute via their own websites or stick to the GDS XML channels, making NDC a rare artifact within the budget airline segment. And if NDC grows stronger, integrating multiple APIs will be more time- and cost-consuming than using some universal API.
Dedicated airline consolidators and aggregators for low-cost carriers booking
Targeting low-cost airlines became a serious task for travel agencies and OTAs since the budget sector represents nearly 32 percent of the airline market. While major carriers develop indirect distribution and sign for global distribution systems, it is still difficult to reach smaller carriers. For that reason, companies like Pyton in partnership with Amadeus develop dedicated platforms to book low-cost carriers.
Pyton Flight Portal
.
Pyton
is a travel technology company that develops travel applications for OTAs and TMCs. Since 2015 Pyton has been a part of the Amadeus IT group. In partnership with Amadeus, they are working on the low-cost booking platform that will be integrated with Amadeus Travel Platform. The platform is called
Pyton Flight Portal
and includes over 100 LCCs. It will allow travel managers to book budget airlines and full-service carriers through a single interface. The API of the platform is XML-based.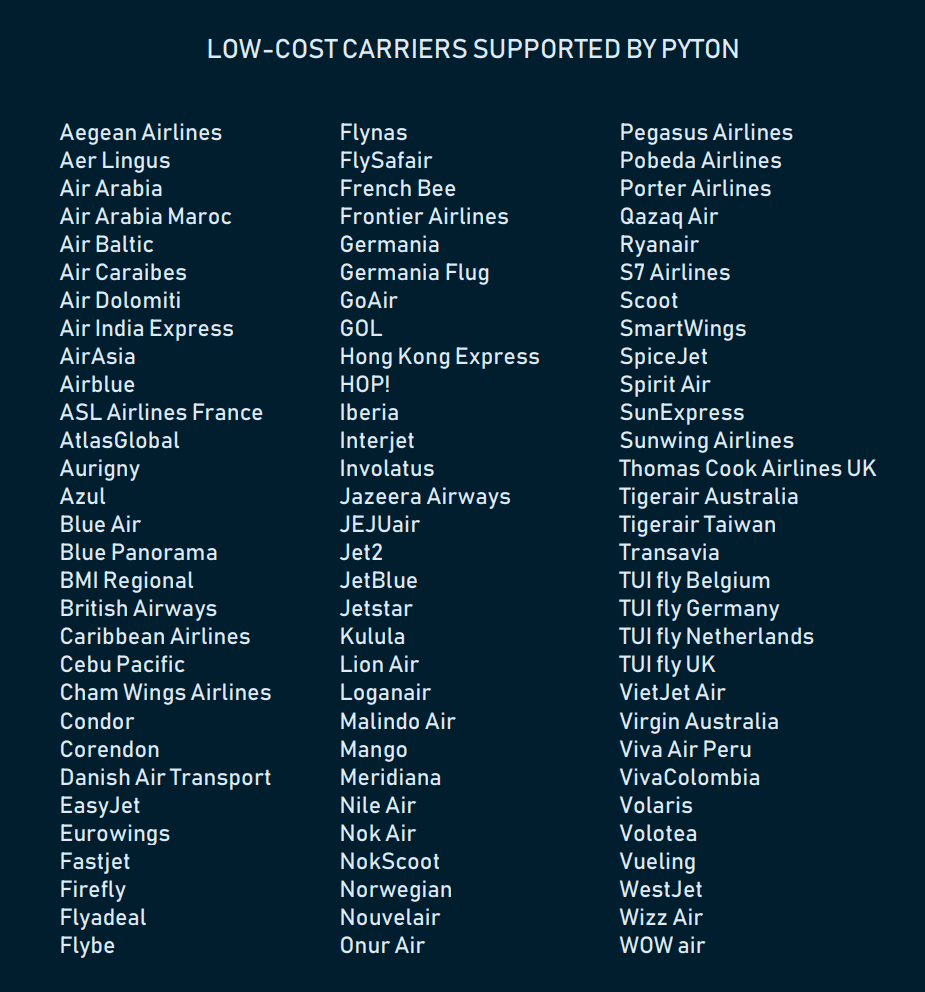 The number of low-cost airlines supported by Pyton is quite large
tfFlight
. Travelfusion offers its platform
tfFlight
for online travel agencies, TMCs, metasearches, and tour operators. The platform consolidates data from LCCs and hybrid carriers available via a single API. Among the benefits are easy integration with desktop and mobile interfaces, integration with PNRs, and rich content capabilities.
How to source tickets via low-cost carrier aggregators' API
To register on the platforms listed above, you should contact their sales representatives. They will provide you with developer information to enable you to connect to the required API and source flight information.
Pros:
A single API distribution via a dedicated platform offers wide capabilities for sourcing LCCs, hybrid, ultra-low-cost, and full-content airlines. They also offer technical support and
management interfaces
to work with or integrate their systems into existing technical solutions of your travel agency. Perhaps, the biggest advantage is that you specify which type of airlines you want to source. Choosing from the vast base of carriers, you will also be able to distribute bundled/unbundled content as they are XML capable.
Cons:
It's also a question of price whether to use a dedicated budget airlines portal or not. The integration costs may vary from platform to platform. Nevertheless, there are no visible cons except for integration.
Conclusion
The competition intensifies in the budget sector. For example, Norwegian Air Shuttle experiences severe financial difficulties,
canceling routes
and
selling aircraft
to survive the competition with Ryanair. At the same time, Ryanair
canceled routes and lost staff
that left for Norwegian.
Low-cost airlines are now starting to concentrate on indirect bookings more, while full-service carriers struggle to push through their direct channels. It's interesting how budget airlines gradually become similar to traditional airlines, offering bundled ancillaries, operating long-haul flights, and contracting GDSs to sell more. Initially focusing on leisure customers, LCCs now are able to reach business travelers via indirect channels. So online travel agencies now can reach budget airlines freely via dedicated platforms and global distribution systems.
Interested in travel APIs? Check our other pieces on the topic:
Main travel and booking APIs
Flight and air booking APIs
Airport transfers APIs and solutions
NDC connections and APIs
Hotel APIs
Car rental APIs
Tours and attractions APIs
Channel management in hotels APIs
Custom channel management in hotels APIs
Public transportation APIs
Restaurant and table reservation APIs