As such a pivotal function in day-to-day operations of many businesses, logistics is still noticeably slow to change. While retail and eCommerce face disruption after disruption and keep coming out on top, 50 percent of trucks travel empty on their return journey and warehouses are either overfilled or standing idle. Digitalization will allow warehousing and transportation operations to elevate customer experience, deliver more value to partners, and consequently - create an effective ecosystem of supply chain providers: manufacturers, carriers, freight forwarders, and more.

Digitalization often boils down to two approaches: automation and using data. In this article, we describe how logistics management systems (or LMSs) can bring value by automating processes and using data to make informed decisions. In addition, you'll find out how to integrate with 3PL companies if you're outsourcing logistics operations.
What Is a Logistics Management System?
Typically, logistics works in two directions - forward and reverse. When we talk about logistics, we usually mean forward direction, which includes such operations as receiving and processing an order, checking and preparing inventory, packing and picking an item, dispatching it and selecting a transportation route that will deliver the product to a customer as quickly and efficiently as possible. Reverse direction means any operations with managing incorrect or damaged shipments, repairing items, and reusing or recycling.

In a digital world, to manage these processes in both ways, businesses use logistics management systems - a combination of software tools that optimize all processes from making an order and delivering it to a customer's door. Introducing and integrating LMS in your organization can be done differently:

1. Building, purchasing, and managing LMS software on your own

2. Outsourcing - engaging a third-party logistics (3PL) company that will run any logistics operations for you: "Using a 3PL gives you a quick implementation period without needing to train your employees on new processes, devices and software,'' comments Matthew York, a SAP analyst of sales and distribution, logistics execution, and warehouse management modules.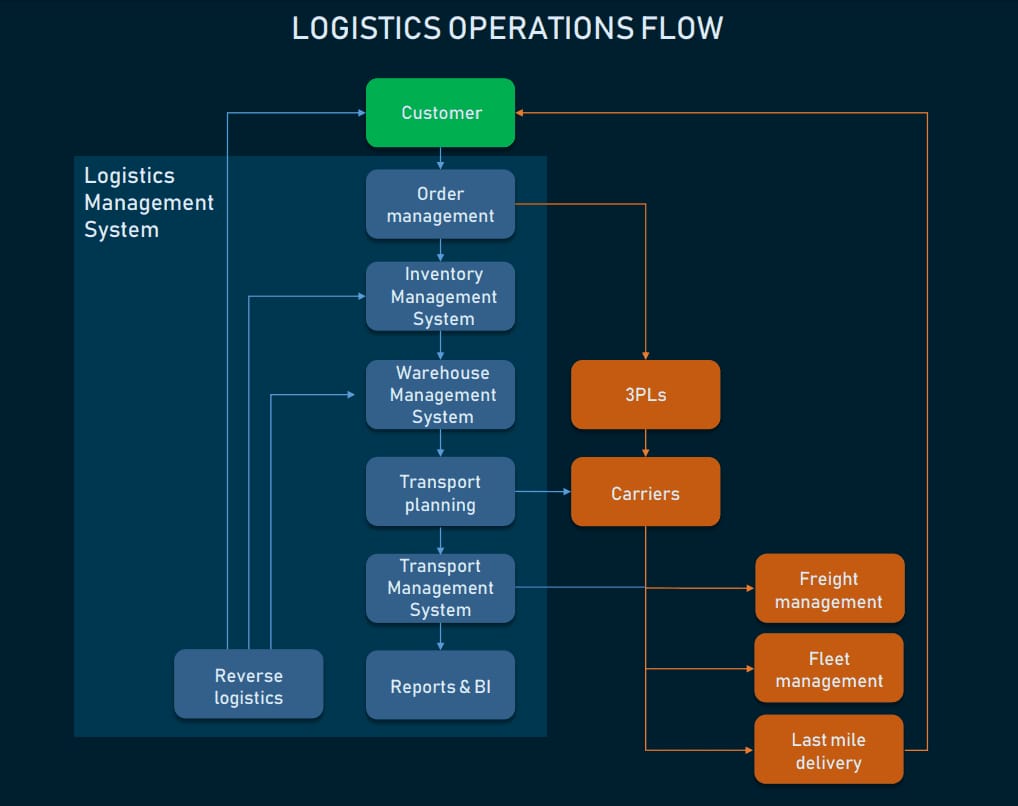 Logistics management system within logistics processes
Main modules of a Logistics Management System
Order management
Receiving and processing an order online usually includes operations of creating and editing inventory, managing customer service, accepting payments, checking for fraud, and handling documentation between manufacturers, suppliers, warehousing, and transportation companies.

To manage orders effectively and avoid double handling errors, orders, inventory, supplier and customer data must be synchronized in one system. Order management software (OMS) receives orders from all your sales channels and monitors them from the moment they're placed until the customer confirms delivery. This is your main connectivity hub where all information about the order is displayed: routes, location, inventory, warehouse connectivity, and integration with accounting to create invoices and accept payments, etc.



Sales order workflow, Source: TradeGecko
An integrated OMS is connected to your CRM and inventory database to complement the sales funnel and provide information for accounting and marketing departments. Additional features include connectivity to popular marketplaces, vendors' inventories, and multi-currency options.
Inventory management
Inventory management is a vital part of the supply chain responsible for controlling and documenting the amount of product for sale. Receiving, storing, and tracking inventory, while dealing with its rapid and constant changes, requires highly accurate product information management. So, automating from classic spreadsheets to inventory management systems (IMS) delivers the needed clarity centralizing all the data in a single location through an inventory management system.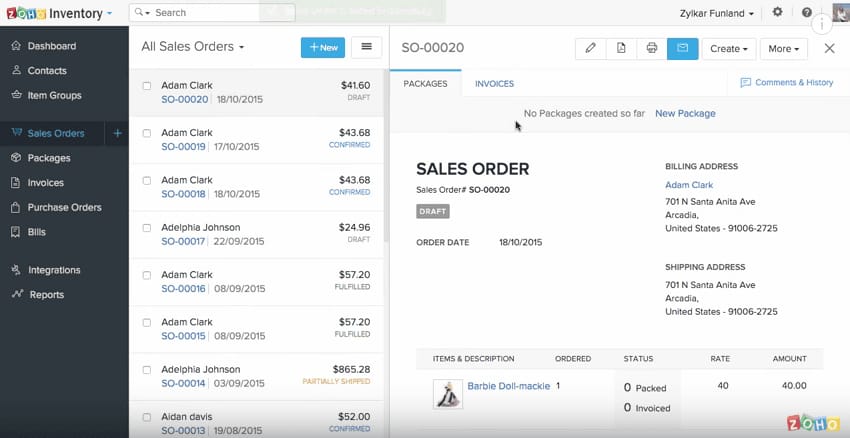 Zoho Inventory has integrations with shipping companies, warehouses, accounting, and CRM software
IMS tracks and reports any inventory changes. It maintains balance in replenishment avoiding stock-outs and excess stock. The system tracks low stock levels and sets automatic re-ordering for each product. Meanwhile, it reduces the risk of ordering excess by estimating product demand.
Warehouse management
Warehouse management is a set of processes maintaining, controlling, and automating warehouse operations. This includes receiving items, moving them, managing warehouse staff using KPIs, maintaining safe work conditions, and using software and hardware to locate and track items.

A warehouse management system consists of tools that streamline the workflow of managing goods from arrival at the warehouse through storage and tracking within the location to order management and dispatching further. SAP analyst Matthew York says that "warehouse management software can give a huge break with fulfillment and stock tracking." Matt adds that in the case of 3PL companies, they also provide a massive storage area for an organization's products.

Typically, WMS is responsible for the following operations.

Warehouse design. Providing a manageable 3D map of the warehouse building, this feature allows for maximizing storage space, managing inventory placement, and improving the flow of items and labor by prioritizing the areas of the shipping queue that require extra attention.



3D visual warehouse design, Source: Infor
Picking. Synced with a scanning device, the software helps pinpoint items throughout the warehouse building. Tracking the barcodes assigned to items, WMS guides the order assemblers to the needed products through the optimized picking route. To ensure the correct lot is selected, pickers doublecheck it: on scanning the attached barcode, the system verifies it. In terms of velocity, batch picking function can be a real timesaver, as it allows for picking many orders in a single run.

Packing. Orders can have specific packaging requirements to guarantee safe shipping or improve the unboxing experience. The WMS helps make sure the packing is performed in the correct order, and as efficiently as possible, according to the rules set by the business.

Labor management. Supervising the human side of warehouse operations entails the use of a labor management system integrated into WMS. First, the system assigns tasks to individual warehouse workers using workforce planning and scheduling capabilities. This allows you to track productivity, identify underperforming shifts or workers. The task history environment shows employees' entire history of activities that can be used for analyzing peak labor, optimizing workflow, and finding solutions where obstacles come into play. In the long run, it will increase productivity and efficiency while lowering labor costs.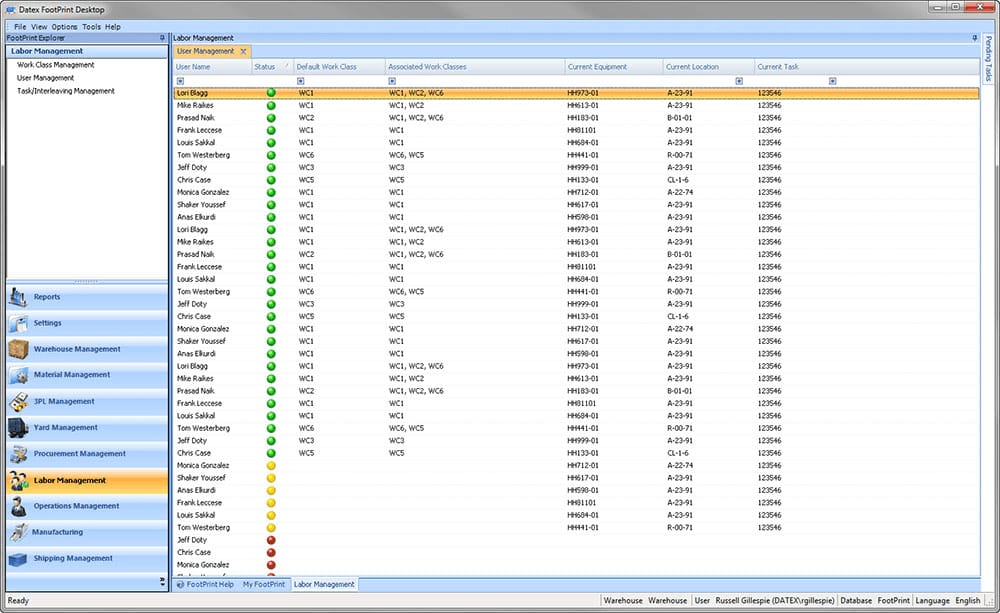 Labor management dashboard containing workers and tasks assigned to them, Source: Datex
Strategic transport planning
After the order is assembled and wrapped, the last thing left before it leaves the warehouse is optimizing its shipment, namely:

Choosing a shipping method. LMS figures out from a variety of transportation logistics options the one that will fit your freight needs best. Shipping methods range from dry van freight for products that don't need refrigeration to refrigerated freight for temperature-sensitive items; from less-than-truckload (LTL) freight for efficient shipping of smaller loads to heavy freight for oversized loads and bulk freight for large amounts of raw materials, etc.

Connecting to the carrier network. LMS connects shippers with carriers providing visibility to all concerned to find the best shipping option. To decide on the cheapest carrier, there're transportation procurement tools. These tools assist in customizing a client's request for proposal, responding to queries, taking in proposals, and evaluating bids.

In the case of 3PLs, they usually have no assets of their own, but rather match vendors' shipping requirements to qualified fleet providers. You can consult our article on the specifics of fleet management software to find out how this solution functions and what value it brings.

Matthew York considers non-asset-based logistics more efficient: "3PLs have a massive database of both companies and individuals who offer shipping services. Because they aren't limited to their own assets, they can offer a higher probability of getting a job done.'' Matt calls 3PL a one-stop shop that takes a lot of logistical workload off your plate.

Defining customs fees and documentation for global fulfillment. Although international shipping entails dealing with much paperwork and ever-changing export control regulations, LMS can make it much easier. Supporting multiple languages and currencies, the system calculates value-added taxes, cross-border fees, and freight forwarding charges. In addition, LMS manages necessary shipping papers, ensuring compliance with both in-country and cross-border regulatory programs.
Transport management
The main software suite addressing freight transportation needs and managing all shipping details is transportation management software (TMS). Implementing TMS solutions, companies are looking for the following capabilities:

Delivery management and scheduling. TMS allows clients to schedule their shipments through their personalized, online TMS account. Delivery estimation is based on such critical parameters as population density, vehicle type, and capacity, predictive traffic analytics, etc.

TMS ensures on-time delivery through automated asset tracking and timely alerts to both shippers and consumers if the shipment is falling behind schedule.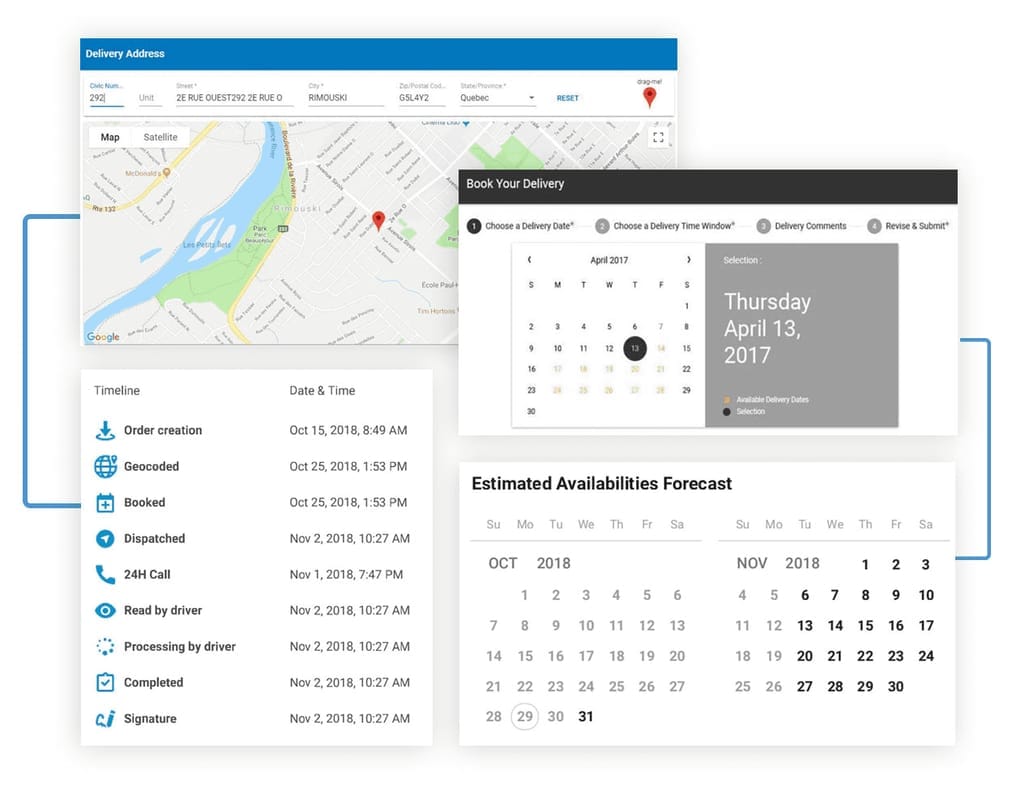 Dashboard of the delivery management & scheduling software by ClearDestination
Cross-docking. This feature identifies a delivery type that eliminates the need to store the products in the warehouse, as they are shipped straight from manufacturer to customer. This can reduce delivery time while saving on labor and warehouse space. However, cross-docking risks losing control over inventory. So, handling cross-docking effectively requires robust inventory control processes.

Last mile logistics. The final step of the delivery process - from a distribution center/facility to the end user - can range from a few blocks to 50 or 100 miles. To deliver orders to consumers, last mile logistics engages parcel or small package carriers. If you want to learn about integration with eCommerce delivery and shipment carriers, read our article dedicated to this topic.

Providing same-day and instant delivery services, final mile logistics drives order delivery velocity, which Tom Craig, president of LTD Management logistics consulting company, sees as the key differentiating factor in the industry. Tom sets Amazon as an example: "They are using logistics as a tool in their velocity. As part of that speed emphasis, they are bringing logistics in-house. Call it reverse outsourcing. This is a challenge to 3PLs and an opportunity — to redefine their role, position in the end-to-end supply chain."

Order tracking. To gain full visibility into product movements, clients are provided with access to an online portal that monitors shipment on the road, alerting to any transit exceptions or unforeseen delays.

Usually, location tracking involves subsequent reports in a real-time, vehicle-position database. Another package tracking method is to report the arrival or departure of the object and record the object identification, the location where observed, the time, and the status.

Not only vendors but certainly customers need insight into the progress of delivery. Provided with an order ID, they can track the progress of the goods in a corresponding application.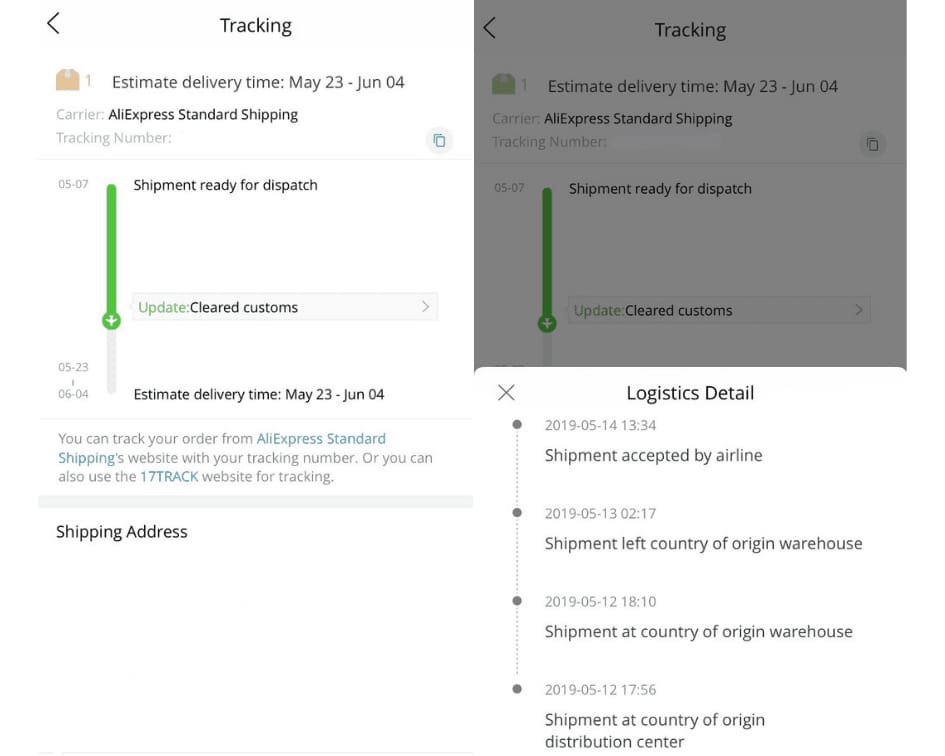 AliExpress app allowing customers to track the location status of their order
Transportation accounting. TMS keeps clients informed of their shipping expenses as it gathers all shipment-related documents in one place. The system simplifies accounting by allocating costs, assigning billing codes for accountability and budgetary purposes, and generating and paying freight invoices, etc.
Reverse logistics
Managing returns from the consumer back to the producer is a logistically challenging process. So, it's worth applying a reverse logistics system (RLS) that will help streamline repair, return, and product reallocation processes.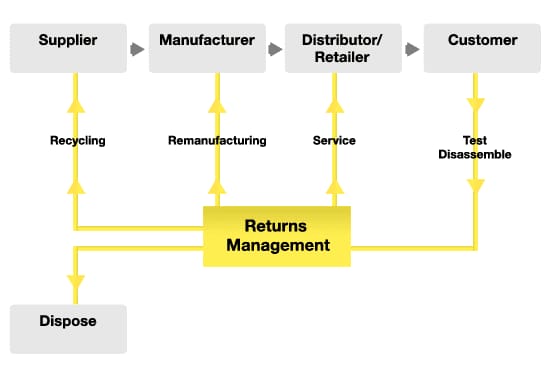 Returns management process, Source: Cerasis
Returns logistics services include:

Information tracking. When a return is made, information about product location and the reason for return must be tracked. RLS can help manage this information, so you know what items have been returned, the reason for the return, and if it was shipped back to the customer.

Returns status. By giving customers visibility into their returns, you will increase their satisfaction. A good way of doing that is providing instant feedback on the return activities for their order in the returns portal or by using e-mail/SMS notifications.

Quality assurance tracking. When quality issues arise and products need to be quarantined, recalled, or repaired, the system will notify the appropriate people so they can handle the issue.
Logistics analytics
Using analytics and big data, the software can analyze the shipping history and improve clients' operations that will minimize logistical costs and reduce shipment delivery times. Applying Business Intelligence, the software can develop performance metrics and KPIs, and create computer models to predict supply chain issues.

As LMS collects a huge range of data, it should be put to good use. Reporting capabilities of a logistics analytics software (LAS) contribute to better visibility and control over future logistics outcomes.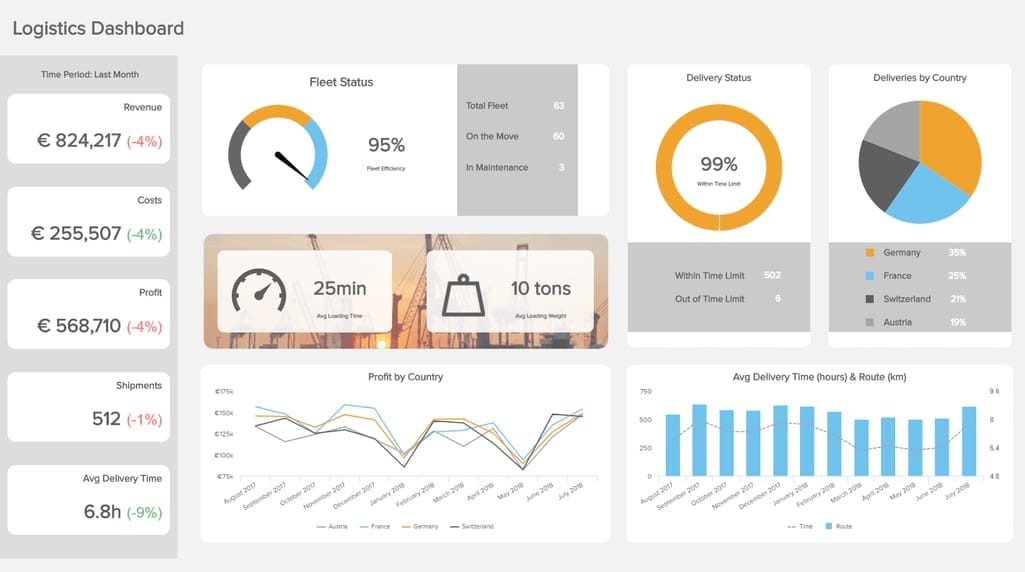 Logistics analytics dashboard, Source: datapine
Among the important reports LAS runs are:

Freight accruals track the costs associated with the transportation of your goods to a customer. They facilitate calculating the company's true net revenue at any given time.

Carrier reports can identify least-cost carriers, track their performance like on-time pickups and deliveries, and routing compliance.

KPI reports provide an immediate snapshot of the overall performance of the company, focusing on indicators that are particularly meaningful.
How to integrate logistics management solutions
As we mentioned before, you can digitize logistics functions in two ways: by using LMS independently and by integrating it with a 3PL. These methods require different integration approaches.
Integrating LMS
Using any module from the family of logistics management systems requires some basic connectivity with a company's Enterprise Resource Planning (ERP). ERP integrates processes essential to running a business: inventory, order fulfillment, accounting, human resources, customer and supplier relationship management, etc. It has a shared database allowing for synchronized reporting and automating various back-office functions, so smooth integration would allow any warehouse and transportation management functions to fit right in.

You can choose one of the following opportunities to utilize LMS in-house:

Using LMS from your ERP provider. Check whether your ERP provider has software functionality for logistics. Providers such as SAP have a big ecosystem of APIs, extensions, and open integrations to expand your ERP seamlessly.

Using IT resources. In most cases, you will have to use systems from different providers which means that integration should be hard coded. In this instance, make sure your IT staff can take the load or outsource integration to external resources.

Building your own LMS. If you have the time, budget, and a use case for designing and engineering your very own logistics software, create a custom LMS and hardwire it into your ERP.
Integrating with 3PLs
Third-party logistics companies are used when a business wants to outsource all or some of its distribution and fulfillment functions. For them to have access and ability to manage and change your inventory, you have to take care of data exchange technology and provide connectivity.

Before integration, any time a client wanted any kind of information, they reached out to the accountant manager, who reached out to so-and-so until they found the answer, and it went back through the players. Now, integrated systems empower direct interaction with the clients - all of the shipping info throughout the product life cycle is visible to them. Matt York proves this point: "Within the ERP, the 3PL can be configured as another plant connected to your local sales organization. This allows you visibility and control of your stock at the 3PL."

So, how to approach 3PL integration? To answer this question, we consulted Vinodh Nithyanandam, integration manager at XPO Logistics - one of the largest providers of transportation and logistics services.

Based on the expert' opinion, we single out three integration methods.

Integration through Electronic Data Interchange (EDI). EDI is a form of structured documents exchange between business partners. Formats of EDI documents called EDI standards, specify what information goes where within an EDI document. Read our article about EDI implementation for more information. when explaining different connectivity methods in transportation. Common EDI standards used in the 3PL industry are ANSI X12 and EDIFACT.

EDI communication methods - how data from one system is transferred to another system - are a key aspect of integration. Among the most common communication methods are:
Point-to-Point EDI - individual connections
EDI Network - value-added services
Internet communications protocols - FTP/VPN, SFTP, FTPS, AS2
Web EDI - via a standard Internet browser
EDI Outsourcing - using an external specialist to manage the EDI environment
Vinodh considers EDI the best method for now, due to its simplicity and availability: "Most vendors have EDI capability, so there is a better return on investment."

Integration through Application Programming Interface (API) suite. API-based integration connects two systems by interpreting and translating data between two systems via their APIs. FedEx Supply Chain, a major 3PL provider in the US and Canada, chooses APIs for compatibility with eCommerce systems. They are open for integration suggestions and allow customers to develop their own APIs to connect to their system.

Vinodh admits that API has various advantages over EDI. However, he also highlights that because API is less common, it usually takes more time to complete the integration: "Most of the time API needs custom development, so there is always some rework, while EDI is a standard defined by ANSI."

A vice president at Red Stag Fulfillment 3PL company Jake Rheude confirms that APIs usually require some customization. Meanwhile, Jake also highlights APIs' necessity "for ensuring that inventory data is the same whether it's in a client's Shopify-based website, the warehouse where products are stored, or in the delivery van on the way to a customer's house for delivery." At Red Stag, they connect their WMS with the backend of various online channels via API ensuring omnichannel presence (Amazon, client's website, social media, etc.).

Integration through non-EDI format files. As opposed to direct connection, file-based integration allows data to be passed between different databases or operating systems in a file (XML, JSON, flat file, CSV, etc.).

In some cases, file-based integration makes the most sense for the business. For example, legacy software often doesn't have available APIs for integration. Tom Craig adds to this: "The shipper and 3PL may work together, but [it won't be] true integration. As that would require elevating the relationship beyond buyer-seller and bringing the 3PL in-house." He identifies this kind of partnership as "an arm's-length relationship."
Technological Drivers of Change
A World Economic Forum report on digital transformation in logistics from 2016 proposes a few technology-driven initiatives that would allow the industry to evolve and keep up with the world.

Short term and least complex initiatives include crowdsourced routes and using customer-owned vehicles, incorporating shared transport and warehouses, and employing Analytics-as-a-Service.

Medium-term ideas for the next 2-5 years cover circular economy, urban logistics, and enhancing cross-border operations with technology.

And finally, the hottest topics in logistics today go into the long-term category: drone delivery, autonomous trucks, and 3D printing.

As we tend to focus on far-reaching technologies that have yet to penetrate the industry (Amazon has been testing its drone delivery service since 2013), it makes sense to turn to the digital supply chain solutions we currently have - smart systems bring automation to every warehouse, vehicle, and office, in this manner advancing all sectors that make up the supply chain.