Corporate travel is making a comeback: It's expected to completely recover to pre-pandemic levels by the end of 2024. Personal client relationships and live conference attendance still make a difference in the corporate world.

Even if you have just a dozen employees traveling in a year, handling trip-related expenses can be a real ordeal. From simply making sure that bookings stay within the budget to collecting multiple receipts, you need some sort of system to streamline the process. Let's talk about optimizing travel and expense management in your organization.
What is travel and expense management?
Travel and expense management (often called T&E) is the process of controlling the business travel budget to have visibility over costs and preemptively minimize them. The end-to-end T&E flow embraces the following stages:
placing a travel request,
approving the request by supervisors (T&E, HR, and/or finance departments),
travel booking,
collecting receipts and reporting travel expenses,
reviewing the report and checking it against the company's expense policies, and
reimbursing travel expenses to the employee.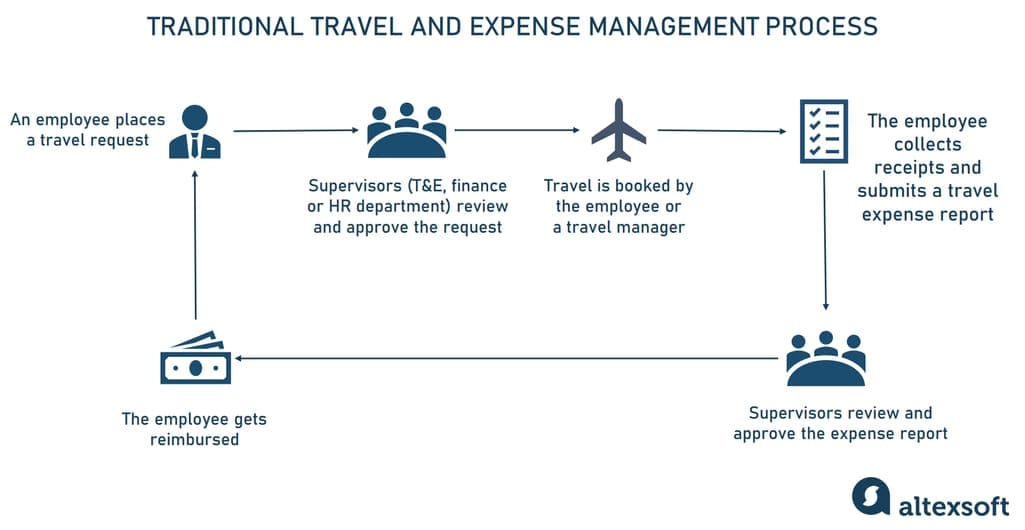 How a T&E flow unfolds.
To regulate T&E activities, organizations create a travel and expense policy that dictates how much employees can spend and on what.
Business travel expenses components
On average, a three-day domestic business trip in the US costs between $990 and $1,293 while an international trip hits $2,600 and more. The lion's share of these sums are made up of
lodging (around 34 percent of all travel expenses),
airfare (17 to 27 percent, depending on the distance to the destination), and
food (over 20 percent).
Total trip costs can significantly add up with other expenses — like
travel at destination (car rentals, etc.),
communication,
event and conference fees,
gifts for business partners,
entertainment,
duty of care costs, and more.
The complex structure of travel expenses spread across multiple receipts makes them difficult to collect, report, and analyze. Below, we'll look at the main challenges associated with inefficient, manually conducted T&E management.
Business travel and expense management challenges
Paper receipts, badly organized Microsoft Excel spreadsheets, and manual information input all weaken the travel management process, especially if you have dozens of employees traveling regularly. The Travel and Expense Management Trends report by Emburse highlights five pain points of T&E departments:
employees losing paper receipts and submitting reports without receipts,
employees failing to submit reports on time,
errors on the reports (incorrect payment amounts, codes, etc.),
problems with data reconciliation, and
time needed for reviewing and approving reports.
The same report clearly shows what induces companies to modernize their T&E management process. The main pressuring factors are the high cost of the expense reporting process, disconnected systems, lack of control over T&E spending, inconsistent and lengthy reimbursement cycle, and poor visibility into T&E data.
Travel and expense management automation benefits
When organizations automate at least some of their essential T&E processes, they can expect the above-mentioned challenges to be minimized if not completely solved. The immediate benefits of eliminating manual tasks include but are not limited to the following.

Improved accuracy. By removing manual data entry from the process, you automatically avoid many mistakes. And even if they happen, you can quickly detect and address them since all the data is stored in one place.

Better spending visibility. Automation enables you to track how much your employees spend on different aspects of business travel in different locations. Your system can promptly generate relevant reports, compare KPIs, and make information accessible and readable for T&E managers in the form of data visualization dashboards.

Strict compliance with expense policies. With automated T&E management processes, you don't need to manually check receipts against your internal rules and policies. They are built into the system, which will highlight extra expenses and make it easier for you to stay on budget.

Fraud protection. Staying compliant with policies leads to the minimization of occupational fraud. The automation tools only approve those payments that fall under the category of "business expenses."

Fast reimbursement and better employee satisfaction. If your company takes a long time to approve and reimburse the travel expenses of employees, it may majorly affect their trust and make them avoid corporate travel altogether. Automated expense submission and reporting ensure that travelers get their money faster while businesses have a clear picture of spending.
Travel and expense management automation approaches
Depending on your budget and how often your company has to perform T&E processes, you can approach modernization in four ways.

Travel management companies (TMCs). Large corporations with thousands of employees worldwide typically use the services of travel management companies. Global TMCs such as American Express, BCD Travel, and CWT provide branded software and have a division of skilled travel agents at your disposal. The services of TMCs include special pricing agreements with major airlines and hotel chains, travel policy development, crisis management, and, of course, travel and expense management.

Note that many companies employ a TMC but continue to use their existing software. In this case, the travel management company adapts to the third-party systems.

See our dedicated article, where we compare four main TMCs.

Travel and expense management platforms. Companies of all sizes can benefit from T&E products as they cover the entire travel and expense management process, have a modular architecture, so you can buy features separately, as needed, and often provide low-cost pricing plans for small companies. This approach is popular among businesses that either don't require full corporate travel support or can't afford it. But, as we said before, T&E software can be combined with TMC services.

Multi-goal expense management modules. There are a lot of expense management platforms not specifically designed for T&E management purposes. They don't provide capabilities like booking, travel tracking, etc. Still, many companies find this option useful, integrating an off-the-shelf expense module into their ERP systems.

Proprietary or custom solution. As of 2021, only 7 percent of companies invested in building custom T&E software. While this approach allows you to cover all your unique business needs, it's too time-consuming and resource-intensive to be feasible for most companies, especially small and medium-sized ones.
T&E software functionality
According to a recent study by Forrester Consulting, 78 percent of decision-makers would prefer a single, end-to-end platform to manage all the company's T&E activities. So dedicated, turnkey solutions are now the most popular choice for companies shifting from manual to automated T&E processes. Let's see what features such platforms usually offer.
Self-service booking
An end-to-end travel and expense management platform allows your employees or travel managers to seamlessly book flights, hotels, and other business travel components via a mobile app or website. The system will store itineraries and other travel details so you can easily check and manage them.
Travel expense submission and reimbursement
With T&E tools in place, an employee can submit expenses via a mobile app by scanning receipts with a camera. The system uses Optical Character Recognition (OCR) to capture paper receipts and convert them into digital text. Many platforms also employ natural language processing (NLP) to categorize expense entries. These entries are automatically checked against embedded policies, which simplifies the approval process and leads to quick repayments.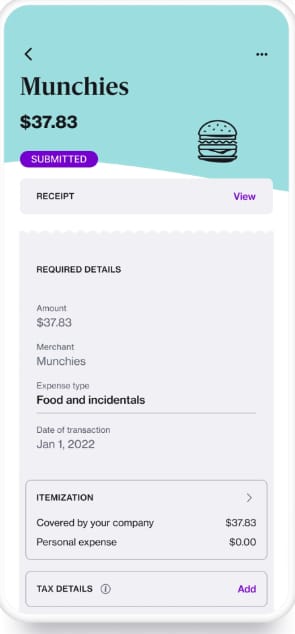 ​​
Submitting expenses via the mobile app during the business trip. Source: Navan
Business travel tracking
A tracking feature lets managers continuously monitor their employees wherever they are. You can categorize travelers by location or other characteristics and get detailed real-time information on each trip — like hotel stays, car hires, etc. This enables you to give your teams immediate support as well as ensure their safety and compliance with the travel policies.
Issuing corporate virtual credit cards
Many T&E management platforms support issuing corporate virtual credit cards (VCCs), which come with enhanced control of spending and strong fraud protection. When connected with the expense management software, VCCs sync expense tracking and reporting, streamlining reconciliation.

Read our article on B2B virtual credit cards to learn about the pros and cons of this payment method for travel businesses.
Travel expense reporting and analytics
Advances T&A platforms come with real-time reporting and analytics capabilities that cover but are not limited to:
expense classification and reporting by expense type;
insights into employee- and department-related spending patterns;
alerts on policy violations and suspicious behavior; and
visualization of business travel KPIs.
Analytical features help you avoid unnecessary expenses, prevent fraud, and ensure policy compliance.

T&E software also must support integrations with accounting, HR, and travel products to streamline the processes already existing in your organization.

Previously, we explored how technology trends advance the travel management ecosystem.

In this article, we take a look at the current solutions available on the market and how they may benefit you.
Business travel and expense (T&E) software examples
For our overview, we selected six popular platforms featured as top-rated solutions in most T&E software reviews. We compared them by essential criteria — such as payment options, pre-built integrations, pricing, and target audience. We also studied what real users like and dislike about those instruments. But, of course, you need to conduct your own investigation before making a final decision on the platform that will suit you best.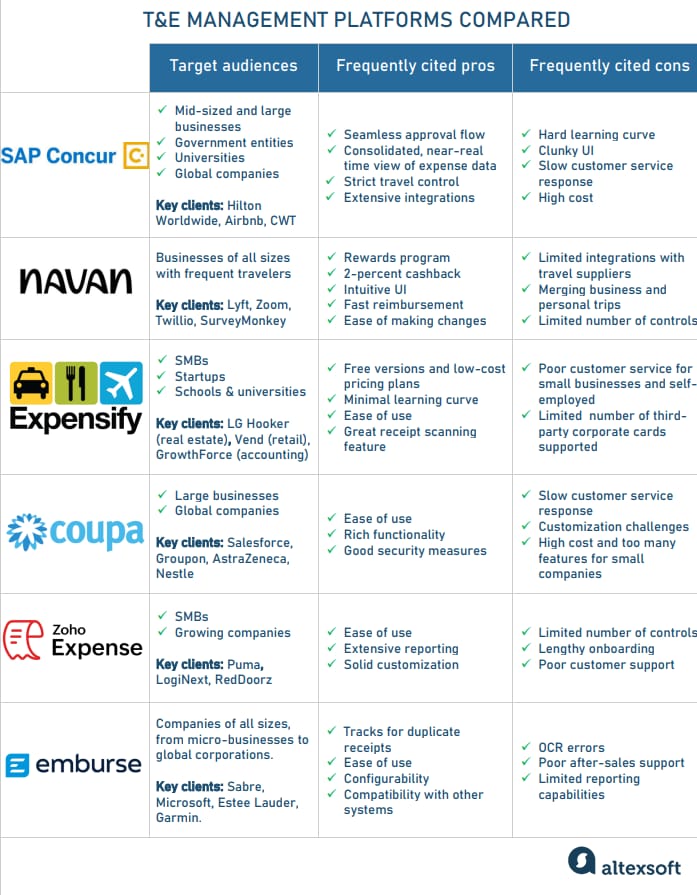 Comparison of top T&E management platforms.
Concur Travel & Expense: A mature and easy-to-integrate platform for global players
SAP Concur offers a suite of SaaS tools for end-to-end expense tracking. Its T&E solution comprises four key modules.
Concur Expense gives you a real-time view of trip spending and facilitates reimbursement. It comes with a mobile app to enable employees to submit expense reports and manage itineraries. For international trips, the module automatically calculates currency exchange rates and value-added taxes (VAT).
Concur Travel is a mobile-friendly solution that allows employees to book flights, hotels, cars, and trains while travel managers can track mileage and expenses.
Concur Invoice automates payments to suppliers.
Concur Detect uses AI and machine learning to extract meaningful data from receipts, automatically approve low-risk submissions, track errors, and flag possible fraudulent activities.
Travel & Expense platform collects expense, travel, and invoice data to generate reports and create business intelligence (BI) dashboards. The software supports multi-currency and multi-language features, which makes it convenient for companies operating in several countries.
Managing travel expenses with SAP Concur. Source: TrustRadius
Payments. The platform is pre-integrated with a lot of banks and other financial institutions, allowing companies to set up their preferred payment methods. This includes virtual credit cards issued by American Express, Comdata (Mastercard), or U.S. Bank.

Integrations. Concur integrates with more than 200 ERP, HR, and CRM systems, including Oracle, Sage, Microsoft Dynamics 365, and more. It also connects to apps by various payment providers and travel suppliers (Lufthansa, Lyft, Uber, etc.). And, of course, the T&E suite seamlessly works with other SAP Concur offerings. Explore their marketplace here.

Pricing. You have to contact SAP Concur directly to get pricing details. The final sum will depend on a combination of features you choose, the number of users, the region where your business operates, contract duration, and other factors. Also, training, implementation, customization, and other services contribute significantly to the total cost. In any case, the product can be too expensive for small businesses.

Customers. Providing an abundance of features and covering end-to-end T&E management flow, SAP Concur suits large and mid-sized businesses with frequent travelers, government and non-profit organizations with strict T&E rules and regulations, and global players. It is also widely used by universities.

Travel and hospitality companies constitute 60 percent of Concur's customer base. Among Concur's key clients are Hilton Worldwide, CWT, and Airbnb. Other industries are represented by such international companies as Roche (pharmacy), Cloudera and Salesforce (software development), ASICS (sportswear), Lockheed Martin (aerospace), Siemens (manufacturing), and so on.

What users like about the product: easy access to information from any location, seamless approval flow, solid controls on travel, and outstanding integration capabilities.

What users dislike about the product: slow-to-respond customer support, archaic UI, hard learning curve, and no affordable pricing plan for small businesses.
Navan: Focusing on employee safety and satisfaction
Navan (formerly TripActions) is a unified, AI-based T&E management app with the end user at the center of attention. Besides functionality common to most T&E solutions, it provides 24/7 travel support and runs a rewards program: Employees who choose cheaper travel and save money for their company earn incentives that can be redeemed for personal trips. Companies, in turn, get a 2-percent cashback for every hotel stay booked with Navan.

As for the reimbursement process, it enables travelers to be refunded within 2 days or less across 45 countries and 25 currencies. Navan also captures and reports VAT transactions.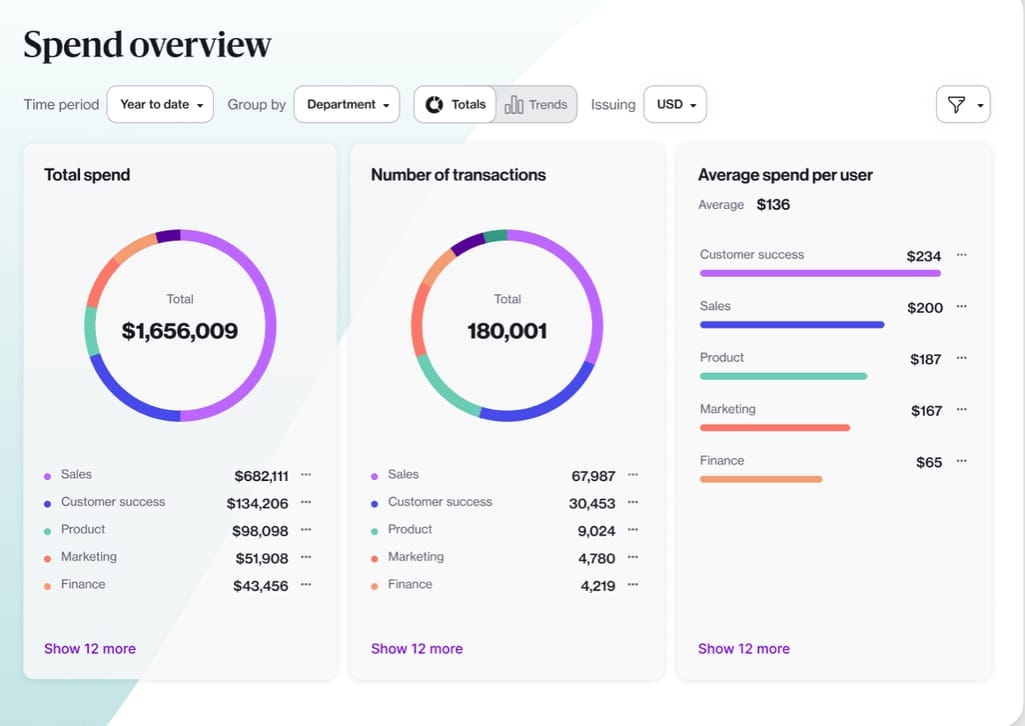 A real-time reporting feature. Source: Navan.
Payments. Navan partnered with Stripe to issue both virtual and physical corporate cards — Navan Expense–- for one-time or recurring payments that eliminate manual reconciliation. Spend controls are auto-enforced, so an employee can spend only the approved amount at the point of sale. You can also link your existing Visa or Mastercard to the Navan platform.

Integrations. Navan integrates with different HR and accounting platforms, CRMs, and other software to run core business operations. It also comes pre-connected with a plethora of services and apps to facilitate travel.

The company partners with large hotel chains (Marriott, Hilton, and Accor), eight major airlines (including American Airlines, Delta, Lufthansa, and British Airways), and a couple of car rental companies (Budget Rent a Car and Hertz.) Yet, if you look for something more specific, you probably won't be able to book it via Navan. View the marketplace here.

Pricing. Navan has two pricing tiers — for companies with up to 100 employees and for larger enterprises. It also provides a free trial for the first 50 monthly active users — you only need to pay for live travel agent support.

Customers. As the pricing policy clearly shows, Navan targets businesses of all sizes. Among globally known companies using Navan are Lyft, Zoom, Twilio, and SurveyMonkey.

What users like about the product: intuitive interface, incentive programs, and ability to make changes to itineraries on the go.

What users dislike about the product: merging personal and business travel into a single trip, limited partnerships with travel suppliers, and limited number of controls.
Expensify: A simple solution for SMBs, startups, and remote workers
Expensify is the world's most widely-used expense tracking and reporting app. In 2020, they extended their platform with Concierge, a virtual assistant able to reserve travel according to the company's policies and employee's preferences, save trip details, and re-book flights in case of cancellations. All bookings are complemented with free safety services (alerts, emergency transportation, medical advisory, etc.). Concierge is available for free with any pricing plan by Expensify.

The employee reimbursement functionality by Expensify works in 154 different currencies across 200 countries. Additionally, in September 2023, the platform introduced two new features: Insights (a visual reporting dashboard) and Custom Reports for trained admins to analyze their company spending.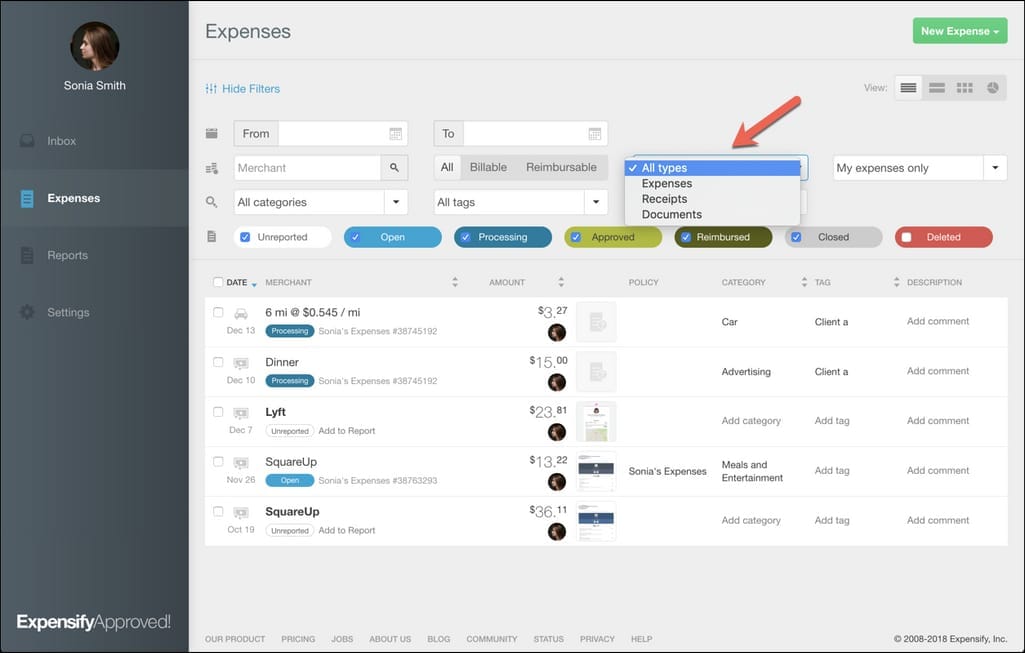 Expenses report. Source: Expensify
Payments. Expensify automates expense tracking, checks purchases against policies, and syncs all transactions with its branded corporate credit cards. The virtual version can be set up in a few minutes once your employees start using Concierge. Cardholders get a one-to-two percent cashback on every payment. Expensify makes donations to help fight social injustices from every trip booked with their cards.

Besides Expensify Business Cards, clients can use other payment options —debit and credit cards, ACH, and PayPal.Me. Yet, the number of available alternatives is limited.

Integrations. Expensify has out-of-the-box connections with accounting software like QuickBooks, Sage, and Oracle NetSuite, as well as HR and tax management solutions, travel platforms (Egencia, TravelPerk, etc.), and more. It also maintains integrations with Uber, Lyft, Bolt, HotelTonight, Trainline, and other travel service providers to automatically upload receipts to Extensify. See the full list of integrations here.

Pricing. The company offers a free version with basic features and two pricing tiers costing $5 and $9 per user per month. Yet, you get them for free as well if you meet a minimum monthly spend with an Expensify Card. Self-employed people can take advantage of the separate plan, which comes free if you process no more than 25 receipt scans per month. Otherwise, the platform charges $4.99 a month. See the pricing details here.

Customers. Currently, the app has over 12 million users. Companies employing Expensify are mostly located in the US. The majority of them have 50 to 200 employees. The platform is also popular with non-profit organizations (NPOs), schools and universities, self-employed people, remote workers, and startups. Among clients are LG Hooker (real estate), Vend (retail), GrowthForce (accounting), and representatives of many other industries.

What users like about the product: free or low-cost pricing plans, minimal learning curve, ease of use, and great receipt scanning feature.

What users dislike about the product: poor customer service for small businesses and self-employed, and limited number of third-party cards supported.
Coupa: Enhanced fraud detection and saving opportunities for large businesses
Coupa, a business spend management platform, extended its functionality with a travel booking tool in 2022. Now, the unified T&E management solution is available on the web and mobile platforms. The travel content is provided by Sabre, one of the three main global distribution systems (GDSs) in the world.

Coupa Travel and Expense generates smart travel recommendations and enables employees to book trips in less than 5 minutes. Travel Saver feature running in the background automatically rebooks flights and hotels if a price has dropped. The users also take advantage of personalized trip itineraries and Coupa's pre-negotiated rates.

The T&E solution is complemented with a fraud detection tool that utilizes machine learning to identify suspicious behavior.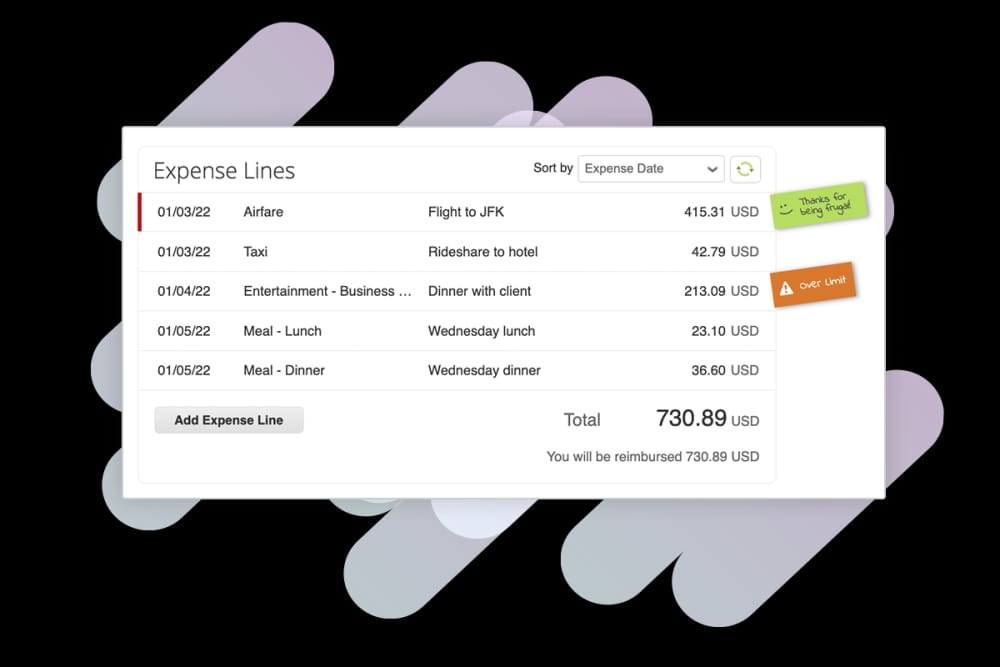 Employee expense reporting. Source: Coupa
Payments. Coupa allows you to use virtual credit cards generated by one of the platform's pay partners — including AmEx, Bank of America, WEX, etc. Coupa also supports other payment methods, such as physical credit cards, ACH transfers, and checks.

Coupa's pay partners.

Integrations. You can use Coupa's REST API to integrate the T&E software with your ERP, financial, HR, or inventory management system. The platform also has pre-built connections with numerous apps to run business intelligence (for example, Power BI), tax calculation, invoicing, system integration, and other activities.

You can also easily link to Lyft and Uber, for automated expense reporting or expand your T&E management capabilities with Amadeus Cytric, Egencia, Sabre's GetThere, or Roomex. See the full list of out-of-the-box integrations here.

Pricing. Since Coupa is a comprehensive expense management platform with many products and features, they don't offer a standard fee. Contact Coupa for personalized pricing.

Customers. The majority of Coupa's customers are large enterprises with over 1000 employees, operating in technology, staffing, or consulting sectors. Among notable clients are Salesforce, Groupon, Zendesk, AstraZeneca, Nestle, and others.

What users like about the product: ease of use, rich functionality, good security measures,

What users dislike about the product: slow responses from customer service, customization challenges, high cost and too many features for small companies.
Zoho Expense: A customizable tool for small and medium businesses
Zoho Expense is travel and expense reporting software with mileage tracking through GPS. It can scan receipts in 15 different languages, settle fast reimbursements, and get quick insights into spending. Its self-booking module powered by Sabre GetThere offers the best prices and a wide range of flight options, including low-cost carriers. Users also receive alerts on price drops to rebook tickets at lower rates.

Travel expense managers can benefit from the platform's unique features — an add-on to the Google Chrome web browser and the ability to manage a lot of expenses on one page.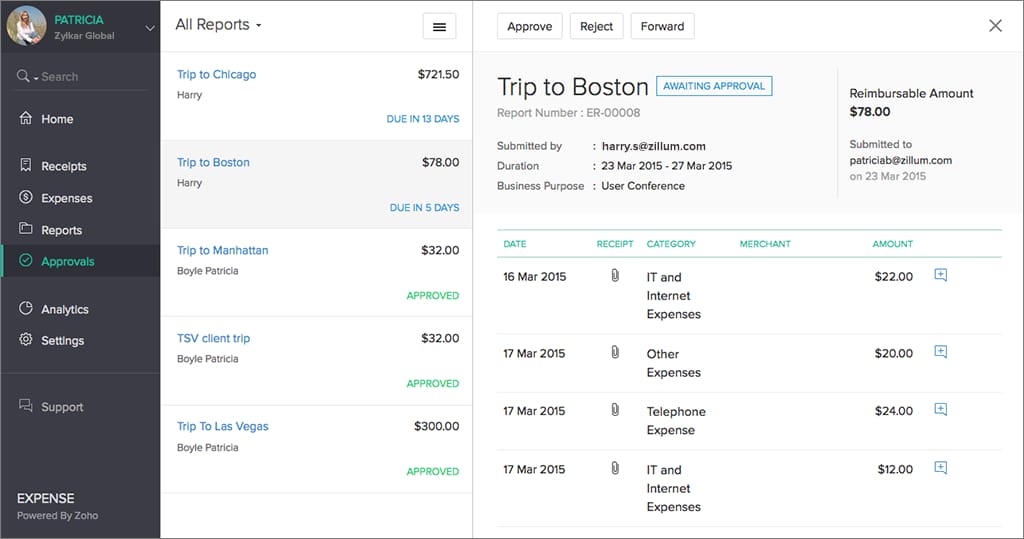 Reports on travel in the admin panel. Source: Zoho Expense
Payments. You can connect your personal or corporate cards, both debit and credit, to Zoho Expense.

Integrations. Zoho Expense is pre-connected with all major accounting and ERP solutions (Oracle, SAP, Sage, Xero, and more) and many business apps like Google Workspace (formerly G Suite), Office 365, and Slack. You can automate the uploading of ride receipts by linking to Lyft and Uber. Zoho Expense is natively integrated with other Zoho products. See the full list of connections here.

Pricing. Zoho offers pricing plans for businesses of all sizes, along with free trials. Small businesses (up to 3 users) can start free. Paid subscriptions range from $3 to $8 per user per month. See details here.

Customers. Zoho mostly serves small (up to 100 employees) and medium (100 to 500 employees) businesses. Yet, it also has clients among global companies — for example, Puma and LogiNext. Its free version attracts self-employed people.

What users like about the product: ease of use, extensive reporting, and solid customization.

What users dislike about the product: a limited number of controls, lengthy onboarding, and poor customer support.
Emburse: Offers modules for companies of all sizes
Emburse, the global leader in spend optimization, provides tools to cover end-to-end T&E management flow. You can combine different instruments depending on your business size and needs. The T&E suite comprises
Emburse Chrome River — an expense management solution with powerful analytics and reporting capabilities for large companies and enterprises;
Emburse Go — a corporate companion app that helps with pre-trip planning and provides on-trip assistance.;
Emburse Certify Travel — a self-booking tool with pre-trip approvals, corporate rates for flights, hotels, rails, and car rentals, and flexible reporting. It comes in two versions — for enterprises and small businesses;
Emburse Tallie — a travel and expense solution for micro-businesses and outsourced accounting; and
Emburse Analytics Pro — an instrument that gives you a holistic picture of travelers' behavior and T&E spending.
In 2023, Emburse partnered with Amadeus Cytric to bring together the expense management of the former and travel capabilities of the latter and deliver a fully-integrated T&E solution for global corporations with complex travel programs.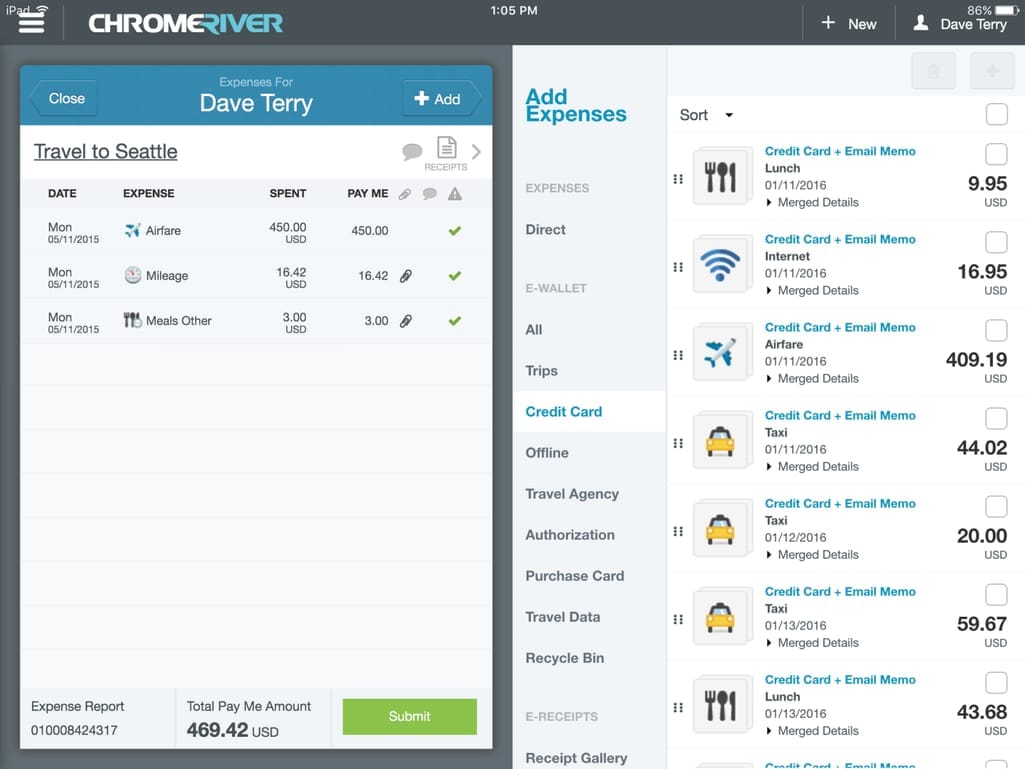 Expense breakdown in ChromeRiver. Source: CPA Practice Advisor
Payments. The company prompts customers to use Emburse virtual and physical cards issued by Celtic Bank. They dramatically simplify setting spending restrictions, tracking transactions, capturing receipts, and reporting.

Integrations. Besides embedded connections with other Emburse products, customers can benefit from ready-to-use integrations with third-party services — accounting and ERP platforms (Xero, QuickBooks, Sage, SAP, Oracle, etc.), HR software, CRM (Salesforce), payroll and tax compliance systems, payment solutions (PayPal, Stripe), travel management companies (TravelPerk, Concur Travel), and more. See the full list here.

Pricing. Each tool in the T&E suite comes with its own pricing plan. So the total cost will depend on what you choose.

Customers. Emburse has offerings for organizations of all sizes, from micro-businesses to global corporations. Among companies using their T&E software are Sabre and Hard Rock Hotel (Chrome River), Microsoft and Estee Lauder (Go), Garmin (Certify Travel), and more.

What users like about the product: tracks for duplicate receipts, ease of use, configurability, and compatibility with other systems.

What users dislike about the product: OCR errors, poor after-sales support, and limited reporting capabilities.
How to select and integrate a travel and expense management tool
Introducing a new solution to your tech ecosystem requires the collaboration of different departments and connecting multiple pieces of existing software. So, to make the best choice and seamlessly adopt the new system, consider our tips.
Think about your organization's needs and pain points
At this juncture, determine what your requirements are and the type of solution that will fit your unique needs best. Answer these questions to outline your current situation:
How many employees do you have and how many of them regularly travel?
What other services would you like to integrate with a T&M platform?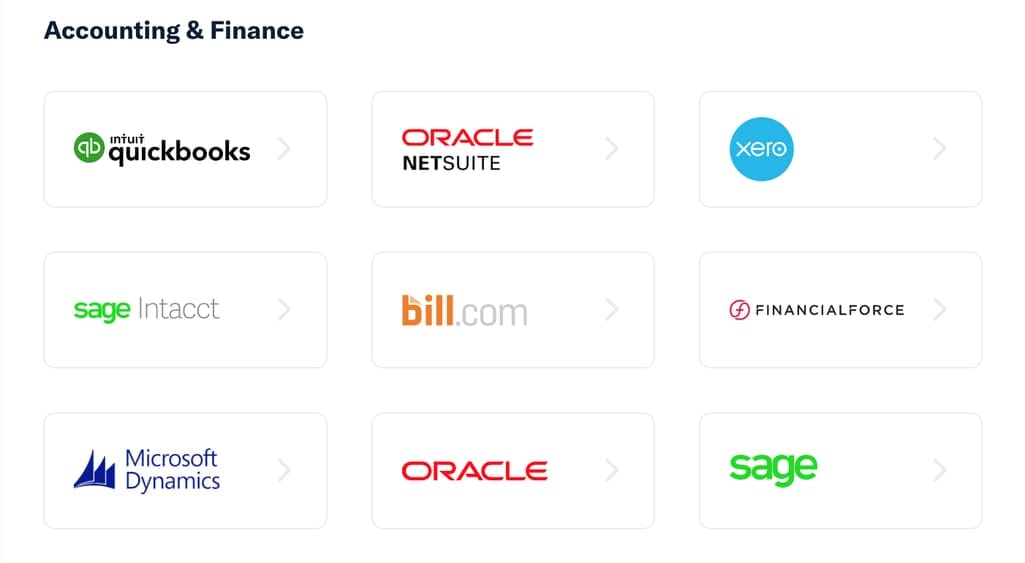 A line-up of accounting integrations for Expensify
Who will be managing your T&M efforts, and do they need training?
How tech-savvy are your employees? How receptive are they to revolutionary changes?
Do you want to allow employees to book on their own? Do they want to have more freedom during corporate trips?
Travelers, the financial department, the IT team, and top management will all be involved in company travel expense management. You need to understand their work processes. Ask your employees directly how they currently keep track of expenses and what they'd like to see improved. Your CFO will help you understand what organizational data is being analyzed and what kind of reports the company is lacking.
Determine the project budget and your financial expectations
It's critical to understand how much money your company can allocate for the new software and what you expect to earn in return and when. By the way, 46 percent of companies report positive ROI from a cloud-based T&E system in less than a year. Since automating all the processes at once can be too resource-intensive, you can start by buying a module to modernize the most critical part of your T&E cycle.

Also, consider running a prototype project with a tech partner if you haven't found the out-of-the-box solution that fits your requirements and points you towards custom development.
Pay special attention to integrations
Typically, the biggest concern about adopting new software is how to integrate it with internal processes. So, first, assess what connections you must make and whether a new tool is compatible with your existing systems.

Usually, T&E solution providers thoroughly describe how they plan to sync up your data, how long implementation will take, and what requirements the software has. You can also initiate your own technical feasibility study to assess what it will take to build all the required integrations and whether you will need help from third-party developers.
Explore a provider's security profile
What are you doing to make your organization's data secure? And how does a vendor store your sensitive data in the cloud? Though public cloud services allow you to scale more easily and reduce costs, there's almost no guarantee this data will be stored safely. Consider what the loss of this data will mean for your organization and the people who work in it.
The easiest way to check a vendor's security profile is by reviewing certifications, accreditations, and standards. Check if they comply with information security standard ISO27001, the Payment Card Industry Data Security Standard (PCI DSS),and the General Data Protection Regulation (GDPR).

ChromeRiver has a page dedicated to data security standards compliance.
Carefully assess technical support
Using a cloud service means that all setup, implementation, and technical support will be managed remotely. When searching for a software provider, ensure they have a professional approach to remote project management, comprehensive guidelines, and FAQs that will help you deal with technical issues on your own. Also, try to check beforehand how fast their technical support reacts to your questions. Low response and lack of help from providers may disrupt your T&E process and outweigh all the benefits of rich functionality.