According to Phocuswright,
39 percent
of the digital travel market belongs to online travel agencies, and the number is expected to grow. Digitization of travel services coupled with the domination of mobile has been rapidly tilting the scales toward a new form of travel shopping.
Online travel agencies (OTAs) contributed to the drift toward seamless trip planning with an entire package of travel services available on a one-stop shopping platform. What's more, personalized recommendations along with dozens of reviews by other travelers, are catering to the customers who prefer planning their trips in one place.
The competition
within
the market is understandably a concern for newcomers seeking to carve out their place among giants – Booking.com, Kayak, Momondo (all belonging to The Priceline Group) and Expedia, CarRentals, and Hotels.com (operated by Expedia, Inc.). Is it possible to find breathing room in such a saturated and competitive market? And if it is, what are the main strategic choice to be made to build a competitive online travel agency? Let's find out.
1. Choose a niche travel market
The brands controlling the largest share of the OTA market not only have complex structures and a wide range of software, but are also recognizable by both customers and suppliers. Hotels, struggling to
boost direct sales
, are especially wary of giving their inventory to small companies. Many of them are trying to ease their dependency on third-party relationships and bring customers back to their sites.
What's the solution here? Offer niche, location-based services to access the underrepresented markets and gain trust of the narrow audience.
Most popular OTAs such as Kayak and Hipmunk are grounded in the idea of providing the cheapest flights and hotels, which is frankly a big chunk to cover. Same goes for BedandBreakfast.com – the portal for travelers seeking B&B stays. Nor are hostels a niche area anymore – as the number of hostel lovers grows, these travelers click around a few popular websites to research their options.
According to
TheTravelNet
, these are five travel markets to consider in 2017 and beyond:
Libertine travel - services for open-minded and liberal travelers whose interests are often considered taboo
Special needs travel - travelers with mobility issues and disabilities seeking airlines and resorts able to accommodate their requirements
Wellness travel - yoga and meditation retreats are gaining support of the young and healthy
Organized tours for millennials - vacations catering to the younger audience that seeks adventure, exploration, and authentic experiences
Specialty cruises - special interest cruises for niche-group travelers
Do conduct your own research to find a relevant market in your area. Browse local forums, talk to bloggers, join the discussions to learn about the struggles occupying the minds of travelers in the region. The founders of
Innclusive.com
, having experienced vacation discrimination firsthand, created a platform to connect travelers with welcoming hosts.
2. Acquire accreditation
Typically, travel agencies that want to be recognized by professionals in the industry need to obtain accreditation. We say
typically
, because there are still some options for OTAs to function without an identification number, and we'll cover them later. There are several accreditation programs that you should be aware of, each with varied requirements, costs, and potential perks. Let's discuss some of them in layman's terms.
International Air Transport Association (IATA)
The IATA identification number is accepted globally and is the recognized proof of your expertise in the industry. Being accredited by IATA grants a number of benefits such as access to the best pricing rates from about 250 airlines, as well as a single, standard invoicing and payment interface between you and suppliers.
However, to become an IATA agent, you first need to prove you have years of industry experience, obtain a business license, and meet the financial criteria. Moreover, waiting for approval may take months. Conditions also vary from country to country and even within the same state. Certainly, this is a steep path for newcomers and requires serious preparation.
Airlines Reporting Corporation (ARC)
ARC is an accreditation agency for US-based travel agencies only. Just like IATA, ARC accreditation will give you access to 200+ carriers and a toolkit including programs for credit card processing and a fraud prevention service. ARC provides three accreditation levels for different purposes, and the traditional one requires no prior experience in the field. However, high application fees plus annual fees, along with a rigorous application process including an interview with an agency's owners can be overwhelming for a new agency. Additionally, ARC requires one of the agency's employees pass the ARC Specialist exam, which not only adds to the cost but also extends the accreditation procedure. ARC also organizes webinars for travel agencies and provides year-round support.
Cruise Lines International Association (CLIA)
CLIA accreditation is only relevant for the agencies selling cruises. Besides the recognition in the industry and access to 95 percent of global cruise capacity, CLIA offers training and development opportunities. If at least a fraction of your business is dedicated to cruises, you may want to get an identification number. Thankfully, obtaining the basic membership doesn't require any prior experience or an application fee. But if you want to select the premium option, you may need to hit the minimum commission bar and be invited to join.
Building an OTA without accreditation
Considering the often-tedious process of acquiring accreditation, many new OTAs are looking for ways to reach the travel market without the ID. Here's how to accomplish that.
Option 1: Use a Host Agency
A host agency is an accredited agency that acts as an umbrella company for non-IATA travel agents. By joining one you get access to their accreditation ID, can use their software and GDS, and even ask for consultation. This option allows for an easy entrance point since it's low-risk and doesn't require big investments. Different hosts offer different business models and you must execute your due diligence before applying to any agency to host you. Some requirements include splitting the commission, and in other cases you'll pay a fee for each booking.
Option 2: Join a franchise
Getting a travel agency franchise would be a good choice for businesses that don't want to develop their own brand. By purchasing a franchise, you get access to an established business with the ready operational and marketing processes. While a franchise agency gets 100 percent of the commission, they must regularly pay a royalty fee that can either be a percent of sales or a flat fee. Just like with host agencies, the franchise requirements are different and should be carefully examined. Since not all franchises share their accreditation number with you, in some cases, you should be accredited yourself.
Option 3: Connect to airline consolidators
Services like
TravelFusion
and
Mystify
connect OTAs with smaller, more diverse airlines by providing technology varying from white label solutions to XML APIs. Since consolidators purchase discounted tickets from airlines, they provide OTAs with lower airfares resulting in a competitive advantage in niche markets.
3. Consider cost-reducing practices
An OTA's long-term success is linked to attracting repeated bookings and managing operational expenses. While it's important to provide an outstanding customer experience and adopt a mobile-first approach, be aware of processes contributing to revenue growth and cost reduction.
Focus on non-air sales
According to a
survey
conducted by Hermes Management Consulting, 85 percent of OTA sales come from air tickets while hotels represent only 14 percent. That said, a closer inspection reveals that a gross margin of hotel sales is nearly twice as large as air – 12 percent against 6 percent. So, non-air sales represent a bigger growth opportunity for OTAs.
Control marketing expenses
Marketing makes up the largest cost driver for an OTA but smart expense handling can minimize these marketing expenditures and generate more conversion. Introduce a CRM system to customize client information and manage offers. Loyalty programs will also boost repeated usage. Hotels.com, for instance, offers one free stay every ten nights.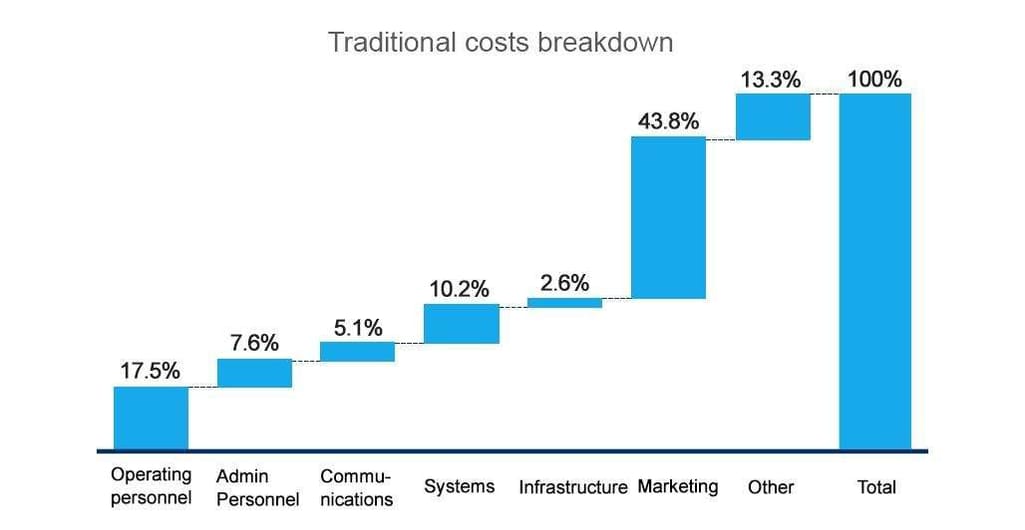 Online travel agency's expenses Source: Hermes Management Consulting

Automate

After marketing, offline support managers are the second biggest expense driver for an OTA agency. While customer support through various channels is important, most routine tasks, such as ticket changes or queue management, can be automated.
4. Integrate booking engines and third-party APIs
Booking engines are travel agency software tools for making online reservations directly from a website. Existing within your website, they are integrated with website builders (such as WordPress), payment gateways, CRM systems, and can be connected to a wide range of services such as Mailchimp or Google Analytics. Besides acting as the back office, it allows users to check availability, make reservations, pay online, and receive a confirmation email.
Technology companies provide various
booking solutions
, for both B2B and B2C markets, integrated with GDS by different suppliers, covering flights, hotels, packages, activities and transfers.
When developing a booking and reservation system, consider these must-have features:
Customizable layout
Multi-language support
Secure online payments
Report dashboard
Inventory management
Cloud-based
Automated cancellation handling
Travel websites can also integrate application programing interfaces (APIs) for a wider range of services. They will allow your customers to book events and restaurant tables, and manage public transportation directly via your portal. Check out our blog post for the overview of main
travel APIs
on the market and the tips on choosing the right ones for you.
5. Integrate a payment gateway
A payment gateway is an eCommerce service acting as a link between a website and a user's account to process payments securely. Gateway encrypts a user's personal data traveling from a browser to a vendor, requests an authorization from a bank, and then transmits the response back to a website to complete the payment.
Payment gateway process
Providers like Amadeus and Sabre administer their own payment processing systems. However, you can integrate alternative methods of payment to increase your portfolio and customize customer experience. That's why you need to know about available options such as PayPal, Amazon Payments, and WePay. Before selecting a provider, consider the following criteria:
Countries and currencies.
Depending on your market, you may want to check which countries and currencies different providers support. If you're planning to grow and cover more markets, be on the lookout for the systems offering a wider spectrum of alternatives. For instance, FirstData covers over 50 countries and 140 currencies and WePay only works in the US.
Budget.
Different providers offer different fees for set-up, transaction, and administration. Some providers calculate the individual fee and should be contacted beforehand. Others ask for no monthly fee at all.
Security.
Always opt for a provider offering fraud detection mechanisms and built-in security measures (such as tokenization) to ensure the highest security. This will protect your reputation and reassure a client that they can make payments at your portal with confidence.
Setup.
Until recently all eCommerce store owners were required to set up a merchant account to allow their credit card to receive payments directly from a gateway. Now some providers such as PayPal and Stripe allow for transferring payments directly to your account, simplifying the integration process. However, these modern systems tend to charge more per transaction and redirect customers off-site to complete the payment. This may reduce conversions, and as your site grows, the fees will add up. Consider both options before selecting either classic or modern gateway providers.
6. Ensure a user-friendly system
Attracting visitors to your website is not the only step. You also have to ensure your platform is user-friendly and provides travelers a quality user experience. Previously we covered the
best UX practices for booking websites
, where we discussed a simplified search and the importance of reviews. Other than that, must-have elements of quality user experience for an online travel agency include:
Trustmarks.
Just as in any eCommerce service, you want to assure your clients they can trust you with their transaction information. An Econsultancy survey found that 61 percent of customers had't made a purchase because they couldn't find any trust logos.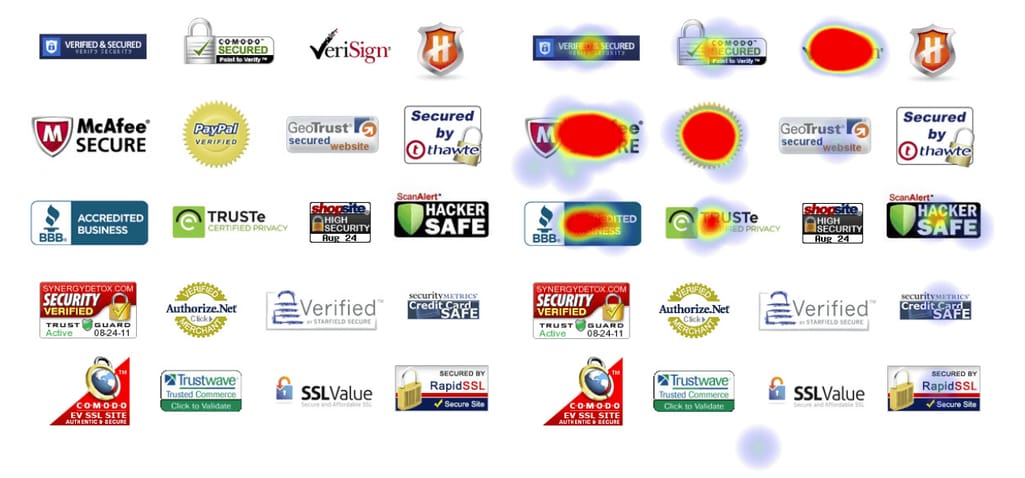 Trustmarks for eCommerce websites (left) and a heatmap indicating the most recognizable ones (right) Source: Econsultancy

Price alerts. Make sure to enable email, SMS, or push-up notifications to inform users about price drops and room availability on their chosen dates.

Customer service. Despite going online for travel services, visitors still want the same level of service a human agent would provide. To build customer loyalty and increase conversion rates, create a system of customer interaction by providing your contact information, being active on social media, and allowing for live chat. Currently you can even build AI-powered travel chatbots that will deal with repetitive tasks and answer frequently asked questions.
Summing up
One of the key criteria helping OTA giants gain customer trust is transparency and attention to details. Unsure travelers don't feel as stressed when presented with a variety of options and don't have to dig through itinerary descriptions to find the one serving their needs. So, adopt a user-centered approach towards creating successful eCommerce platforms, and invest in technological developments to support it.