When we think about increasing the efficiency of the supply chain, the first thing that usually comes to mind is optimizing transportation and warehousing operations. However, there's a small but very important link that connects these two major aspects, a link often overlooked and underestimated -- the yard.

For example, one of the most frequent problems of the logistics industry is late deliveries that result in financial losses, missed opportunities, and customer dissatisfaction. But if you look deeper at the reasons for delays, you might be surprised that often it's not because of traffic or poor routing, but because of inefficient loading processes.

Improving your yard management can have a tremendous impact on the effectiveness of your supply chain business. According to the 2020 State of Yard Management Report, more than half of the respondents admitted that implementing a yard management system could help reduce their expenses by at least 5 percent.

So, in this article, we'll cover the main yard management pitfalls in the trucking industry and explain how technology can help address them, thus streamlining operations and optimizing freight movement.
What is yard management?
Yard management is a set of activities aimed at overseeing the flow of inbound and outbound freight. That involves such aspects as
organizing the movement of trucks in the yard of a manufacturing facility, warehouse, cargo terminal, or distribution center (DC);
scheduling and conducting loading and unloading operations at the docks;
asset tracking and moving, etc.
We'll briefly illustrate it with one of the most common scenarios. For example, the carrier has to pick up the load from your warehouse. That requires a certain sequence of steps to be taken:
The appointment has to be scheduled and confirmed with the carrier. Usually, here you also collect the vehicle details for verification.
When the truck arrives, the driver checks in at the gate, possibly goes through a security check or some kind of verification process, and gets directed to the parking lot where he or she drops the trailer.
The guard notifies the manager and/or the dock team that the truck has arrived.
When the dock is available, the spotter gets the instructions to fetch the trailer and move it to the dock door. At this time, cargo is being prepared for loading.
Dock workers load the trailer.
The spotter moves the loaded trailer to the parking where the driver hooks it up to the truck.
The truck checks out at the gate.
As simple as it seems, every step has a number of pitfalls that can cause delays and mess things up.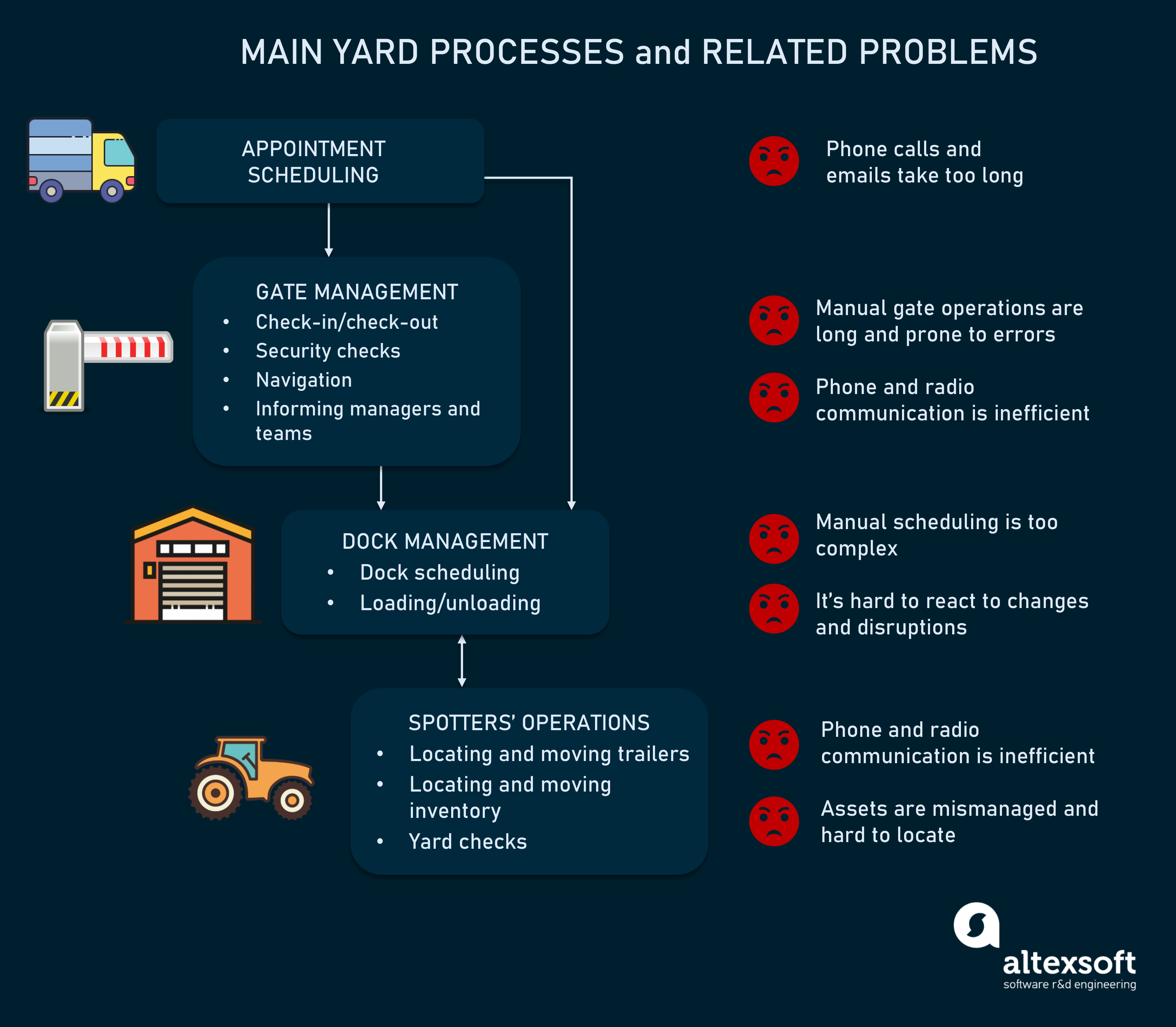 Yard management processes and related challenges
Logically, a yard management system, or YMS, is a software solution that automates these processes. Instead of you manually planning and tracking your daily yard operations, a YMS can facilitate scheduling, help monitor equipment and goods, and provide you with real-time information for more effective decision-making.

YMSs can be a part of or connected to other pieces of software, such as enterprise resource planning (ERP), transportation management system (TMS), or warehouse management system (WMS) to gain an enterprise-wide visibility and control. We'll discuss possible integrations in one of the next sections.

Now, let's talk about the main issues of yard management to better understand why to implement the YMS at all.
Yard management challenges
Every business is different, but there are some common inefficiencies in the yard that a lot of logistics companies struggle with. And, no surprise, most of them come from manual operations, as reported by about half of the respondents (numbers slightly vary across industries) of the 2021 Yard Management Industry Report by FourKites.
Gate operations take too long and result in queues
Manual check-in and check-out processes often become a serious bottleneck for a busy yard as it takes too long for trucks to get in or out. You probably know the situation when a guard is running back and forth around a guard shack, confirming vehicle information and making phone calls to notify the dock team. A waiting line is created, spilling out on neighboring streets, with drivers possibly getting penalties and definitely wasting time and fuel as they sit in idling trucks.

A foreseen result is piling detentions, shipment delays, and unhappy carriers. And we're not even talking here about efficient tracking of cargo that comes in and out of the yard -- it's too time-consuming and doesn't bring much value when managed on paper.
Dock activities and personnel are hard to schedule
Loading dock operations are the most crucial processes in your yard activities so you want maximum efficiency and top performance here. However, it's the most vulnerable point since it's most prone to disruptions. So, efforts have to be made to create the perfect schedule -- and stick to it.

Manual scheduling is always an issue since a lot of factors have to be considered for optimal planning, such as
trailer type accepted,
freight type (refrigerated, FAK, oversized, etc.),
package type (palletized or not),
equipment needed for loading/unloading,
loading/unloading time,
dock and warehouse capacity,
staff needed, etc.
Unfortunately, we all know how easily things go wrong in transportation. Even a minor delay or one missed appointment can destroy a perfect schedule. So, without having real-time information and close to no visibility into dock activities, it's almost impossible to react timely to disruptions and bring order back when everything's getting out of hand.

Another related problem is staffing. Inefficient personnel planning leads to either staff shortage (resulting in delays, nonfulfillment, and costly overtime) or overstaffing (resulting in staff idling and extra labor expenses). Accurately allocating human resources and avoiding both extremes is a craftsmanship that is barely possible relying only on manual scheduling.
Yard checks and locating assets are time-consuming and can result in losses
Managing assets might not be a problem for smaller companies where you can actually see the entire territory, but if you manage a big yard, you're probably familiar with this issue. Whether you work with your own fleet or third-party trucks, you have to know exactly which trucks are in your yard and where they are, as well as being able to easily locate the needed inventory.

Tracking equipment. Without knowing what equipment you have available, which truck needs to be loaded next, and if it's in the yard at all, well, it's nothing but a hot mess. Fourty-seven percent of respondents in the retail industry claimed it as their biggest concern.

Sometimes, carriers are driving up to dock doors themselves, but in most cases, the trailer has to be parked, and then the yard truck moves the trailer to the right dock.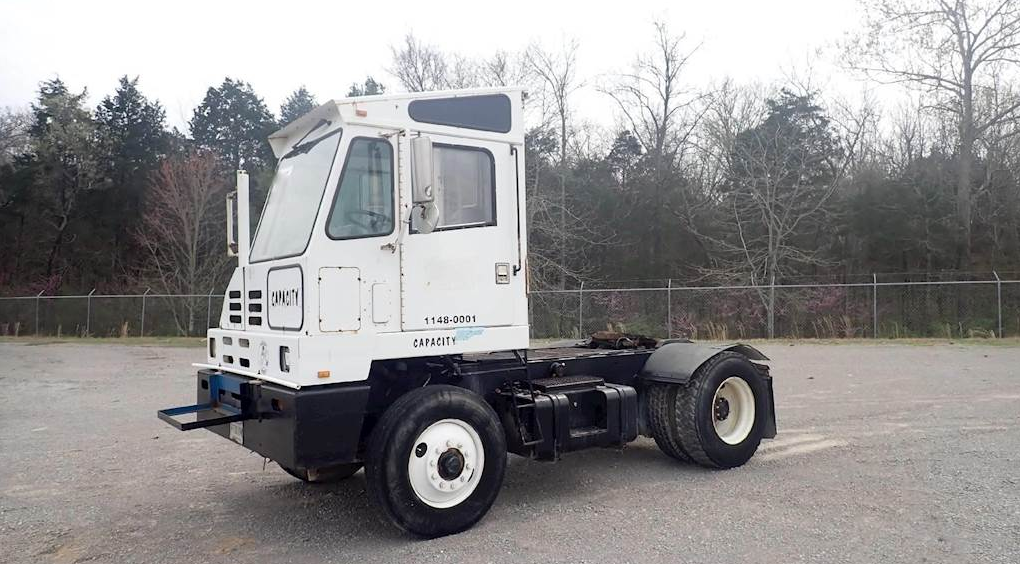 A spotter/yard truck/terminal tractor/switcher is a semi-tractor used to move trailers and containers within a yard, source: My Little Salesman
A lot of facilities are doing their yard checks manually which is time-consuming and error-prone. And it often happens that by the time such a check is finished, the information is already out of date.

Tracking inventory. Poorly managed inventory is another common pain point and reason for delays (though it rarely concerns facilities that work on a cross-docking scenario). Spotters' inability to find the needed assets in the yard result in frustrating schedule disruptions and overtime. And when dealing with perishable freight, it might lead to product spoilage and more losses.

Other yard management concerns may include the inability to see the full picture and not making use of data generated in the yard. Now, knowing the main pain points, let's look at what YMS software has to offer.
Optimization opportunities offered by YMS implementation
Like any other technology, the main benefits of a YMS are automation, synchronization, and real-time visibility into operations. It helps organize and control yard processes from entering the gate through loading/unloading and until departure.
Gate management
Definitely, security requirements and check-in/check-out procedures vary for different facilities. However, YMS gate management functionality can make the process faster and reduce errors related to human intervention.

The first step to optimization is using handheld mobile devices instead of stationary computers (not to mention even paper journals) to eliminate the walking time between the guard shack and the truck cabin.

The next upgrade is implementing a self-service portal at the gate. Though it still takes a bit longer than a completely automated system, it's way more efficient than manual operation. Due to the connection to the appointment management module, the shipment details are tied to vehicle information in advance. Visitors enter the required information themselves and receive the ticket that indicates where to park or which dock to head to.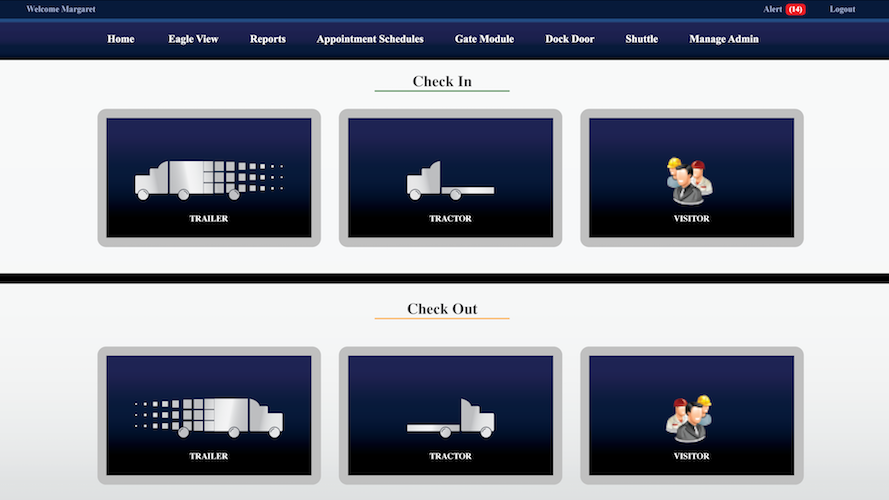 Gate self-service interface, source: Yard Management Software
YMS then notifies managers or dock teams that a truck has arrived. Such a system helps reduce labor costs, organizes truck movement within a yard, and improves communication, eliminating the need for phone calls.

An automated gate is yet another option. With the help of RFID technology, it verifies the arriving and departing equipment, comparing the information with what was received in advance from the shipper/carrier. That way, it not only grants access to approved vehicles, but also prevents an unauthorized truck from leaving the facility.

YMS helps maintain an accurate and complete log of gate activities as a part of tracking and security systems. Besides, with RFID and Bluetooth Low Energy (BLE) technology, it's also possible to immediately scan the incoming and outgoing goods to support the inspection process and ensure security.

As we said, gate management requirements differ across businesses, so consider the YMS gate functionality that fits your specific needs.
Dock management
Organizing dock operations can significantly increase the throughput of your facility and help avoid congestion, delays, and costly detentions. Efficient and dynamic scheduling is especially important if you work on a cross-docking model to minimize the turnaround time.

Here, the appointment management functionality is the first improvement move, getting you away from endless, inefficient emails and phone calls. The implemented solution should allow carriers and shippers to see the available time slots and self-schedule (and, if needed, reschedule) appointments.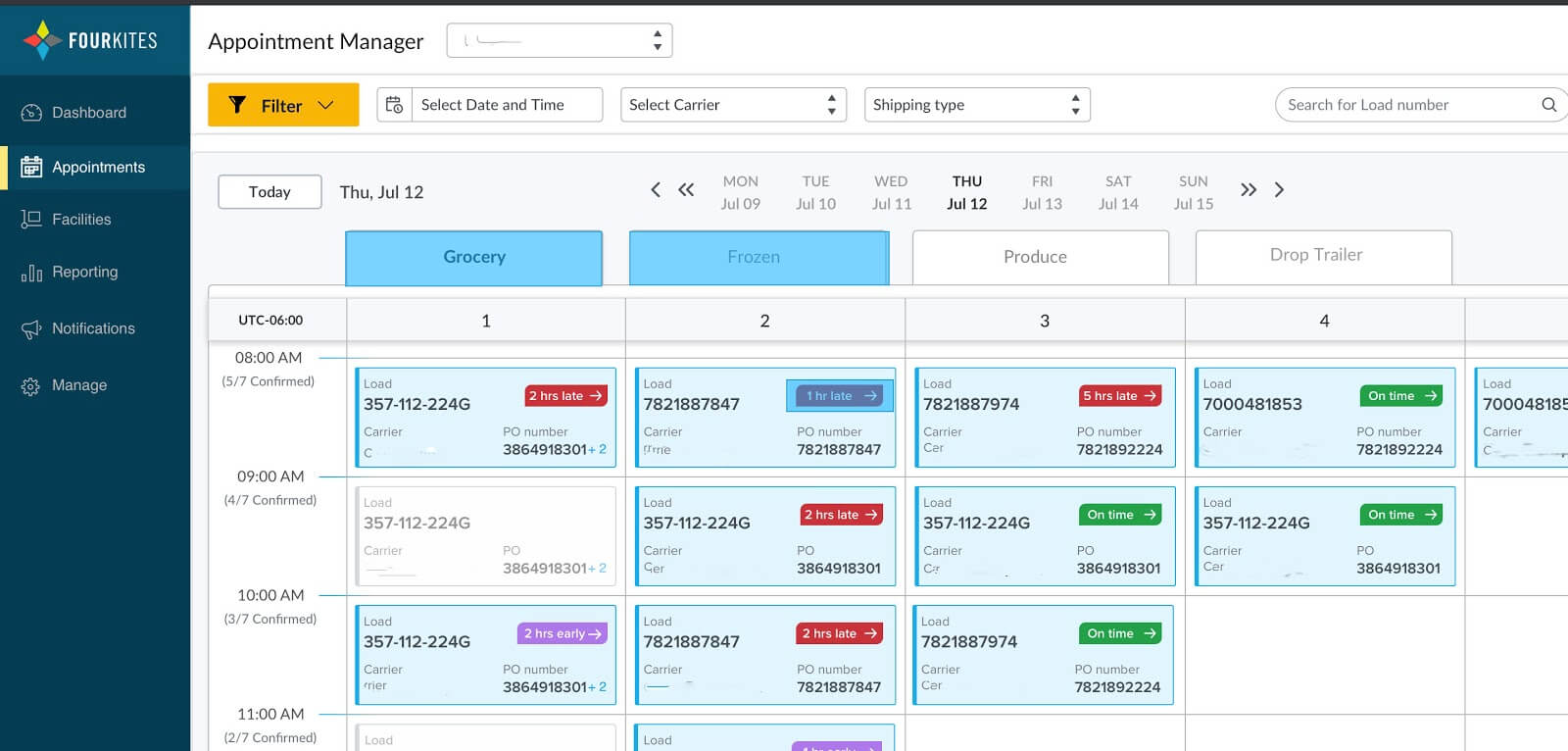 FourKites YMS appointment manager
Then, within a YMS, pre-arranged appointments are connected to the dock scheduling feature. Considering a number of constraints we listed above, the schedule is created, assigning trucks to dock doors for loading or unloading and allocating staff and required equipment. Prioritization can be set up as well, allowing management of hot loads first.

You can also provide carriers access to your YMS. In that case, they will get the necessary notifications and instructions. That will coordinate the actions of all the stakeholders. Then, the process can be monitored with real-time updates of trailer and shipment status information to ensure timely reaction to possible disruptions.

Also, some integrated carrier apps grant access to digital load documentation, helping to save even more time.
Asset management
Offering increased visibility, YMS helps automate asset (equipment and cargo) tracking and facilitate locating and handling it. Real-time location systems (RTLSs) based on RFID and BLE technologies prove to be more effective than GPS as they provide more accuracy, ensure security, and have longer battery life.

In a nutshell, RFID tags and BLE beacons attached to items store the item's information and transmit it to your system when scanned with a reader (BLE beacons can even monitor temperature for sensitive drugs or products and send alerts if the item approaches the expiry date). The advantage over barcodes is that the reader can access multiple tags at a time even when they are out of sight. Instead, the tags communicate their exact real-time location to the system.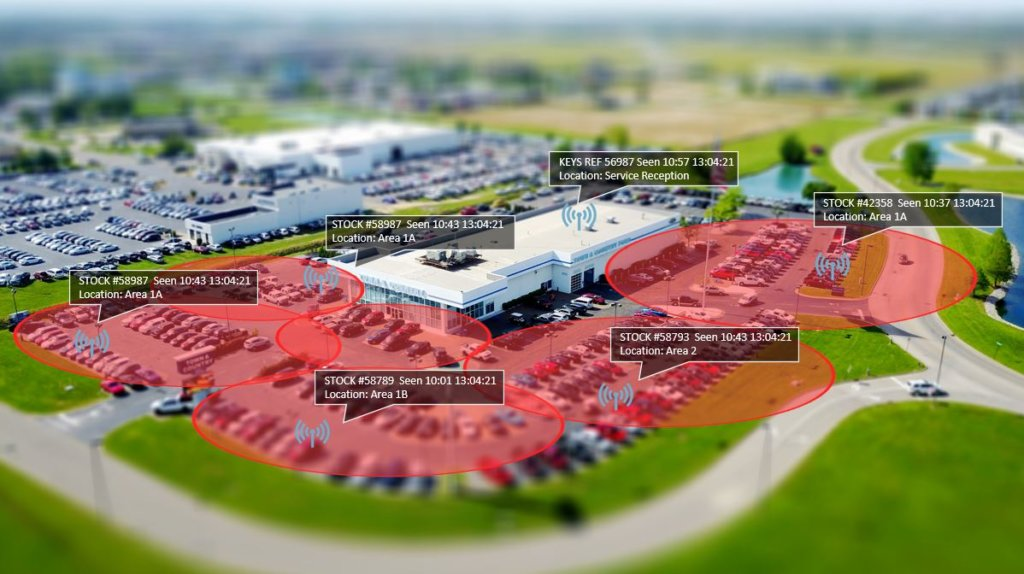 BLE-powered asset tracking, source:Simply Unified
In yard operations, the biggest costs are associated with managing yard trucks and the drivers operating them. Advanced YMS solutions help increase spotters' efficiency and reduce related costs, optimizing each trailer move.

The system should automatically issue tasks to spotters when trailers or inventory have to be moved to dock doors based on yard tractor location to minimize travel times. Spotters receive, accept, and confirm such commands via in-cabin mobile devices instead of traditional phone or radio communication.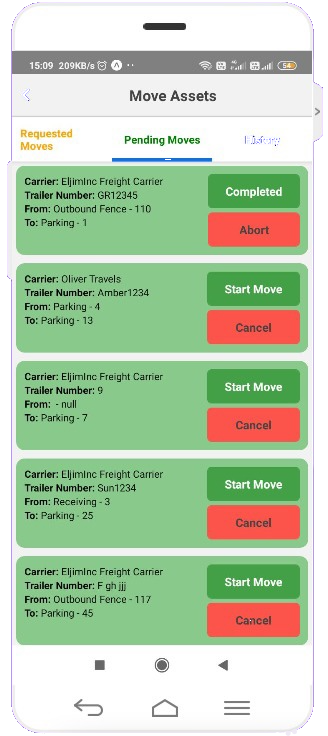 A sample of spotter's app interface, source: JAS YARD
With YMS, you can set customized alerts for timely reaction to possible problems or even prevent them. Such potential issues may include hot load emergencies, underused leased equipment, unproductive spotter time, late departures and arrivals, detention charges, damaged trailers, etc.

Automated asset tracking also improves safety and security as it reduces or eliminates the need for manual checks. So, workers don't have to walk the yard for inspection or wander around looking for a missing asset.
Reporting and analytics
We have a number of articles explaining the importance of using data for making more informed decisions and gaining competitive advantage (read about analytics in the supply chain industry, business intelligence strategy, and analytics maturity). Today, the reality is that the information that could be collected in the yard is often neglected and left unused.

However, the YMS allows you to turn raw data into actionable insights. You can create custom reports that show the details of your daily operations at a single readable interface.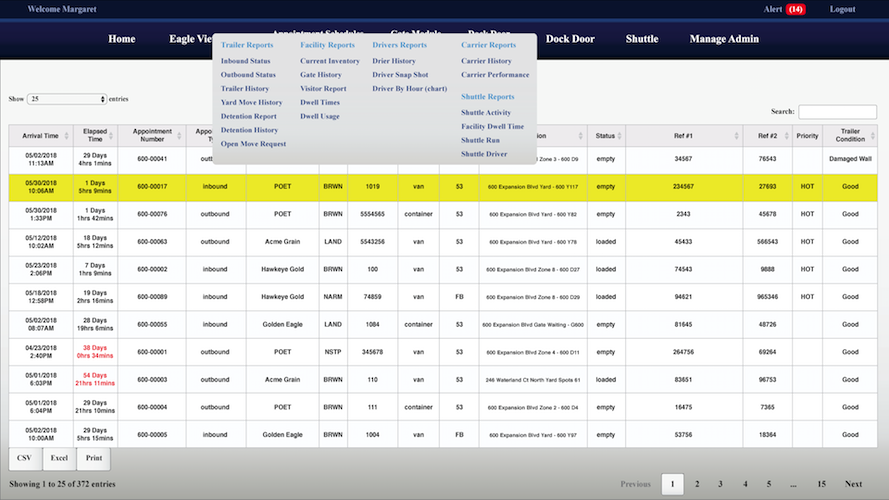 Sample of a yard report, source: Yard Management Software
YMS also helps monitor performance metrics to pinpoint areas that need attention, see optimization opportunities, and make a more informed carrier choice. Here are some of the KPIs you can track to get a better understanding of your business:

Gate metrics:
percentage and number of transactions by transaction type (arrival, departure, turn away),
percentage and number of transactions by load type (drop, live, bobtails, visitors),
percentage and number of transactions by equipment status (empty, loaded, partial, tapped), etc.
Spotters metrics:
percentage and number of tasks by type (dock bump, manual move, pull, spot),
average time per task,
average number of tasks per driver,
trends of idle time, etc.
Carrier metrics:
percentage of on-time, early or late deliveries,
average detention, etc.
Equipment metrics:
number of shipments by day of week,
dwell time by equipment type,
average delay for late loads,
percentage and number of equipment by load type (drop, live),
percentage and number of equipment by equipment type, etc.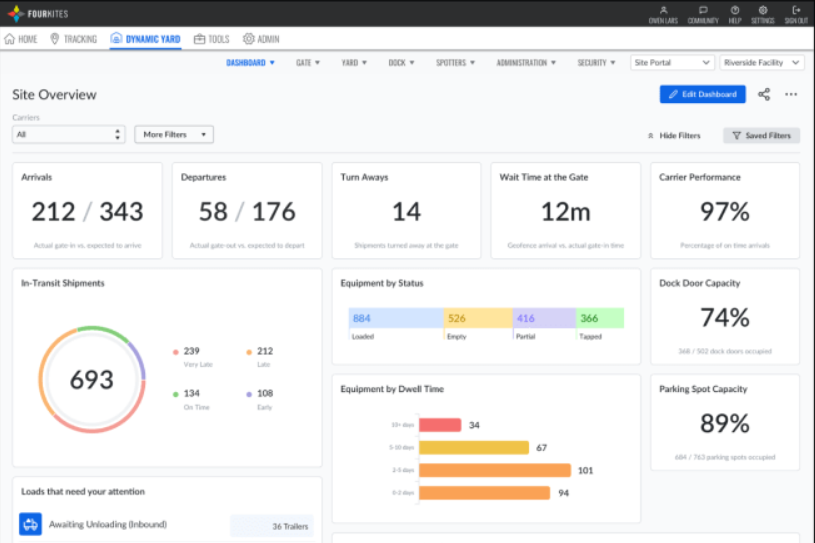 FourKites YMS analytics dashboard
You can also read about the main inventory management KPIs in a separate post.
YMS integration options
To maximize the value of your YMS, it's important to establish a seamless connection with other software you have in use. Such integration will ensure a reliable data exchange resulting in higher accuracy and reduced need for manual entry.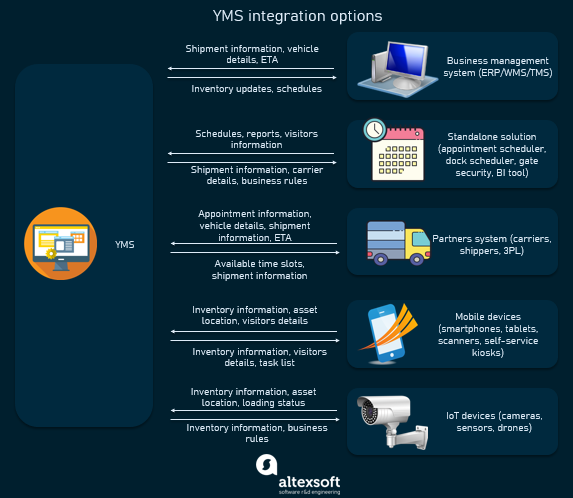 YMS possible integrations
As we already mentioned, YMS can be integrated with such business management systems as ERP, WMS, and TMS. Most YMS vendors provide open APIs to establish a two-way data flow. The incoming data from WMS or ERP can contain the information about purchase orders, and the TMS can share the ETA or vehicle details. The data sent to WMS can include inventory updates and to TMS -- the appointment information.

Also for smooth data sharing, it's important to connect your YMS to a standalone solution that offers narrowly focused functionality in case you already have one and don't plan to abandon it for a comprehensive system. That might be an appointment manager, dock scheduling software, gate security system, business intelligence tool, etc.

Your business model might require constant communication and data exchange with your partners, e.g., carriers, shippers, 3PL companies, etc. In this case, it's worth building an integration with their systems to easily share information on orders, schedule appointments, provide and receive updates, etc.

We also mentioned that the use of mobile devices, tablets, and portable scanners can greatly expedite operations, so connecting them in one system will also increase overall efficiency and facilitate communication. Such devices can be used in any yard process: gate operations, dock activities, yard checks, spotter moves, etc.

Various IoT devices such as cameras, sensors, telematics devices, drones, etc., are being implemented with greater frequency. Integrating these devices with your YMS will allow you to automate more processes, gain more control, and obtain more data for analysis.
Main YMS providers
There are a number of standalone software solutions that are focused on yard management. We don't have a goal of promoting any specific provider, so we'll briefly describe some of the most popular YMSs.

PINC is a comprehensive, highly scalable yard management solution offering a high level of automation across all main areas of operation: gates, docks, and the yard. It focuses on sensor usage and provides lots of reporting options to support analytics.

FourKites is a big provider of multiple supply chain instruments, boasting cooperation with such leading brands as Walmart and Coca-Cola. It's main emphasis is ensuring end-to-end real-time visibility. FourKites has a robust appointment management system and promises flexible integrations and easy deployment.

C3 Solutions offer 2 separate modules: C3 Reservations for dock scheduling and C3 Yard for yard management. C3 Reservations is a powerful tool that allows users to apply multiple constraints to the scheduling process, attach documentation, set up various notifications, operate through a mobile app, and much more. The C3 Yard is easily configurable and allows users to choose the needed functionality, as well as set customized alerts, user access, business rules, exceptions, etc.

Yard Management Solutions YMS includes: the Gate Module, the Appointment Schedule, the Dock Module, the Spotter Module, the Yard Check module, the Eagle View for yard visibility and asset tracking, Inventory and History reporting, and more. Their site also presents an estimated calculation of potential savings with their YMS.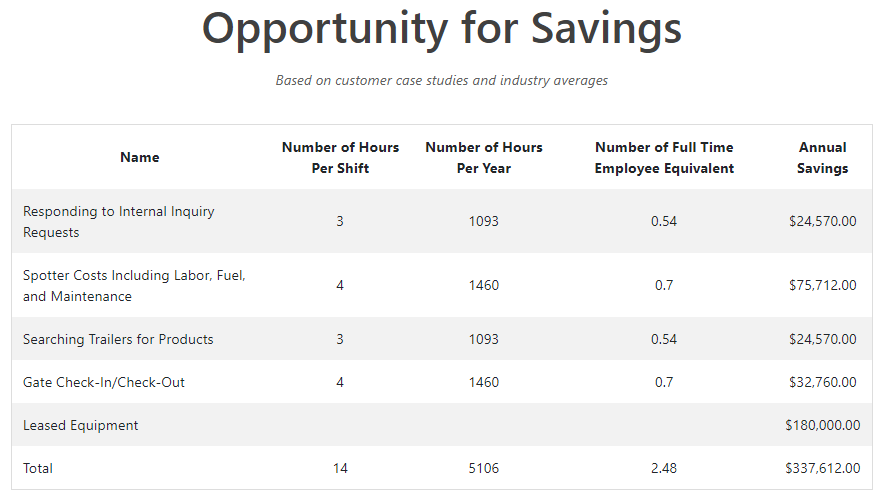 Yard Management Solutions savings estimate
Main approaches to YMS implementation
Implementing new technology is related to significant investments and requires careful consideration. In the case of YMSs, you have to remember that it's not only about software, but typically also demands a lot of different hardware such as mobile devices, sensors, scanners, etc.

So, there are several ways you can solve your yard issues.

YMS functionality as part of WMS. Today, many WMS/ERP providers (such as Oracle, Manhattan Associates, SAP, Zebra, and many more) offer yard management capabilities within their platforms. They can meet some of your needs, but they won't be able to provide a high level of visibility and customization.

Separate dedicated tools. You might have a specific need and don't plan to automate all the yard operations or maybe you have the WMS that lacks some particular functionality you require. For example, you might only want to adopt an appointment manager or dock scheduler. In this case, you can go for a separate piece of narrowly focused software and integrate it with your existing system.

Standalone YMS solution. When software is developed to solve a specific problem, you can be sure that it will give you more power and control over your processes. We've listed a few vendors that offer comprehensive solutions that cover all the aspects of yard management.

Custom development. All businesses are different and have different needs. The priorities and operational models vary across industries, e.g., for retail businesses on the cross-docking model speed and appointment management is vital, while for a manufacturing facility the inventory management feature would matter most. A custom developed product from an experienced company assures maximized efficiency and meeting your specific requirements.
The future of the yards
Global digital transformation is influencing all industries, with logistics no exception. Even though yards are lagging behind with their largely manual processes, automation is just a matter of time. IoT, drones, and autonomous vehicles will soon change the yard environment. As futuristic as it may sound, it quickly becomes the reality as many companies realize the benefits and convenience they offer.

Equipped with BLE and RFID scanners, drones can serve as RTLSs, quickly surveying large areas of densely packed goods and identifying the location of the needed inventory. And yards present the perfect controlled environment for implementing self-driving vehicles that allow for automating the repetitive, monotonous yard tractor operations.

ZF and Knorr-Bremse are just two of the companies developing the concept of autonomous vehicles that would help cut operating costs and increase security. Also, check the story of Outrider, the startup that raised $118 million to automate the yards, making another step toward the digital future.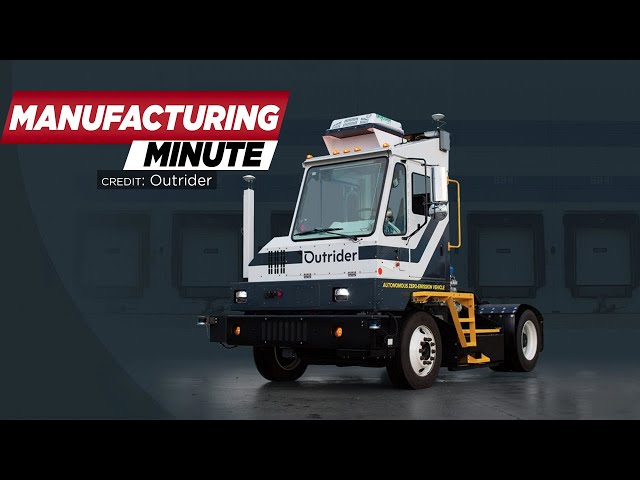 Outrider autonomous vehicle demonstration