Fun fact: Popular mouthwash Listerine was initially marketed as a surgical antiseptic. When it entered the market in 1881, dentists used it to clean their instruments, but by the 1920s, people were buying it to get rid of bad breath. What had changed? Not the composition, but the marketing strategy. With a marketing strategy, you can sell a new product or service or increase sales for an existing one. In this article, we will explain how to create a step-by-step product marketing strategy for your software solution. But first, let's define product marketing.
What is product marketing?
Product marketing is the process of moving a product or service from concept to customer. On the way, it helps you identify market demand, shape your product accordingly, and communicate its value to the end user.

Product marketing lies at the intersection of product management, sales, and traditional marketing. Let' see how it differs from the closely related disciplines.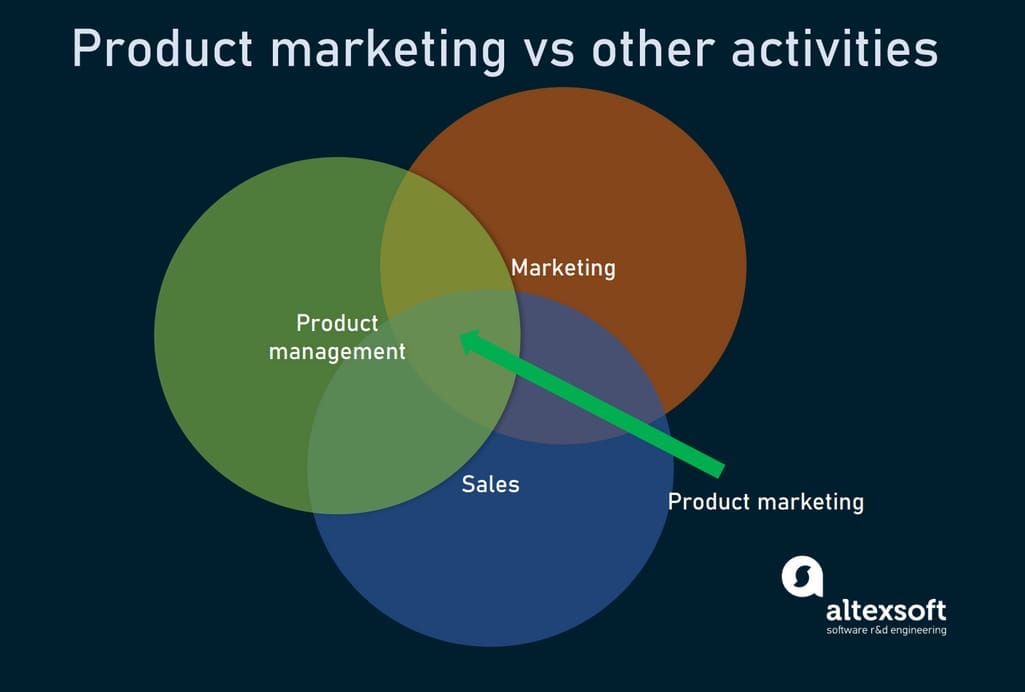 What is product marketing? Source: Drift
Product marketing vs marketing
Traditional marketing takes care of a wide range of activities that popularize your company as a whole while guaranteeing the consistency of marketing messages received by customers. Namely, it embraces the coordination of four elements (the 4 Ps of marketing): product (identification, selection, development), price, place of distribution, and promotion strategy (development and implementation.)

Product marketing has a narrower focus on a specific product and product/market fit. It's guided by a product marketing manager, but also requires the participation of a product manager and a sales team.
Product marketing vs product management
Product marketing is deeply connected to product management. Both processes have shared stages and deliverables, as illustrated by the picture below.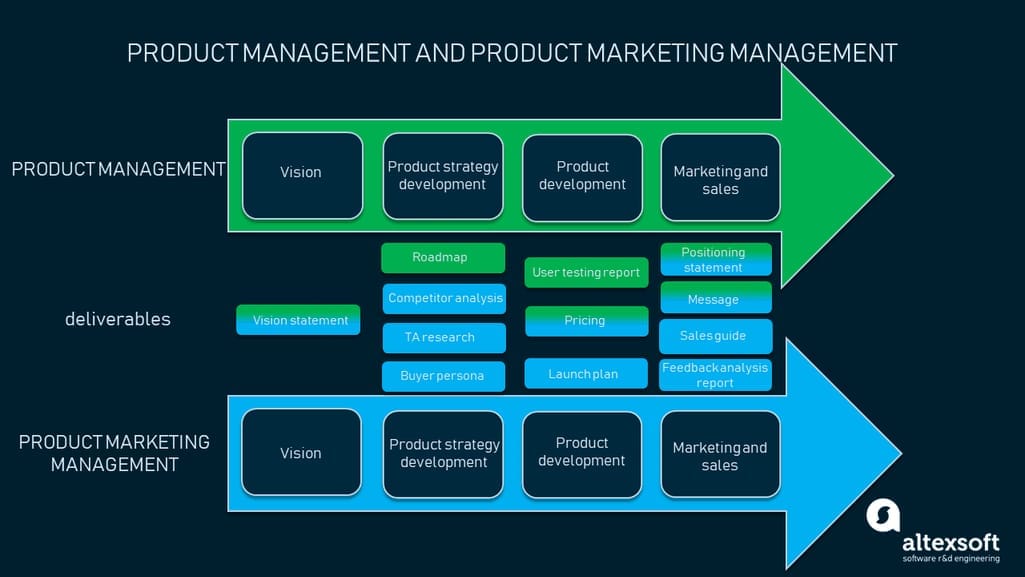 Product marketing and product management in a nutshell
Both disciplines are responsible for pricing, positioning, and messages communicating the benefits of the product. Yet, product management deals with the product development process and controls the entire product lifecycle, while product marketing is focused on bringing a product to the customers.

By the way, check our video about product management, if this term still sounds a bit vague to you: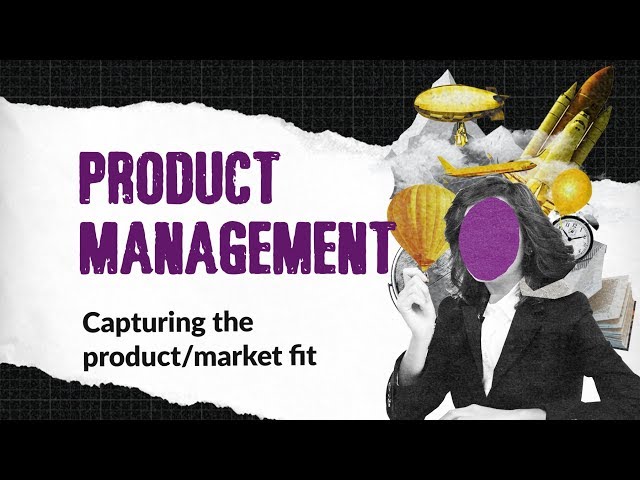 How product management in software development works.
Both product management and marketing start at the same point: a product vision statement. This concept deserves a little more attention.
Product vision statement
In the very beginning, the product marketing manager and product manager create a shared deliverable: a vision statement. It conveys the essence and the global aim of a product or a product line and sets the direction for product development and marketing.

The product vision statement must answer three important questions:
Who will use it?
What problems does the product solve?
How is the success of a product measured?
Let's pretend that your product is a delivery app for restaurants. The goal of this app is to allow the chefs to order items they lack by connecting them to grocery suppliers in their geographic location. This app allows a restaurant to fill in the gaps without waiting for their weekly provision delivery. The vision statement is "to be a #1 app for chefs to get grocery any time, any day, to cook whatever their guests want."

With the vision statement in hand, you can proceed with the next steps of your product marketing strategy.
1. Analyze the market
Goal: identify the market and main competitors

Key deliverables: competitor's list, target audience research, SWOT analysis

You have to base product development, positioning, and marketing strategy on thorough research. There are two main types you need – market research and competitive research.
Primary and secondary market research
Market research is a crucial part of product marketing that allows a company to understand what customers want and which products they already use.

At the primary research phase, you plan out personal interviews, group surveys, and focus groups with your potential or current clients. Prepare questions to get answers about the demand or the lack of thereof, products they already use, etc.

During the secondary research, use already existing data that can be found in statistical databases, journals, online sources, etc. How big is the percentage of your future users in the whole population of your area? How many of those people are inclined to try online solutions? Which of them can afford it? These numbers will tell you if creating this product is viable at all.
Competitive research
While market research is oriented towards potential customers, competitive research aims to analyze similar products and providers in your industry. Its point is to find out the main competitors and understand the strengths and weaknesses of your own product.

Use ready-made market research and reports by industry (sources like Nielsen, IRI, Wood MacKenzie, The NPD Group, Video Research, Decision Resources Group, Mintel, YouGov, Mediametrie), or dig up the information manually, taking advantage of LinkedIn, Google, and social networks.

Make a list of all your competitors' products, compare website traffic, analyze their websites and social networks. Put them into three categories: primary, secondary, and tertiary competitors.
Primary competitors are those who have the same product or audience or both.
Secondary competitors are those who have a similar product but sell it to a different audience.
Tertiary competitors are those who sell products or tools that expand your existing product.
This information allows you to see what the other products have that yours doesn't and understand how to position it.

After you have investigated into the matter you can analyze your product's place on the market and make a SWOT analysis.
SWOT analysis
SWOT analysis represents the strengths, weaknesses, opportunities, and threats for your or your competitor's product or. Usually, they are listed in a grid, similar to the one you can see below. This tool is meant to sketch your internal and external business environment and discover
how to use the strengths to take the opportunities,
how to minimize the weaknesses with the help of these opportunities,
what strengths will help you avoid the threats, and
what weaknesses make you vulnerable to the found threats.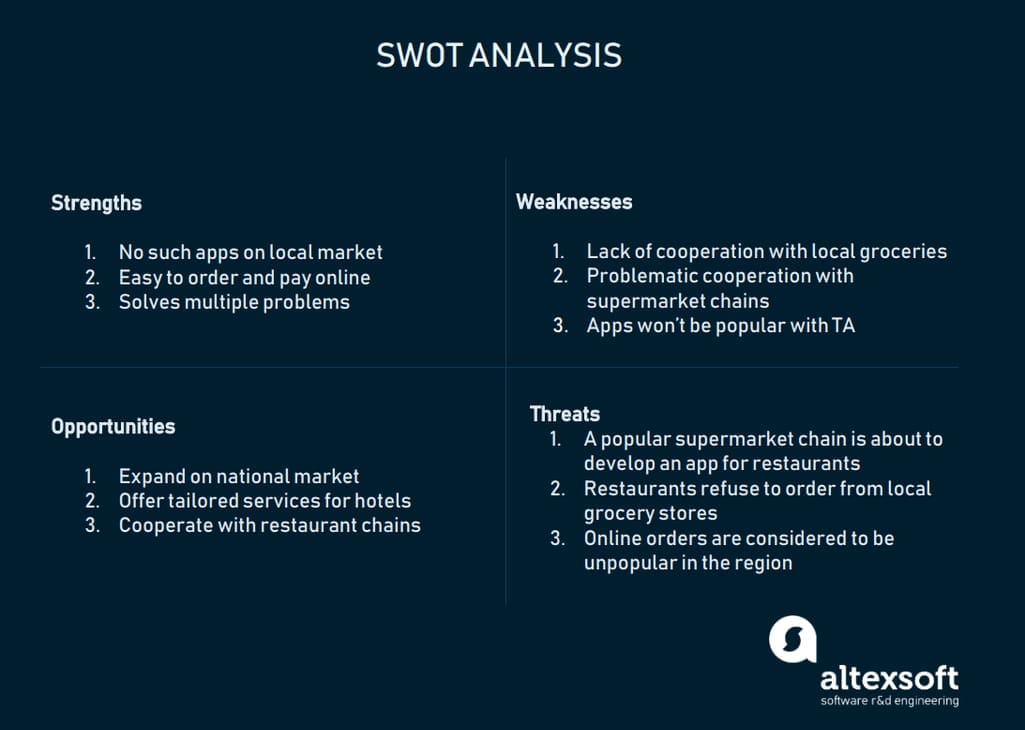 Delivery app SWOT analysis
As a result of the activities at this stage, you can predict a product's destiny on the market. Let's go back to our imaginary delivery app. You have studied the local market and found out that there are over 10,000 restaurants in the area, no competitors with the same product, but there are ten services of major supermarket chains which offer home delivery. So, now you understand that there is a market for your product and can define who will buy it.
2. Define your target audience
Goal: narrow down the TA

Key deliverables: buyer persona

Based on the results of your market research, you can create a buyer persona. This is a portrait of an average customer who will buy your product. Remember that a buyer persona is different from a user persona. In our delivery app case, the target audience embraces owners and managers of medium and large restaurants, located in the downtown area, so a buyer persona is a restaurant manager, but a user persona is a restaurant chef.

Conduct a series of interviews with the existing customers, and also several online types of research with potential customers, CTOs or CEOs of the companies in your industry. As a result, you could complete their portraits with the following characteristics:
age,
gender,
location,
education,
job title,
income level,
goals,
challenges, and
personality traits.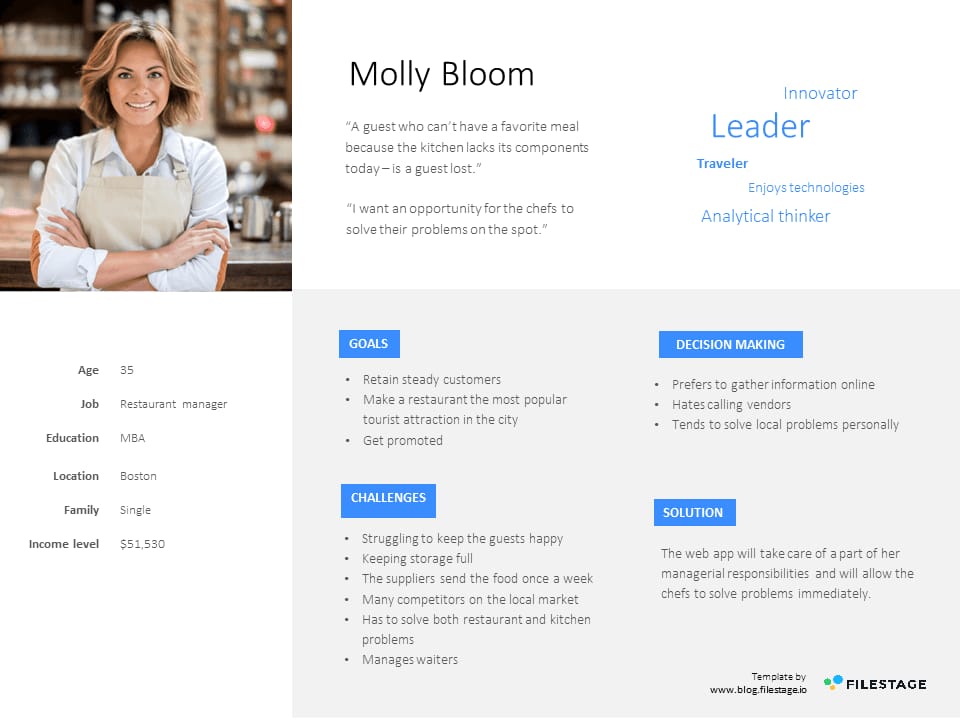 Buyer persona example.
With these results, understanding what your target audience needs and wants to avoid, you can position your product as a problem-solving tool that stands out from the crowd of similar solutions.
3. Develop positioning and messaging
Goal: define outstanding features of your product and communicate them to customers

Key deliverables: a positioning statement document, product messages for different segments of your TA

You know the market and the competitors, so you can proceed with further activities: Create a positioning statement document that defines the future of a product at the market and send proper product messages to your audience.
Positioning statement
To make it, start with answering the following questions:
Who is this product for?
What does this product do?
Why is this product different?
Working on positioning, you list the needs/problems of your TA and product benefits that meet them. This activity helps form the way your customers perceive the offered product.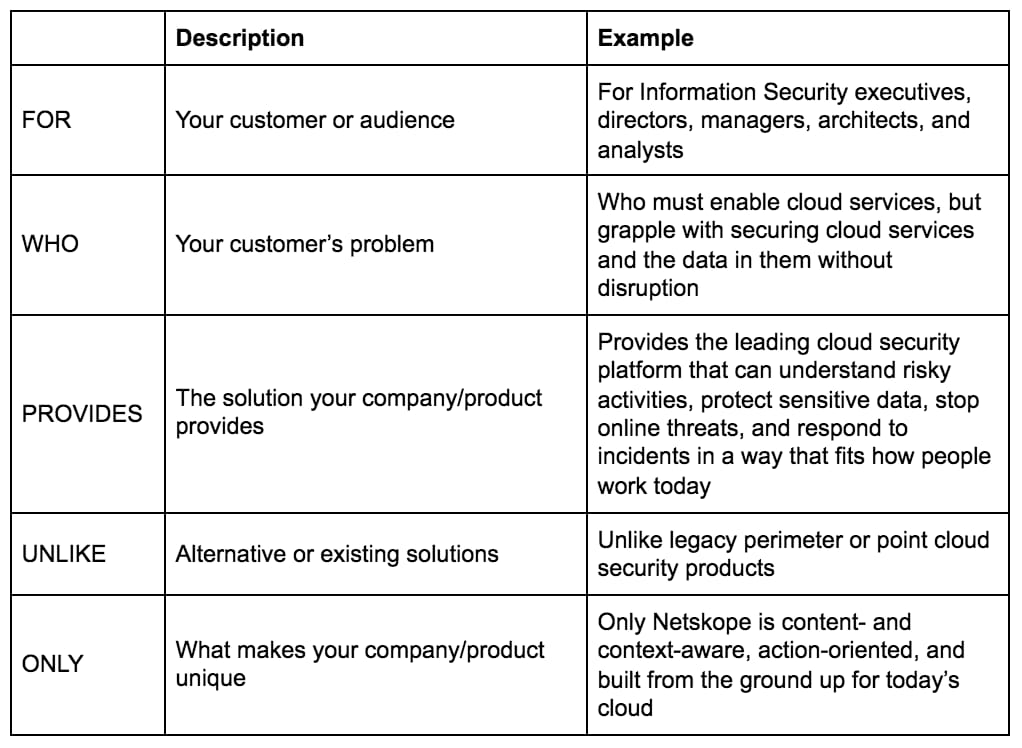 Positioning statement template. Source: Jamie Catherine Barnett on Medium
For the delivery app, a positioning is: We sell the only application that allows restaurant chefs to keep their shelves full by connecting them to all the local grocery stores immediately. Based on this, you can develop one or several messages for different target segments.
Product messages
Create a product message that describes the value of your solution and articulates problems it solves for a particular audience. This message will be used in promotional campaigns and on different channels. In the case of the delivery app, the message for restaurant managers may be as follows: An app that solves routine provision problems fast and is available any time any day.

Go through this checklist when you have a few ideas for your message.
The message should be like an elevator pitch – short and explained in under a minute.
Focus on the benefit, not the feature.
Take a dramatic turn and use words that resonate with people.
Use the tone of voice that reflects your brand.
The right message and positioning are inseparable. Shaping a message according to a segment, you can choose how to position a product for different audiences or distribution channels. For example, Grammarly's landing page has targeted copy for different customer groups.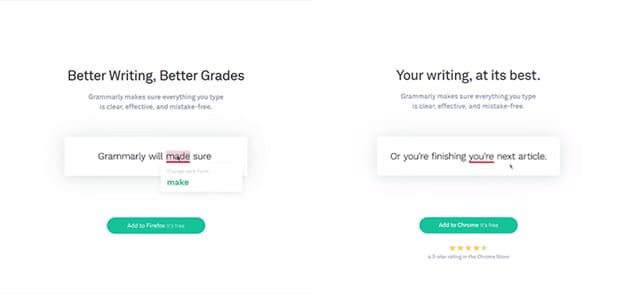 Smart content on Grammarly aimed at different segments. Source: Grammarly
Messages and information on positioning influence a promotion strategy and are usually included in the sales guide, which we will discuss later.
4. Choose a pricing strategy
Goal: assess pricing options

Key deliverables: product price

You know this situation: There are two similar products with similar features on the market, but one's cost is much higher. How is this even happening? It depends on software business models and the strategies that businesses implement when setting prices on their products and services.
Competitive pricing
Competitive pricing is the easiest way to set the price. It means sticking to the same price as your competitors put on similar products. You can make your price higher in case you offer something unique. Remember to follow public financial reports to evaluate how your competitors are doing in terms of costs.
Value-based pricing
Value-based pricing is more complicated but also more efficient. This approach allows you to maximize the profit.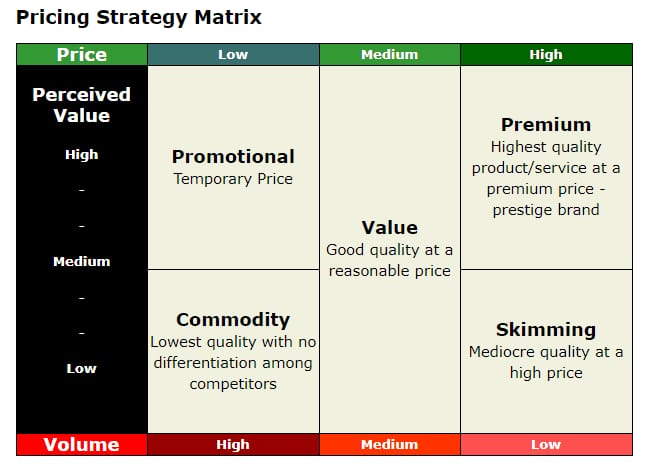 Pricing strategies. Source: MyMarketing Dept
In this scenario, you determine the price according to the value of your product, perceived or estimated, rather than on its real cost or historical prices. The value depends on product quality, uniqueness, your current strategy, and other factors.
Premium prices are artificially high prices set for exclusive products to accentuate the VIP status of buyers.
Promotional prices are lower than the average market prices. They help new products that have just entered the market.win buyer attraction.
Commodity prices mirror the low-level value of the products that don't differentiate on the market.
Skimming prices mean that a company charges a high initial price for long-expected, low-volume products of mediocre quality and lowers it with time, as the frenzy around innovative solutions calms down.
As our imaginary delivery app is completely new and unique on the market, you could start with skimming pricing. However, you can also try a promotional strategy and release the app free of charge, gradually increasing the cost as the app expands its audience (or offering a subscription plan with additional features.)
5. Develop a product launch plan
Goal: Prepare a product to enter the market

Key deliverables: launch plan, sales guide

To finally enter the market and reach your audience, you need a launch plan. A document similar to a product roadmap illustrates the timeline and activities of a product team. In a launch plan, you need to list all internal and external activities, including sales training, events, product launch, and promotion campaign timeline.

Many online tools and templates allow you to do this automatically, so it's a good idea to roughly sketch all your future activities even if you're not ready to commit to certain dates. Remember to set the milestones – control points for checking in with the whole team when a new stage of the marketing strategy is over. And use the Gantt chart to visualize everyone's load.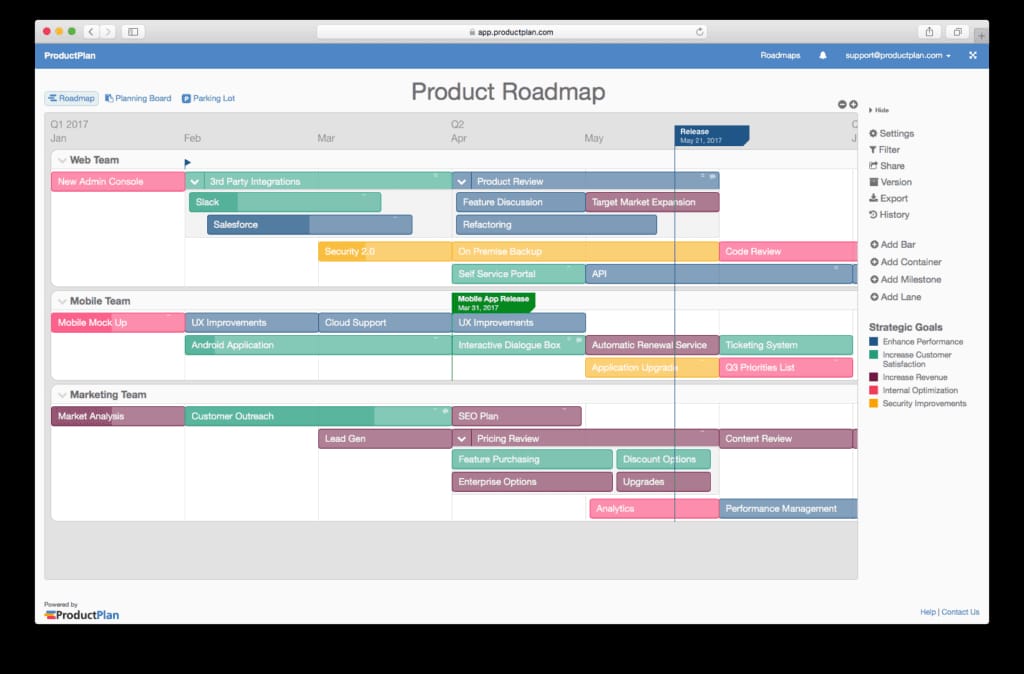 Example of a product launch plan. Source: ProductPlan
The launch plan's goal is to communicate a timeline for release to a sales team. At this stage, a product marketing manager also creates data sheets and training materials for the sales team. Among them is a sales guide, an internal document for a sales team.

A sales guide focuses on the presentation of product features that make it different from the rest of the market. It's used to train the sales team to sell each product. It gives them exhaustive information about the product and allows them to feel comfortable with any questions a client may ask. There you list all the necessary details that will help close the deal, including
Positioning and the product message you defined earlier. This will help sales representatives promote the product correctly and within the established model.
Product features and demos. The sales team has to understand how the product works, what it does best, and its unique characteristics. You may also include contact info for the product manager so that sales may consult with them.
Pricing options. If your software has a few pricing tiers, the sales team should be able to recommend to customers the one that will work best for them – or even use it as an upsell opportunity.
These are the main points included in a sales guide, but you are not limited to them. You can extend it and add information about competitors. These results will also be used in product promotion strategy.
6. Create a promotion strategy
Goal: Inform consumers about the product and stimulate demand

Key deliverables: lead generation funnels, promotional content, social media campaigns

Before making a purchase, customers go through several stages of a sales funnel. It illustrates the process of customer persuasion. A person starts with awareness about your product/service, becomes interested, makes a decision, and finally takes action.

In B2C development teams, project marketing managers are responsible for activities throughout all stages of the funnel. They are the ones who lead the final deal by creating strong calls to action or incorporating influencers for promotion.

In the B2B model, marketers are usually heavily involved in the raising awareness part and leading potential customers to the first contact, while the rest is taken care of by the sales team.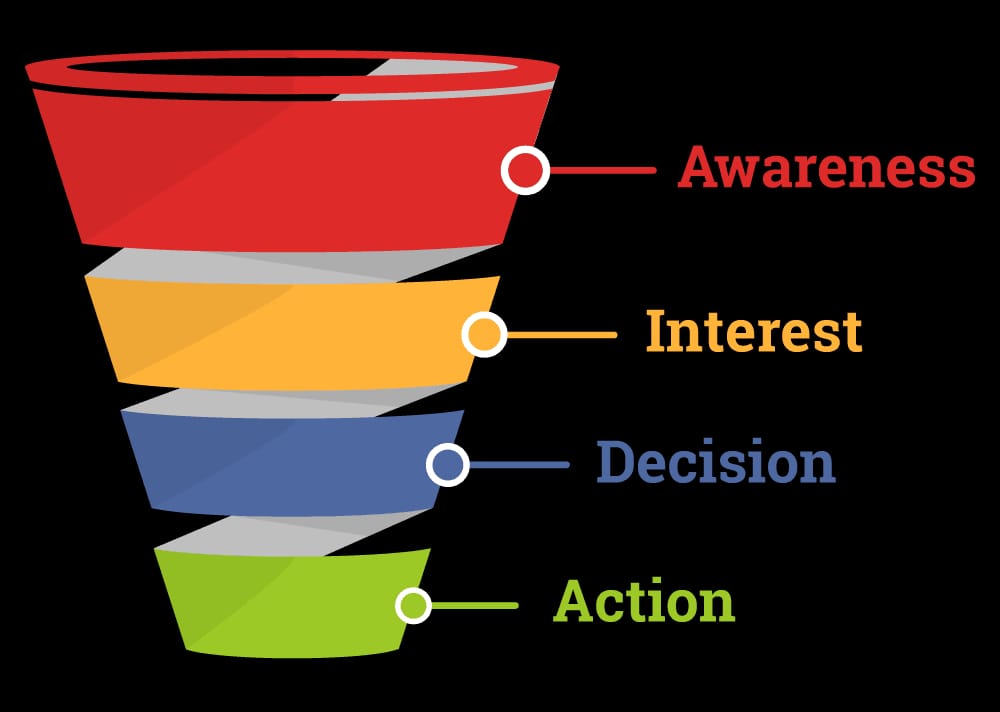 Sales funnel. Source: Mailmunch
The most efficient way to raise awareness is through multiple promotional activities. A promotion strategy is a part of the whole marketing strategy, responsible for market communication. Every aspect of your promotion is centered on your product messaging.

To create a promotion strategy, you have to describe all the channels and methods your team will use to make your message reach the customers. Tactics of a promotion strategy include advertising, sales, events, email marketing, content marketing, social media, and more. Below you can see the most effective promotion strategies for software solutions.
Lead generation activities
Lead generation involves attracting potential customers (leads). Leads are the people who have already displayed interest in your product or could be interested in purchasing it. They are attracted with paid and unpaid ads and promotion campaigns. There are several key channels for lead sources:
search results (organic),
website (direct leads),
email campaigns,
social networks,
other websites (referral), and
paid search.
Identify what lead generation strategies would work best for you, considering your budget and human resources. It can be inbound marketing helping customers find your product via organic search results or ads, or outbound marketing using "rented" attention to deliver your calls-to-action.

A combination of all types of activities is preferable but when establishing your lead generation strategy, consider your main focus and the members of the team that will be occupied with them.
Content marketing activities
Content creation remains the most effective marketing strategy. It allows you to build brand loyalty and drive more organic leads. This results in earning TA trust by creating relevant and valuable content that drives the potential customers to action. It involves landing pages, blogs, videos, podcasts, and infographics on topics, related to your product's industry. Content marketing strategy usually goes hand in hand with search optimization and social media marketing.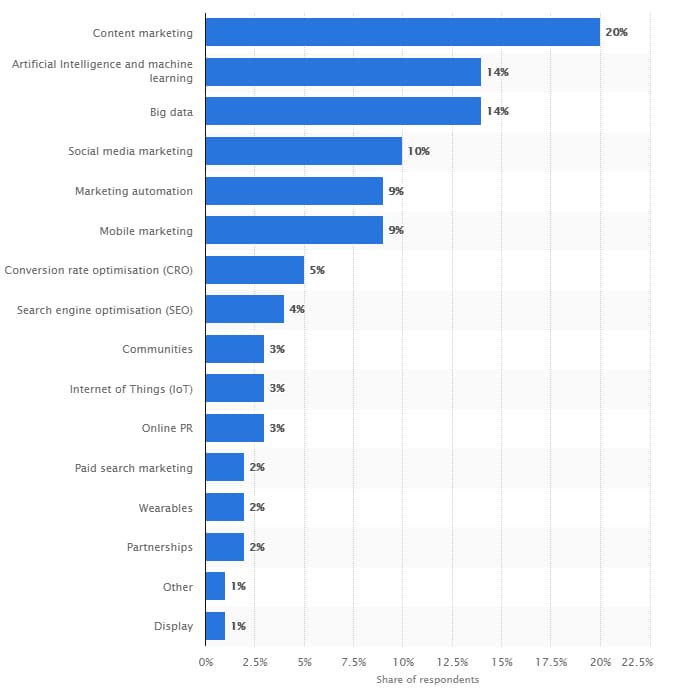 Most effective digital marketing techniques according to marketers worldwide in 2018. Source: Statista
Regardless of the business model, you can reach your target audience and attract leads with social media campaigns. Also, you can build your content strategy around social media.

Taking a food delivery app as an example, your sales team can start with lead generation, contacting the restaurant managers and owners directly, and using online advertising, targeted at local businesses. You can use all these strategies simultaneously to increase the key metrics that allow you to track a product's success. We will take a look at them in the next section.
7. Keep abreast of product success
Goal: Evaluate product success

Key deliverables: KPIs (sales volume, market penetration rate, NPS, ROI), customer feedback

When a product is at the market for some time, your task is to keep an eye on it in order to understand what works and what doesn't. At this stage, evaluate the success of a product to correct your marketing strategy.
Product metrics and KPIs
You can measure the success of a product by tracking key product metrics and KPIs such as penetration rate, net promoter score, and return on investment.
Market penetration rate allows you to calculate the success of a marketing strategy by dividing the number of existing customers by the size of the target market and multiplying it by 100.
Market penetration rate = (Number of customers / Target market size) x 100
Net Promoter Score (NPS) allows you to measure customer loyalty and learn how likely they are to recommend your product/service. To count NPS, start with a survey that determines detractors (customers who ranked your product from 0 to 6), passives (gave 7-8 points out of ten), and promoters (9-10 points). Then arrive at the NPS with the following formula:
NPS = (% of promoters - % of detractors)
Return on investment (ROI) is an important KPI in business that measures the efficiency of invested money and the overall success of a product.
ROI = (Gain from investment - cost of investment) / cost of investment

These and other KPIs allow you to track the revenue, follow the results of sales strategy, and communicate them to stakeholders and potential partners. Watch our dedicated video to learn more on the subject.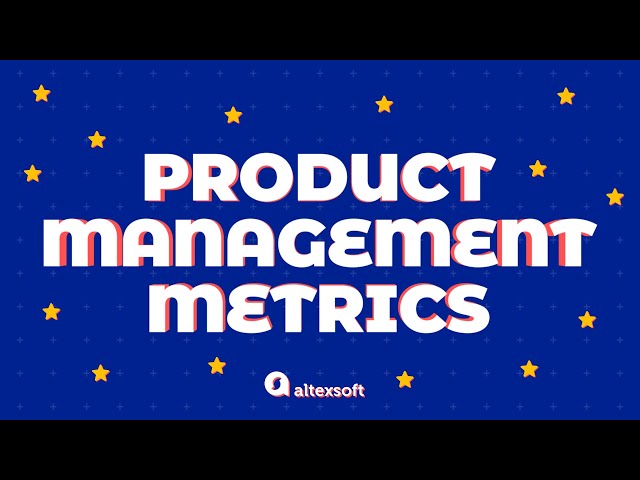 Main metrics of product sucсess in 12 minutes.
One more thing to consider is the voice of a customer itself.
Customer feedback
Customer feedback is a great source for success analysis, identification of features users would like to have (or eliminate), and an opportunity to increase customer loyalty by solving problems at early stages. Users can initiate the dialogue and generate the content. Otherwise, you may collect their feedback through
emails,
customer support,
social media,
your website, and
surveys.
There are also more advanced and precise methods to measure customer feelings about your products.

Net promoter score is a popular metric based on a single-question survey. You ask your clients about the chances that they will recommend your product to other people. The respondents rate the probability of this event from 0 to 10, which enables you to assess customer loyalty to your product.

Sentiment analysis applies statistics, machine learning, and natural language processing (NLP) to derive subjective information from user comments and reviews.

So, the app is on the market and the chefs of local restaurants are happily using it to order vegetables and lobsters they ran out of. They upload the app and leave reviews. Some of them write that they would like to be able to create permanent contracts with the stores online. You can communicate this feedback to the product manager and developer team to improve the product and keep it relevant in the long run.
Product marketing manager vs. product manager
Both product marketing managers and product managers have shared responsibilities, especially at early stages. They entail vision development, pricing, product development, market research, and feedback collection.

A product manager creates the internal and external product vision. This person is responsible for the product itself and develops positioning strategy and the product roadmap while working with stakeholders and developers throughout the process.

Product marketing manager plays a key role in product marketing. Their goal is to promote and sell a product to a customer. This role is different from the product manager's, being more oriented towards promotion, positioning, and sales maintenance. It's done by market research, sales training, the creation of marketing and PR materials, and the development of different tools and promotion campaigns.

Ideally, this is a person with more than 3 years of experience in product management or marketing projects, preferably in the technology sphere. They should combine both the technical skills to seamlessly collaborate with engineers and a creative mind to come up with unique solutions.

People working in so-called "marketing-marketing" – qualified to promote the business on the whole – are the first candidates for a product marketing manager job. Internships, mentorships, and specialized courses help them cross the gap and learn to use the product as a company's driving marketing force.

Their responsibilities include:
developing a product strategy to successfully launch new products and promote the existing ones;
representing the marketing team in strategy session discussions and when tightly working with product management;
closely understanding the buyer and user personas, their buying journey, and communicating that knowledge to stakeholders;
ensuring that the brand's voice, message, and vision are consistent and unified; and
monitoring and comparing competitors' strategies.
A solid marketing strategy is key to a high sales level. Like any part of a successful business, product marketing must be focused on the customer. Thus, a successful marketing strategy consists of three components: understanding a target audience, knowing your competitors, and promotion. It means that as long as your solution exists, you need to check customer feedback and communicate the results to the product and sales team to update and repeat the mentioned activities.