UX Researcher: Methods and Skills
Reading time:
11
minutes
What does it take to create a perfect market-fitting product? While effective collaboration of product and project managers greatly impacts the outcome, it's not enough. What's also important is human-centered design, design created with the user in mind.
A quick historical fact: In 1999, Jacob Nielsen, one of the two founding fathers of Nielsen and Norman Group, user-experience concept masterminds, was requested to design an eCommerce site. He assessed two models of a navigation scheme. One of them was built according to most users' regular flow. The other was structured according to how most vendors consider their product lines. The results of usability testing showed incredible numbers:
The navigation scheme structured according to most users' mental models was successful among 80 percent of interviewed users.
Only 9 percent of respondents could find what they were looking for when using the navigation scheme built according to the company's internal assumptions.
The lack of preliminary research and user-centric design may obliterate your product before it even emerges on the market.
So, UX research is capturing user needs, pains, and behaviors through different observation and feedback collection methods. That's a cornerstone of any product's UX design.
A UX researcher is an expert responsible for user-first mindset, helps create a product from the customer's vantage point.
In our article, we'll discuss a UX researcher's scope of responsibilities within the development process, skills that this person must have. We'll also consider who can take care of these activities if there's no dedicated person for this role.
Who's UX researcher?
A UX Researcher is someone who uses a set of research methods and activities to build a user-centric product. These activities usually include:
running background user studies;
preparing and conducting user research (interviews, questionnaires, surveys);
processing and analyzing the benchmark information; and
sharing data across the product team and stakeholders.
Simply speaking, a UX researcher connects the dots between user needs, market gap, and business value.
When do you need one? Usually, a UX researcher is a valuable participant in the entire product development process. But the most relevant are the following scenarios:
when developing a new product from scratch or entering new markets (UX research is initiated by a stakeholder or a product manager to validate an idea); and
when considering a pivot or redesign.
UX researcher's responsibilities
To portray a typical UX researcher, we've briefly pointed out the main things a UXR must grasp and execute. In a broader perspective, a UX researcher's responsibilities fall into several categories of activities, depending on the project stage.
Interacting with stakeholders and product managers. Albeit focusing on human-centric design, no UX research can begin without a stakeholder's request to investigate and validate initial user experience assumptions. Besides, a UX researcher communicates with a stakeholder to transmit insights gained from the research and analytics and discuss how these findings fit into business strategy.
Planning and conducting user research. A UX researcher recruits the representatives of the target audience and runs interviews with them. The activity also includes surveys and questionnaires.
Analyzing the data. When all possible feedback is obtained, it's time to put it in order. Here, a UX researcher moves from assumption validation to a clear vision of the whole picture. The results draw an understanding of how future content blocks will be structured (information architecture) and how a user will reach their goals (user flow).
Transforming the research results into actionable guidance. When the data is properly analyzed and interpreted, a UX researcher helps embed the insights into future UX Design.
UX research Methods and Processes
Although conducting interviews, analyzing user experience, and market specifics are the things that you do when you launch a new product or a new feature, UX research involvement doesn't end there. Let's segment the product development process by stages and have a look at the key activities of UX research within each of these steps.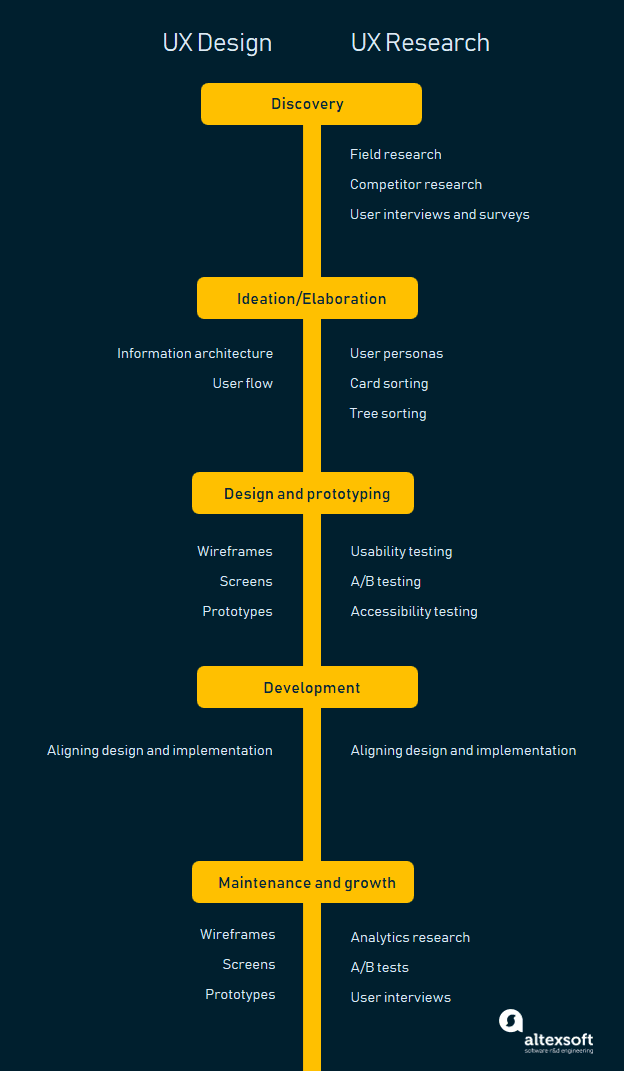 UX design activities go hand in hand with UX research
Please keep in mind that the activities that we discuss below relate only to UX research, as the entire design workflow includes much more.
Discovery stage
This is the stage where a stakeholder just has the vision of a new business concept or a product. Unlike traditional quantitative market research – done as a part of your strategic planning – UX research is mostly qualitative, meaning that you look into your customers' habits, lifestyle, language, and problems they struggle with. But even more important – understanding how they are currently solving the problem that your product intends to solve. Do they use competitor products? Or do they use some other product that wasn't even intended for such a use case?
Funny enough, the latter happens more often than you'd expect. Several years ago, a redditor u/7dare posted a story of an old lady with little computer literacy using Excel Spreadsheets to create knitting patterns:
Taken to an extreme, this is the story of how users find alternate routes to solving their problems when they don't have access to a dedicated product
So, the goals of UX research at the discovery stage comprise:
understanding the target audience,
looking at competitors, and
pinpointing the problems that target users have with or sometimes without competitor products.
Let's have a look at the techniques that UX researchers have for this stage.
Field research. The initial studies are collecting demographic, psychographic, and behavioral data. The purpose is to detect how consumers interact with similar products, how they behave and make decisions depending on their gender, ethnicity, income, qualification, and marital status. This helps specify the target audience.
Competitor research. Based on assumed users and their competitors, a UX researcher outlines the future product's rivals and checks what's missing or done wrong. This activity helps define unsolved problems and consider a unique differentiation that a new product must have.
Running user interviews and surveys. User interviews are the aces of a UX researcher. They help prove or disprove assumptions. Check our article about them to learn more. But keep in mind that inviting even several people for an interview may be a challenge. So, a UX research can also use surveys and questionnaires.
Results presentation. Here, a UX researcher presents insights they gathered throughout the whole discovery stage. Now it's the responsibility of a stakeholder or a product manager to understand whether these findings are relevant and whether the team can match the problems with solutions, given existing constraints.
At the end of this stage the team receives:
demographic and behavioral overview of the target audience,
competitor analysis and things that are missing on the market,
documented problems that the target audience faces, and
assumed product features that must be implemented.
Ideation/Elaboration stage
Once the team outlines the key problems, it's time to shape them into concrete UX requirements. A UX researcher's role here is to help the team with understanding users and matching the product design with user expectations.
Creating user personas. User personas are fictional characters that represent different segments of your users. Personas are created to document job titles of various user groups, their lifestyle choices, skills, age, behavior, etc.  Perhaps the classic example of user personas done right are those by MailChimp. If you haven't heard of them, meet Ada:
Ada or Administrative Assistant is one of several user personas that MailChimp created to navigate their UX decisions
Ada helped MailChimp realize that the new UI made the life of administrative assistants harder, since they use mailing software only a few minutes a week and the changes would only break their current flow. User personas allow the team to systemize what they know about users, group this knowledge, and always relate to them when making UX decisions. If you've ever looked at an old picture of an admirable relative and thought, what would he do in this situation? you understand how user personas work.
Exploring perceived navigation schemes. As we mentioned in the beginning, the way designers think of navigation and the way people really use the product may be two completely different things. So, the goal of a UX researcher is to stay skeptical to any gut feelings and engage real users prior to prototyping. There are two main techniques applied: card sorting and tree sorting. With card sorting, the product content elements are written on cards and users must group and sort a site's content into a logical structure as they perceive it.
Tree sorting suggests that a UX researcher offers participants a presumed structure and asks them to find particular components within it. The research shows how participants are navigating a site or an app and how they find information arranged into topics and subtopics.
User flow mapping. Finally, once the perceived information architecture of the product is analyzed, a UX researcher helps in mapping the user flow (or user journey).  A user journey considers how an ordinary person would interact with an application to reach their goals. There may be multiple user flows depending on the user's status or even user persona.
Here are two user flows of a transportation app that we designed for Niftie, an Australian ride-sharing company
At the end of the elaboration stage, a UX researcher and the product team come up with the following deliverables:
documented user personas,
information architecture, and
user flows.
That's enough to start working with prototypes.
Solution design and prototyping stage
This is a stage of a visual design that finalizes how an application will look and operate. The responsibilities here are shared among a UX team with UX researcher, product manager, and business analyst.
Building wireframes. Wireframes are bare-bone visualizations that describe how different content sections fit on application screens. A UX researcher helps align them with user behavior patterns, but the involvement here is minor.
Creating prototypes and testing usability. Prototypes are final representations of the product design. They are usually clickable and offer the final look and feel of the product. Prototypes aren't the UX researcher's responsibility but testing them is. Usability testing is another research method to assess the seamlessness of a suggested user flow. The UX researcher gives a task scenario to an interviewee who must complete and comment on how they do it. Then he or she documents the user's decisions to further reiterate the prototype and remove any possible hiccups.
Defining A/B and multivariate testing scenarios.  A/B testing is probably one of the most effective, common, and beloved research techniques. You can do it at the prototyping stage: A UX researcher provides to an interviewee two (or several) product versions or visual implementations. Users are supposed to decide which is better, easier to use, or more attractive. Additionally, you can set up different testing scenarios and different types of interface options on the elaboration phase and then run tests when the product is already in production.
Accessibility testing. There is an additional subset of usability testing. As the Internet should be available equally for all, a UX researcher is supposed to consider a number of accessibility recommendations and – a best case scenario – test them on real people as well. As the outcome, it ensures that a future application will be accessible for people with disabilities like hearing impairments, color blindness, old age, and other disadvantaged groups.
The UX research part considers:
Aligned user personas, user flows, and prototypes;
prototypes updated according to usability testing results;
Prepared A/B testing scenarios; and
prototypes meeting accessibility standards.
Development stage
A UX researcher is involved into active development to the least extent, as the engineering team is mostly in charge. However, there are still some activities.
Aligning design and development. Throughout the development, a UX researcher should monitor the process. This is needed to make sure that the final product matches UX requirements. It's quite common when the assumed UX can't be fully realized by engineers. If there's a gap between a prototype and the final product, it's important to maintain the user-centric approach.
User acceptance test (UAT). This is the last UX researcher's activity at the product pre-launch stage. Based on the established user acceptance criteria, UAT verifies if the product is ready to meet its end-user and their needs. To get a deeper dive into what a user acceptance test and why it matters, you're invited to read our article.
While UX research specialist's involvement here is minor the key deliverables here are:
completed user acceptance tests and documented changes that must be done in further product iterations, and
the product itself.
Maintenance and further product growth
Regardless of whether the product is an MVP or a mature system, a UX researcher analyzes user feedback, tracks metrics, and navigates the team in terms of further improvements.
Analytics research. Tracking traffic, session durations, and activities with analytics and heatmaps are must-have techniques for a UX researcher upon launching a digital product. It allows for detecting user challenges and suggesting changes.
Running A/B and multivariate tests. While you can run A/B tests on the prototyping stage, the real insights come from user interactions with working interfaces. A UX researcher lists the features that must be tested, defines the time horizons for these experiments, and participates in analysis.
Reiterating user interviews, usability testing, and other. If the product life cycle doesn't end after the first release, all mentioned activities must be embedded into the entire product development flow and repeated every time you substantially update a user interface, change information architecture, or roll out new functional modules.
UX researcher's skills
That said, let's outline some skills that make a person perfect for a UX researcher's position.
How a UX researcher's profile may look
Communication skills. While discussing objectives for a new product or a feature, a UX researcher is supposed to understand the business concept within the context of a user's needs. At the same time, a UX researcher engages users for interviews and surveys. It requires empathy and commitment. Finally, this person has to go back to stakeholders and stand for users and their needs, helping the team align the business objectives and target audience's pains.
Analytical mindset and a knowledge of statistics. A UX researcher must be capable of understanding and interpreting the information from internal and external resources on a regular basis. It helps predict how users will interact with a product.
Domain competence. A qualified UX researcher is supposed to be aware of competitor products and their user flows. It helps capture and refine the product-market fit.
Cognitive and behavioral psychology awareness. To reach trustworthy conclusions, a UX researcher doesn't only listen to people and write down what they say. An expert would always focus on how they interact with a suggested item. More often, non-verbal signs, such as gestures or mimics, convey more than words. A credible UX researcher is supposed to detect them, interpret, and embed them into a model of user-product interaction.
A common understanding of the software development process. A UX researcher is expected to have a general awareness of the product development stages. They must know responsibilities, activities, and interactions within the process across the team.
UX design techniques understanding. Since this specialist is an essential participant in designing and visualizing processes, they must know UX design techniques and its deliverables, such as information architecture, user flows, wireframes, prototypes, screens, and mockups.
UX research tools knowledge. Even a mature expert will tell you that high-level research can be conducted with a paper, a pen, and a voice recorder. But above that, a UX researcher must handle tools for finding, targeting, and reaching interviewees, for data storing and sharing. To analyze user behavior, this person must know Google Analytics, Google Optimize, or some other A/B testing environment.
Who can be a UX researcher if there's no dedicated one?
While we recognize the importance of a dedicated UX researcher, most likely you won't hire one. And you'll have to put someone from the product team in charge. There are several people in your team who can combine their roles with this one.
UX Designer
Well, that's obvious. Who else but the UX designer would advocate for users' needs and smooth user experience? They have sufficient skills to prepare and conduct research studies and interviews, not to mention the usage of visualization tools on a daily basis. Focusing on a user-centric interaction, a UX designer is qualified enough to engage in a UX researcher's role.
UI Designer
Acting on the front-end part of the future product, the UI designer can also serve as a UX researcher. But they can mostly be involved in UX to usher or conduct user research, to ideate at a workshop, or to build prototypes.
Business Analyst
In one of our articles, we've described the role of Business Analyst in Tech. However, if addressing the scope of a UX researcher's responsibilities, a BA can partially perform this function as well. A BA's role involves a large body of diverse discovery activities, such as field, competitor, and business domain research. Also, a business analyst is aware of stakeholder requirements, which allows aligning user needs with business value. So these two roles can exist as one, as long as the BA's scope of responsibilities allows for it. For example, a BA will hardly conduct user interviews and surveys.
Product Manager
Being responsible for product success, product management is also involved in the product development process from the very beginning. And since understanding customers to reach product/market fit is what a PM concern, this person is fully capable of spearheading the UX research initiative.