This is a guest article by Quincy Smith, founder of ESL Authority
According to recent research, nearly
60 percent of all US workers
are working remotely due to COVID. While many states and countries are successfully beating the virus back, some of the changes enacted by companies to support their staff during COVID are likely here to stay.
In this post, we're going to look at a framework your company can adopt in order to determine what the future of work looks like for your staff along with what tools and tactics you might need to support your decision.
The Staying Power of Remote Work
The appeal of remote work was growing long before the pandemic. And data suggests that it's not only has it continued to increase in popularity, but that more employees are viewing it as a requisite than a perk.
Let's look at some numbers to better understand what's expected of modern companies:
So, if you're a company that has traditionally required their employees to work from the office, what should you do in light of these facts?
Unsurprisingly, the solution should come down to your employees - how have their needs changed and what can you do to identify the changes and support the employees?
How to Identify the Future Needs of Your Company
For many companies, the
move from a traditional office to remote
was abrupt, a fly-by-the-seat-of-your-pants decision that likely created many
headaches and questions
.
The process of evaluating what the future of work in your company looks like should be the opposite of that - it should be planned, researched, and refined. Most importantly, it should begin with your employees.
Here's how to start:
Put someone in charge - if you're a larger company, then this could be a full committee but their goal is to quarterback the research process and return summaries on what they've learned from your staff.
Ask the right questions - context is key here and it's important to ask your employees both open-ended and quantitative questions to really understand what their experience has been with remote work so far and what they'd like to see in the future. Also, be sure to follow the golden rule of surveys: Limit the number of questions. You can always break it up into multiple forms.
Distill and visualize the data - these responses must be easy to understand and actionable so it's best to forgo a lengthy report for a more visual representation sprinkled with a few takeaways.
Review the responses with employees - these can be focus groups if you're a larger company or an all-hands meeting if you're smaller. The goal is to make sure the survey is supported by a majority.
Review with stake-holders and make recommendations - at this point there is likely a trend emerging from your data in regards to what most people want. Share this with managers and make some suggestions on how they can move forward with it.
Once you have a framework in place to collect and evaluate responses, it's time to start formulating questions.
Our advice is to group these into 2 buckets:
What working model you're going to pursue
What tools and tactics you'll need to support that model
Assessing Popular Working Models
The good news is that there aren't that many options when it comes to how your company actually does their work. The bad news is that almost everyone is going to feel passionately about one of the options, which makes it hard to please everyone.
Fully Remote
For employees who love working remotely,
following in the steps of Twitter, Square, etc
is a no-brainer!
For companies, it's a bit more complicated. If you're going to keep remote work around for good, considerations must be given to your current office, assets, and day-to-day operating structure.
Fully In-person
While going back to in-person might be a hard sell for many employees, there are significant benefits for a company regarding training, management, and even productivity (
depending on whom you ask
).
Flex Scheduling
Flex scheduling is the best of both worlds - it offers the option to work remotely part of the time while also maintaining a physical office.
Though it might seem like an obvious solution when faced with a divided staff, it can also negatively impact an office looking to support both in-person and remote employees.
Questions to Ask
When looking to assess which work model is preferred by your employees, consider the following questions:
On a scale of 1-10, how much have you enjoyed working remotely these last few months?
What is the best thing about working remotely?
What is the worst thing about working remotely?
What does the ideal work environment look like to you once COVID is contained?
Maintaining Remote Tools and Tactics
If your company is anything like ours, then moving fully remote probably forced you to reevaluate and assess your current tools and processes in the context of remote work. Despite being a huge burden initially, we expect the changes to have a lasting positive impact on everything from onboarding new hires to organizing new projects.
Our goal is to slowly adopt a flex scheduling model over the next 3 months and in preparation for that we've been reflecting on the good and bad that came out of our remote move.
We've tried to break down our learnings into the following 3 categories, each of which is supported by the tools we tried and the tactics we settled on.
Communication
Our communication actually increased during COVID despite the distance. We decreased the number of 1-to-1 interactions we had but increased the number of meetings across the team.
Slack
- we use Slack for internal chats and originally thought it would be a suitable option for video meetings. We were wrong - we found the group video conferencing lacking.
Zoom
- we jumped on the bandwagon and used the platform daily for 1-to-1 and group calls.
Vidyard
- video SOPs have been a godsend during this time and I'd be remiss if I didn't mention Vidyard. This platform allows you to easily record desktop videos using an extension and then hosts the files for free so you can share them easily. We used this for
design and development input
, training, and general feedback that we didn't want to type out.
More meetings
- to make up for the lack of in-person interaction we ramped up our meeting frequency. And despite a bit of a learning curve (aka "how many meetings is too many?"), we ended up finding our groove. In the end, we settled on 1 weekly all-hands, a weekly catch-up for each team, and a monthly 1-on-1 for each manager and employee.
"Keeping the line open"
- the idea of starting a video call and just leaving the window open while you were working was interesting but in the end, we found it too weird. Your results, however, may vary.
Virtual team building
- we ran weekly contests or events on Slack to keep people engaged and communicating. This turned out to be really fun and the most popular one was where everyone posted a picture outside of their home (anonymously) and the rest of the team had to guess whose it was!
Organization
We underestimated the level of organization needed to
manage a company and team remotely
. The result was a complete revamp of our tools and processes that we hope will be worth the effort!
Every team for itself
- this was the old way of doing it and allowed each team to pick their own tools, processes, and data storage methods. Developers used Jira, marketing used Trello, and writers used Google Suite. A disaster in hindsight, it was held together by in-person duct tape that made keeping track of each team manageable because there was always someone available to explain it.
ClickUp
- ClickUp was the platform we chose to unite our teams in their processes and give everyone a place to review projects without having to ask 100 questions. While we are loving ClickUp, the moral of this story is: Get everyone using a single
PM platform
sooner than later!
Naming conventions
- consistent naming makes everyone's lives easier. We tasked teams with updating their task statuses and file names so there was more continuity across projects. Expect this to take time and prioritize items your teams are actively working on - no need to clean up something that isn't being used.
Hiring
Our team is a mix of full-time, part-time, and contractors. We actually hired 2 people during COVID. Hiring is always a challenge and luckily COVID didn't turn it into a burden.
Vidyard
- though not necessary, we've been loving videos and used Vidyard to introduce ourselves and our company to applicants we were pursuing. It was also invaluable when it came to onboarding as it's the perfect way to explain initial tasks and responsibilities.
Zoom
- we conducted all interviews on Zoom and asked applicants to have their cameras on as we needed to assess whether or not they were comfortable meeting remotely.
Remote experience
- while previous experience working remotely was not a requirement, we made it a point to ask about their routines and setup when it came to working from home. Our goal was to find someone who could not only work on their own without regular interaction. Having a dedicated workspace as well as a realistic view of their average day was a good indicator of that.
Video shadowing
- onboarding new employees was a challenge but one thing we found to work well (coupled with the Vidyard videos) were regular 30-minute video meetings where a current employee would share their screen as they performed a task. This was not as good as being in the same room but did enable new hires to get a feel for the work and ask questions.
Where to Start
If you felt half as overwhelmed as we did during our rush to work remotely, then the idea of backtracking and undoing most of your efforts probably seems daunting. However, the above framework is still an important exercise for almost every company looking to get their finger on the pulse of employee sentiment.
My advice is to start small. Create a small survey of questions based on organization and communication and send it to a small group. Evaluate the responses, adjust the questions as needed, and circulate v2. Build up a bit of momentum with the goal of better understanding how your staff is feeling - it will help you even if you don't plan on changing things up anytime soon.
---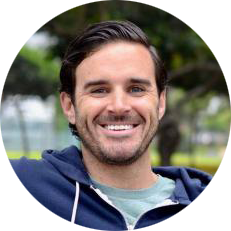 Quincy is the founder of
ESL Authority
, a company that helps recruit teachers looking to work abroad. Currently based in Shanghai, he's passionate about solo travel, strong coffee, and IPAs.
Want to write an article for our blog? Read our requirements and guidelines to 
become a contributor
.