A project is a set of interdependent tasks that a group of people must complete in a certain amount of time to achieve the project's main goal – develop a product or implement a program.
Multiple teams involved in a project do their part of the work. Each team member has a set of tasks, often consisting of subtasks, that they must complete within deadlines while updating other employees and team leads on their progress and reporting once they have finished that task. Team leads keep a project manager posted about the ongoing actions. And a project manager keeps executives and stakeholders in the know.
To cooperate and interact effectively within and between project teams, companies need a single solution that gives them a bird's-eye view of the project and lets them zoom in and out when needed. Project management tools serve this purpose.
Project management software and its main features
Project management software allows for planning and monitoring resources (human, financial, or infrastructural), managing workflows (goals, tasks, deadlines), tracking productivity, collaborating, and exchanging information related to the project.
These solutions may differ in features and in the way the features are classified. But their main capabilities are:
Task management. With task management, users set goals and milestones, create tasks and add related information, assign duties to employees, and set deadlines. Some products have tools for task automation with which customers create rules that apply actions based on specified triggers. For example, notifying team members once a new task is added.
Project tracking and reporting. This capability is about real-time workflow monitoring. You can track the project progress in a grid view, a chart view with Gantt Chart used most often, or view tasks as cards organized across columns in a Kanban board. Solutions usually have built-in dashboards and provide some room for customization.
Collaboration. PM solutions may have built-in messaging tools, such as group chats, project feeds, private messaging, or an email forwarding service. Besides that, users can open the same file and edit it in real-time.
File and document sharing. Users can upload documents or files via drag and drop, or share code snippets within a project, task, or subtask. The volume of data storage depends on the pricing plan.
Time management and tracking. This feature would help managers evaluate each member's workload when assigning duties within a team. Time tracking gives visibility to how employees handle projects and individual tasks, define which tasks are easy or difficult for them, or what their most and least productive hours are. Some tools also have nonworking time management included. Companies billing clients for working hours can't go without time tracking as well.
Security and user permissions. System administrators can define how users access and use the tool with different user roles, set authentication options, or specify email addresses that can receive documents or other information. Generally, user permission capabilities increase with the cost of a pricing plan.
Project portfolio management. This feature is for companies that need to select the right projects and manage them simultaneously.
You can enrich functionality in the tool you're using or source data from third-party applications and services by integrating your project management solution with them.
Now, let's overview some of the most popular project management solutions available.
To compile this listing, we looked at the number of use cases solutions support and their features. We also browsed software ratings and examined user feedback on such resources as Capterra, GetApp, G2 Crowd, or PC Mag.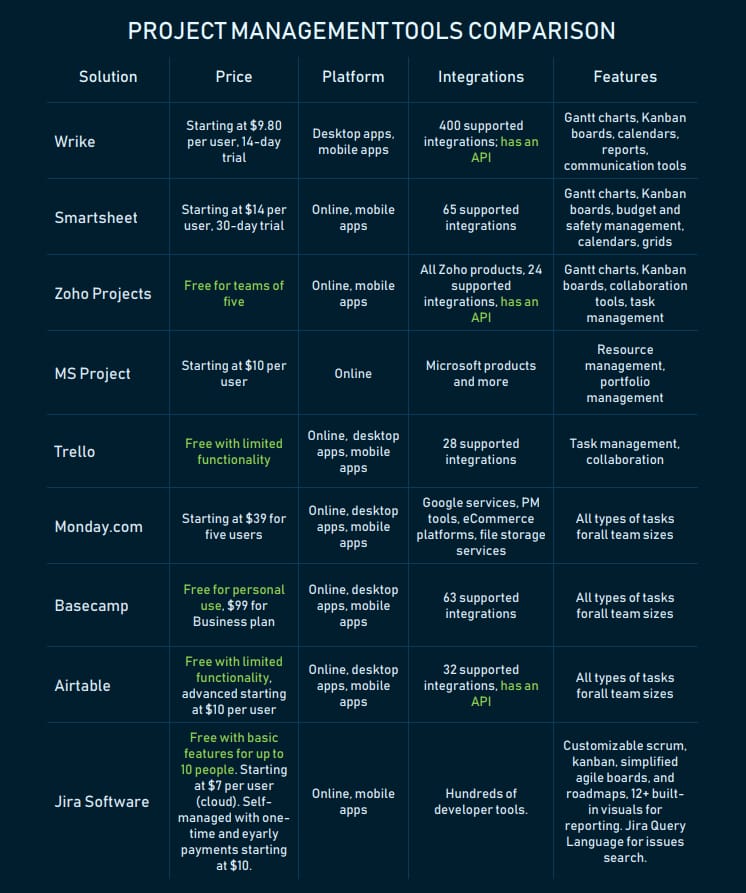 Comparison of PM tools by features, platform, price, and integrations
Wrike: managing workflows for various teams
Wrike provides a cloud-based collaborative work management platform with customized solutions for various teams.
Features. The platform has numerous tools and services to help teams work efficiently. They can create projects, assign tasks, and have a full view of the projects' progress with resource management tools – interactive Kanban boards and Gantt charts. Standard visualizations like calendars, dashboards, and reports are included as well.
Workflow templates or communication and editing tools are tailored for each team type. For instance, marketers can try out content development, marketing campaigns, or event management templates. While for project management teams, there's the Agile Teamwork or Project with Dependencies templates. Built-in communication tools let users edit works and suggest new ideas.
Integrations. Wrike integrates with more than 400 cloud and on-premise solutions, including CRMs, messaging, file storage, single sign solutions, BI tools (Tableau), email services, and many more. The full list is here. For custom integrations, use Wrike's APIs.
You can try a demo tour to see how the solution works.
Assigning a task during demonstration tour
Deployment. The platform can be installed on both desktop (Mac and Windows) and mobile devices (Android and iOS).
Pricing. There are three billable pricing plans (Professional, Business, and Enterprise) starting from $9.80 per user per month, each with a 14-day free trial. Also, there are two plans with extra features designed for marketing, creative, and service delivery teams. If your team is five or fewer people, you can try a free plan.
Smartsheet: a platform for work management and collaboration with 156 built-in templates
What happens if you add more functionality to a spreadsheet? You get a solution like Smartsheet. Smartsheet is a cloud-based project management and collaboration tool for customers from various industries (retail, construction, healthcare, or technology) and departments (PM, software development, sales, or HR). It works for small, mid-size, and large companies.
Features. Users can visualize and manage their tasks in many ways, for instance, in a grid or calendar view, Gantt charts, and Kanban cards. Or use a timeline template or a dashboard.
As we said, the platform is tailored for plenty of use cases. Templates (156 in total) include such templates as roadmaps and project timelines, project tracking and rollup template for product managers, or safety/budget management dashboards for specialists working in the construction field.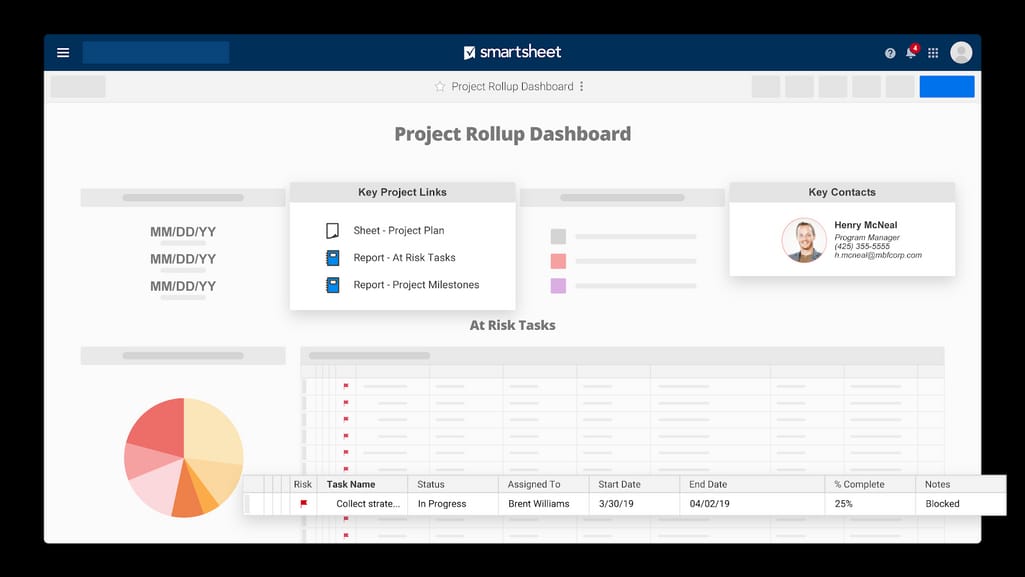 The template for project tracking and rollup to report on risks and milestones to stakeholders. Source: Smartsheet
Integrations. Smartsheet integrates with 65 applications and services like Slack, Qlick, Tableau, Bitium, Git, Zapier, Google Drive, and many more.
Deployment. The platform is available as a web app and runs on iOS and Android devices.
Pricing. Smartsheet offers four pricing plans: Standard Individual ($14 per user per month if billed annually), Standard Business ($25 per user per month if billed annually), as well as Enterprise and Premier for large organizations. Plans differ in the number of features and tools, storage space per user, collaborators per item, or sheets per user. There is also a 30-day free trial you can access without providing credit card information.
Zoho Projects: workflow management, task automation, time tracking, and more
Zoho Projects can enhance the workflow of different teams, including software developers, testers, real estate agents, marketers, teachers, and those in the construction or those providing consulting services.
Features. The tool has multiple capabilities, such as task management and automation, time tracking, collaboration, issue monitoring, reporting, and others.
With task management tools, for instance, employees can set goals and milestones, break them into tasks and subtasks, add descriptions, discussions, and related docs. Also, users can specify task duration, priority, and assign them to different people. Customers can visualize and manage dependencies between tasks with Gantt charts: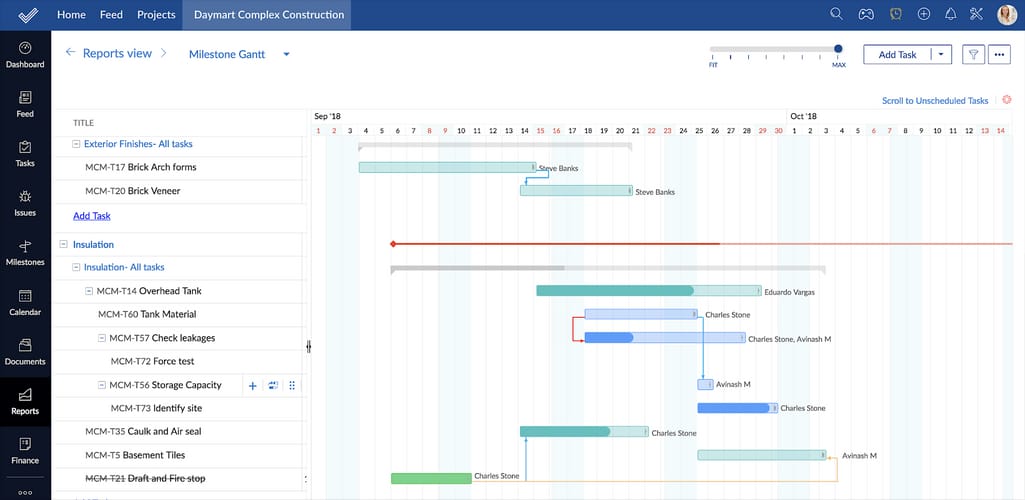 Specifying the order in which tasks must be completed with Gantt charts. Source: Zoho Projects
Like in other solutions, users can place task cards along columns and drag and drop them on a Kanban board.
A Gartner Peer Insights contributor noted the tool's easy interface, document sharing, chat, and collaborative editing features. Other collaboration features are forums, project feeds like in social media apps, activity streams, and landing pages with info about a given project.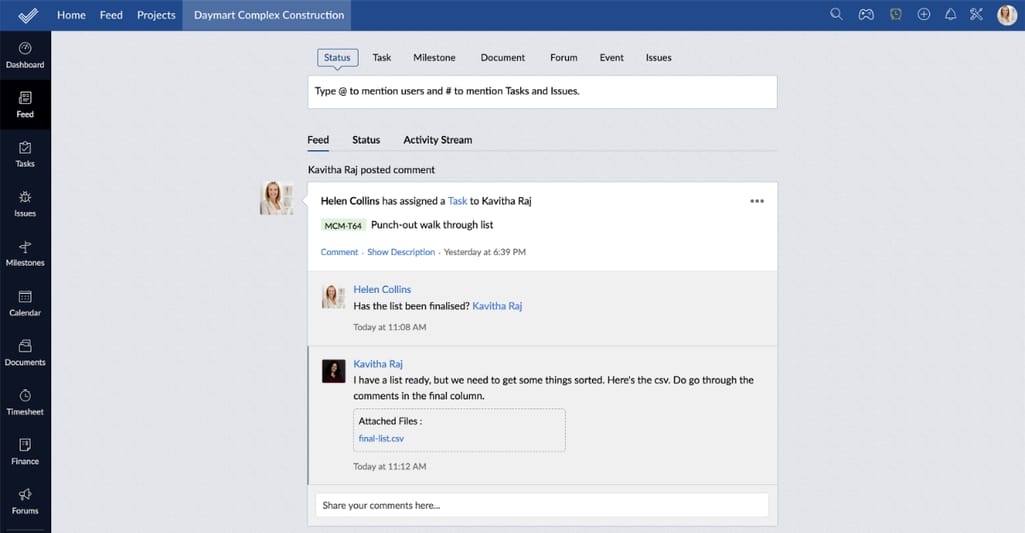 Project feed. Source: Zoho Projects
Integrations. The software integrates with other Zoho products (Zoho Analytics/CRM/People/Sprints) and third-party applications. You can find the whole list here. Custom integrations are possible with the provider's REST APIs.
Pricing. Zoho made its product available for teams of all sizes. Zoho Projects has a free plan for five users and their five clients and allows for managing two projects, besides having several more basic features. Billable plans start from $25 per month for six users (Standard) and come with a 10-day trial.
Deployment. Zoho Projects is a cloud-based solution that's accessed from a web browser and used as an Android and iOS app.
Microsoft Project: three applications for organizing and leading projects
Microsoft Project is a project management software that's available in three variations: Project for the web, Project Online, and Project Online desktop client.
Project for the web a cloud-based tool for planning and managing work of any size. It's the provider's most recent offering.
Microsoft Project Online is designed for planning and executing numerous projects (within project portfolio management) and day-to-day activities.
Project Online desktop client has features for resource and financial management, automated scheduling, and built-in reporting. It can be used as a standalone application or be connected to Project Online. Project Online desktop client is the subscription version of the Project Online desktop client.
Project and resource managers, administrators, portfolio managers, and viewers, as well as team leads and team members, can use Microsoft Project.
Features. Each of the tools' main features is supported by numerous tools. For instance, with the project, task, and time management feature in Project Online, users can set project baselines to compare current and past performance, identify and track issues, schedule tasks and set dependencies between them, or get notifications on Outlook or Microsoft Teams about upcoming tasks and project events. Managing non-working time (sick leaves or vacations) is also here. Grid, Gantt, and board task views are available.
To be efficient with resource management, users can build interactive roadmaps and use real-time interactive dashboards or portals. MPO includes pre-built reports and customizable out-of-box graphics.
A resource management dashboard. Source: Wellingtone
Some contributors to Gartner Peer Insights note that MS Project Online is too sophisticated for handling small and easy projects and requires training so that beginners understand how to use it the right way.
Integrations. MS Project integrates with Logic Apps, Flow, and Power App services that have connectors to Microsoft' and third-party apps and services.
Deployment. Applications runs in the cloud.
Pricing. Customers can access MS Project via three subscriptions: Project Plan 1 ($10 per user per month with annual payment), Project Plan 3 ($30 per user per month if paid annually) and Project Plan 5 ($55 per user per month with an annual commitment).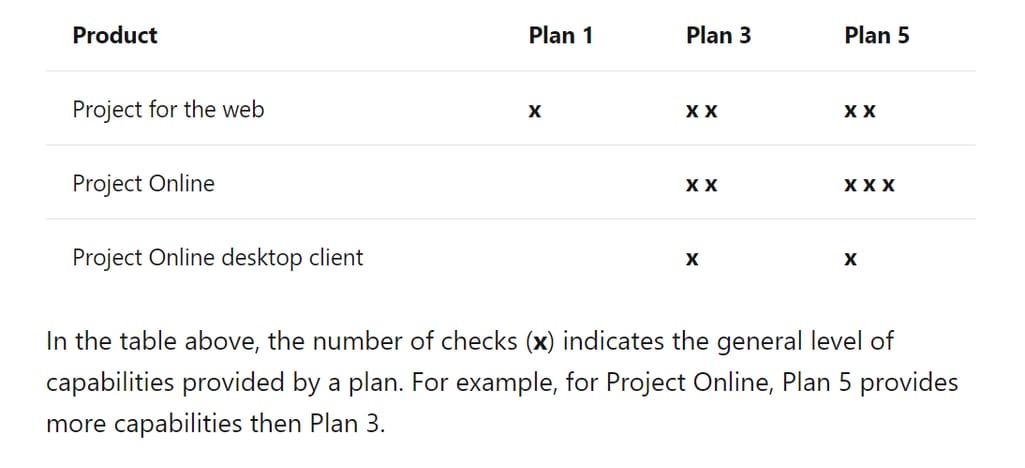 Subscriptions for three products. Source: Microsoft
Trello: Kanban boards with workflow automation tools
Trello task management and collaboration tool is designed with teams of all sizes and use cases in mind. Editorial calendar, real estate company, design sprint, wedding planning, or scrum board – users have many templates to choose from.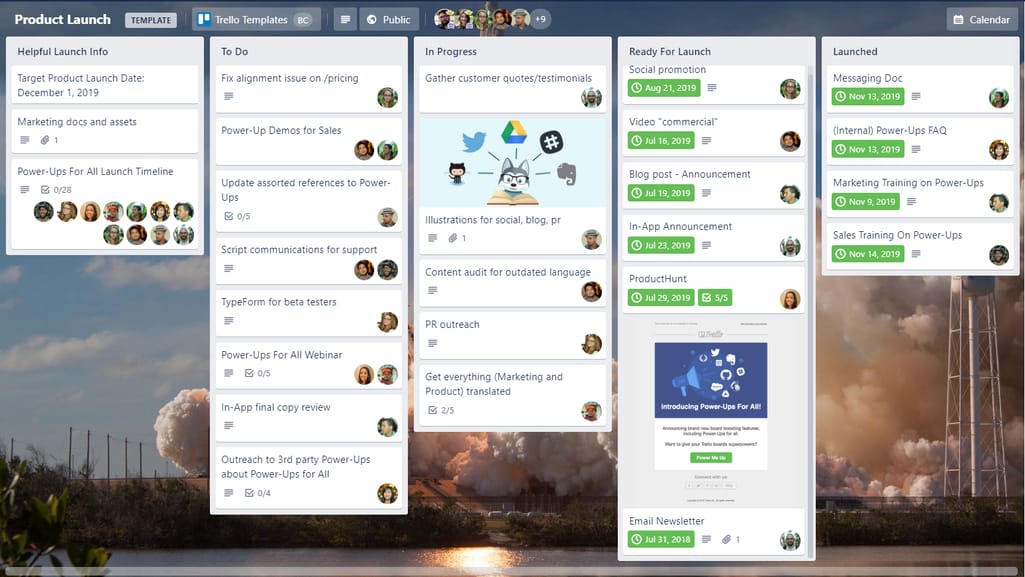 A template for a marketing launch plan. Source: Trello
The power of Trello is its simplicity. The interface is a Kanban board with task cards ordered into several lists (columns) that represent workflow stages, for instance, to do, in process, in review, and done. Task cards contain description and other information like task creator and assignees, checklists, due dates, or files attached. Users can easily drag and drop cards between or within columns, leave comments on a card, and @mention other colleagues.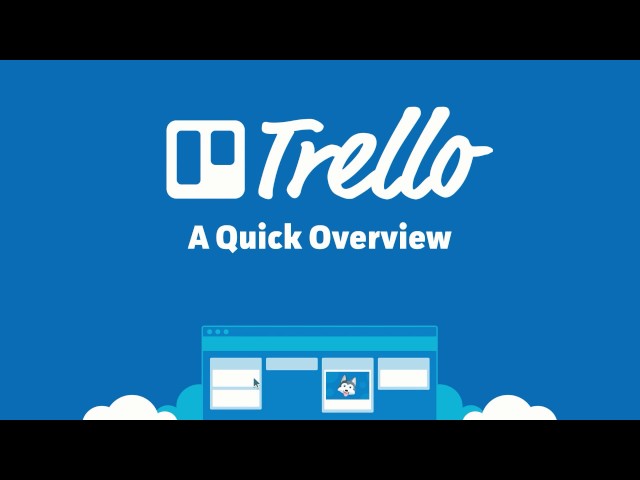 Trello features in brief
Trello also provides Butler – a tool for creating rules, buttons, and scheduled commands to automate actions. The feature has limitations for free users.
Integrations. Boards can be integrated with applications and services like Dropbox, Google Drive, Bitbucket Cloud, Figma, etc. Check the page with Power-Ups to learn more.
Deployment. Trello is available as a desktop app for Windows and macOS, runs on Android and iOS devices, and popular browsers.
Pricing. Trello has one free and three paid options:
Gold ($5 per user per month if paid annually),
Business Class ($9.99 per month per user with annual subscription), and
Enterprise ($20.83 per user per month for a team up to 20 people) in which pricing per user decreases depending on the number of users.
Monday.com: flexible tool with pleasant dashboard widgets
Monday.com works for small, big, and cross-functional teams across any industry. Its customizable templates support plenty of use cases: Agile management, event planning, employee onboarding, bug tracking, cleaning checklist, expense tracking, etc.
Features. Customers have six ways to monitor project progress. There are calendar, chart, timeline, map, Kanban, and files views.
Map and timeline views on Monday.com. Source: GetApp
Each project has an updates section to keep communication in one place. Team members can discuss things, mention other people, add files in their posts – the interface with project updates looks like a social media feed:
How updates section works
Monday.com has 15 dashboard widgets to help users understand project progress, track budget and time spent on specific tasks, create reports and summaries, and more. For example, one dashboard shows a live stream of updates on selected boards, another visualizes progress across projects in a battery view. Some dashboards are not designed for planning and tracking but for entertainment and are generally good for the soul: the quote of the day, YouTube, or the Playlist (Spotify) widgets. Dashboards can be tailored for specific needs.
Integrations. The tool connects with numerous solutions, including Google services, other PM tools (Asana, Jira, Basecamp, Trello), file storage services (Dropbox, OneDrive), eCommerce platforms (Shopify, WooCommerce), and other tools used across industries.
Deployment. Monday.com can be used as a web and mobile app (Android and iOS) and can be installed on Mac and Windows.
Pricing. The solution is provided under four billable plans: Basic, Standard, Pro, and Enterprise. Pricing increases with the number of users, with the smallest team of five people. For example, the Basic plan for five users is $39 per month if billed annually, the Standard is $49, and Pro comes in at $79. A 14-day trial is available.
Basecamp: rich communication features and one more way to visualize a workflow
Basecamp is a cloud-based software that helps teams from different industries to "get it together and manage projects the right way."
Features. The solution addresses every aspect of working on a project with dedicated features. It offers three ways for communication: a real-time group chat (Campfire) with capabilities to @mention people, attach documents, videos, songs, or emojis; a message board to discuss a specific topic, pitch ideas, or give feedback on a single page; as well as one-on-one or small group messaging.
Basecamp functionality explained
Task management and tracking are supported with to-do lists and scheduled events on a project-specific calendar.
Employees can visualize their progress on the to-do list with hill charts – Basecamp's invention. Users move dots representing tasks across the hill and can comment about things they're working on or tell about completed tasks: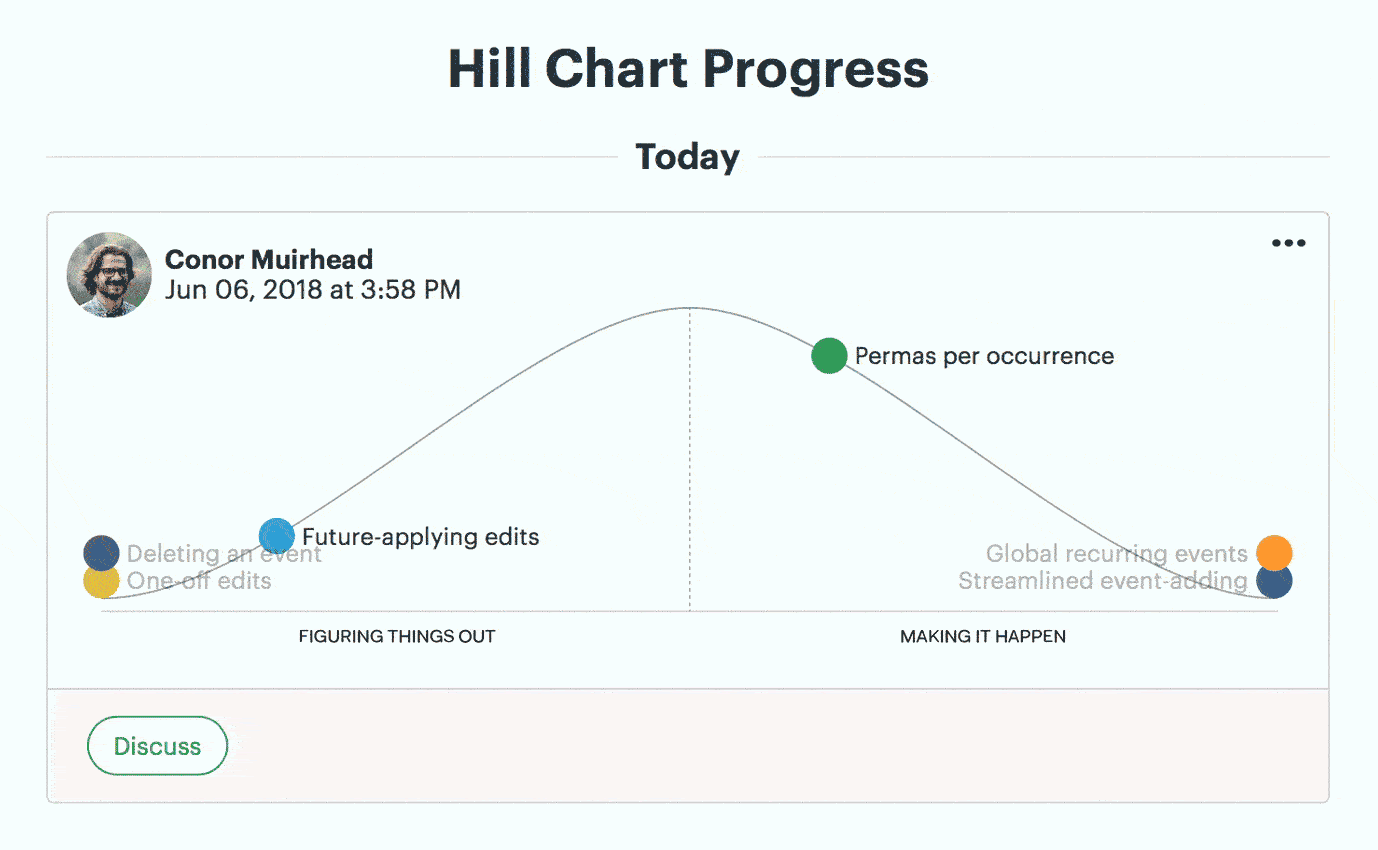 Examples of hill charts. Source: Basecamp
Some other features are a file storage service, automatic check-in questions, and notification settings for those who care about their life-work balance.
Integrations. The tool integrates various software types, for instance, tools for software development (TestLodge,Ybug, ScrumDo), reporting with visuals (MangoBoard, Ganttify, ClicData), time tracking, invoicing, and accounting (MinterApp, Calamari, Timesheetr), and others.
Deployment. Customers can use Basecamp as a web app, install it on Android and iOS devices, or computers with Mac or Windows operating systems.
Pricing. There are two plans – Basecamp Personal (free) and Basecamp Business with a flat fee of $99 for unlimited users and projects. The latter plan has a 30-day trial.
Airtable: "part spreadsheet, part database, and entirely flexible"
Airtable is a cloud-based tool for organizing projects or activities and collaborating with colleagues in real time.
Features. It's an application with a spreadsheet-based interface and extra features typical for databases. Customers can add attachments, images, long text notes, barcodes, checkboxes, links to records in other tables, just links, or filter which columns to show. All the changes will be updated right away.
The software is versatile in terms of use cases. A variety of pre-designed templates for business (PR and communications, product design and UX, startup) and personal essentials (grocery list, apartment hunting, holiday gift guide) are at your service.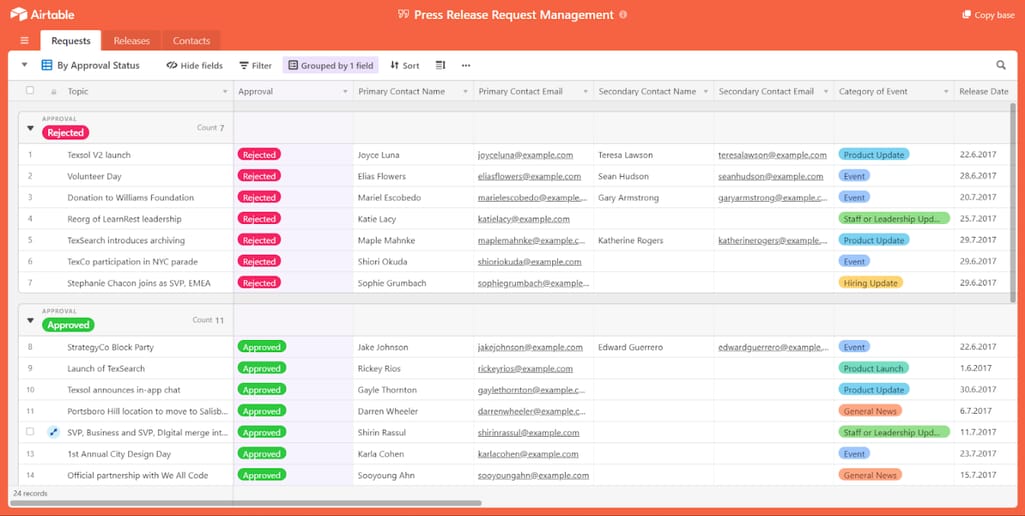 A template to collect, review, and prioritize press release requests. Source: Airtable
Users with Pro and Enterprise plans (more on them below) can use the Airtable Blocks platform to add mini-apps (blocks) to a project to extend its functionality. For example, users can view their content (orders, properties) on a Google map, visualize it with Gantt, line, bar, and scatter charts, add time tracker, or video chats. Please note that blocks that integrate with third-party applications, like maps, require a Google Maps API key.
[video width="1152" height="720" mp4="https://www.altexsoft.com/media/2020/01/Airtable-extra-visualization-options.mp4"][/video]
Line, bar, and scatter charts. Source: Airtable
Integrations. The tool supports integration with popular apps like Zendesk, Stripe, GitHub, or G Suite tools. It can be connected to more than 1000 websites and apps via Automate.io, Zapier, Workato, or Integromat. For custom integrations, there is an API.
Deployment. Airtable is available as a web, mobile (Android and iOS), and desktop (Windows and Mac) app.
Pricing. There are four pricing plans, including a free one with essential features only. Billable plans are:
Plus at $10 per user per month if billed annually,
Pro at $20 per month per user (annual payment) with support for Blocks, more security and customization features, and
Enterprise with on-demand pricing.
Jira Software: comprehensive tool for software development teams
Everyone who's working in the IT industry has probably heard about this solution. Jira Software is a versatile project management tool for software development teams following Agile work philosophy: developers, project managers, and SCRUM masters.
Features. Customizable scrum, Kanban, next-gen boards (simplified Agile boards), and roadmaps visualize work or project phases for the development team, managers, and stakeholders.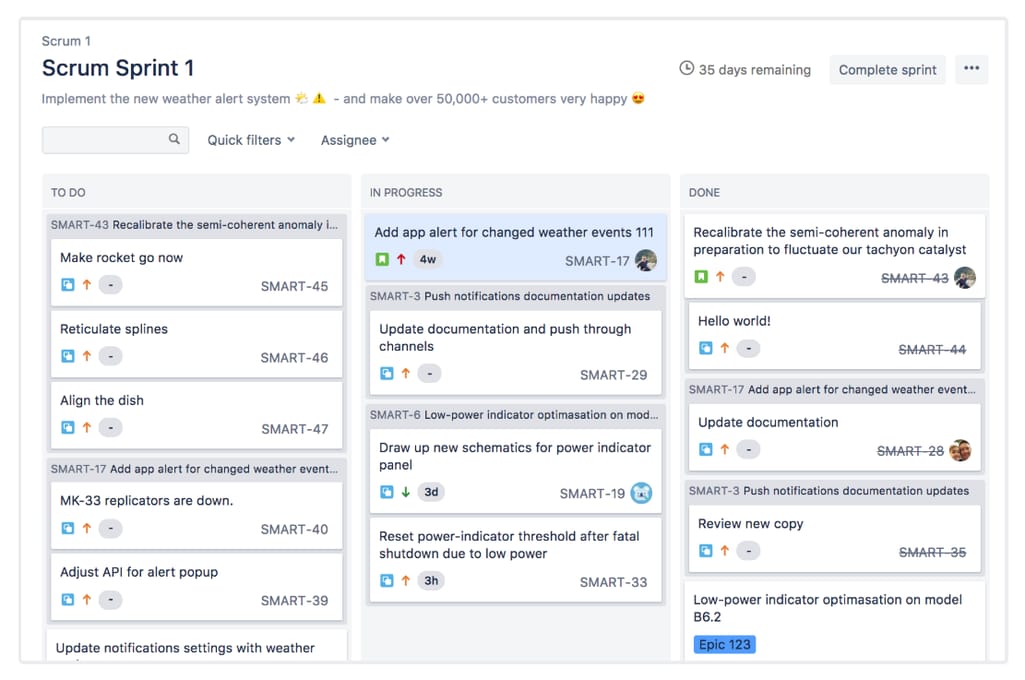 A scrum boards for sprint. Source: Jira
Users can copy out-of-the-box workflow templates and modify them as needed or import them from the marketplace.
More than a dozen built-in reports, such as burndown, burnup, velocity chart, or sprint report, providing real-time insights into sprint progress, are available as well.
Deployment. Customers can choose between two hosting options: cloud and self-managed. The self-managed option includes hosting a server (Jira Software Server) and datacenter (Jira Software Data Center). The former entails using company hardware and customizing setup as needed (for those with strict data governance rules and resources to manage it on their own). The latter option is done on organization hardware or with IaaS vendors like AWS and Azure and is ideal for enterprise teams.
Integration. Jira Software integrates with hundreds of tools, including Confluence, Slack, Bitbucket, and GitHub. To view the full list of solutions, visit the Atlassian Marketplace and search across solutions for IT, design, software engineering, and business teams.
Pricing. Cloud offering is available with three pricing plans. The Free plan is available for up to 10 users, the Standard plan comes for a starting price of $7 per user per month) for up to 5000 users. The Premium plan has a starting price of $14 per user per month.
There is a one-time payment for Jira Software Server, and the cost depends on the team size. For instance, hosting Jira for 10 users is $10, for 25 users is $3,500, for 500 people – $40,000.
Jira Software Data Center is available with yearly payment, and it will cost $20,400 for a team of 500 people or $30,000 for 1000 users.
Which project management tool is right for you?
These are some properties you can take into account when comparing tools.
Project size. This is a starting point for evaluations. Tool complexity will depend on the industry, the project timeline, the number of people involved, particular tasks employees will perform, their working mode (Agile or Traditional/Waterfall), and team type (HR, product development, construction). For example, tools like Trello can easily become a part of a small project's workflow, while Microsoft Project Online is said to be too sophisticated for handling them.
Customization. Define whether the software has pre-built templates for managing workflows, makes it possible to customize boards and/or their sections, change or create new notifications to adapt features to your needs.
Supported platforms. Ideally, the tool must support all operating systems (Linux isn't commonly supported though as we saw) and have mobile apps for Android and iOS devices.
Integrations. Check whether the solution integrates with tools you already use and find out whether you can integrate a custom solution and how.
Storage space. Evaluate how much storage space your teams will need for files and documents. The logic is clear: The larger the project, the more space required. Providers may introduce size limits per file attachment (Trello) or provide storage space for all data (Basecamp). Storage space depends on the pricing plans.
Pricing options and terms. It's wise to estimate whether the team may grow or not when thinking about price. Pricing plans may have a flat monthly fee for an unlimited number of users and projects; pricing may be tied to team size (5, 10, 15, 30, 50, 100 people). Some providers charge per user per month or year, and an annual commitment is always cheaper. A free plan or trial is a plus.
Security and user permissions. Vendors specify with which data security and privacy standards (GDRP, PCI DSS, or SOC 3 report) their solution complies, describe what measures they take to ensure the integrity and security of customer data (continuous data backup and encryption, for instance). Tool licenses may allow admins to create and manage user access roles or offer single sign options. Knowing about security features may help to make a shortlist of tools.