The next decade will see an impressive increase in remote patient monitoring (RPM) devices, at a growth rate of
12.5 percent
annually. The trend is quite predictable considering the cumulative effects of the aging population, the high cost of in-patient care, and enormous pressure on hospitals caused by COVID-19.
Healthcare providers are already using more equipment for remote monitoring than ever before. To free up beds, many hospitals started tracking vital signs and symptoms of both coronavirus and non-coronavirus patients from a distance.
RPM practices were supported by authorities. The US Centers for Medicare and Medicaid Services (CMS)
expanded
the list of telehealth services eligible for reimbursement. And the US Food and Drug Administration (FDA)
authorized
the use of non-invasive devices designed for hospitals in home settings.
Pandemic or not, remote patient monitoring is here to stay. This article explains how it works, what components it includes, what ready-to-use options are present in the market and how to start an RPM program.
What is remote patient monitoring?
Also called telemonitoring and in-home monitoring,
remote patient monitoring
is the set of technologies and practices enabling healthcare providers to track real-time changes in a patient's health data from a distance and use it in a treatment plan. It's an integral component of the broader telehealth industry and e-health domain.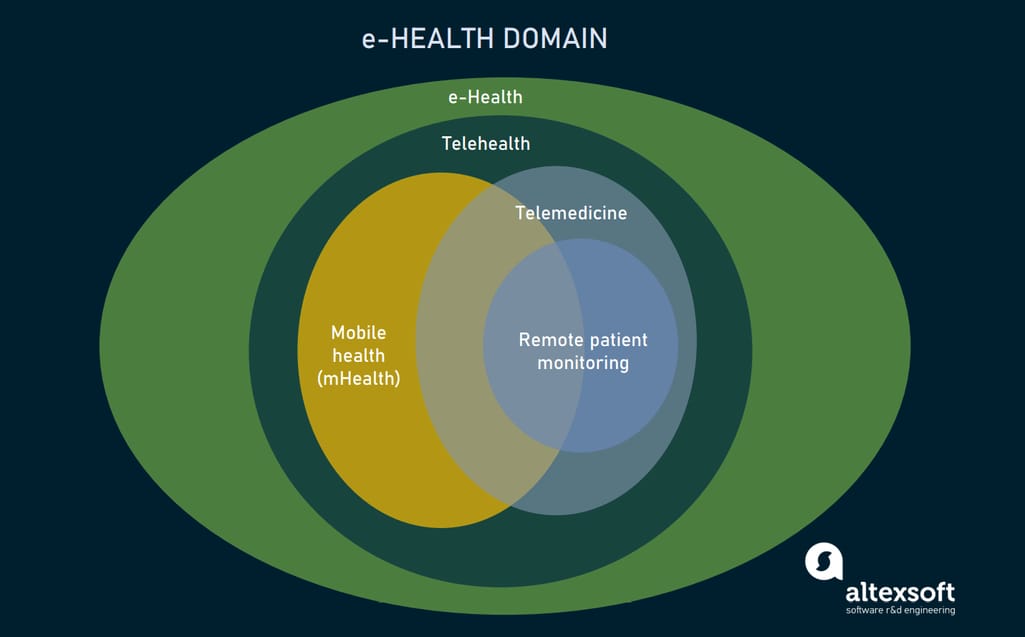 A place of remote patient monitoring in the e-health domain.
RPM focuses on patients with chronic diseases, post-operative patients, senior patients, and patients from rural areas with limited access to healthcare facilities. The recent studies
show
that, when applied to targeted categories, remote monitoring is able to
reduce readmissions by 38 percent,
reduce emergency room visits by 25 percent,
improve patient satisfaction by 25 percent,
cut costs of care by 17 percent, and
improve medication compliance by 13 percent.
Given the potential benefits, it's no surprise that around
88 percent
of healthcare providers have already invested or are considering investments in RPM technologies. To serve their goals, these technologies must create an integrated system that covers the entire RPM cycle.
Key components of RPM systems
A remote patient monitoring system can be viewed as a type of an
IoT system
. In the most common case, it contains four key components:
a personal medical device with a Bluetooth module,
a cloud repository, and
hospital-side software.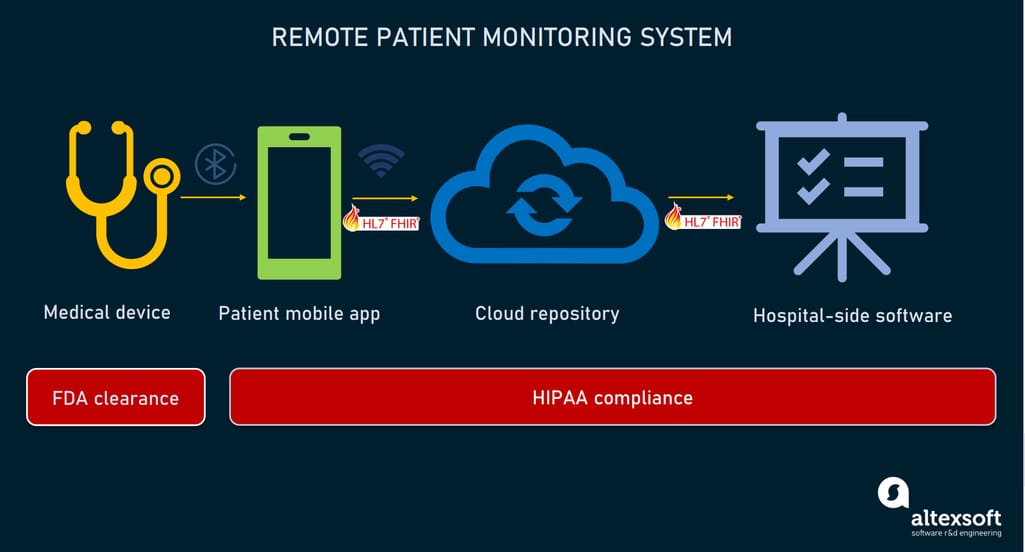 How remote patient monitoring systems work.
Below, we'll examine each component in more detail.
Remote patient monitoring devices
Modern remote patient monitoring devices capture a lot of health data, from heart rate to blood pressure, without surveillance by a health care provider. They can be either sensors implanted under the skin or user-friendly wearables like an Apple Watch or a Fitbit. But, as we mentioned above, only wireless, noninvasive tools measuring common physiological parameters enjoy FDA authorization for their use by hospitals remotely — at least until the COVID-19 outbreak ends.
The new FDA policy
applies
the following types of RPM devices:
electronic thermometers,
electrocardiographs (ECGs),
electroencephalographs (EEGs)
cardiac monitors,
apnea monitors,
spirometers,
oximeters,
audiometers,
blood pressure monitors,
breathing frequency monitors, and
electronic stethoscopes.
All wearables must somehow transmit patient data to their health care providers — which in most cases involves a dedicated mobile app. While several technologies could be used to transport information from RPM devices to smartphones, Bluetooth Low Energy (BLE) communication is the most popular option.
Patient-side mobile application
A mobile application interfacing with patients collects data from wearables and smart sensors to send it on to clinic staff. This integral part of an RPM system must meet the following criteria:
BLE support to exchange data with devices,
compliance with IEC 62304 safety standard that specifies requirements for the development of medical software and software within medical devices,
HIPAA compliance to keep protected health information (PHI) secure,
safeguard against connectivity issues — like caching mechanisms, and
integration with a care provider's system via a secure API built on the FHIR industry standard to ensure interoperability between different medical software products.
To engage patients, the app usually features informative visualizations for submitted data, access to education information, medical questionnaires, medication reminders, and doctor-patient interactivity tools (video, audio, or chat).
Cloud repository
Typically, the cloud repository (database) receives raw patient-generated data from the mobile app. However, some systems offer
direct-to-cloud connectivity
for devices, which means that all captured information is gathered in the cloud. In this case, patients don't need to download a dedicated mobile application.
Hospital-side web application
Similar to a patient app, a hospital-side application must comply with
HIPAA
standards
and adhere to healthcare
interoperability rules
. Also, the RPM web solution should be integrated via a FHIR-based API with a hospital's
EMR system
to exchange information and avoid creating data silos.
Decision support module.
The data on vital signs extracted from the repository is compared to the threshold values set by a physician.
Report module.
The system saves all measurements and manual inputs in the appropriate reports on a daily basis and sends them to a physician.
Notification module.
If a decision support module identifies warning signs, it triggers a notification module that in turn generates a warning message and alerts a doctor to an abnormal situation via SMS, email, or in-app notification.
Analytics module
employs
BI tools
and
data visualization
techniques to show real-time measurements along with patterns and trends. It enables doctors to predict risky events and make informed treatment decisions.
Of course, RPM systems and their components vary depending on the use case. Sometimes a solution doesn't even involve connected medical devices. Monitoring is conducted via questionnaires: Every morning patients answer multiple questions on a tablet and enter different medical parameters (like body temperature or blood pressure) on their own.
In the next section, we'll introduce examples of technologies already implemented by healthcare organizations to conduct RPM.
Remote patient monitoring use cases
RPM programs require additional education for staff and patients, investments in equipment and technologies, and even redesigning the existing workflow. So, current RPM initiatives are quite modest, using
25 to100
monitoring kits at a time and focusing on very specific use cases. However, most of the early adopters report successful outcomes.
Mayo Clinic: post-hospitalization recovery for coronavirus patients
Mayo Clinic
, a nonprofit medical center
ranked
the number one hospital nationwide, has been supporting RPM for chronic care patients since 2016. In August 2019, the organization expanded its remote monitoring offering for patients with coronavirus.
After hospital discharge, COVID-19 sufferers at risk for complications receive a pulse oximeter, electronic thermometer, scale to track weight loss related to dehydration, blood pressure monitor, and a tablet for capturing vital signs twice a day.
The special RPM team monitors data submitted by patients 24/7 to detect any suspicious changes as early as possible. One closely-watched parameter is oxygenation measured by a pulse oximeter. If its level drops, the doctors intervene to prevent shortness of breath.
Mayo Clinic representatives
note
that
"early detection can limit the severity of decompensation potentially reducing need for admission or shortening a hospital stay."
On average, each patient is followed for 20 days.
Children's Health: tracking medication adherence and vital signs of organ transplant recipients
Children's Health
in 2015 was the first pediatric hospital in the US to launch an RPM program. The healthcare center treats children with complex medical conditions from all over Texas, including those requiring organ transplants. After surgery, such patients need follow-up combined with continuous education and medication management.
For their RPM care, the hospital uses Samsung Galaxy tablets and
Vivify Health
Remote Care platform integrated with the organization's EPIC EHR system.
The RPM system allows physicians to monitor vital signs, conduct virtual visits, and educate patients via videoconferencing. The hospital also utilizes RPM to track medication adherence. For this purpose, supervised children wear special wireless patches detecting when they take drugs. This helps to avoid complications related to underdose or overdose.
Department of Veteran Affairs: temperature monitoring of the diabetic foot
According to the Department of Veteran Affairs (VA), nearly
25 percent
of veterans develop type 2 diabetes — a rate that more than doubles the national average (
10.5 percent
). During 2019, the VA treated more than
75, 000
diabetic foot ulcers (DFUs) that can lead to amputation. The median treatment cost amounts to $47,000.
To prevent severe cases of DFUs resulting in sepsis and limb loss, the VA started providing veterans vulnerable to DFU with
Podimetrics SmartMats
— FDA-cleared mats utilizing special thermal imaging to measure the temperature of a patient's feet.
A foot temperature monitoring mat sends data to the cloud where it can be used for decision-making. Source: Wounds
Veterans living far from healthcare facilities can just stand on the mat for 20 seconds daily at home. The data is instantly sent to the cloud where the Podimetrics system retrieves it for analyzing. The special algorithm is capable of detecting inflammation
on average
five weeks before it evolves into an ulcer. If suspicious signs are spotted, Podimetrics notifies healthcare providers so that they can timely intervene.
UCLA Health: post-operative cardiac monitoring
Comprising four hospitals across two campuses,
UCLA Health
is ranked the number one healthcare provider in California and number four nationwide. Partially, it owes this success to effective remote monitoring initiatives — specifically, a cardiac telehealth program during recovery after heart surgery.
Upon discharge, patients are supplied with a cardiac kit that includes a scale, heart rate monitor, blood pressure monitor, pulse oximeter, and tablet. The system provides a hospital team with real-time information and alerts specialists if signals indicate a potential problem. Patients also send daily updates about their health condition via a questionnaire. The technology allows caregivers to immediately detect and address issues like dehydration, shortness of breath, early signs of pneumonia, and negative reactions to medications. All in all, the program significantly reduces the risk of post-surgical complications and readmissions.
Remote patient monitoring companies: how to choose the best vendor
The vast majority of hospitals prefer to buy a ready-to-use RPM solution rather than build it from scratch. This makes perfect sense, considering the high cost and complexities of system development, maintenance, and support. Not to mention achieving compliance with HIPAA and other regulations.
Currently, there are plenty of remote patient monitoring vendors to choose from. When selecting the right option, hospitals should consider several important questions.
Who is RPM for?
An RPM program can't meet everybody's needs. The system for children will differ from technologies for seniors. Equipment for monitoring diabetes and heart diseases is not the same either. So, in the first place, decision makers need to define one category of patients that is most critical for a particular hospital.
What about equipment?
Many systems come with their own personal devices. Others offer only software and can, as well, support equipment of your choice or even the BYOD (Bring Your Own Device) concept, which means that patients may use wearables of their own. Convenient and cost-effective, BYOD is still not recommended for RPM. The care provider doesn't really know how accurate the patient's device is or whether it is properly set and used.
Easy to integrate or not?
It's important to integrate the RPM technology with other pieces of hospital software — specifically, with the EHR system. The hospital may need an IT consultancy to clarify what it will take to implement a new solution into the current ecosystem — in terms of scope of work, budget, and time.
Simple to use or not?
Equipment and interfaces for patients and clinicians must be simple to set up, understand and use. Otherwise, patients will fail to transmit data essential for successful monitoring.
How scalable is it?
A hospital may begin its RPM program with only a few remote patients. However, their number will grow. It's better to clarify from the very start how many remote settings the system can handle.
With these questions in mind, let's examine some popular offerings from leading RPM vendors.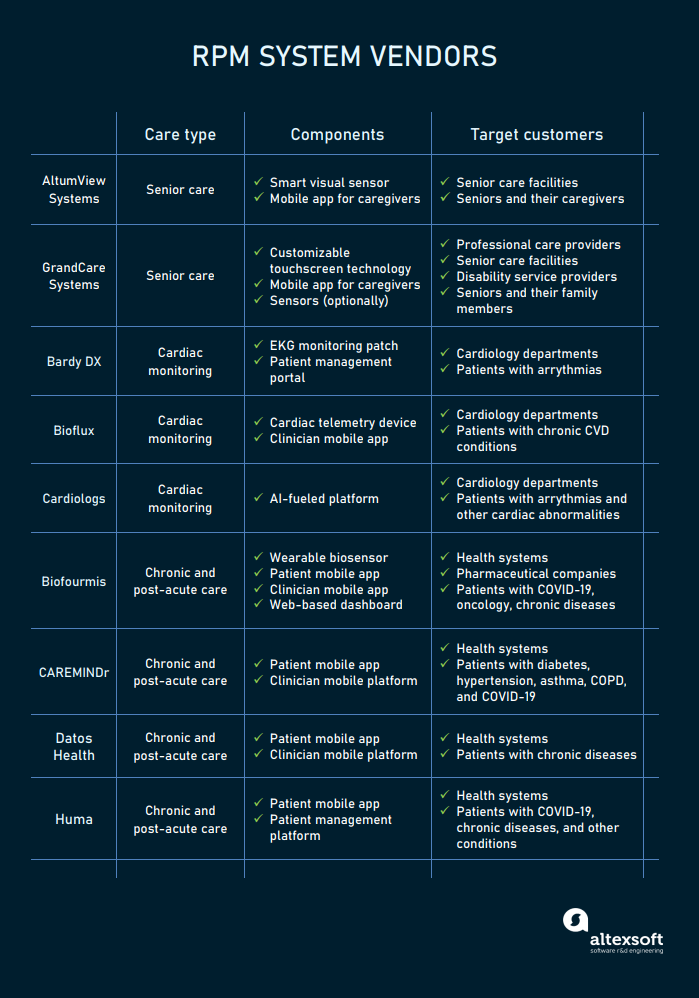 Companies offering different types of RPM systems.
Senior home monitoring systems
The US Census Bureau
expects
that by 2060 the number of people aged 65 and over will comprise a quarter of the country's population amounting to 95 million. As a result, the demand for technologies supporting home care will constantly grow. Some solutions designed for seniors are already here to improve the quality of life for elderly people, reduce caregiver stress, and cut healthcare costs.
AltumView Systems
comprises a visual sensor, cloud server, and mobile app — for both Android and iOS. The sensor runs a deep learning algorithm analyzing seniors' activities. In the case of leaving the "safe zone," falls or other emergencies, the smart device sends notifications to family members or care providers. The sensor also features face recognition, statistics of daily activities, and fall risk assessment.
GrandCare Systems
offer remote monitoring solutions for homecare providers, senior communities, disability service providers, and family members. The core of the system is a customizable touchscreen technology with a video chat, medication management, rule-based alerts, and other services. Optionally, sensors can be added to notify caregivers if anything goes wrong.
Cardiac monitoring systems
Cardiovascular diseases are the leading cause of death across the globe. No wonder that many companies prioritize remote cardiac monitoring above other
tasks. Below are the systems that help cardiologists and cardiac rhythm specialists detect arrhythmias and other dangerous conditions at a distance.
Bardy DX
pairs a slim patch capturing ECG data with a patient management portal. The patch is placed on the chest, right over the heart, to record specific low-amplitude signals creating a P-wave that is essential for accurate diagnosis of arrhythmia.
Bioflux
by Biotricity is an FDA-cleared cardiac telemetry device with a built-in algorithm for analyzing ECG data. Data is immediately transmitted to the secure cloud where a healthcare provider can access it via its existing system. Also, hospitals may use branded Bioflux software — an online portal for clinicians and a mobile app that alerts physicians to risky events and allows them to view reports.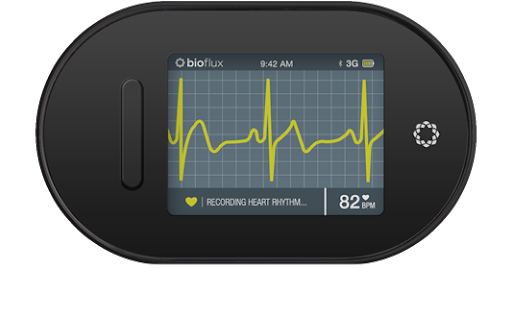 A Bioflux device analyzes ECG data. Source: Biotricity
Cardiologs
is a device-agnostic solution for ECG analysis. It enables hospitals to use a single hub for processing data from different cardiac monitoring wearables. The AI-fueled cloud platform is capable of identifying all types of arrhythmias and 100+ other cardiac abnormalities. The solution is CE marked and FDA cleared as a decision-support tool.
Chronic and post-acute care management systems
These systems enable people who underwent surgery as well as patients with heart failure, chronic pain, chronic obstructive pulmonary disease (COPD), cancer, or COVID-19 to spend more time cared for at home rather than in hospital.
Biofourmis
lets physicians remotely track the vital signs of patients through a clinician mobile app or web dashboard. Its branded armband biosensor Everion captures blood oxygenation, blood pressure, temperature, and multiple other physiological parameters 24/7. Patients themselves also report their symptoms to a care team via a mobile app.
Biofourmis offers a combo of an armband sensor, patient mobile app, and AI-based platform for clinicians.
The system applies machine learning algorithms to combine data from a sensor with the patient's medical history and creates a unique, real-time profile. This profile is used to predict unwanted outcomes and alert clinicians to suspicious events. Typically, the monitoring continues three to six months upon discharge.
CAREMINDr
helps small practices and clinics launch their RPM programs. It delivers easy-to-use mobile apps to monitor and manage at-risk conditions like diabetes, hypertension, asthma, COPD, and COVID-19. Patients use smartphones to input data from their own home medical devices (glucometers, thermometers, blood pressure cuffs, etc.). The apps support billing, applying
CPT codes
of chronic care management and remote patient monitoring.
Datos Health
is a scalable mobile platform that easily integrates with numerous wearables and medical devices. It merges vital signs from sensors with patient EHR data to detect and predict abnormalities. The system grants a personalized mobile app for patients and cloud-based interface for care teams. Hospital departments can deploy patient mobile apps of their own as well. The system also provides other services like text messaging and video calls.
Huma
(formerly Medopad) is a modular solution for tracking symptoms and vital signs. It integrates with 400+ medical devices to gather metrics required for a particular case. Patients download a mobile app to capture vitals, manage their condition and communicate with healthcare professionals. The app is integrated with a hospital-side platform for patient management. Huma also provides a specific app to monitor the symptoms of COVID-19.
Guideline to painless RPM implementation
Whether you choose an off-the-shelf, full-stack solution, build your system out of components from different vendors, or prefer to develop customized software fitting your unique needs, switching to remote care won't be a walk in the park. This shift involves educating both doctors and patients, changing clinical workflows, and many integration tasks to connect all pieces of hardware and software in an interoperable ecosystem. However, you can make this global process less labor- and cost-intensive.
Start with a pilot.
Even in times of pandemic not all RPM programs show success. To avoid expensive mistakes, test your system with a few participants and scale gradually as the initiative proves to bring better clinical outcomes.
Don't press for perfection.
Better focus on actual needs of people who will use your system. Design the product that is good enough for them. You can hold out some improvements or additional features for later.
Create video tutorials or run training webinars.
Before launching your RPM, you must make sure that patients and physicians are properly educated to use the system and understand data. Invest in detailed video tutorials and manuals. You can also conduct training webinars for your staff.
Think ahead about the accessibility of technical support.
It can be delivered by a system vendor, hospital IT department, or third-party IT specialists. Anyway, it's important to make tech support as seamless as possible. Otherwise, your RPM just won't work. The moment tech aspects become a problem, patients will stop sending data and physicians give up "prescribing" remote monitoring.
Find a reliable tech partner.
If you are a healthcare provider lacking tech knowledge, the safe option is to establish a long-term partnership with an IT consultancy company that has expertise in healthcare software.
Seize the moment.
The coronavirus pandemic is an ordeal for the entire healthcare system. But as in the midst of any crisis, there lies great opportunity. COVID-19 has boosted adoption of remote patient monitoring, which now enjoys support at all levels, from patients to governments. If properly used, RPM is a great tool to strengthen your brand and enhance patient engagement. Today it works more effectively than ever.