According to the International Chamber of Shipping, up to 11 billion tons of goods are exported via shipping services each year. Predictably, ocean freight includes an extensive document flow and any mistakes or inaccuracies may lead to severe delays and financial losses.
So feeling confused at the start is ok and we are here to help you understand the nuances of international shipping documentation. Whether you are a novice freight forwarder or a company that wants to ship your goods globally, let's explore five crucial export documents you should get acquainted with.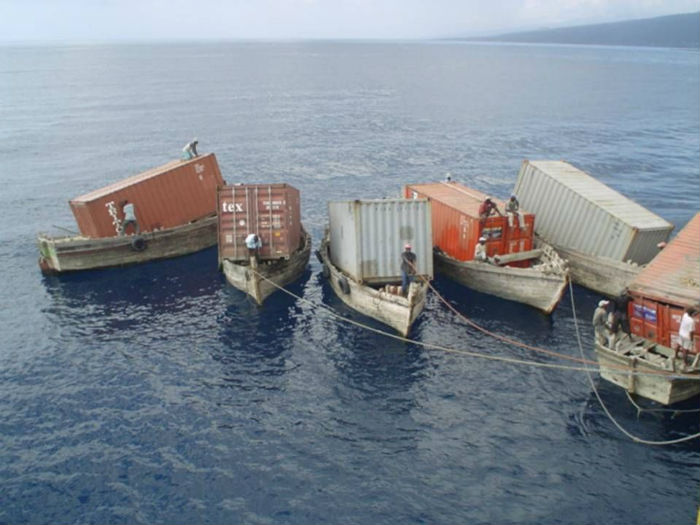 International shipping may not always be fun. Source: ShipLilly
Before moving to the documentation itself, we would like to lead you through the basics of the international shipping process.
We will also mention the software systems that are used for document exchange. This will help you know more about how digital, cloud-based solutions can help to automatically generate export documentation. As there is no need to mention these systems in each of the sections (because they work well for all types of shipping documents), we will address them separately at the end of this blog post.
What Is International Shipping: Workflow and Document Exchange
International shipping is the process of importing and exporting goods across borders of different countries via sea, air, and land routes. Air freight is faster and safer than sea and land options, but also a more expensive one.
Let's single out four key players involved in the international shipping process:
Shippers (exporters, companies that own goods). These can be manufacturers, retailers, wholesalers, etc.
Consignees (importers, businesses that buy goods).
Carriers (sea, land, and air transportation providers that physically move goods). These companies usually operate vessels that carry shipments, like cargo ships, planes, or trucks.
Freight Forwarders (intermediary between a shipper and a carrier). They take control over management of all logistic operations for each shipment. Also, they are the ones who make sure all documentation is absolutely correct to avoid any queries by any customs office.
It's worth adding that quite often 3PLs (third-party logistics providers) and NVOCCs (non-vessel operating common carriers) get involved as well.
3PLs are companies that provide outsourced logistic services (like packing, storage, last-mile delivery, etc.) for 3rd party businesses. However, unlike freight forwarders that focus mainly on all documentation-related and transportational aspects, as well as custom clearance, 3PLs usually take control of all the supply chain operations.
Non-vessel operating common carriers (NVOCCs) are ocean carriers that perform all operations of a carrier, but do not own vessels themselves. NVOCCs can be called logistic intermediaries that buy available space in containers and further sell this space or cargo to their customers.
Now, moving to international shipping, let's discuss how it starts and what kind of documentation is involved at each of its steps?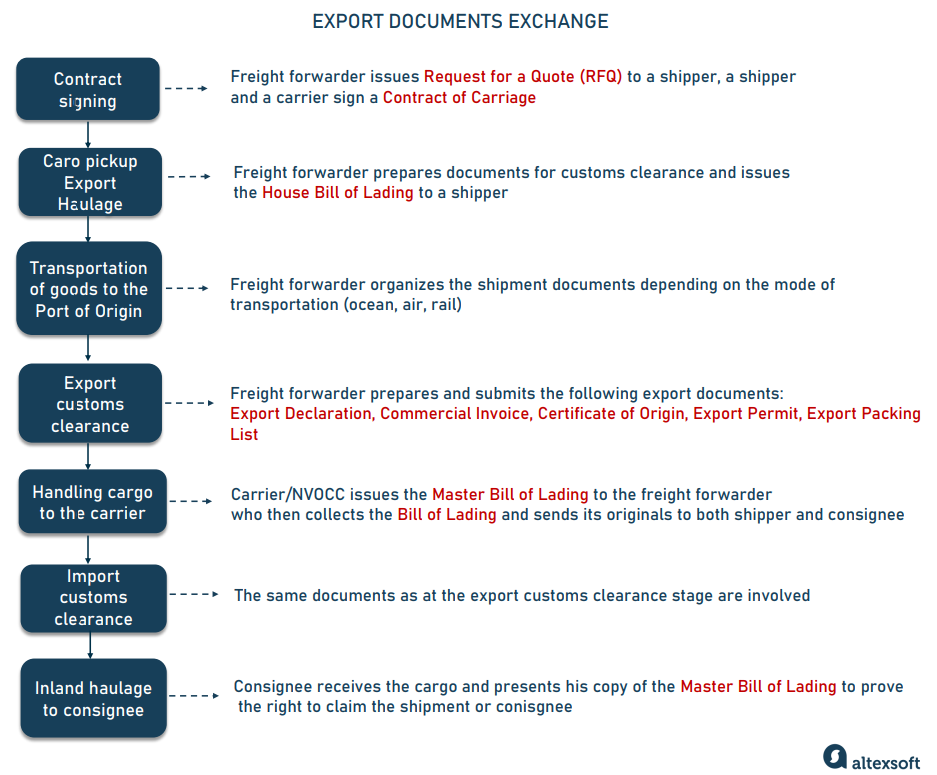 What documents are involved at each stage of the international shipping process
Application and contract signing. Usually, it's a shipper that contacts a freight forwarder to manage further transportation services (depending on the scope of shipper's responsibilities under the selected Incoterms rule). The first document here is a request for quotation (RFQ) that enlists all the services the parties agreed upon.
We won't examine the RFQ in detail later in this post as it's not required for every shipment. So the main thing for you to remember here is that an RFQ is a document issued by a shipper to a freight forwarder who replies with a quote back to the exporter.
After all the details are settled, shipper and freight forwarder sign a contract of carriage that defines legal responsibilities between them.
Сargo pickup and export haulage. These steps of international shipping are managed by a freight forwarder from a carrier's warehouse, factory, etc. The goods are picked from the carrier's facility and hauled to a freight forwarder's premises and stay there until handling begins.
After the cargo is picked up, the next export document you deal with is a bill of lading (BOL) that is usually issued by a carrier to a freight forwarder. This legal document lists all information about the type and quantity of goods, its departure point, destination, etc.
Transportation of goods to the port of origin. The freight forwarder arranges inland haulage of cargo to the port of origin (or an airport for air shipping and rail station for inland shipping). As a rule, this happens before the custom clearance procedure. Still, other scenarios can happen as well.
Export customs clearance. Here, knowing all the requirements and regulations of different countries, a freight forwarder prepares and submits all export documentation. This includes a big set of documents such as the export declaration, export permit, commercial/proforma invoice, export packing list, insurance certificate, etc. We will focus closely on all of them further in this post.
Handing cargo to the carrier. After customs clearance is completed, a freight forwarder arranges handing the goods to the carrier.
The document you encounter at this stage is a master bill of lading issued by the carrier or NVOCC to a freight forwarder. In the case of air shipment, this can be an air waybill. The carrier then sends master BOLs to both shipper and freight forwarder.
Import customs clearance. After the cargo arrives at the marine port of destination, a local customs broker, previously hired by the freight forwarder handles all the clearance-related procedures. At this stage, you will have to work with such documents as the proof of origin, commercial invoice, master BOL, customs value declaration, insurance certificate, and others.
Inland haulage to the consignee is the final step in international shipping during which the cargo is actually delivered to the consignee's premises. This stage is managed by a freight forwarder that organizes inland transportation of goods to the point of destination. It can be done either by truck or rail, depending on the finances, geography, and other factors.
Shipping is tense unless you get to the bottom of things. Source: Twitter
Now that we have gone through the basics of the international shipping process and analyzed how the export documents are exchanged, let's discuss each of them in detail.
Keep in mind that we have selected some mandatory and frequently used export documents, but there are many more of them. Let's start from the most important document of international trade -- a bill of lading.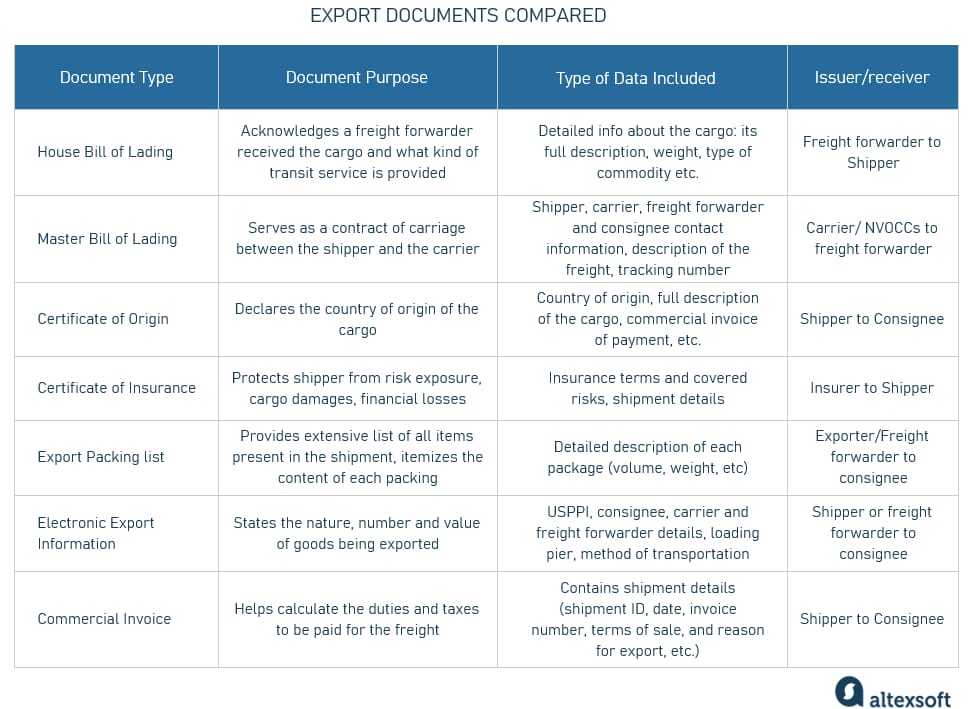 Export documentation comparison chart
Bill of Lading (BOL)
Issuer: carrier/NVOCC/ freight forwarder
Receiver: shipper
A bill of lading (BOL) is a legally required export document that serves as a contract between the shipper and the carrier specifying all freight shipment details.
A BOL is mandatory as it contains all the significant information about the freight, transportation, and the parties involved in the shipping process. This document is also required when compensation is needed for various reasons (cargo loss or damage, disputes concerning freight ownership, etc.).
How to fill in the Bill of Lading. Dealing with the BOL form for the first time seems challenging. However, the complexity disappears if you know what kind of information is required.
Let's look through the data included in the BOL:
shipment date
purchase order and reference number
shipper's details (name, address, phone number, and email)
carrier's details (name, address, phone number, and email)
consignee's details (name, address, phone number, and email)
freight description (quantity, exact weight, value, dimensions, type of packaging, classification)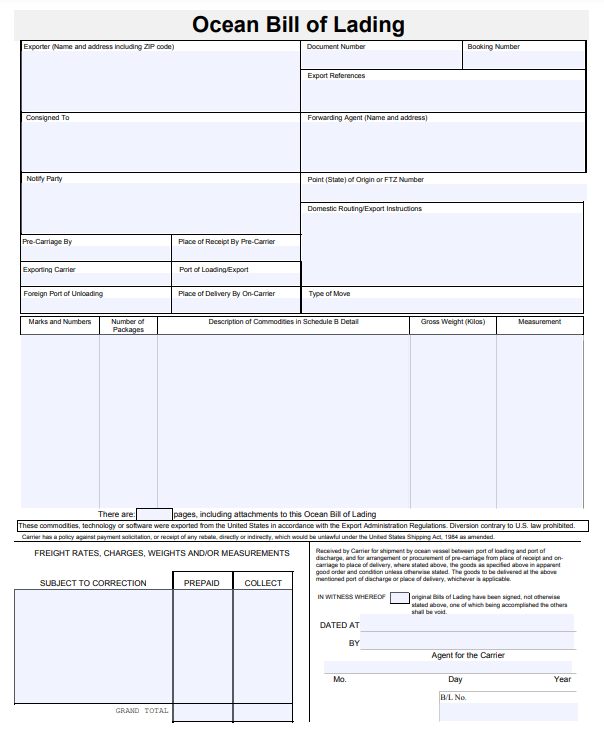 Bill of Lading Form Template. Source: FormsPal
Bill of lading template. There is a special website where you can easily complete the BOL form and print it directly from your browser for free. In case you have difficulties when filling in the spaces of the document, the How to section of the website helps you understand what kind of information is needed for each space.
The BOL will be signed three times during the transportation process: first, by the shipper before the cargo is sent to the freight forwarder's premises; second, by the carrier; and finally, by the consignee when the cargo is finally delivered to the final destination.
If you deal with paper documents, you will need three (or more) physical copies of the BOL. The electronic format requires only one copy to be signed. We will elaborate on the electronic bill of lading a bit later in this post.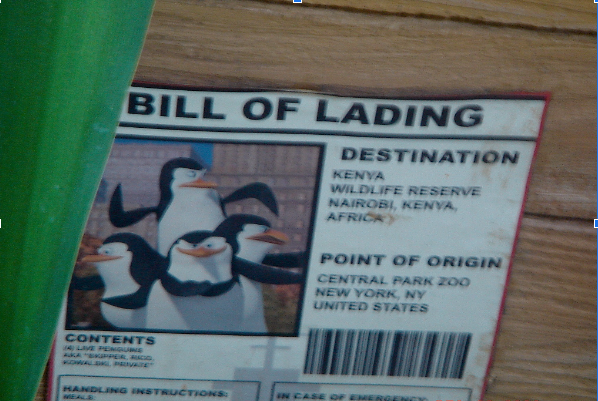 The Bill of Lading is everywhere, isn't it? Source: Fanpop
Unlike the majority of export documents, there are several types of bills of lading that are used for different purposes and can be issued by different parties during the shipping process.
Below we discuss the two most common BOL types: the House Bill of Lading and the Master Bill of Lading. There are actually more of them, but these ones are the most widespread and crucial.
House Bill of Lading & Master Bill of Lading
The House Bill of Lading (HBL) is a legal document issued by a freight forwarder to a shipper that serves as evidence of receipt of the goods.
Also, it acts as an assurance that the cargo is damage-free and ready to be shipped to the destination. If during shipping there is any damage to the goods, the carrier company is held responsible.
The HBL has to include the following information:
Shipper's name and address
Consignee's name and address
Total monetary value of the shipped cargo
Detailed information about the mode of transportation
Detailed information about the terms and conditions of the shipment
The Master Bill of Lading (MBL) is a legally binding document issued by the actual carrier (ship owner or operator) to a freight forwarder that serves as the contract of carriage for the goods. This document is one of the most reliable ones in sea transportation as it's both originated and signed by the carrier.
Before a freight forwarder receives the cargo from the shipper, they book it with a shipping carrier. After the carrier confirms the cargo is received, the MBL is released.
The master bill of lading includes mostly the same sort of information the house bill of lading provides, but there are some major differences between them.
First, an HBL is issued by a freight forwarder to a consignee, while it's a carrier that issues an MBL to a freight forwarder. That's the most evident dissimilarity.
Second, an HBL can be organized as either a negotiable (which means its ownership is transferable to different parties of the shipping process) or non-negotiable document, while an MBL should never be issued as a negotiable bill.
HBL and MBL can also differ depending on the type of load. But before discussing how, let's briefly look at two main shipment types:
FCL (Full Container Load). It's used when goods occupy the entire space of a single container. In this situation, the exporter bears the cost of the full container used exclusively for one shipment, even when there are not enough goods to fill it all up.
LCL (Less than Container Load). This refers to the small ocean freights when goods are not numerous and a separate container is not required. In this case, the exported products (packed on a pallet or in a box) of several clients are put in a single container.
So when an HBL is issued for an FCL shipment, there is a single shipper (seller) and consignee (buyer) from each country. They both coordinate with a freight forwarder and there will be only one HBL issued against the MBL. However, with an LCL, one MBL can have several HBLs issued to multiple suppliers as their goods are shipped in the same container.
Electronic Bill of Lading (eBOL)
An Electronic Bill of Lading is a digital version of the traditional BOL that performs the same functions of the paper bill of lading. This ensures paperless delivery of goods and technology-based access to all information and documentation of the freight.
An eBOL improves the export process by reducing manual (and, therefore, time-consuming) operations. In it, all the necessary data is entered digitally, meaning you deal with electronic signatures and stamps. For more detailed information about this topic feel free to check our article about the electronic bill of lading.
We are almost done with the BOL, but let's briefly introduce one more concept before we move to the next export document.
Bill of Lading Tracking: Instant Access to the Route of the Freight
As with any logistic documentation, a bill of lading can be tracked. There are at least two scenarios. For the first one, you will need to know the number of your BOL that helps check the status of the shipment at each of its stages. You can track it on a carrier's or a freight forwarder's website as well as on the customer portals.
Another option here would be to utilize special websites like Freightquote, Ordertracker, Track-Trace and enter your BOL number in the required field. You can use API or EDI integration to track your shipment.
The BOL number is a unique number for your cargo created by the shipper to identify a particular shipment. You can find it at the top right corner of the BOL page placed next to the words BOL, like in the example below: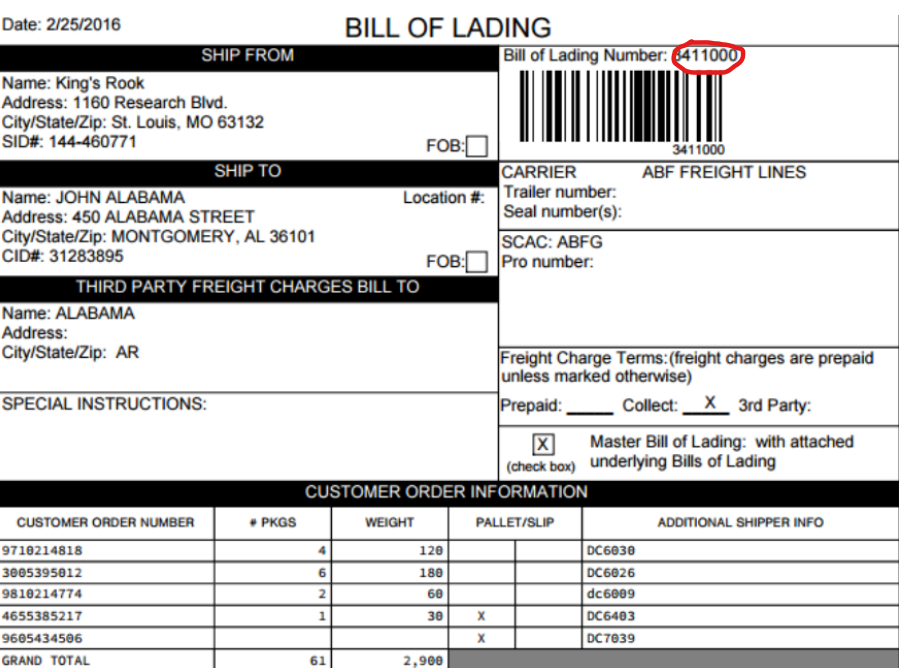 How to find the BOL tracking number. Source: Infoplus
Before moving on to different types of export documentations, let's mention the best ways to arrange shipment tracking -- and that's via API or EDI based integration. Both cost more but are definitely worth it.
Haven't heard much about this? You can check out our article that discusses how to integrate shipment tracking through API and EDIs. Also, we have dedicated a separate article to shipping APIs and ways to connect business systems with transportation and delivery providers. Hope it will help you get more insight into these concepts.
So, as you can see, the BOL and its variations are considered the most significant in shipping documentation. Now let's move to another mandatory export document -- a certificate of origin.
Certificate of Origin (CO)
Issuer: shipper
Receiver: consignee
The Certificate of Origin is an international shipping document that certifies the cargo is produced, manufactured, and sufficiently processed in a certain country. Indicating the so-called "nationality" of the shipment, a certificate of origin serves as a declaration, issued by the shipper to the consignee, that meets trade and customs requirements.
You may ask, "Is a certificate of origin always necessary?" The answer is short: yes, unless you deal with domestic shipping as this type of trade does not automatically demand CO.
A CO is usually required by the customs authority of the importing country. Still, to be sure you need it in your future shipment, it's always better to contact your local chamber of commerce to check and confirm everything beforehand.
How to fill in the Certificate of Origin. A Certificate of Origin is comprised of several components that must be included in the form:
Shipper's details (name and contact information)
Carrier's details (name and contact information)
Consignee's details (name and contact information)
Country of origin
Full description of the cargo (quantity, size, and weight)
Commercial invoice of payment
BOL number
Commercial invoice of payment
Means of transportation and route information
Now that we have discussed the definition, functions, and constituents of a certificate of origin, let's look at its main types. Unlike the BOL, there are only two types of CO (which is a relief, we believe):
Preferential Certificate of Origin. This certificate is required when there is a free trade agreement between exporting and importing countries. For instance, these would be exports between the USA, Canada, and Mexico.
Non-Preferential Certificate of Origin. This type makes up the majority of all CO documents and helps to identify the origin of the internationally shipped goods. Unlike the preferential one, this relates to the rest of the countries that do not have free trade agreements between them.
A Certificate of Origin can have paper-based and digital formats, both of which have to be approved by the chamber of commerce or customs authority. For the electronic version, you can submit the needed documentation online and get the stamp from the chamber of commerce on your certificate.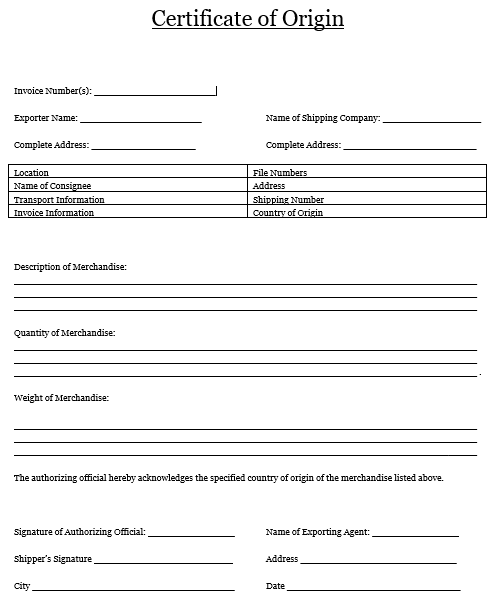 Certificate of Origin template. Source: Hloom
Certificate of Origin template. There are multiple websites where you can get a free template of CO like Hloom, TemplateLAB, etc. They provide a list of CO samples so you can choose the most suitable one and download it directly on your browser in txt format.
In fact, there is no standard form of CO, as each one corresponds to a specific use case. For example, you can deal with non-US or specifically USA originated goods and, therefore, you'll need the corresponding CO forms for the shipment. Also, you may need a certificate of origin trade agreement between particular countries (like, for example, South Korea and Australia).
Certificate of Insurance (COI)
Issuer: insurer
Receiver: shipper
Certificate of Insurance (also known as Cargo Insurance Certificate or Insurance Certificate) is an export document issued by the insurer to the exporter that names the type and amount of insurance coverage for the shipped cargo.
Why does an exporter (it can also be an importer) need a certificate of insurance? COI is used as a guarantee that in case the goods are lost or damaged, they will be covered. This way, as a shipper or a consignee, you can protect your goods from theft, physical damage, risk exposure, and avoid financial expenses.
One shouldn't confuse an insurance certificate with an insurance policy. The former is just a document that serves as proof that the insurance policy exists. The latter is a legal contract between the insurance company and the exporting or importing businesses. This contract determines what claims the insurer is required to cover.
How to fill out the certificate of insurance. Every COI should list the following information:
insurance terms and covered risks
insurance company's agent details
shipment details (port of loading/discharge, name of vessel, description of goods)
amount and currency of insurance coverage
liability of carriers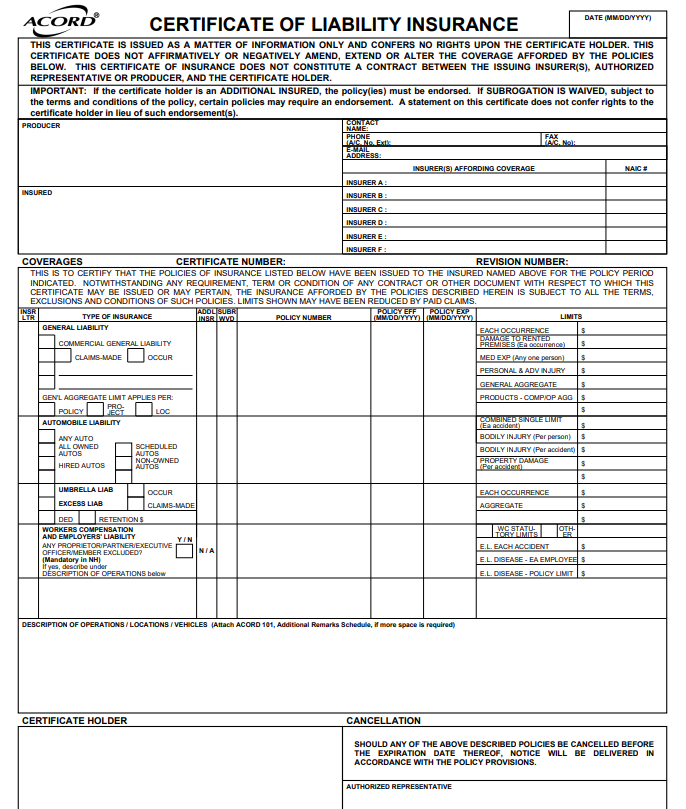 Certificate of Insurance Sample. Source: Acord
Certificate of insurance template. As the insurance company provides this document, you probably won't need to search for the COI template. If you do, they can be easily found online.
Export Packing List (EPL)
Issuer: shipper
Receiver: freight forwarder, consignee, customs clearance
The export packing list is a shipping document that provides all parties of the shipping process with an itemized list of all goods in the shipment, and describes in detail each package of the cargo. The packing list also serves as a proof of the bill of lading and a guide for the consignee when verifying if all the exported products are finally received.
Export packing lists may vary depending on the type of shipment. For FCL cases, everything is more or less clear as here you'll need one or more containers (depending on the size and quantity of the exported goods).
Concerning LCL, the export packing list will consist only of product details, but you should have an export packing list, nevertheless. In it, you will just need to select the LCL type of shipment and include the details of all exported goods in a required space of the document.
How to fill out the export packing list. The EPL includes an extensive list of all items present in your shipment. This list can be used by all parties of the freight process to check whether the dimensions, weights, or any other details of the cargo are correct. So what should be included?
shipper's and consignee's contact details
method of dispatch (sea, road, rail, or air freight)
type of shipment (FCL, LCL, or other)
country of origin and country of final destination
vessel name
port of lading and port of discharge
date of departure
reference number, product and packaging details (full description of goods, product reference number, net and gross weight of each package, package measurements, etc.)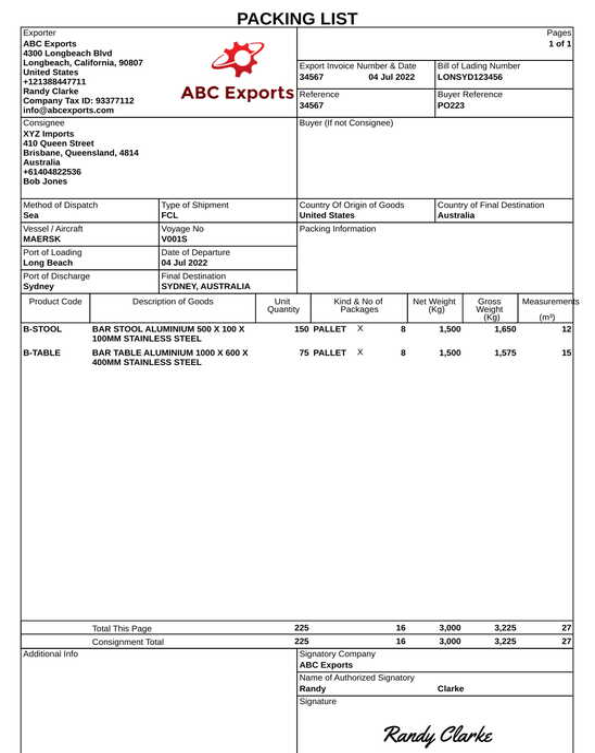 Export packing list sample. Source: IncoDocs
Export packing list template. There is no single correct template for EPL as many will depend on the type of shipment and the way the goods have been packed. So, overall, it's crucial that you understand all the details of your future shipment and then you can choose the template suit the situation best.
Search for EPL templates on such web sources as IncoDocs, Hloom, or Samplewords, some of which we have already mentioned earlier in this post.
Electronic Export Information (EEI)
Issuer: shipper, freight forwarder
Receiver: consignee
The electronic export information (EEI) is an electronic declaration of cargo that is exported from the US to foreign countries. This document is an electronic equivalent of the Shipper's Export Declaration (SED).
Usually, it's an exporter who should file the EEI form when necessary. Still, the shipper can provide a freight forwarder with a POA (power of attorney) or a special written statement that will authorize them to create and fill in the EEI.
You'll have to fill out the EEI form when the delivery of a single item or a package from your shipment is worth more than $2,500. Still, the exporting country and the country of destination matter as well and you'll need the EEI in the following situations:
if the shipment goes from the US, the US Virgin Islands, or Puerto Rico to foreign destinations
if the shipment goes between the US and Puerto Rico
if the shipment goes from Puerto Rico to the US Virgin Islands
This document is not always mandatory, and may not be required if the cargo is exported from the USA to Canada (unless the cargo contains uncut or rough diamonds). This works as well for the shipments from Puerto Rico or the US to other US territories like American Samoa, Howland Islands, Wake Island, etc.
How to fill out the electronic export information. EEI data has to be filed via the Automated Export System (AES) when EEI filing is necessary.
Typically, EEI should include:
exporter's contact information (name, address, phone number, and email)
consignee's contact information (name, address, phone number, and email)
detailed information about the exported products (proper classification, licensing requirements)
social security number (when a shipper is an individual, not a company)
transportation reference number
country of ultimate destination
license number
selling price or cost, value of the exported products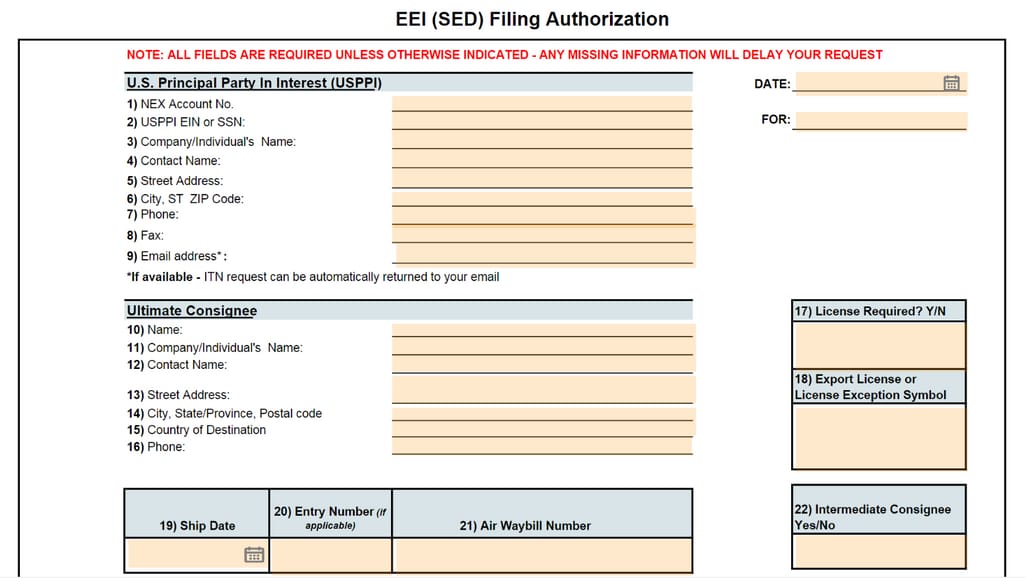 EEI digital template
Electronic export information template. You won't find an EEI paper-based template as it's a digital version of the former shipper's export declaration form that actually has paper samples. For more understanding, please take a look at the SED template in the picture above.
Commercial Invoice (CO)
Issuer: shipper
Receiver: consignee
A commercial invoice is a mandatory export document that is required for all international shipments with commercial value and serves as a contract of sale between the shipper and the consignee. This document helps you as a shipper get your cargo through customs and determine import duties and taxes that apply to the shipped cargo.
A commercial invoice is sometimes confused with a proforma invoice, which is a separate document that denotes a preliminary bill of invoice and is sent to a consignee before the actual shipment. The main difference between them is that the proforma invoice does not have an accounting value while the commercial invoice does. Also, unlike a CO, proforma invoice is used mostly domestically and rarely appears in international shipments. The main purpose of a proforma invoice is to show the expected fees, costs, and delivery date of the shipment.
How to fill out a commercial Invoice. There is no standard CO format, but each document of this type has to include the following data:
shipper and consignee details (complete name and address)
detailed description of the freight (quantity, value, and price)
country of origin of the goods
destination of the goods
type of shipment
type of containers (TEU, insulated containers, etc.)
invoice number and date
reference number of the BOL
total value of all goods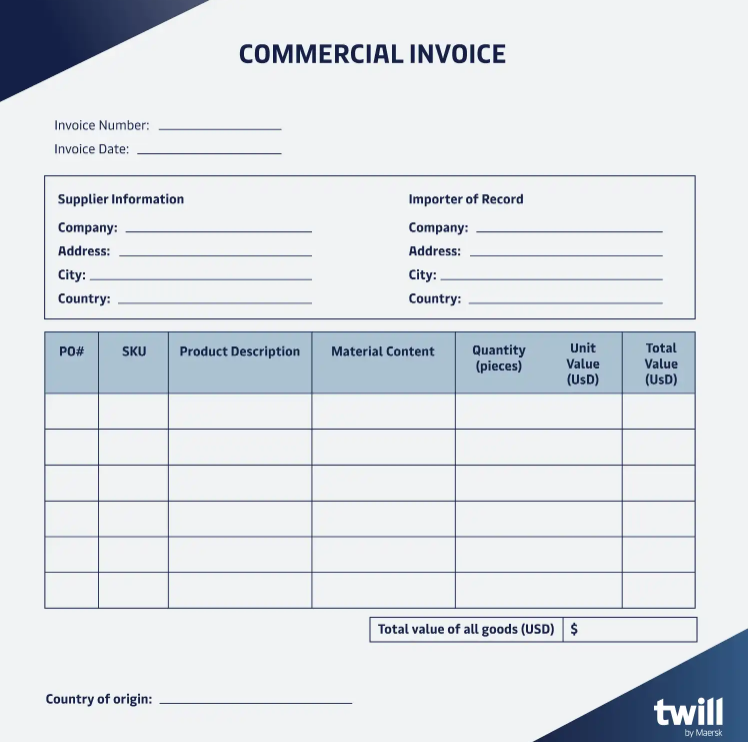 Commercial Invoice template sample. Source: Twill
Below is an example of a filled out commercial invoice created for the shipment of a fictional company Tailspin. Keep in mind that it's just a fictitious sample of CO created for greater clarity.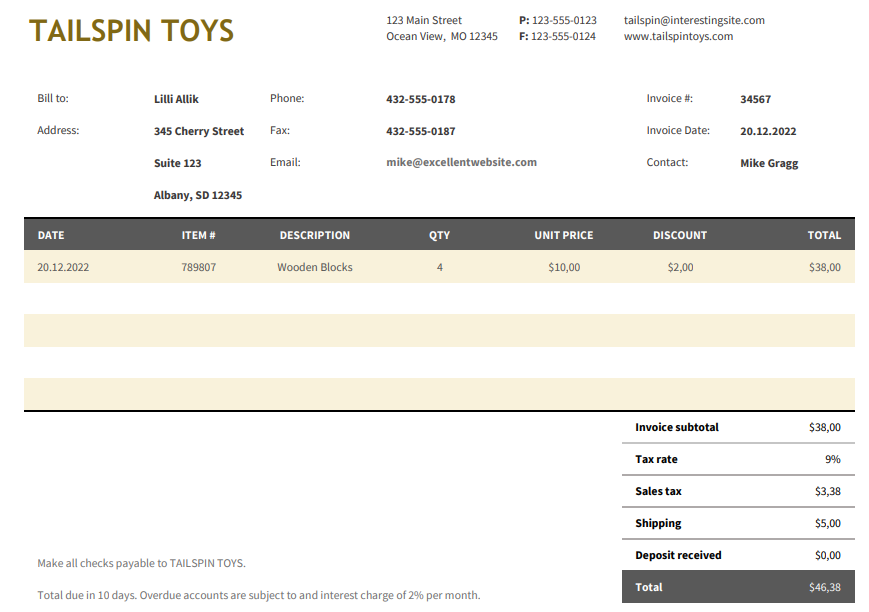 Filled commercial invoice example. Source: Microsoft
Commercial Invoice template. The printable template of the CO can be easily found online. As well as for other export documents, there are several websites that feature downloadable commercial invoice templates.
We recommend you use the Commercial invoice, as it's both comprehensive and simple to use. You can add rows to the template where necessary and refer to the already given examples on how to fill out some forms.
The final chapter of this post is dedicated to examples of export documentation management software systems. The reason behind this is simple: Today it's still hard to create and prepare export documentation without getting stuck in tons of manual paper routine.
Moreover, in freight management and international trade overall, in-time delivery and completely error-free documentation is a priority for all parties in the shipping process. That is why using shipping documents management software can be a great solution for your business.
Export Documentation Software
It would be impractical to discuss export documents without looking at the export document software providers. These cloud-based software systems simplify the creation and management of export documents by automating paper-based freight forwarding and shipping processes.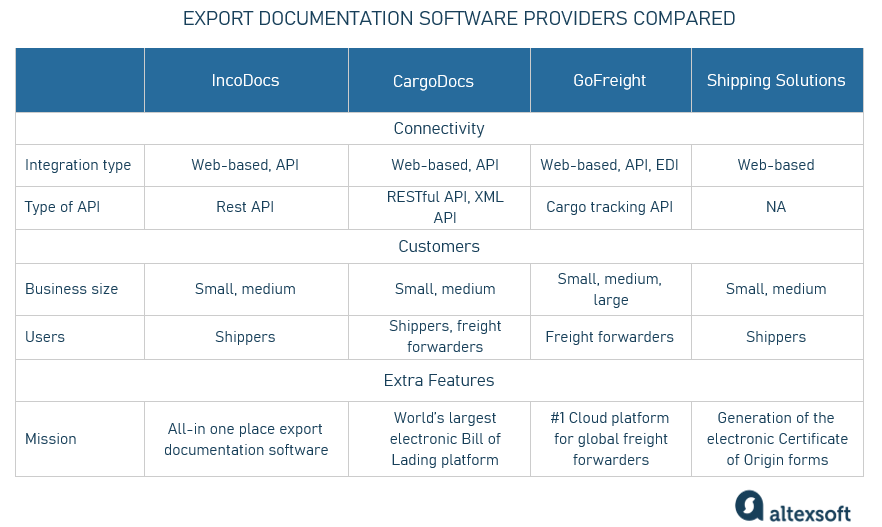 Export documentation software providers comparison chart
We have listed some providers for your consideration. While there are more of them, these were chosen for their good connectivity, target audience, and extra features.
IncoDocs: All-in-One Sales & Export Documentation Management
Target audience: shippers
What it offers: full sets of export documents, automation of paper-based processes, customization of export document templates to corporate business needs, etc.
Founded in 2016, IncoDocs is an Australian export documentation management software that creates and manages export and sales documents commonly used in global supply chains. This tool can autofill data from the client's TMS or ERP (as well as from other systems) and customize export document templates for the required business needs. This software can help you automate tons of tedious paper-based processes.
IncoDocs provides its API documentation, which you can access on the official website to further implement API-based services in your business. IncoDocs's API can be integrated with the clients' software systems. API documentation helps your IT staff understand how to build API integration to automate shipping processes and eliminate data re-entry.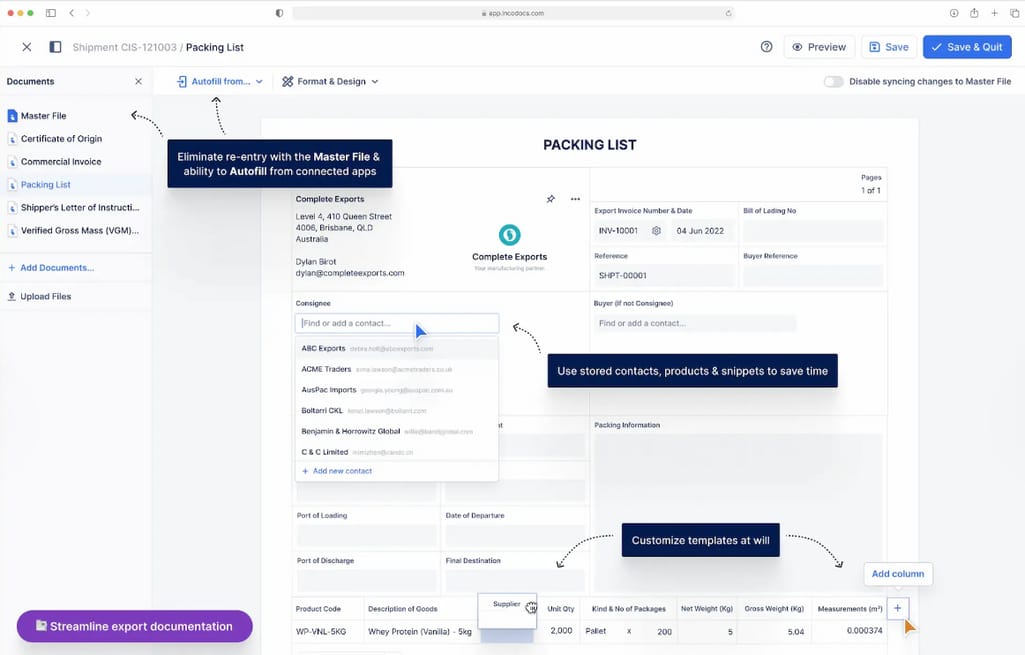 IncoDocs can process export documents fast and error-free. Source: IncoDocs
While IncoDocs focuses on shippers and their businesses, here's a software that works with the needs of freight forwarders. Let's get acquainted with it.
CargoDocs: Paperless Solution for Creating and Collating Export Document
Target audience: shippers, freight forwarders
What it offers: creation, management, and support of original BOL, CO, and other export documents, automation and streamlining of export documentation-related processes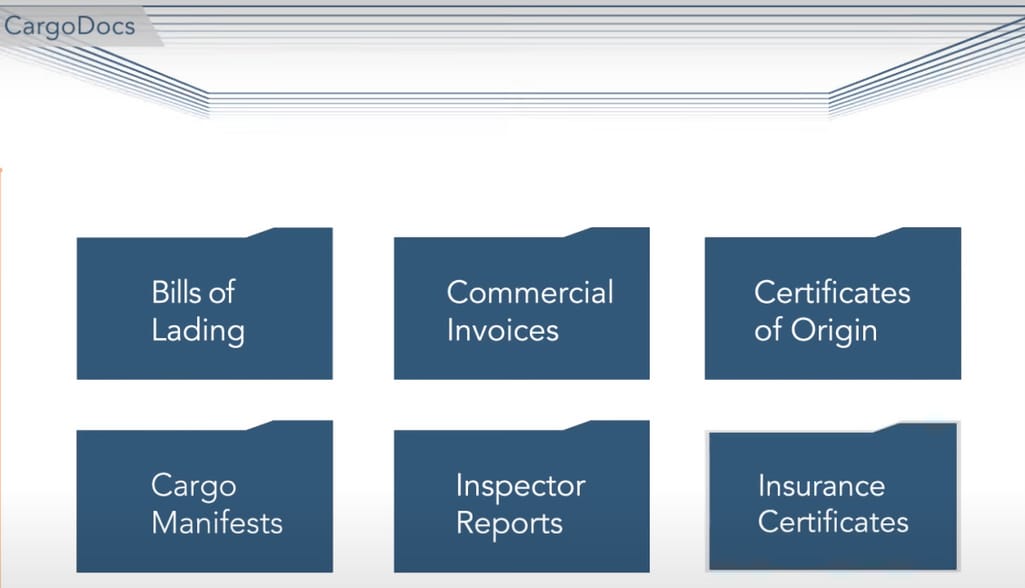 What types of export documents are covered by CargoDocs. Source: essDocs
CargoDocs is a global trade digital platform that creates and manages electronic versions of some export documents like bills of lading, certificates of origin, etc. Moreover, this tool enables shippers, freight forwarders, consignees, and carriers to streamline the shipping processes.
There are two ways of reaching CargoDocs services: first, via the official website, and second, through its open XML APIs. The second variant is beneficial as it lets you, as a client or a partner of CargoDocs, embed and integrate its services into your website, platform, etc.
GoFreight: Cloud-based Management Software for Boosting the Freight Forwarding Business
Target audience: freight forwarding companies, freight forwarders
What it offers: export documents management, executive dashboard & data visualization, daily to-do list and workflow, customer portal for clients to track their goods
GoFreight is a freight forwarding management system that works on the shipment/export documentation management. GoFreight has cloud-based applications that help freight forwarders solve any level documentation-related problems, for example, an influx of freight orders and so on.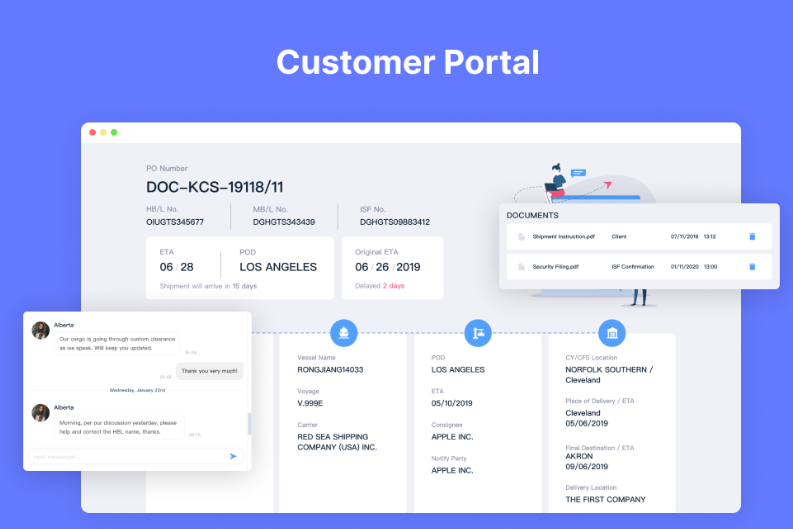 On Customer Portal clients can access shipment tracking data. Source: GoFreight
The company covers a wide range of freight forwarding business operations starting from shipment booking and automating reminders for shipments up to payment management, etc. Also, this web-based freight forwarding solution helps to manage shipment data altogether and in a more structural way.
GoFreight provides its customers with a Tracking API that helps track containers in real-time. This eliminates the need to hire IT staff for integrating tracking data in your system and saves costs for other business needs. GoFreight Tracking API ensures accuracy on such critical data as LFD (Last Free Day) or ETA (Estimated Time of Arrival) with the help of AI-based algorithms.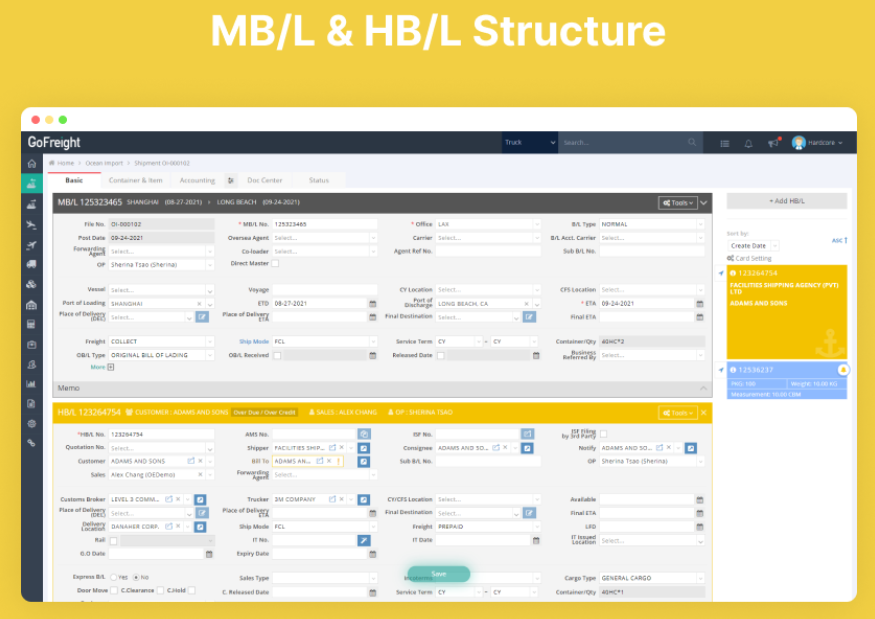 GoFreight offers main export documents structure. Source: GoFreight
By the way, we have proven expertise in digitizing freight booking and customer management for international shipment providers. To learn more about how we can automate your shipping business, take a look at our case study.
Shipping Solutions: Proven-Expertise Export Software Provider
Target audience: shippers
What it offers: automation of export documents compliance and management
Established back in 1995, Shipping Solutions is an export document software that easily integrates with a shipper's platform and automates completion and management of the majority of export documents via the Automated Export Systems (AES).
AES is an automated system maintained by the US Census Bureau that allows you to digitally file Electronic Export Information.
Easy to install, Shipping Solutions eliminates redundant data entry that enables businesses to create export document forms up to five times faster than it used to be. Also, it helps to quickly generate electronic Certificates of Origin (eCO) which, as we already know, is one of the most crucial export documents. eCO is a secure, time- and cost-saving solution for shippers as it speeds the process of certifying a CO by a chamber of commerce.
Some More Export Documents to Consider
It's certainly hard to cover all the international shipping documents in a single article. That is why we have included some mandatory and commonly used ones, but there are many more of them.
Without getting too detailed, let's briefly look at some other shipping documents to take into account.
Export License. This international trade government document approves the export of specific cargo to the country of origin. An export license allows shipping companies to legally sell goods across the globe and is required when an exported product falls under the category of restricted goods. Also, it helps a government track how much is being exported and where the exports are going.
Is this export document mandatory? Yes, but only for certain types of goods like chemicals, artwork, historical artifacts, antiques, dual use items (those that can be used for both civilian and military purposes), etc. Apart from them, the majority of exported goods do not necessarily require an export license.
Proforma Invoice. This document was previously mentioned, but we consider it's worth discussing it separately. Quite often, a proforma invoice is the first export document you create. After a potential consignee shows interest in a shipper's product, a letter of inquiry is sent. It lists the terms of interest in a product and there is a request for either a formal or informal quote from the shipper's side. This quote is the proforma invoice itself.
If the proforma invoice is correctly compiled, at the end of the shipping process, the commercial invoice should closely resemble the proforma invoice. Even though this document is not mandatory for all international shipments, some countries may require it if there is a tight currency exchange rate control.
A proforma invoice has several functions. First, it serves as a tool of negotiation between a shipper and a consignee. Second, it includes the full description of goods (with the total payable amount) which a consignee needs for a legal import. The template should include the proforma invoice date and number, country of origin, unit price and total amount, quantity and gross weight of packaging, payment terms, etc.
Dangerous Goods Form. Sometimes the exported goods are considered hazardous or dangerous by the International Maritime Organization, for ocean freight, or the International Air Transport Association (IATA), for air shipping. The Dangerous Goods Form (also known as a Dangerous Goods Shipper's Declaration, DGD) is a must-have document for such cases.
Issued by a shipper to a carrier, this document certifies the shipment has been labeled, packed, and declared in accordance with IATA's Dangerous Goods Regulations (DGR). The DG form should include the contact details of a shipper and a consignee, proper name of the exported dangerous goods (e.g., acetone), emergency contact details, quantity of goods, class of cargo division (flammable, explosive, toxic, radioactive, etc.).
We hope you have found this post both informative and interesting, so that for now you feel less confused concerning export documentation.