If you're a mid-size OTA that wants to beef up its inventory, an OTA startup with a great idea that begs for implementation, or maybe an offline travel agency on the hunt for a way to increase agents' efficiency, the question is the same - where to source the travel data from. If you'd like to save time and the headache of making separate agreements with each inventory supplier, here's a way out -
partner with a travel inventory aggregator
- be it a global distribution system (
GDS
), a bed bank, or a big OTA. This time, we'll talk about partnership solutions with Expedia, the second largest OTA with hotel content one of the richest on the market.
Expedia is outrun only by
Booking Holdings
. While bundle packaging isn't Booking's strong suit, Expedia's got it covered offering holistic vacation experiences. Among other things, Expedia supports post-booking enquiries of their partners' clients and handles complex refund and relocation situations.
But Expedia, as an OTA, doesn't play alone. It delivers its Expedia
partner solutions
(EPS) as part of Expedia Group.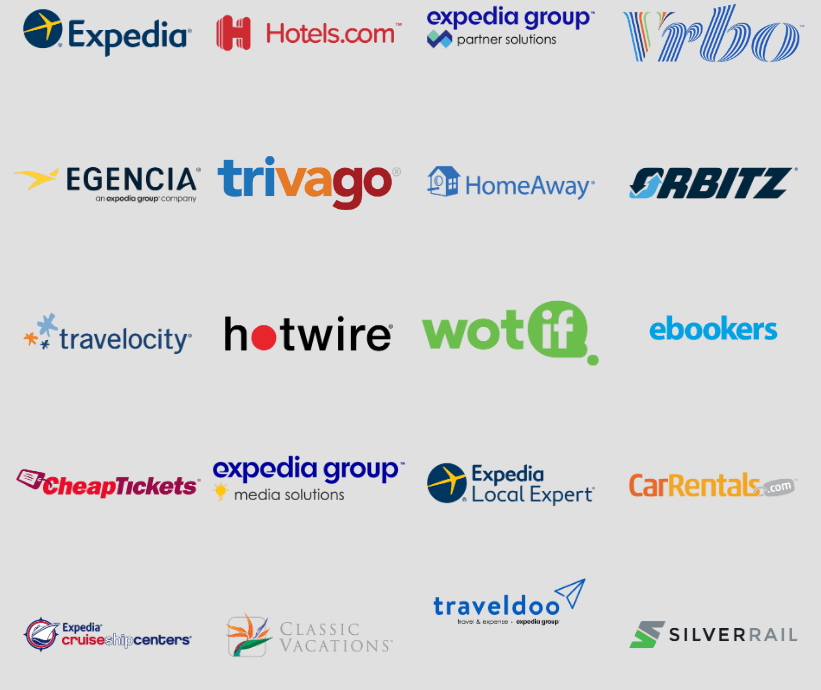 Expedia Group members
So here are the three main partnership solutions Expedia Group offers:
Expedia Travel Agent Affiliate Program aka agent tools
Template solutions
Rapid API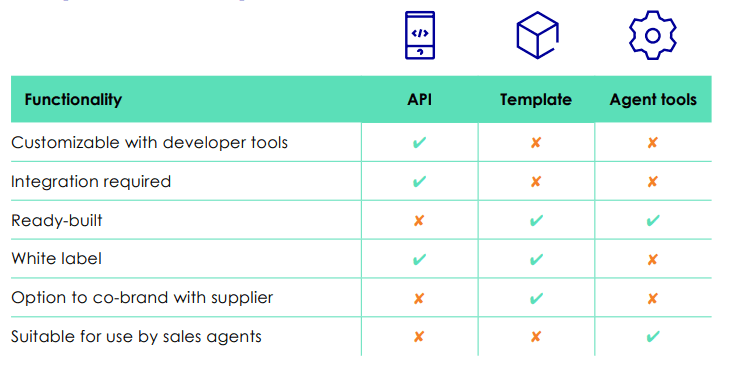 Expedia Partner Solutions compared, Source: eBook
To start with any of them, first apply
here
for the partnership. Depending on the type of solution you are going to use, the requirements may differ. Although Expedia doesn't publicly disclose its enrollment terms, they will consider:
Your revenue and growth potential
Your existing solution
Your website traffic
Your average number of bookings
IATA and other types of compliance (if you sell flights via agent tools)
Let's discuss each partnership solution in more detail.
Expedia TAAP: booking tools for travel retail agents
Formed in 2008,
Travel Agent Affiliate Program
(TAAP) is an online
booking platform
for travel agents to sell Expedia products to their customers and earn commissions for that. Through Expedia TAAP travel agents can book the following services:
600K+ accomodations
500+ airlines
25K+ activities and attractions
150+ car rentals
vacation packages
cruises
TAAP dynamic commission model
There are no initial set up costs or prepayments to utilize TAAP. With every completed reservation through the platform, travel agents make a commission. To be more precise, Expedia TAAP commissionable products include only vacation packages, car rentals, activities and attractions, and hotels. So you earn no commissions for air bookings unless they are sold in a package.
Expedia will assign a tracking code to your agency to locate your reservations. Prior to booking, you'll see the estimated сommission you're about to get. Calculated post-factum, commissions are paid monthly.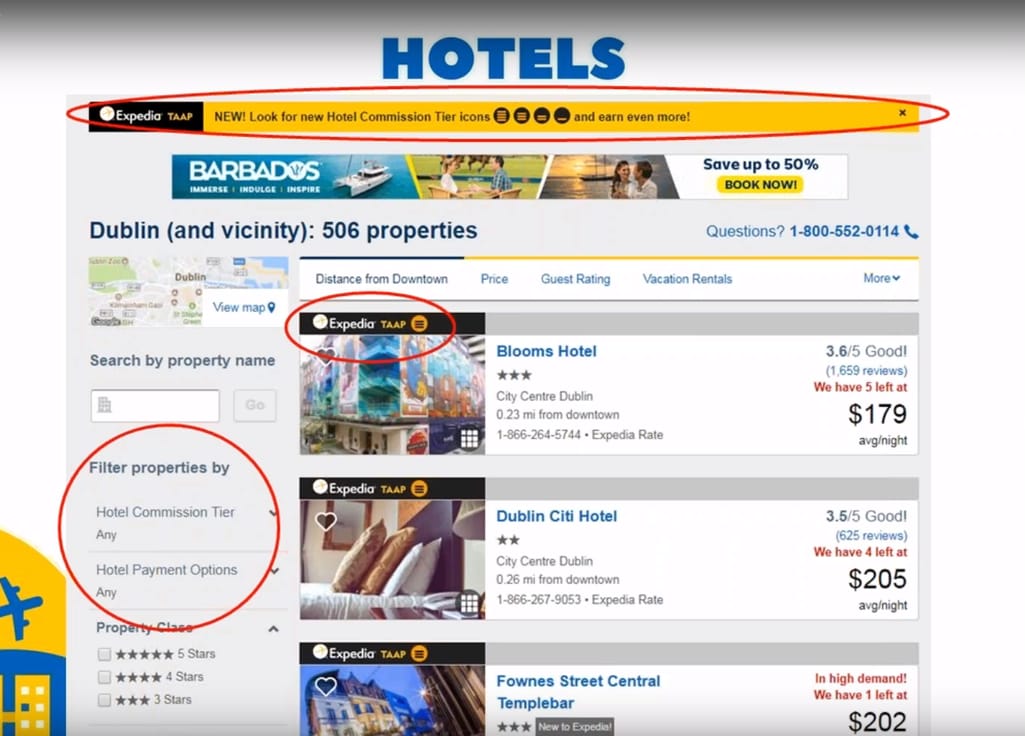 Expedia TAAP interface, Source: Evolution Travel
The TAAP
dynamic commissions
model has four tiers for hotels: Premium Plus, Premium, Basic Plus, and Basic. Allocating the highest paybacks for premium and premium plus hotel bookings, Expedia encourages agencies to sell hotels that pay Expedia higher commission.
In addition, Expedia claims that TAAP preferred partners get better deals than their standard commissions. You can make a direct inquiry (support@expedia-agents.com) for the details on this incentive plan.
Requirements to become a TAAP partner
TAAP only accepts travel agencies with qualifying credentials: IATA, ARC, CLIA, or True. For those who are new to the industry, they recommend cooperating with a host agency to gain industry experience necessary for developing agency trade and, eventually, obtaining the required credentials. Meanwhile, there are no requirements in terms of a minimum number of sales. You can read more on TAAP terms of use in
Travel agency affiliation agreement
.
TAAP Pros:
access to all types of travel inventory, good training and support (dedicated call center).
TAAP Cons:
Expedia commissions and the lack of automation, which makes it a poor option for online travel agencies (
OTAs
).
Template solutions: ready-built booking technology
Templates are white-label products and widgets that Expedia provides for airlines and other travel businesses that want to expand their travel portal with accommodation bookings. This set of eCommerce solutions goes under the name -
Hotels.com For Partners
.
In essence, the Hotels.com inventory is wrapped into the Expedia
B2B tools
. Basically, you deploy a booking widget on your site that links out to a booking path provided by Hotels.com. You can either select a fully white-labeled template that showcases only your logo, or co-brand with Hotels.com and display both logos.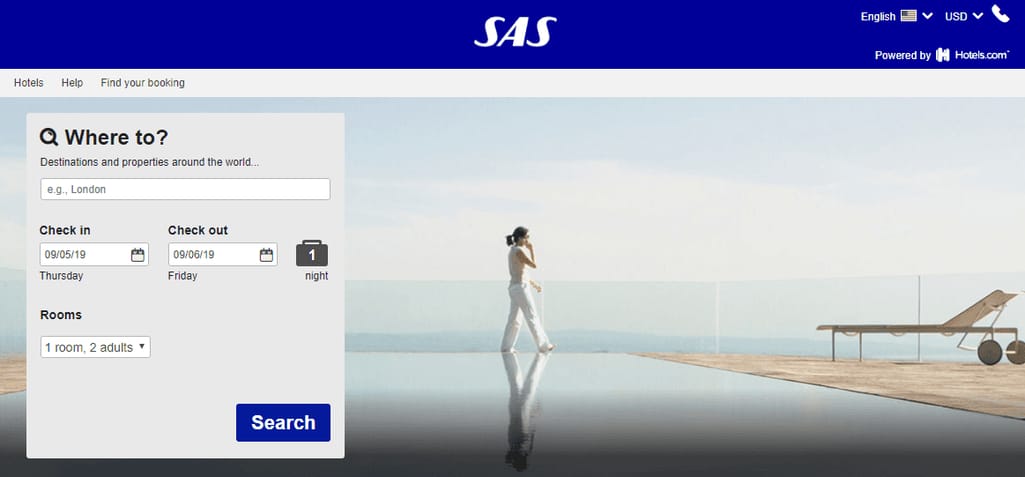 Scandinavian Airlines co-branded with Hotels.com to offer hotel bookings on their website, Source: SAS case study
Besides integrable widgets, you'll get:
EPS expert advice on how to simplify searching for hotels on your site and boost bookings
the ability to display custom loyalty messaging across the template
post-booking services: traveler emails, 24/7 customer support, ability to link to car rental providers to boost car rental sales
analytics tools to measure marketing campaign success and evaluate user journey
Meanwhile, Expedia announced that another booking engine for partners is on its way -
Expedia For Partners
. It's touted to encompass not only hotels, but also flights, ground transport, tours, activities, and car rentals.
Templates Pros:
minimal tech resources needed, the fastest way to get hotel booking to market
Templates Cons:
Templates are less customizable than API, and you can sell hotels only.
EPS Rapid: customizable hotel booking API
Rapid API
is a powerful interface that enables you to reach Expedia hotel inventory and display it on your side in a way that matches your business needs. In other words, you control the functionality and content you provide to your travelers. EPS Rapid modular architecture allows for targeting requests and, as a result, the API delivers only the necessary data. It can also customize the booking journey. For instance, you can prioritize different property types according to your travelers' preferences and your own marketing activities. Expedia supports you at all the stages: from integration to API launch and further optimization.
EPS Rapid is known for its rich tech capabilities and hotel content. Its notable
features
include:
20+ quality images of each property
push notifications informing of any changes, e.g. a hotel canceled the booking or the call center modified reservation details
payment by deposit - travelers can leave a prepayment and pay the rest of the sum at the property
hold and resume feature that holds a rate for up to 10 minutes while you finalize other aspects of a booking.
All additional functionalities are introduced through
fixed release schedules
, making it easier for partners to plan and adopt more efficiently in the future.
EPS Rapid modules
Geography APIs
:
locate geographic regions and properties available within those regions.
Content APIs
:
ascertain property's ID, name and address, contact information, and star ratings.
Shopping API
:
return available rooms with specific rates, fees, and cancelation policies for each option; determine the available payment options for the property; verify the selected rate.
Booking API
:
make booking request and confirm the booking providing reservation details
Retrieve, Change and Cancel API
:
modify the booking.
Recommendations APIs
: return the top 10 available properties nearby based on a traveler's flight information. You can use this API to accelerate product discovery: display property recommendations on a flight booking confirmation page, email, or a trip itinerary page.
EPS Rapid API integration
Once you've been approved to integrate with EPS Rapid (apply
here
), you'll need two credentials to proceed further - API key and shared secret. While the former you can find in your EPS account, the latter you can obtain only directly from EPS support.
Then you can try you requests against their testing endpoint and configure the integration.

Pre-built, tokenized request path that simplifies EPS Rapid API integration
Before going live, your integration must meet
launch requirements
. Expedia will review your booking product to verify compliance. Launch requirements differ depending on the inventories and business types (
B2C
or
B2B
) you serve. The requirements cover multiple aspects:
PCI compliance evidence (unless you use EPS Checkout that we discuss below)
Agreement to use TripAdvisor content, as Expedia partners with TripAdvisor and supports its content via Rapid API
Search page requirements
Results page requirements
Room availability specifics
SSL encryption
Displaying fees and taxes
Booking charges
Confirmation email requirements, etc.
Processing payment with Rapid API
Expedia can process payments both on its side with EPS Checkout and allows you to do that. In the latter case you must be PCI compliant.
So,
EPS Checkout
is a white-label solution for collecting EPS credit card information in a dedicated interface. Since it doesn't give you access to any credentials, you don't need PCI compliance, as simple as that. Traveler's credit card details are transmitted, validated, and stored solely on EPS servers. EPS links all the necessary booking details to your checkout page.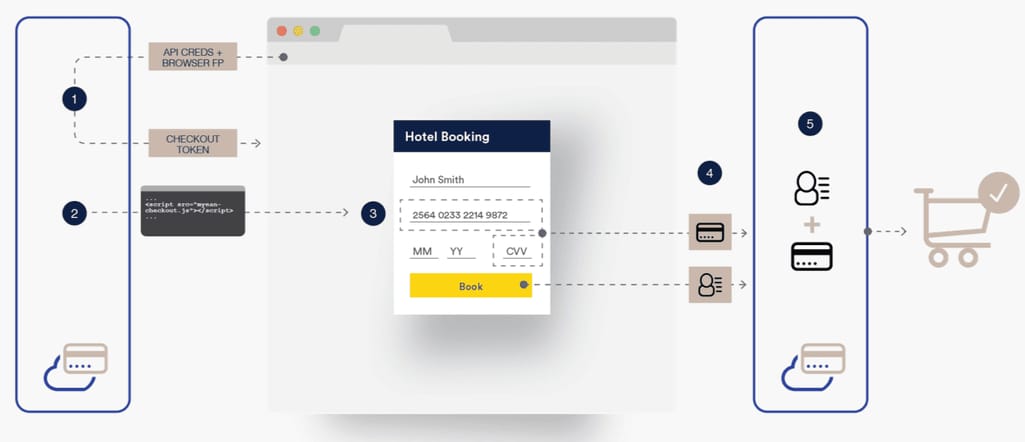 Payment processing with EPS Checkout, Source: Rapid API documentation
The same applies to the properties that don't accept online payments. If a traveler wants to book such an accommodation, Expedia requires them to provide credit card details for security. It's called Property Collect booking and to handle it, you, as an EPS partner, have to be PCI compliant. Otherwise - use EPS Checkout.
Rapid API Pros:
most powerful, flexible, and adaptable hotel booking solution.
Rapid API Cons:
access only to hotel inventory; requires the most resources: own development team, more assets to invest than with other simpler solutions; complex integration.
Other options to associate with Expedia Group
Aside from enrolling for EPS partnership, Expedia brands suggest simpler options - affiliate programs. Let's have a look at the most popular ones for flights, hotels, and vacation rentals booking.
Expedia Affiliate Program: promoting Expedia products on websites and blogs
As an alternative to online templates, you can join
Expedia Affiliate Program
. The main difference is that the former enables your clients to book directly from your website, while with the latter you simply send referral traffic to Expedia and earn fees for that. The rules are simple: The more transactions you help generate - the more commission you can earn. While becoming an Expedia Partner Solutions is quite difficult for a beginner, this affiliate program caters to ultra-small businesses and individuals. For instance, if you have a travel blog, you can place a couple of widgets to get extra cash made from referral bookings.
The affiliate program is about featuring links on your site to Expedia sales, promotions, and inventory. Tools available to partners include widgets and banners in localised languages.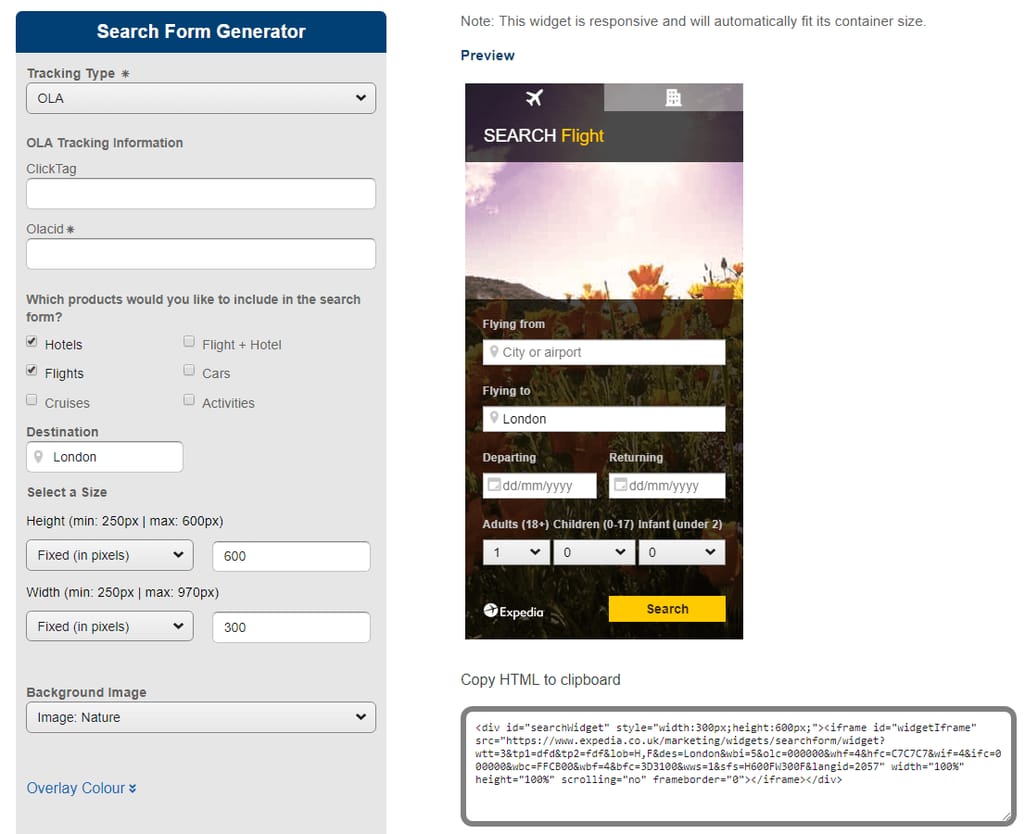 Widget generator where you can choose the products to include, its size, and background image
Affiliate Program is supported by an in-house partner management team that keeps affiliates updated about upcoming campaigns and developments in Expedia's consumer offerings.
Hotels.com Affiliate Program
As part of Expedia Group, Hotels.com offers its own
affiliate program
. Under its terms, Hotels.com provides you with affiliate tools to promote their hotel inventory on your site and earn commissions for each booking your customers make:
deals widgets
search banners
data feeds
deep link generators
voucher codes with discounts.
Vrbo Affiliate Program: vacation rentals and API
Another interesting
affiliate program
comes from Vrbo, a HomeAway brand that belongs to the Expedia Group. The affiliate program works just like any other and allows you to earn on referrals. Vrbo promises up to 3 percent per each traveler who books through them.
If you want to use their REST API, you'll need to request the access at the
HomeAway platform
.
What else is out there: alternative affiliate programs
Expedia offers the most extensive partnership program. However, to give you other options, here are other partner networks on the market:
Booking.com's Affiliate Program
.
You make money on a pay-per-sale basis starting from 50 successful check-outs which is quite a threshold. At this point, you receive 25 percent of the total sum which goes up with the increase of checkouts. Besides hyperlinks and banners, among the offered tools are:
Search Box - a tool to check out hotel offers and draw parallels between prices, inspires the next choice of destination by displaying three images advertising the best places to visit.
Co-Brand tool - enables a company to show its association with Booking, a trusted brand
Deals Finder
TripAdvisor Travel Affiliate Program
.
Commissions constitute 50 percent of TripAdvisor's income and are paid only for confirmed stays. The available tools are limited to text links, banners, and content widgets. As for the commission, up to 50 percent of the revenue is given for a confirmed stay, which means the highest commission is 4 percent of the room price. We can't tell what the entry requirements are, as they don't make them public. But you can try to find it out by emailing tripadvisor@cj.com.
HotelsCombined Affiliate Program
.
The main point is that you get paid on a per-click basis regardless of whether a reservation is made. This significantly improves the prospects of monetizing traffic. However, the trick is that you must earn the minimum amount to get paid ($500 for bank transfers and $100 for PayPal). The main tools are Text Links, Deep Links, Banners, and Search Boxes, Data Feeds (on demand), co-branding, and white-labeling.
Agoda Partners
.
Among the main pros are comprehensive support for partners and the opportunities for personalization. The amount of commission you earn depends on the number of stays your customers complete. What's important to know? You won't get paid for no-shows. Commission starts at 35 percent for up to 50 completed stays. There's a formula to calculate the amount of commissions earned. To learn more about it, check their
affiliate agreement
. Agoda provides several tools that you can modify to strengthen your money-making opportunities. They include Hotel Power Ads, text links, search boxes, and multi-lingual data feeds.