As of 2021, boosted by the pandemic, the estimated number of digital buyers is around
2.14 billion
. Logic dictates that if you as a retailer want to reach more customers you need an online presence. However, you can soon find out that just having a website isn't enough. To be successful and competitive, you have to develop an efficient shipping strategy that will streamline the fulfillment process and provide your customers with flexible delivery options -- affordable both for you and the buyer.
But why exactly is eCommerce shipping so important? Let's look at some numbers. According to Baymard Institute, the
top reason for cart abandonment
mentioned by about half of the respondents is extra costs (including shipping), while 19 percent named slow delivery. Another survey from digital consultancy Avionos for eMarketer found that
62 percent
of US online shoppers chose fast shipping as a main factor for a positive retail experience, followed by an easy delivery process (54 percent).
All these statistics clearly demonstrate that to ensure customer satisfaction, improve retention, and increase online sales, eCommerce companies should focus their efforts on streamlining the checkout and delivery process.
Now, the challenge here is that as your business grows, shipping can become too time-consuming and require a different approach.
Our objective is to show how you -- as an owner of an eCommerce business -- can automate different aspects of the shipping process to increase your efficiency.
Main fulfillment models
First of all, let's discuss how fulfillment (i.e., order processing, storage, delivery of goods, and returns management) is accomplished in eCommerce, depending on your business model.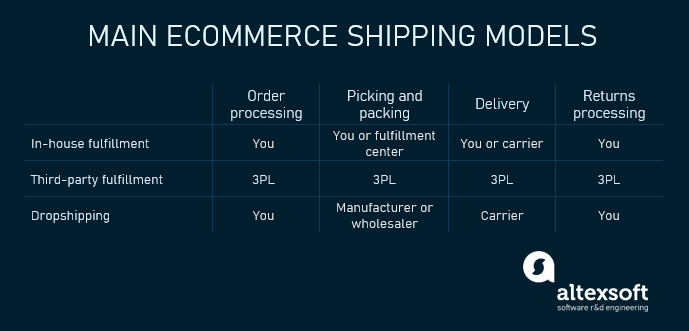 eCommerce shipping models
In-house or self-fulfillment
. You can
manage orders
yourself or outsource part of the operations. Here, several scenarios are possible:
You're just starting your business and your inventory fits in your garage or basement. You pack items yourself and deliver them with the help of shipment services providers (by the way, Shippo's 2020 State of Shipping Report shows that 65.2 percent of businesses fulfill orders from home).
You lease a warehouse or partner with a fulfillment center. They do picking and packing operations for you, but you arrange delivery and manage returns.
You own a warehouse where your orders are prepared and then use the services of a shipping company.
You're a big eCommerce or omni-channel company and own a warehouse and a logistics division. In this case, you can accomplish end-to-end fulfillment with your own resources.
Third-party fulfillment
. You can also completely outsource the entire fulfillment process to a third-party company (3PL) that will manage your orders on your behalf. Such service providers receive orders from your sales channels, pack items, ship them to your customers, and handle returns. You only take care of procurement, high-level management, and administrative operations.
Dropshipping model
. If you don't want to mess with warehousing and handling operations, you can adopt dropshipping. In this case, you purchase inventory from a manufacturer or wholesaler and organize its delivery directly to the customers, without keeping stock on-hand. This often involves the services of a
freight forwarding
company as the manufacturer can be in a different country.
Typically, eCommerce businesses start out with self-fulfillment or dropshipping as the entry barrier of these models is very low. As the number of sales channels and orders grow, it often becomes inefficient to manage fulfillment, and many eCommerce merchants decide to partner with a third-party service provider.
Now, let's look at the main challenges that shipping holds for eCommerce and how technology can help address them.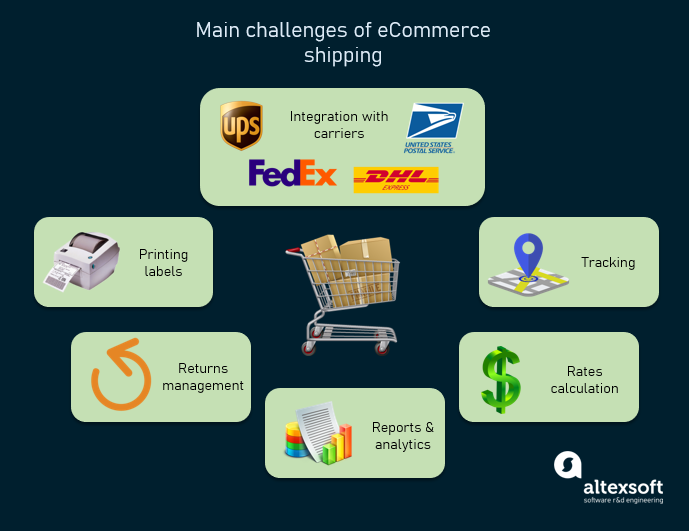 eCommerce shipping challenges
Integration with carriers
Delivery is the core of order fulfillment and here the optimization opportunities are many. Building an
integration
with shipping services providers would let you streamline your operations, i.e., easily get rate calculations, track shipments, generate labels, and more.
Types of providers or who you can ship with
Basically, there are just a few main options on how to organize the transportation of your goods.
Local delivery
. If you only work with consumers in your area, you can do it with your own foot/bike/car/truck, partner with an on-demand local provider (such as
Shipt
or
DoorDash
), or arrange crowdsourced delivery. Read our dedicated article if you're interested in
last mile delivery
and ways to arrange it.
3PL (Third Party Logistics) companies
. As we said, if you want to outsource all your fulfillment operations, this is the way to go. Being experts in logistics, 3PLs take the burden of storing, handling, packing, and shipping your products off your shoulders, letting you focus on your development.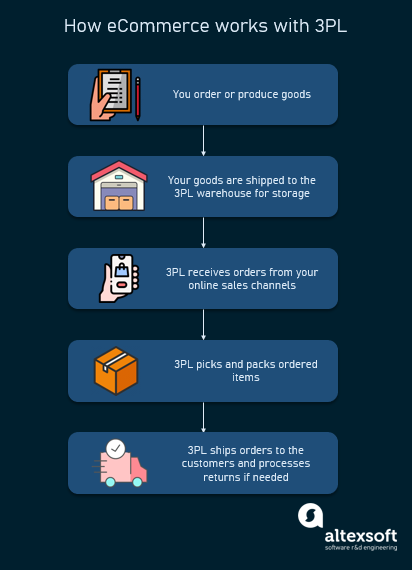 How 3PL works
Besides, you can reduce your shipping costs as most logistics companies have discounted rates with main carriers due to their high volume of operations. Also, most 3PLs have high quality IT capabilities that seamlessly integrate with eCommerce software, various sales channels, carrier systems, etc. That enables easy data exchange and increases operational efficiency.
On the flip side, you have to carefully estimate your shipping costs and compare them to the 3PL fees. Outsourcing fulfillment is typically most effective if your order volume increases. You also have to be prepared to have reduced control over your inventory and shipping.
Some of the major 3PL services providers are
UPS Supply Chain Solutions
,
FedEx Supply Chain
, and
DHL Supply Chain
-- the related companies of the major carriers. Other big players in the world of fulfillment services are
Kuehne + Nagel
,
DB Schenker
,
Nippon Express
, and
C.H. Robinson
.
Delivery services providers (carriers)
. If you want to ship your products without the help of third-party fulfillment providers, you're likely to use the services of shipping companies. The biggest carriers are quite well-known and include USPS, FedEx, DHL, and UPS. They can assist you with both domestic and international shipping and have a wide range of delivery options to choose from. They also offer additional services like packaging or labeling, and a variety of tech solutions to support fulfillment. That's the most common option and the one we're going to discuss in more detail.
Aggregators
. In the case you work with multiple carriers and don't want to establish integrations with them separately, you can partner with an aggregator, or a multi-carrier shipping API such as
EasyPost
or
ShipEngine
. That allows you to connect to many carriers at once, saving time and effort and gaining an opportunity to compare options across delivery providers.
For more options and details, check our article about
shipping APIs
which covers connectivity with a wider range of transportation providers.
Types of integrations
Major delivery services providers offer different connectivity options. Depending on your needs and existing IT infrastructure, you can choose what suits you best.
Web portal
. Having access to the web interface, you can either fill in your shipment details manually to generate labels or import your orders directly from your web store.
Desktop software
. Some carriers offer downloadable desktop solutions that you can install to your server and integrate with your existing software to enable data sharing.
EDI
.
Electronic data interchange
or EDI is a method of exchanging strictly formatted digital messages between computers and is the oldest way to transfer data (almost as old as emails or fax). It's rarely used today, and DHL is the only major carrier that still supports EDI.
APIs
. Connecting via
APIs
allows you to integrate shipment management functionality of chosen carriers into your workflow. You'll be able to exchange information with your internal software (such as order details) and also display the needed data such as rates and shipping options on your website.
Third-party solutions
. Most carriers have a list of certified partners that offer an easy integration out of the box. Those include eCommerce platforms and marketplaces, shipping tools, 3PL software, warehouse management systems, ERP, accounting software, etc.
We have an all-encompassing article on how you can
connect your eCommerce business to various delivery providers
, so here we'll only briefly describe the options and provide the links to business platforms of the main carriers.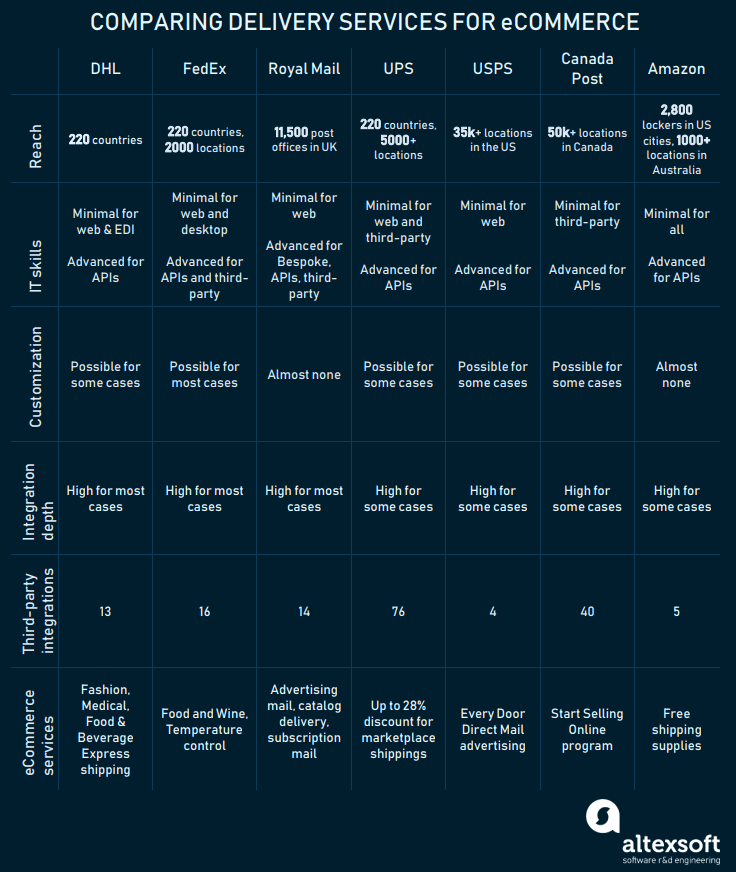 Delivery services comparison
So, major carriers offer a range of ways you can cooperate with them. Creating an account is free and registering with their business programs gives access to discounted rates too. Once you establish integration, you can exchange such data as
shipping rates and rate calculator,
delivery status and tracking updates,
shipping labels,
proof of delivery,
drop-off locations information, etc.
Main eCommerce shipping options
With Amazon Prime offering free, fast delivery, customers today expect the same seamless experience from other online retailers, so businesses have to keep up.
All the carriers have a wide range of shipping options, so displaying them on your website would provide your shoppers with the sought-for flexibility. Having an integration with one or more carriers would allow you to see a full list of available options each carrier offers and choose the ones you'd like to show to your customers.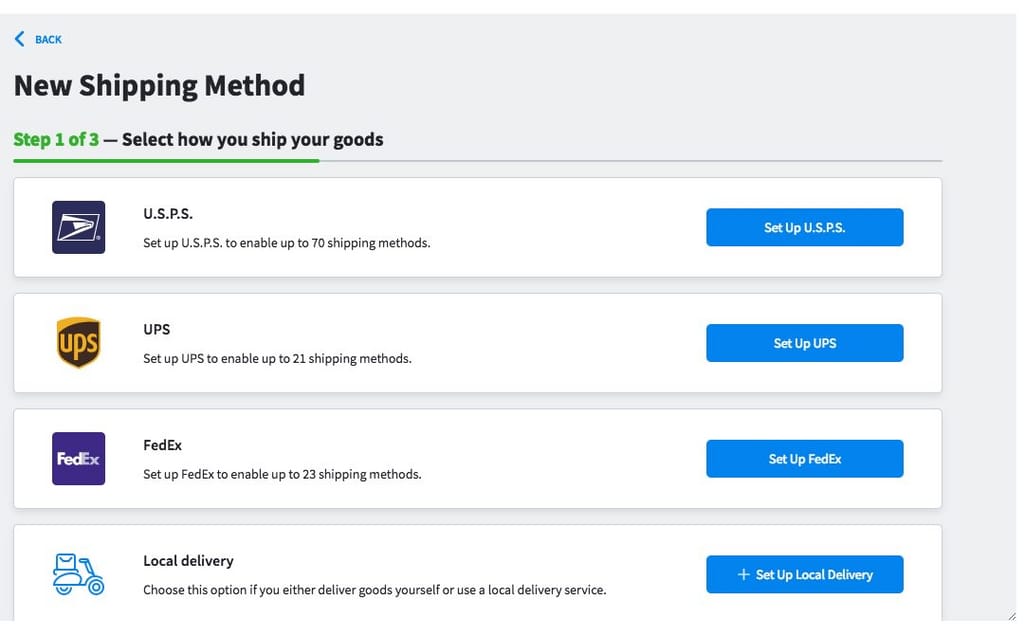 Choosing shipping options, source: wocode
Here are the most common shipping options you can consider offering.
Same-day delivery.
This option implies getting the items to the customers on the same day the order was placed online. Such express shipping is best for retailers selling perishable or time sensitive items. As a rule of thumb, a surcharge is added as many customers would be willing to pay more for immediate delivery (sometimes it can be as soon as within one or two hours).
Overnight (next-day) delivery.
In this case, customers receive their orders the next day, which also falls into the category of fast shipping.
2-day delivery.
According to the aforementioned Shippo's report, 46.2 percent of online shoppers prefer 2 or 3-day delivery -- and so do retailers (40.7 percent of respondents). It's cheaper than speedier options and is still considered fast. So, it's often the optimal balance between speed and cost for merchants and customers alike.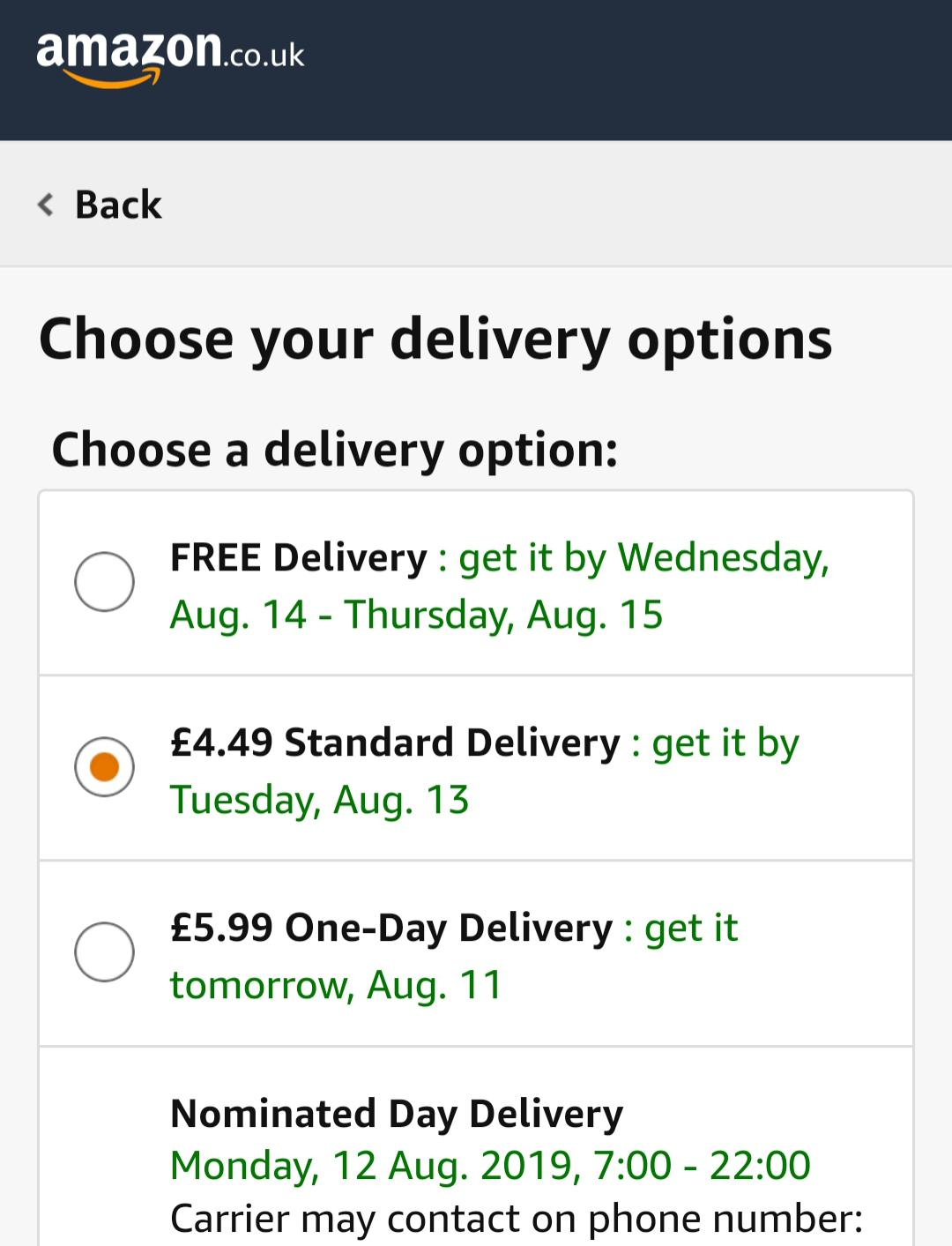 Amazon shipping options, source: reddit
Expedited shipping.
Expedited simply means faster than standard, without naming specific time frames (normally, either next-day or 2-day delivery is meant). So, if your usual delivery time is, say, 3-5 days, you can offer expedited shipping to your customers at extra cost to provide flexibility and retain those shoppers who need their orders ASAP. It's important to understand that it's a relative term and what's expedited for one retailer may be standard for another. It's also sometimes called
express shipping
.
Buy online, pick in store (BOPIS) and curbside pickup.
The 2020
Consumer View report
by National Retail Federation states that the BOPIS strategy (also called click and collect) improved the shopping experience for 70 percent of shoppers.
It's another compromise between delivery time and cost, so many customers are willing to pick their orders in brick-and-mortar stores. Besides, it's good for merchants since it brings consumers to the store and creates opportunities for personal engagement and upselling.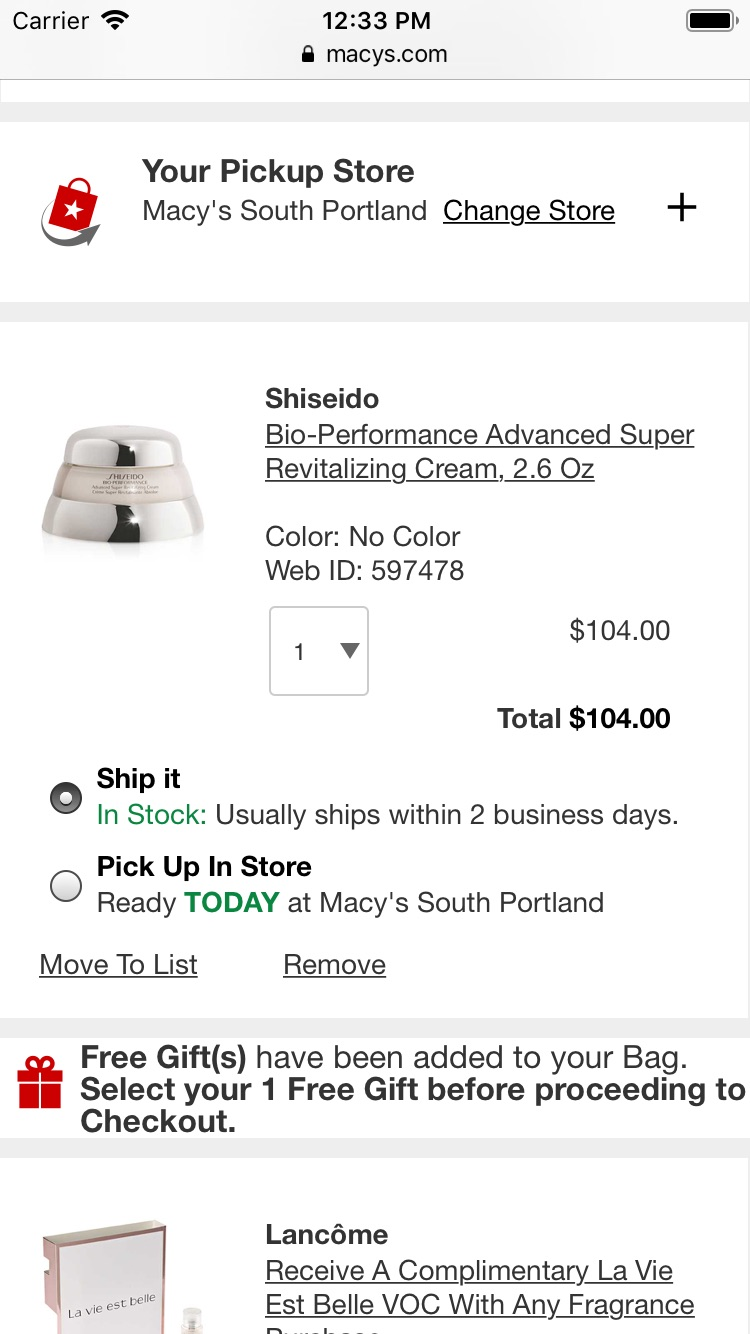 A pick up in store option by Macy's, source: Baymard Institute
A byproduct of the necessity to keep health-related guidelines, curbside pickup gained wide popularity so it's also worth offering this opportunity to your buyers.
However, there are some related challenges. First of all, BOPIS clearly requires a retailer to be omni-channel and actually
have
a store to be able to hand out purchased orders. It also demands a well-organized
inventory management system
to control supply levels across channels.
Typically, every shipping option would be rated differently. There are several common approaches to configuring your rates.
Flat rates
-- you charge the same rate for delivery no matter what your customers order. This is a convenient option if your inventory items are similar in size and weight. Or you can also establish multiple flat rates depending on order value, weight, or other criteria.
Real-time carrier rates
give your customers a full understanding of the shipping cost and also allow you to charge the actual delivery rate that is calculated based on the product dimensions and recipient's location. As we've already mentioned, integrating your website with the delivery services provider would let you automatically pull the rates directly from their system and display real-time rates to your customers.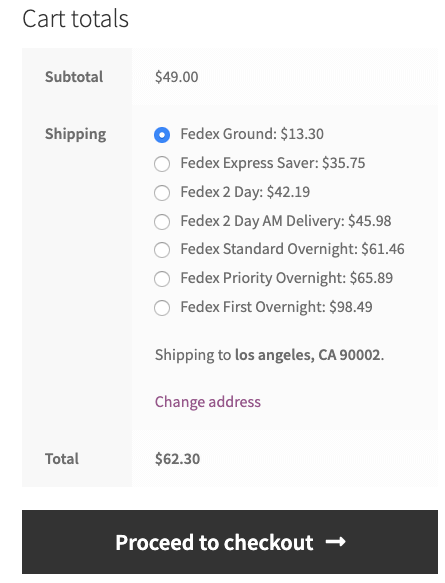 Real-time carrier rates to choose from, source: StorePep
Free shipping
is a good strategy to increase customer satisfaction and loyalty, but you have to carefully calculate all the related shipping costs and make sure that your margins cover your expenses (read on to learn about the costs involved).
Another important benefit of carrier integration is their shipping costs calculation tools.
Shipping costs calculation
If you ship your orders yourself and want to choose the right carrier, it's worth shopping around a bit and comparing their shipping prices. Most carriers come up with their rates based on
dimensions -- often the term dimensional weight is used which means that both product size and weight are included in the calculation;
destination -- obviously, the larger the distance, the higher the rate; and
speed of delivery -- as we've mentioned earlier, faster shipping costs more.
Here, it's important to have exact measurements of your product dimensions and be careful with filling in the addresses to get the most accurate rate calculation. There are two main ways to get those calculations.
Direct calculation with a carrier
. As we already mentioned, if you establish an integration with a delivery services provider, you'll be able to get their real-time rates depending on your order information and chosen shipping options.
Here are the shipping calculators of some popular carriers you might want to check out:
Calculation via aggregators
. If you connect to multiple carriers through an API aggregator or third-party software (e.g., shipping management tool), you'll be able to choose between the rates offered by different delivery providers. Such platforms display the list of possible options, enable sorting by price or delivery time, and provide recommendations on the most efficient variant.
Printing shipping labels
As you start with your eCommerce business, you arrange shipping labels manually and separately for each order, which, of course, isn't the most efficient way (and we're not talking about handwritten labels whose days are gone). Shipping label software allows you to automate this process and have those carrier's templates filled out quickly and accurately.
Full-fledged eCommerce shipping tools automatically create labels for every shipment, taking all the necessary order information from your online store. Generating shipping labels is one of the most appreciated features of such software and a huge time-saver. In addition, you're getting postage discounts and can make pickup arrangements with the carriers.
So, how does it work?
Choose a solution
. For example, if you work with one carrier, most of them offer a label creating feature in their web portal (or whatever interface you use). If you mainly ship through USPS, you can choose one of their approved partners such as
Endicia
or
Stamps.com
for a simple integration and user-friendly operation. If you use multiple carriers, go with a more comprehensive platform such as
ShippyPro
or
Shippo
that offer a bigger range of integration options.
Build integrations
. To enable data sharing, you should establish connections between the shipping solution and your preferred carriers by choosing them from the list and entering your credentials. You can also integrate your sales channels to import the order information (such as customer address and product dimensions and weight) from your online store automatically. Or you can upload a load list in a CSV format.
Generate the label
. After you choose the carrier and the delivery method for the shipment, the required information will be inserted in the shipping label template of the chosen carrier. You can also set up certain business rules to create labels faster.
Print the label and attach it to the package
. After generating the shipping label, you can either print it out on any printer and tape or glue it on the package yourself, or use a thermal printer to make self-adhesive labels.
Note, that you can also create custom labels for free, but you'll still need to pay postage to be able to ship your packages.
Tracking and notifications
Keeping your buyers in the loop by sending customized notifications about processing and delivery times as well as providing tracking information and other important updates is crucial to ensure customer satisfaction.
Tracking is about security both for you and your customers who typically want to know where their order is and how soon they can get it. Check our detailed article about
integrating shipment tracking
for more information. In short, you have several options.
You can
provide your customers with a tracking number
and let them monitor their delivery status themselves on the carrier's website. It's not the best way to go as it demands more effort from the customer and isn't convenient.
Integrating with multiple carriers
would let your shoppers track their shipments through your website interface. As we explained in the integration section, in this case, you'll have to deal with different API docs, which can be quite complicated.
Multi-carrier shipping APIs
such as
EasyPost
, mentioned earlier, solve the issue of the previous scenario. Besides, such tracking platforms as
AfterShip
allow you to create a branded page for tracking to support marketing and increase brand awareness.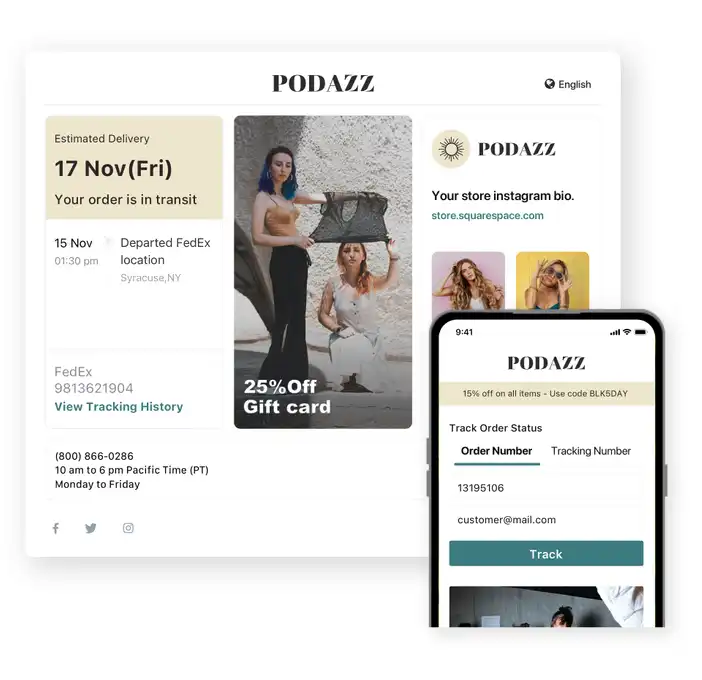 A branded tracking page example, source: AfterShip
Similarly, if you choose a
full-featured shipping software
such as
Shippo
or
Shipping Easy
, you can get all the tracking information across your carriers through a single interface.
Returns management
Returns are a dreaded yet inevitable part of any retail business. In 2020, about
18 percent
of total online sales were returned. And here, again, Amazon raises the bar: Its Prime Wardrobe featuring a try-before-you-buy approach encourages users to shop excessively and return merchandise that didn't fit. Free returns and an easy returns policy are a big motivation for customers to buy your goods as they are rest assured they're not going to be left with items they don't like.
Whatever your return policy is and whether you offer free returns or not, they have to be managed. You can automate the reverse logistics process by using specialized return management software (such as
ReturnLogic
,
Return Magic
, or
Happy Returns
) or a full-fledged shipping solution such as
ShipStation
or
Veeqo
(most vendors offer this module).
Here's how the returns process works (visit our post dedicated to
reverse logistics
for more details).
Customer initiates the return
. Consider getting or creating a tool that has a customer portal where shoppers can manage their returns themselves. Such portals allow users to
find their order by order number or email,
place a return request,
choose a reason for return,
share feedback,
get a return shipping label, and
track delivery and refund status.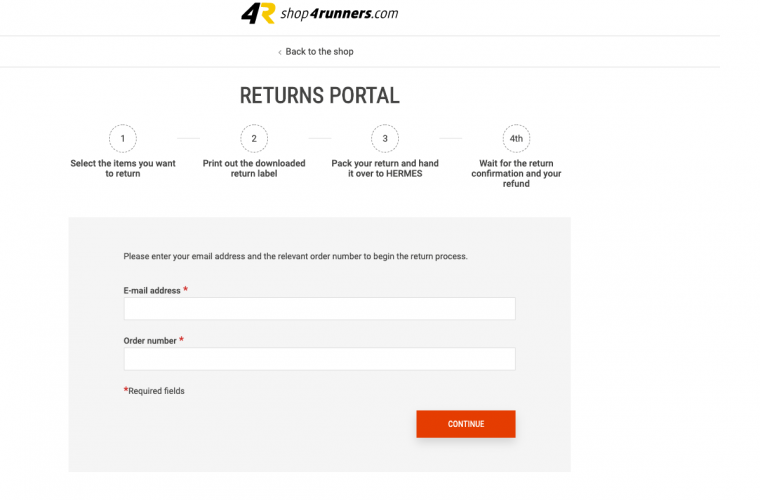 An example of the return portal, source: Inchoo
Implementing a
chatbot
to answer the most common questions is also a great way to make the process faster and easier.
If you do not provide that kind of portal, your customers would have to contact your support team.
A return shipping label is generated
. Once the return process is initiated, the system should send the product back to the warehouse for checking and further handling, putting the proper address on the shipping label. Then, the label is sent to the buyer for printing either via email or through the portal interface.
The product is checked and allocated
. As the item is shipped back, the warehouse team checks its condition. Then, it has to be either sent back to the manufacturer if it's damaged, restocked, or discarded. If it's going to be resold, inventory levels should be updated accordingly.
A refund is issued
. Depending on your policy, a refund, replacement, or store credit should be arranged.
Here, again, we can't overstate the importance of integrating all the pieces of software (shipping platform, inventory management system, warehouse management system, accounting, etc.) to create a flawless data exchange.
Reports and analytics
To have a full visibility of your operations and make data-informed decisions, you have to monitor your (and your carriers') performance and KPIs. Some of the useful
measurements for eCommerce
shipping include
average delivery time,
shipping cost,
breakdown by carriers,
returns cost and percentage,
breakdown by destination, and so on.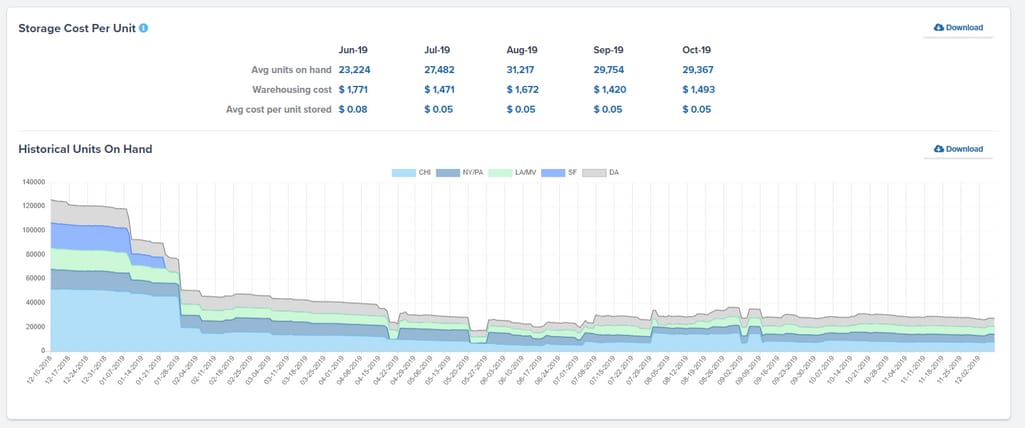 ShipBob's storage cost report, source: ShipBob
There are several approaches to getting those reports and visualizations. You can
utilize the reporting functionality of your eCommerce platform or marketplace you sell through (it might be limited though, depending on what you sell through and your pricing plan);
implement a business intelligence tool such as Tableau or Microsoft Power BI (that would require extra investment and integration efforts while offering poor customization);
use analytics capabilities of your ERP or other business management platform (the range of KPIs might not be big enough);
choose a specialized shipping software or an eCommerce management solution such as Orderhive, Stitch Labs, or Ecomdash that includes a reporting module; or
find a dedicated eCommerce analytics software such as SavvyCube that is focused on monitoring all the important metrics related to an online business.
You can find more information about the entire
supply chain analytics
in our dedicated post.
Shipping solutions for different types of eCommerce businesses
Since every business operates in its own way and has different needs, there's no one-size-fits-all approach to solving shipping problems. So, to wrap up, we can describe a few possible scenarios, depending on the size of your business.
Small business
If you are a small online retailer, having one or several online stores and up to 5-10 orders a day, you can probably handle them yourself and don't need to worry about getting specialized software just yet.
Mid-sized business
As your order volume increases and you grow into a medium-sized company, you start operating more sales channels and hold bigger on-hand stock. In this case, it's likely that you need to lease extra warehouse space and implement some software tools to support your shipping operations and inventory management.
At this stage, consider developing or acquiring a full-blown eCommerce shipping platform with a rich set of integrations (including carriers, online marketplaces, eCommerce platforms, etc.). Choosing an off-the-shelf solution (like the aforementioned ShipStation or Shippo) is easier, but it can be less tailored to your specific needs. Creating your own product might take longer and be more expensive, but you will obtain the highest level of customization.
In case you want to implement a ready-made shipping platform in addition to any other software you already use (i.e., ERP, inventory management system, accounting software, etc.), make sure to connect them and establish two-way data sharing, enabling real-time updates and all-embracing reporting.
Enterprise business
When you scale to an enterprise-sized eCommerce company, it becomes too time-consuming to handle your shipments yourself. So, it's worth partnering with a 3PL company and outsourcing your fulfillment operations. We described this scenario in the previous sections, but the main point here is that you no longer need to worry about your warehousing or shipping. However, you'll still have to integrate with the software a 3PL is using, so when choosing a partner, review its IT landscape and compatibility with your systems (besides other criteria such as price, reliability, etc.).
Omni-channel business
In case you are an omni-channel sales company and, say, added an online store to the already existing brick-and-mortar one, you probably already have some ERP,
warehouse management system
, or inventory management system in use. Check to see if your provider offers integrations with leading carriers and eCommerce management tools (a lot of vendors easily establish such connections).